Bettei Koshinosato
In the town of Tsukioka hot spring, popular as "hot spring of beauty", this ryokan opened in October 2007, that would provide relaxation in all-suite style. It has not only the basic functions of hotels and private time but also traditional hospitality mind of Japanese-style ryokans. The service is treasured through "comfortablenss". In addition, pastoral landscapes and some mountains in far away are stretched below.
- VAT is included, but bathing tax (around JPY 150 per adult) may NOT be included.
- Price in USD is based on the exchange rate as of today and might be different from that of the booking date.
Foods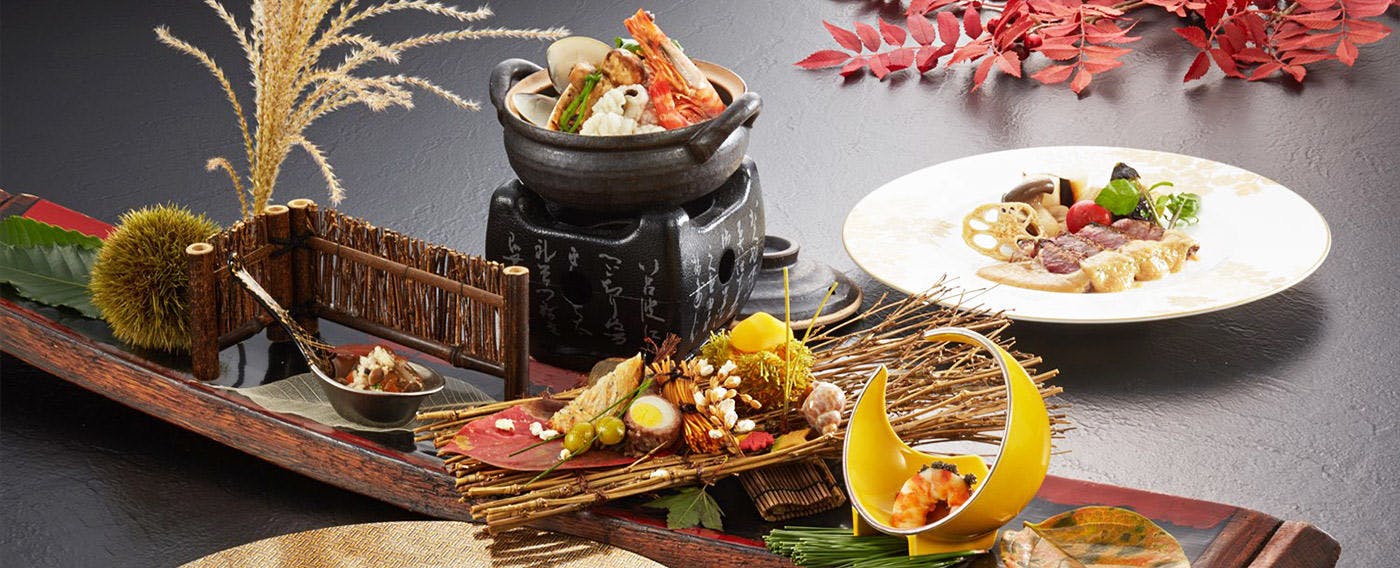 Foods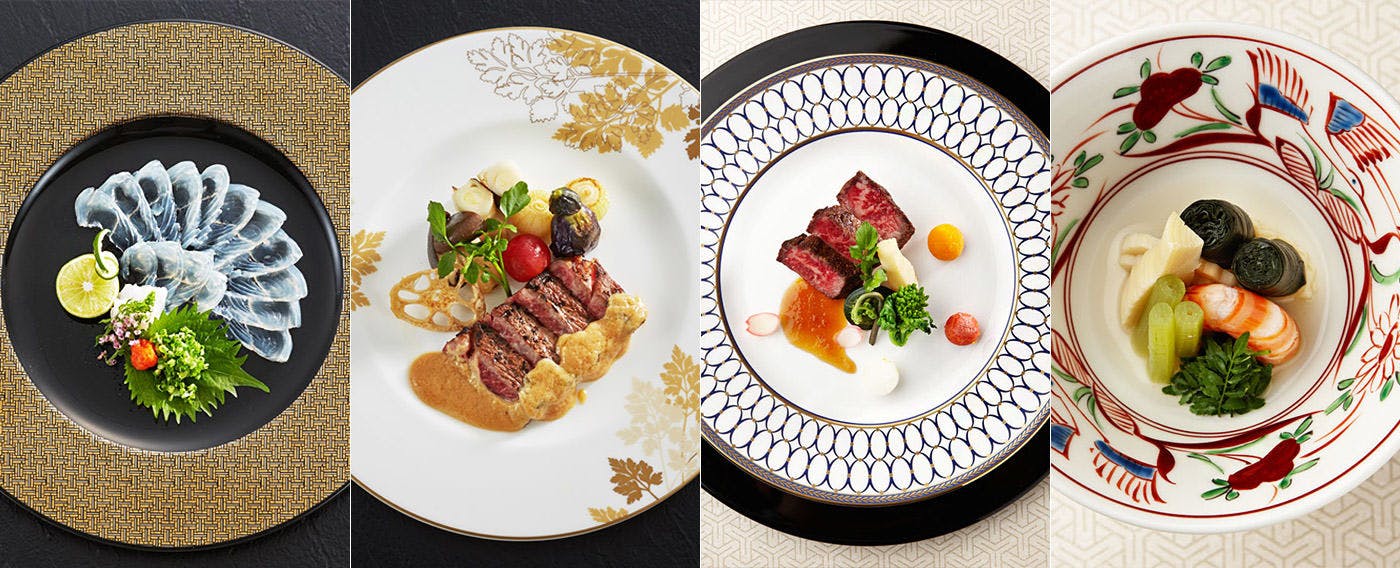 Foods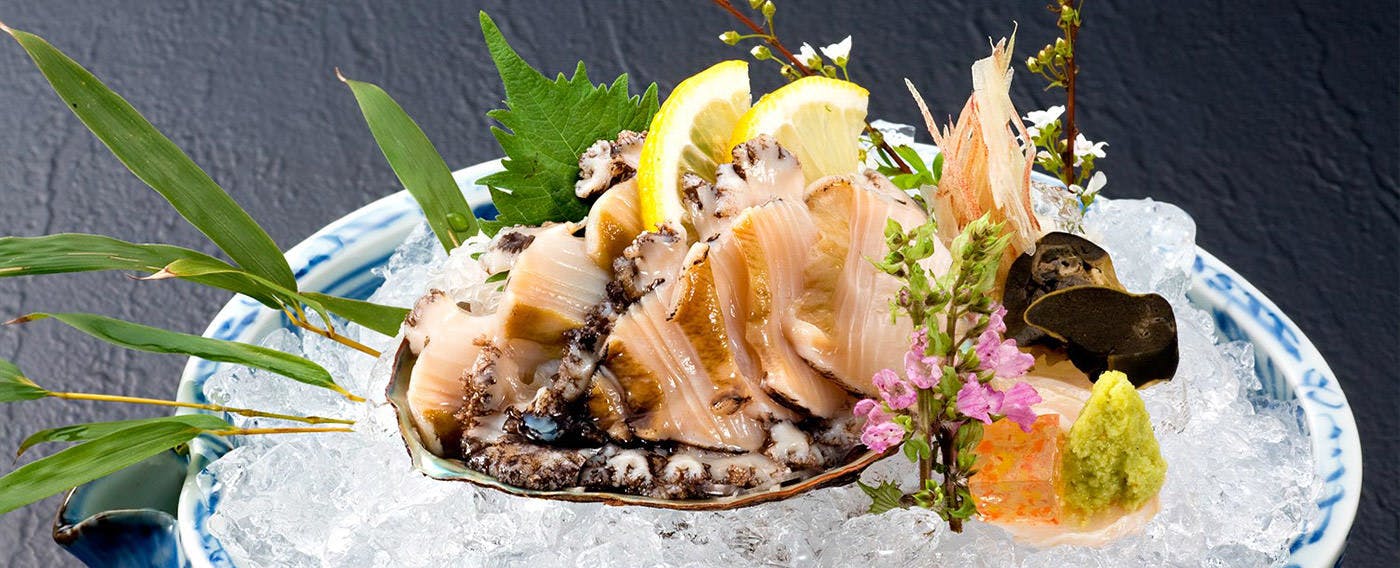 Foods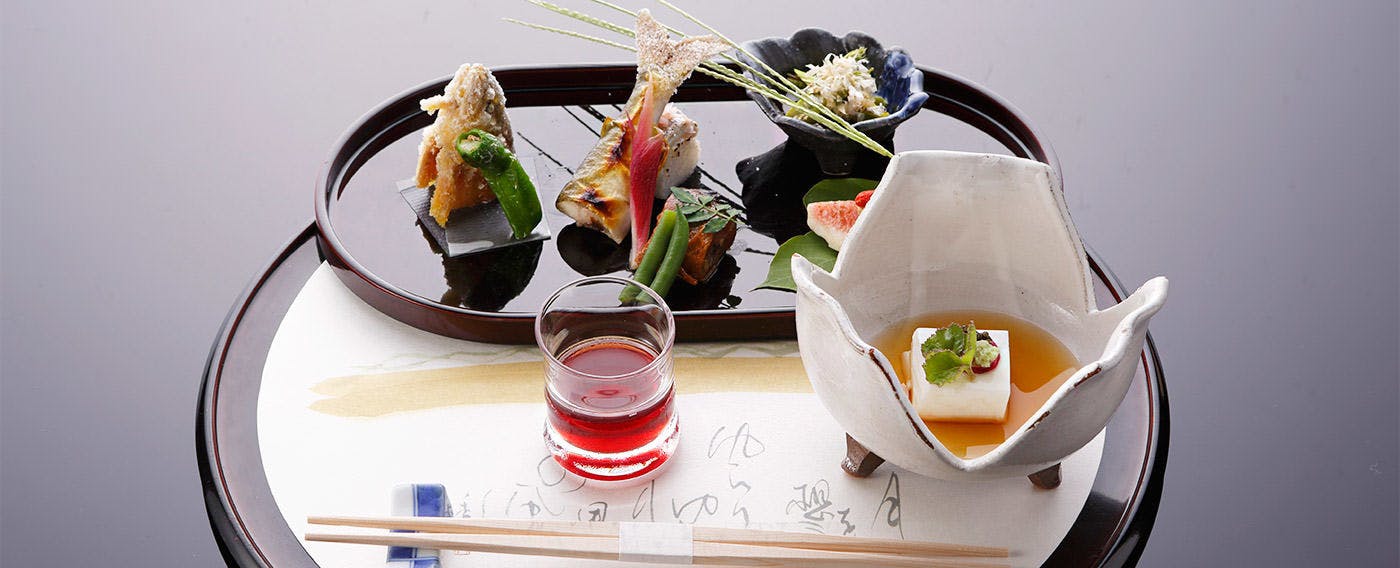 Foods
Adventure of Japanese cuisine, starting with new encounter Savoring a delicious and nutritious dishes of Echigo, filled with seasonal scent. Niigata, the country of foods, is confident of all kinds of foods. Above all, 9 items with high satisfaction are promoted as symbols of Niigata. At this ryokan, guests are entertained with safe and delicious ingredients selected carefully by the exective chef.
Baths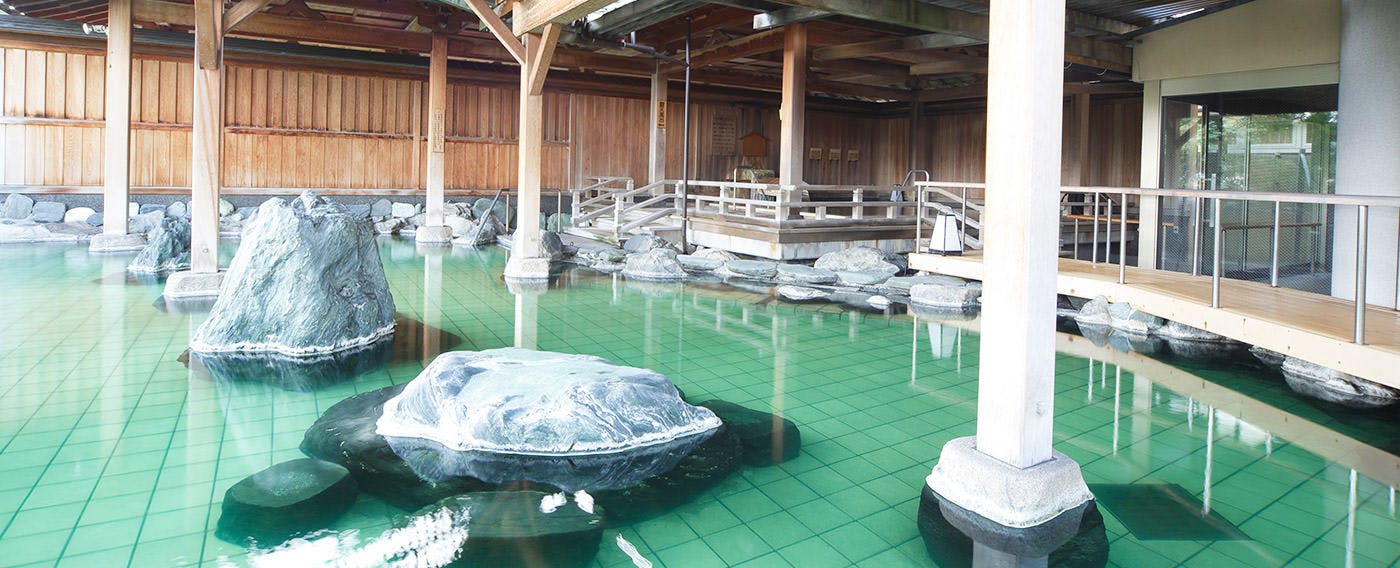 Natural Hot Spring 'Shiratama-no-yu'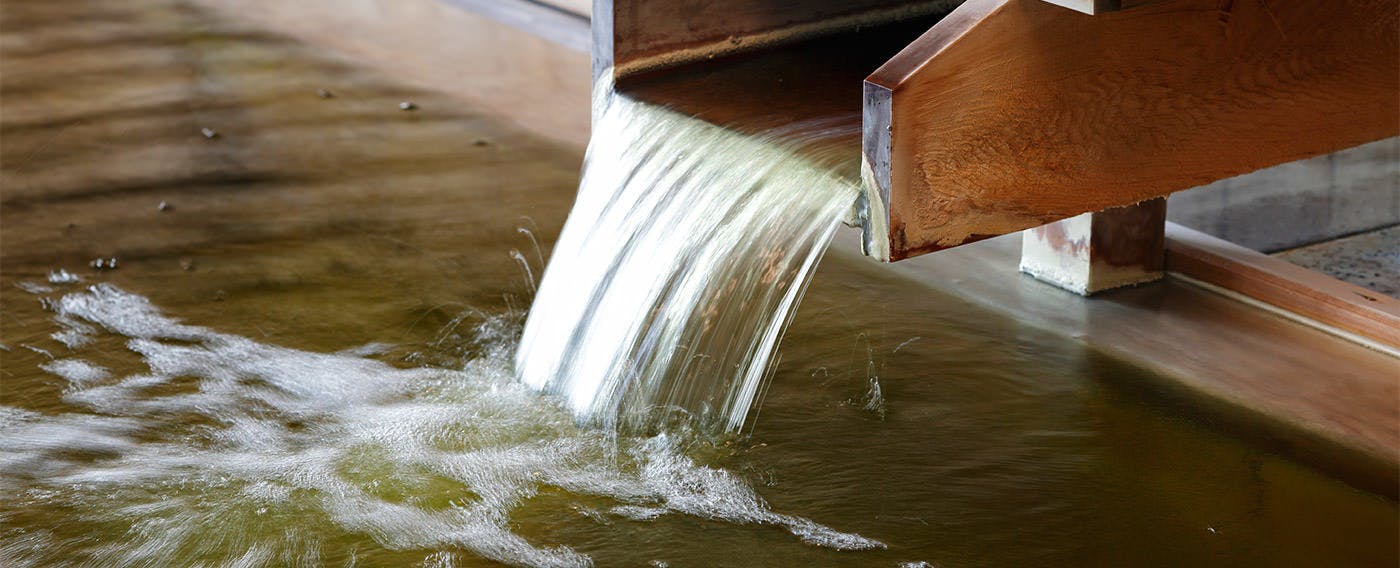 Emerald Green Hot Spring Water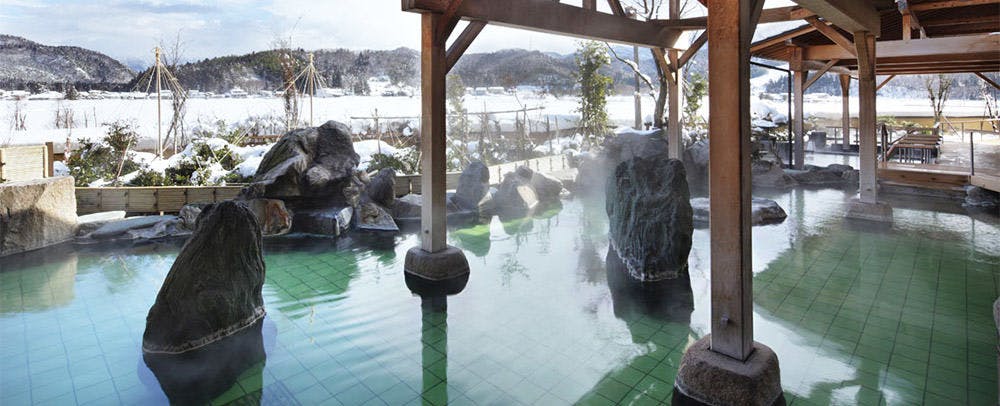 Large Public Bath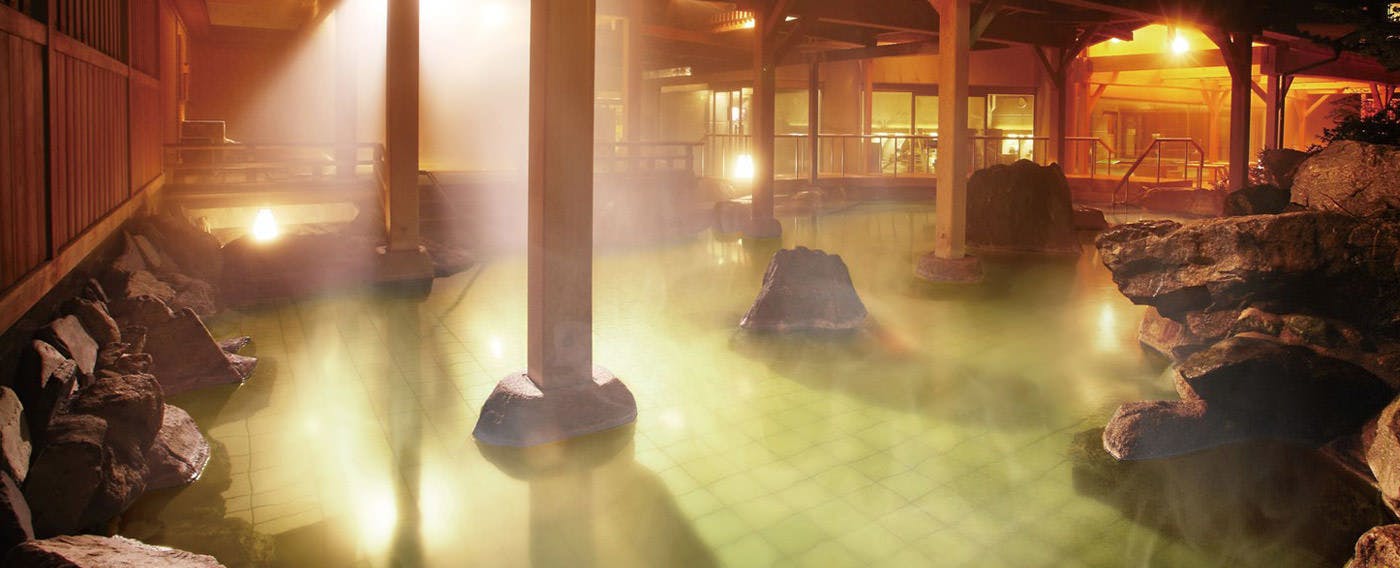 Large Public Bath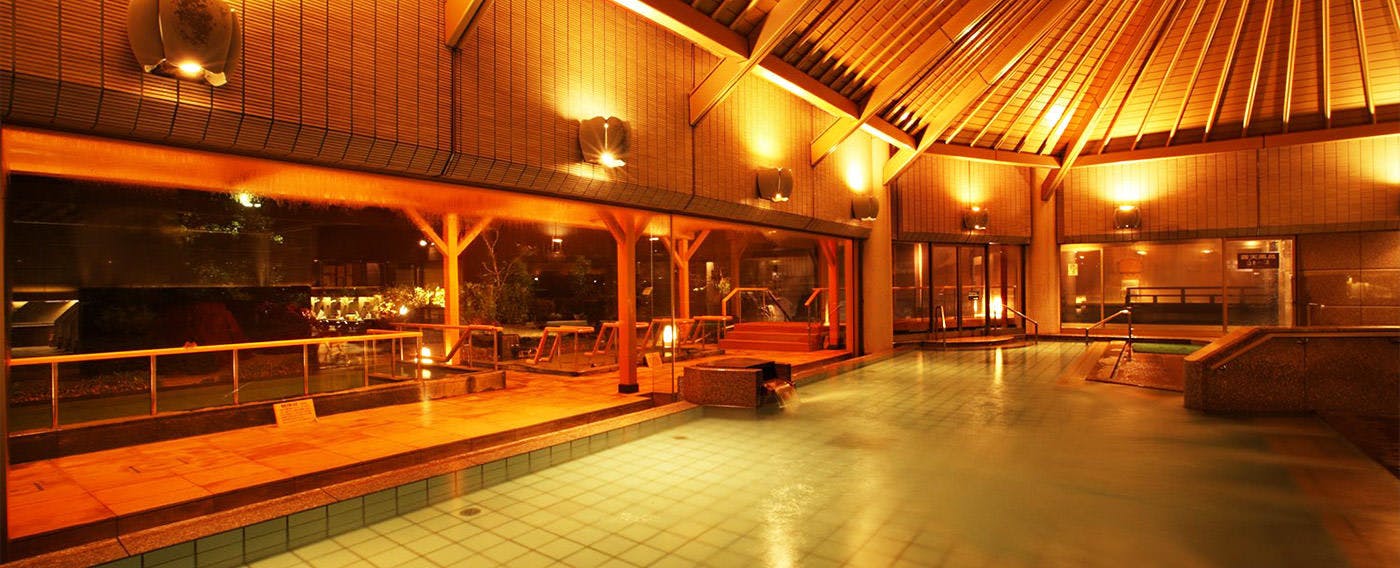 Large Public Bath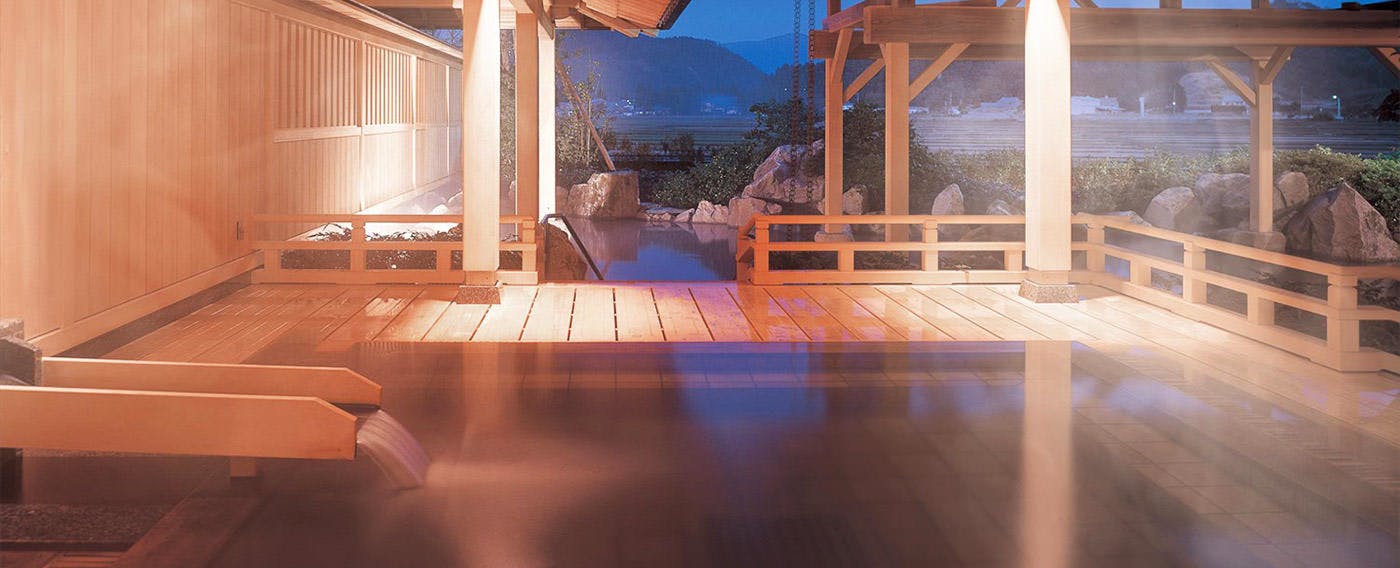 Large Public Bath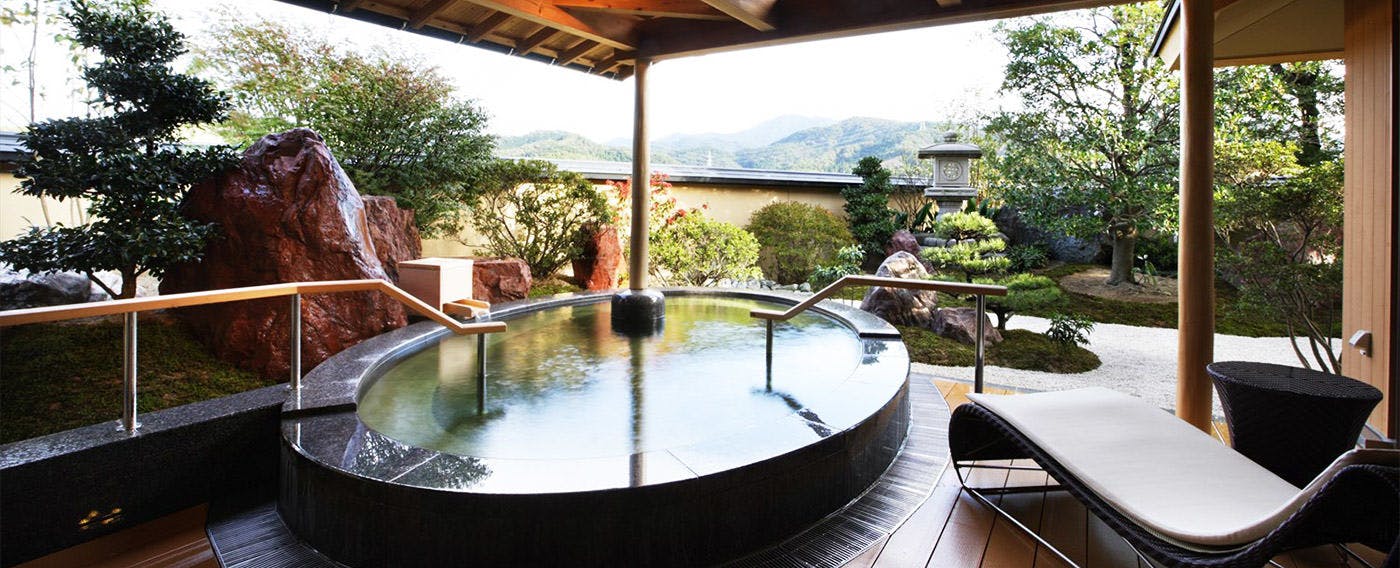 Private Spa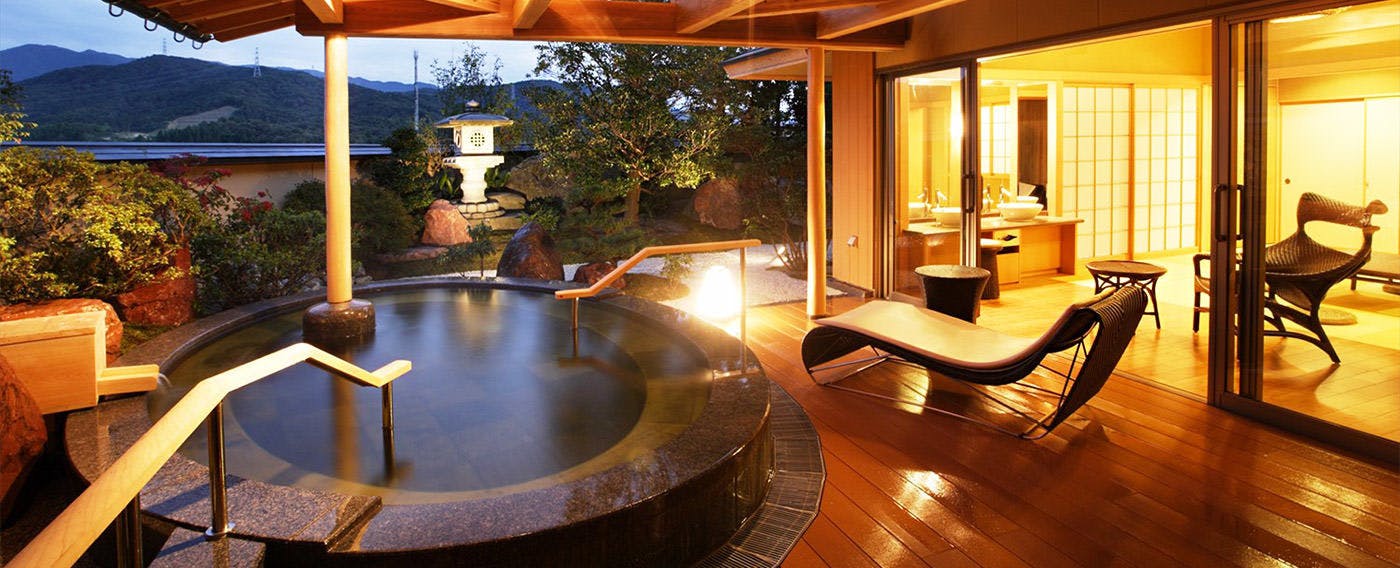 Private Spa
Shiratama-no-yu', one of the hot spring containing the most sulfur in Japan The emerald green hot spring contains several constituents effective for beautiful skin, and it's very soft. The hot spring "Shiratama-no-yu Kaho" is available in the main wing. It is a type of sulfur, and it's the famous for the most sulfur contained in Japan. You will feel the sound of nature and seasonal scent, from a vast pastral landscape and mountain range. In addition, there are hotspring sommelier and instructor, so it will be also interesting to talk with them
Facilities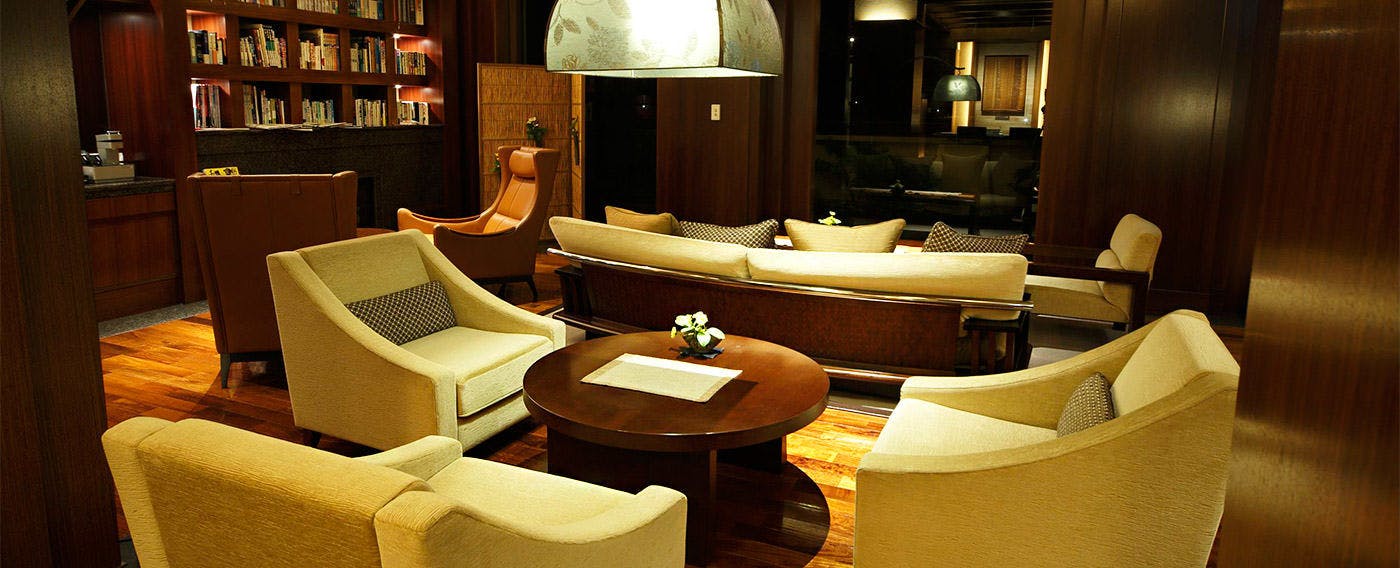 Salon 'Yamasato'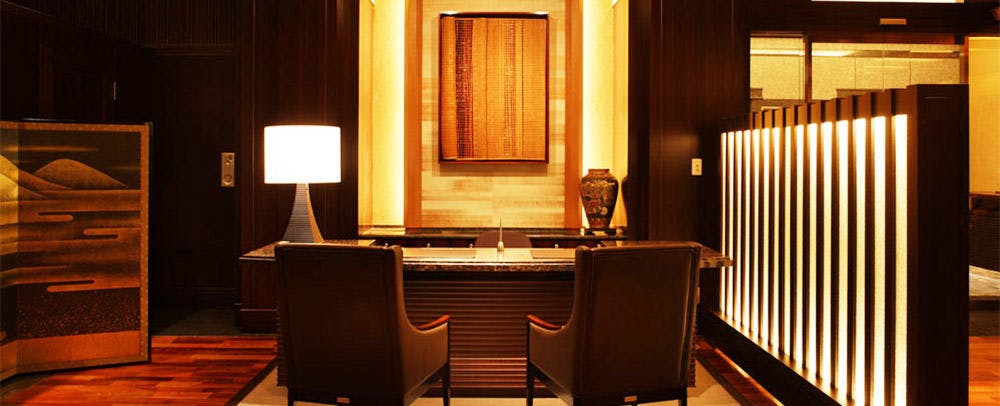 Concierge Desk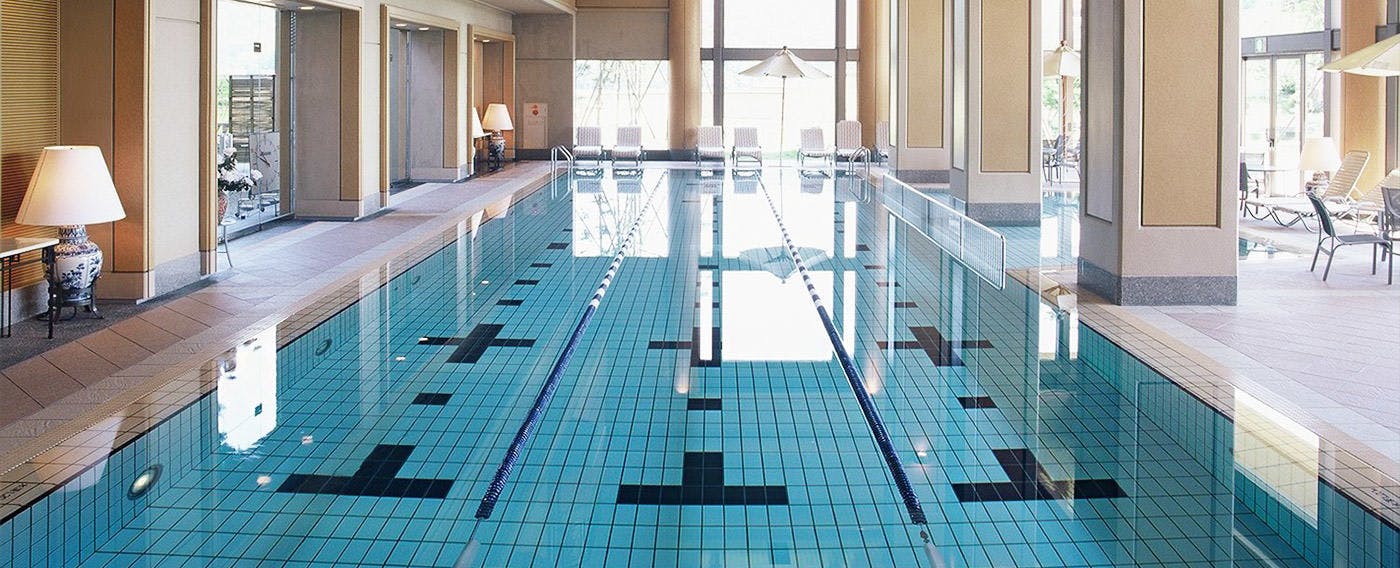 Warm Indoor Pool
A new suggestion of 'ryokan in ryokan' There are reasons why they didn't set exclusive entrance for annex and make guests freely come and go between main wing and annex. Bettei Koshinosato would like you to enjoy hot spring at spacious public bath in the main wing by stretching your arms and legs, as staying only in the annex is not the everything to experience here. They also would like you to try satisfying activitites, for example, a full-scale warm pool of 20m x 3 courses, strolling in the big garden with nice esplanade, and the beauty salon treatment and massage.
Access
134 Tsukiokaonsen, Shibata-city,Niigata,959-2395,JAPAN
BY TRAIN
From Tokyo Station: 1hr 40min by Joetsu Shinkansen to Niigata Station and 15min by JR Hakushin Line to Toyosaka Station, and 15min by car

Shuttle service available from Toyosaka Station, departing at 10:15am/2:20pm/3:35pm/4:50pm

BY CAR
From Tokyo Nerima IC Exit: 3hr 40min via Kan'etsu Expressway to Niigata-Nishi IC Exit, and 40min by car via Shinshin Bypass and Keibajo IC Exit
Reviews
I invited my important aquaintance. I could have him very impressed. Also, I was very impressed with the subtle care of okami toward my aquaitance who had pain in the lower back. I would like to stay there again as they always welcome us as if it's our home.
+ More
Sep 2015
I invited my important aquaintance. I could have him very impressed. Also, I was impressed with the subtle care of the mistress toward my aquaitance who had pain in the lower back. I would like to stay there again as they always welcome us as if it's our home.
+ More
Sep 2015
I was so happy to have a free charted bath, to have a relaxing time. One hour passed in a blink of an eye. The open air hot-spring was good, but it was so open that the people reaping rice could see everything. Well, I think they didn't really see us, but my company was crouching whenever she had to enter or left the bath room. Maybe there could be a blinder or something. It was good to have mouthwash and cotton swab in the toilet of the restaurant, but because there was no dust bin, I left it on the sink. Next morning, when I used the toilet at the breakfast, the trash of the night before was still there. Other people's trash too. Please clean it more frequently. Because it's not a cheap price I was paying.
+ More
Sep 2015
[private] I visited using the hometown tax payment tickets for this stay. I had anticipations as there were good reviews and was a pricey hotel. Regarding facility, the Koshi-no-sato was nice and new, not to mention the main building. I enjoyed the reserved bath for its characteristic strong sulfer smell. It was the meals that upset me. I made claims on this, but the soup bowls remained lukewarm with ingredients inside, still cold. Furthermore, there was oil spilling out from fries, for the low temperatures in frying oils. There were many reviews saying that it was a party menu for a big group, but I'm sorry to say, it's far below that. Service was with much care. However, I could not accept their language. I am aware that there are some people who are irritated by phrases such as "in the direction of..." or "was it OK in the direction of...?". It should be rephrased as, "It is...", "Is it OK for this to be...", etc. I expected grade and formality as it was quite a high price range. I don't know if we will be visiting again, but I hope to see improvement.
+ More
Aug 2015
It's a hotel situated in the rice paddy landscape of a rice-producing district, so I have been able to fully enjoy a wonderful view that I could not have in any of the hotels where I had stayed before. And the cuisine, the service, the living room, the hot spring were all very satisfying and I could feel the kind care of the female manager. I have stayed in various villas before, but this hotel deserves a special praise. There are so few places where every imaginable quality is combined like this, so I feel grateful towards the service and the design of the hotel, which are filled with kindness towards quests. The only thing that I could probably complain about is that the white rice during the meals seemed a bit dry. This was especially noticeable during dinner, but at breakfast at first it was soft, but the second cup was already a bit dry. Maybe I am too strict towards the taste because I expected to eat Niigata's delicious rice. I would be very glad if you could think about a better way to store the cooked rice in the special container o-hitsu, and improve the meals to allow the guests to thoroughly enjoy the cuisine of a rice-producing district. I will come to stay here again.
+ More
Aug 2015
Including this time, this is my second stay, and I always felt hospitality. For this price, in an another hotel the refrigerator is free to use. Please consider this.
+ More
Aug 2015
For our celebration on the fifth wedding anniversary I have utilized for the first time. The room, meals, service and hospitality, all of them impressed me. I was given a present, or yogurt when leaving, such consideration was wonderful. The view of countryside was fresh, I would like to visit in another season again. I could really spend comfortable weekend. I appreciate your kindness.
+ More
Jul 2015
It was wonderful and surpassed my expectation. The room, the onsen, the private the open air bath, the meal, the service, and the hospitality; I am satisfied with them all. The room staff and the concierge are truly hospitable. I think they are worthy of praise. I fully enjoyed the extraordinary day with my mother and daughter. I would love to visit again.
+ More
May 2015
It was a refined stay with facilities and service equivalent to the executive floor class in the city. The spring quality of the onsen was very good and made my skin smooth. Although the water came from the same source, I found that the water at the private open air bath was more concentrated than the large public bath, but was that just my imagination? I could also soak and admire the rural landscape in the bath in the room as the water flows 24/7 and it was the first time I used the bath in the room. Drinks in the fridge are free for diamond member and I drank too much without thinking, but that was a good point of the inn so I just lied down for a massage without worrying and had a good sleep. Stayed during a anniversary day and I am thankful for their thoughtfulness. I had a relaxing time thanks to that. I gave this one star less as the bread for breakfast was cold; the rest had full marks. I would visit again.
+ More
Apr 2015
This was my 2nd visit but it is a kind of place where I could walk in saying "I'm home" (lol) I was so satisfied with everything, such as the customer service, the room, the meal, and the hot spring, that it naturally put smile on my face. I would come back again. Thank you.
+ More
Mar 2015
Thank you for taking me in on my birthday. I thank you for the heartfelt service, just as my husband's birthday. The Kahou entrance decorated with snow has welcomed me last year on my birthday, and this year as well. We enjoy traveling every month, but we can't help comparing each inns with Kahou, which ends with the answer, with my husband, "But I would choose Kahou~". My congratulations to Kahou for marking the 2nd on "Year 2015, 100 Japanese-style inn chosen by professionals". The first place in Japan in our choice is Kahou, Koshinosato. The landlady, the employees, the chef, the staffs, all of their warm considerations, the comfortable distances they maintain while they attend were great, with good hospitality, good room, good meals, good hot spring of the beautiful-skin emerald green Shiratama no Yu, good attentiveness and thoughtfulness, and thank you always for the chef who knows all of my husbands preferences. The delicate dishes, just great. Thank you very much for the consideration again. My husband eats with a look as of a child. As comfortable just as home, an inn were you get satisfied and impressed to all, the great inn where heart and heart connect, Kahou, Bettei Koshinosato. An inn where will always welcome you warmly whenever you go, Kahou, the inn we will love for life, though our waist bends we well come visit with a cane even from faraway in different prefecture, Kahou, Bettei Koshinosato, good luck and go for the best in Japan
+ More
Feb 2015
Information
Check-in Time

From 2:00pm to 7:30pm

Check-out Time

Until 11:00am

Tax / Service Charge

Credit cards accepted at this property

VISA / MASTER / JCB / AMEX / DINERS
Children

All children are welcome.
Children of 0 to 5 years old are allowed to share a bed with adults.

Pets

Pets are NOT allowed.

Parking

Free of charge for guests; Capacity 150 vehicles; Valet Parking Service Available (free of charge for guests)

Other policies & conditions

N/A