- VAT is included, but bathing tax (around JPY 150 per adult) may NOT be included.
- Price in USD is based on the exchange rate as of today and might be different from that of the booking date.
Foods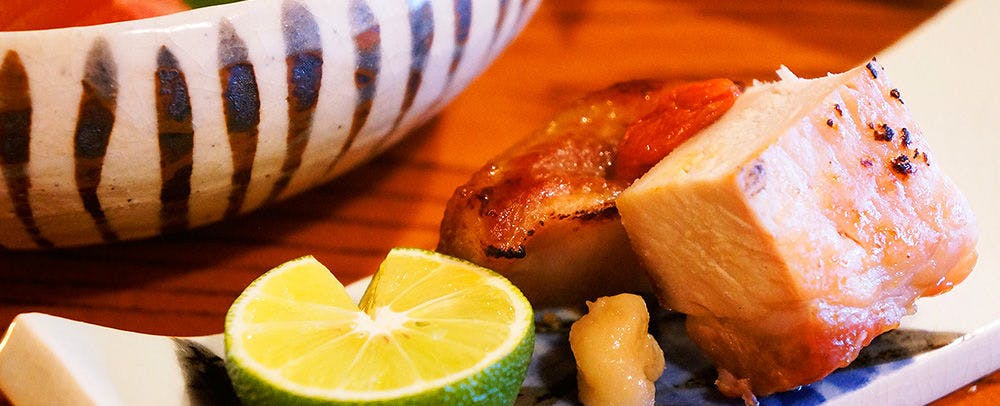 Foods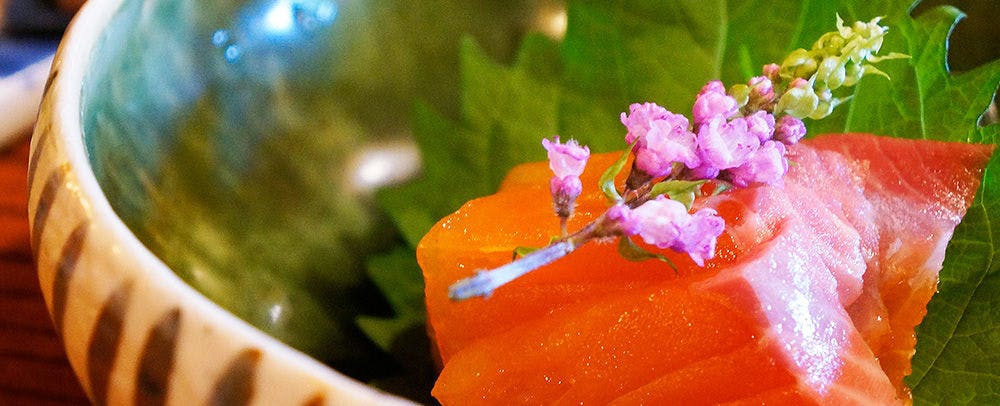 Foods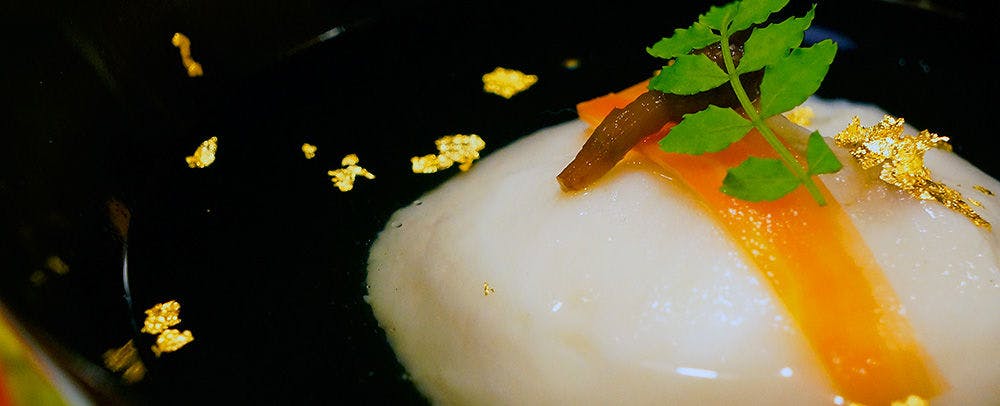 Foods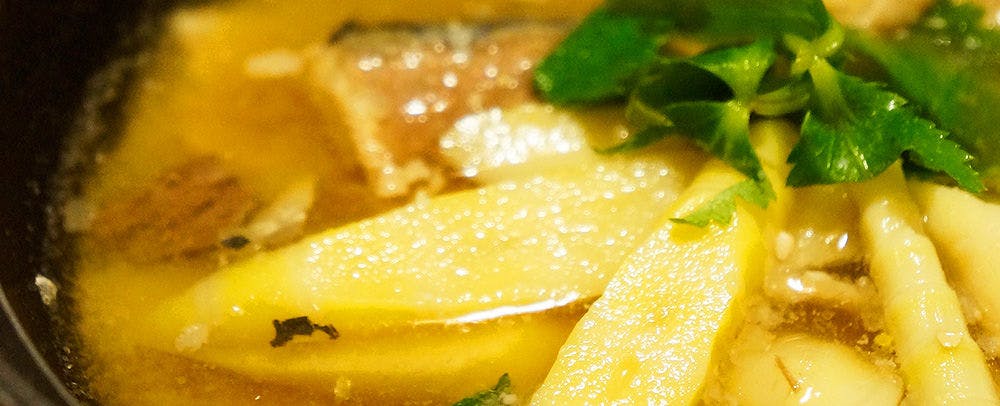 Foods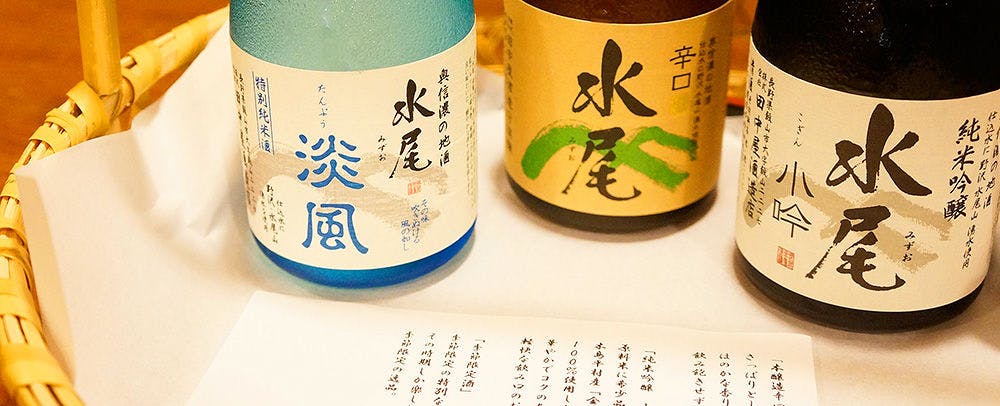 Foods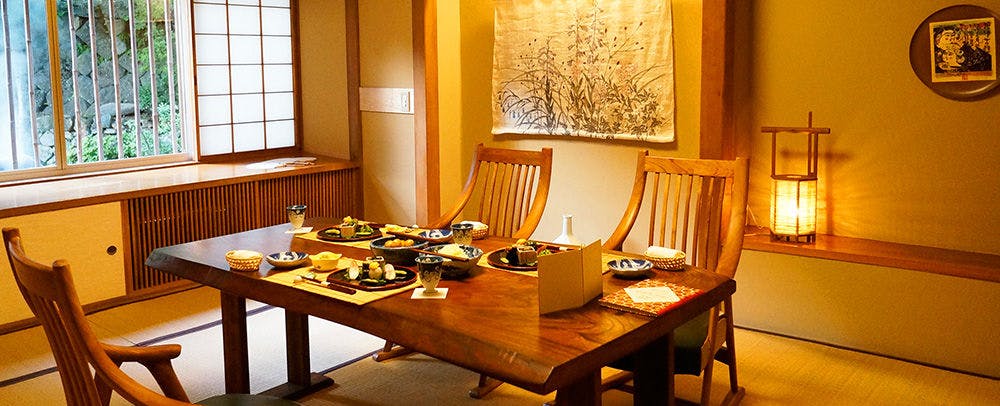 Dining in Guestroom
To be in Shinshu-style, and Sumiyosiya-style With plenty of local foods of every season, Sumiyosiya serves dishes of this town and this time. Nozawa Onsen hot spring town in Shinshu has a variety of seasonal foods.
Meals in Sumiyosiya consists of 2 courses in its original style. Kaiseki cuisine by chef, making the most of each local and seasonal ingredients, and "torimawashi-bachi", the local style cuisine for celebration since the old Edo period. Every dish is served one by one, following your progress, so that you can enjoy the meal comfortably.
Baths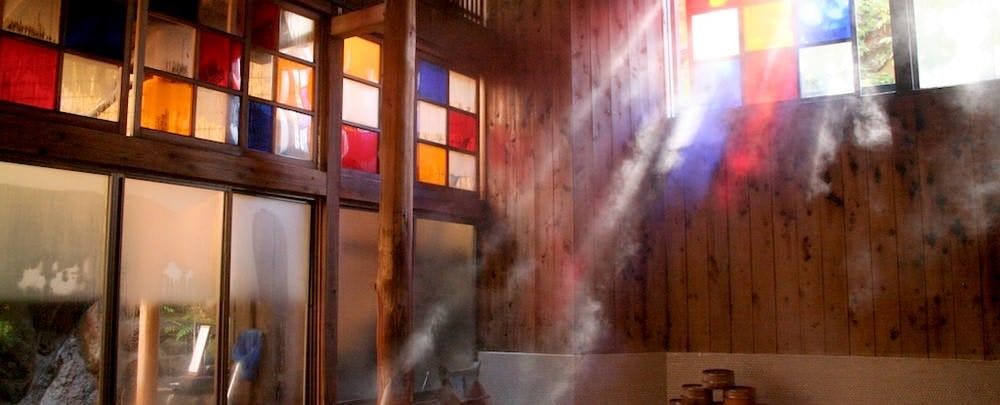 Bath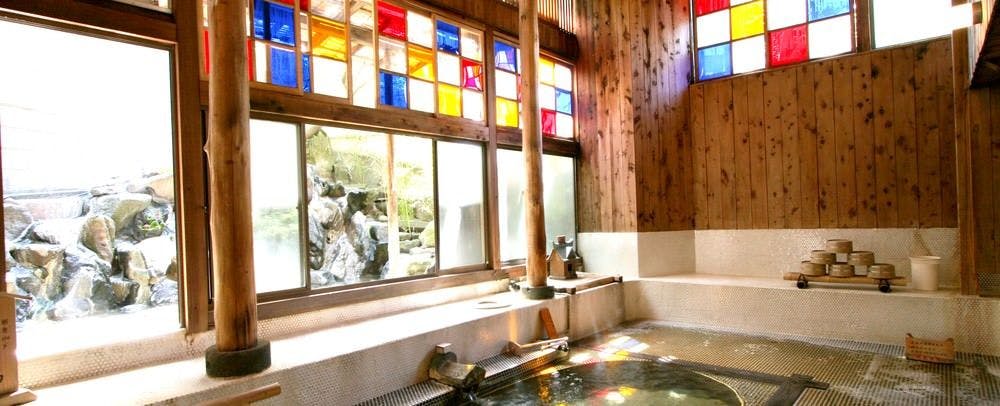 Bath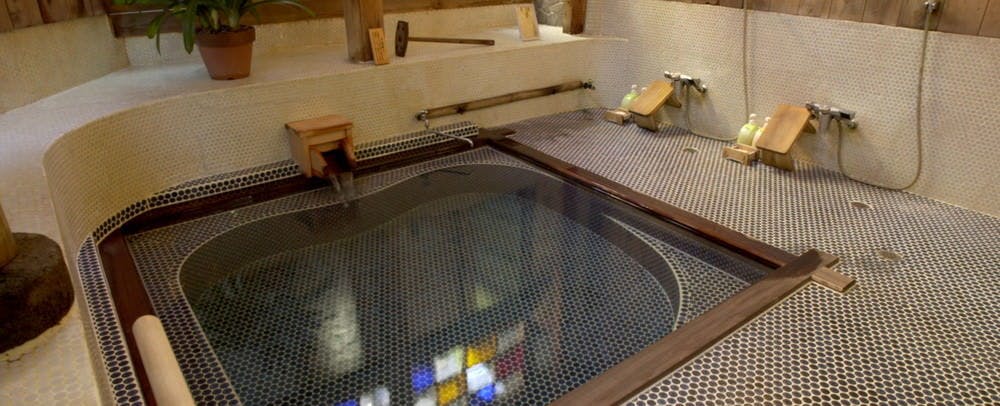 Bath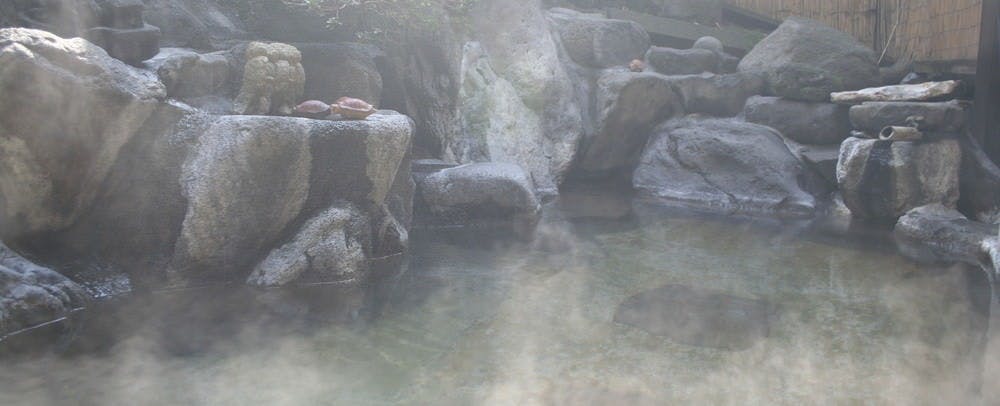 Bath
Natural hot spring Indoor bath is made in the retro style of the old Taisho period. The hot spring water comes directly from the 2 natural source inside the site of Sumiyosiya. It is loved as fresh and soft hot spring water.
Facilities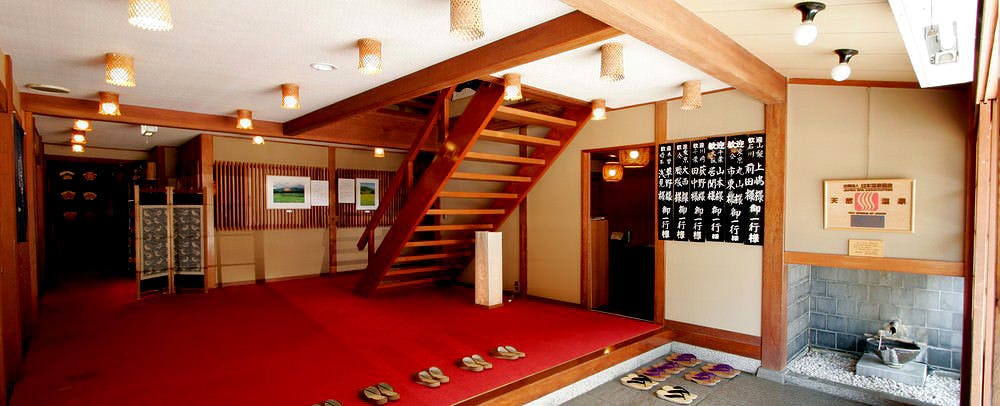 Lobby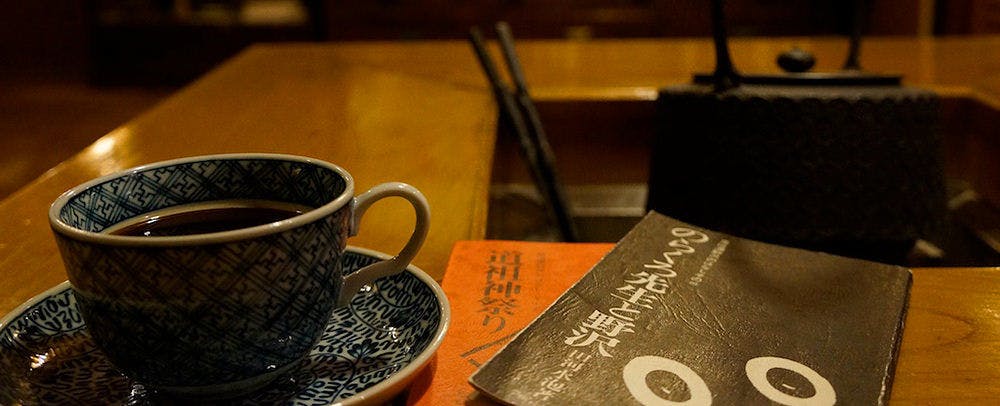 Lobby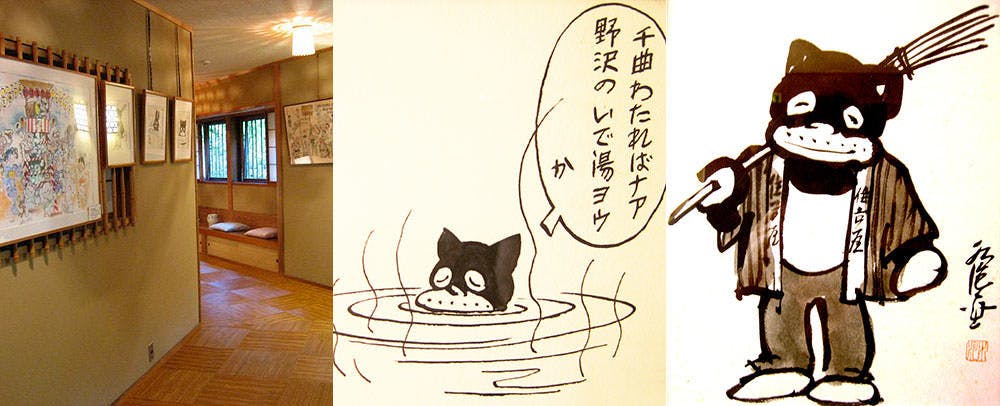 Restaurant 'Kurazashiki'
The quiet ryokan faced with the hot spring source as natural treasure Soak in naturl hot spring, read in the lobby with "irori" (Japanese fireplace) or guestrooms, or relax and chat with your friend or families. "Feel at ease. Relax." That is what Sumiyosiya would like you to enjoy.
Access
8713 Toyosato, Nozawa-onsen-mura, Shimotakai-gun,Nagano,389-2502,JAPAN
BY TRAIN
From Tokyo Station: 1hr 40min by Hokuriku Shinkansen to Iiyama Station, and 25min by Nozawa-onsen Bus to Nozawa-onsen Stop, and 5min walk
From Nagano Station: 10min by Hokuriku Shinkansen (or 1hr by JR Iiyama Line) to Iiyama Station, and 25min by Nozawa-onsen Bus to Nozawa-onsen Stop, and 5min walk

BY CAR
From Tokyo Nerima IC Exit (Kan'etsu Expressway): Via Fujioka JCT - Iiyama IC Exit (Joshin'etsu Expressway) - Route 117 - Nozawa-Onsen
Reviews
The two of us (husband and wife) enjoyed the stay. Every detail of this accomodation makes me want to reccomend it to friends. Traditional local cuisine was delicious, with much consideration in details such as the dishes and the decoration (I recently notice places that serve delicious food but too much in amount , and I feel guilty to not finish it... ). The room and the whole building was well cleaned, which made it a comfortable stay. It was comfortable and relaxing atmosphere in there, but the best thing about it was the good services of the staff members with natural manner. Their service, not too formal and not too casual, was very comfortable. Thank you very much for everything.
+ More
Sep 2015
It was a wonderful inn that has maintained the historical building carefully. The guestroom was kept very clean. The meal was very delicious and particularly, the local food prepared with local vegetables was very tasty. But what was most wonderful was the staffs of the inn. Thanks to their hearty service, we could spend a very fun three days. Thank you very much. I would like to enjoy another scenery in another season.
+ More
Aug 2015
I stayed here after 36 years. I believe the bath is the same as the last time, but it's good as always.
+ More
Oct 2014
It is thankful for a travelling couple for the check-in time to be 12:00. Stayed at "The Space of Togakushi" on the 3rd floor, with nice view of the range of mountains far away. The rooms were well cleaned, and although it was a one room accomodation, it was well enough for the two of us. However, the sound of the boiler of the inn next door (?) bothered me. The service of all staffs were polite, with nice smiles, ad was able to spend a comfortable time there. The meals were satisfactory in amount and quality. The plate with various dishes were for two, and two of these plates were served. The three dishes carefully made were very delicious. I received recipe for the salt boiled potato and shredded potatoes in salt and vinegar, and I would like to try this at home. Dinners are evaluated at every hotels, but there are few reviews on breakfast. Breakfast was served with grilled fish, hot spring egg (had it served as Japanses omlette as I didn't like hot spring eggs), fresh made tofu, pickles with rice and miso soup; everything was delicious and I ended up eating three bowls of rice. I overthought that the goodness of an inn can be seen in breakfast served. I enjoyed the stay with the sulfer hot spring,the hospitality of the inn, the hot spring tour; I would like to visit again.
+ More
Oct 2014
During my summer holidays I was lucky that one room was free and I think it was great that although considering my travel schedule I had to make a detour to visit this hotel, I quickly changed my reservations and jumped at the opportunity to stay here. I had wished to come here for some time now, but when the hot spring season came I always had something else in my schedule and could not come, please excuse me for this. It is probably another piece of word-of-mouth information that is not going to be informative, but in any case I'll just say that me and my spouse, who were tired for many reasons recently, felt good in this environment where one can stay natural and without pretending anything. It's guaranteed that a world where you don't need to feel tense is waiting for you here, as there is nothing superfluous done here on the whole. The flowing hot spring was so straightforward that it would be easy to understand for Suiho Tagawa's Norakuro type of mind, but at the same time the meals were very ingeniously devised and appropriate service, facility design that provides comfort to guests without paying too much attention to architecture and interior, but most of all the sense of tidiness were superb. I can compare this to staying in a well-tended house of a good friend. It's a very special hotel where everything is so comfortable that you'll honestly thank the staff for your stay when leaving the hotel.
+ More
Aug 2014
I really liked it from before. I come to stay here in the ski season every year, but this time I enjoyed the services in the green season. It appears, that the effect of the water in Nozawa hot-spring, fit my body, because it was very good feeling. The staff at the hotel was not just very kind, but I felt that they love working in the ryokan called Nozawa hot-springs. The meals were prepared very politely, and I could relax. Thank you very much.
+ More
Jul 2014
The country dish used the local ingredients was really delicious and I was impressed. It was a little hot due to the water coming directly a hot spring, but it was very fine. It was cleaned well, so it was comfortable. I would like to visit again in another season.
+ More
May 2014
The staff's response which was warm and not in a manual was great. Their cheerful, sweet and gentle response and their thoughtfulness. Thanks to that, I was able to have a truly relaxing time. The onsen is compact, but it is clean and has a retro feel. The building interior is also clean and felt good and old. However, it is not as airtight as the new building so I felt a little cold at the corridor, but I had a pleasant time as they prepared kotatsu and stove in the room. And, as the purpose of our visit is to "enjoy the onsen and to indulge in reading and lazing around in the room", I was really thankful for the 12 am check-in time. It is 2-3 hours earlier than the check-in time at a typical inn, which completely changes how we spend our time at the place. It was a truly satisfying trip as I had a relaxing time and the meal was delicious. And personally, I really like the obi on the yukata. The yukata hardly goes out of shape when I wear it to bed for a night.
+ More
Nov 2013
I stayed with a friend of mine and children, as a group of 4. Located tastefully infront of Ogama, the inn is clean, furnished with pictures and accessories here and there tastefully, and in the room there are humidifier and kotatsu with a small sized stove at the washroom, which are all an effort to make it comfortable to stay, which were indeed really comfortable. The employees were polite while attending, making good impressions, and they were really nice. I was very satisfied with the meal as it was simple, every single dish was delicious and there was some dishes I usually can't eat. The onsen was of great quality but as the indoor bath was not that big, it felt a little confined when using it with other guests. However, check-in was early at 12pm so I was able to enjoy other baths at Nozawa Onsen, and check-out was late at 11am so I was able to take my time. The room was located on the 3th floor in the annex and going up and down the stairs was a little troublesome with a child; people with trouble walking should stay in the main building. Cost-effectiveness is good and it is one of the few ryokan I would love to stay again.
+ More
Nov 2013
The name of the hotel "Hotel of the village" definitely suited it. It looked like the good old hotel; however it is not just old but clean and there was consideration to the smallest point and I enjoyed the stay. It is a hotel which gives you a sentimental feeling. The service was more warm and feel-good than polite and it made me comfortable; I could feel the kindness of the staffs. The hot spring was retro and cute, it makes you want to go in over and over. The food was local dishes made from the local ingredients and it tasted warm and made me feel relieved. The service from the madame and the staffs was not assertive and I felt that it is the charm of this hotel and Nozawa hot spring.
+ More
Oct 2013
We stayed at Myoko, where the view is great. The dishes made delicately with focusing on local ingredients were great, and the inn had a sense of cleanliness, next time I want to come back in winter season.
+ More
Sep 2013
Information
Check-in Time

From 12:00pm to 5:00pm

Check-out Time

Until 11:00am

Tax / Service Charge

Bathing Tax JPY 150 per adult is NOT included in the rates.

Credit cards accepted at this property

VISA / MASTER
Children

Children are accepted, apart from some guestrooms.
Children of 0 to 3 years old are allowed to share a bed with adults.

Pets

Pets are NOT allowed.

Parking

Free of charge for guests; Available from 8am to check-out; Length 5.1m; Capacity 14 vehicles; No Valet Parking Service

Other policies & conditions

No elevator at this ryokan. / Non-smoking throughout the property, except for designated smoking area on 1F. / The final slot of dinner start time is 6:30pm. Please note that any request to have dinner is NOT accepted after that time. Also, your reservation might by cancelled if you check-in after that time.