Takumi no yado Miyama Ouan
Enjoy the landscape of Mt. Kasagatake and the Northern Alps mountains. The location of Takumino Yado Miyamaouan is a village nestled deep in the mountains where time seems to stand still. The place has superior quality natural onsens that have a rich history and is naturally abundant with nutritious food ingredients unique to the land... This was just the reason that this very place of Hirayu was chosen as the location to build this inn.
We are sorry but we don't have any rooms available now.

Please select another Ryokan.
- VAT is included, but bathing tax (around JPY 150 per adult) may NOT be included.
- Price in USD is based on the exchange rate as of today and might be different from that of the booking date.
Foods
With nature's bounties unique to this very land. There a plenty of tasty food ingredients unique to Oku-Hida, a place surrounded by mountains. Enjoy traditional Japanese kaiseki cuisine, that is prepared using the best of each of the four seasons' offerings, as you gather around the irori-hearth table. The main dish is the Bihada-nabe, a medicinal yakuzen style dish full of collagen, the 'Suppon-nabe', and the dish that is prepared using local specialties, the 'Hidaushi Aburiyaki'.

This is a land that is nothing but rich in nature. The hospitality here is not some sophisticated urbanised style of service, but rather it's one that cherishes the simple rural aspects of heartfelt courtesy.
It's like the feeling you get when you hear 'welcome back home!' rather than 'welcome!'. It's as if you've come back to your very own home in your home town, that is the kind of hospitality that the place desires to offer.
Baths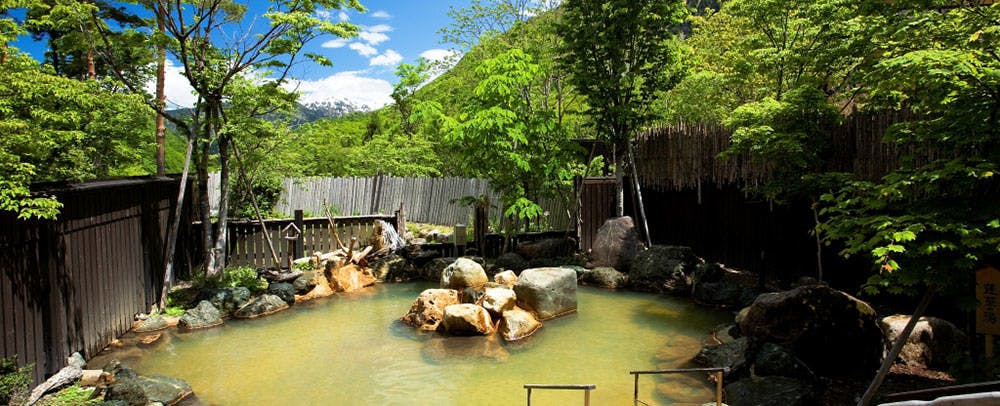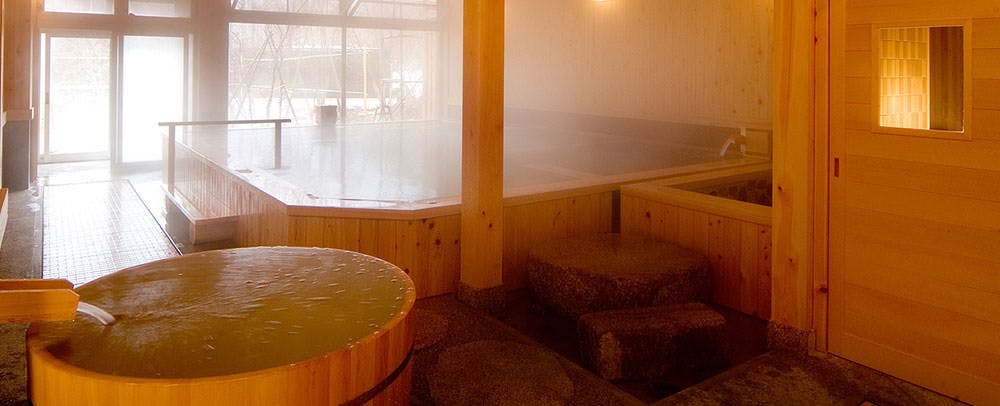 Let your body and mind unwind and be at ease. Here at Hirayu, the Taishōike of Kamikōchi owes its origin to the active volcano of Mount Yake, and the natural spring water is very soft. Having two different spring sources, experiencing each one is a fun experience. These onsens are the pride of the region that everyone should experience.

Hirayu is a historic onsen site that is said to have its origins in the Shingenkou. Its fine quality water can be enjoyed at the open-air bath with spring sourced flowing water, reservation-based mountain-hut style bath, and the guest room's attached open-air bath (some). So that it is possible to have a full view of the starry sky and the scenery of Mt. Kasa, the place was made with as few visible obstacles as possible.
Facilities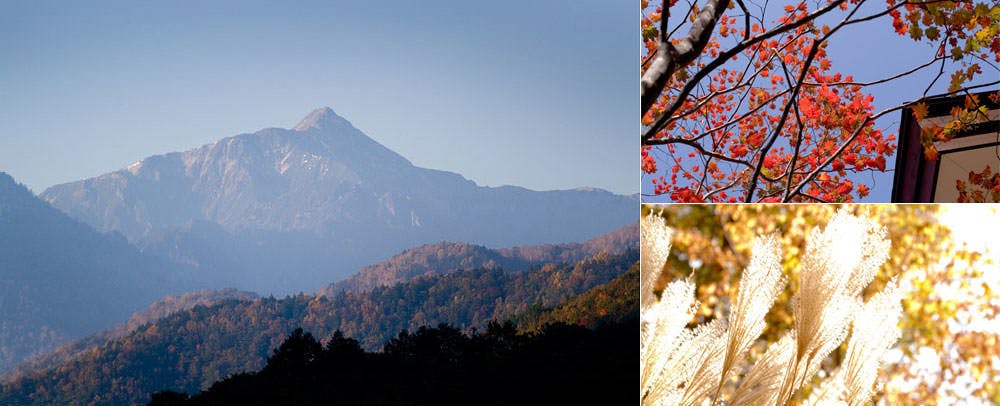 Be healed to the core of your heart. From the wide viewing window that appears like a movie screen, you can enjoy the mountain scenery cut out like a picture scroll. Fresh verdure, summer mountain​s, fall coloured foliage and the snowy landscape​; enjoy the unique scenery of this part of Japan, distinctive to each of the four seasons.

We enter a new era in April 2017 as we celebrate our 'Ten year anniversary in your service'.
Greetings from
Takumino Yado Miyamaouan

Thanks to your patronage, our hotel was able to reach its 'Tenth anniversary in your service'.
We would like show our heartfelt gratitude to all our guests who have supported us in this journey, and our staff will strive to help make this a place that will serve and satisfy even more guests in the future.

Currently, we are planning special 'thank-you' plans to celebrate our ten year anniversary.
As there are many things that are not yet finalized, as soon as we decide the details we will inform about them as the occasion calls, please stay updated!
Be sure to visit Takumino Yado Miyamaouan during this time.
We'll be eagerly looking forward to seeing you here.

Now running, by popular demand. Direct line from the resort to Kamikōchi, free shuttle service. Popular every year, the 'Kamikōchi free shuttle bus.
Even this year was highly favoured by the customers.

Period: From 10th May to 15th November
Hours: 1) 9:15, 2) 11:15
The mentioned time is when the shuttle departs the hotel. Guests can use the shuttle the next day after their arrival.
Please gather at the hotel 10 minutes prior to the time of departure.

The greenery of the surrounding mountains has started to get deeper in shade. The days have become more and more easy and fun, blessed with fine weather!
However, since the wind is a little chilly, be sure to bring an extra layer of clothing when you come for a tour.

Kamikōchi shuttle bus seats, advanced booking plans are on sale now!
Be sure to make a booking as soon as possible!
We're waiting for everyone's arrival.
Access
229 Hirayu Onsengo Okuhida Takayama,Gifu,506-1433,JAPAN
When coming by train:
From the Tokyo direction:
Shinjuku (Chūō Main Line: 2 hours 30 minutes) towards Matsumoto (Bus: 1 hour 30 minutes) towards Hirayuonsen, then a 7-minute walk to Miyamaouan.
From the Nagoya direction:
Nagoya (Tōkai-Hokuriku Expressway: 2 hours) to Takayama West IC (R158: 1 hour 30 minutes) to Miyamaouan.
From the Toyama direction:
Toyama (R41: 1 hour) to Kamioka (R471: 40 minutes) to Miyamaouan.
From the Osaka direction:
Osaka (Meishin · Tōkai-Hokuriku Expressway: 3 hours 30 minutes) to Takayama West IC (R158: 1 hour 30 minutes) to Miyamaouan.

For arrival by JR and Bus:
From the Tokyo direction:
Shinjuku (Chūō Main Line: 2 hours 30 minutes) towards Matsumoto (Bus: 1 hour 30 minutes) towards Hirayuonsen, then a 7-minute walk to Miyamaouan. From the Nagoya direction:
Nagoya (Takayama Main Line: 2 hours 30 minutes) to Takayama (Bus: 1 hour) to Hirayuonsen, then a 7-minute walk to Miyamaouan.
From the Osaka Direction:
Shin Osaka (Shinkansen: 1 hour) to Nagoya (Takayama Main Line: 2 hours 30 minutes) to Takayama (Bus: 1 hour) to Hirayuonsen, then a 7-minute walk to Miyamaouan.

When only using buses:
From the Toyama direction:
Toyama (Limited Express Bus for Hirayuonsen: 2 hours 30 minutes) to Hirayuonsen, then a 7-minute walk to Miyamaouan.
Reviews
We stayed for one night from 2nd August. Our room was the farthest from the grand bathhouse, but actually it didn't feel far at all. The grand bathhouse was so clean and our level of satisfaction was really high, and the open-air bath also quite large. We went for a bath whenever we wanted to and it felt amazing. We chose a room with a western style bed. The bedroom and living were independent and both the living and the bedroom had TVs so it was nice to be able to just watch TV and doze off. They had the local Hida-beef. The amount of meat wasn't too much, but it was without a doubt very delicious. Unlike other ryokans, we went to our room on our own and made our tea using the provided tea-sets in the room as self-serve, but since your heavy luggage is sent separately to the room there weren't any complains regarding the service for us. Also, the place gives you two sets of keys at check-in, and that's actually quite useful if a couple of persons go to the grand bathhouse at the same time, either one won't have to wait for the one who has the keys. Also, having towel hangers, and the chartered bath being free of cost, free ramen in the evening, free Yakult and milk, you could tell that the place thinks from the point of view of the guests. We'd stayed at the same brand's Kisshou hotel at Naruko, both places had heartfelt service which I guess attributes to the brand's resort group. The unfortunate thing though, was tobacco smoke. The cafe that serves coffee is a smoking zone, the smoke actually flows into the hallway, and if you're unlucky you might just run into some on the way out of your bath. It's be nice if the whole place was a non-smoking zone apart from just the rooms that allow smoking.
+ More
2017/08/01
I stayed over for one night over the weekend with my wife who is pregnant. We stopped on our way at Shirakawa-gō, from there it took us an hour to get to the hotel. Built inside a national park, I feel like this place suits those who just want to take some time off and relax rather than sightseers. My wife and I both think that this place has been the best hotel that we've stayed at till now. Again, once our child is born, we'd love to come visit again.
+ More
2017/07/01
I stayed with my two little children. Being the middle of the summer vacation there was an Ennichi​ festival in the evening and the children were quite delighted. But, the meals were the same as those for grown-ups, there was just too much food for them to finish and we ended up wasting quite a bit. It would be nice to have meals specially prepared for children, or at least have a smaller serving size if it's the same dish as for grown-ups. It was sad that the coffee space was used as a smoking zone. I wouldn't stop anyone if they want to smoke, but non smokers should at least have priority. We all wanted to use all of the room's space freely, so we opted for a room without a massage chair, but there still was a massage chair in the room that was kind of in the way. We enjoyed the onsens.
+ More
Jul 2017
It's a yado that I'd always wanted to go to. The baths were very good, I went and took a bath so many times and was really satisfied. But the service???We felt the service was not in line with the cost of our stay. We stayed at the western-Japanese style guest room with an attached open-air bath, but since we aren't accustomed to western beds, I was asking about getting some futons for us and when I told the room staff that "we didn't use the bed at all" because it would be troublesome for them to prepare it the next time, the staff were in mute amazement. So the room staff called the reception from the room's phone for confirmation from the reception, and right in front of us they said "is it really okay to trust the customers on this?" over the phone, were they ridiculing us? Or was it just the room staff who was being inconsiderate? It was our first time at such a pricy resort. It felt like the front staff didn't seem to understand even when we explained it to them at check-out. Really, we were better off not going there at all. We learnt a harsh lesson.
+ More
2017/07/01
It was my first time here. To be honest, the dishes seemed ill-prepared. The variety and the arrangement looked alright, but nothing was tasty in particular and I was disappointed that the Hida-beef was somewhat stiff. There were groups of tourists from China and other foreign tourists, for which the Japanese food might seem alright. The dining place got kinda loud like a family restaurant. With such a good location and such nice onsen facilities, it was unfortunate that such a nice atmosphere could not be enjoyed.
+ More
2017/07/02
It was my first time staying here. The free shuttle service to Kamikouchi, the milk and nightly soba service etc there were so many value added services. I also enjoyed the well prepared meals very much. Just a couple of points. We got upgraded (after some effort) to a room with an attached open-air bath. The room's bath was the best part, but this room's Japanese-styled section was partitioned off and it felt a bit disappointing. There was coffee service available, but since that area was a smoking zone it was a bit too smelly for the coffee to be enjoyable. Overall, the staff members were all very polite, and we stayed with comfort. Thank you.
+ More
2017/07/03
It was our group of 2 elderly people who had weaker legs and 4 middle-aged people that stayed here together. We're all very satisfied with the sincere and heartfelt care that we received. The complimentary service of the installed fridge in the room, the after-bath drinks in the evening and at morning, and the morning coffee etc. their service was like nothing we had experienced before and we were pleasantly surprised. The hot spring water was very good as well, and we were very satisfied. On top of that, there was a complimentary shuttle service till Kamikōchi. We'd love to come stay again. The warmth with which the staff conducted everything was very nice. We are grateful that we were able to have such wonderful memories made.
+ More
2017/07/04
The hardness of the pillows, and the types... I wish they had more types than what they did for the yukata. It was way too soft that I couldn't sleep well. Apart from that, it was a very nice and comfortable inn to stay. So please do the needful, and thank you.
+ More
2017/05/01
It was my second time here. The last time I was here (December 2016), I remember wearing long-boots and shivering in the cold as I walked down the aisle to the open-air bath, but now the pathway was nicely built and it's quite easy to go here and there. The food was amazing as always, and I was very satisfied. The only downside was that the guests from the neighbouring countries were a bit rowdy, and that spoilt the nice atmosphere of the public bath and the dining place. I guess this problem's the same at every facility... I guess it's the tour guide who can be a bit more firm for those who are on a tour.
+ More
2017/04/01
I had my room changed to one with an attached open-air bath after paying an extra charge. After that, the connecting passage from the main-wing was so cold that it got hard to exit the room at all, and apart from eating, I unfortunately barely left the room and just stayed inside.
+ More
2017/04/01
It was overcast at the time of our arrival and while on the road here even the snow came out and greeted us a little in April. The comfort of the rooms, the warmth of the baths, the goodness of the food, and the best thing was being greeted by the warm smiles of staff members. It's a place that we'd love to come again. Thank you for letting me spend such a pleasant day together with my wife.
+ More
2017/04/02
Information
Check-in Time

From 3:00pm to 8:00pm

Check-out Time

Until 11:00am

Tax / Service Charge

Bathing tax (150 yen per adult) is not included.

Credit cards accepted at this property

VISA / MASTER / JCB / AMEX / DINERS
Children

Preschool children will be charged facility fee accordin to their age.
Free of charge: Children who are 0-2 years old
2000yen: Children who are 3 years old and older


Pets

Pets are NOT allowed.

Parking

Free of charge for the guests/Parking space for 60 cars

Other policies & conditions

Nothing in particular