- VAT is included, but bathing tax (around JPY 150 per adult) may NOT be included.
- Price in USD is based on the exchange rate as of today and might be different from that of the booking date.
Foods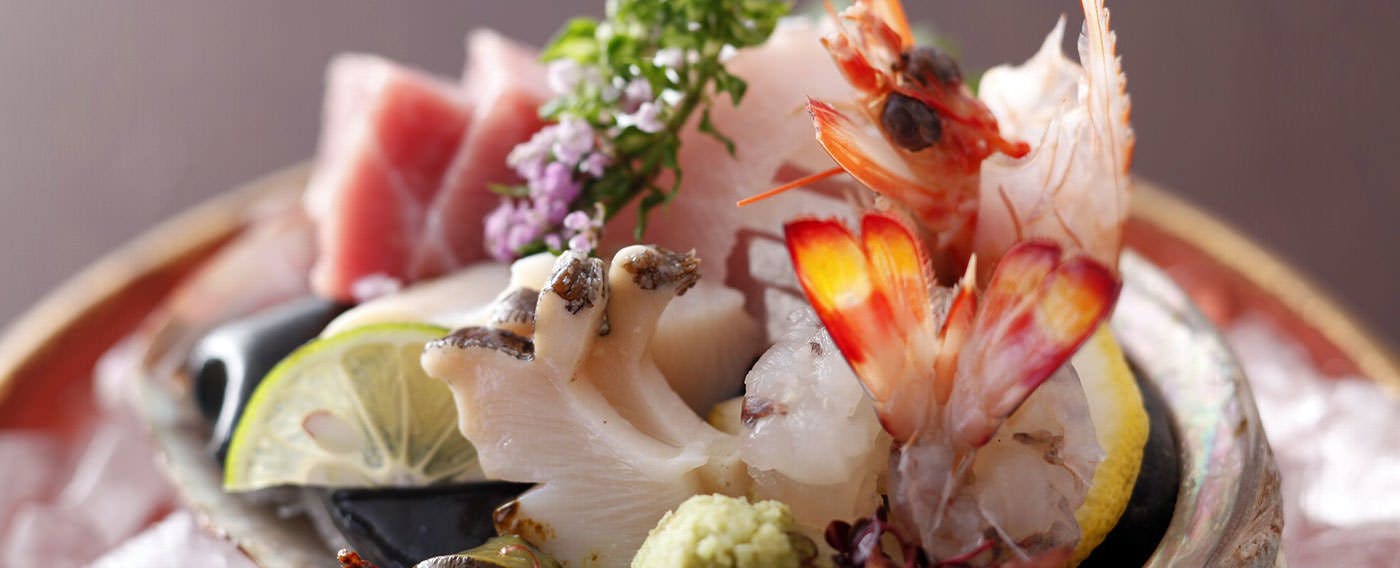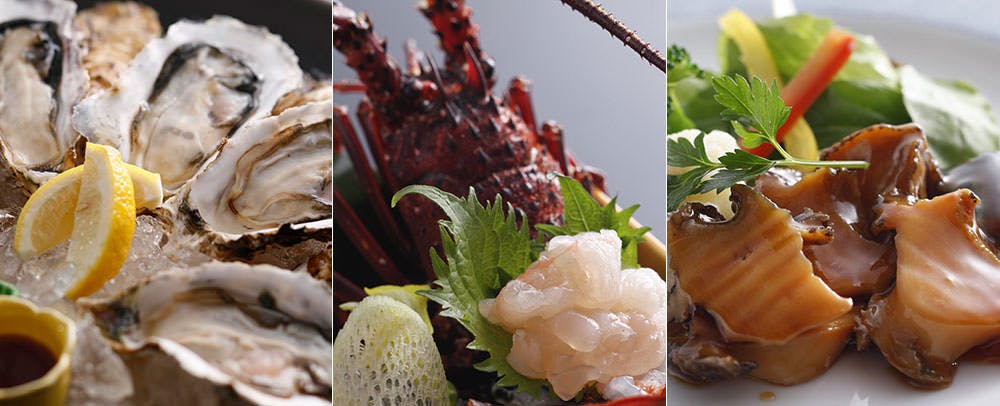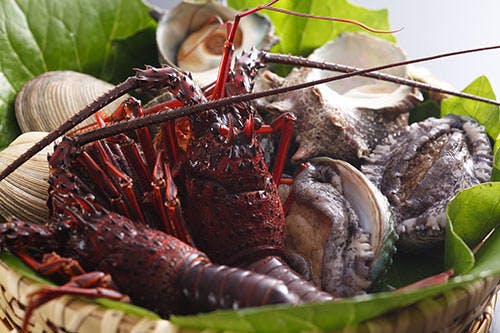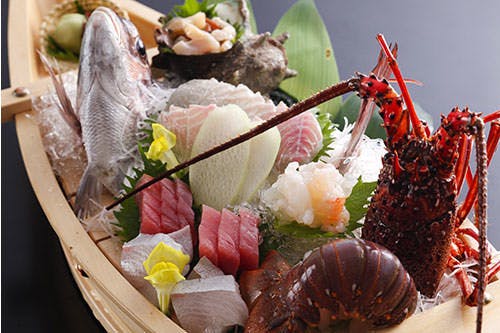 We would like to provide the sea food cuisine of Ikeshima with the best dishes for customers…
With that thinking, we present a lavish cuisine of all four seasons using the abundant seasonal seafood, always conscious that the local production should be consumed locally and with the way of thinking that this will add color to the cuisine. We are making use of the characteristics of seasonal ingredients, and the many "works of art of the tastes" where we put a great deal of effort building up, should be thoroughly enjoyed. And we hope that, as we provide the timely delicacies with refined hospitality, the guest can spend a luxurious time at the guest room in a relaxed mood.
Baths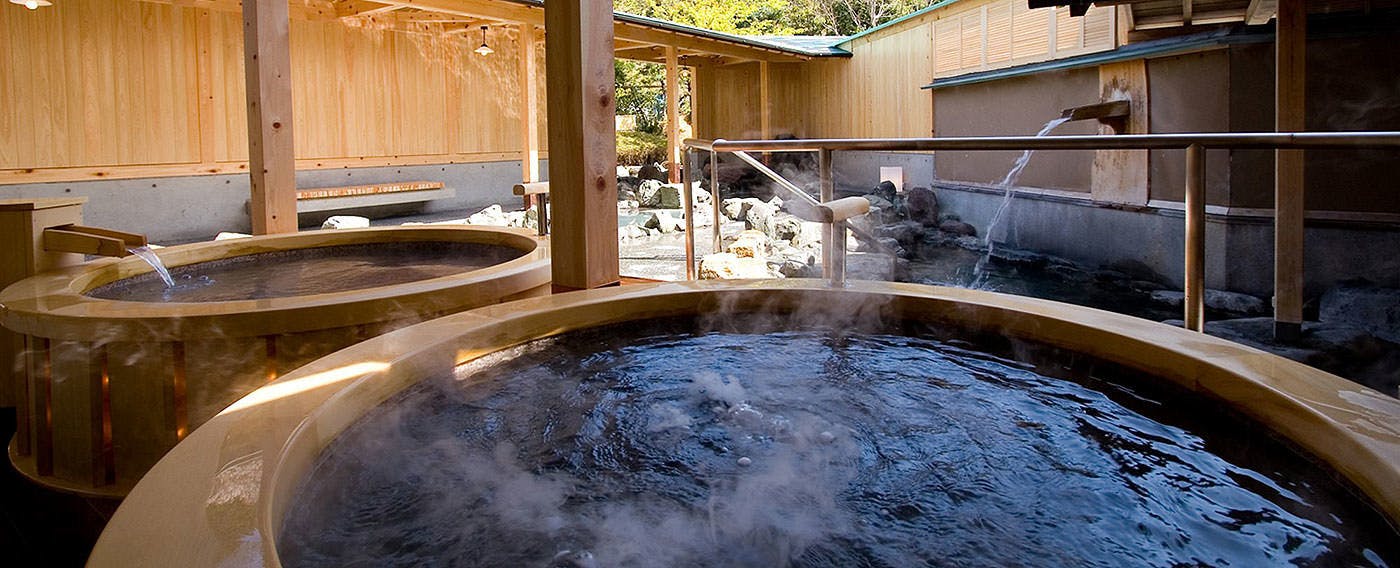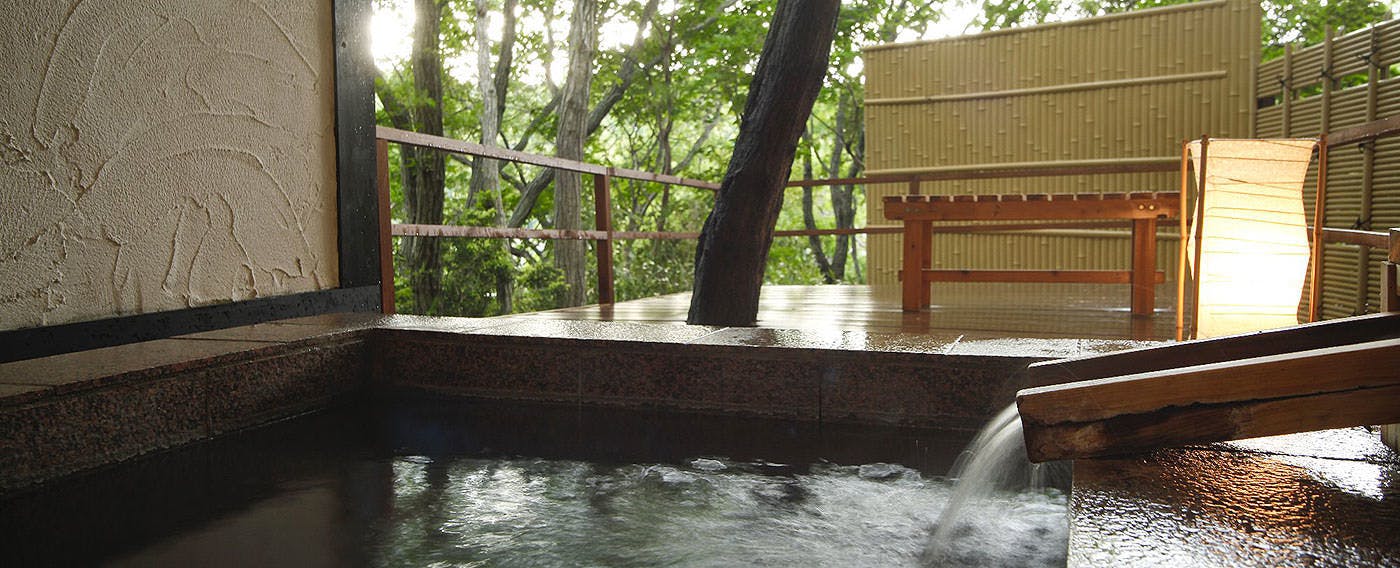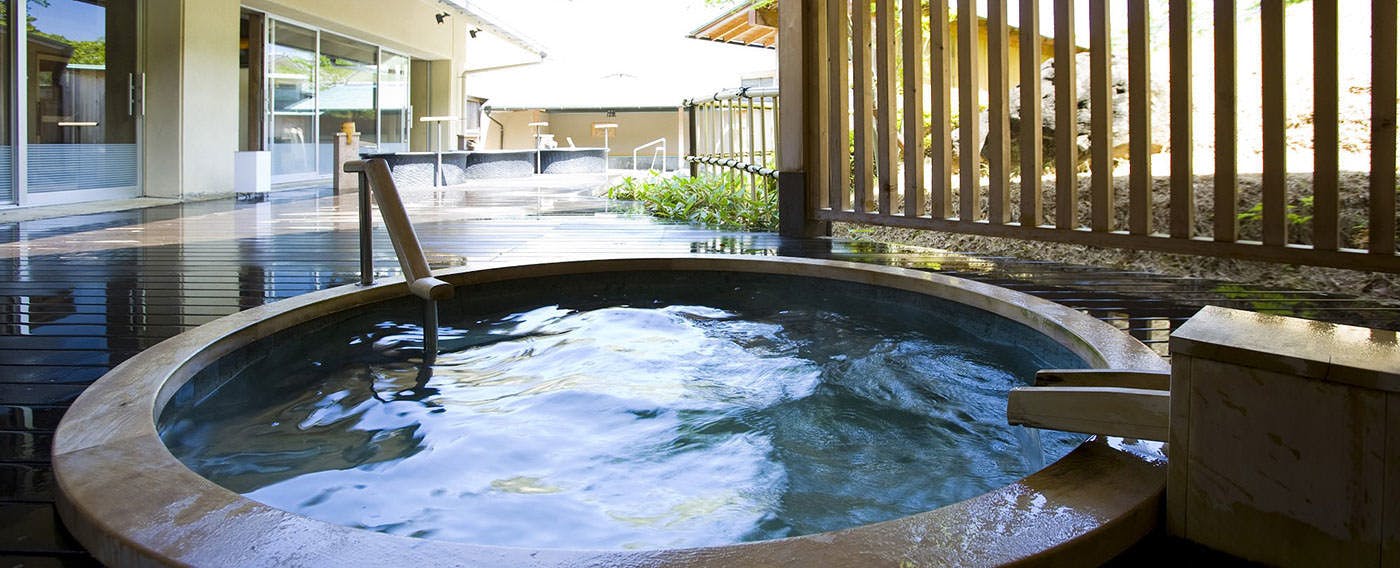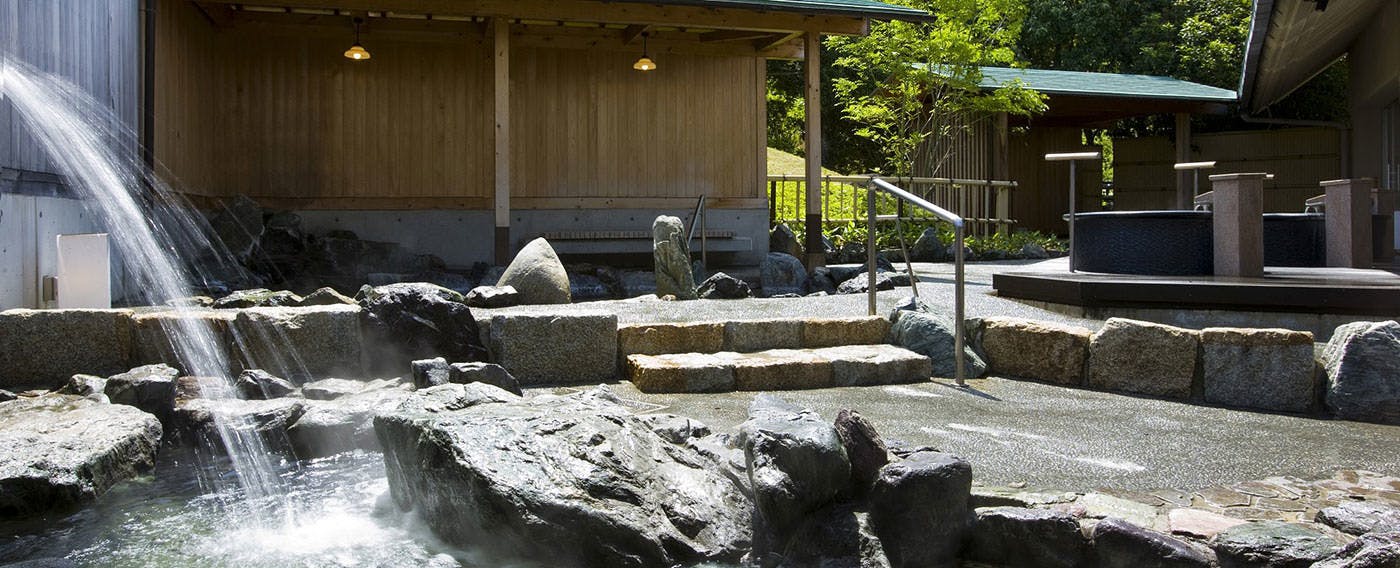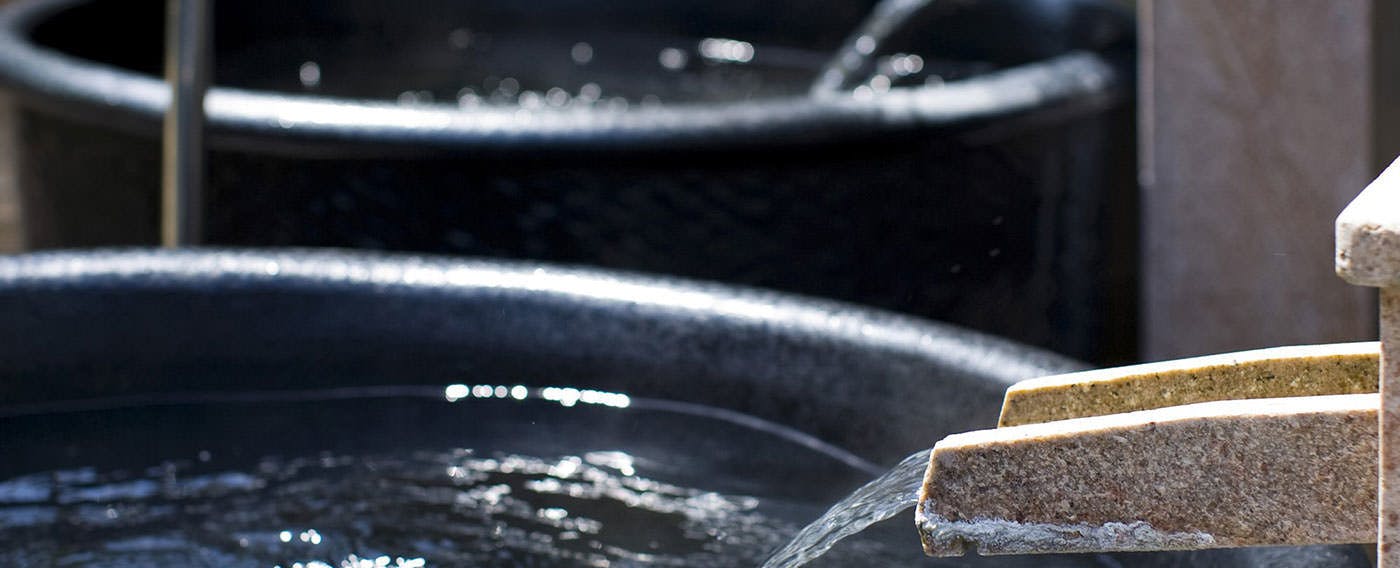 The large bathroom "Marobine arbor"
There are two in-house sources of hot springs, "Shuko-no-yu" and "Nagomi-no-yu".
In addition to the cave type outdoor bath built with various sized rocks, the cypress bathtub and kama(iron style) bathtub as well as the colorful open air bath with smooth high quality hot water will take you to a blissful relaxation. In a space with refreshing greenery and cheerful freedom that plays with the light in daytime and the illusionary world of light shimmering on the watery reflection will entertain you.
Facilities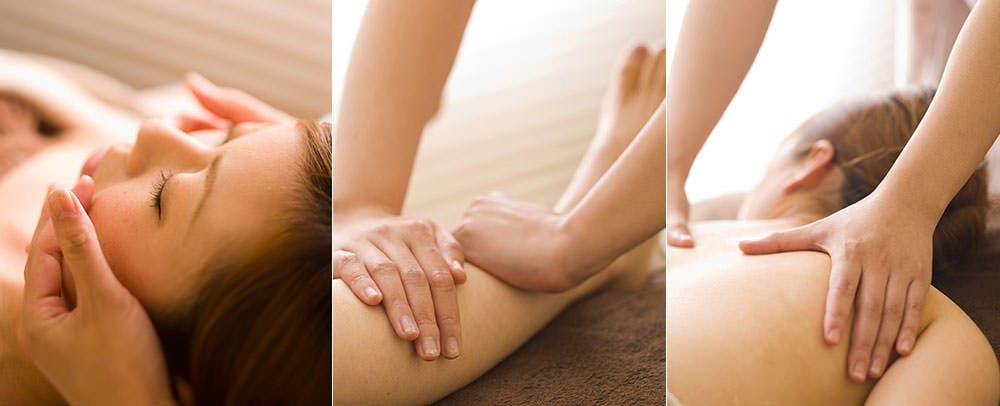 Menu for beauty salon treatment "Pris" Yuri-no-Sato
Deluxe treatment (90 minutes) ¥14,700
Pair treatment (60 minutes) ¥13,450 (for 2 people)
Relaxing treatment (60 minutes) ¥9,450
Point treatment (40 minutes) ¥6,300

Luxury facial treatment (90 minutes) ¥16,800
Moisture facial treatment (90 minutes) ¥14,700
Standard facial treatment (60 minutes) ¥11,500

Access
Motoura-onsen, Toba-city,Mie,517-0025,JAPAN
From Nagoya Station: Take Kintetsu Express train to Toba Station & 25min by taxi or shuttle bus
Reviews
I was glad to stay there although I was debating which hotel to choose after having decided to go Ise Shrine for the first time on our 24th anniversary. Upon arrival, I noticed that the staff were amicable and well trained by the manager or landlady. I had a bit of a concern about the room since we reserved a standard one, but it was clean and enough space for two people. The view from the window was also good and different from the one we usually see at home in Kanagawa prefecture. The oyster served free at the large communal bath was very delicious and the "Tokoroten" jelly after taking the bath was also tasty. The hot spring was very refreshing and we enjoyed the outdoor bath. Good bath. Dinner was very delicious and voluminous, yet both of my husband and I finished completely. I really wanted to eat it all since it was so delicious. Breakfast was also delicious and of course we completely ate it all. (Laughter) We were delighted when the lady manager gave us a present and the chopsticks for dinner had a special ornament for our anniversary, because the guide staff found out that we were on an anniversary trip from the natural conversation. Food was good. Bath was good. And staff was good. It was the best, with three "goods". Although it is far from home, it is one on my list of hotels where I want to return. It was a nice trip. Thank you. Although there were restrictive rules about taking photos, we liked it.
+ More
2016/11/05
As a whole, satisfactory hotel! If I have to comment disappointment, we had to pay for taking photo and photographer sells ones when we checked out. It was a mood breaker before leaving hotel. What are you thinking of charging money for taking photo? Except about the photo, our stay was comfortable taking care of details. Particularly, a staff who attended us in dining room was excellent.
+ More
2016/10/24
We enjoyed foods since our dining room was separate room where we felt easy and good. Waitress was good keeping appropriate distance! When I asked about the place to visit, she quickly came with bus schedule, which was very appreciated.
+ More
2016/08/17
When I was looking sea from the window and thought how rural area the location was, staff told me "Thank you for coming such a country side without anything." Then I felt relieved recognizing I came here because there is any nosy thing, to feel slow but relaxing atmosphere. I liked comfortable outdoor bath. I was delighted when the landlady came to my room felling a kind of nostalgia. (She was pretty, too.) Dinner and breakfast were good in quantity and abalone steak was delicious. The staff attending to our room was very kind and we were surprised about her young looks in spite of her real age as we asked about it. We thought the hot spring must be effective to keep young looks. I liked an amenity set of Mikimoto brand in the guest room, and enjoyed using it. We like to return back, hopefully the same lady will attend to us, please.
+ More
2016/07/24
I was satisfied with such warm heated experience as delicious meals, hot spring which warmed my body comfortably, and all. I like to stay again.
+ More
2016/04/03
Information
Check-in Time

From 3:00pm to 7:00pm

Check-out Time

Until 11:00am

Tax / Service Charge

Bathing Tax JPY 150 per adult is NOT included in the rates.

Credit cards accepted at this property

VISA / MASTER / AMEX / DINERS
Children

Children are free of charge if they share a bed with you.

Pets

Pets are NOT allowed.

Parking

Free of charge for guests; Capacity 100 vehicles; No Valet Parking Service

Other policies & conditions

Nothing in particular