- VAT is included, but bathing tax (around JPY 150 per adult) may NOT be included.
- Price in USD is based on the exchange rate as of today and might be different from that of the booking date.
Foods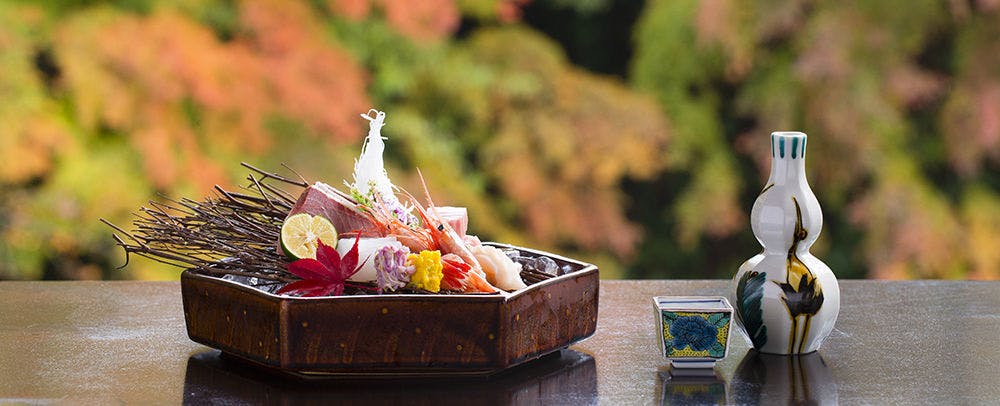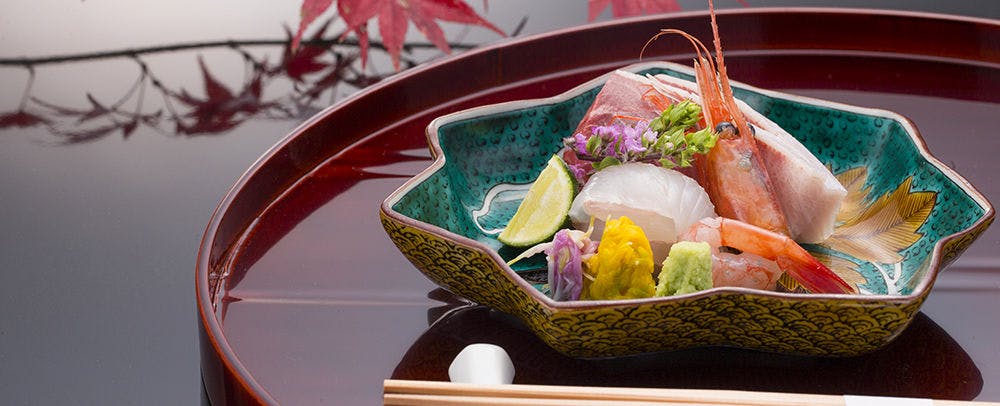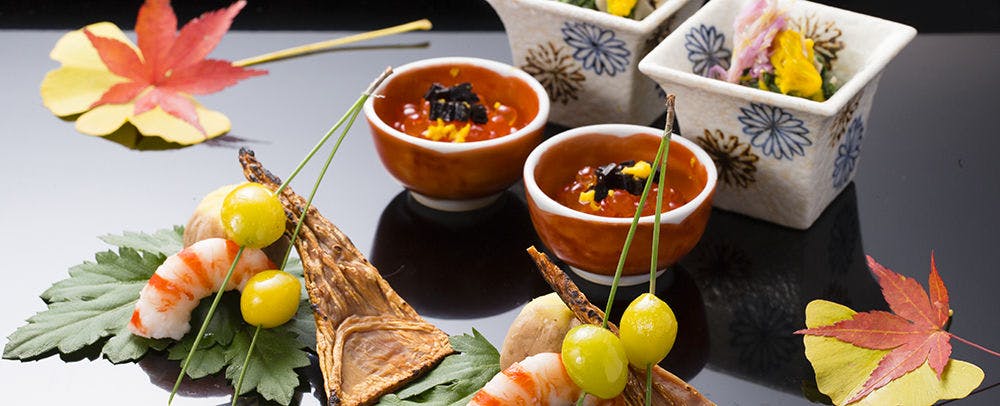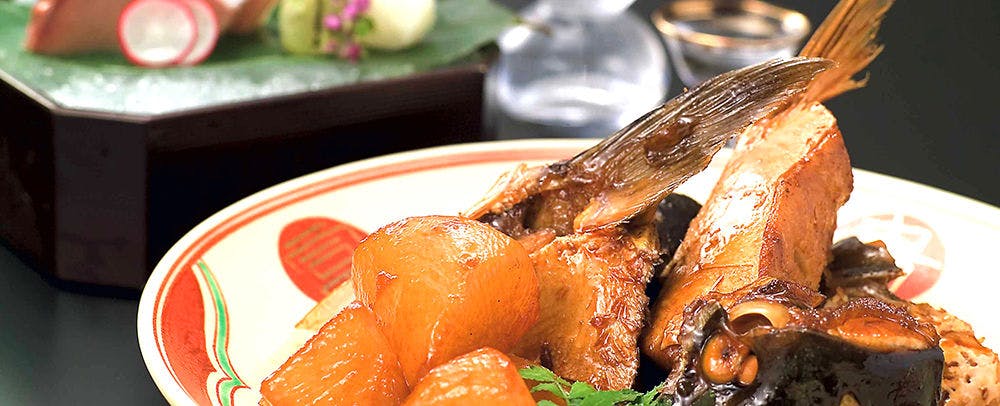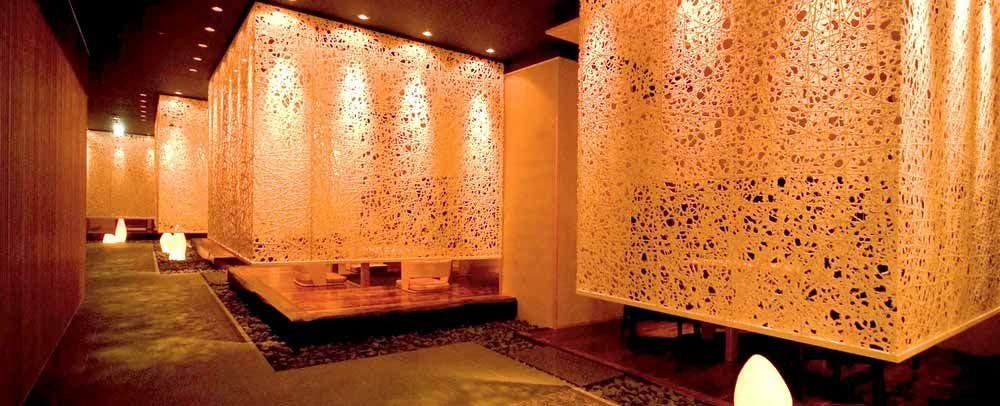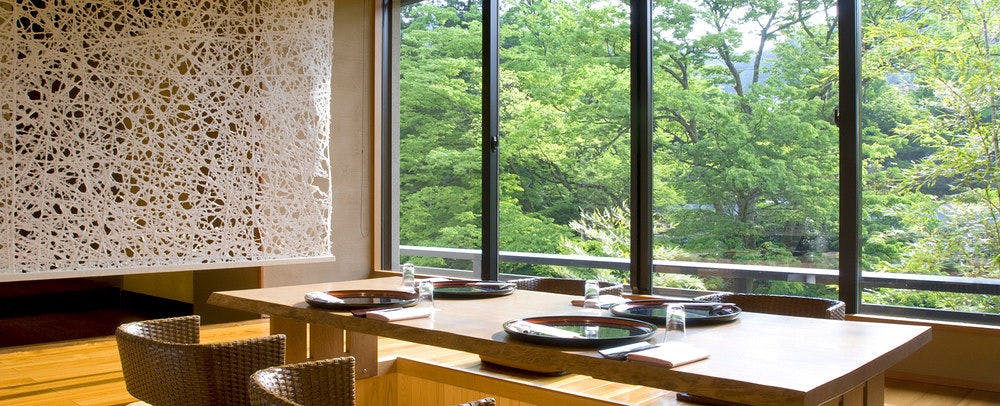 À la carte Kaiseki where you can choose freely from about 50 kinds of dishes Selectable Kaiseki "À la carte Kaiseki" for more freedom of choice

A la carte Kaiseki at "Stay Dining Nihon"
The Japanese Ryokan where the idea was born go from "Oshikise" (pre-set menu) to "Freedom to choose", the Hanamurasaki original dining style "À la carte Kaiseki".
Please enjoy custom made cuisine in a fantastic space decorated with Zokei Washi (Japanese paper), Stay · Dining "Nihon". From our Master Chef; four different kinds of Kaiseki cuisine

Master Chef's Recommendation Kaiseki Taste the Seasons
Besides Hanamurasaki "À la carte Kaiseki", we have four different kinds of Kaiseki cuisine from our Master Chef.
Baths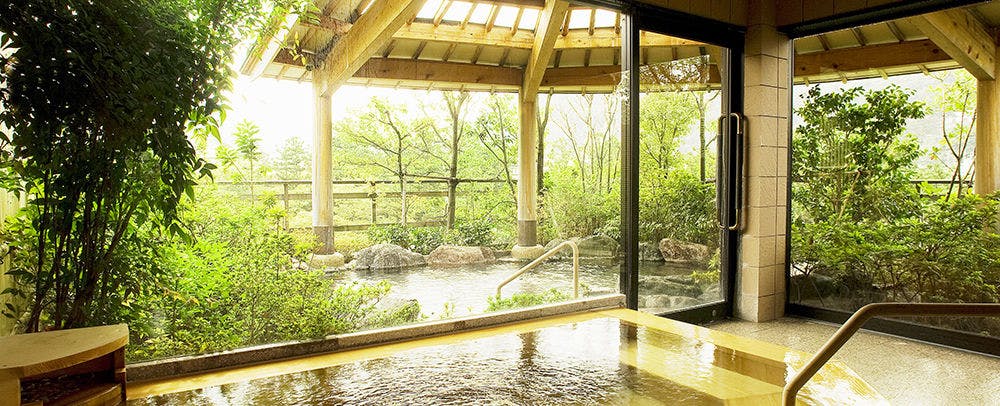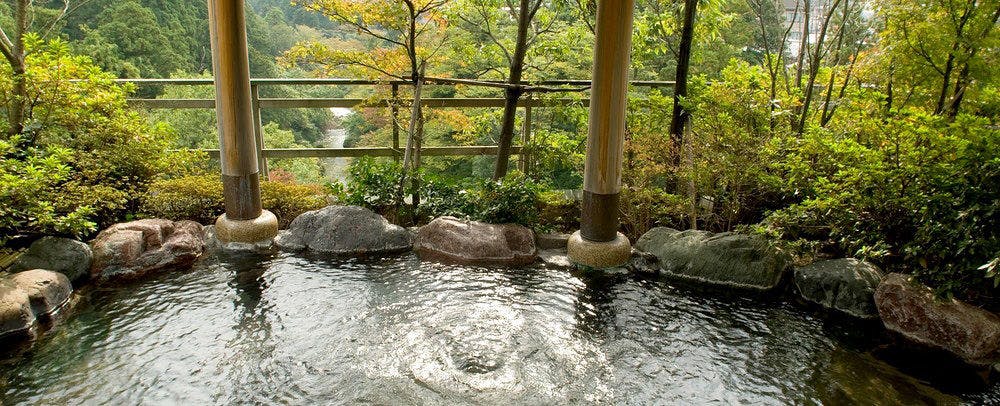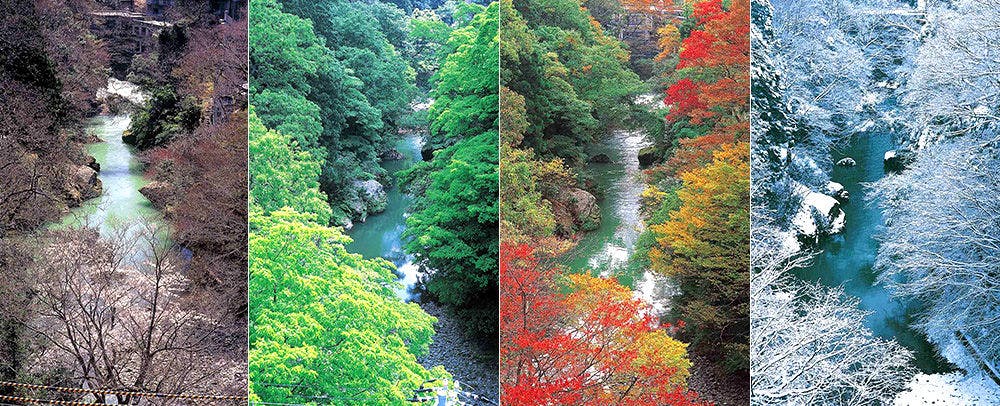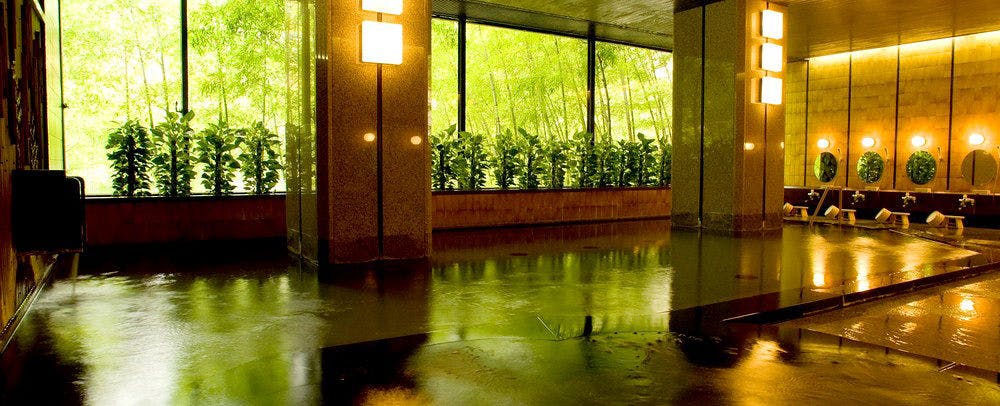 Outdoor bath 'Hira-hira' The outdoor bath "Hira-hira" overlooks a natural beauty spot, Kakusenkei. It is a luxurious bath which provides a bath set of Japanese cypress wood inside, and a rock cave-type bath in an outdoor hot spring. Please enjoy each taste and warmth.

A large communal bath, "Shun-Ka-Shu-Setsu"
You can enjoy the relaxing hot water feeling while the local folk song "Yamanaka-bushi" drifts over you.
Facilities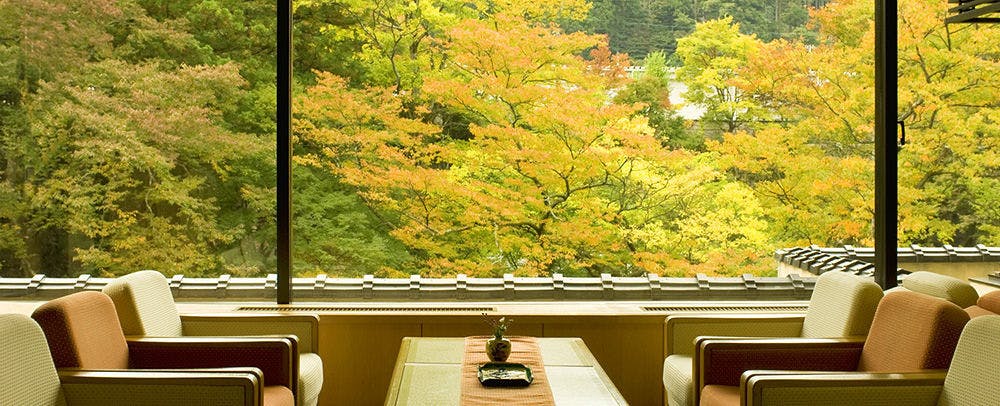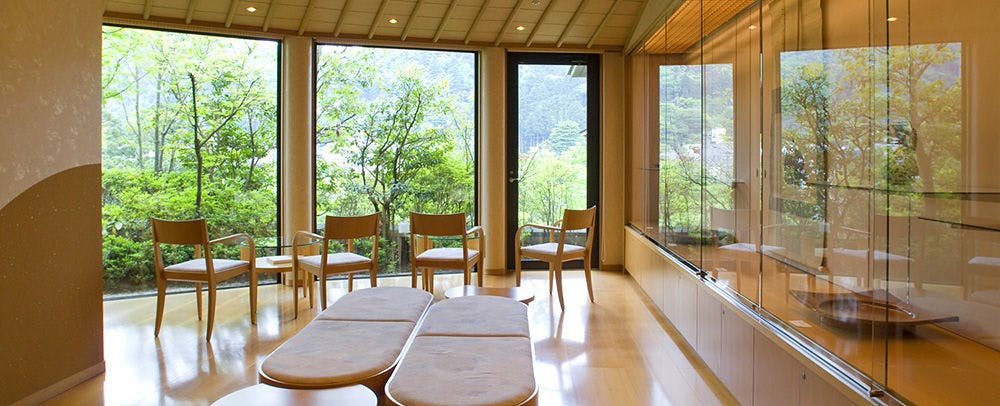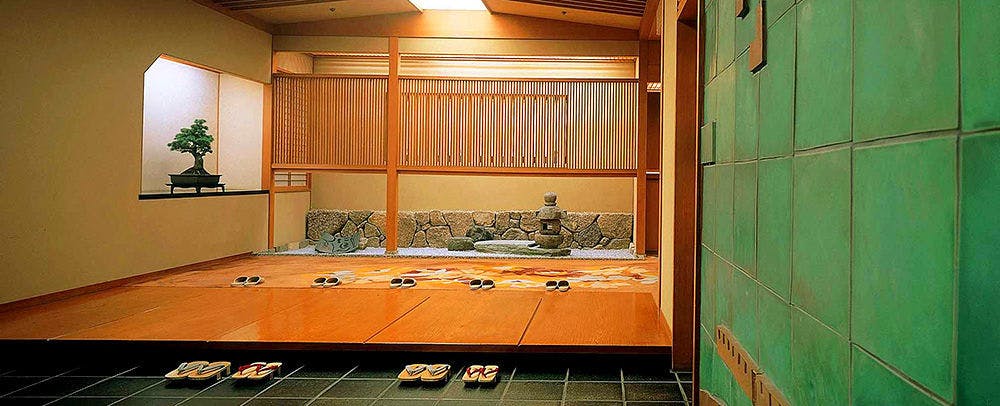 In all aspects, this Inn produced an unique attractiveness beyond the imagination of the visitors. Carefull attention was taken to let you feel at ease with the calm and have a rich time overall.
Access
1-Ho 17-1 Higashi-machi, yamanaka-onsen, Kaga-city,Ishikawa,922-0114,JAPAN
Shuttle bus available from/to JR Kaga-onsen Station. Please contact the hotel for detials.

From Komatsu Airport: 15min by bus to JR Komatsu Station & 10min by train to JR Kaga-onsen Station & 15min by shuttle bus.
From Tokyo Station: 3hr by Shinkansen to JR Kaga-onsen Station & 15min by shuttle bus.
From Osaka Station: 2hr 15min by Shinkansen to JR Kaga-onsen Station & 15min by shuttle bus.
Reviews
For Kabuki viewing in Komatsu, I used the hotel. It is around 40 minutes and in a convenient location by car from Komatsu. The hotel is a good location where a river flows through to the back under a cliff among quiet groves. From the front desk to the room, there is a simple, but large space, which is a comfortable space that never feels in disorder or where you never get lonely. When opensing the room door, there is a courtyard-like space; before the tatami mat room. There is an outdoor bathing room on the top floor, and a large communal bath is on the lower floor. You can find an inside bath within the outdoor bathing room. While the family bath is slightly small, but you enjoy it enough. I had the meal in the dining room. The dining room catches the wide feeling, but there are tables in the inside divided by a moderate partition. It is devised so as not to hear your neighbor talk and you are able to enjoy a private conversation. Because the meal was a la carte, I was able to choose a favorite dish. Mainly with local ingredients, it was a delicious dish which made use of good ingredients. The staff were very kind and give us polite responses that we appreciated very much. Thank you. And, I want to come back and enjoy leisurely.
+ More
2016/10/20
The trip with mother was following a long interval, I chose the trip to Hokuriku where we could expect ellegant food. At the Hanamurasaki Inn, we were introduced to a spacious and clean room with an excellent view as we had requested. Also we appreciated that they rented us parasols. They kindly cleaned our socks and handkerchiefs which helped us very much. Because the dining was delicious in a wonderful space, and mother was so pleased with the place, I want to come to Hanamurasaki when I travel to Hokuriku again.
+ More
2016/10/07
To our surpise, the pickup car was a Century when we arrived. I went for a walk in the rain and my pants were drenched, but they were returned by the staff perfectly dried on the next day together with our shoes. We felt very saved by this. We wanted to have dinner in the room. Dishes were warm and very delicious, and served with good timing. Maybe because we upgraded the meal, we were so satisfied with the dishes and felt as if we were in a special gourmet shop for our 60th anniversary. Although the room was not brand new, it was well cleaned and air-refreshing equipment worked well. There were two hot spring bathing rooms. We particularly liked the outdoor bath, totally made of Japanese cypress wood, on the 7th floor. Each time we went there we found we felt washed away cleanly. The conversation with staff in charge of our room was so enjoyable that we talked too long, which was a refreshing relaxation. Although my friend felt bad at night, we spend the rest of time, to the checkout limit, in the room with a spread futon after breakfast and my friend was able to get well. It left us with a good memory, thank you.
+ More
2016/09/26
Great satisfaction! As in a high quality Inn, check-out time was 12:00 not 11:00, large sized towels and face towels made in Imabari, were piled up on the table in front of the bath. Because there were only 3-5 rooms in a floor, I felt like going to take the bath many times. There were two elevators and could use them without waiting because there was not many guests and we were able to go to the bathhouse often. We rarely met other visitors at the large bathhouse where there were no large groups; it was luxurious and I could take frequent baths. The place to eat was modern in fashion, and had been renewed. The meal was the first experience I had called a la carte kaiseki. There were a lot of items a la carte, too, and high quality items were prepared, unlike a buffet. We could chose high quality dishes. We thought that the room and the face washing/restroom were slightly old, but was well-kept. The air-conditioner of the room was an old type and was the type that I could not thermoregulate (quantity of wind adjustment type). I was lucky because it was a season when the air-conditioner was not necessary. We stay at a hot springs once a month. And we can say proudly that this hotel is in the top-class rank.
+ More
2016/09/13
I visited with two friends. I felt a few symbols of the Showa era in the places equipped with a water supply such as the restroom and washstand, but the room was very comfortable and spacious, too. I wondered what kind of food was "a la carte Kaiseki cusine", but the selection of the menu in the room was fun, and there was much quantity, even for the hors d'oeuvres, and the taste was delicious overall. It was widely known about the ingredients which I did not like beforehand and reached even the operator, so I thought that it was an inn with a lot of hospitality. I asked for a car to take us to the station in spite of being overtime and this was really helpful and accomidated us. Thank you for a wonderful time.
+ More
2016/06/16
Information
Check-in Time

From 2:00pm to 6:00pm

Check-out Time

Until 12:00pm

Tax / Service Charge

Hot spring Tax JPY 150 per adult is NOT included in the rates.

Credit cards accepted at this property

VISA / MASTER / JCB / AMEX / DINERS / UNION PAY / DEBIT CARD
Children

Children between the age of zero to three are free of charge if they share a bed with you.

Pets

Pets are NOT allowed.

Parking

Free of charge for guests; Available from noon on the check-in date to noon on the check-out date; Capacity 40 vehicles; Free Valet Parking Service

Other policies & conditions

Hotel might call guests when the check-in date is closer.