arcana izu
"The Izu auberge, where guests can both nature and food. Care to experience a day at the auberge? Natural French cuisine giving off an inviting aroma that can only be found on Izu; relaxing suite rooms in an atmosphere that is part cottage, part Japanese inn; open-air baths in each room where you can feel the forest air on your skin; spa treatments that awaken your senses to Izu's natural environment-welcome to a place where couples can spend time in luxury. Welcome to arcana izu."
- VAT is included, but bathing tax (around JPY 150 per adult) may NOT be included.
- Price in USD is based on the exchange rate as of today and might be different from that of the booking date.
Foods
Restaurant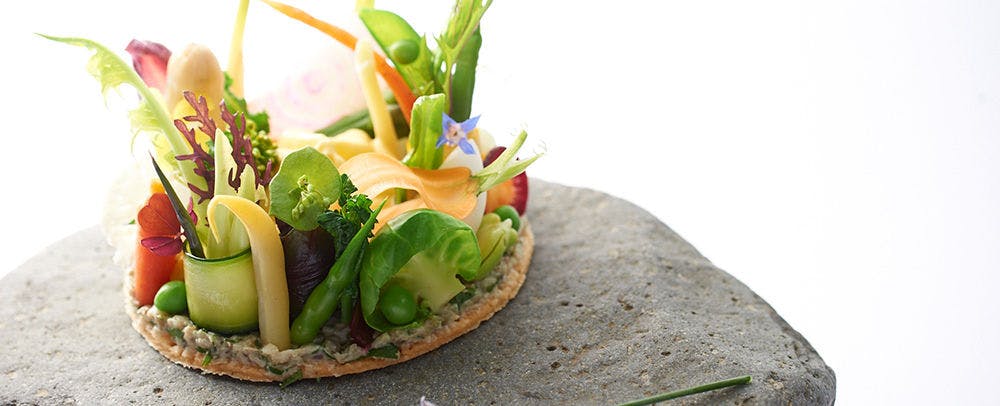 Restaurant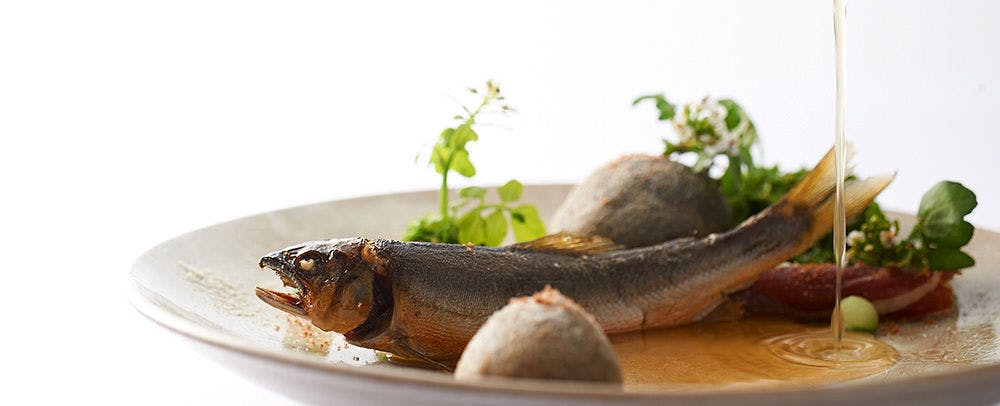 Breakfast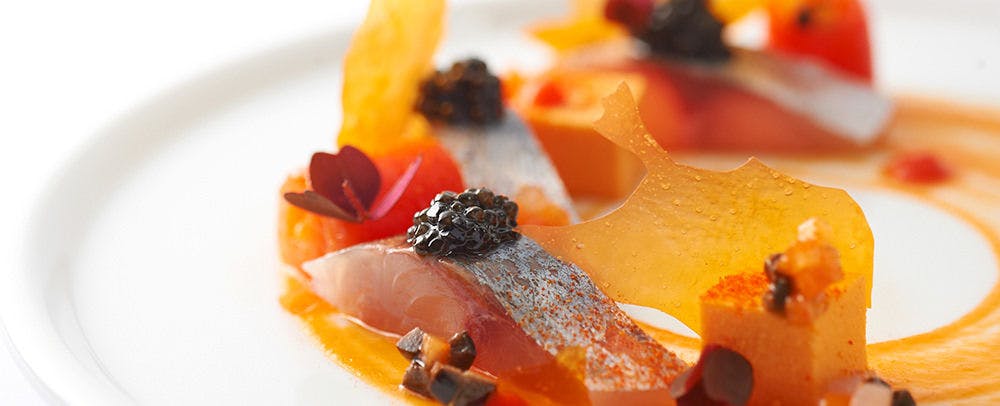 Foods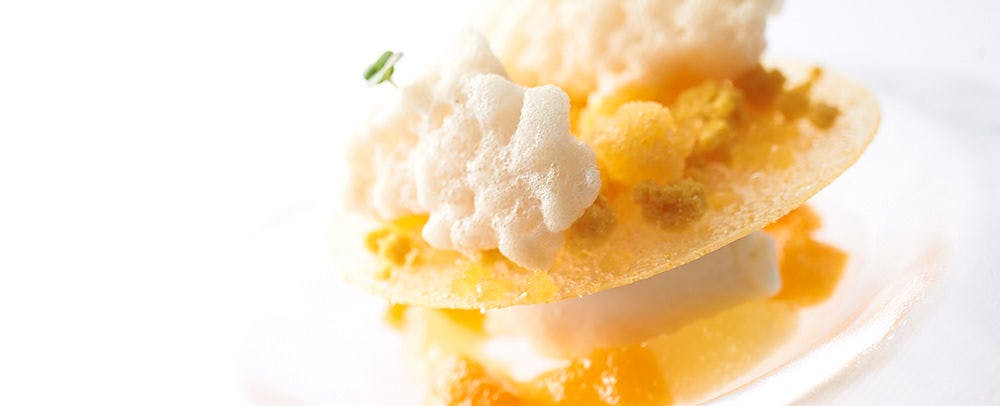 Foods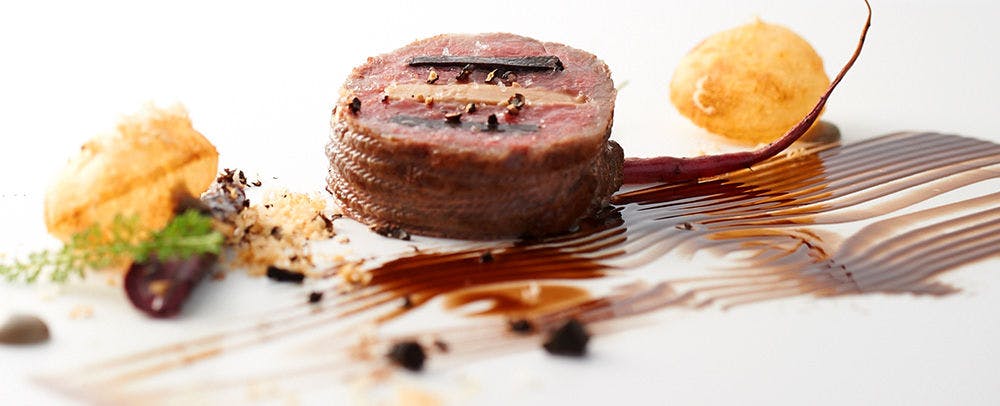 Foods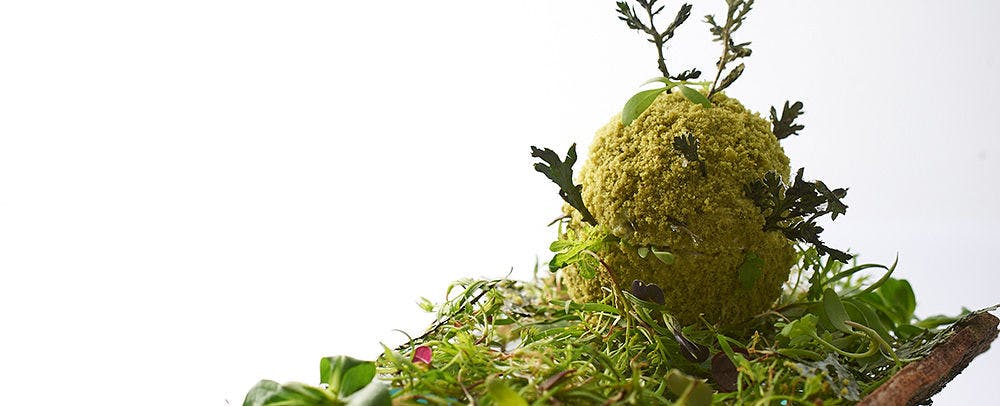 Foods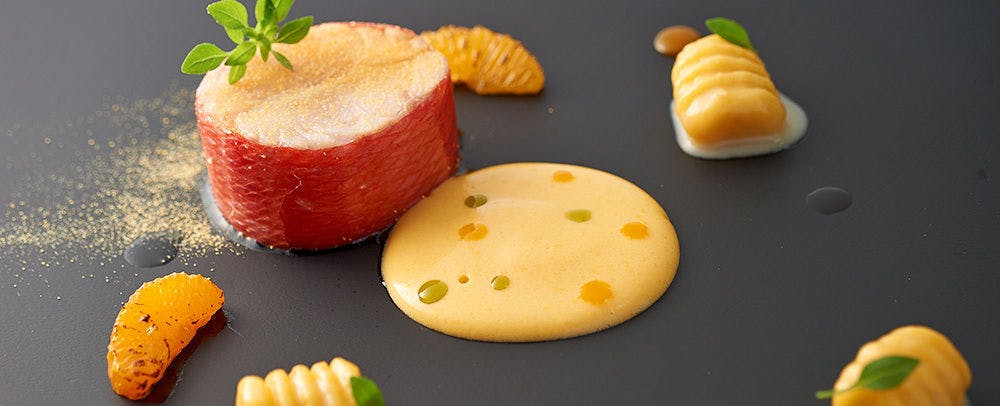 Restaurant
Time with our chef The enjoyment of the auberge is in spending time with the chef. A dining experience exclusively for arcana izu guests, our chef coordinates the day's menu with guests while explaining seasonal ingredients native to Izu. Guests will find a warm table waiting for them even in the event that urgent business caused them to arrive late.

Restaurant "arcana" offers French cuisine features combinations of the finest local ingredients direct from Izu and hand-picked ingredients from all over the world to bring out the full-flavor of the delicacies. Guests will be fascinated by eminent dishes, complex tasting sensations coming from the original sauce, essences, and powders that draw out the richness of the ingredients.
Baths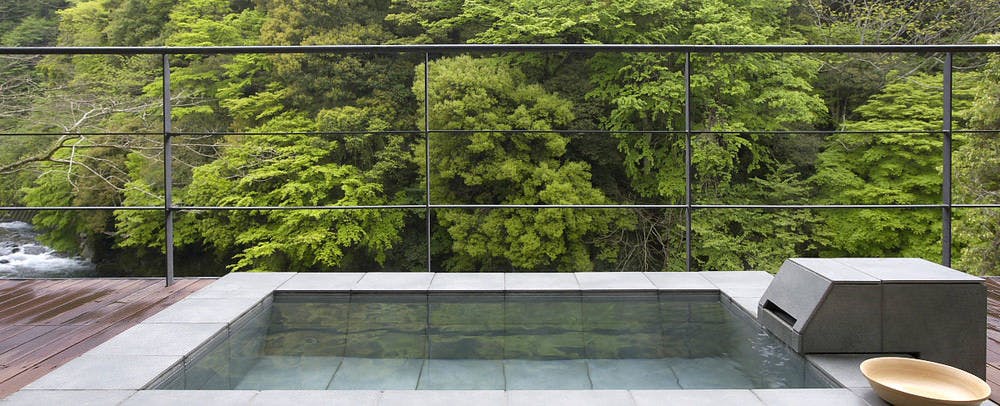 River Wing Suite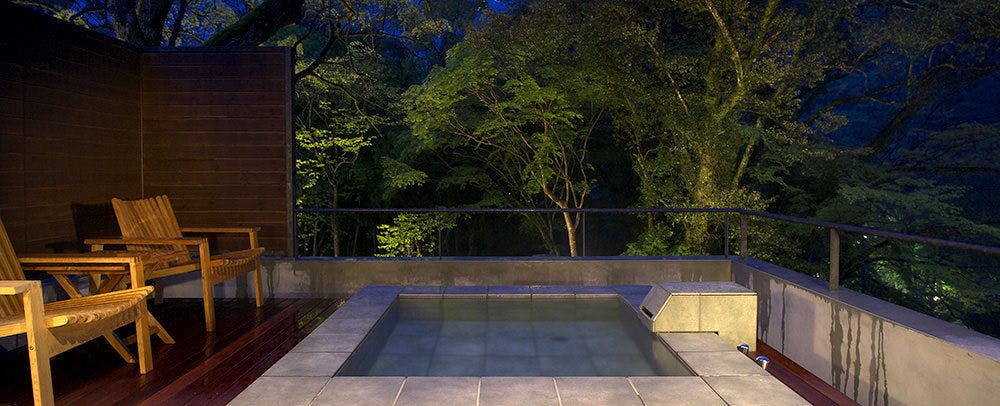 The Suite
River Wing Suite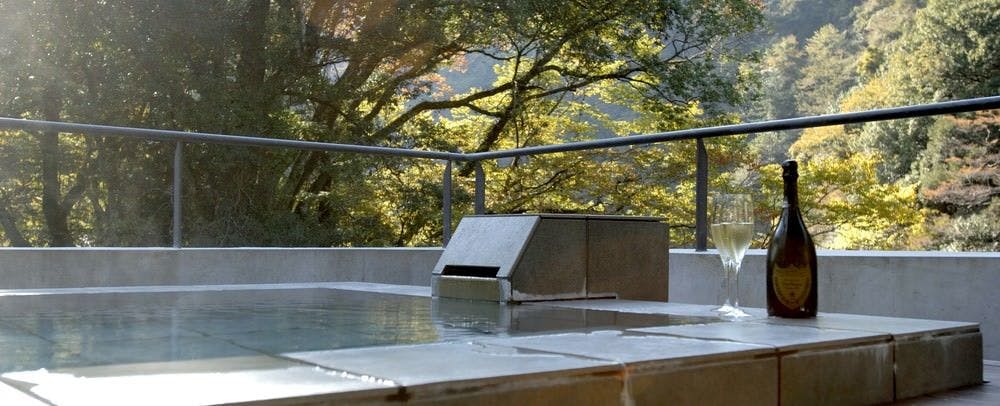 Bath
Moonlight bathing and the enjoyment of fireflies' lights The moon is shining in the forest, as fireflies dance on the river. In the dim light, relax and stretch your legs in the open-air bathtub with a bounty of hot spring water directly from the spring's source. Release your watch as well as your mind at arcana, and let time disappear. *All guest rooms come attached to an open-air hot-spring bath.
Facilities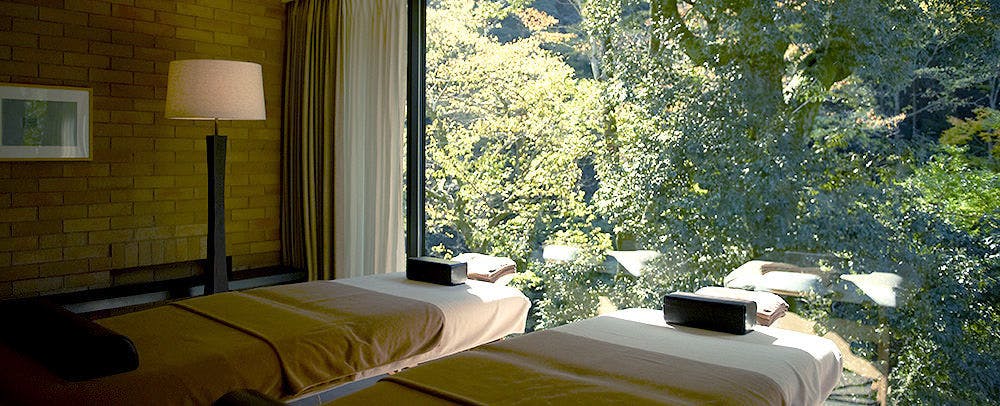 Spa Treatment
Enjoy a spa treatment while being surrounded by nature Indescribably soft to the touch the waters of Yugashima Onsen are renowned for their high quality of its water. Arcana is proud to offer spa treatments that capitalize on the effects of Yugashima Onsen. Relax your body and mind in a natural environment.

Spa treatments at the arcana is proud to bring select a course to suit your state of your body. Please spend a moment of healing in nature. arcana SPA Treatment
Access
1662 Yugashima, Izu-city,Shizuoka,410-3206,JAPAN
BY TRAIN
From Tokyo Station: 60min by Shinkansen to Mishima Station, and 50min by car. Or transfer to Izu Hakone Railway to Shuzenji Station, & 15min by car.;
BY CAR
From Numazu IC Exit (Tomei Expressway): 60min to Shuzenji via Route 136, and 15min.
Reviews
12 Reviews
We really enjoyed last year and visited again. We felt the room we stayed last year was better than the one we stayed this year because we could enjoy seeing the river. The food was really delicious. The butler was nice and provided us a comfortable and courteous service. We could sleep very well listening to healing music. We would like to visit again next year.
+ More
Oct 2015
My second visit this year since spring. The food, room, bath and hospitality of the staff were excellent. I would like to try the winter menu the next time.
+ More
Oct 2015
It was surrounded by nature , in perfect silence we did not hear except Kano River sounds in front of us, and could spend comfortable relaxing time from the bottom of our heart . It's very good the room doesn't have a TV. It's rare experiences that I spent my time like letting myself go into relaxing time in a silence. Until the checkout time at 13:00, I spent my time in total contentment by watching the forest and river flow in front of me without tiring, taking a bath many times and enjoying the meals. The foods were sophisticated and fabulous. I felt a delight of eating and was very satisfied with every dishes from the appetizers to the dessert that unexpected combinations were subtle and beautiful drawing the flavors and aromas of each ingredients. The service was excellent by every staff including butlers or restaurant staff who responded to my big favors. To stretch a point, I wondered why no one gave us any congratulatory words after we exchanged emails mentioning that this trip was intended for our wedding anniversary followed by their prior mail.
+ More
Sep 2015
Thank you very much for everything. Thanks to the the onsen with a gentle spring and a dynamic landscape, I could forget all the noise of the metropolis for a while and relax. I could feel the quality of the installations in the guest rooms and amenities, so it was quite good. As for the food, the third day was better than the second, which was better than the first, and it gave me an impression of a French cuisine that incorporated the spirit of washoku (traditional Japanese food.) But as I believe the opinions may divide here, maybe it's more enjoyable to have it without a preconception that it's French food. In addition, there are plenty of wine options, and the restaurant has a lovely atmosphere. The reception and service are very serious and earnest, and that gives a great impression. However, I cannot deny that in a certain degree they did it according to a manual, and I was not satisfied that they did not notice things that I would have liked them to pay attention to. Some issues are good, some issues are bad, but I think the hotel is quite alright for an auberge, so I think it is possible that I'll visit it again. I do not want to be rude, but I decided to make some comments, although on the whole I found it quite satisfactory. Thank you.
+ More
Sep 2015
I would like to stay more than one night next time.
Sep 2015
I have stayed here before. I am highly satisfied overall, but I do have some requests. I'd stayed at several other inns in this price range and felt arcana izu still was the best, and so I came back. Naturally facilities do degrade, but, I found some places that I felt would be more in shape if they did their normal cleaning more thoroughly. Stains coming from the hot springs and stains on windows... As for drinks, I feel they could, even in the same price range, stock something more special than the canned KIRIN beer . That was the only thing that bothered me, and I am highly satisfied in other regards. However, the price is not low and, even geographically, since it is farther away from Tokyo than Hakone, various other locations will become the candidate instead of coming here. In this case, it will fall short of providing another stay for me unless the service quality is higher.
+ More
Sep 2015
We stayed here for the first time. It was a hot spring on the riverside, and the sound of river water was very soothing. The appearance of the building is just concrete walls, the rooms - mere rectangles. The inside of the building leaves a rather dreary impression. There is no TV, just the Bose CD player. There was a set of chess in the room, but we did not play chess so for us it was a sort of a stylish art object. Othello game would have been more practical? Although it is not so stylish (lol) The temperature regulation of the bath was superb. No matter when we took it there was almost no need to adjust the temperature (this deserves a high score). Also the size, depth of the bath and the quality of water were all top level. This time we were lucky with the weather, but there is nothing that would stop the rain from falling right from above, so we would have gotten all wet? Installing the toilet and the washstand in the same place makes them a bit difficult to use. It would have been better if they were in different places, but it's the only drawback. The quality and quantity of the meals were both impeccable. I also ordered massage, and this was also extremely skillful. I would like to go there again.
+ More
Sep 2015
I thank the chef, the sous-chef, the cuisinier, the sommelier, and the butlers for making it a wonderful stay. And HI who was in charge of our room. I thank from the bottom of my hear for the detailed service.. I enjoyed the warm hospitality of a mysterious auberge to the max. Exquisite arcana French filled with local vegetables of the season, served at a slick dining area while looking at the mysterious tress of Amagi in a full view. I felt a world of French cuisine different from before in each delicate and colorful plate where the chef got the best out of chosen vegetables to bring essential umami to it and mixed ingredients from the ocean, the mountain and the river. The playfulness "Yuenchi" (amusement park) you find common in Lumiere became an art here which was very arcana-like. My wife seemed to be completely charmed as well. I would definitely like to visit again.
+ More
Sep 2015
We stayed for our first wedding anniversary. We had the best stay ever. Because it was an auberge, we were looking forward to the meal more than anything. We fully experienced the amazement, beauty, excitement and pleasure of eating. I was worried if I was going to be able to have breakfast because I was too full after dinner, but I was very satisfied with the pleasure of eating and excitement at breakfast as well. In the comfortable room where I felt like I was in the mountains, I was comforted by the nature, listening to the sound of a stream and the birds singing. Because the bathtub was on the terrace, I wondered if the sunshine was too bright, but as the sun went just behind the forest after checking in, it was comfortable there. I enjoyed the distance kept by the butler and the servers, which made me smile. I would like to bring my parents or loved ones next time. I am looking forward to experiencing another excitement of eating next time.
+ More
Sep 2015
I think it's the 4th or 5th time... This hotel ranks No. 1 for me when it comes to visiting a hotel again. The room with its view, the bath with its view, the service and attitude towards guests, I feel the same minimalism in everything, so I feel no discomfort and can thoroughly relax here. The breakfast remains in the same vein as it was during my first visit, which makes me very happy. The dinner also always tastes great for me, but because of my age, the taste of the dishes of the second part of the course seemed a bit too strong for me. This time the vegetable salad resembling a treasury box, which I had during my first visit here, was given as an a la carte suggestion, but the volume seemed too great so I was sorry that I had to give it up. I'll come here again when I feel that I need some healing.
+ More
Sep 2015
It was my 2nd visit. I was very satisfied with the unchanging hospitality and service by the butlers and the chef. Geographically it is in Nakaizu and is a little far from Tokyo however it was an auberge satisfactory even one has to travel some distance.
+ More
Sep 2015
It became the first trip that I was amazed in a while. The butler's customer service was great. They have rental games, so we, as a married couple who love to play games, could spend our own private time at the inn without a TV. The meal is the top level among the inns at which I have stayed before. Breakfast is especially astonishing. There were not many inns that I wanted to come back before, but this is the inn that I definitely want to come back again. I would like to visit in the foliage season next time.
+ More
Sep 2015
Information
Check-in Time

From 3:00pm to 8:00pm

Check-out Time

Until 1:00pm

Tax / Service Charge

Bathing Tax JPY 150 per adult is NOT included in the rates.

Credit cards accepted at this property

VISA / MASTER / JCB / AMEX / DINERS
Children

Children of 11 years old or younger are NOT allowed.

Pets

Pets are NOT allowed.

Parking

Free of charge for guests; Capacity 16 vehicles; Valet Parking Service Available(free of charge for guests)

Other policies & conditions

Wired Internet and wi-fi are both available in all rooms for free of charge.