- VAT is included, but bathing tax (around JPY 150 per adult) may NOT be included.
- Price in USD is based on the exchange rate as of today and might be different from that of the booking date.
Foods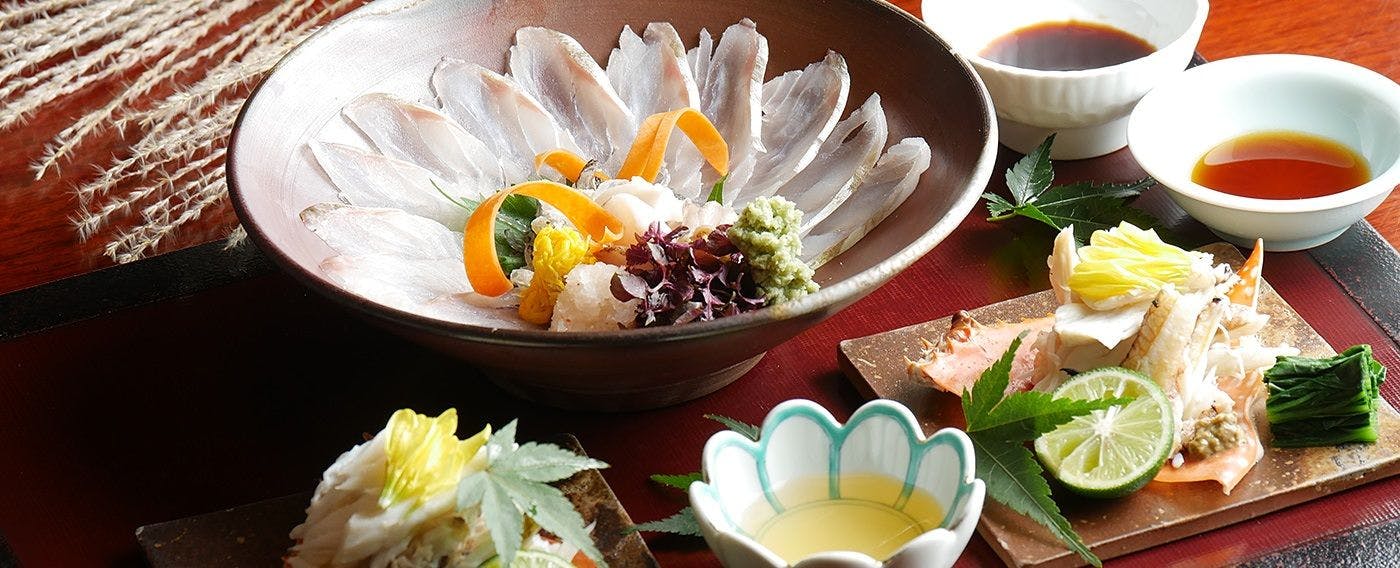 Foods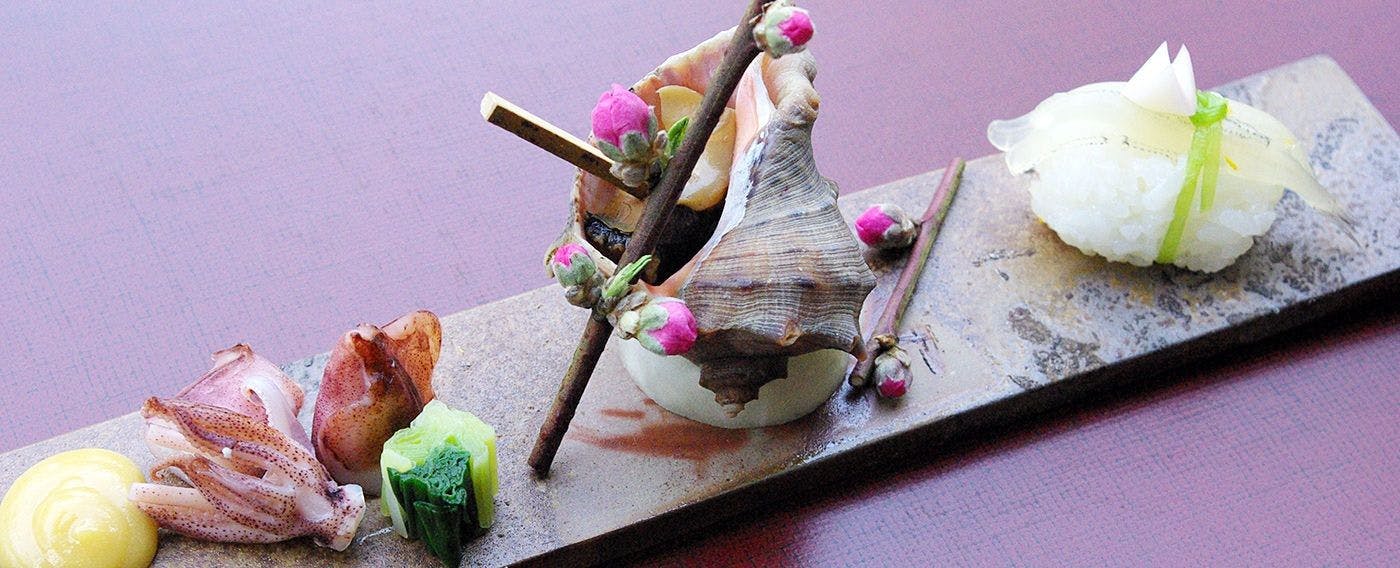 Foods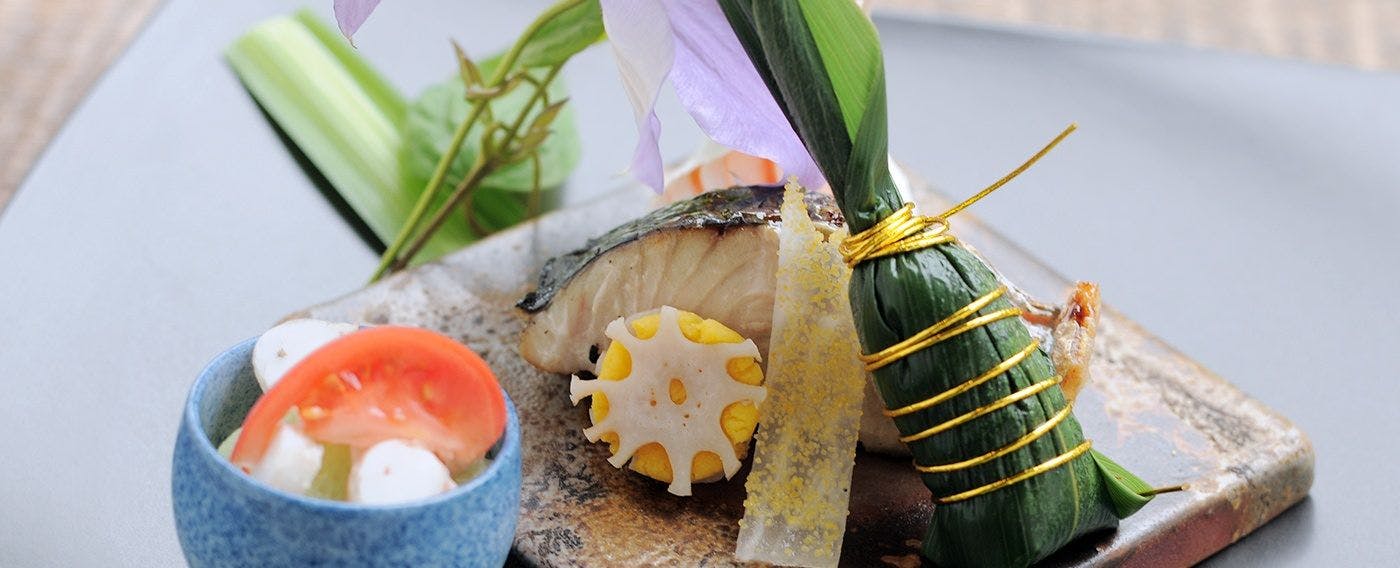 Foods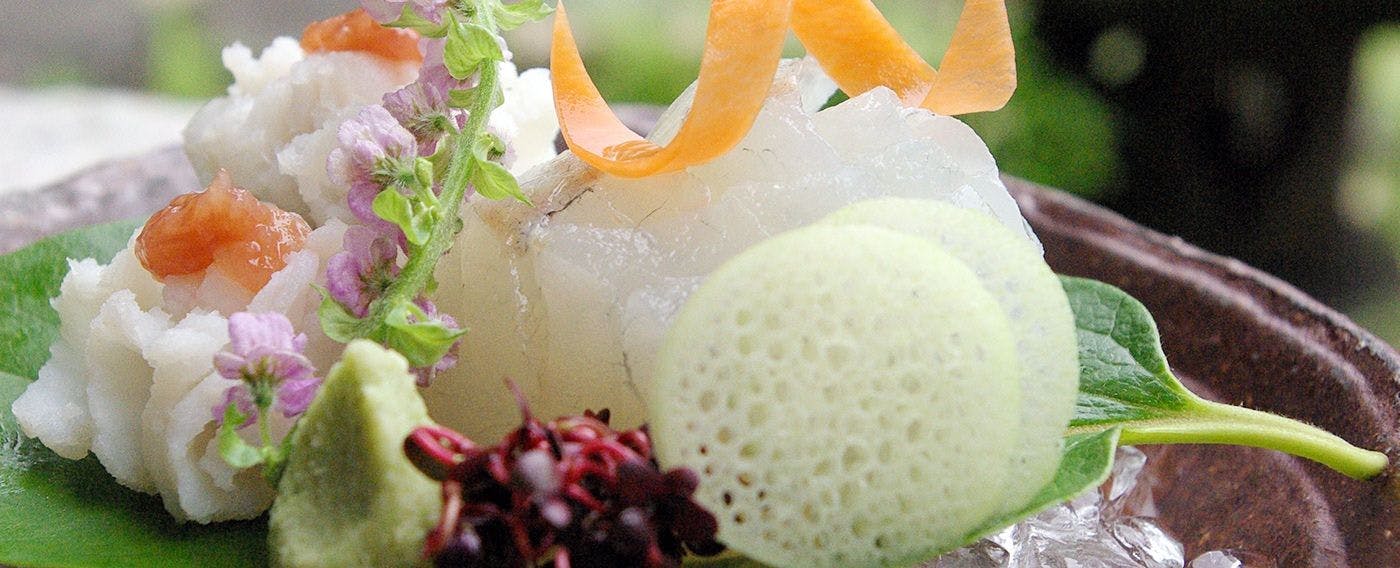 Foods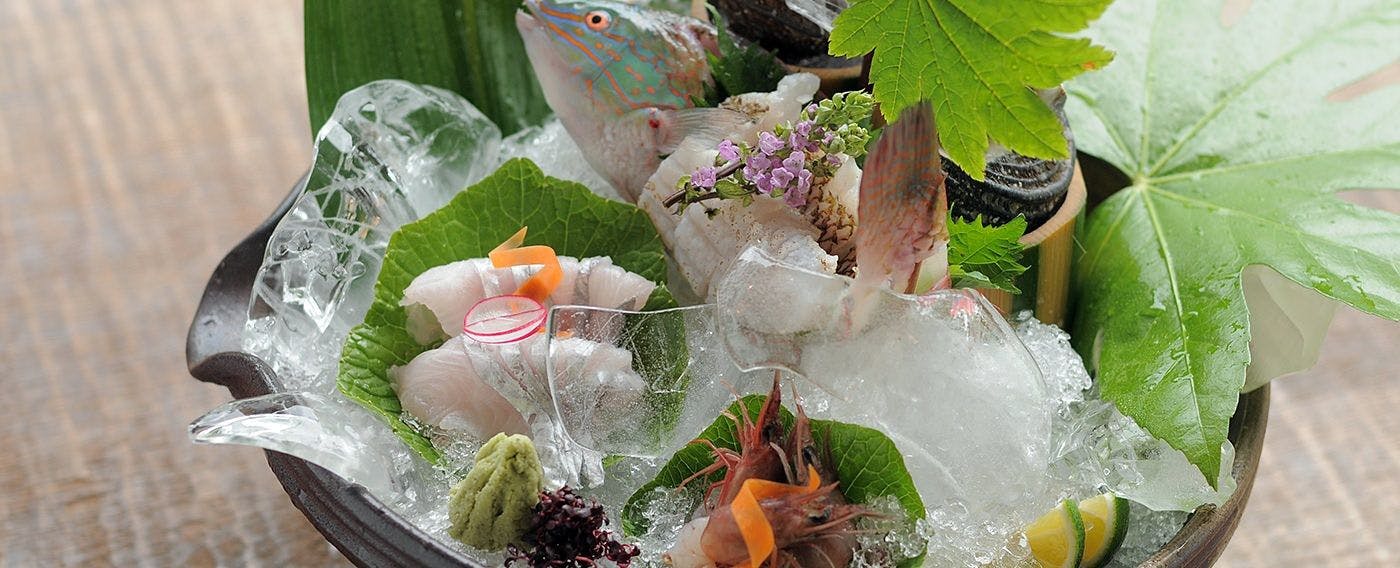 Foods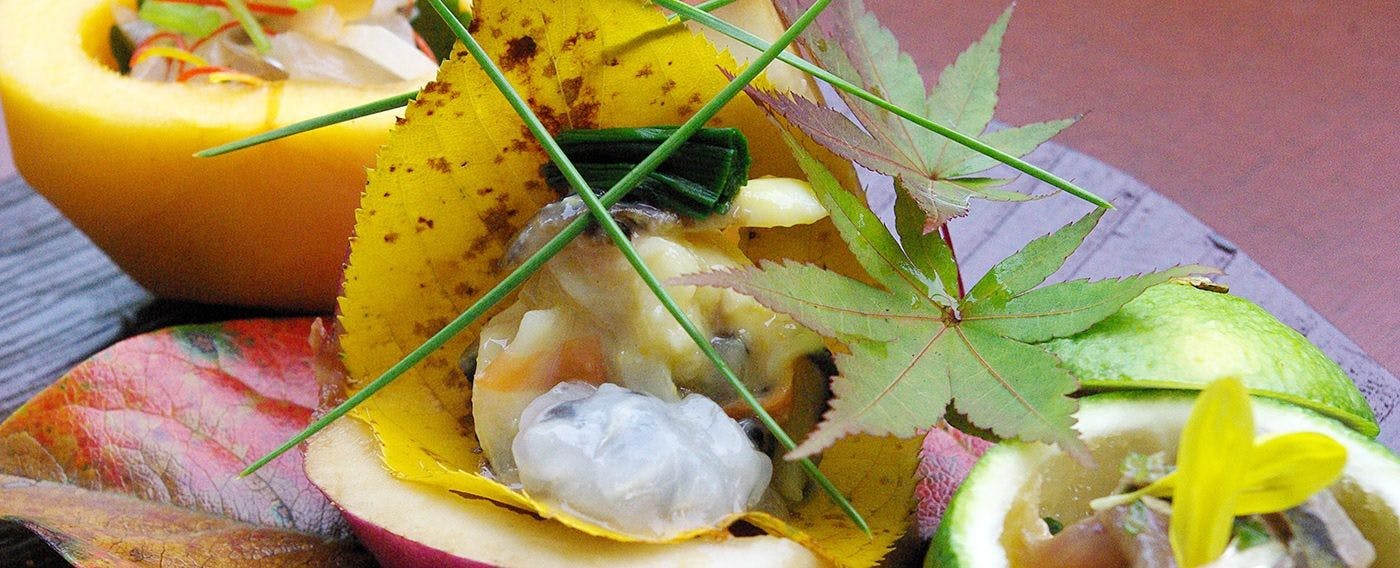 Foods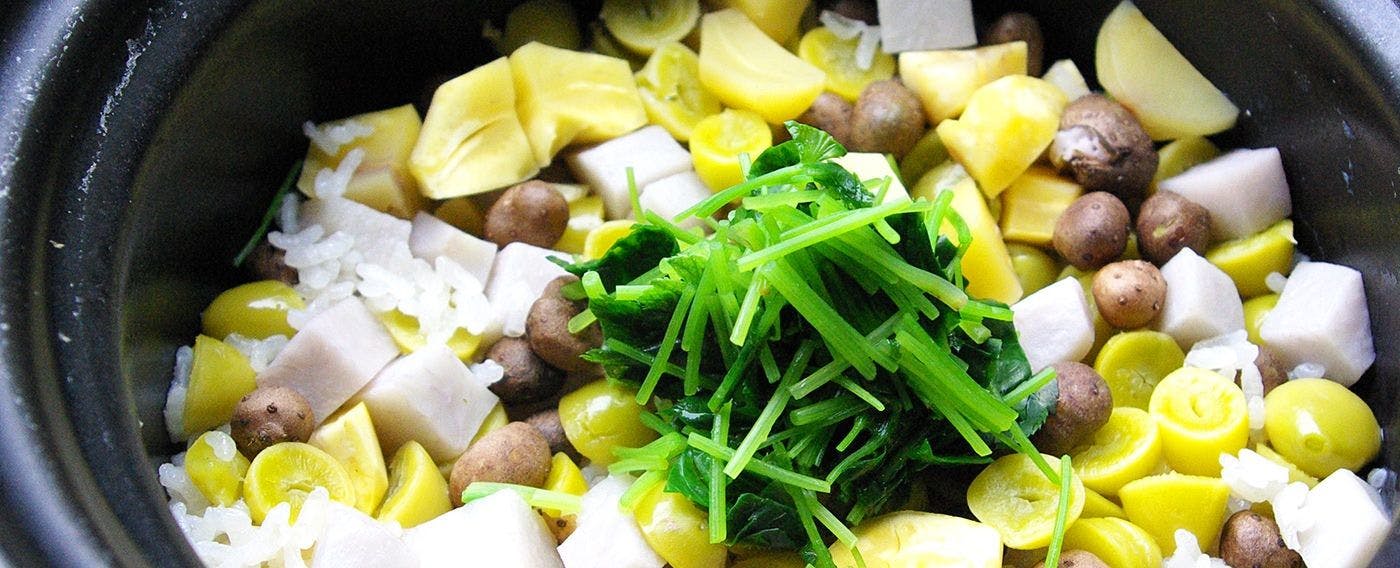 Foods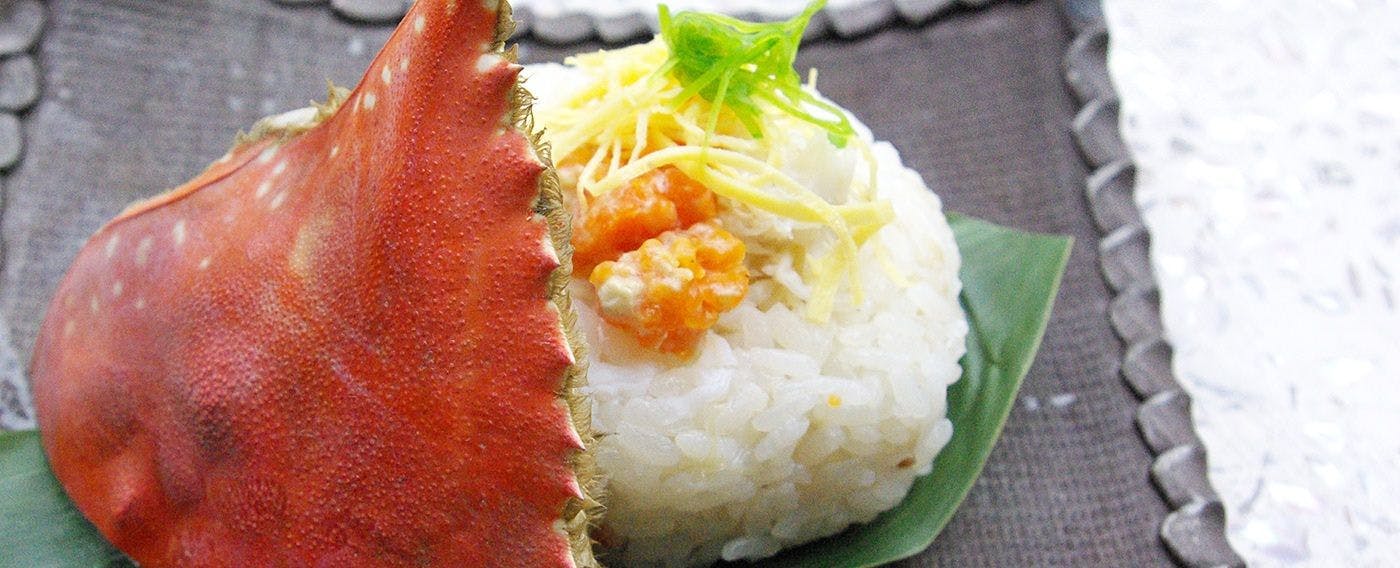 Foods
Enjoy four seasons, feel at home in Kurashiki Cuisine with seasonal and colorful ingredients makes your trip more and more wonderful.
Baths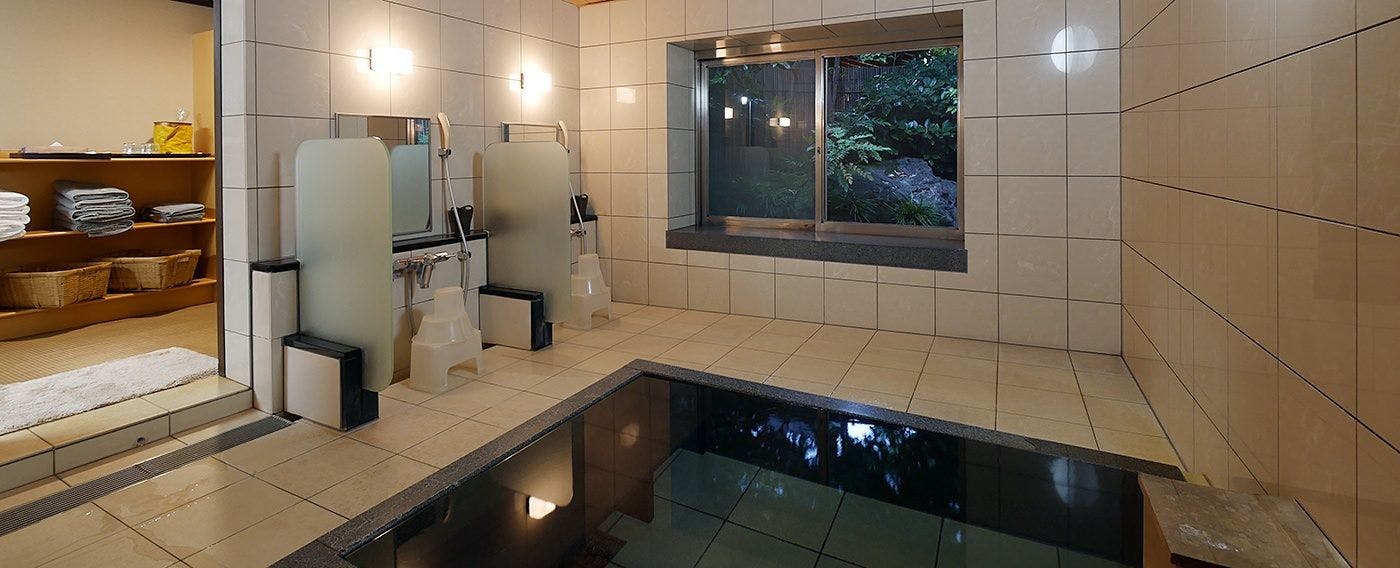 Annex Bath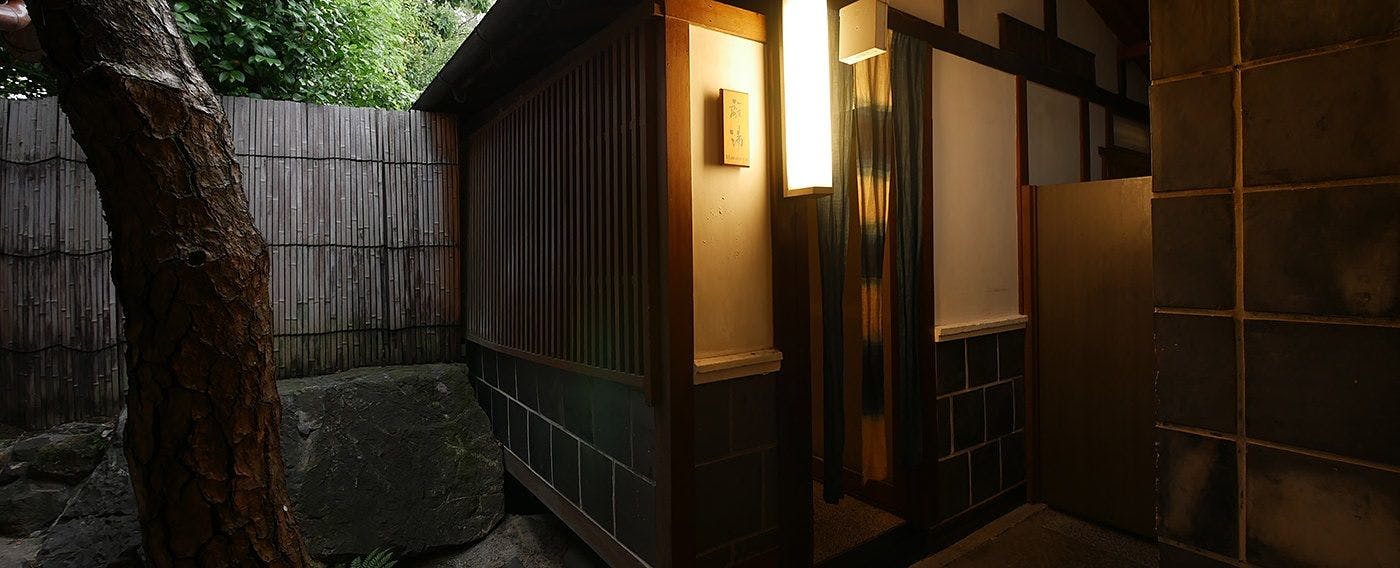 Annex Bath Entrance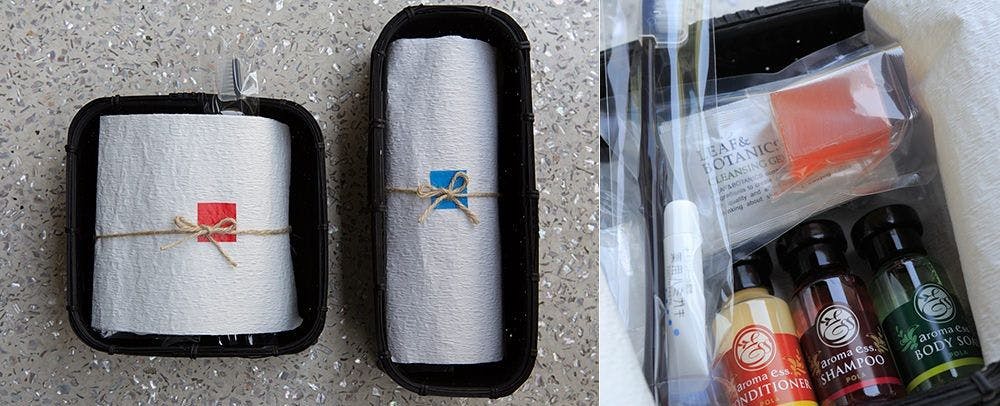 Amenities
Large public bath Aside from the private bath of each guest room, we have a large bath available to all accommodation guests.

Open to ladies 3:00pm to 11:00pm / Open to gentlemen 6:00am to 9:00am
Booking for private use is also welcome for foreign guests, free of charge, 1 hour.
Facilities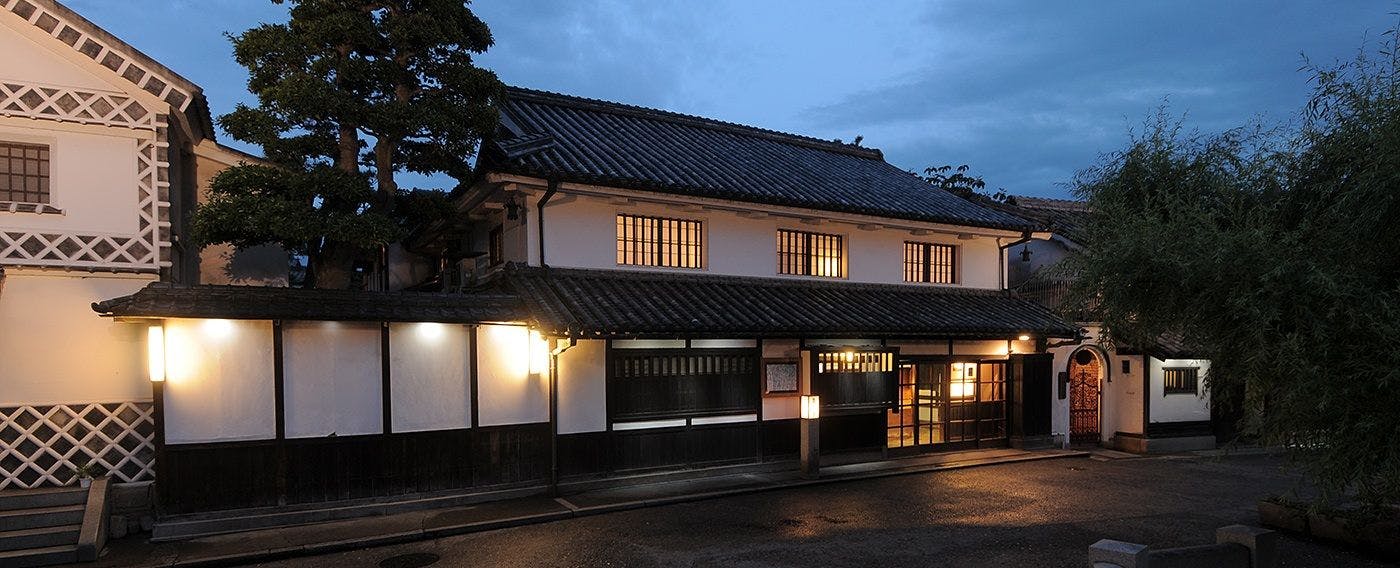 Facade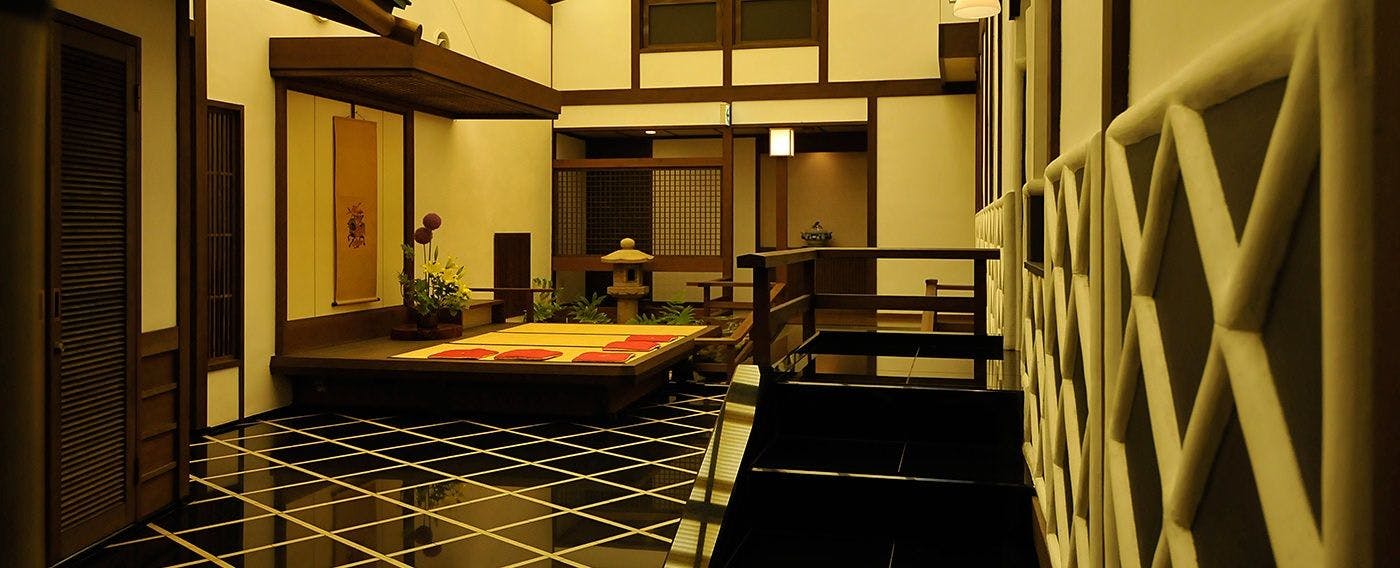 Interior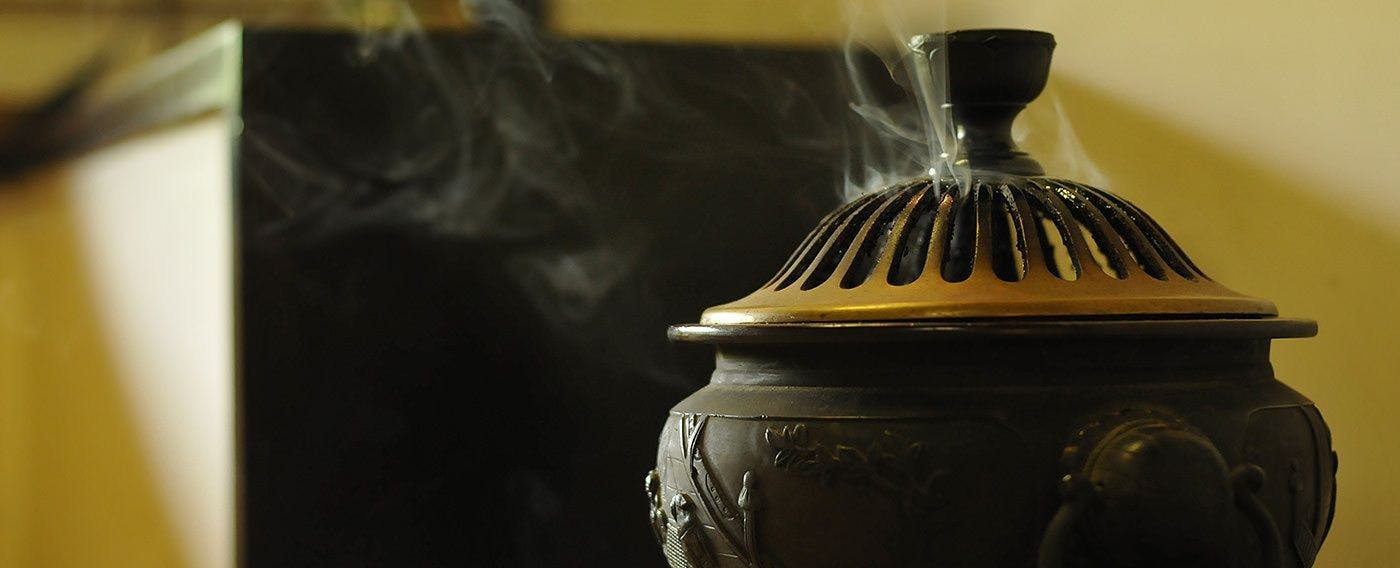 Lobby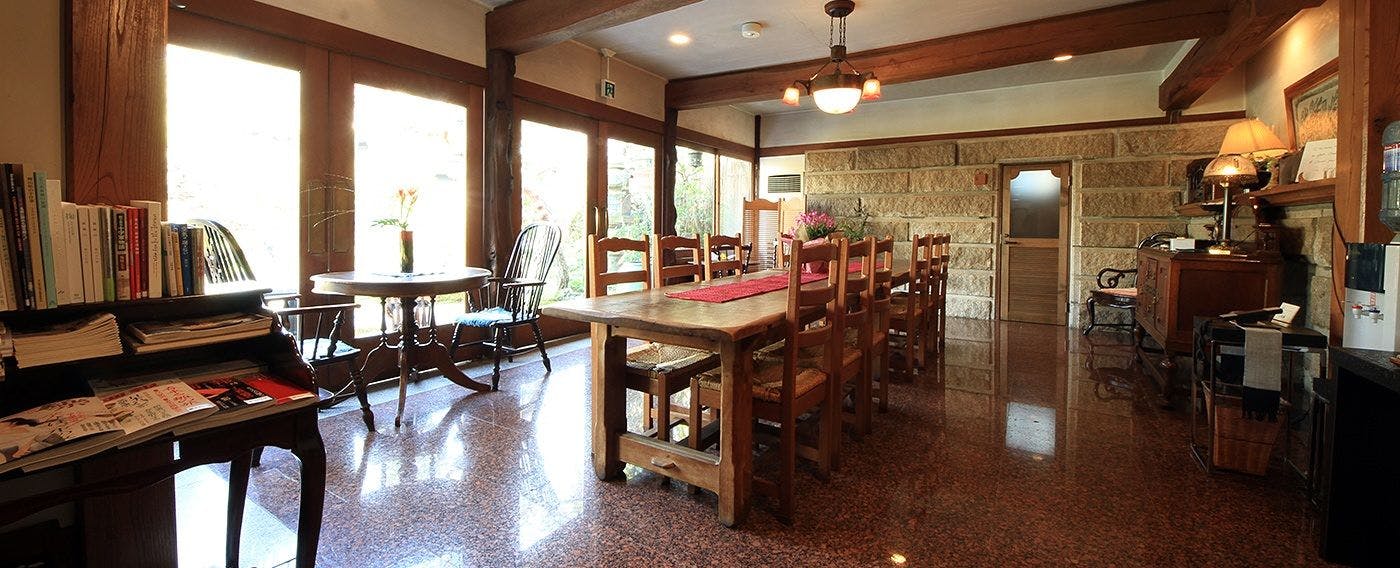 Terrace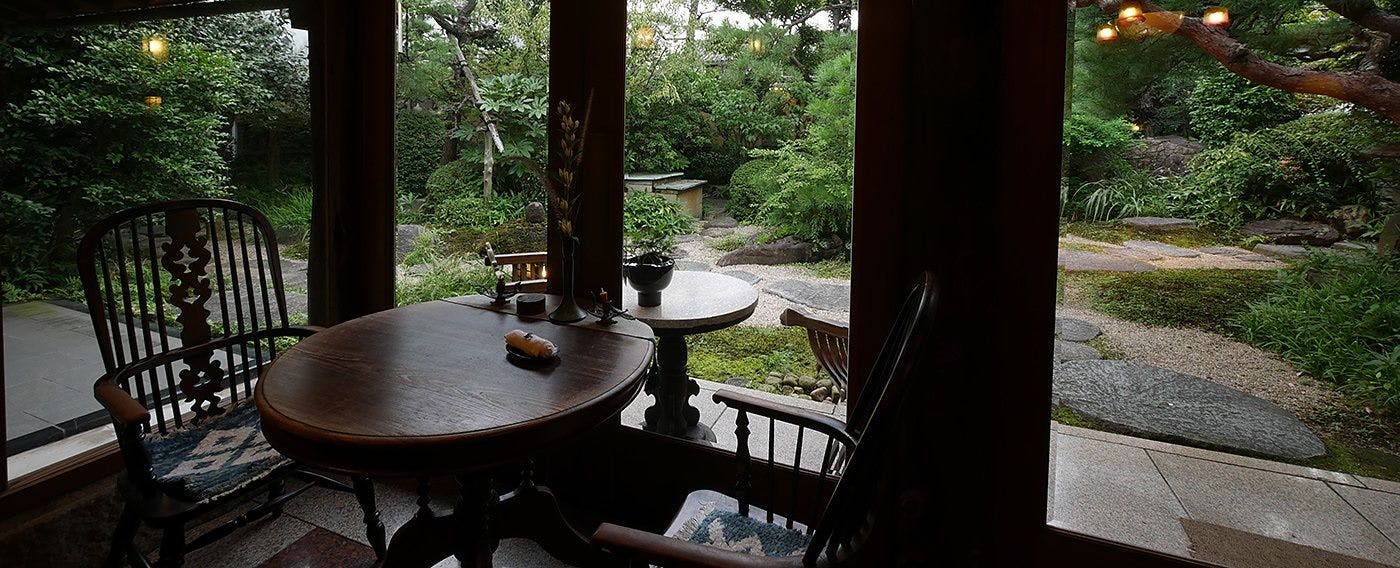 Terrace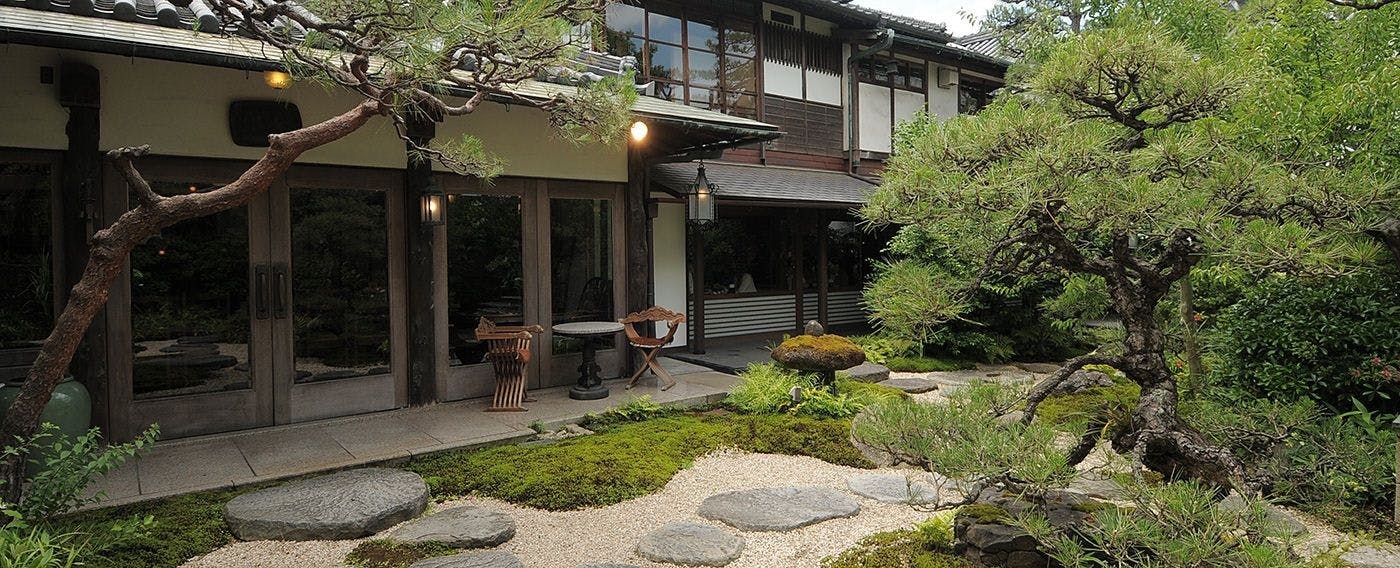 Terrace and Courtyard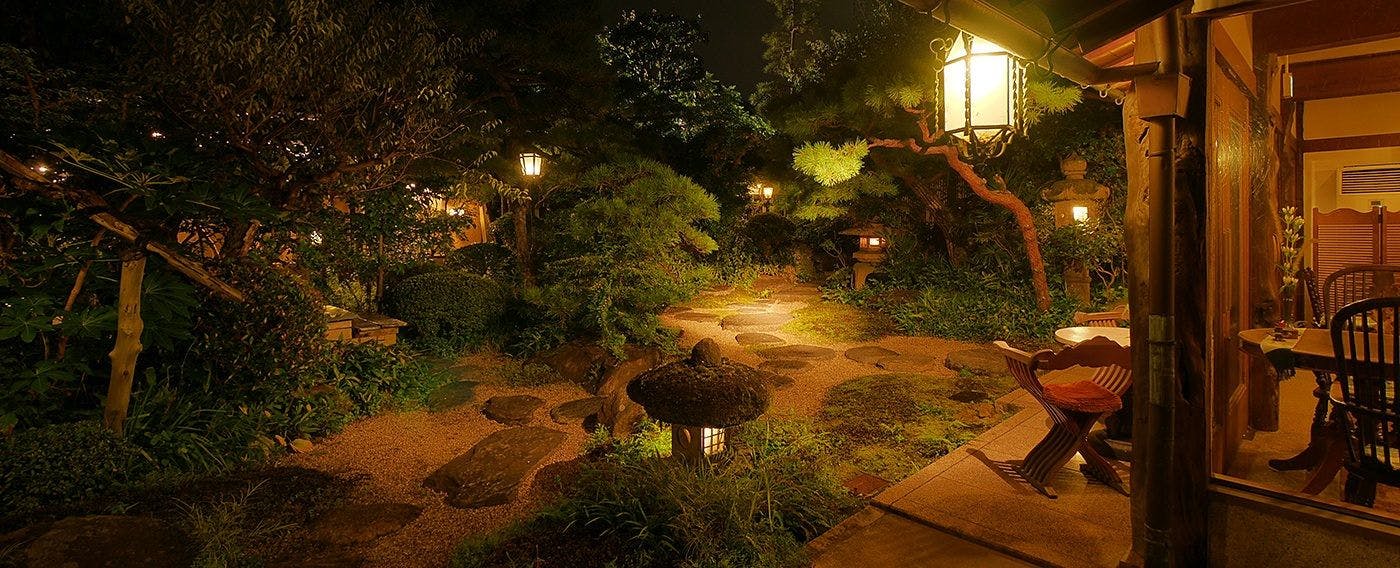 Terrace at Night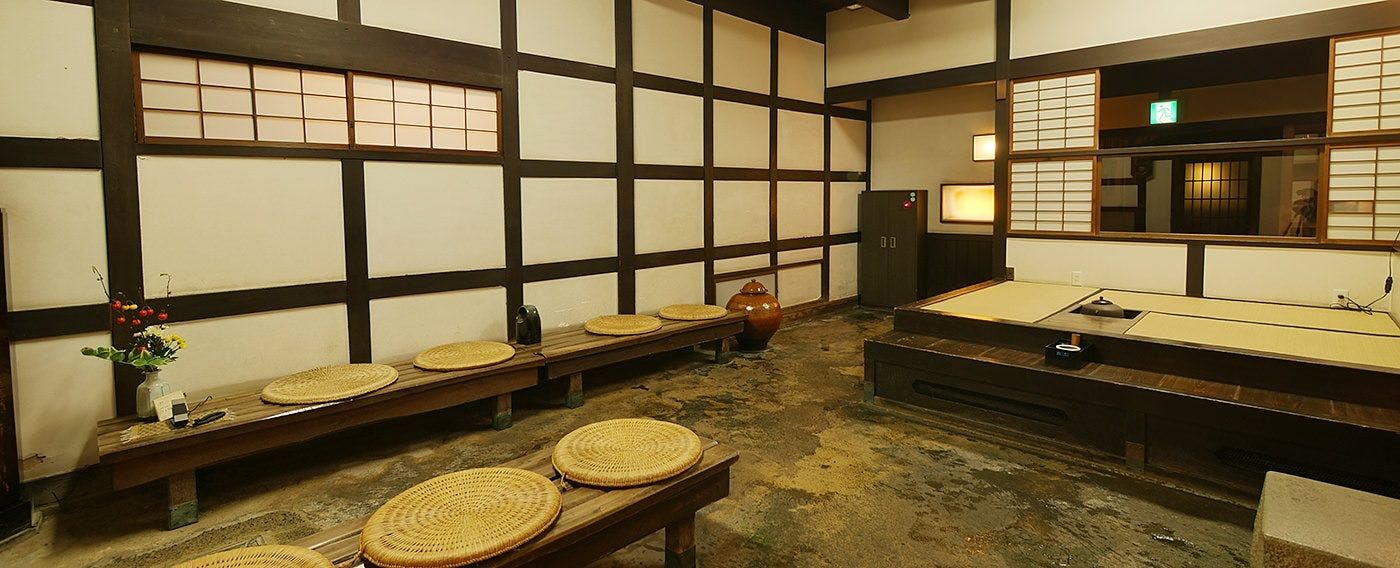 Lounge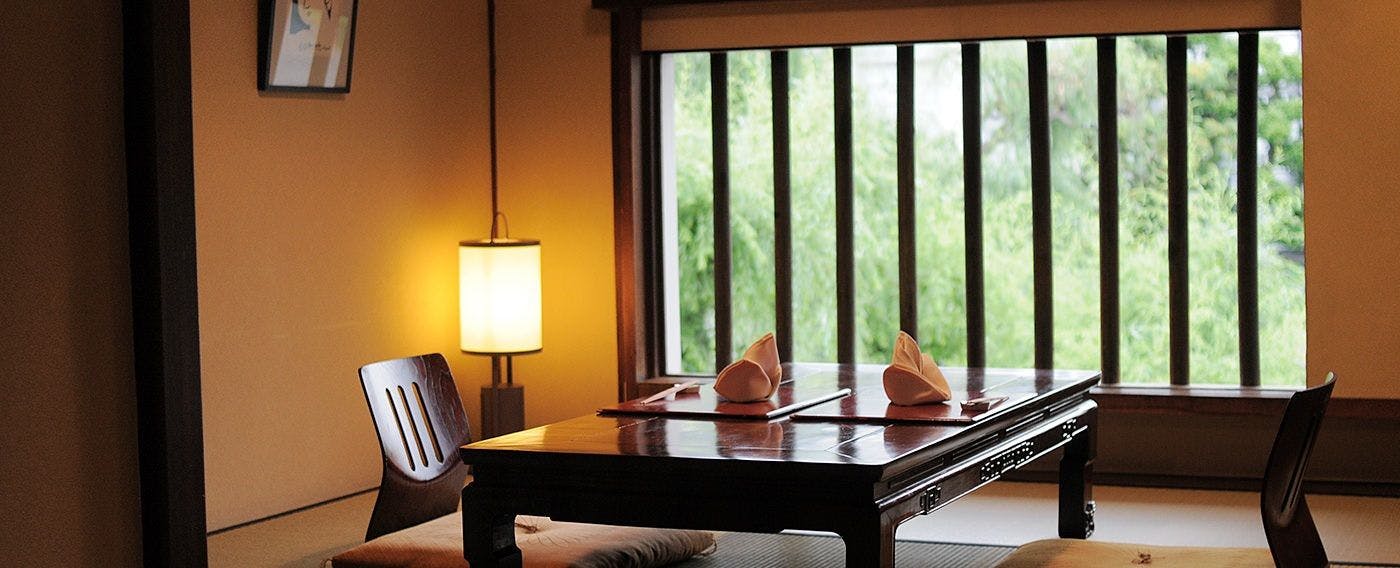 Restaurant
Welcome to Ryokan Kurashiki A nostalgic and peaceful time, traditional taste and a relaxing room are waiting for you.

Ryokan Kurashiki has a private terrace only for guests staying here. Relax with matcha green tea and sweets, while seeing the courtyard upon check-in. The terrace is available anytime during your stay. Help yourself for drinks and sweets for comfortable time. Fully enjoy the journey in Kurashiki with your partner, family, friends.
Access
4-1 Hon-machi, Kurashiki-city,Okayama,710-0054,JAPAN
BY TRAIN
From JR Kurashiki Station: 15min walk

BY CAR
From Kurashiki IC Exit (San-yo Expressway): 20min by car
From Hayashima IC Exit (Seto-Chuo Expressway): 20min by car

BY AIR
From Okayama Airport: Take Airport Limousine Bus to JR Kurashiki Station Stop, and 15min walk
Reviews
11 Reviews
Room -Clean, large and comfortable -Nice furniture -For bedding, there was a mattress underneath the futon which made it higher like a real bed and also softer. -Maybe better if a toweling blanket were provided Bath Amenities -Nice and unique -Matsuyamayushi botanical series products were provided -Fluffy towels embroidered, not printed, with dandelions Customer service -Not too much but moderate service -Good response to our requests General service -Fully attentive -When we told them that we were going to Ohara Museum of Art, they prepared tickets for us. Bath -Unfortunately no hot springs due to the city setting -There is one bath outside of our room, but it is not clear how to use it. -Maybe it is a family bath because there are only three showers. -Excellent water pressure from the shower -Rather too much such that the water splashes -We didn't use the bath in our room at the end. Facility and equipment -Inside the room, outlook of the building, the entrance and the garden were all beautiful, however, the corridor looked a little cheap. -To operate the TV, you have to use the remote for the video recording/reproducing device instead of the one for the TV, which is very hard to use. Meal -Basically lightly seasoned and very sophisticated -Moderate portion -I wish I had deep flied food -Dessert has nothing special -Only jellied fruit compote was served -I wish at least one house-made ice cream or complicated dessert were included.
+ More
Oct 2015
It was a cozy, refined inn, and the time I spent there was satisfying. I would like to stay there in my next trip.
+ More
Sep 2015
The food was good, too bad there was no bar.
Aug 2015
It is an inn with history and pedigree. It must be old, but is well maintained. The rooms are spacious and comfortable. The in-room baths can be used as jacuzzis. I tried the common bathroom in the morning, but there was no hot water. Unfortunately, neither the quality or the volume of the dinner was satisfactory. Given the style of the ryokan as a whole and the grade of the room, I believe both the ingredients and bowls have room for improvement. For breakfast, there was a fresh opened horse mackerel that was cooked right before my eyes, and it was delicious. The hospitality is great, and it's located in the center of Kurashiki Bikan District, a perfect place and atmosphere. It's a ryokan that I'd like to recommend, but I'm hoping that they improve the food.
+ More
Aug 2015
I stayed here in my 20th wedding anniversary trip. As both of us were in Kurashiki for the first time, we got a bit lost to find the parking lost, but gladly it was located right in the middle of the Bikan quarter. The room was charming, and the food was delicious. The warabimochi (bracken-starch dumpling) that was served at night is my husband's favorite food, so he was very happy with this hospitality. As I wouldn't have time to appreciate the Ohara Museum of Art, which lies right across, I'd like to visit in another opportunity.
+ More
Aug 2015
I chose to stay in Kurashiki for a family trip done the first time after a long time, after coming back from my parents' place in Hiroshima on 3rd of August. My son is 2 months old but I wanted to let him understand the Japanese culture from early days of his life since I am going abroad to study sculpture. While the heat wave was hitting everywhere in Japan this summer, we arrived in Kurashiki; when I called the ryokan, a young female staff came running at a full speed to the garage. Just seeing it made me overjoyed. Upon arriving at the ryokan, we checked in while drinking tea in the lobby area facing the garden. How delicious that matcha (green powdered tea) was. and, finally we proceed to the guest room. Before we knew it we all three shouted for joy. The lighting which was naturally allocated, the writing bureau, the carpet, the tea pot and cups etc. etc., numerous folk art works were so sophistcated through and through, it cannot make folk crafts lovers any happier. Yet, the dorations are not too pushy and this creates incredible comfortability. Also the dinner was not decorated more than necessary, yet every single dish was cooked with profound care, which left us deeply impressed the whole time. Rice with corn cooked in the earthen pot was more than 450 g apparently, but my son ate it heartily plus he asked for another serving of miso soup. We've been told by a staff member that "There are not so many guests who eat this much, so our kitchen staff are very happy", and we were embarrased but happy to hear that at the same time. Beautiful plates and dishes, tasty food, timely serving. Also, the local sake supervised by Ryokan Kurashiki? was great. It was very much fun to enjoy the relaxing meal while having conversation with the female staff member from time to time. Ryokan with perfect hospitality in every sense. It's a place I wish to come back to someday.
+ More
Sep 2015
It was a wonderful inn. They showed me the banquet hall (warehouse) and other places on the morning of our departure. Everything was beautiful including the courtyard. Apparently, they spend enormous amount of time on the maintenance everyday including the window cleaning. I had an impression that everything we saw was polished up.
+ More
Jul 2015
It was the first stay in Kurashiki in 30 years. The streets have been improved and it has changed to become a tourist destination with a more sophisticated atmosphere. That was my first stay at Kurashishi, but the food was great and I enjoyed each one of it. A cheerful and young room attendant served me and all of the staff were nice. The location of the inn was in the middle of the aesthetic area and very convenient. But, I cannot say the guest room was Taisho modern in style, and I got a poor impression because of a disjointed Western-style room. It was a shame even though it was spacious. Both the bath and the room were clean and comfortable to use.
+ More
Jul 2015
I could spend comfortably in the quiet room as if the noisy main street were unbelievable. The tea I always drank on the terrace facing the garden gave me nostalgic time with a nice garden and classical music being played. I could eat deliciously each food of mainly fresh fish and shellfish of the Seto Island Sea due to a refined flavor. This hotel feels somewhat nostalgic and I was seized by the thoughts that I would like to visit it again, I thought that maybe it was because of the unobtrusive and thorough service.
+ More
May 2015
It is a relaxing Japanese inn located along the Kurashiki River and good spot for strolling through the surrounding. Since checkout time is 11o'clock I could take my time to go around Ohara-Museum-of-art and souvenir shops after breakfast, I had a relaxing time. I had my dinner in my room and breakfast was at restaurant with a view of the garden, and I was very satisfied with its contents as well. I stayed in Higashi-no-ma, it was a spacious Japanese and West style room and amenities were separated by sex and aromatic oil was arranged, I was greatly impressed by hospitality. Thanks so much for your help. Thank you.
+ More
Apr 2015
Anyway the considerate hospitality was wonderful. The room attendant was taking care of us kindly. I felt sorry when I saw the room attendant was scold by her boss? next to us having breakfast. The young person was much better impression because of her hard working from our view. And we have to write about the food. We went to very nice places before, but I'm sure here is the top-ranking place. I found they were professional about everything, so definitely I think they deserve the price. I understand the area is located on Bikan quarter, but we troubled to find the parking lot. Besides, the bathroom in the guestroom is.... Only this part doesn't fit the inn. I'm so disappointed. The hospitality and the other things are very good, but the bathroom was remarkably weird. I'm very satisfied with the room attendant's service this time. Besides, I want to show the respect to the cooks in charge of our delicious food.
+ More
Nov 2014
Information
Check-in Time

From 3:00pm to 8:00pm

Check-out Time

Until 11:00am

Tax / Service Charge

Service charge 15% and VAT 8% are both included in the displayed rates.

Credit cards accepted at this property

VISA / MASTER / JCB / AMEX / DINERS / UNION PAY
Children

Children of 0 to 12 years old are NOT allowed.

Pets

Pets are NOT allowed.

Parking

Free of charge for guests; Available from 3pm to 11am; Clearance 2.3m; Capacity 4 vehicles; No Valet Parking Service

Other policies & conditions

This hotel contacts guests beforehand whether they come by car or not. Parking lot is outside the site and locked, so please ask the hotel and they will come to open the parking.