- VAT is included, but bathing tax (around JPY 150 per adult) may NOT be included.
- Price in USD is based on the exchange rate as of today and might be different from that of the booking date.
Foods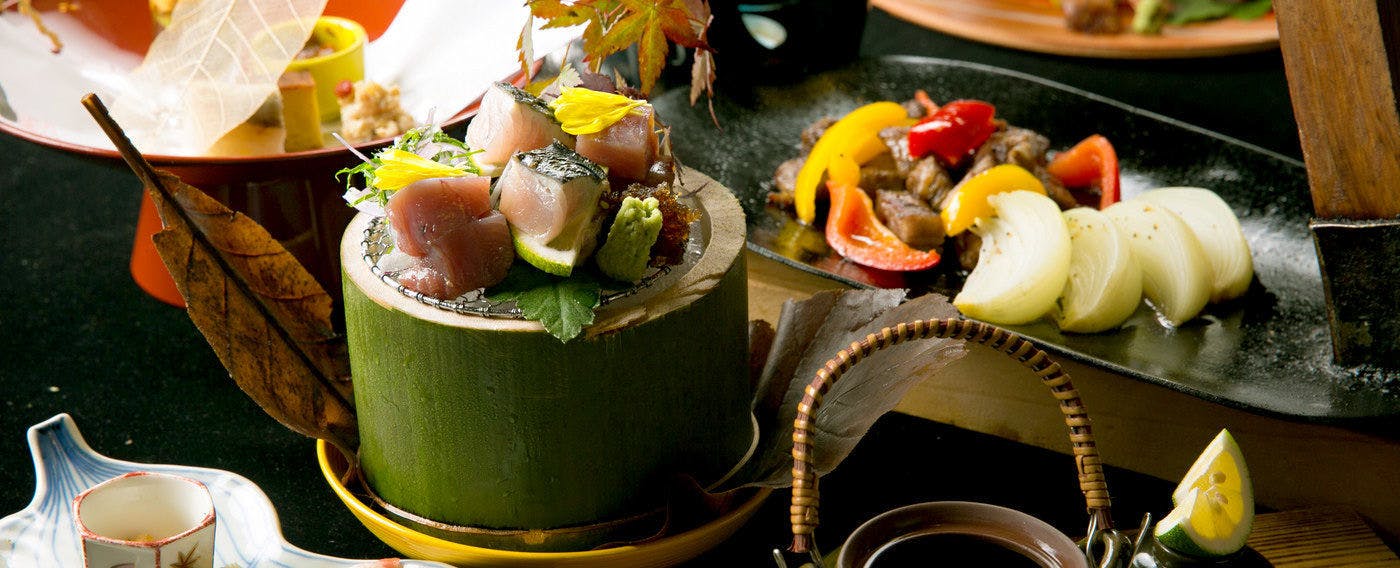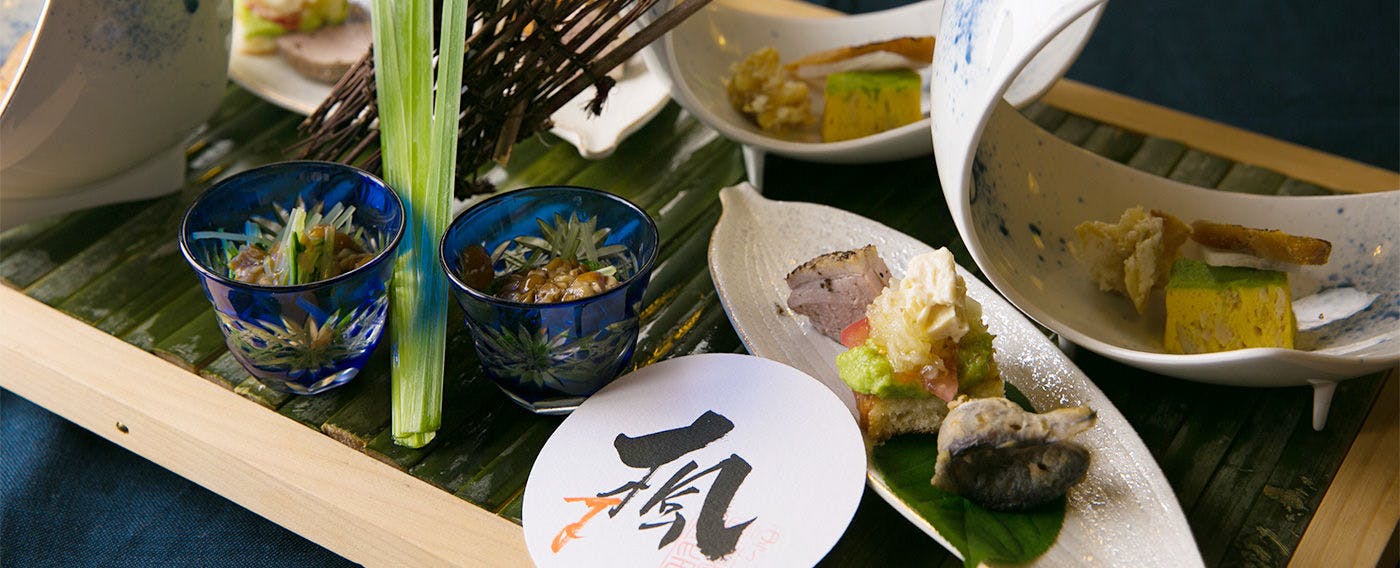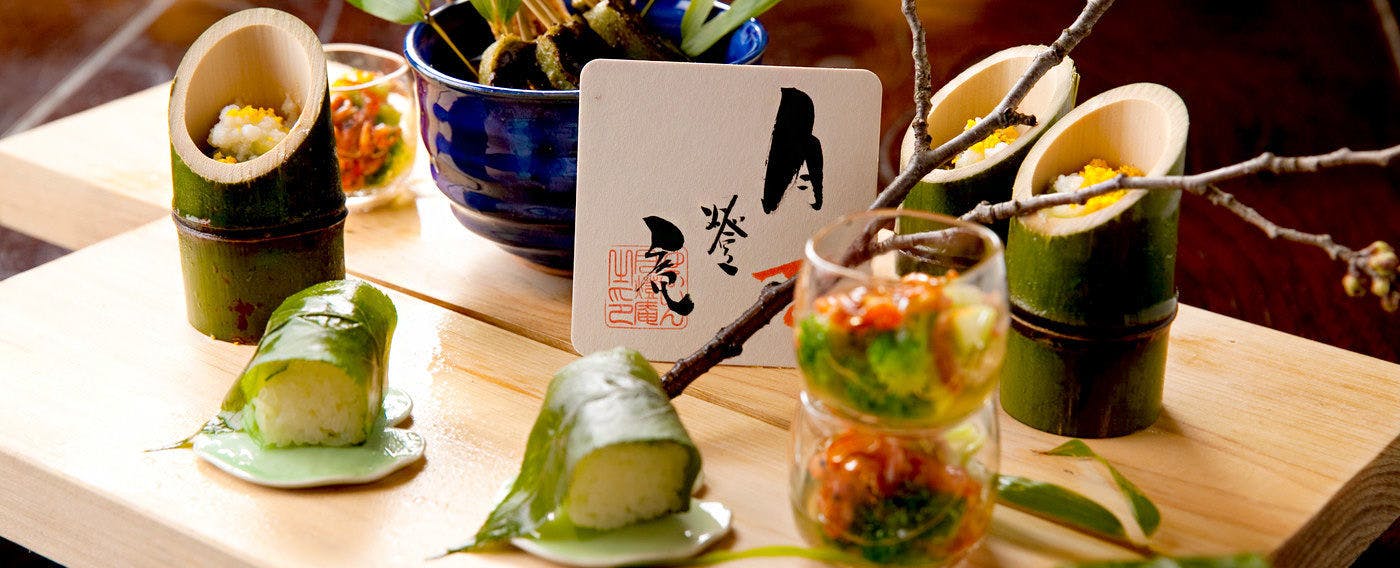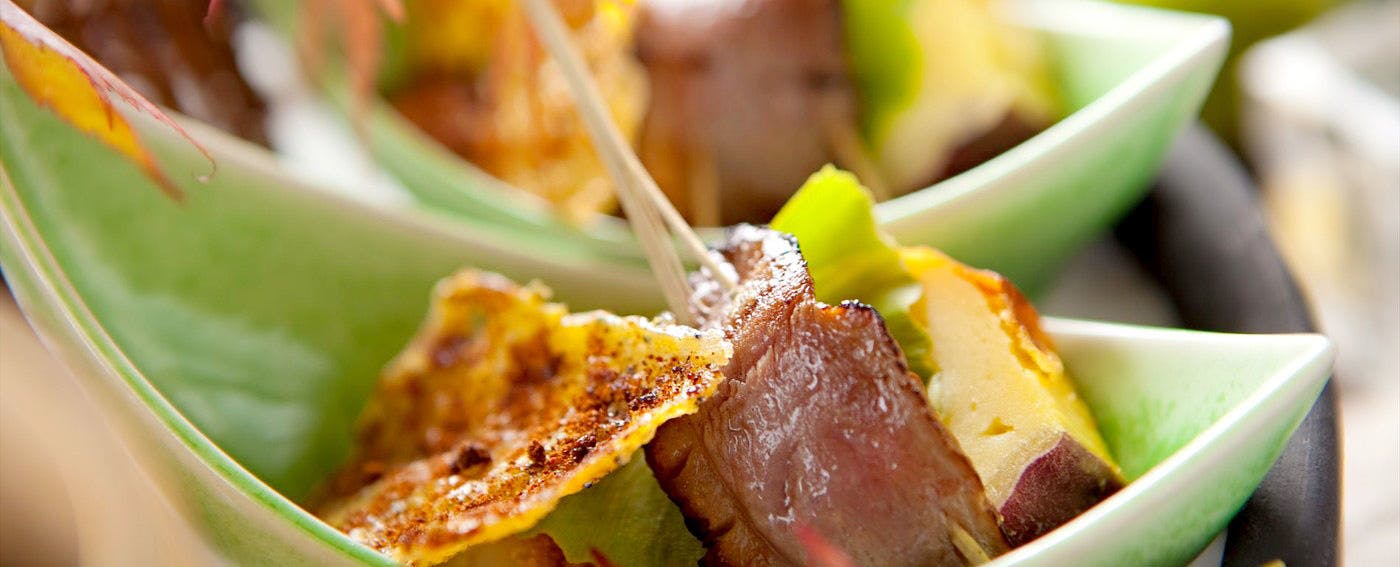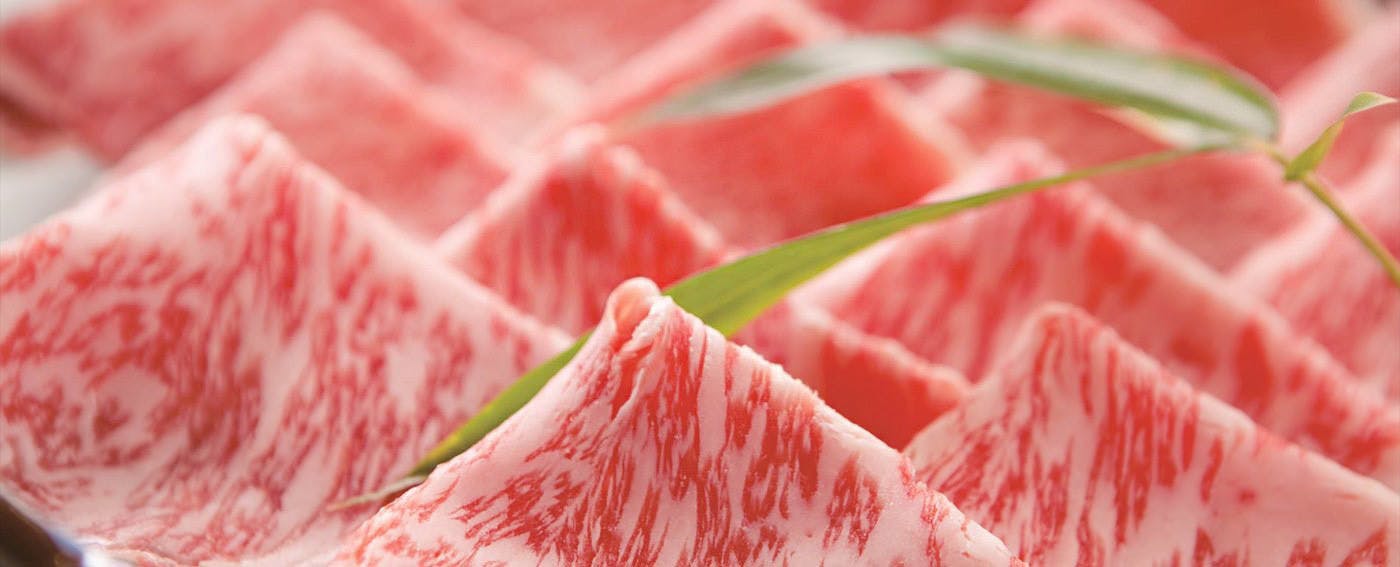 In our cuisine, we make use of fresh ingredients in accordance with the season. Deluxe Suite Dining Area "Keisuikyo"

Main Building Dining Area "Gettouan"
Baths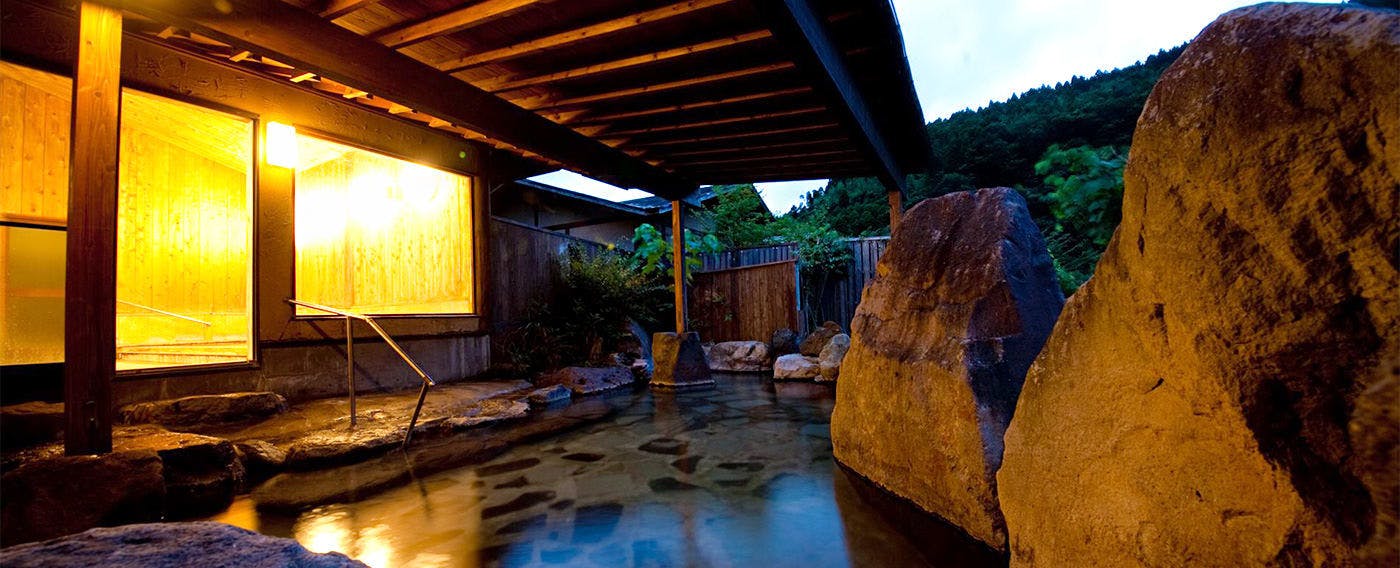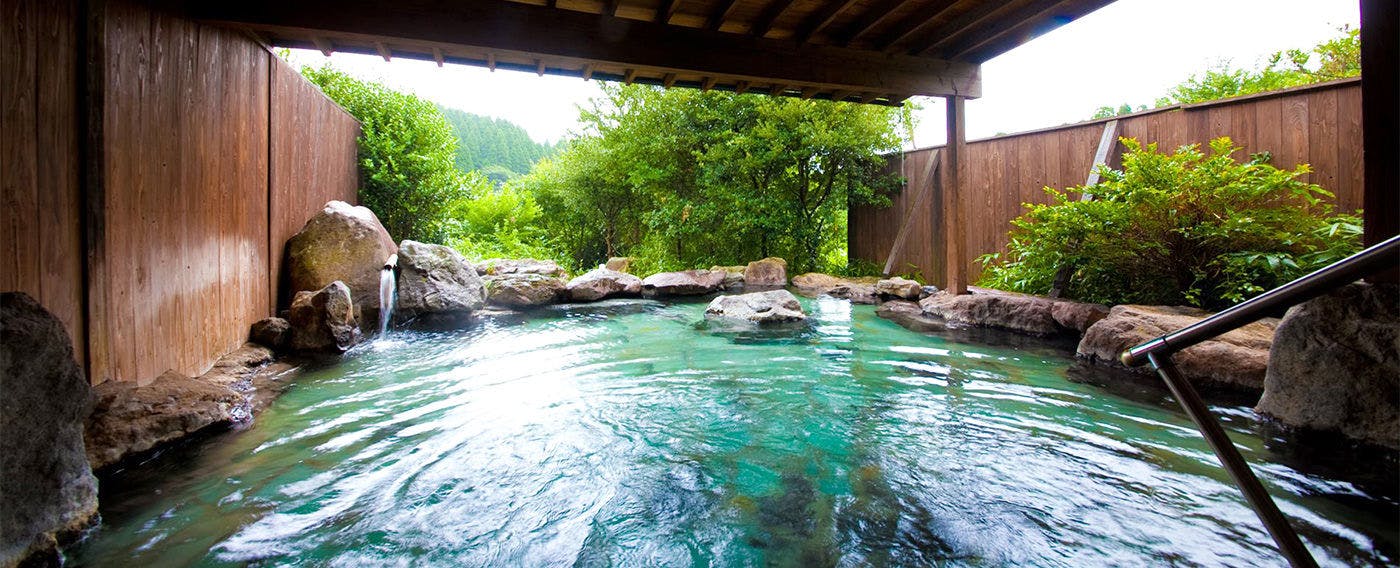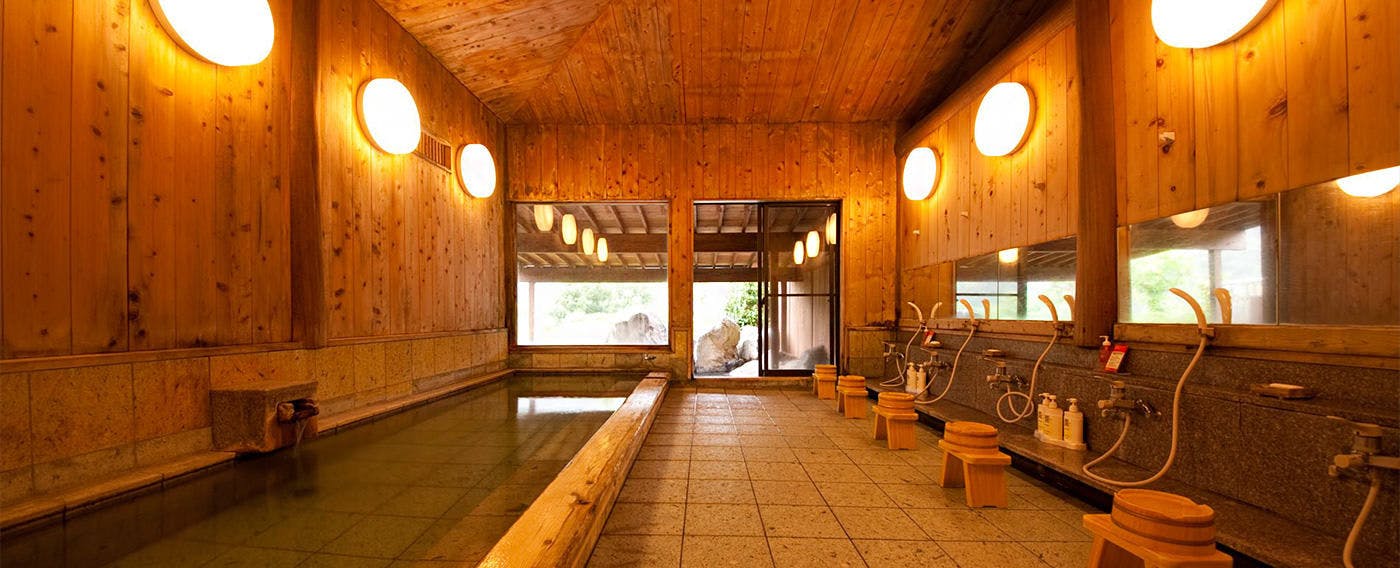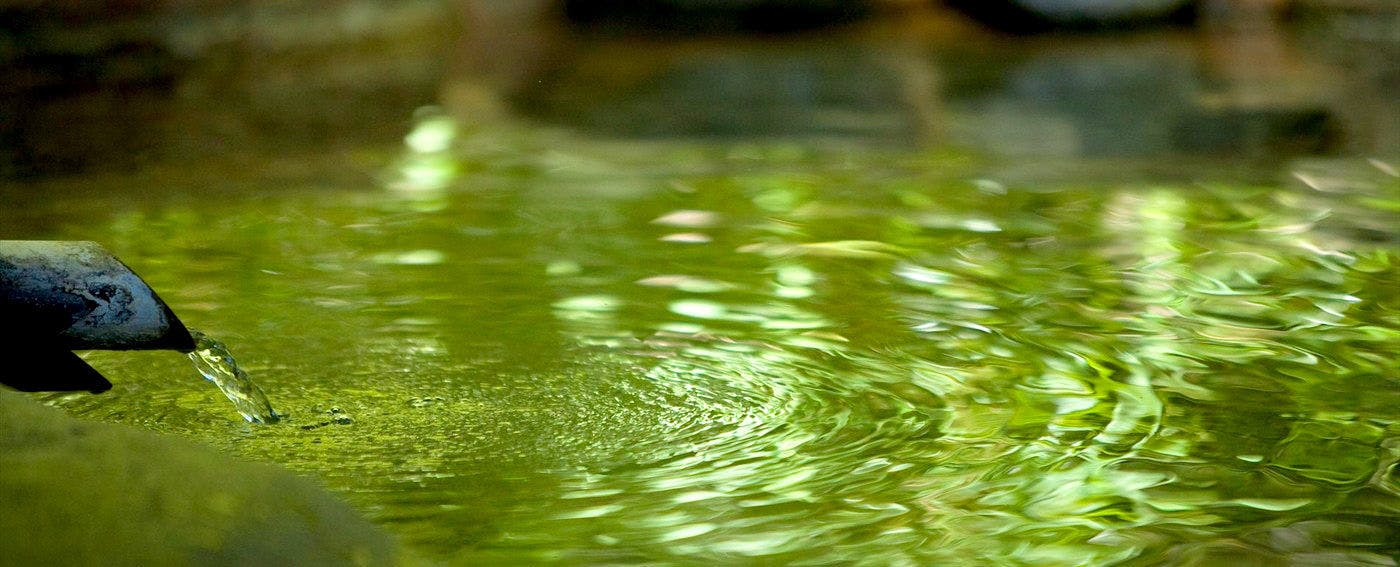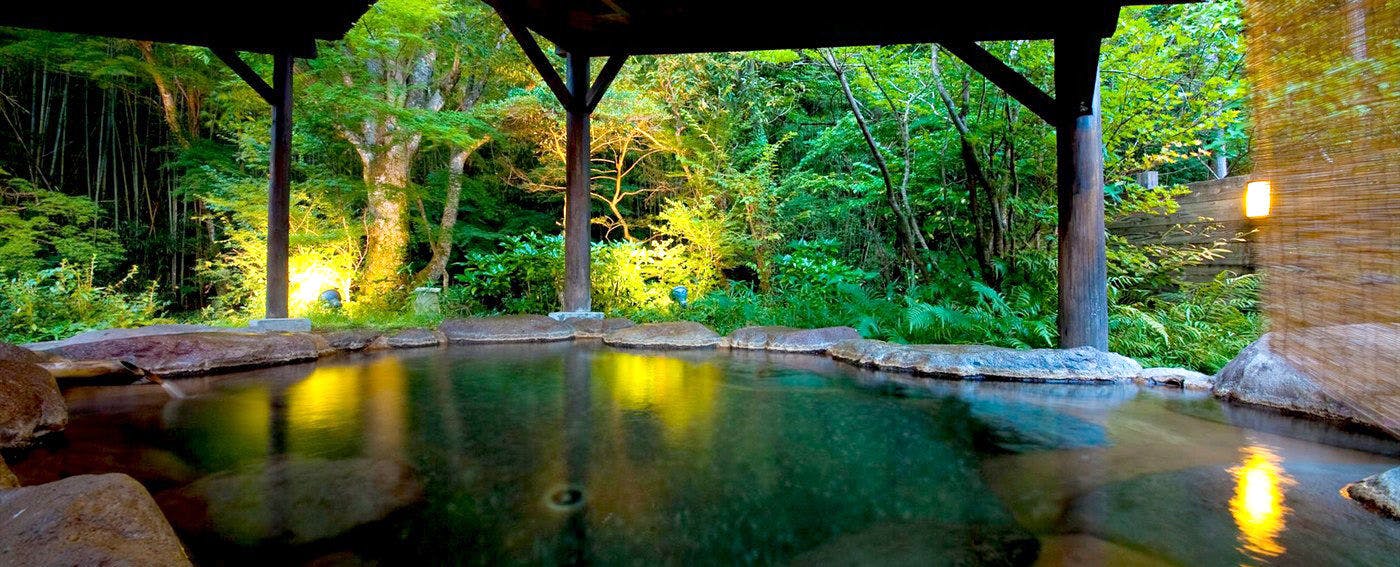 While gazing restfully at Mount Yufu Bask in the breeze of 300 years of genuine Japanese construction.
Facilities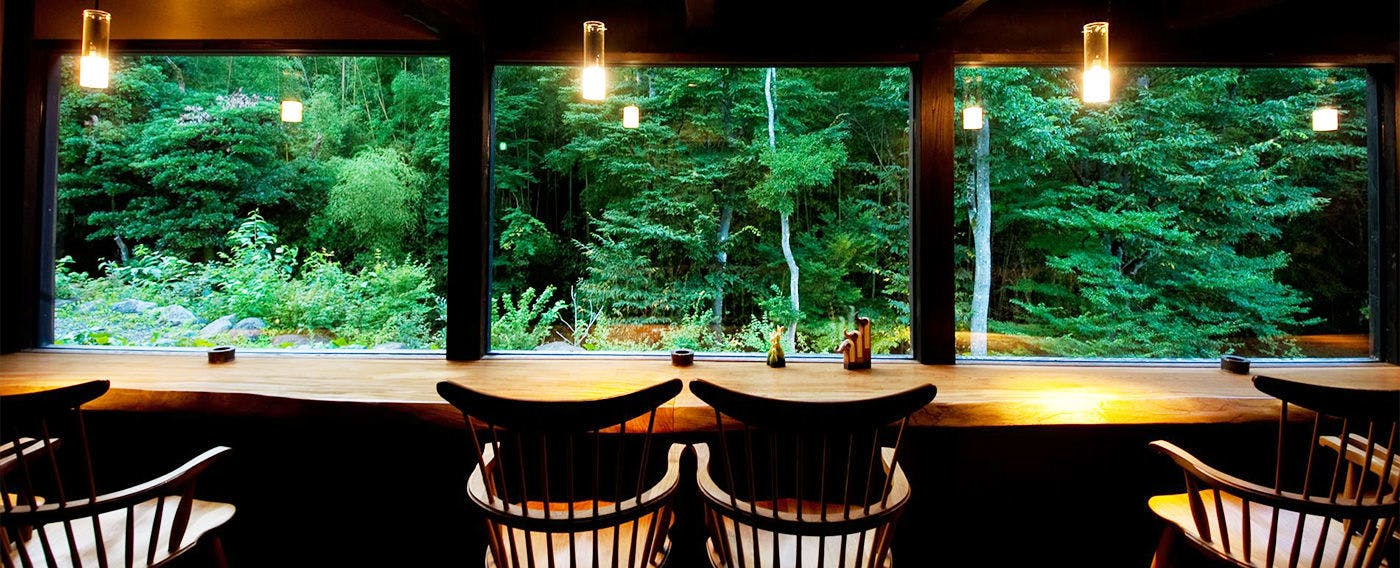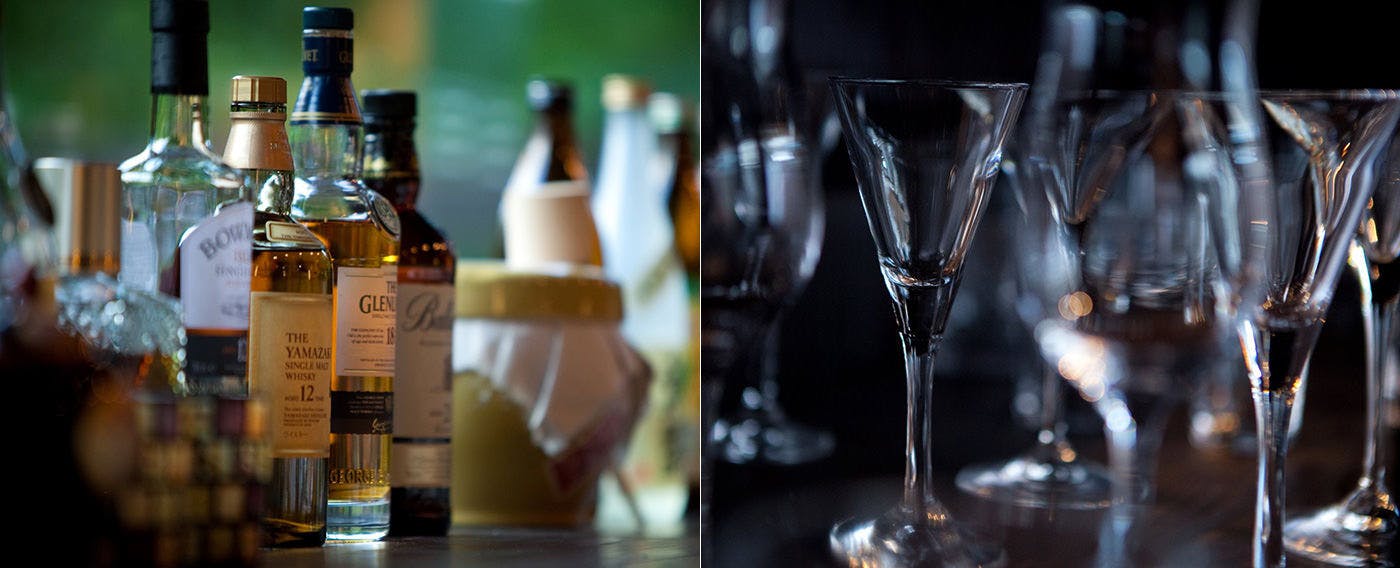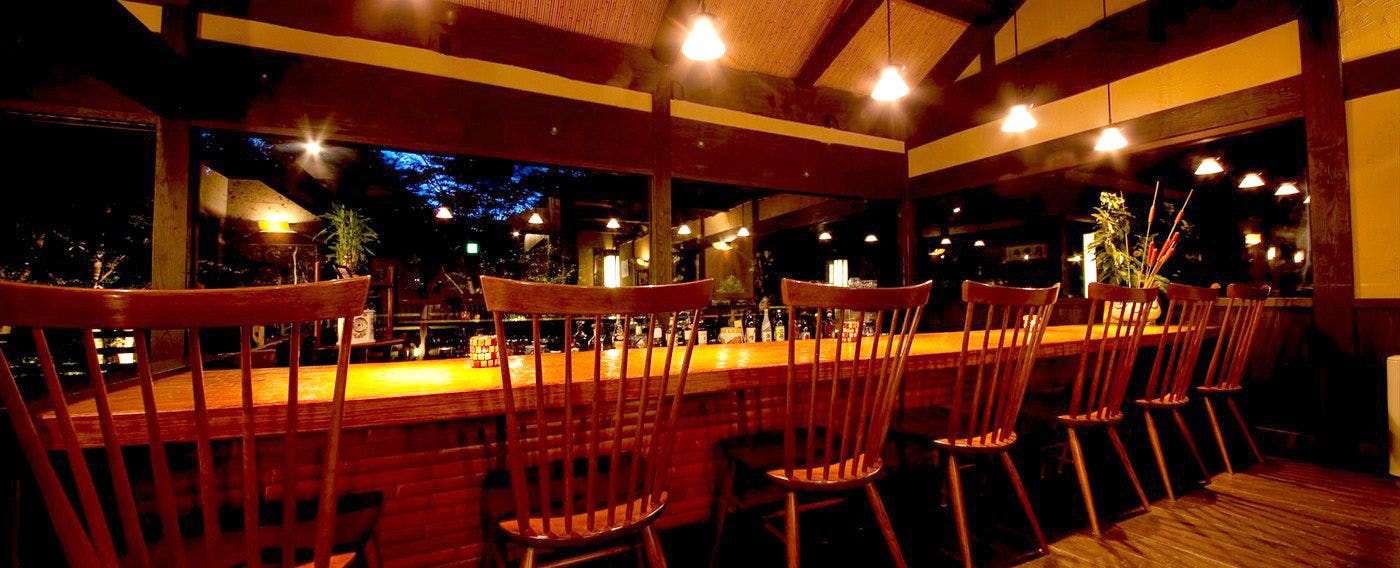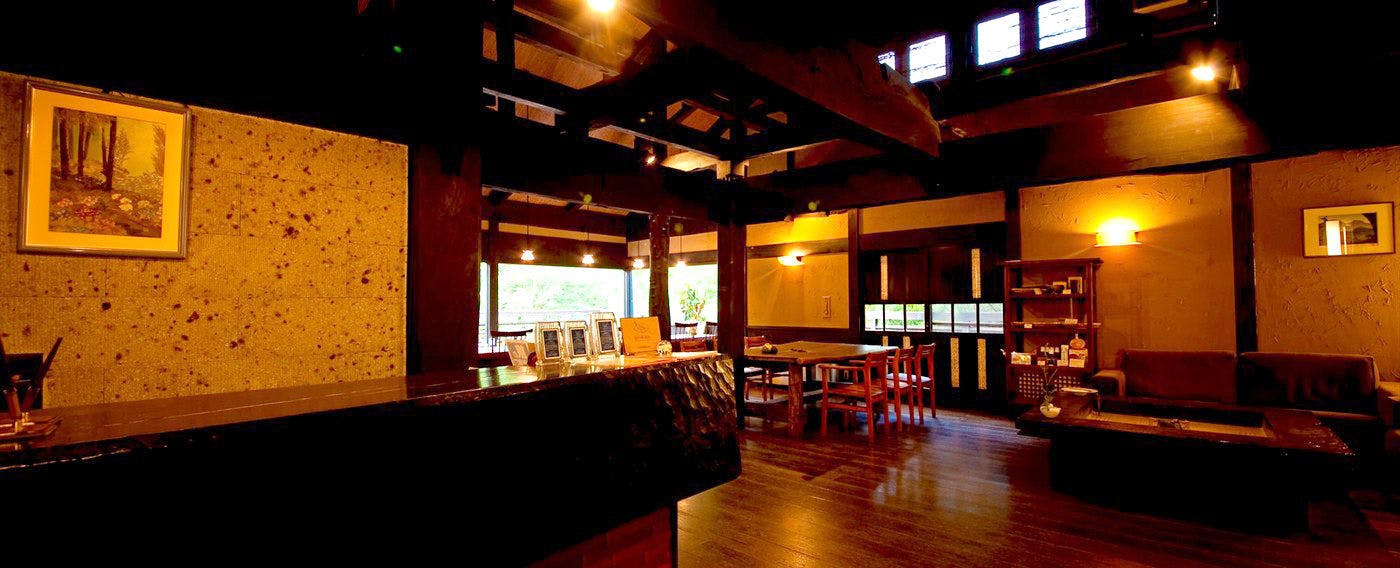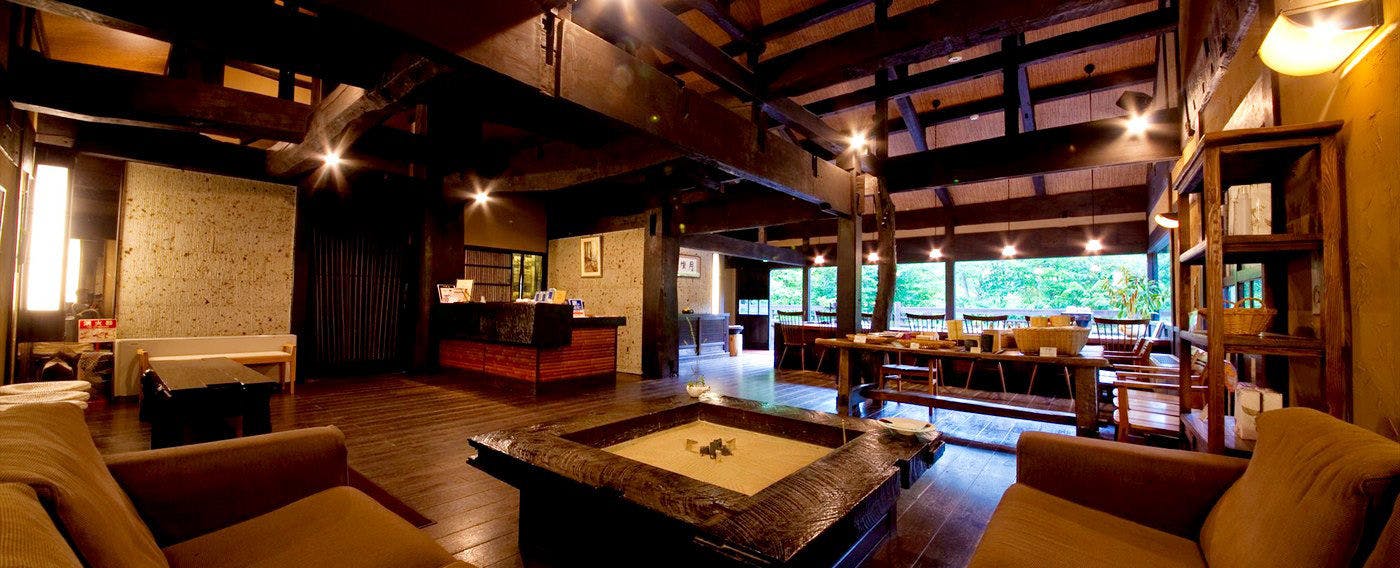 Lounge
Raise a glass together with the moonlight. Body and mind liberated, amber-colored hours melt away into the forest.
Nights of rest come calling in the quiet woods.

Omoya Central Building
First to welcome guests from the parking lot is the moya central building, a re-established 300 year-old Japanese style house relocated from Yamanashi prefecture. The overwelming, stately central pillar and the individually laid out beams stretching around certainly provide one with the feeling of security to be found in a Japanese-style house.

Kanju Bridge
From the moya central building heading toward the lodging complex one crosses the suspension bridge. It is an amazing location to feel the breeze and look up at Mount Yufu.

Common Room
Beside the lodging complex, a common room is set up and prepared as another space to relax outside one's room.
Access
295-2 Kawakami, Yufuin-cho, Yufu city,Oita,879-5102,JAPAN
By car
・About 10 minutes drive from Yufuin I.C.
・About 7 minutes drive from Yufuin station
・About 40 minutes from Beppu
・About 1 hour 13 minutes from Dazaifu I.C.
・About 2 hours 30 minutes from Kumamoto

By train
・Oita station – Yufuin station About 1 hour ( Limited express: 46 minutes)

By airplane
・Tokyo Haneda airport –Oita airport About 1 hour 30 minutes
・Nagoya airport – Oita airport About 1 hour 15 minutes
・Osaka airport – Oita airport About 1 hour

By ferry
・Osaka – Beppu Kanko Port About 12 hours
・Kobe – Beppu Kanko Port About 12 hours
・Takayama – Beppu Kanko Port About 11 hours
・Matsuyama – Beppu Kanko Port About 3 hours 30 minutes

※Free Courtesy Car Service is available from Yufuin Station (Call on Day of Arrival)
Reviews
I was thoroughly satisfied with the delicious meals(!) and heartfelt hospitality. A refreshing breeze drifted from the exclusive garden, and I had a really pleasant feeling bath in the room's outdoor rotemburo. The rotemburo bath was very spacious, and I enjoyed the clean murmuring of the stream. The meals were extremely delicious. I enjoyed the numerous gourmet dishes brimming with the chef's originality from the bottom of my heart. The "steamed blowfish dumplings" that came with the second night's "Fugu Course" were a culinary first for me, but I was really surprised with how delicious they were. I'm particularly grateful to the nakai hostess for the attentive thoughtfulness shown on this Birthday plan. Lots of camellia flowers were arranged in every booth in the room, and it made the mood excellent. Thank you for the memories of a very fun trip.
+ More
2016/04/20
Very friendly restaurant and reception staff, which spoke good English and were very helpful with our requests prior to our arrival. The food for both dinner and breakfast are excellent, probably one of the best from our recent experiences. The room has great decor and atmosphere, with an excellent in-room hot spring which is complemented with a very complete set of toilet / bathing accessories. We also has the option of using the larger private outdoor hot spring, which is located next to a small creek and is quite charming. The bar at the hotel has a very good collection of Japanese whisky, the bartender is very experienced and knowledgable, and we were able to try out some nice whisky at the bar. Overall we are very satisfied with our stay, highly recommended.
+ More
2015/11/20
It was my second time staying, and though I was satisfied with the standard suite last time, this time the atmosphere, meals, service, etc. in the deluxe suite made me even that much more satisfied. I would like to stay in all six of the deluxe suite complexes. Since this second time was at the beginning of autumn, next time I'm thinking about coming in summer when I can watch fireflies by the river.
+ More
2015/10/20
Wonderful room, wonderful meals, wonderful service. My parents were also delighted. Dad was also pleased that he was able to eat his fill. The route to Keisuikyo had more ups and downs than in my memory, and I was nervous about my parents making the walk, but even if it was a little interesting we were able to make it there without any problems. The jōka karei flounder we fancied served 4 and was also extravagant in terms of quantity. With the creation of a new dining facility, please keep on being a great inn. Thanks for everything. I think it was about 5 years ago, but when I said our itinerary made it so we couldn't even eat breakfast, they prepared bento boxes for us, and I didn't forget how great the rice balls were that time. This time too I felt that it was a really great inn where everyone's consideration and efforts make for a lasting memory of a pleasant stay.
+ More
2015/09/20
Both hard and soft, totally satisfied. Many of the staff members were young, but everyone gave us a nice reception. My parents were also delighted, and I was able to do something nice for them as their child.
+ More
2015/06/20
Information
Check-in Time

From 3:00pm to 6:00pm

Check-out Time

Until 11:00am

Tax / Service Charge

Bathing Tax JPY 150 per adult is NOT included in the rates.

Credit cards accepted at this property

VISA / MASTER / JCB / AMEX
Children

Children between the age of zero to five are free of charge if they share a bed with you.
We regret to say that we do not accept children middle school age (12) and under at Restaurant Keisuikyo.

Pets

Pets are NOT allowed.

Parking

Free of charge for guests;Capacity 15 vehicles

Other policies & conditions

Nothing in Particular