- VAT is included, but bathing tax (around JPY 150 per adult) may NOT be included.
- Price in USD is based on the exchange rate as of today and might be different from that of the booking date.
Foods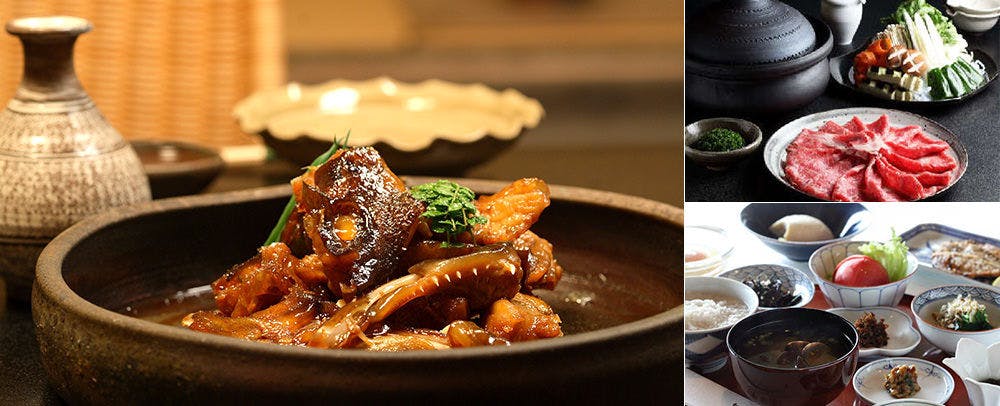 Foods
Enjoy seasonal fish from the Genkai Sea Shabu-shabu (reservation required)
Yoyokaku began serving shabu-shabu 50 years ago.
For those who do not enjoy fish or are staying for a while. Those who had fish the previous day during their travels can also call to change their meal. Enjoy the tenderness of beef from Saga Prefecture with Yoyokaku's secret sauce.

Dinner in your room
Dinner will be served in your room. Dishes will be brought one or two at a time, while they are warm. Please take your time and enjoy.

Breakfast in the restaurant
The breakfast room is on the first floor of Yoyokaku, roughly in the middle. Please let the staff know if you require an early breakfast. Enjoy a leisurely breakfast while viewing the garden glimmering in the morning light.
Baths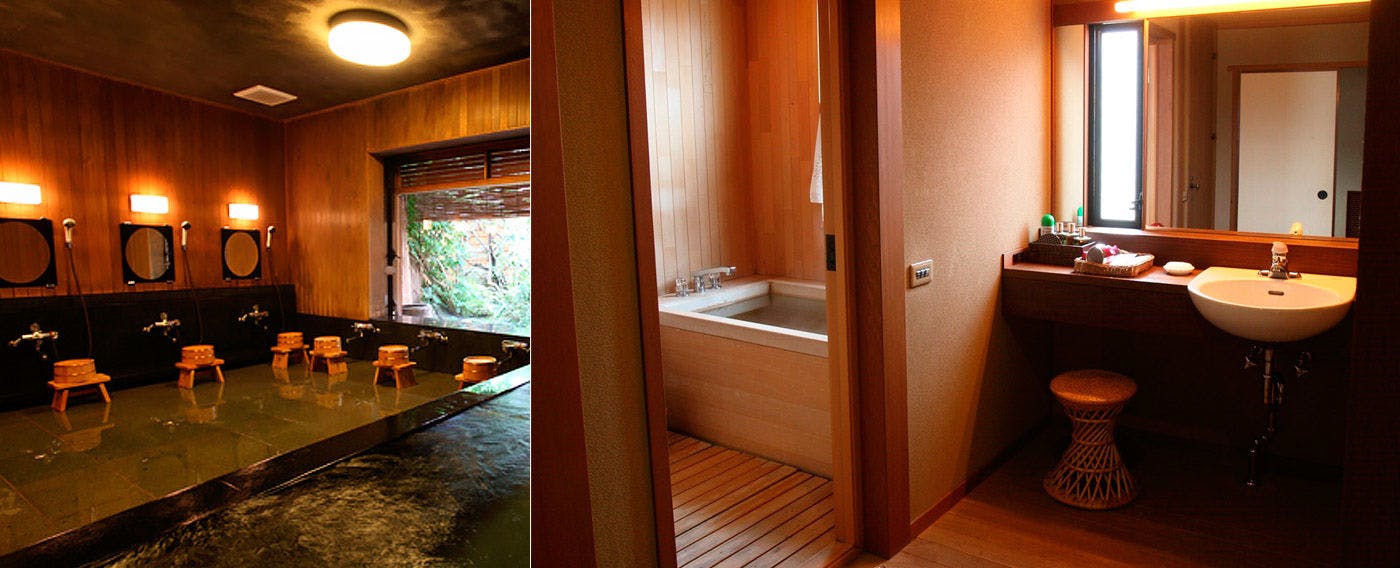 Bath
2 large public baths There are two large baths,one for men, one for women.
There are maifan stones in the tank and the hot water passes through it so that it has the benefits of onsen water. It is very warming.
The walls are made of hinoki (Japanese cypress), the bath tub of black granite, and the floor of Fukumitu tuff so that it is not slippery when wet. There is a bar at the front of the bath tub and steps inside the tub so that the elderly can safely enjoy a bath. Chairs for nursing care are available.
Facilities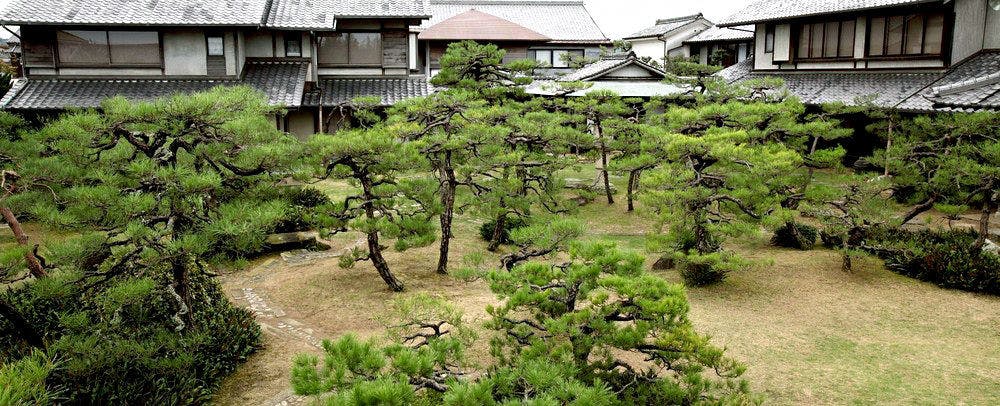 Japanese Garden
A stroll in the garden Most of the pines are old pines that over 200 years old. It is a landscaped garden.

Ryutagama and Monohanako
Works by the ceramic artist, Takashi Nakazato, Taki Nakazato and Hanako Nakazato are exhibited and sold.
Access
2-4-40 Higashi-karatsu, Karatsu-city,Saga,847-0017,JAPAN
BY AIR From Fukuoka International Airport: 60minutes by car or 90 minutes by train
Reviews
At any rate, the food is delicious. This time, the main dish was "okoze" (the l.japonicum Devil Stinger fish) however when fish like "ara" (saw-edged perch) and "fugu" (blowfish) are in season those are also surely good. I felt that the amount of service was just right. I recommend this to anyone who loves the charm of old "ryokan" (Japanese-style inns). It was a weekday so I could relax leisurely in the "furo" (bath house), however if it was at full occupancy it would probably be a little cramped for space. It's not an "onsen" (hot spring) so I guess it can't be helped.
+ More
Sep 2015
Thank you for your service. I like old style buildings and I looked forward to seeing the facility. The facility was kept clean and an old-world flavor did not disappoint my expectations. if I am allowed to wish so much, it would be desirable to have something more than one can imagine.
+ More
Apr 2015
Thank you for the hospitality. I was greatly satisfied with the sea bass course we had for the first time in 17 years. I was able to relax in a quiet, calm atmosphere, and was very healing.
+ More
Feb 2015
Food was good, true to their reputation. I could stuff myself with big longtooth grouper. I though it would have been nice if there was a place to put valuables like a room key somewhere in the changing area of the big bath. It might not be necessary as it is a small-sized ryokan.
+ More
Mar 2015
Stayed for the first time. I had a good impression of the long-standing ryokan with well kept maintenance. I am grateful for the staff's polite response. I chose Shabu-shabu course, but was surprised by the quantity of meat. There was an exhibition of the ceramic artists in the gallery, and the line-up was my taste, so I couldn't help buy some pieces.
+ More
Jan 2015
I visited Yoyokaku and Ryutagama where I had wanted to visit for a long time. Without being disappointed, I spent the happiest moments in my life. Thank you very much. A landlady with grace and beauty led me to a room. I gazed admiringly at seasonal fresh flowers beautifully arranged in a Karatsu ware vase in not only the room but also a library area. The gallery in which works of Yota Gama were displayed was cozy an nice too. There was also a healing atmosphere more than anywhere else in the Ryota Kiln in the mountains . The fish dish I ate in my room had so exquisite harmony with the plate that I smacked my lips enjoying eating it with Sake. The talk of the waitress was so heartwarming that it made the dishes much more delicious. Again I would like to express my appreciation to the chef. I was surprised at the delicious taste of wheat porridge served for breakfast. I was once again to be able to notice the depth of Japanese cuisine. I appreciate it. The futons were really simplified. Though one has one's own taste, but I personally like Asaba mattresses and two-layer type Futons in Izu Syuzenji, and so I give 4 stars to this Japanese style hotel. I think this Japanese style hotel has a warm and healing atmosphere more than anywhere else as I am back to my home town. I would love to come here again in the season when I can enjoy winter fish. Thank you very much.
+ More
Oct 2014
The breakfast was delicious. My room service staff was kind and nice. I would like to visit again.
Apr 2014
Talking about the reception, it was a very comfortable dormitory. Breakfast was prepared in original ways and I was satisfied with it. However, I had an impression that the dinner was ordinary (sorry for the local topic, but I think I can eat this kind of set at around 7,000 yen in a Japanese traditional restaurant in a port town in Seto Island Sea ). In respect of amenities, the tooth brush sets were excellent. The shape of the toothbrush allows you to clean the space between the teeth easily, so I hope this toothbrush will be adopted in many inns.
+ More
Mar 2014
I could have a relaxed time at the wonderful traditional Japanese inn which was well looked after at the end of the year. Tea-ceremony dishes were also perfect and especially hilgendorf saucord cooked in soy source was excellent.
+ More
Dec 2013
I made my reservation after calling to check if I could make it in time for dinner with a flight past 5pm from Fukuoka Airport. Luckily, I reached at around 7.30om so I was able to have dinner before bath. Something minor happened when I reached my room which was settled with tact from the landlady, but maybe they should have used a vacuum cleaner for that? I said that on the spot but the landlady didn't seem to hear as she was excited?... I usually stayed in hotel on my trip so it's quite rare for me to stay in a ryokan, but I was greatly satisfied like the reviews said. The bath and the night was rather cold but the onsen warmed me up. However, like someone pointed out previously, there is no towel hanger to dry the towel after use in the room. So it's inevitable that I used the chair for that. I chose the fresh seafood from Genkai sea for meal as I was drawn by the catchphrase. It was truly delicious, but it felt a little lacking as I am normally used to fishes from the north. I would love to try shabu-shabu if I had a chance to visit again. It was a short stay, but I am thankful to them for checking the detailed schedule of the train and sending me to Karatsu Station in the morning.
+ More
Dec 2013
We went to Yoyokaku we had been longing to stay at for my husband's birthday as he wanted to stay there. The first thing that impressed me upon arrival was the front gate. My expectation suddenly increased. The garden you can see from the hallway is wonderful as well. The room was on the second floor and had a good view of the garden, and it felt very nice. I dropped by at Ryutamaga before check-in, and strolled in the gallery I had been looking forward to. The exhibits were highly impressive. I headed for the public bath next and, what? their amenities were Muji (cheap minimalist brand) and is quite different from what I had seen in various magazines...what happened? then a toddler in a diaper came out the water... maybe this was a problem with the parents' lack of consideration but it was unbelievable to see this in Yoyokan, which forms a high-class brand of its own. (it was surprising that the toddler was staying there to begin with) I started questioning this whole place but pulled myself together and went for a walk in the garden. What? Where is the 'gregariousness of pines that continued forever? ?' As I walked in what felt like the garden of a slightly large mansion with a withered creek, an inn lady told me "If you walk on the gravel, you might twist your ankles, so could you please walk on the pebbles or lawn? What? What does that mean? Although considerable doubt has come up, finally it was time for dinner. Since I had booked sushi at Tsukuda the following day, I had selected shabu-shabu hotpot (of course, when I booked). Saga beef with beautiful marbling with the hotel owner's secret sauce was really superb. But I was shocked by their explanation "we have stopped serving A5-class meat and switched to A4." The reason, they said, was that if they used A5, you can not eat much because of the marbling so A4 was better, and this was good with us since we liked lean meat, but people who like marbled beef would surely be disappointed by this. Despite this, what was delicious was delicious and I drank a lot as well, but, every time I had to call the server up on the phone to order ... besides, it took her very long to come. When I checked in at 4pm, they asked me to decide on my dinner drink and I was surprised, but now I knew why. It took about 3 hours until they served fruits as the end of the course, which means it took more time than the French course. Few maids, the getas used to go out to the garden are worn out, the amenities at the large public bath, the condition of the garden...for the guests it was easy to tell that they were reducing costs. I hoped they had more pride in being the old ryokan. However next time I visit Saga, I would still want to stay at Yoyokaku.
+ More
Jun 2013
Information
Check-in Time

From 3:00pm to 7:30pm

Check-out Time

Until 10:00am

Tax / Service Charge

Credit cards accepted at this property

VISA / MASTER / JCB / AMEX / DINERS / UNION PAY
Children

All children are welcome.

Pets

Pets are NOT allowed.

Parking

Three free parking lots next to the building.

Other policies & conditions

Yoyokaku is a two-storied building. There is no elevater. Stairs have a hand-rail. Guests are requested to tell at the time of reservation if they can not go up the staris.