Seryo
All the rooms are pleasantly nestled in the middle of beautiful gardens.Take off your travel tiredness at Ohara hot springs, and feast on the vegetable and herb kaiseki prepared by the young master chef Yoshida. You can enjoy the nature of Ohara or a pilgrimage to Sanzen-in. A famous temple of the Rakuhoku village of Tokyo. Oyado Seryo, Ohara Hot Spring, gracefully standing next to Sanzen-in, a famous temple of the town of Rokkaku Kyoto. Every traveler is welcomed with warmth in every season.
- VAT is included, but bathing tax (around JPY 150 per adult) may NOT be included.
- Price in USD is based on the exchange rate as of today and might be different from that of the booking date.
Foods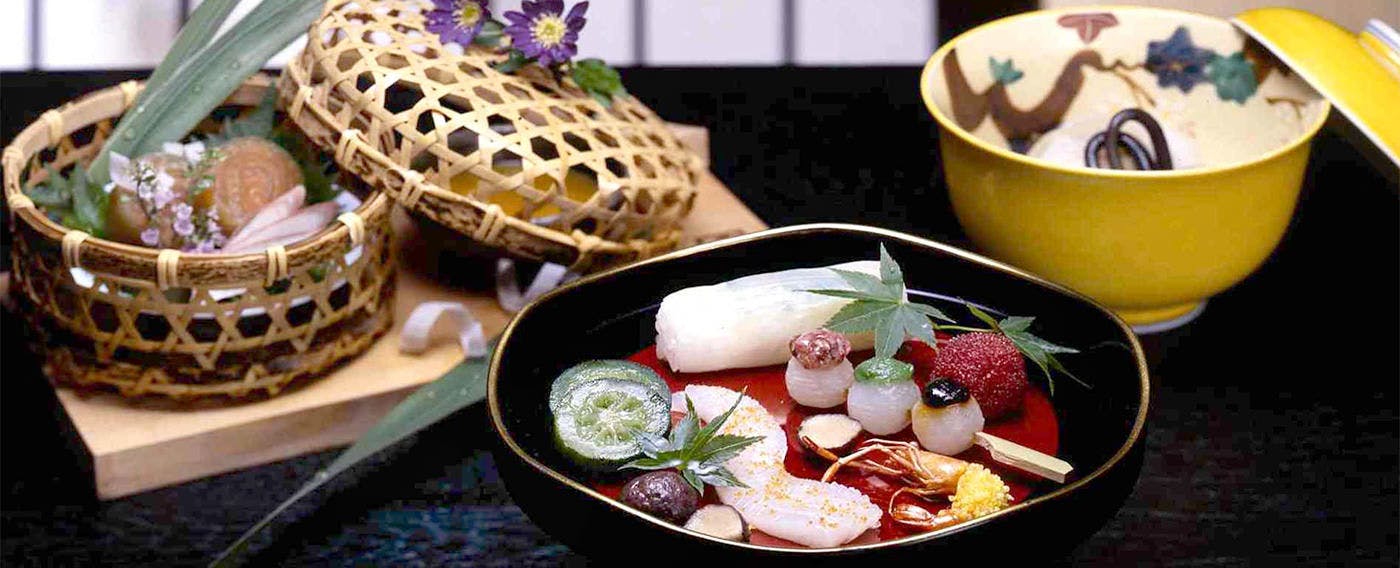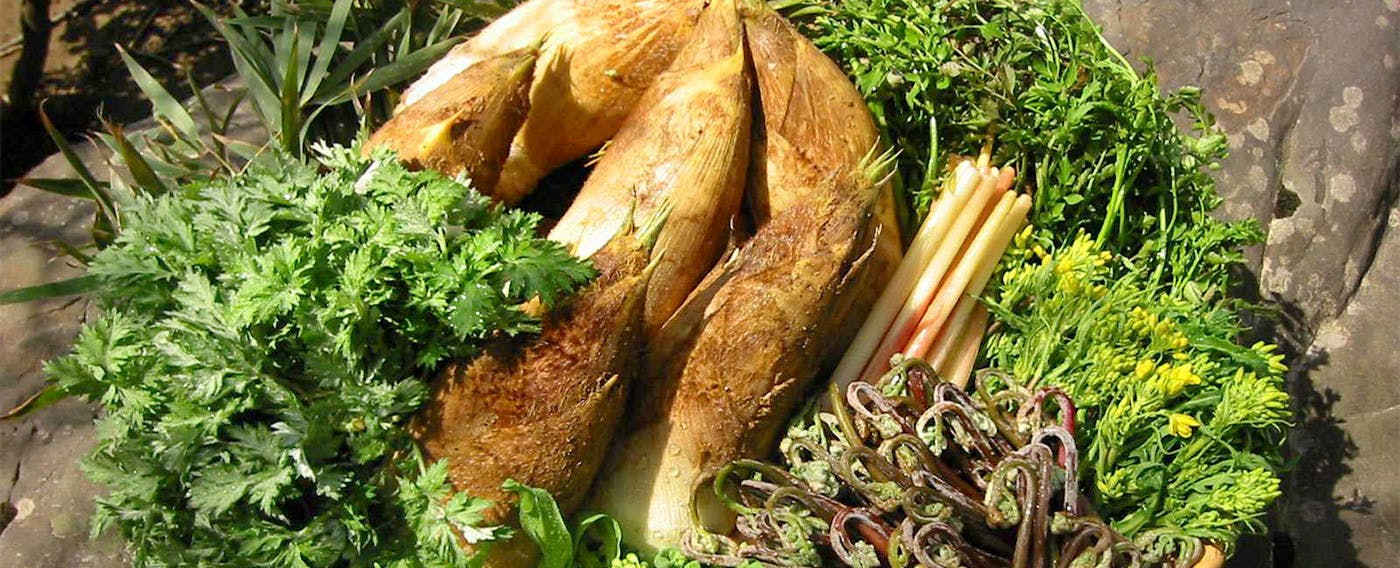 Carefully picked vegetables, a delicious offering The food is prepared using fully organic ingredients and grown without the use of pesticides, grown locally in Ōhara, Kyoto. Enjoy plentiful natural blessings through culinary delights. Also, enjoy Kyoto regional sake selected carefully by the professional sake brewer. Thoroughly relish a time of bliss that you experience at Rakuhoku Ohara.

Restaurant Hinasato
The sound of flowing streams and gentle breeze pleasantly fill the hillside. Dinner and breakfast are served here, and on a nice and warm day you can even enjoy breakfast in the balcony.
Baths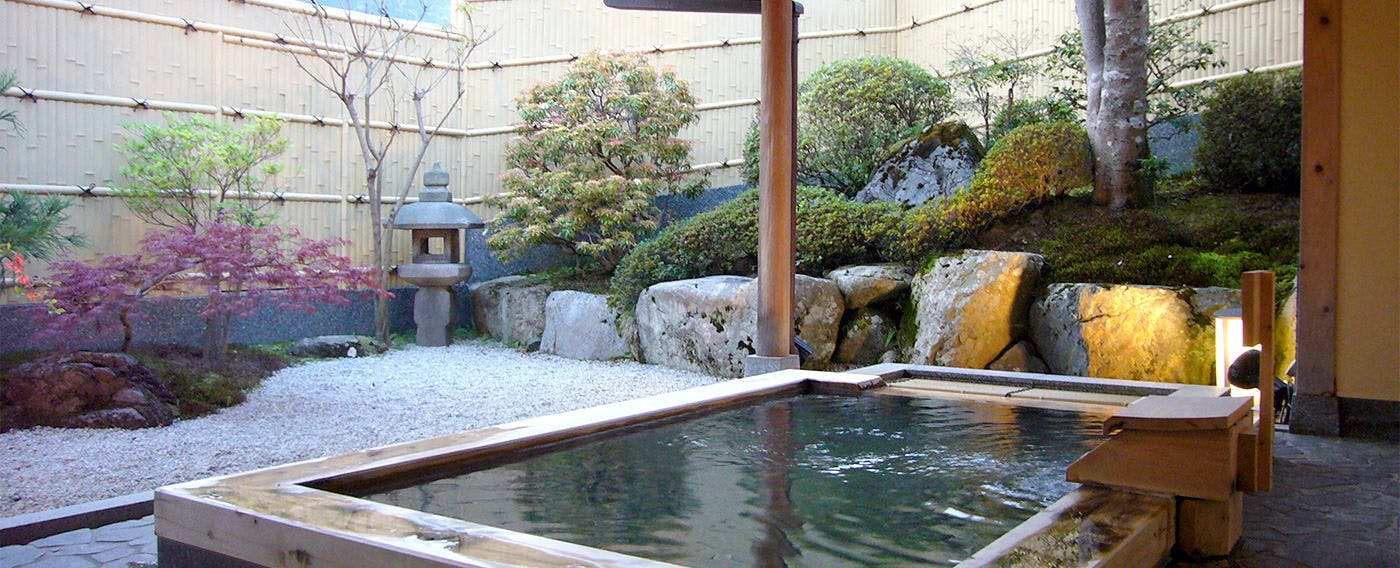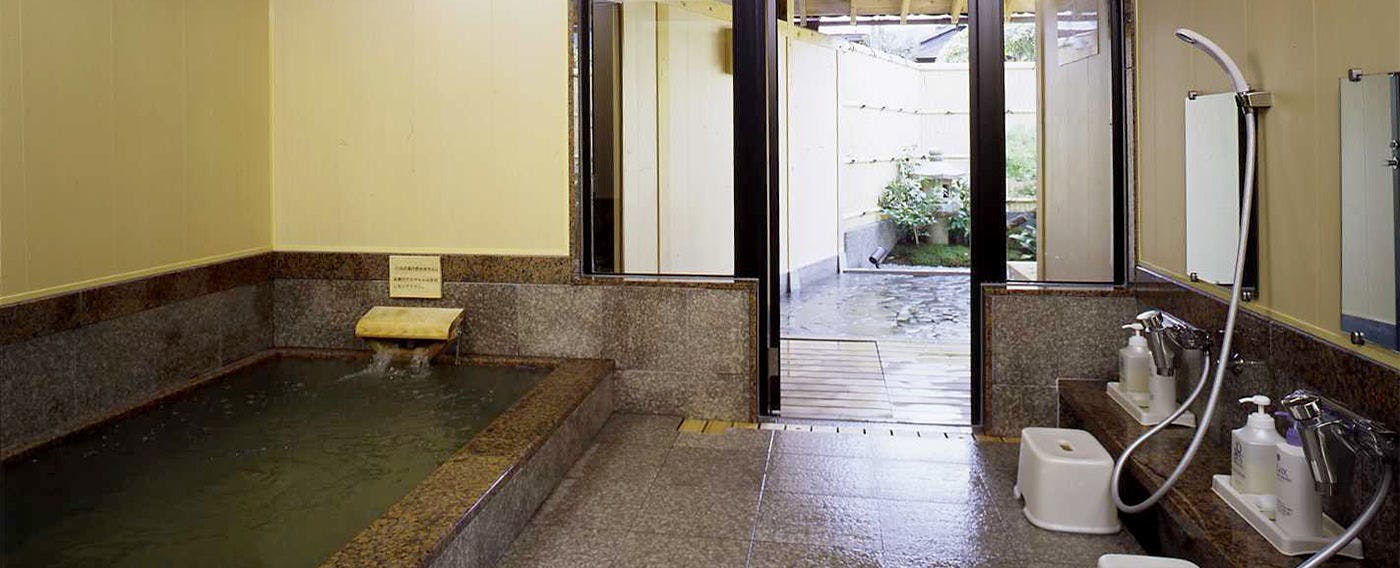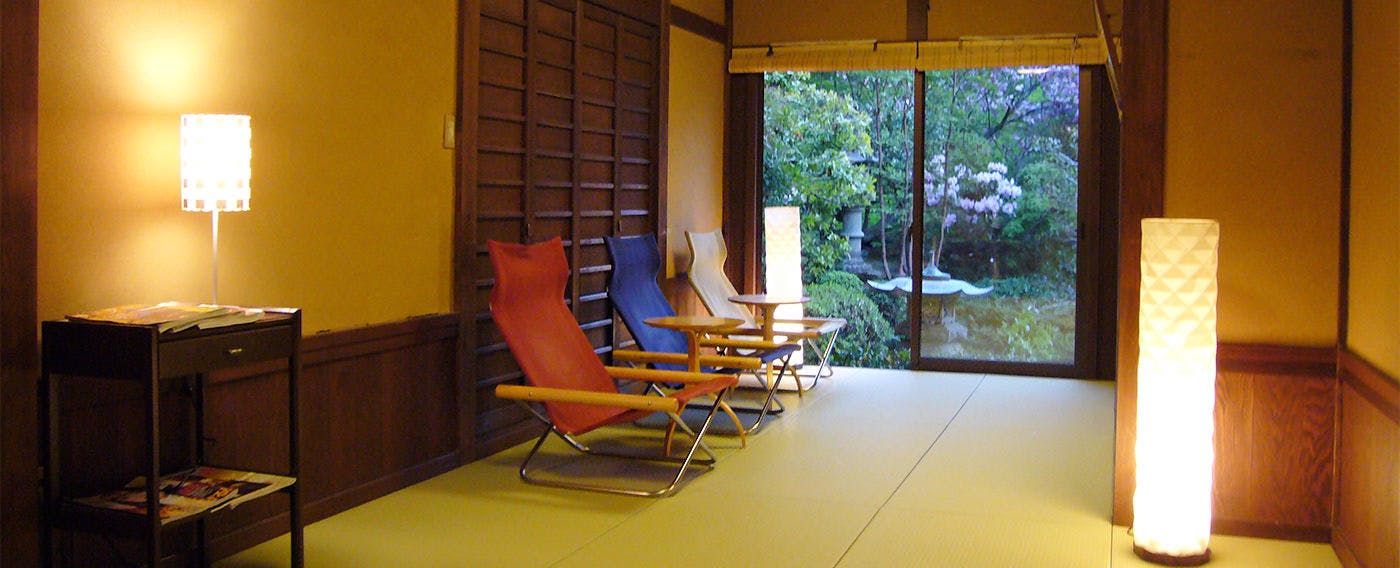 Megumino Yu, a moisturizing bathing experience. The misty water here softly rises up in the bath. Known as "Murasakino Yu" (purple bath), the water is drawn from around 1,200 meters from underground Ōhara in Kyoto.You can enjoy the real excitement of natural hot springs surrounded by gentle breeze and greenery coloured by the four seasons in the warm outdoor-bath.

Ōhara hot-spring: Murasakino Yu
Ōhara is a village with a history of over 800 years abundant in shiso. The name Murasakino, meaning purple, comes from the colour of shiso. Also being the traditional colour of Kyoto, the onsen was named the purple bath, "Murasakino Yu".

Hot spring water quality: Simple onsen (hypotonic mildly alkaline spa)
Hot spring healing virtues: Neuralgia, muscle pains, joint pains, frozen shoulder, movement paralysis, joint stiffness, bruises, promotes well-being, sprains, chronic gastrointestinal problems, hemorrhoids, sensitivity to cold, convalescence and weakness, recovery from exhaustion.
Facilities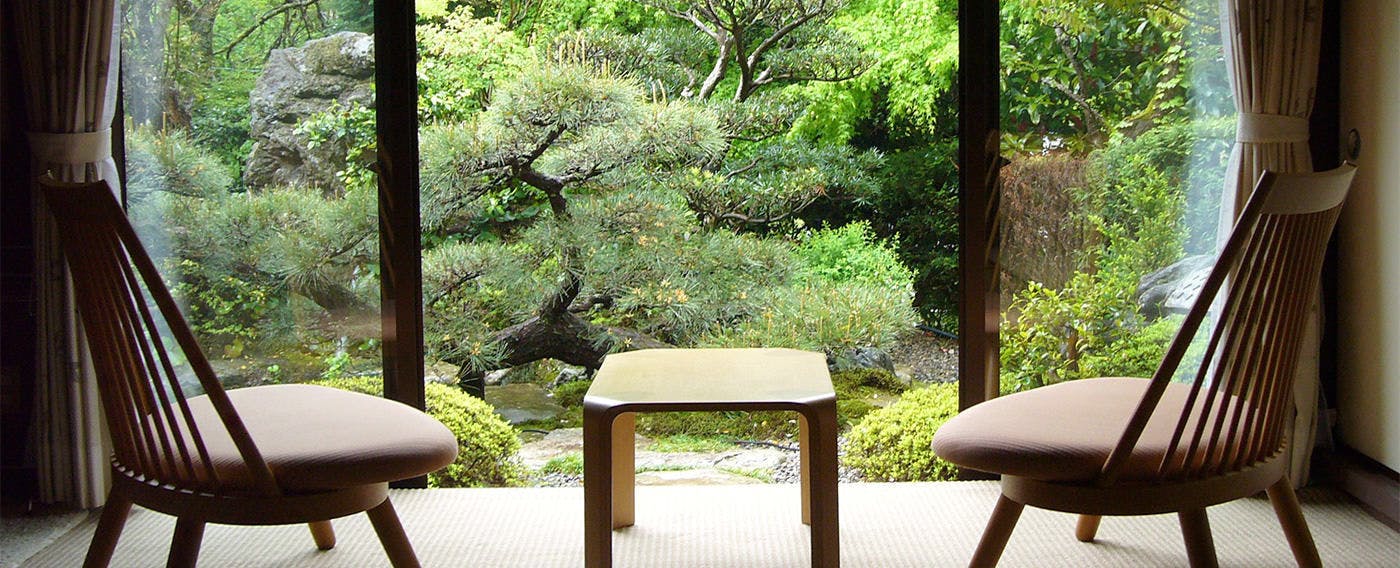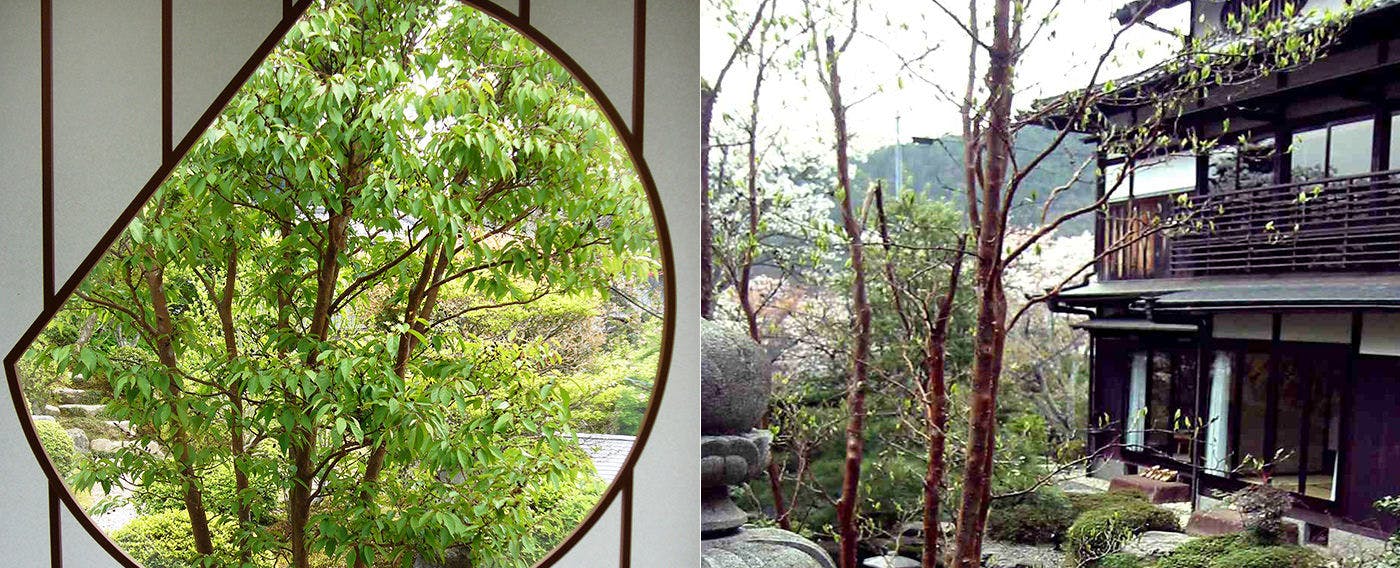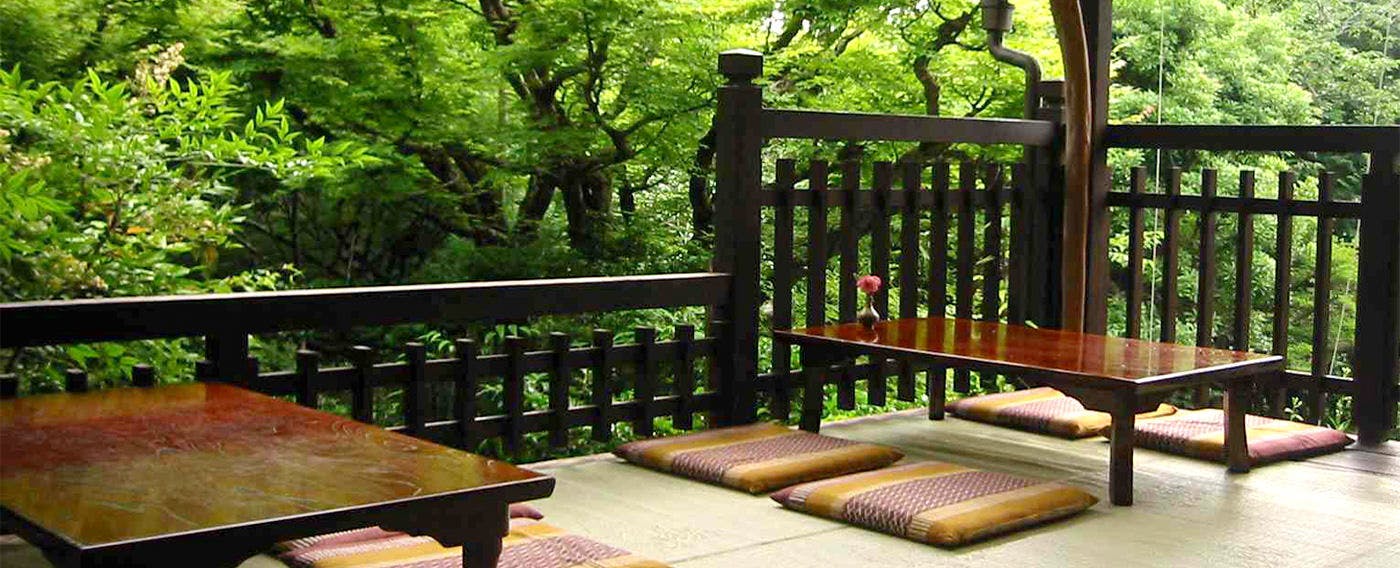 Encounter the four seasons and hearts full of hospitality. Information on the facilities
Rooms: Five Japanese-style rooms, four Japanese-western style rooms, one western-style rooms.
Restaurant Hinasato. Banquet Hall. Indoor hot-spring water bath.
Sister store: Tea House Seryo
Featuring Japanese style sweets, soba, folk craft and Kyoto souvenirs.
Access
Sanzen-in, Ohara, Sakyo-ku, Kyoto City,Kyoto,601-1241,JAPAN
For Kyoto bus Ōhara:
60 minutes from Kyoto Station
About 30 minutes from Keihan Train Demachiyanagi Station
About 15 minutes from the Kokusaikaikan subway station
10 minutes on foot after getting off Kyoto Bus Ōhara

Free pick-up service.
If you call us from Ōhara Bus Terminal, we will pick you up.
Reviews
I felt healed by the time when I looked at the beautiful garden, such a peaceful moment different from our daily life. The cuisine is also impressive, its delicate color and taste please your five senses among the inns stayed past in Kyoto and Nara. If you leave the inn, it is a very calm and pleasant place at Sanzen-in. Speaking of which, having sake or water for drinking at night in the refrigerator, instant drip coffee or snacks in the room, Makes for a great evening for anyone who likes alcohol, including me. It's a nice accommodation with warm and courteous staff.
+ More
2016/12/20
I was so satisfied with this stay including dinner and breakfast.Open air bath was also pretty good. I would definitely come again to stay here.
+ More
2016/10/20
It was heavy rain that day due to the typhoon, I was worried that I could be late for dinner time, but I was able to arrive safely because the way was easy to understand. The food was very delicious. I was able to spend leisurely. I would like come again when the season brings in autumn leaves.
+ More
2016/09/20
This place being right next to Sanzenin seems just the same, it's an irreplaceable location. The hot springs, that I did not expect, are pretty good quality springs, and I quietly enjoyed the open air. It's been awhile since my last visit, the meals have also gotten better it seemed.
+ More
2016/08/20
I stayed over here last year I wanted to stay at Seryo-san, dip in the onsen, have delicious food, and just enjoy a relaxing time, so coming to Ōhara seems to be the right choice. Next time, I'd like to stay in the room which was opened in the autumn season with the attached open-air bath.
+ More
2016/07/20
We stayed at the renewed Sakura suite. I wanted to go around temples etc. before check-in, so I went there two hours early. It was a feeling that not only the inn, but also the meal was well prepared. We got off the taxi and took our own baggage and entered the inn. We got greeted at the door and entered inside, and they picked our luggage. Because I wanted to deposit in the baggage beforehand, I asked for only tea. We were offered welcome drinks. After exploring the surroundings, we went to the inn. The room staff explained the equipment in the room. It's a nice courteous service where you are served without the staff being intrusive. After all, it was really good as it is nice to have an open-air bath in the room. The cherry trees in front of my eyes had some parts already blossoming. Then we had dinner. I had a reservation for Kaiseki cuisine. It was a little disappointing because there was no wine along with it when we ordered at first, but the wines turned out delicious so it was good. At dinner time, except for us, everyone there were international customers. The landlady was working hard by herself. I kinda felt that they were a little short on staff maybe. The taste of cooking was elegant and delicious true to Kyoto. Later, I slept relaxingly at night. After taking a walk in the morning, we had breakfast at our own pace, Boiled tofu was also gentle to the body. I brought my luggage to check out, but on the way there are steep stairs so I think that there should be staff to help those with bad feet or elderly people to take it because it's hard. I was informed the check-out time in advance, but the counter kept me waiting without anyone there. I wondered if it's just the slow paced countryside. I hope to go there again, but I expect that it will be a better tended accommodation at that time.
+ More
2016/05/20
Information
Check-in Time

From 3:00pm to 6:00pm

Check-out Time

Until 10:00am

Tax / Service Charge

Nothing in Particular

Credit cards accepted at this property

VISA / MASTER
Children

Children under elementary school age are not allowed to stay.

Pets

Pets are NOT allowed.

Parking

Free of charge for guests; Capacity 50 vehicles; No Valet Parking Service;

Other policies & conditions

Please let the resort know of your stay in Japan. / Please try to complete your check-in by 5:00 p.m.