River Retreat Garaku
River Retreat Garaku is a luxury boutique hotel situated on the Jinzu ("Path of the Gods") River in the forested foothills of the Northern Japan Alps. In this sublime setting outside central Toyama City you are enveloped in the unique Japanese aesthetic of nature and art, all within a modern architectural masterpiece. Ever present views of the timeless hills and river are brought through dramatic windows into the lobby, restaurants and guest rooms, which are filled with stunning sight lines, quiet spaces and exquisite art.
- VAT is included, but bathing tax (around JPY 150 per adult) may NOT be included.
- Price in USD is based on the exchange rate as of today and might be different from that of the booking date.
Foods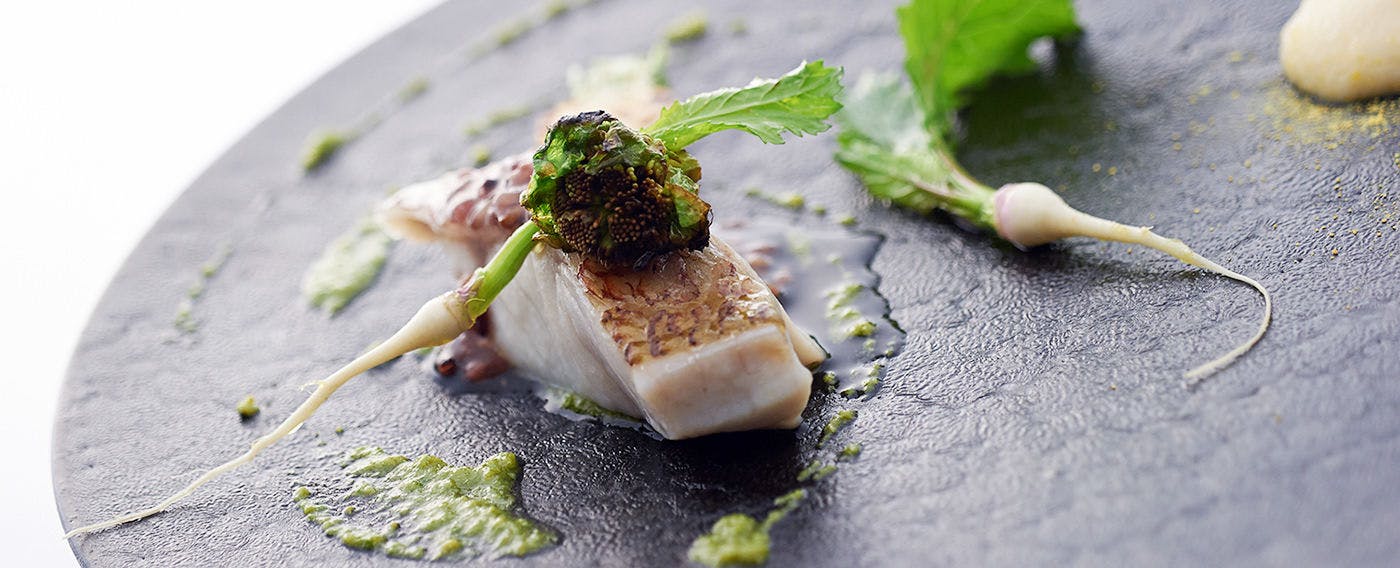 Foods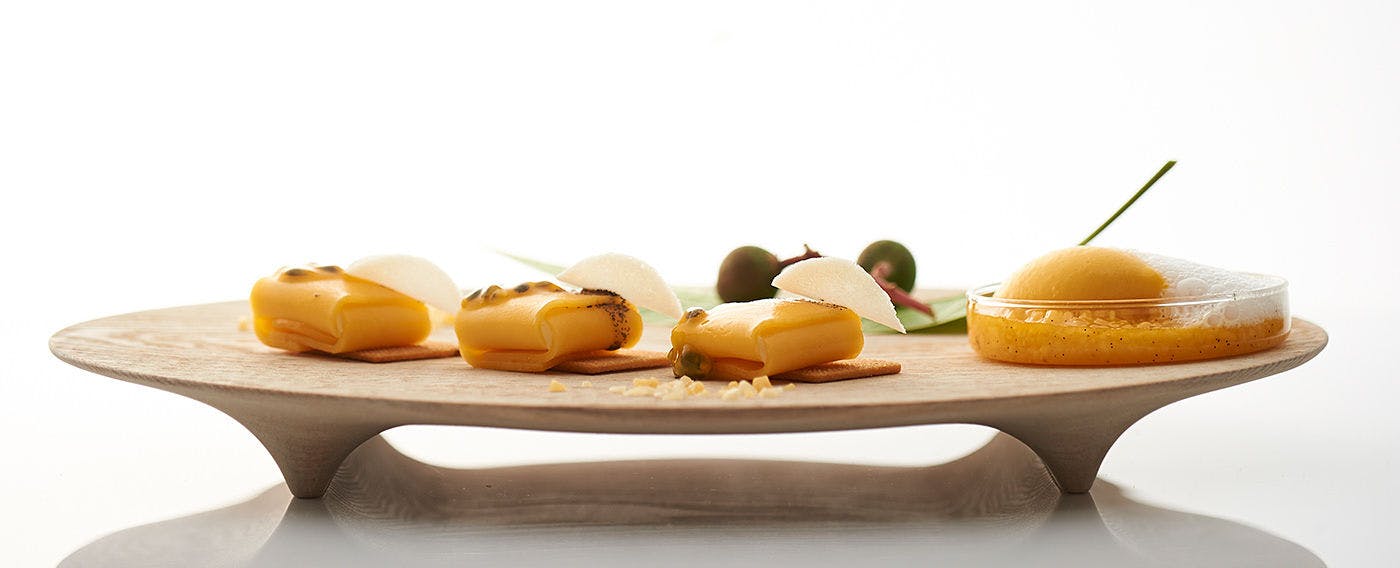 Foods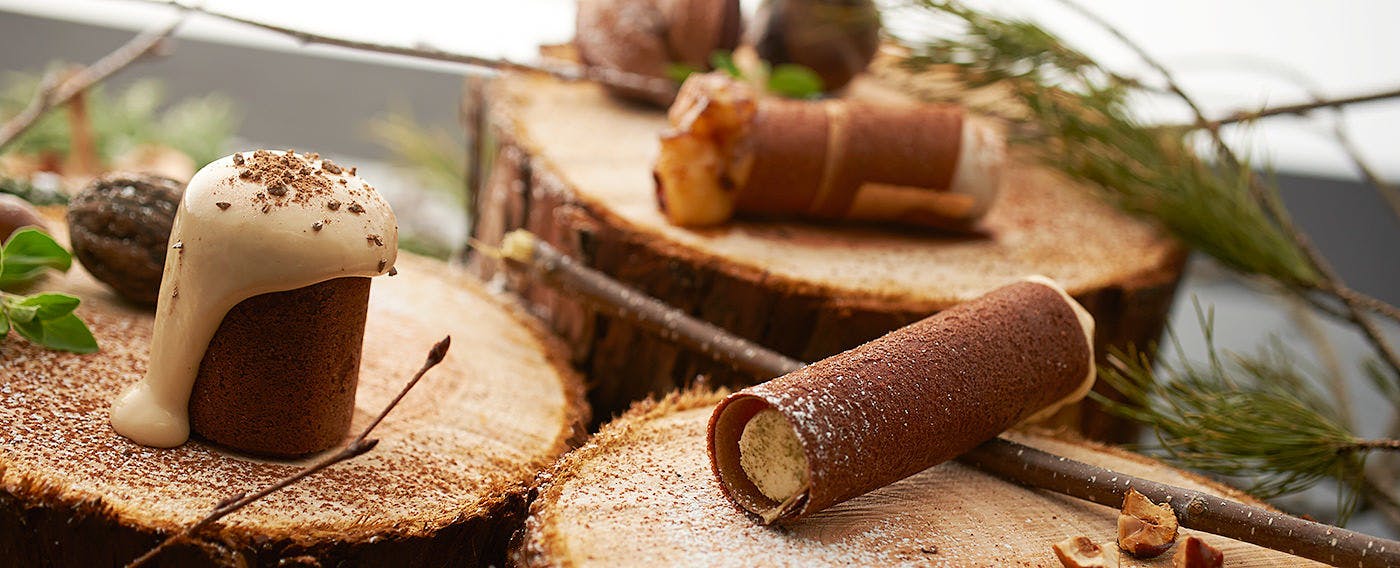 Foods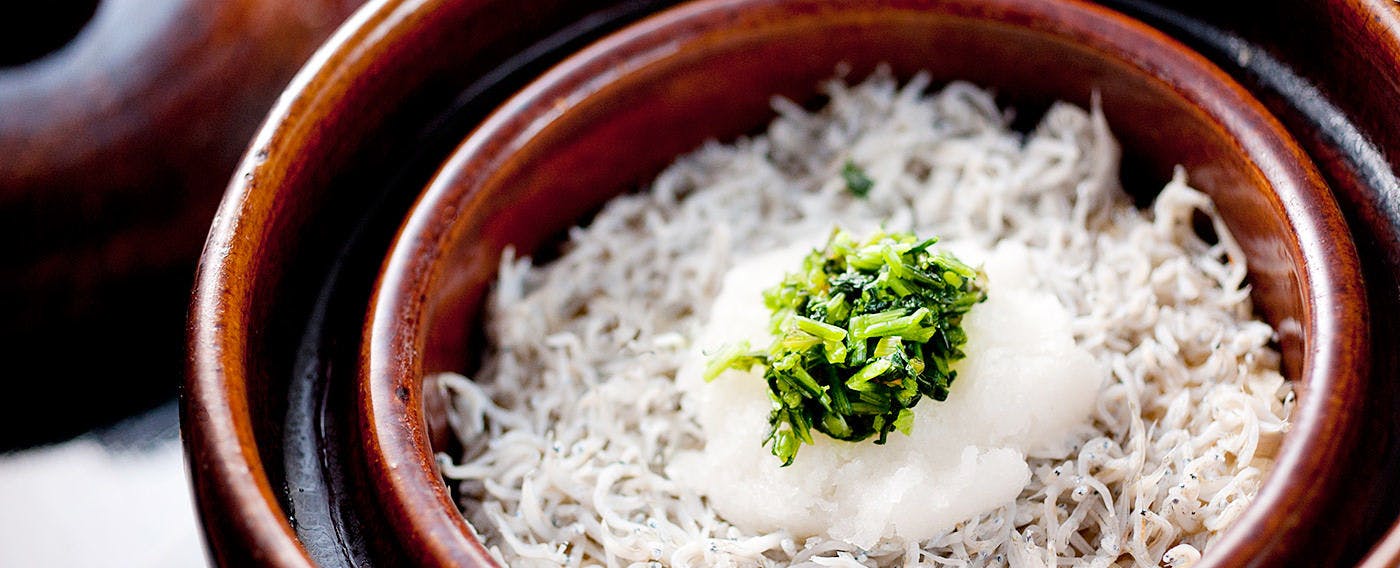 Foods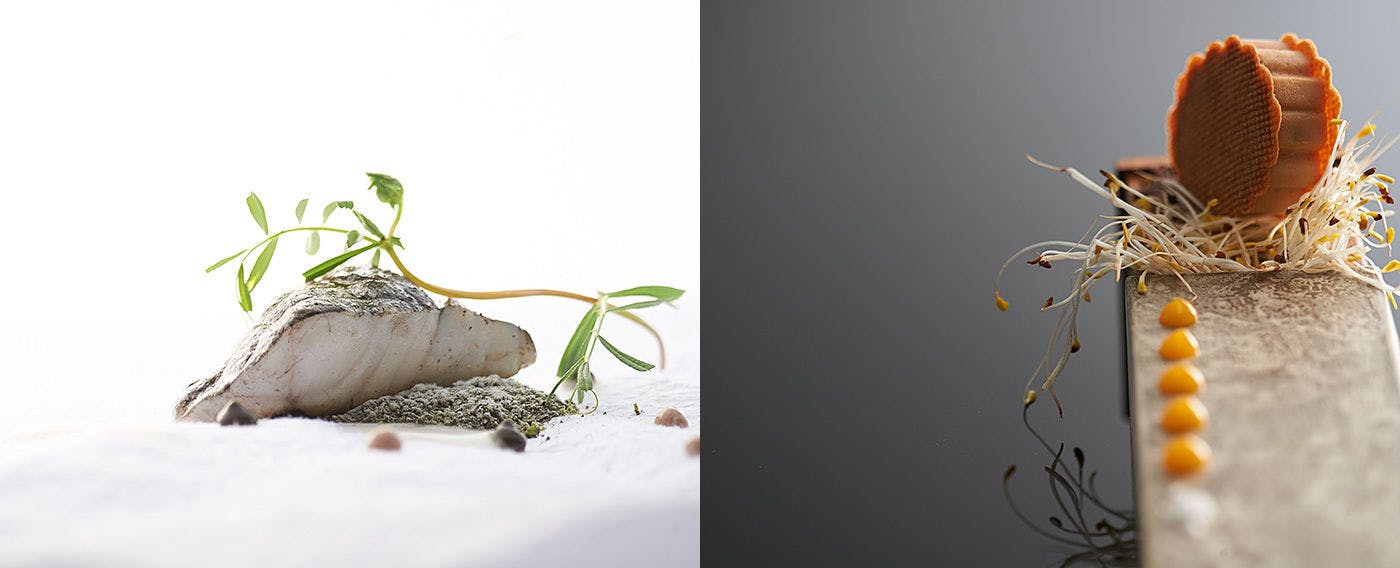 Restaurant 'Levo'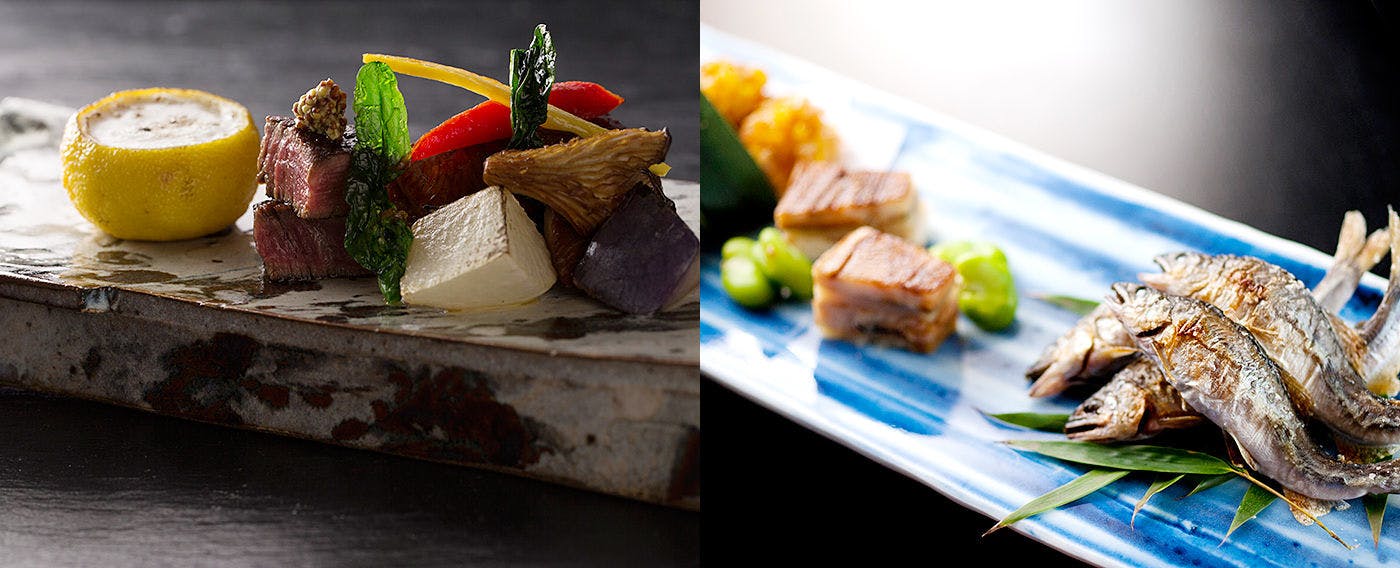 Japanese Restaurant 'Rakumi'
Enjoy French or Japanese cuisine French restaurant "L'evo"
L'evo or Evolution is the new nouvelle cuisine French/Japanese fusion restaurant at Garaku where the world class seafood of Toyama Bay and local mountain vegetables are brilliantly combined for a total culinary and aesthetic experience.

Japanese restaurant "Rakumi"
At Garaku's Japanese restaurant Rakumi ("Enjoy the Taste") you can experience the best of washoku, the traditional Japanese cuisine UNESCO has designated a world cultural asset. Here the chef blends Kanto (Tokyo) and Kansai (Osaka) styles in delectable presentations of elegant simplicity where every ingredient can be savored.
Baths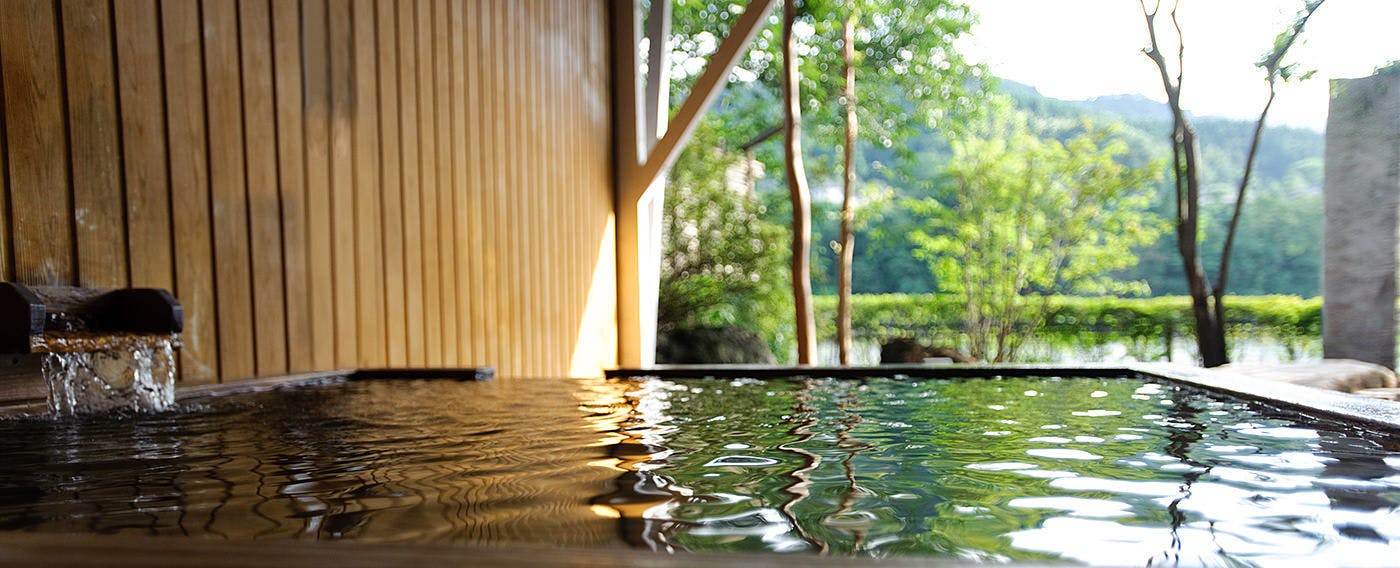 Open-Air Bath 'Yudokoro'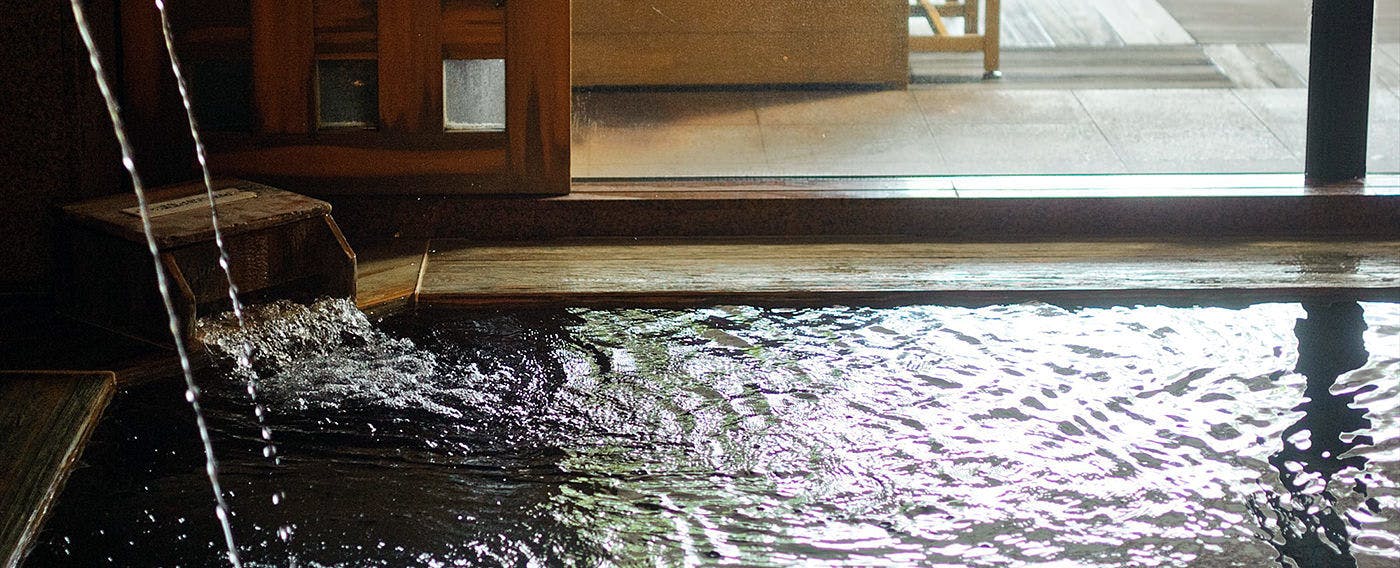 Open-Air Bath 'Yudokoro'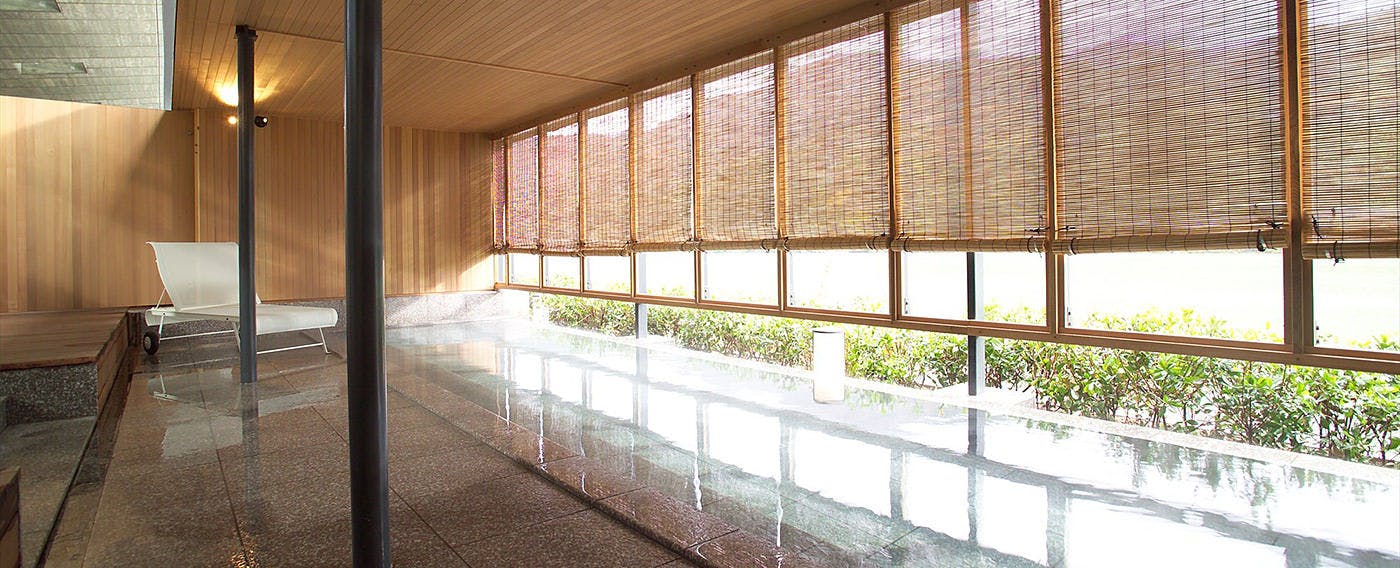 Open-Air Bath 'Spring Day Spa'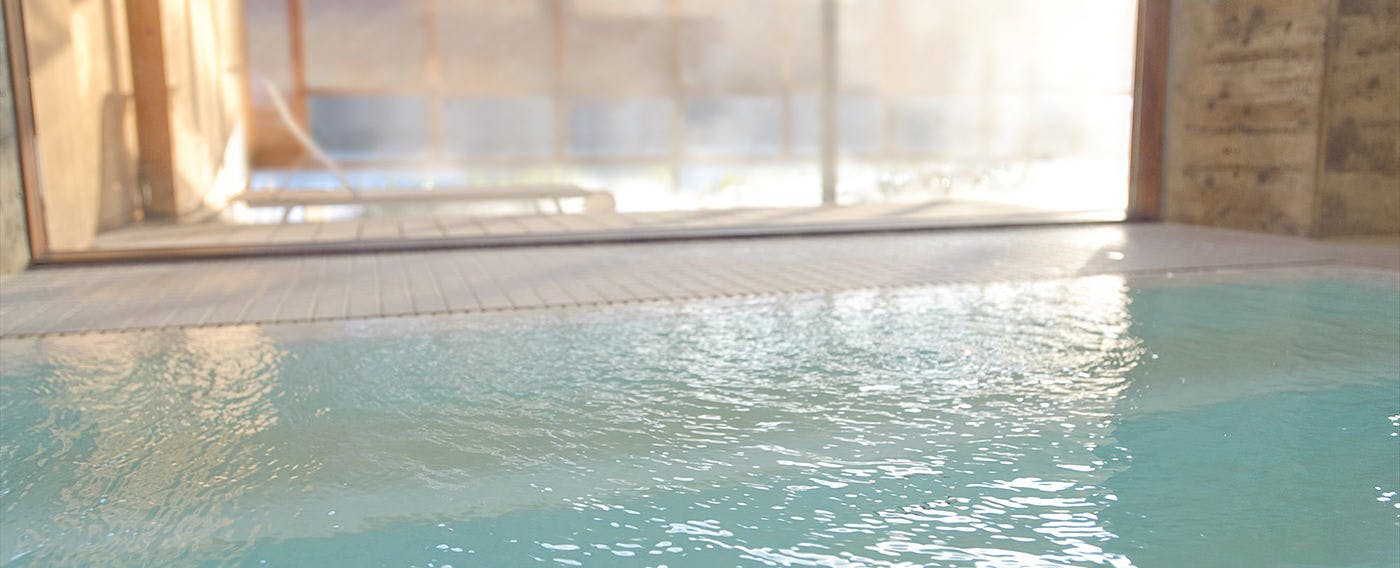 Open-Air Bath 'Spring Day Spa'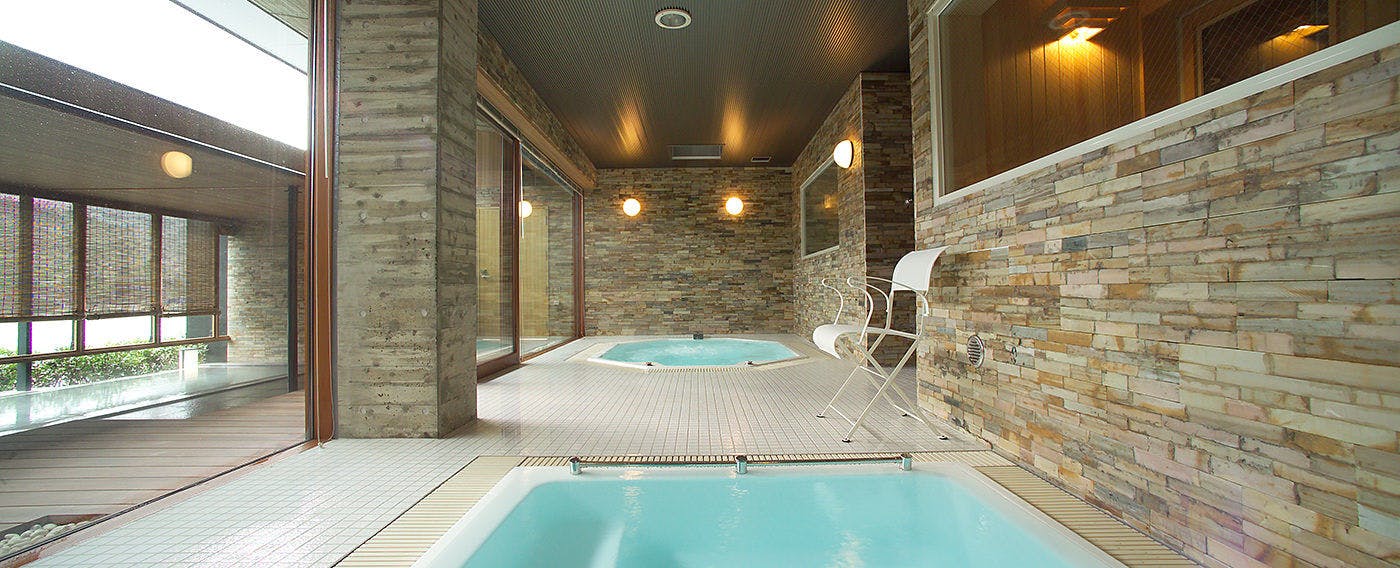 Open-Air Bath 'Spring Day Spa'
Garaku's Spas and Saunas Pamper yourself in Garaku's luxurious indoor and outdoor spa facilities. The natural hot spring water gushing from the local Kasuga area, which feeds our spas, is very mild to your skin.
Garaku has a spacious spa area with both indoor and outdoor sections. The open air bath area has natural woods, a beautiful red rock lined pool, and stunning views of the Jinzu River as you relax among the artfully placed trees.
Facilities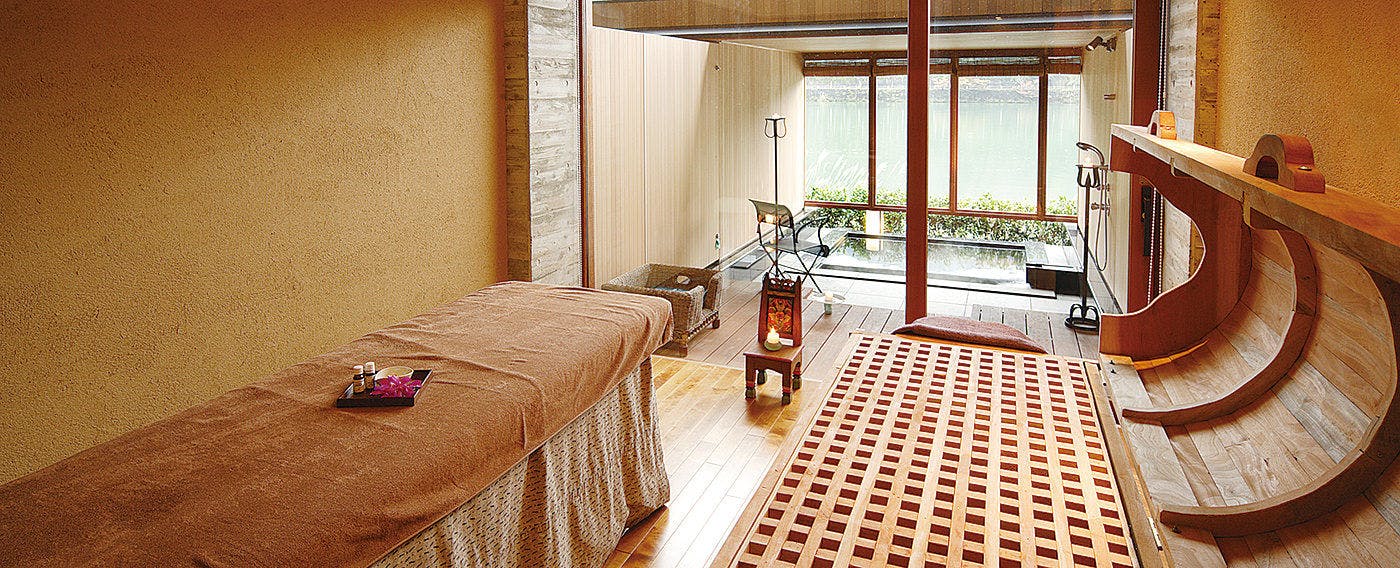 Therapy Room 'Rifure'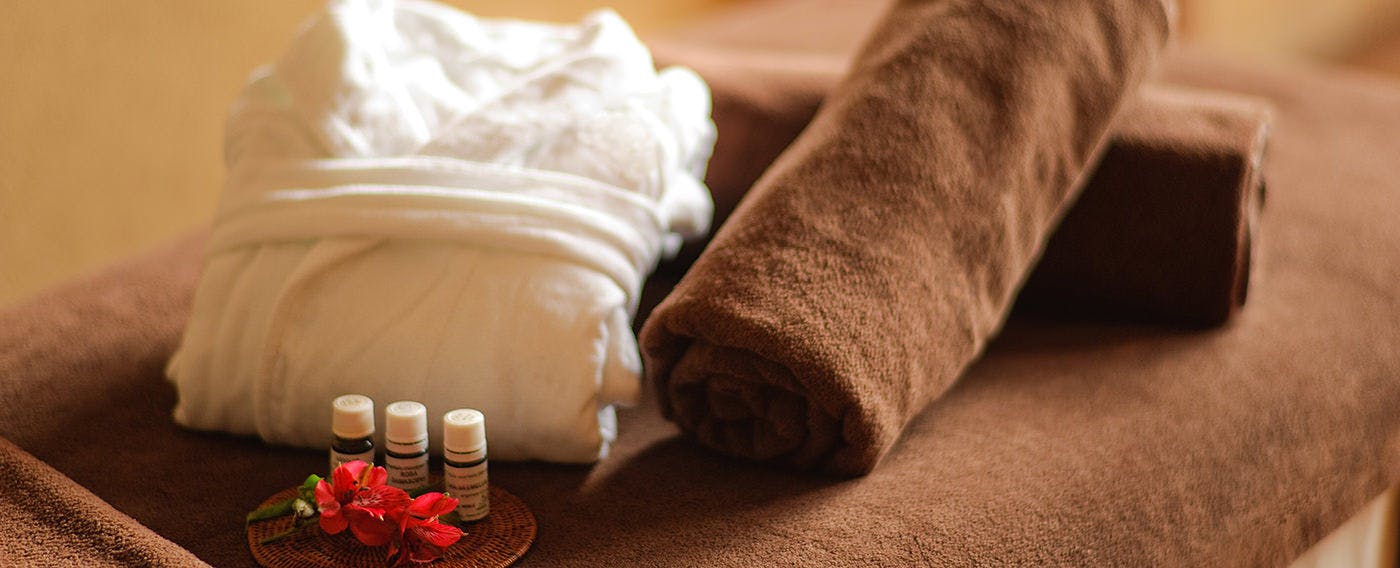 Therapy Room 'Rifure'
Therapy Room 'Rifure' The Rifure Therapy Room provides your personal oasis by the tranquil waters and serene green banks of the Jinzu "Path of the Gods" River. In this private space, you can soak yourself in an open air bath before relaxing with aromatic therapy, or our unique Gakanraku traditional herbal massage, or our Ayurvedic spiritual massage. Our deep healing methods using all natural ingredients will help you forget the cares of everyday life while you enter a calm and blissful space "away from it all" during your Garaku holiday.
Access
56-2 Kasuga, Toyama-City,Toyama,939-2224,JAPAN
BY TRAIN
From JR Sasazu Station: 15min walk

BY AIR
From Toyama Airport: 15min by car

BY CAR
From JR Toyama Station: 40min by car

Shuttle service available from Sasazu Station and Toyama Station. Please contact the hotel directly for details.
Reviews
It's my second time staying there. Last time, the food of restaurant "Levo" was great and therefore I visited again at the time the season changes which made me wanted to taste the food again. The meal was far better than my expectation. I was once again impressed by the creativeness of the chef. We have chosen a plan with a Dom Pérignon for free, and the inn suggested us to have it served during dinner, which let us enjoyed in a way more delicious. As we had chosen in the past a sweet room which was too big for us, and therefore this time we chose a standard room in the main building which we found its size appropriate and comfortable. The inn was like a museum with lots of masterpieces for us and there were many different types of rooms which made us want to visit again. On our way back home, it is needless to say that my husband and I had a pleasant talk about when we would visit the place next time.
+ More
Oct 2015
We stayed at the room of Walnut for one night. It had two rooms which were very luxurious. We felt great taking a bath in our spacious room looking at the sky far away. The BGM of Norah Jones was also good. The large amount of hot water of the bath made us thought that a lesser amount would still be enough. We enjoyed our dishes and the rice was especially delicious. Taste of the rice harvested in this year was sweet and sticky bringing the original taste of the rice. Our interest was halved as the slices of the baked mushroom was too thin. Please cut it thoroughly into thinner size. For the sashimi, it could be something else instead of tuna. Ending our breakfast of stewed tuna with seaweed was a failure. We wanted to end with seaweed. Except that, everything were extremely nice. The scallops we had in our breakfast made us wonder what the scallops we had eaten so far were. We experienced how deep the Toyama's culture is! Thank you very much.
+ More
Sep 2015
As for the access from Toyama Station, if you can make an advance reservation, the ryokan is about 25-minute drive from Toyama Station, which will cost 3,500 yen I think it is needless to say that the atmosphere inside the facility is very good, but if you tell one of the staffs to go to Windy, they will arrange to provide a discount coupon (less than half the fee) and rental towel,etc or if you tell one of the staffs that your children make noise, they will arrange to eat at a detached private room so that you can stay there with no hesitation. So it was a wonderful hotel that has strength in soft aspects rather than hard aspects.
+ More
Sep 2015
The evaluation of this hotel in the hot spring guidebook is very high so I expected a lot, but when I actually came to stay here, it exceeded my expectations. They came by car to pick us up at the nearest train station, and I was very surprised when they gave us oshibori towels in the car. I thought that all staff members including the person who came to pick us up had an excellent attitude towards guests. I could feel the spirit of "hospitality" that was present in the whole facility. The building and equipment were such that I felt as if I were in a museum of modern arts, and this made me feel elegant. Especially the atmosphere of the library was good. The room was stylish and neat, the view from the window was good. Concerning the bath, there was a public bath and a spa, so we could enjoy various things. The hotel is located near the river, so the view from the outdoor bath is good. The food was Japanese cuisine both for dinner and for breakfast, and we were able to taste a lot of Toyama's seafood including white lobster. Next time I would like to try French cuisine. After the checkout, we had the hotel staff take us to the Toyama station while it was raining. When we got out of the car, they gave me and my wife vynil umbrellas, which we really appreciate (we found them very useful during the sightseeing in Toyama city). The driver told us a lot of detailed information, and next time we'd like to come to stay for several days around the time of the "Kaze-no-Bon" festival.
+ More
Sep 2015
It was a wonderful resort hotel with an artistic decoration of the whole building which represent the good taste of the owner. They had plenty of rooms and each room had a well-designed decoration and I was satisfied with the cypress bath in my room with a view of Jinzu river. The only thing that I was disappointed with was the restaurant "Levo" in the premise. I suppose there are many guests who chose this hotel for the restaurant (like us) so although the food was not bad, they need to improve the quality of their service drastically. Their costumes do not look neat which is not suitable for an expensive restaurant. I thought it was a pity because the restaurant is supposed to be the feature of the hotel, the decoration of the building is artistic and the service of the hotel is a high level.
+ More
Sep 2015
The room was wonderful and surrounded by many art works, and there's a variety of baths, which was excellent. However, the place to eat had no partitions and others, so it was disappointing as I felt as if I could see other people sitting at different tables and could hear their conversation and couldn't relax though I wished to have meals enjoying conversation in a relax manner at the hot spring inn. Although I was happy to have my breakfast in my room, I was disappointed that they did not serve grilled fish which had never happened to me before. Because I thought I would have a lot of local fish of Toyama that I usually do not have an opportunity to eat. It was a nice service for female guests to have a choice of yukata. But I would like to relax in my room so I thought it would be nice to have a pajama or yukata provided in the room (eventually I had a pajama when I asked). Thank you very much.
+ More
Sep 2015
The themes for this trip were to ride Hokuriku Shinkansen and to enjoy a hotel life. Although the purpose of the trip wasn't this hotel, we enjoy the relaxing hotel life here so mush and would like to travel to stay in this hotel next time. Since they send me an email the day after I completed the booking to let us know our room number, I had been excited, waiting for the day, wondering what the hotel was like. As for meals, for the breakfast, the only meal we had this time, we had rice freshly cooked in earthen pot and dishes particular to that area, where the rice was scheduled to be cooked at the booked meal time, and we were amazed by their detailed service. I would love to try dinner next time. The men's and women's baths switch according to the scheduled time so that we were able to enjoy different atmospheres, and I was satisfied with everything including the bath in Rifure and the library. Thank you for politely replying to my inquiry emails I sent many times before my stay. I will come back.
+ More
Sep 2015
I had a really good time during such my short stay as one night. Thank you. I had only breakfast but it was really delicious. If I had to tell you something, I would like you to make all beverages at cafe free. Maybe ordering for paid ones or something like that... It was my first Toyama Prefecture but I came to like there. I would like to stay there when I come to Toyama again.
+ More
Sep 2015
They arranged a taxi to Rakusuitei museum owned by the same group as the hotel at half the price, and this was helpful since there are not many JR trains going to the closest station of the museum. It was great that I did not have to check in right after arrival at the counter and that they let me have welcome drink at the lobby with a good view, hearing the explanation of the hotel relaxed. The room I stayed was a type without a bathroom however I still would have liked a towel. The large public bath felt good but there was no blind for the open-air bath and I wondered if it was ok. I mean it is bothersome that you have to put a bath towel around you each time. Breakfast rice made in the hotel's selected earthenware pot smelled so good when the lid was open and I thought it was the great hotel all over. I felt the spirit of hospitality and service everywhere. However since I stayed here attracted by the art display inside the hotel, I would have liked something like an art explanatory tour set by the time. Otherwise I guess the arts they collected with efforts would be wasted.
+ More
Aug 2015
This hotel was more than I expected. Probably, among the hotels that I went on a day off, this might be one of the greatest ones. The modern room, delicious meal, the drink after taking a bath, etc., I could spend very leisurely. Standing silently in Toyama where the waters are clear, it was an inn I would like to visit again.
+ More
Sep 2015
I came back from Garaku. I was satisfied with their stable hospitality , familiar atmosphere, sense of cleanness and rooms. The room is very large and I do not think any other inn can beat this... my kids were very happy with it. The reason I lowed the room point by 1 is that my kid slept on the sofa because he could not stand the smell of the bed in the Japanese-style room. For sure, it was not a pleasant smell. It smelled like it had stayed in the closet forever... I lowered a point for meal as well because the French was more impressive and moving, but I think the level is high. They prepared white rice for the kid and accommodated various requests, and I would like to say thank you. Overall, I am really satisfied. When I visit in fall, I am looking forward to the innovative French meal.
+ More
Aug 2015
Information
Check-in Time

From 2:00pm to 7:00pm

Check-out Time

Until 11:00am

Tax / Service Charge

Bathing Tax JPY 150 per adult is NOT included in the rates.

Credit cards accepted at this property

VISA / MASTER / JCB / AMEX / DINERS / DEBIT CARD
Children

All children are welcome with following fees.
- Children of 4 years old or older: JPY 3,000 excluding dinner, breakfast, and Yukata night wear.
- Children of 0 to 3 years old: allowed to share a bed with adults. Additional fee applies when they use separate bedding.

Pets

Pets are NOT allowed.

Parking

Free of charge for guests; Capacity 30 vehicles; Valet Parking Service Available (free of charge for guests)

Other policies & conditions

Nothing in particular