Beniya Mukayu
"""Beniya Mukayu is a cozy 17-room hotel that embraces a wild garden with red pine, cherry, maple, camellia and many other trees in the mountains of Yakushiyama, Yamashiro Onsen. Sun-dappled leaves wave in the breeze against the backdrop of a blue sky, and a pleasant scent of trees wafts in the air. Our wish for you is that you leave behind your daily routine and spend a quiet, blissful time tuning in to the rhythms of nature. The building's open-plan design will give you a constant awareness of the beautiful surrounding landscape. Every room is equipped with an open-air bath so that you can mentally and physically relax in your own private spa. Please have an enjoyable, relaxing stay at Mukayu."" Kazunari Nakamichi Beniya Mukayu Owner"
- VAT is included, but bathing tax (around JPY 150 per adult) may NOT be included.
- Price in USD is based on the exchange rate as of today and might be different from that of the booking date.
Foods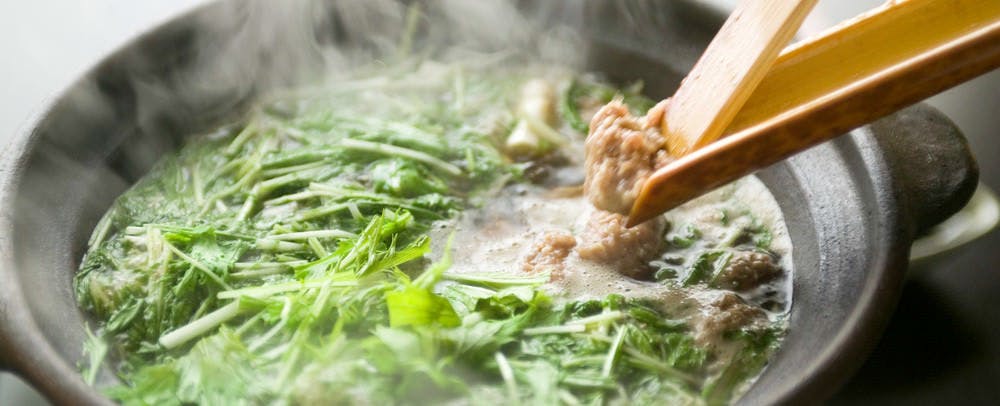 Japanese Hot Pot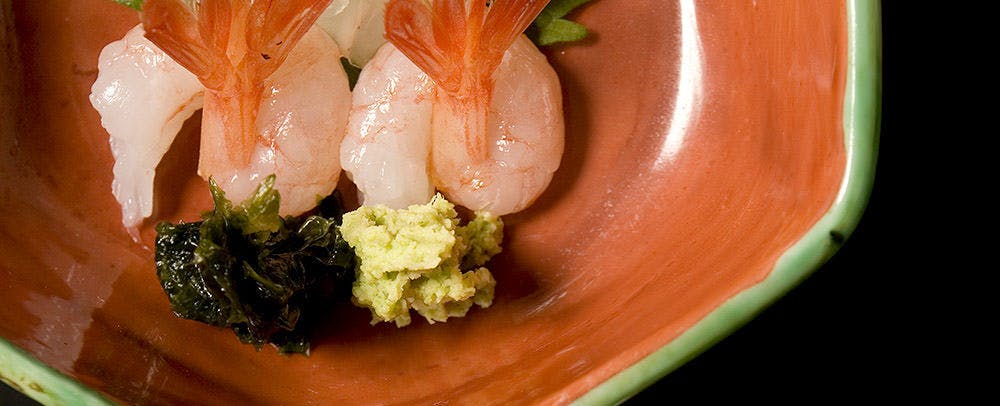 Fresh Seafood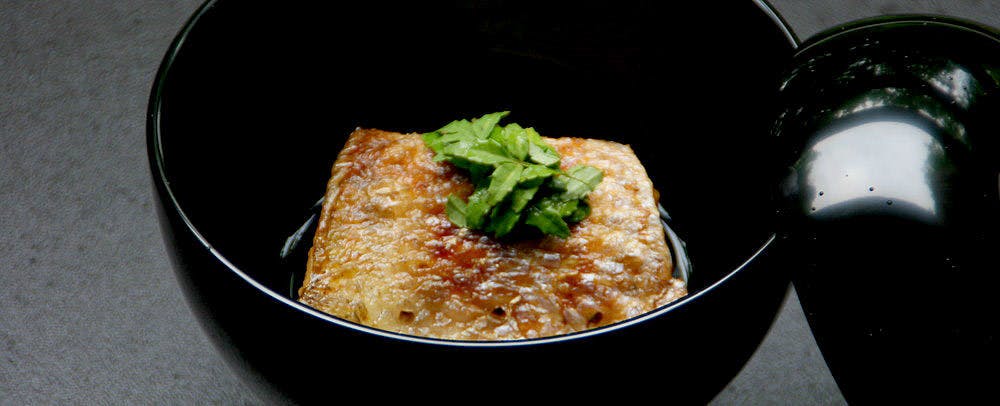 Grilled Fish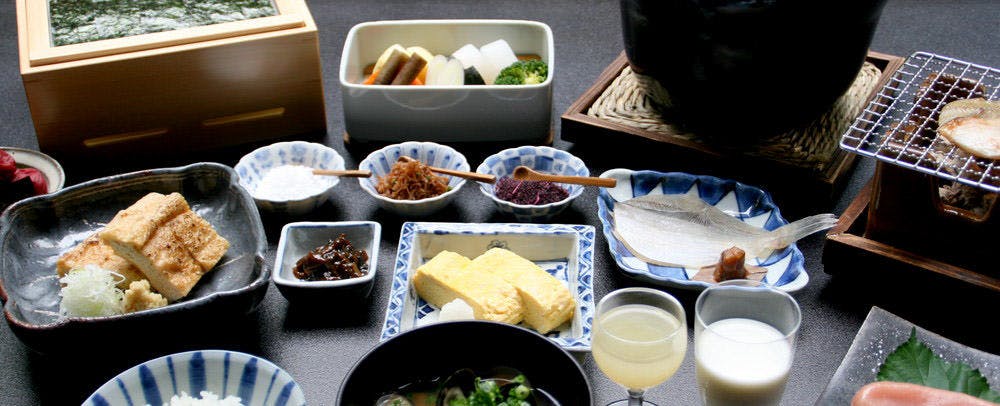 Japanese Breakfast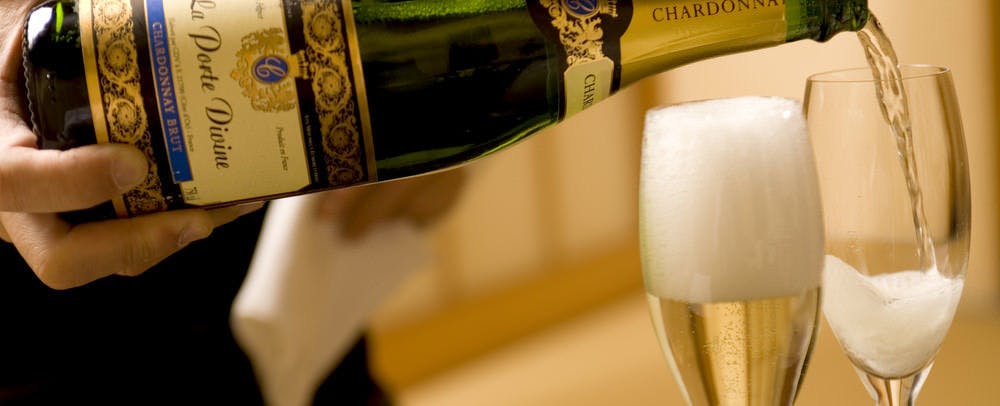 Drink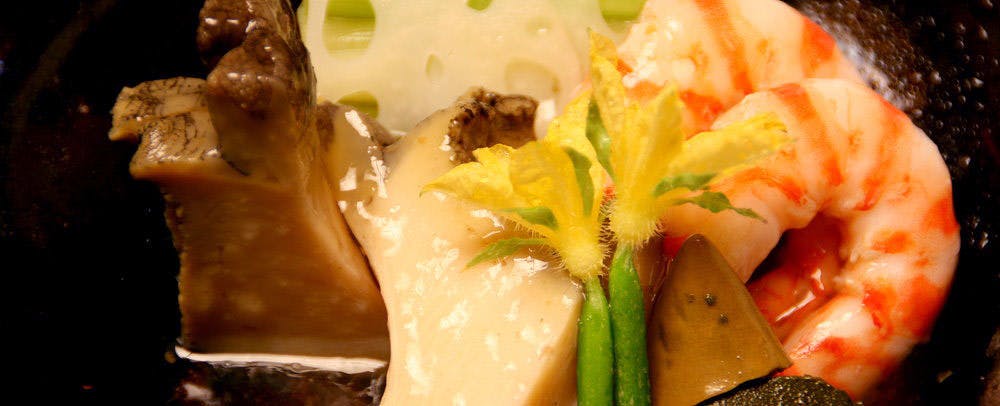 Abalone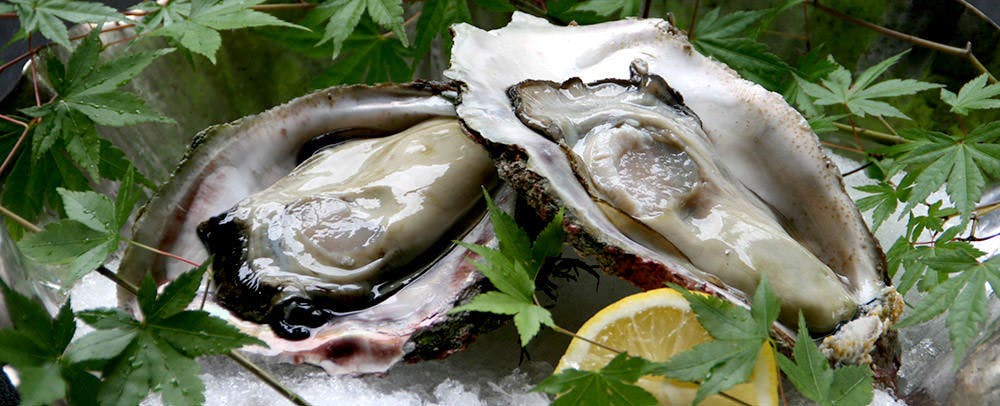 Oyster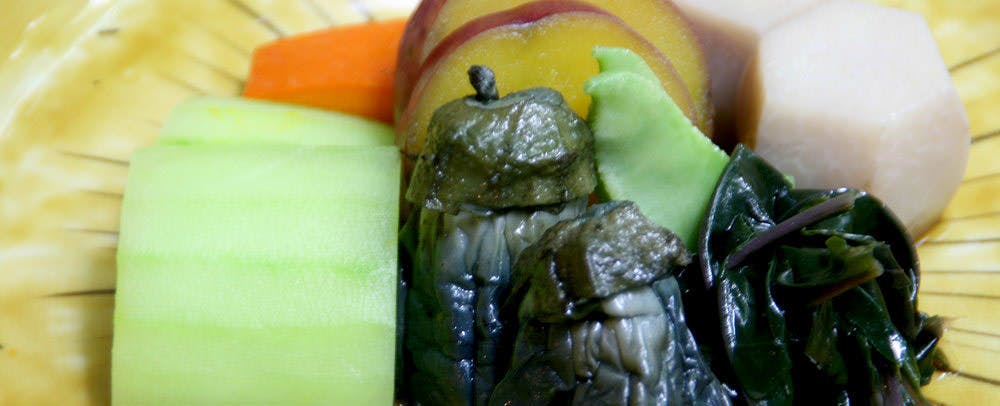 Vegetables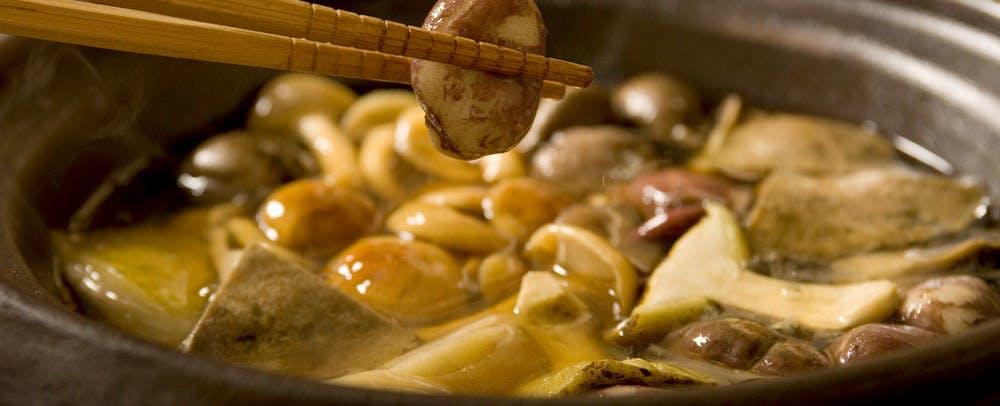 Mushroom Hot Pot
Japanese kaiseki cuisine in the Kaga-style Kaga is a city known for its nice foods. Every piece of carefully selected ingredients with seasonal flavor satisfies your mouth in all seasons. Many dishes unique to Beniya Mukayu are served as well.
You can also enjoy the plates and dishes themselves, as Ishikawa prefecture is famous for the craft techniques. Dinner and breakfast are served in guestrooms for your relaxing (only at Japanese-Western-Style rooms, not at Japanese-style rooms and Twin rooms).
Baths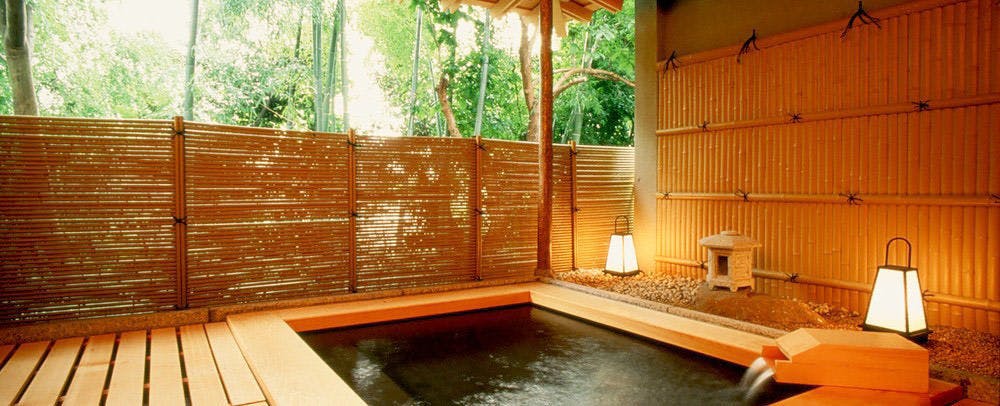 Large Public Bath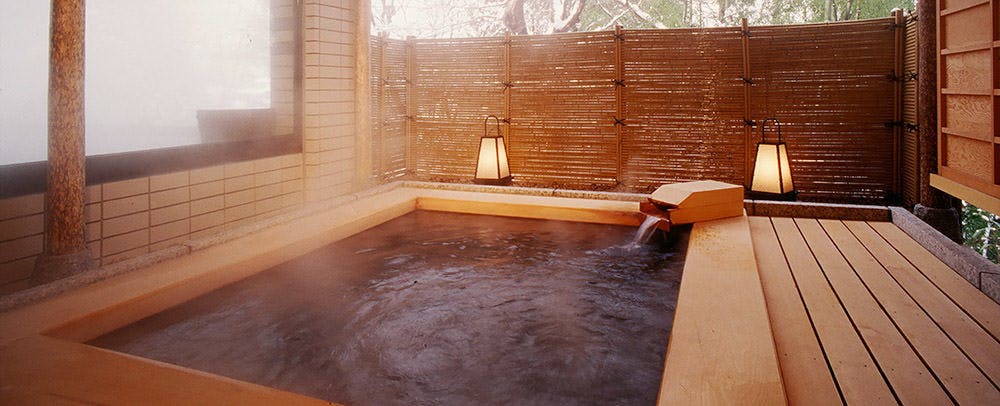 Private Open-Air Bath at Guestroom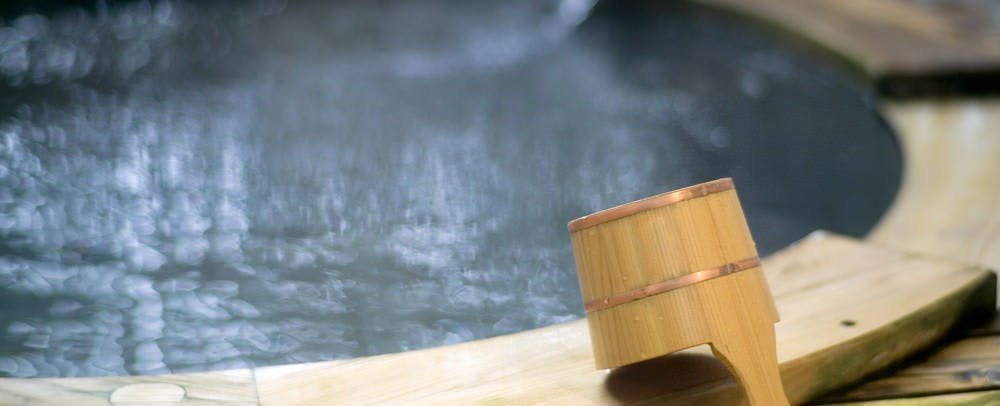 Private Open-Air Bath at Guestroom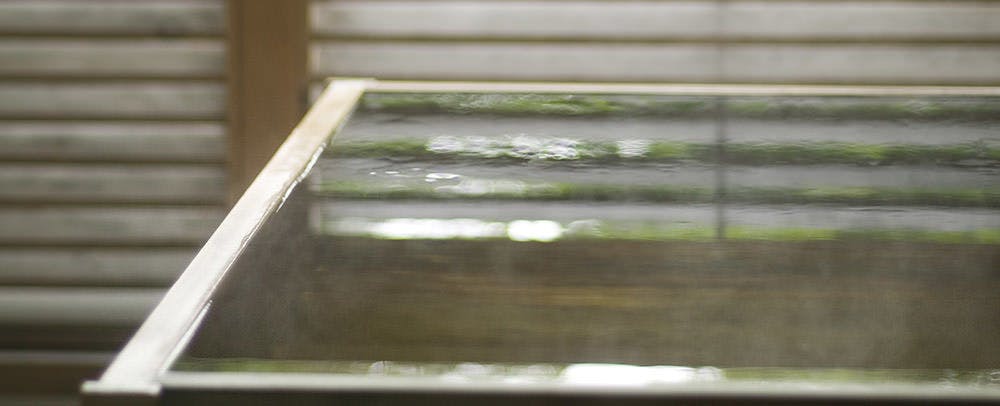 Private Open-Air Bath at Guestroom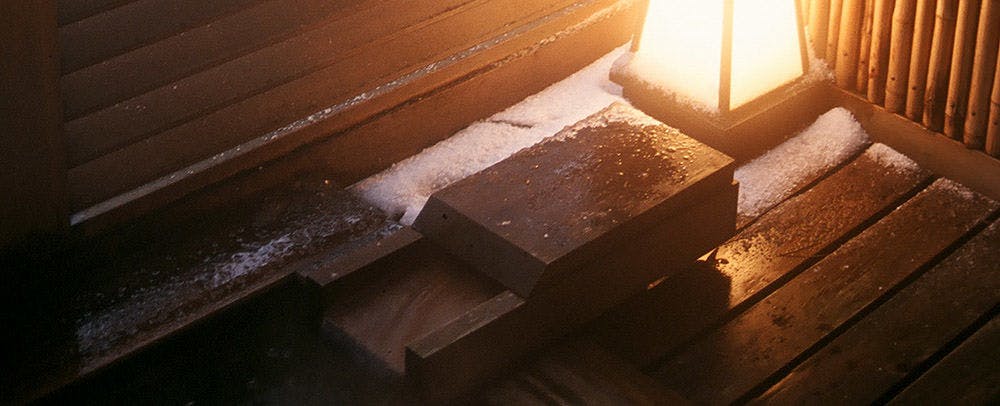 Private Open-Air Bath at Guestroom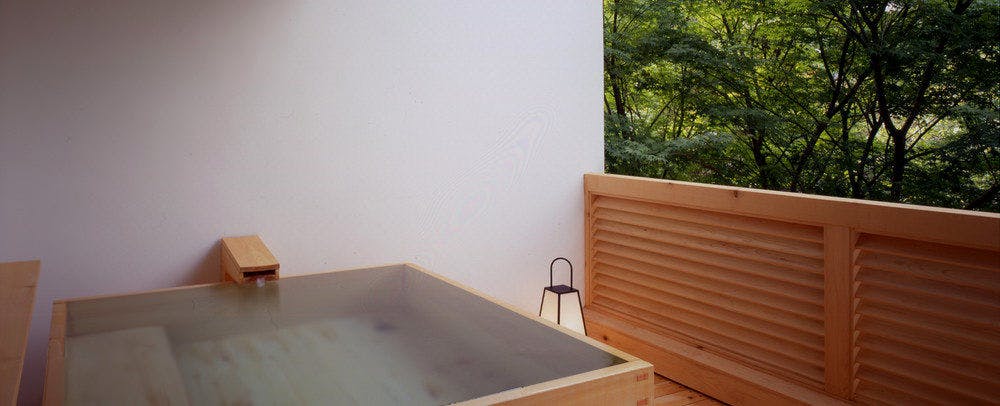 Private Open-Air Bath at Guestroom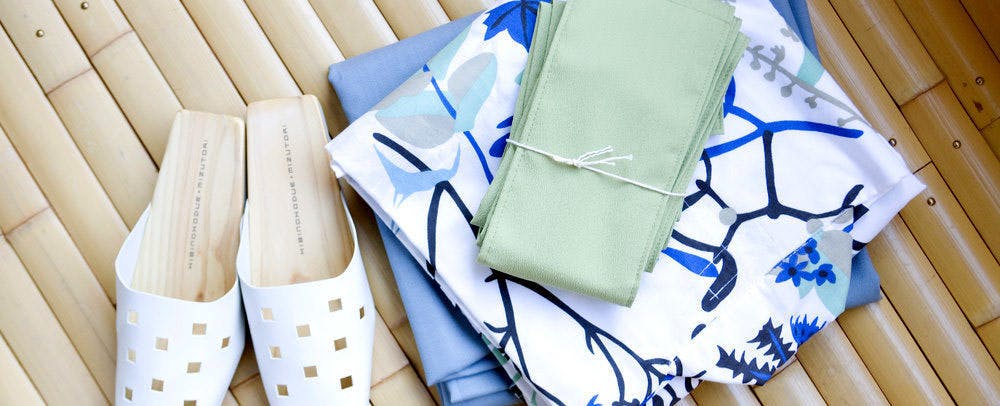 Yukata, Slippers, and etc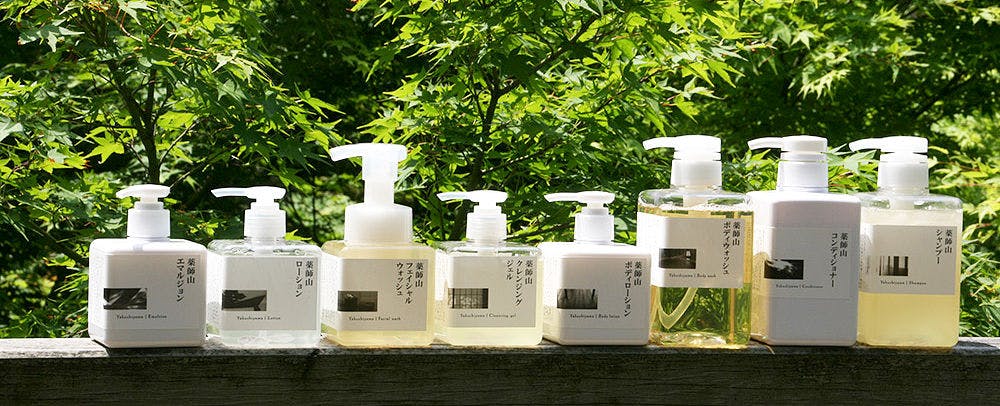 Luxury Amenities
Large public bath 'Komorebi-no-yu' Yamashiro hot spring town has its history from 1,300 years ago with the episode of an old munk Gyouki. It was loved by Rosanjin Kitaoji and Akiko Yosano, the big names in Japanese literature. This hot spring water is good for long time bathing while drinkable.
Facilities
Treatment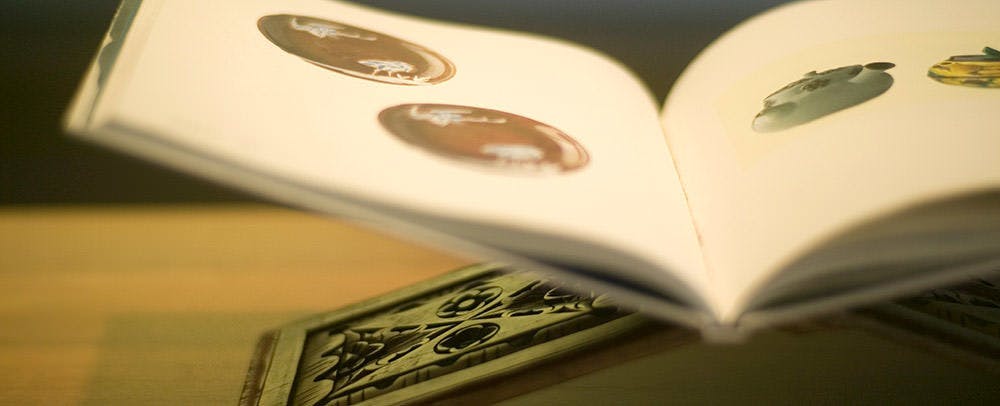 Library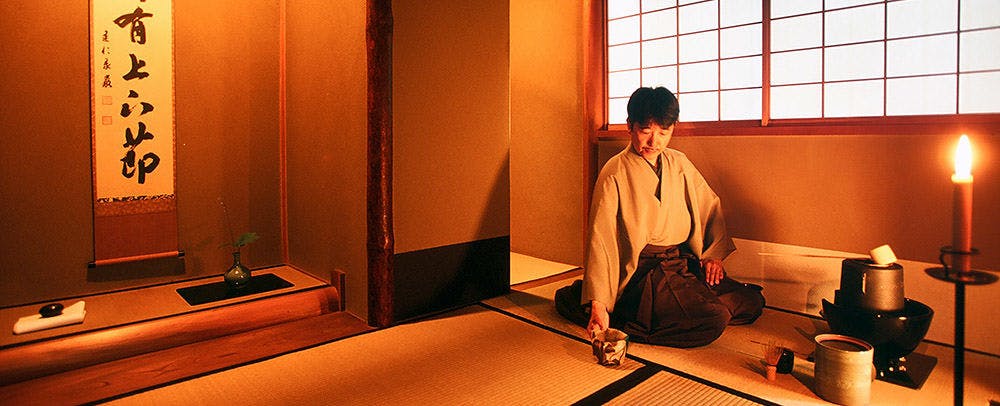 Tea Ceremony Room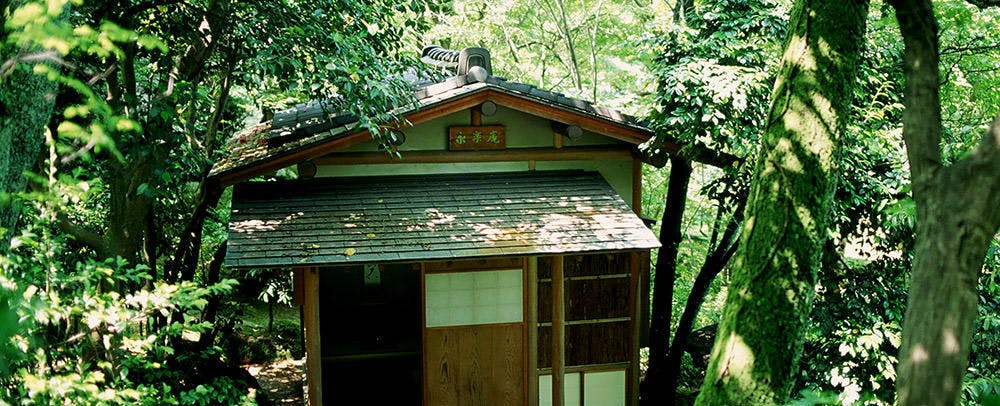 Tea Ceremony Room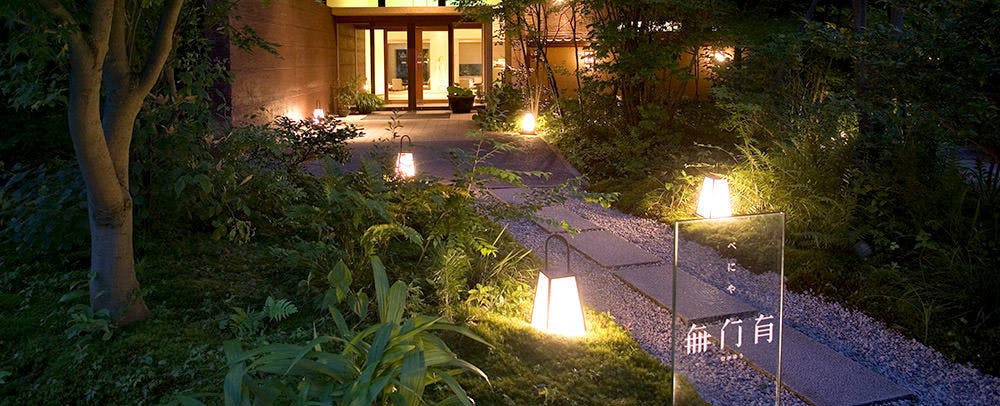 Facilities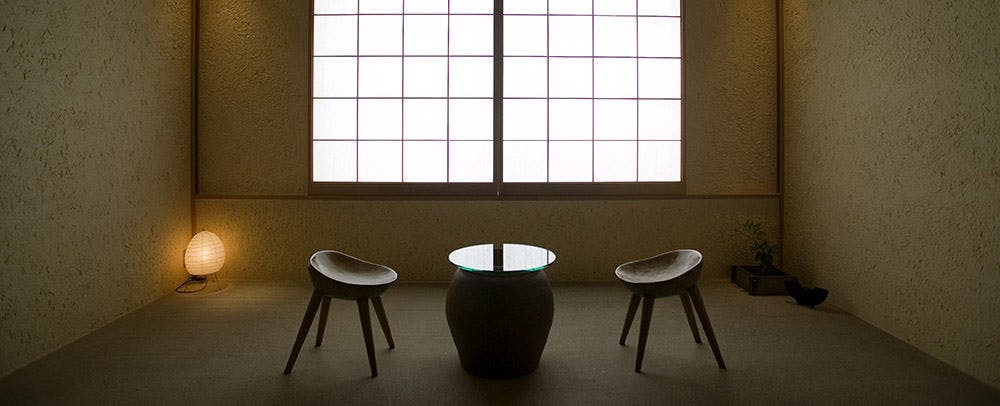 Facilities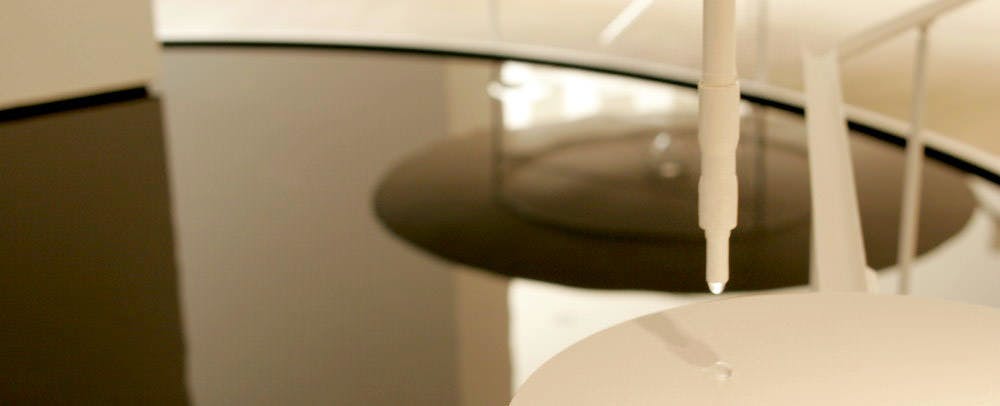 Facilities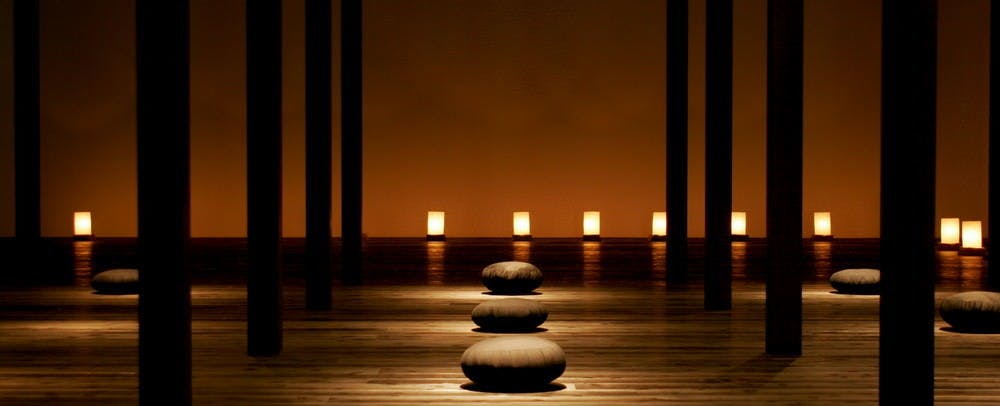 Facilities
Facilities
Entei Spa The area around Yakuoin Onsenji used to be called "Yakushiyama (Healing Buddha's Mountain)" for its high spirituality, which was a place for training and learning for Buddhist monks, and at the same time, a place for healing, where the monks cured people by providing hot spring baths and preparing medicinal herbs. Beniya Mukayu is a hot-spring ryokan quietly standing on a hill of this sacred Yakushiyama, where the main hall of Yakuouin Onsenji was once located. At its "Entei spa", "Yakushiyama treatment" and other treatments are provided for mental and physical health care using hot spring water and medicinal herbs, inheriting the spirit of traditional Yakushiyama hot spring and herbal remedies provided by local monks.
Access
55-1-3 Yamashiro-Onsen, Kaga-city,Ishikawa,922-0242,JAPAN
BY TRAIN
From Tokyo Station: 3hr by Hokuriku Shinkansen to Kanazawa Station, 30min by express train (Thunderbird) to Kaga-Onsen Station, and 15min by shuttle service.
From Osaka Station: 2hr 15min by express train (Thunderbird) to Kaga-Onsen Station, and 15min by shuttle service.

BY AIR
From Tokyo: 1hr by flight to Komatsu Airport, and 30min by taxi (discount available with prior reservation)

BY CAR
From Kaga IC Exit or Katayamazu IC Exit (Hokuriku Expressway): 20min by car

Shuttle service is available from/to Kaga-Onsen Station with below schedule.
From Kaga-Onsen Station to Beniya Mukayu: Available from 2:20pm to 6:00pm upon request. Tell your arrival time to the ryokan directly for pick up.
From Beniya Mukayu to Kaga-Onsen Station: Available from 8:45am to 11:15am, every 30min.
Reviews
12 Reviews
Anyway, the best inn. The calmness of space design and appearance is supreme. The hospitality of the employees is not just a manual response but a human touch that heals. I enjoyed both the hot spring, public bath and the open-air bath of the room. And the meal is best of the best. Introduction of delicious alcoholic drink to a proper volume of Kaiseki meal is amazing too. With an excuse of change of the season I would like to pay you a visit.
+ More
Oct 2015
Every room has terrace including open-air bath and the view space was very calm because it is on the mountain. With something called Renovation, the appearance looks like a normal Ryokan but the interior was completely built with modern-style. The meal was very delicious and has the feeling of the seasons too. The trip schedule this time so I could not stay so long but this is the room that I want to stay even longer.
+ More
Sep 2015
I stayed at the hotel I longed to stayed at to celebrate my mother's birthday. The taxi driver who picked us up at Kagaonsen Station gave us a tour which included the hot spring area, allowing us to know the town which made me happy. The garden covered in moss looked amazing, allowing me to relax on a slow walk. There were so many maniac books at the library area, and I forgot how much time has passed. The bath in my room was wonderful as I could take my time and enjoy the garden view in there. For dinner, I can't deny that the creativity was a little overdone, but I am satisfied with the taste for the second half constantly. Especially, young sweet fish was super tasty. Japanese oysters, which look forward to the most, was not my taste and I thought a person who knows oysters well would be necessary. It seems that serving dishes were well selected, and I also appreciated them. Miso soup served in the breakfast was super tasty, the quality of the broth was exceptional and I was very satisfied with it. As it is a high-end inn, I do not know if I will be able to stay there soon, but I though I would like to stay there again. Thank you for your hospitality. Thank you.
+ More
Sep 2015
I have stayed here in spring and hesitated a little to visit the hot spring in the middle of summer(it is extremely hot this year); however, I was surprised to know that the hot spring in the middle of summer is this relaxing and comforting. Needless to say, the hot spring was good, and I felt their sensitive care by how the ice water was prepared and how they cleaned the place thoroughly. My main purpose was the meal, which was more delicious than I expected this time as well, so I was very content. Because of Beniyamukayu, I may be able to get over the extremely hot weather when we just stepped into the latter half of 2015. I truly appreciate the kind hospitality of the chef and all the other staffs.
+ More
Aug 2015
The young male staff member who came to pick me up at the station was very disappointing, there was no small talk, his driving was rough. The car for guests did not match a high-class hotel, and being jolted in the car while riding was very unpleasant. This creates the first impression, so we felt disappointed with my wife that it was so embarrassing. The tension of the male staff that picked us up at the station and showed us to our room was also disappointing... The theme of the hotel, the interior, the architectural design and the atmosphere was good, modern and simple. I rather liked it. The food was also simple, my wife was a bit dissatisfied. It appears she was looking forward to a more spectacularly arranged meal. The shower room and bath in our room were narrow, we could not see the garden and could not relax. After the meal a staff member has lit us a light with essential oil, but there was no oil there... They lacked politeness in so many things, they need training. Amenities of the original brand of the hotel on the wall are good. We felt we would like to buy them. We felt that the price was a bit too high. We were looking forward to our stay this time, and we feel disappointed. We'd like them to improve and would like to come to stay here again.
+ More
Jul 2015
I was made stop by when going back from work from the Kansai area. I was a bit surprised since the building was more modern than I expected. When talking about what my impression was, II had the image of a bit more old Japanese-styled house. simply, the inside of the room was properly remodelled, the "T" room where I was accomodated was elegant and interesting. The dishes were both delicious, and the sake that we ordered together were both delicious as well so I was satisfied. If I had to say my desire, I picked the plan "1 item recomended by the chef" but I wished there was a 3 items plan. Actually, It is because I ordered 4 items to be served with the sake. Furthermore, the negative point was that at meals I had to share a big room with other guests so I could not really relax (I could not care afterwards as I was having alcohol, though). I think they should change the arrangement of the partitions between the tables. The service of the waitress was courteous, I ordered the 4 additional dishes I mentioned earlier as she suggested. I had a relaxing time at both the big public bath and the bath in my room. Especially I was very satisfied with the bath in my room as I could adjust the temperature as I wanted. It is one of the best hotels I have stayed so ,from now on, it will be difficult for me to choose one as I have plenty of hotels I would like to stay.
+ More
Jul 2015
I used the inn for the first celebration of my husband's retirement. It's surrownded by lots of green and the view from the room is wonderful, and I could relax. I gaind the impression that there are many young employees and they work hard. Toiletries like lotion was very good, and my heart was comforted by the combination of it and the hot spring. The melas were also delicious. I felt like using the inn again though it's little bit luxury.
+ More
Jul 2015
I stayed there for two nights with my elderly mother walking with a cane, who is rather fussy about the room and the food. I made a reservation for a Western-style room for my mother, who is unable to sleep on a futon in a Japanese-style room because she has a difficulty in walking. But from emails exchanged prior to our visit, it became clear that the stairs leading to a Western-style room were hard for her (They sent me a picture of the stairs as an attachment to their email and I decided it was impossible), and they also let me know that a chair could be used even in a Japanese-Western style room (They also sent me a picture of this). After I agreed to an extra charge, I changed a room to a Japanese-Western style room. I really appreciated this up-front response. ...And after I actually stayed there…I found it great. The green of the garden. The view from the room. Onsen (The temperature was at a proper temperature). The food (If you stay more than one night, you will find how great it is.) The service of the staff (I had a good feeling toward them, who moderately showed their personalities.) The early morning yoga. When a DVD player in the room did not work well, they responded quickly to it, and unfortunately because of this I missed a chance to watch a movie that I had planned to watch, but this did not become bad memories. It was not free of barriers, so I felt somewhat sorry for my mother having to go up and down a few stairs with a cane, but even she, who tended to give scathing criticism to hotels and inns, was also satisfied. Thank you for your hospitality this time. I would like to visit again if I find an opportunity.
+ More
Jun 2015
From the reviews that I read prior to my visit, I was worried about their service, which was said that it seemed to have ups and downs and vary depending on who served. Even though I felt a hint of contrivance from a few young male staff, that was fully compensated by experienced staff's great response, follow-up and service. We had a meal in the dining room, where a chef gave instructions and responded as he saw the customers and situation so that the food was served at the right timing, and the content of the food was at the great level without any question. The hot water quality of the bath, which opened 24 hours a day (except for sauna), was good, and the amenity such as towels was sufficient and could be used as much as I wanted, which made me very happy. The facilities and accommodations were fancy, and I thought I wanted to come again. I stayed at many highly-admired Onsen inns and hotels (such as H-no affiliated hotel, M-jinkan, GH and RC), but this was the inn at the highest level in all of them. I think this is the inn that I can introduce and recommend to anybody. It would be great if you could improve the library and increase the variety of books in the future. I would like to visit it again and I look forward to my next stay.
+ More
Jul 2015
I enjoyed a quiet time in the hot spring bath and dinner. The fresh juice I had at breakfast was very good. I felt it disappointing that Noto beef was not on our menu and I had to order it separately... I liked their morning yoga event as well. I wish there was a salon-like place where one could enjoy the modern space however we might as well stay relaxed in the guest room instead.
+ More
Jun 2015
I could take a rest leisurely. The maids were good, the food was delicious, the bath was comfortable, so it was worth staying here.
+ More
May 2015
I stayed here for the birthday fun for my companion. But it was disappointing. I asked the inn to pick us up from the nearest station. When I told him who I was, the young male staff that came did not offer any help even if I had three bags on both hands. He did not even say "let me help you with your luggage." He parked far, but he kept walking without looking back at us, got into the car, and did not say a word for 15 minutes till we arrived at the inn. I had a bad vibe at this point. Young or not, for an inn guest, whoever staff that comes in contact with him/her represents the inn and determines the inn's impression. His behavior was not something that made me feel I was staying at a high-class inn. When we got off the car at the inn, a few male staff was out to greet us. I got off the car with three bags, and, none of them said anything at all and they just walked behind me silently and empty-handed. I was having a culture shock thinking this must be Mukayu-style. While waiting for check-in in the lobby, I saw female staff chatting with one another. I started feeling very sad since this was supposed to be for my companion's birthday and I blamed myself for not knowing better and selecting this inn based on people's reviews. I asked the woman who took us to the room how and to whom I could offer my opinion on the inn and no clear answer came back, so I told her what had happened up to the time of check-in starting with "i guess it does not help to tell you but...". She apologized saying she was sorry. But, till the moment of check-out, none of the male staff approached me to say anything, and I regretted that maybe it was not useful just to talk to one person. "I am sorry. I will tell them. " the woman said but,in reality, it must be that she did not plan to do that. For the inn, this is a guest it will see only once and they have anything to do with him only till he checks out the next day. I spent a very disappointing time and felt as if I'd stayed in a very cheap inn when, in fact, I was paying close to thousand dollars a night. I could not wait to check out, I felt very disappointed, and I kept apologizing to my companion who was having his birthday. "One man's fault is another's lesson" , this became a bad example that shows how someone can make someone uncomfortable.
+ More
Apr 2015
Information
Check-in Time

From 3:00pm to 7:00pm

Check-out Time

Until 11:00am

Tax / Service Charge

Bathing Tax JPY 150 per adult is NOT included in the rates.

Credit cards accepted at this property

VISA / MASTER / JCB / AMEX / DINERS / DEBIT CARD
Children

Children of elementary school or younger are NOT allowed to stay.

Pets

Pets are NOT allowed.

Parking

Free of charge for guests; Capacity 15 vehicles; No Valet Parking Service

Other policies & conditions

N/A