- VAT is included, but bathing tax (around JPY 150 per adult) may NOT be included.
- Price in USD is based on the exchange rate as of today and might be different from that of the booking date.
Foods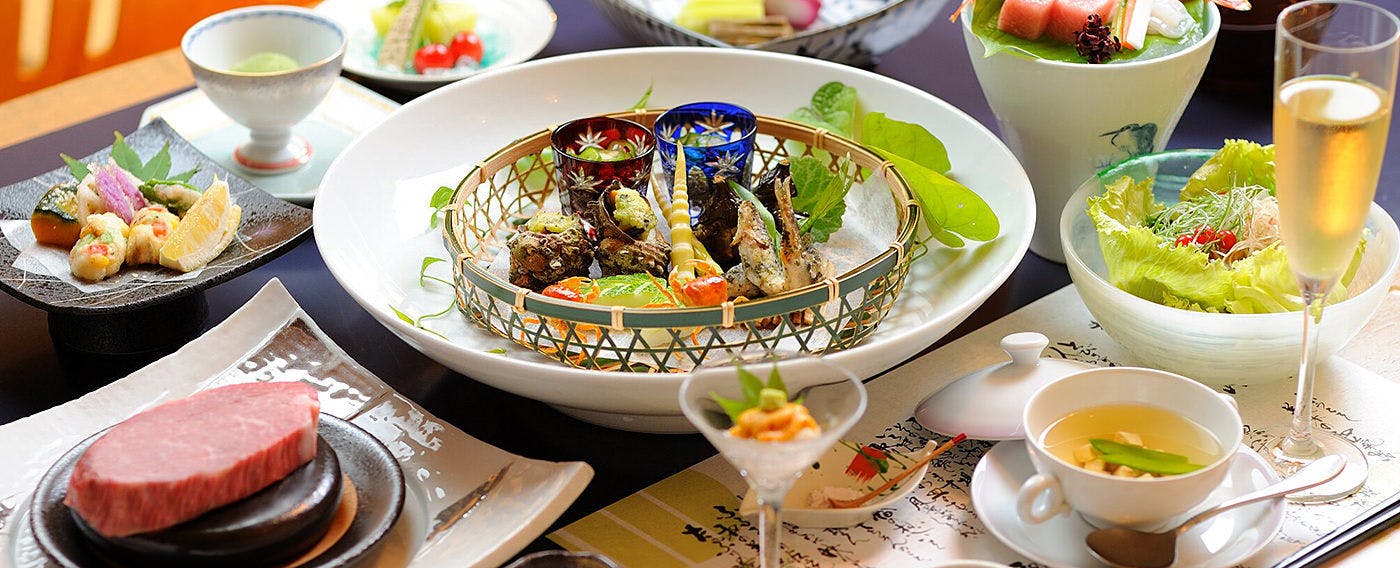 Foods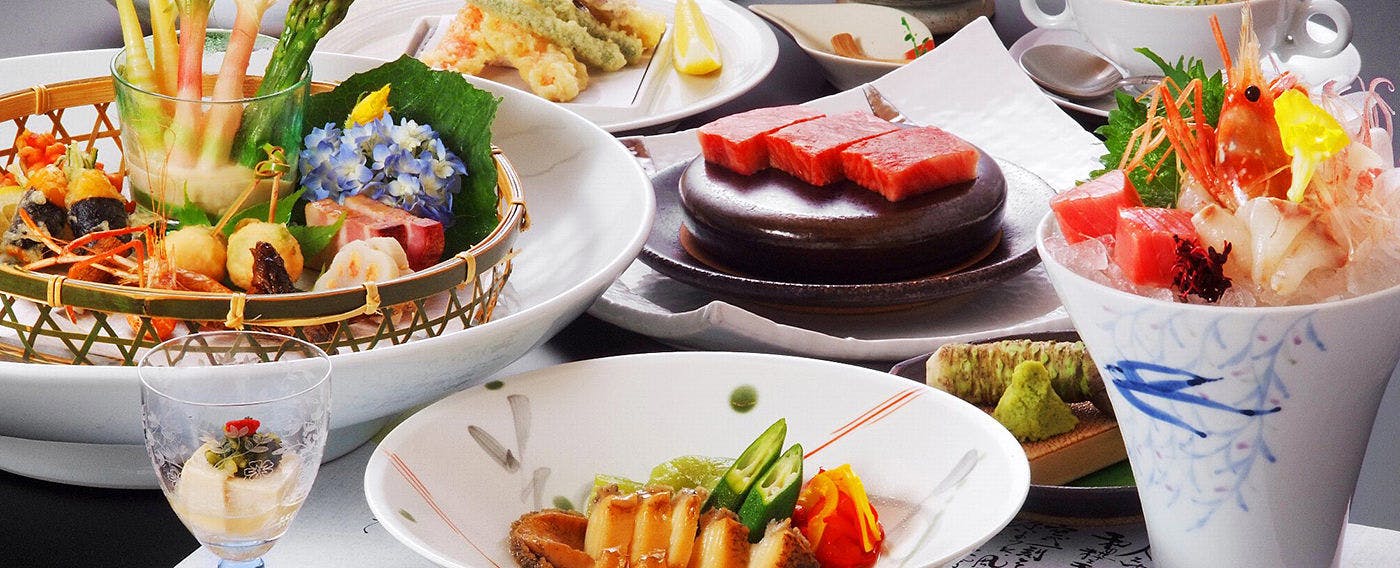 Foods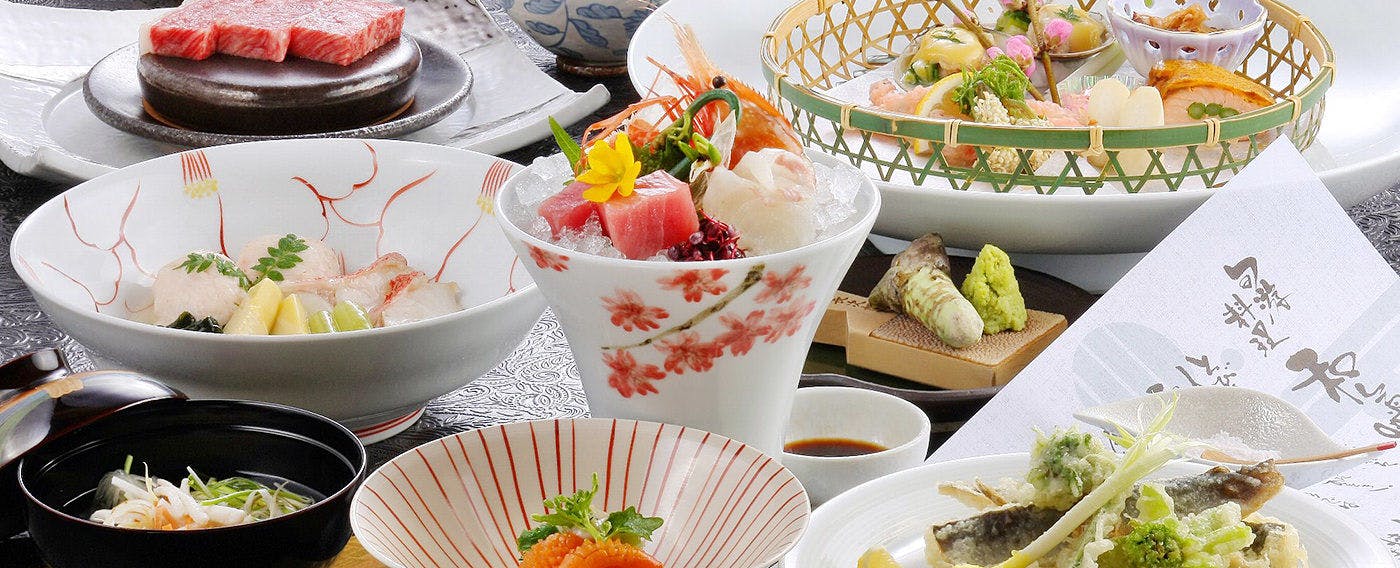 Foods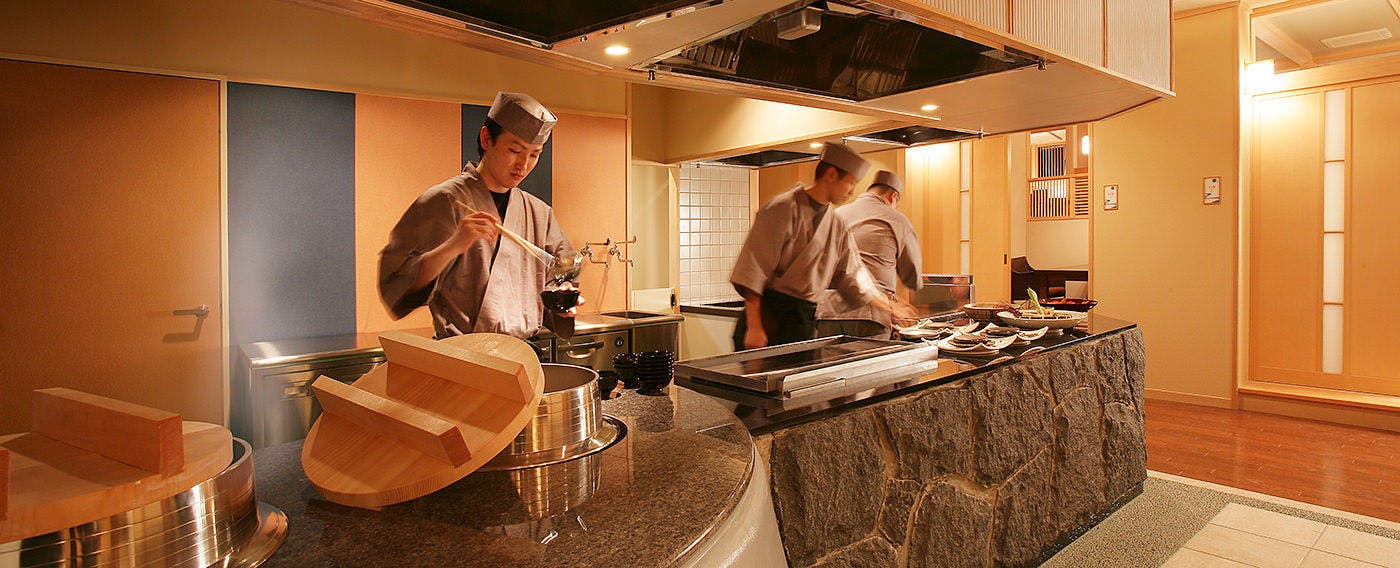 Private Dining 'Kaze To Orgel'
Private Dining 'Hana-Kaze'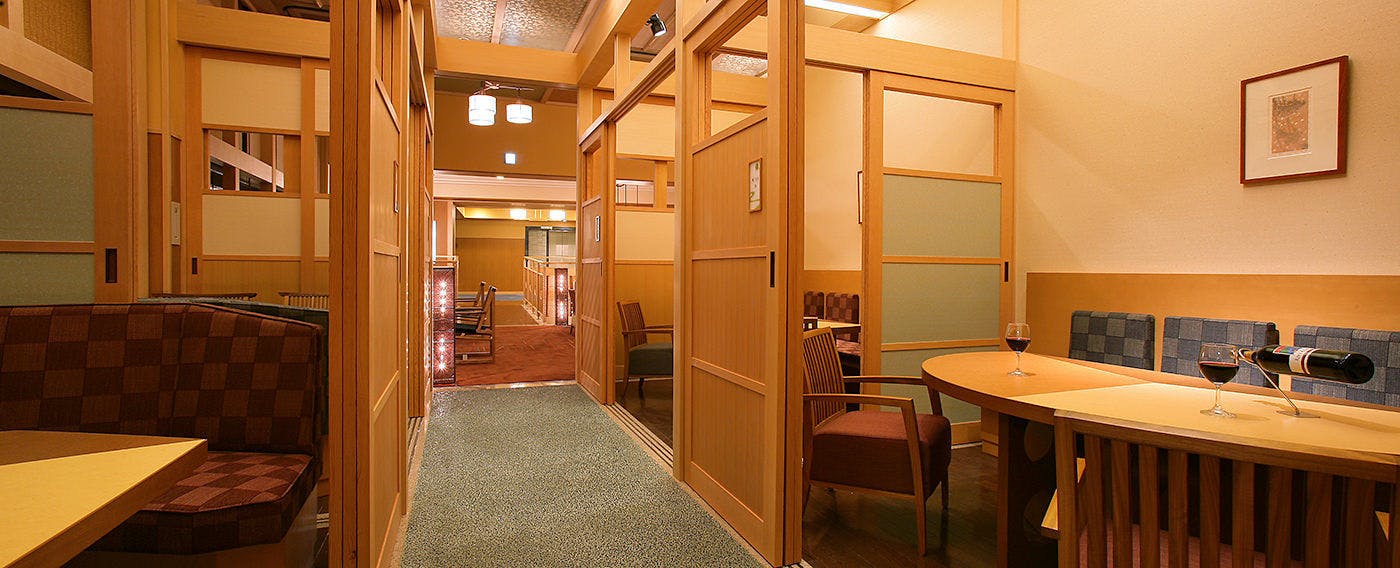 Private Dining 'Kaze-Guruma'
Bright smiles on the table, with the happiness even in every piece of the dining Enter the private dining for dinner. Japanese hearth is at the entrance, and you are welcomed with steam from cauldron.
From the counter with open kitchen, seasonal foods from mountain and ocean are served freshly from the oven.
Every dining is separate so that you can enjoy the meal privately.
Baths
Granite Stone Bathtub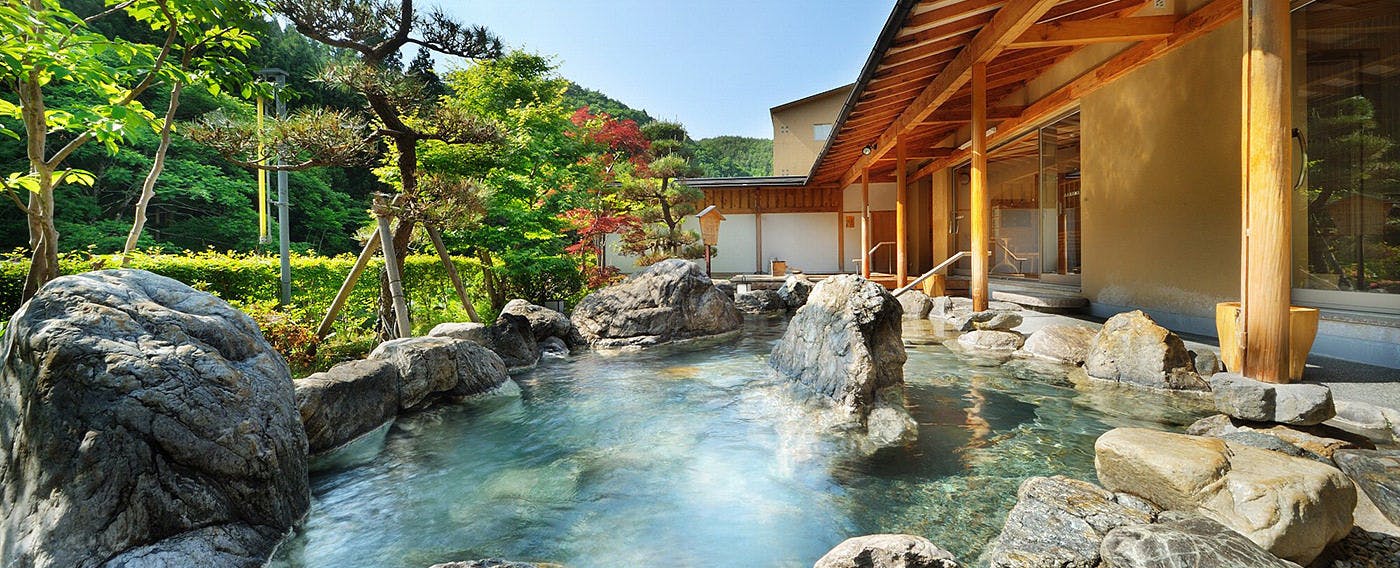 Garden Open-Air Bath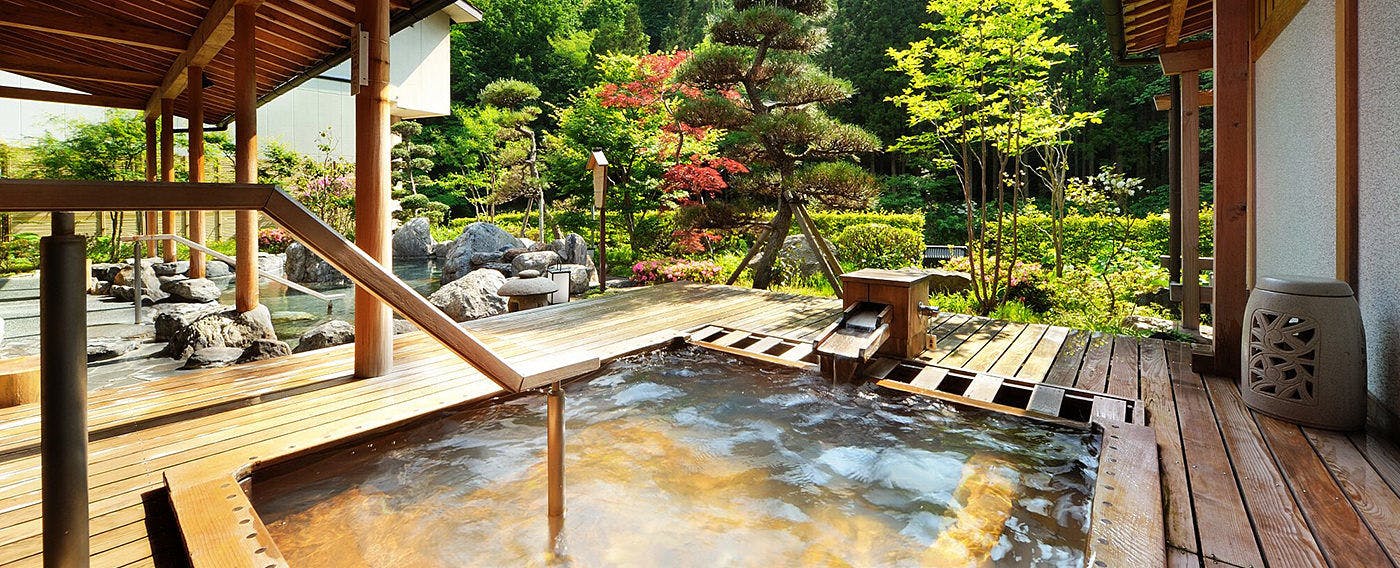 Hiba-wood Bath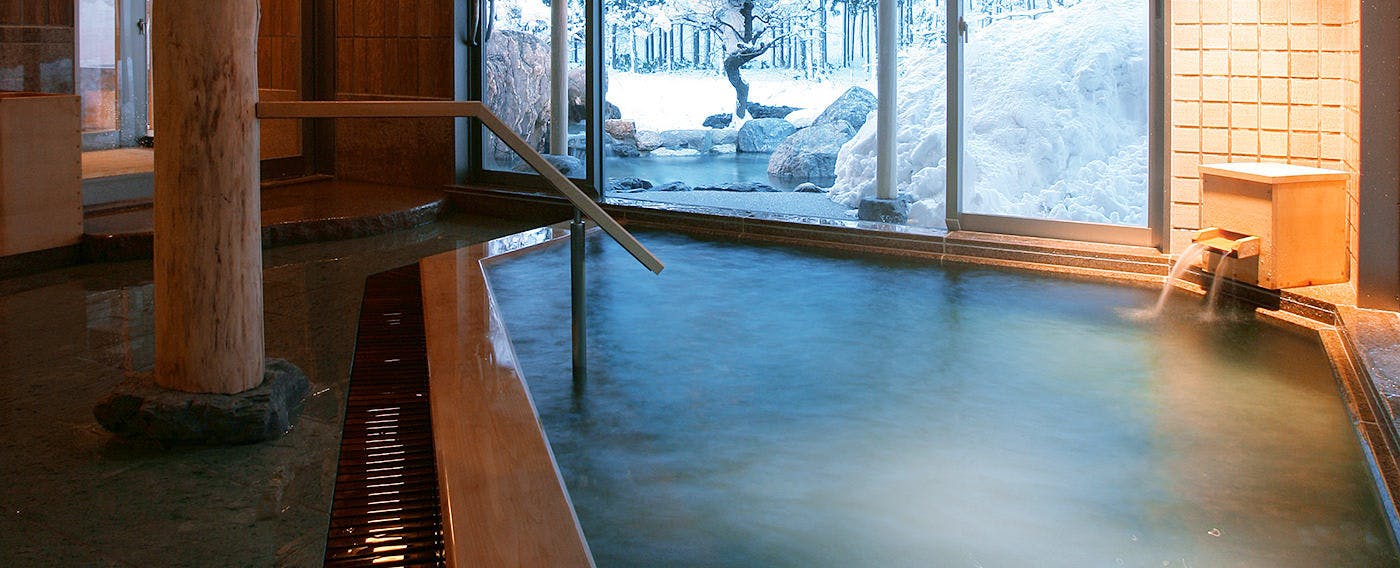 Indoor Bath
Comfortable winds, sky, hot spring, stream, and you On the 1st floor of the main wing along with the river are open-air public bath with garden separately for male and female, and 2 indoor public baths.
These historical hot springs are always kept at good temperature and have positive effect on your body, such as for neuralgia and joint pain.
Enjoy the different quality from the one in the room.
Facilities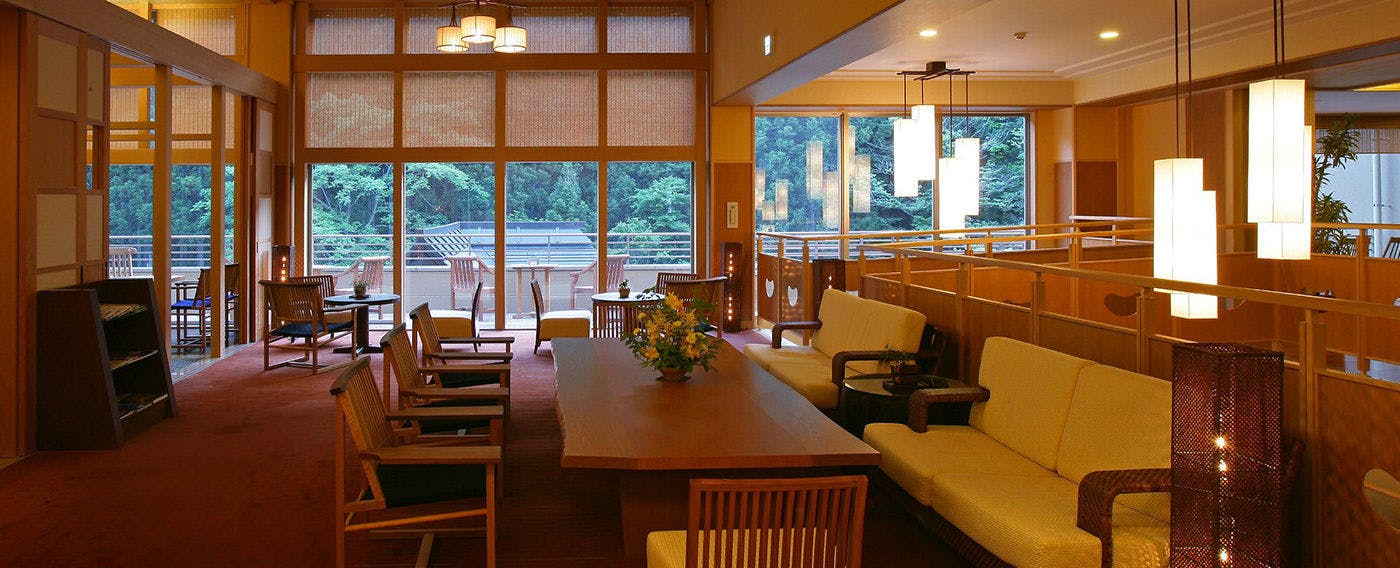 Lobby and Mountain View Lounge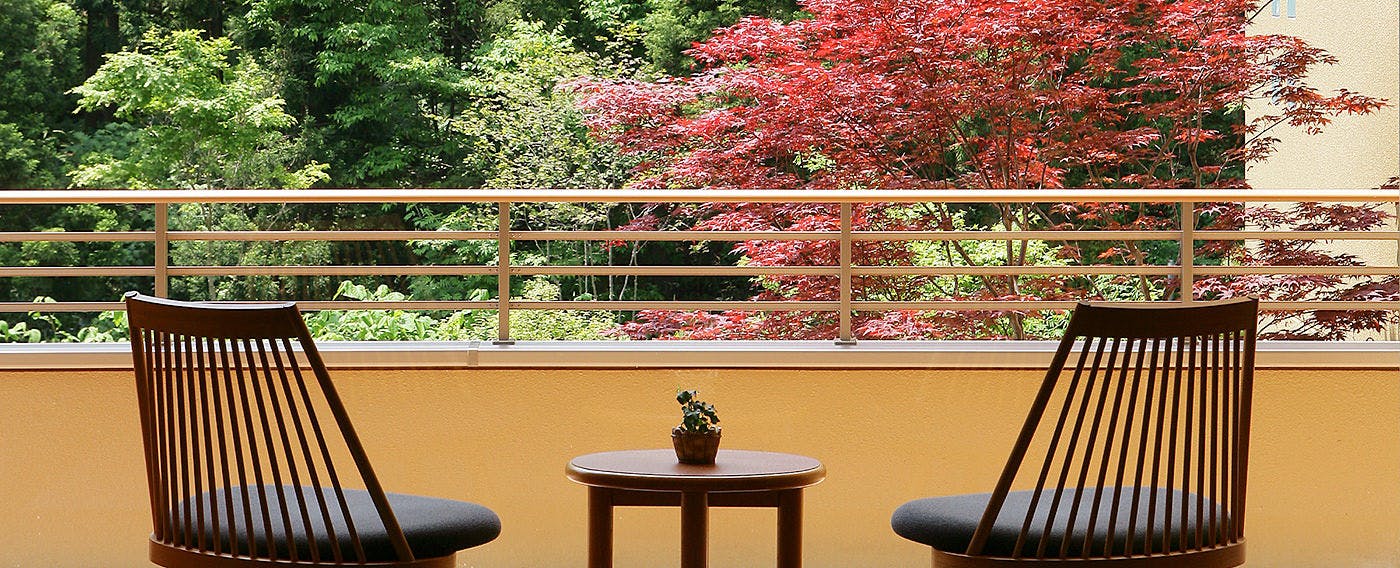 Lobby and Mountain View Lounge
Entrance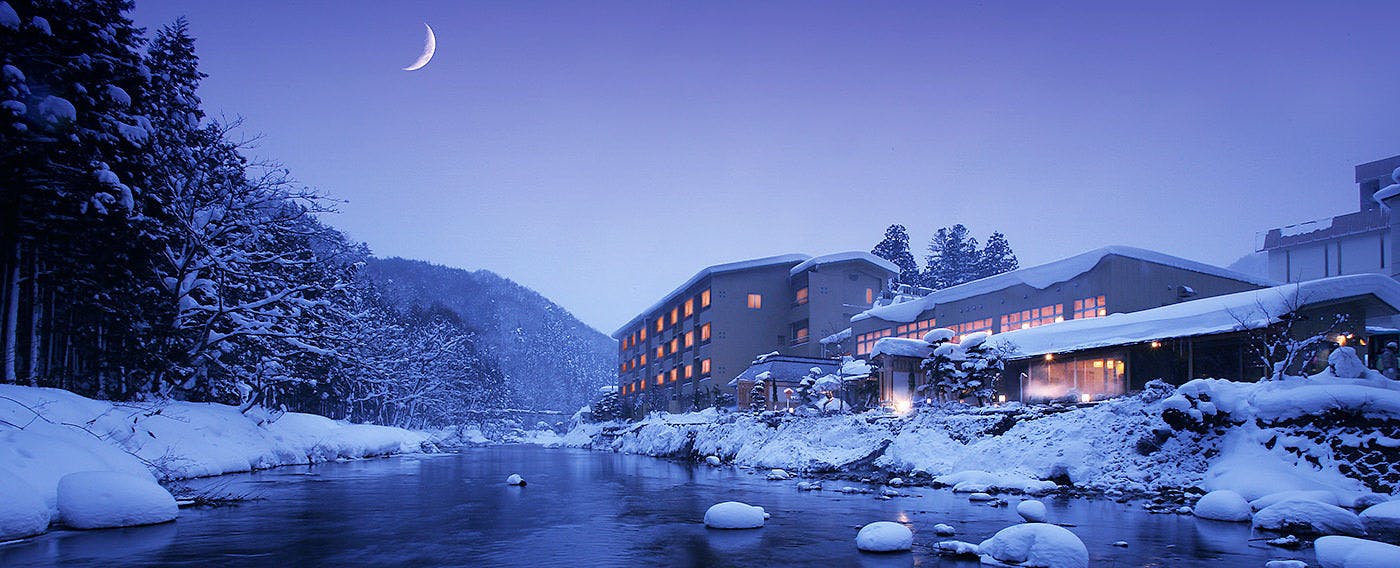 Facade
The lobby and the lounge with mountain view The garden welcomes you with seasonal views, such as green in spring, refreshing summer, fall foliage, and winter snow.
Stroll down the path inside the garden.
Access
11-2 Shidotaira, Yuguchi, Hanamaki-city,Iwate,025-0244,JAPAN
BY AIR
From Iwate Hanamaki Airport: 30min by taxi
BY TRAIN
From Shin-hanamaki Station: 30min by taxi
From Hanamaki Station: 15min by taxi or 22min by bus BY CAR
From Hanamaki-minami IC Exit on Expressway: 10min drive
From Kitakami-nishi IC Exit on Expressway: 20min drive Shuttle service is available from/to Shin-hanamaki Station for free of charge.
Reviews
First trip to Tohoku area. I think the cost-to-performance is much better than ryokan in Kanto area.
Open-air bath in the guestroom and verandah faced with the private garden were really relaxing.
Foods were fairly delicious, and the services were comfortable in local style.
Vasin was ok at first, but it was a little pity that the drain staiter smells gradually after time.
Also just a little uneasy was that the trees in the garden were mix of Japanese and Western ones.
+ More
Jul 2015
So many young staff did great services. The room has the bed right in front of the door, but it was comfortable and I'm ok.
Hot spring was very refreshing, and with very good atmosphere.
Foods were carefully selected with enough amount and quite fulfilling.
Totally balanced ryokan, which I can recommend to every kind of person.
+ More
Feb 2015
It was my second visit. It is so good that open-air bath is inside the room that I took it many times.
The room is small but relaxing space. Surprised at the big amount of foods (though I had them all) but all were delicious.
As my home is not far away from here, I would like to come again.
+ More
Nov 2014
My fourth stay. Staff comes from inside to the parking to welcome me, every time just on my arrival.
The room was not new, but well cleaned. Bath was good including the shower pressure. Food is amazing, every time.
Not only the food itself, but also the timing to serve dishes.
At other ryokans, foods are often served very late and it takes a long time to have dinner, so there is no time left to other things.
But here every dish was served right when I finished last one. It was like I was watched from anywhere.
Fantastic service with my birthday celebration. Cautious and comfortable sense of distance. I will come here again.
+ More
Jul 2014
We are a repeater and it was our 2nd visit. Every food was nice, and the service was perfect.
All staff were really friendly. We both like the food especially.
It is a wonderful service that we can come to have breakfast anytime between 7am to 10am!
We can wake up anytime without the time in mind, and we can depart relaxingly after breakfast, since check-out time is 11am.
We will surely stay again.
+ More
Jul 2014
Impressed by the staff's careful services.
They came to my car on the arrival to welcome me, and helped us to shovel out snow on departure.
Loved the foods, too. Open-air bath in the room was also fascinating. Will try again if any chance.
+ More
Mar 2014
Our short trip to onsen ryokan for the first time this year, with the high expectation for my husband's birthday celebration, became really comforable, delicious, and satisfying.
Surprised at Shirogame pork, which was as delicious as Maezawa beef.
This time was in the snowing season, so we want to come again in a different season next time.
We talked in the car on our way home, with the comfort after stay.
+ More
Jan 2014
2nd stay after the summer. Shidate was very nice in the snow scene, too.
Inside was clean, quiet, and comfortable so that we can relax so much. The room and open-air bath were also wonderful.
Really enjoyed the delicious food, with visually nice plates and setout.
I deeply felt happy to be here, thanks to smiles of every staff and comfortable services.
+ More
Dec 2013
All staff for me were kind and comfortable. Dinner was in a small room and I loved the private atmosphere.
I enjoyed the variety of alcohol with many chioces.
Might be better with a little more room service.
+ More
Dec 2013
I had a very relaxing time here, even among the 3 days holiday.
I loved many points different from big ryokans, and this ryokan was added to my favorite list to come again.
Foods were also really good. Thank you very much.
+ More
Oct 2013
Information
Check-in Time

From 3:00pm to 7:30pm

Check-out Time

Until 11:30am

Tax / Service Charge

Bathing Tax JPY 150 per adult is NOT included in the rates.

Credit cards accepted at this property

VISA / MASTER / JCB / AMEX / DINERS / UNION PAY / DEBIT CARD
Children

Children under 12 years old are NOT allowed.

Pets

Pets are NOT allowed.

Parking

Free of charge for guests; Capacity 30 vehicles; No Valet Parking Service

Other policies & conditions

N/A