- VAT is included, but bathing tax (around JPY 150 per adult) may NOT be included.
- Price in USD is based on the exchange rate as of today and might be different from that of the booking date.
Foods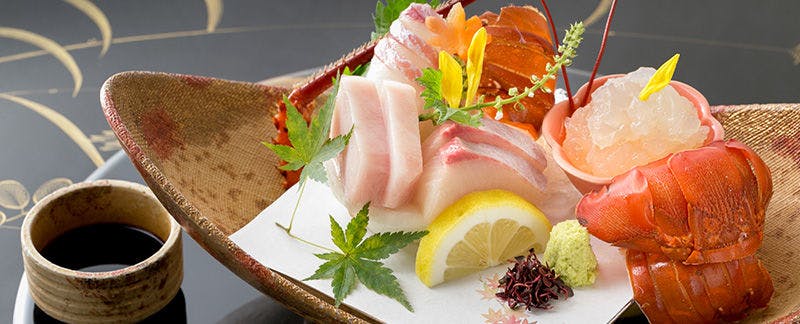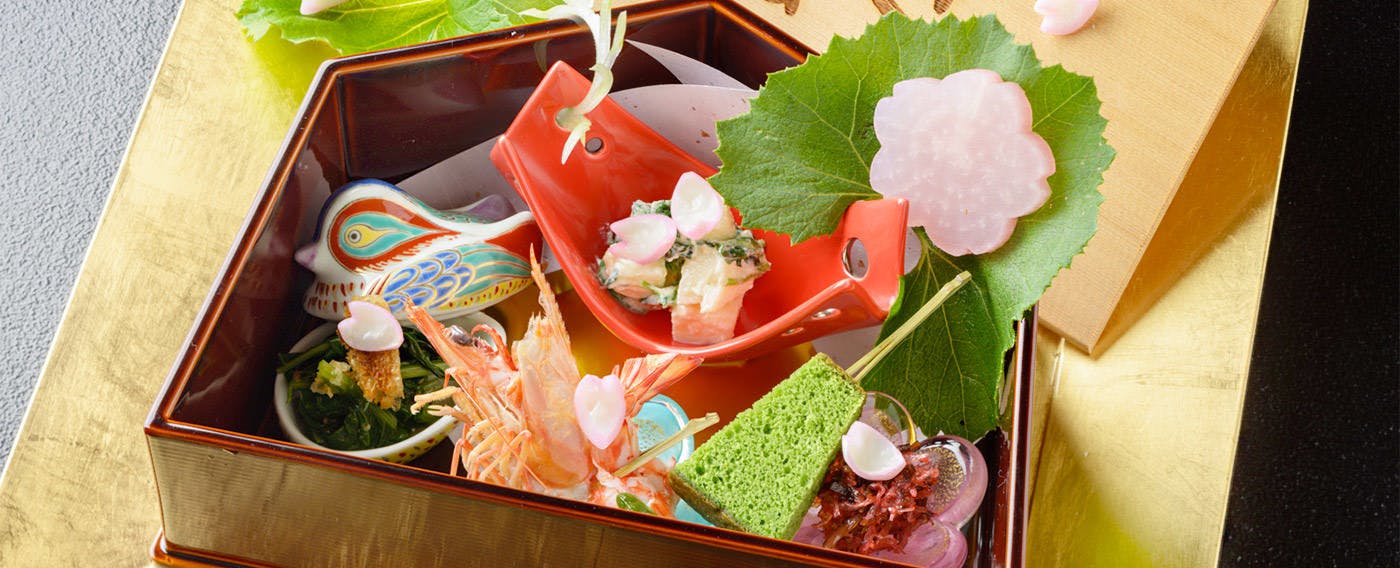 This Kaiseki course-style cuisine is made using the freshest seafood and hearty seasonal vegetables. Proudly shipped and in demand throughout Japan, the seafood comes from the local Ariake Sea and vegetables from the Shimabara Peninsula. By making plentiful use of seasonal ingredients, our cuisine never fails to completely satisfy. Served on bespoke Arita porcelain ware dishes, allow our cuisine to delight both your eye and palate.
Embrace the "Season."
Cherishing the gifts of nature, we have crafted dishes that make use of a particular season's unique flavors and scents.

Serve "Color."
Savoring food with the eye is also one of the joys of cooking. We vividly paint each dish with the dazzling color palette of all four seasons.

Yield to "Joy."
We hope that your experience remains with you as a pleasant memory. Yield to the abundant joys of nature and allow the offerings to add flavor to this moment of your journey.

Honor the "Meal."
After careful and repeated consideration of visitors' hopes through spring, summer, autumn, and winter, we present a tasteful story.
Baths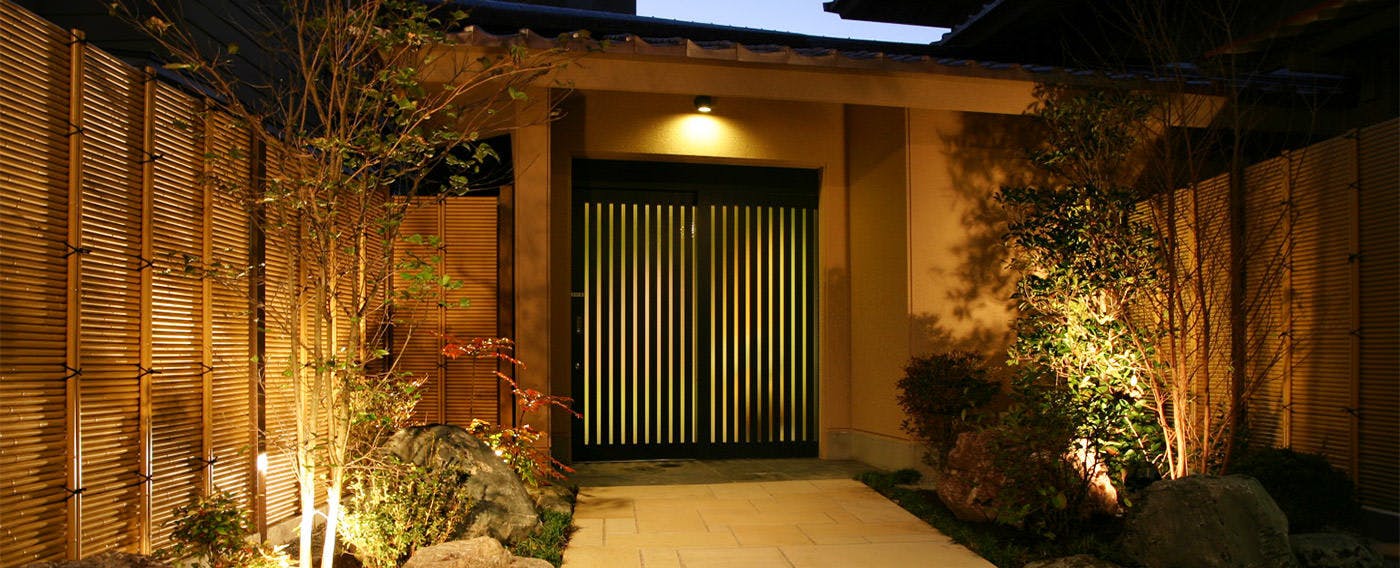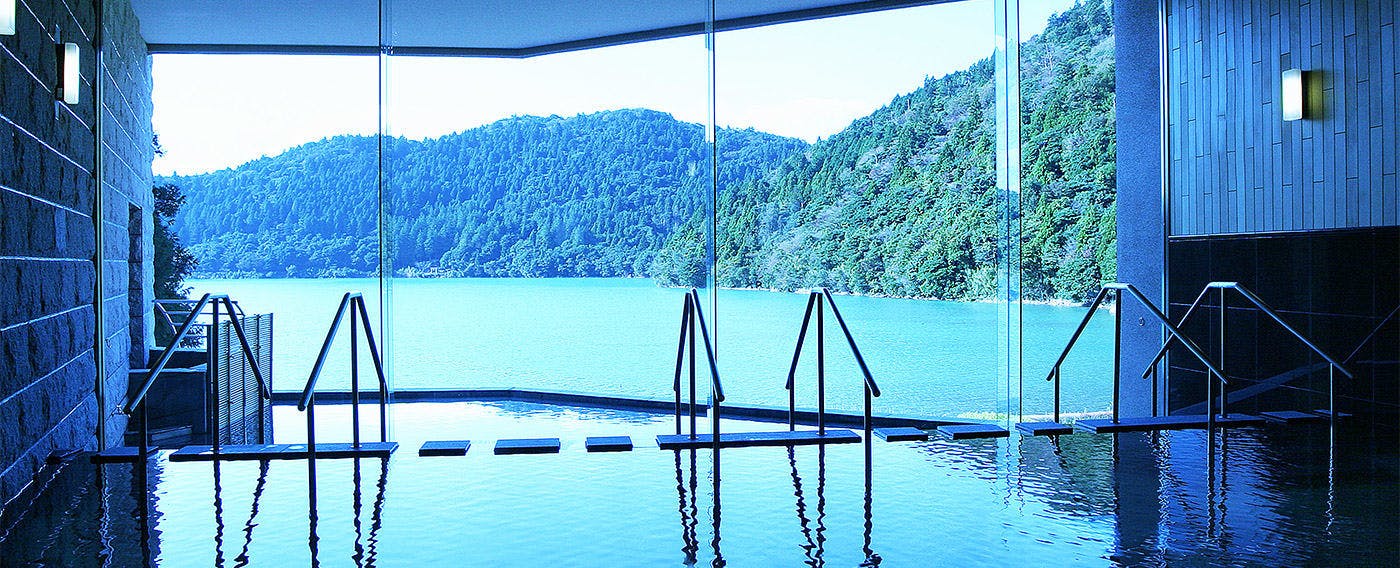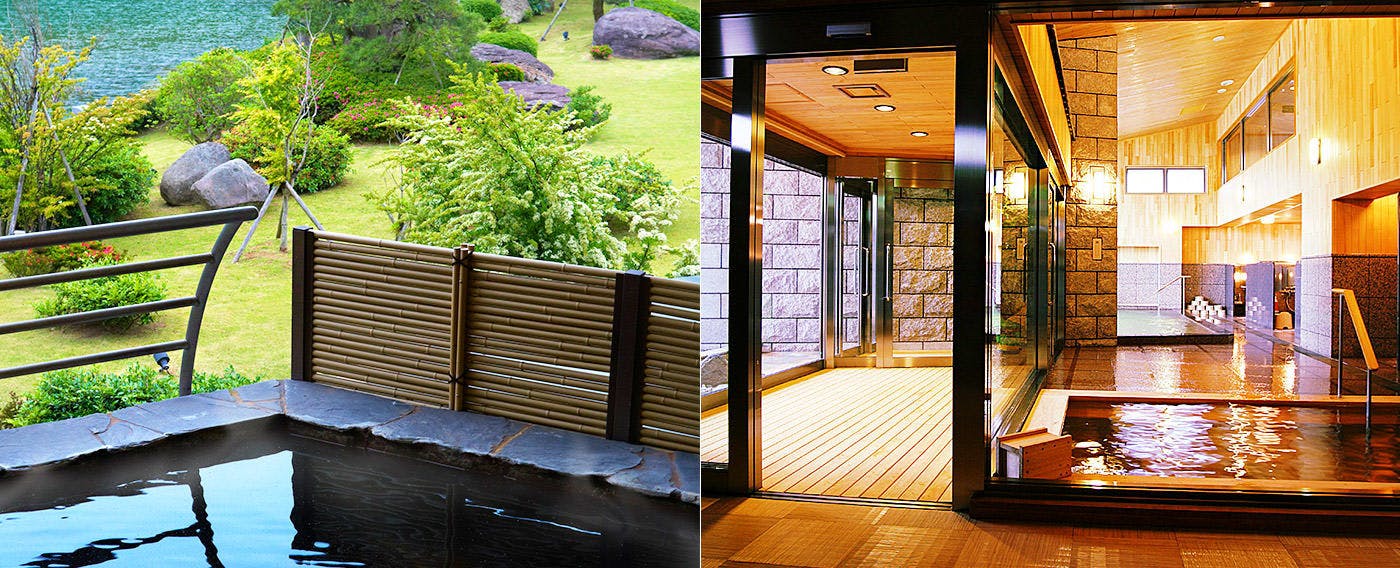 'Rien' Hot Spring Soaking in the hot spring water while gazing out at the picturesque scenery of the Unzen mountain range and the Oshidori Lake which stretch out opposite, the beautiful landscape and the natural hot spring will take effect and allow you to relax to your heart's content. That is one of the many forms of hospitality one can receive at Azumaen, a gourmet place commanding a view of Oshidori Lake and Unzen free-flowing hot spring. Completed in the autumn of 2003, "Rien" hot spring's common bathing area and open-air rotemburo bath have received a large amount of positive feedback claiming that the elegant atmosphere makes one think of everything as from another world. The relaxation facilities which further heighten the feeling of liberation are also extensively equipped. One can fully appreciate the allure of the hot spring. The sensation of bathing in the tub merged with the lake surface can also be addictively absorbing.
In order to avoid spoiling the natural scenery, the inside of the bathing room also makes use of natural wood and stone.
Facilities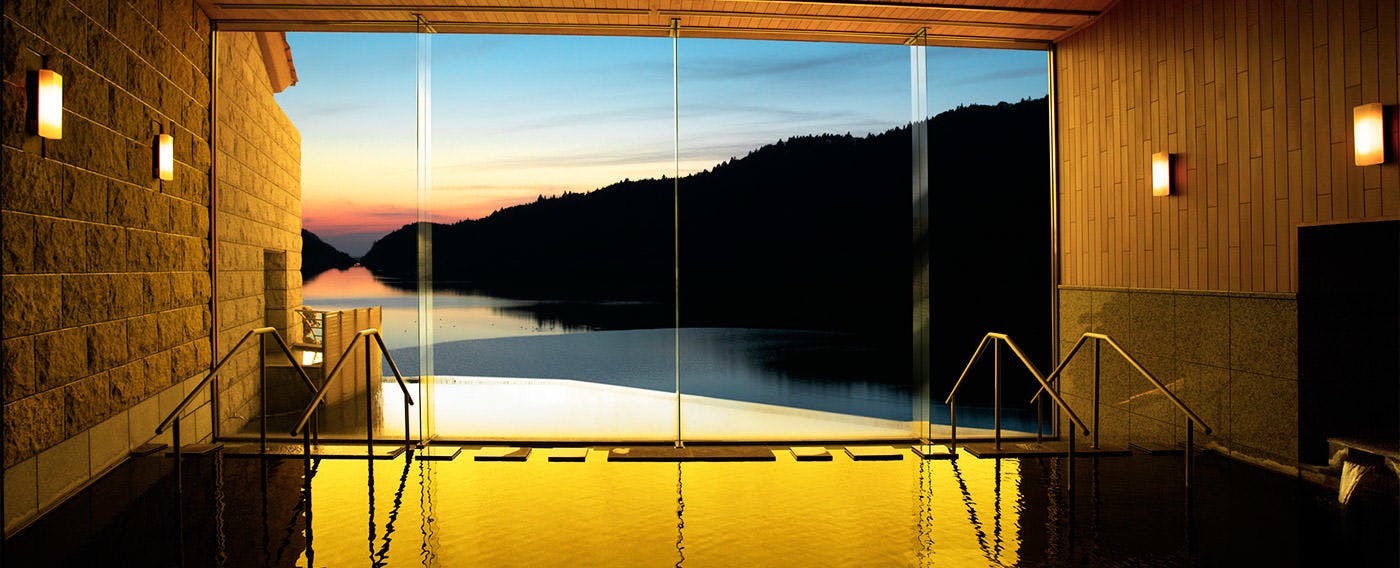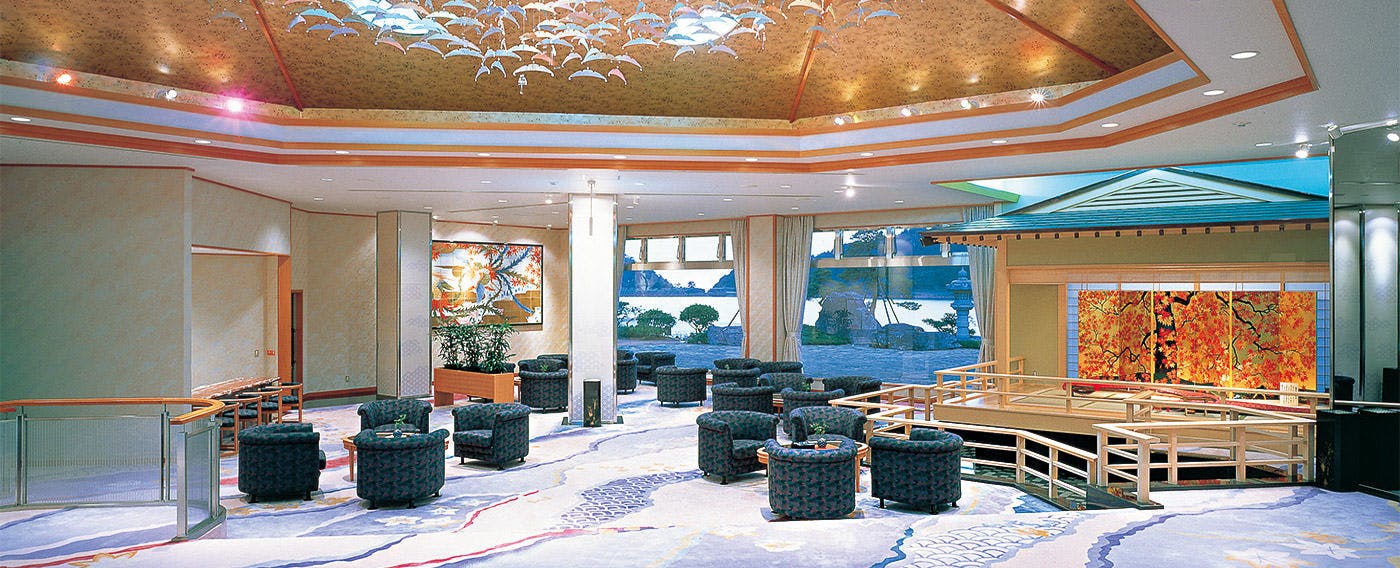 The beautiful natural aspect of Unzen, which magnificently alters its expression with each season, and quietly nestled into that bosom, Oshidori Lake. The gourmet Azumaen inn that stands on the side of Unzen free-flowing hot spring and overlooks Oshidori Lake is a calm and brilliant space specked with luxury and sophistication amidst tradition Japanese refinement. There one can find an elegant atmosphere, soothing scenery, and a large number welcoming forms of hospitality. Right before one's eyes, the oustretched stillness of the brimming lake, the deep green mountains. The feathery sound of waterfowl flapping in the crisp wind. At the gourmet Azumaen inn overlooking Oshidori Lake and the free-flowing Unzen hot spring, what we hope for each and every one of our guests is to meet every expectation and tinge their trip pleasant satisfaction. While responding courteously to every request, we also strive to create an excellent experience that allows guests to forget about daily life for a short while. We are always seeking to go above and beyond guest's expectations. Taking those feelings as our creed, we at the gourmet Azumaen inn that stands on the side of Unzen free-flowing hot spring and overlooks Oshidori Lake put our whole hearts into the food, facilities, and services we provide. "The thousand-year verdant pine," is a phrase honoring the auspicious figure of the towering old pine that has proudly stood green for a thousand years, and is a phrase that reflects the hopes in our hearts that, like the verdure of the pine that was the same both now and long ago, remain unchanged. We ourselves hope to continue to remain a place that offers our guests relaxation and cheer to both body and mind, and we shall humbly be looking forward to the day when we are able make your acquaintance.

By Relaxation Room:
In order to allow guests to fully enjoy the hot spring, relaxation rooms have been prepared on Rien's third floor for men, and fifth floor for women. Serenity that reaches all five senses, and stillness that dissolves the stresses of daily life. Time flows slowly with the gentle ripples of the Oshidori Lake lapping directly under one's gaze. As if in alignment with the rhythms of nature, we'd like you to take a calm and comfortable moment relaxing and fully enjoying yourself in your own way. We also offer massage services upon request. Please don't hesisate to contact us and arrange one.
Access
181, Unzen, Obama cho, Unzen city,Nagasaki,854-0621,JAPAN
By Airplane:
From Nagasaki Airport, Take a shuttle bus to Isahaya, transfer to Shimatetsu bus bound for Unzan and get off at Unzen Eigyosho. (Total 110-125 min)
By Train:
From JR Isahaya Station on Nagasaki hon Line, take a Shima tetsu bus bound for Unzen at Isahaya terminal to Unzen Eigyo sho (80 min).
By Bus:
From Nagasaki terminal of Nagasaki ken ei bus, take a Kanko Tokkyu bus bound for Unzen and get off at Shimatesu bus Unzen eigyosho. (100 min, 3 buses /day)
Reviews
I visited as a group of three with my parents. The room was so spacious it almost felt like a waste for only the three of us. The view from the room was also excellent, and I got to see a gorgeous sunset. The hot spring was also slightly less on the hot side, so I was able to stay in for a long time just looking at the lake, and it felt great. Every member of staff was friendly, but our room hostess in particular was always smiling and sweet, and thanks to that we ended up smiling ourselves and having an enjoyable stay. Next time I think I'd like to go stay in one of the rooms that has been renovated.
+ More
2016/05/20
Thank you for your hospitality. I stayed for the first time in 20 years. Recently I'd been staying at Tokyo foreign-owned hotels, but I reconfirmed just how great traditional ryokan inns are. The food was also fresh and extremely delicious. Despite what's being passed around by word of mouth, the hot spring wasn't lukewarm at all, and if anything was a little hot and felt great. The room hostess's smile also helped put my mind at ease. I was also surprised that the refrigerator came free. From the welcome to the farewell send-off, the service was courteous, and the proprietress's friendliness made me particularly glad. If I should ever have another chance, I would certainly like to come back.
+ More
2016/05/20
Along with my parents, we stayed as a family of 5. It's a little bit on the outskirts of the Unzen hot spring town, but I think it's probably the best place to stay in the area. We had a room and bath with a terrific view of Oshidori Lake and the backing mountains. I also feel like the service that we received reflected genuine and sincere hospitality. I have absolutely nothing to complain about in terms of room size, we were able to lounge comfortably. We were just a little disappointed with how far the bathing area was from our room, which was a little tough for my elderly parents, and with the lack of self-service drink facilities for coffee, etc. That said, we were more than satisfied, and I can confidently recommend this place to any friends traveling to Kyushu.
+ More
2016/10/20
Information
Check-in Time

From 2:00pm to 6:00pm

Check-out Time

Until 11:00am

Tax / Service Charge

Bathing Tax JPY 150 per adult is NOT included in the rates.

Credit cards accepted at this property

VISA / MASTER / JCB / AMEX / DINERS
Children

All children are welcome, with charge as followings.
Children between the ages of 0-5 years
- Bed sharing with adult: JPY2,160 as propertiy use
- Meals only, no bedding: JPY7,236 as propertiy use
- Bedding only, no meal: JPY 5,400

Children between the ages of 0-9 years
- Bedding, kids dinner and breakfast: 50 % of full of charge

Children between the ages of 10-12 years
- Bedding, dinner and breakfast: 70% of full of charge

Pets

Pets are NOT allowed.

Parking

Free of charge for guests;Capacity 80 vehicles

Other policies & conditions

N/A