Kasuien Minami
Kasuien Minami invites you to an amazing time filled with plenitude and comfort. It is located by the Tamayugawa river that is mantled in a luxuriant green. It was built after the fashion of the sukiya style (tea-ceremony house) of construction with an elaborate Japanese design. This ryokan welcomes you with a Japanese hospitality and attentive service developed over the course of more than 100 years. Kasuien Minami, with the greatest hospitality, will help you find wonderful time and great encounters.
- VAT is included, but bathing tax (around JPY 150 per adult) may NOT be included.
- Price in USD is based on the exchange rate as of today and might be different from that of the booking date.
Foods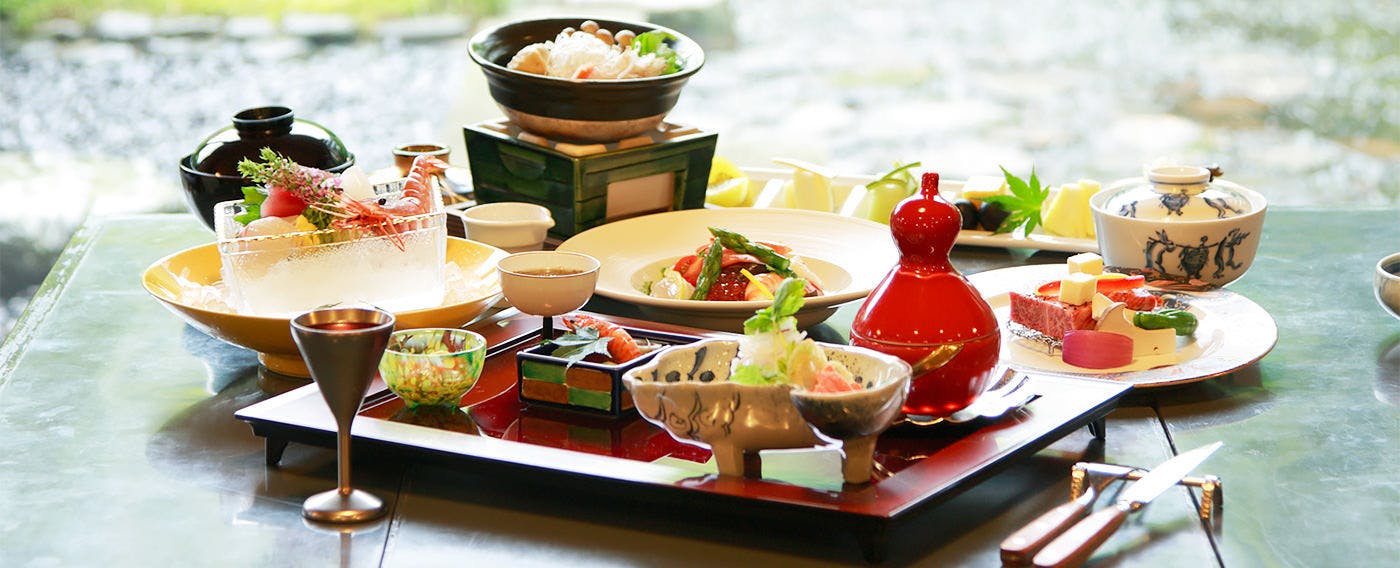 Foods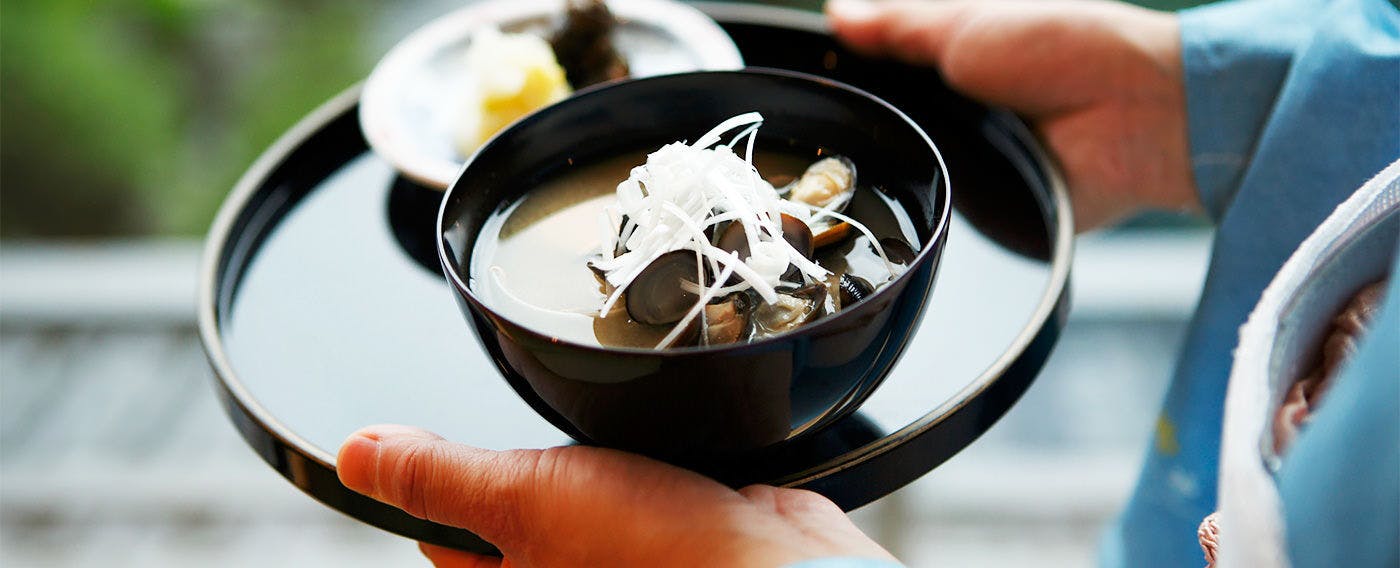 Foods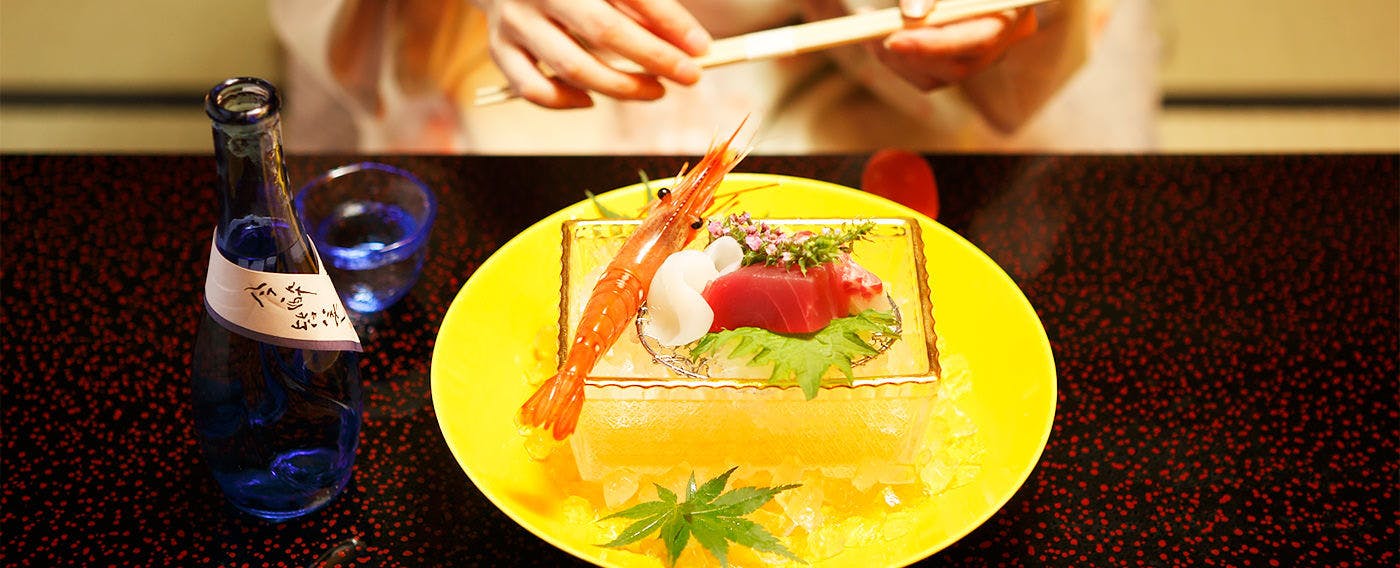 Foods
Traditional flavor of Kasuien Minami Experience the traditional flavor of Kasuien Minami with natural abundance from the Sea of Japan and Lake Shinji, and ingredients from regions rich in nature.
Enjoy Minami's traditional cuisine with plenty of seafood and riches of the soil including Shinjiko Shicchin (the seven delicacies of Lake Shinji).
Baths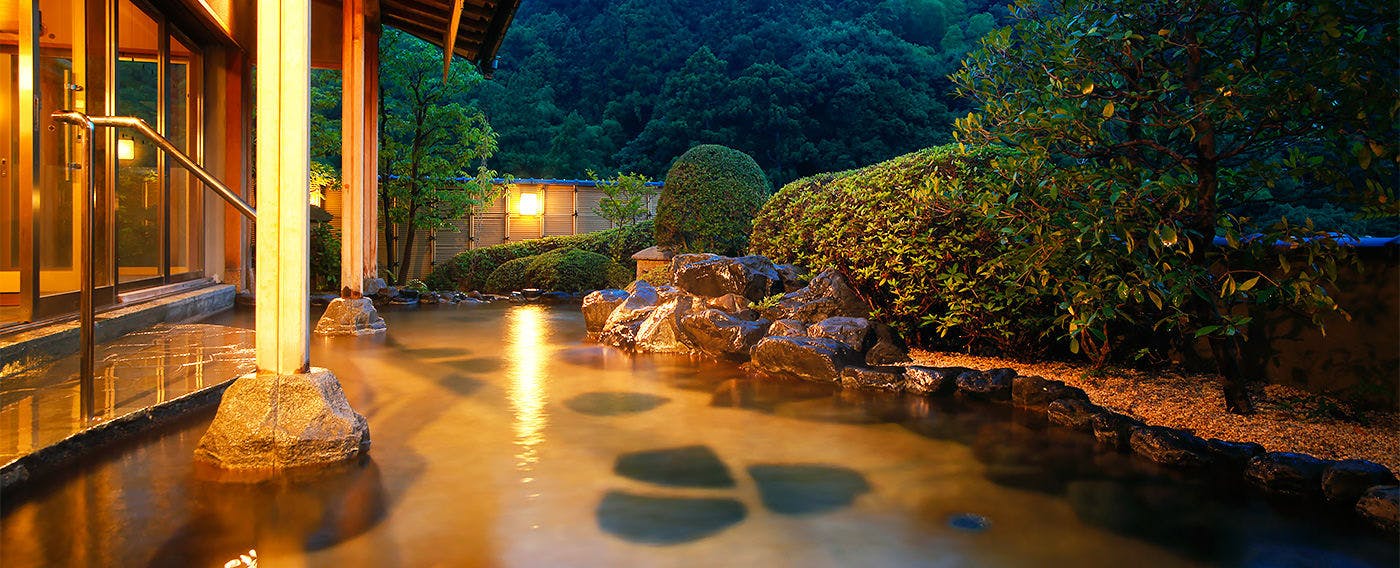 Bath with View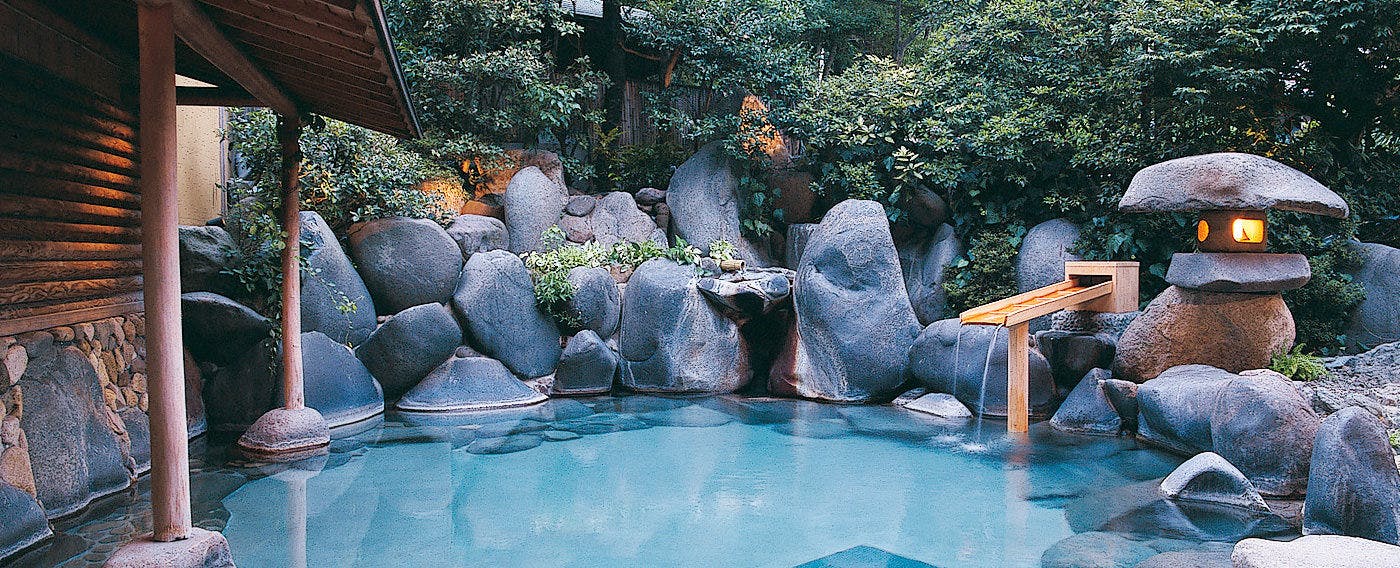 Open-Air Bath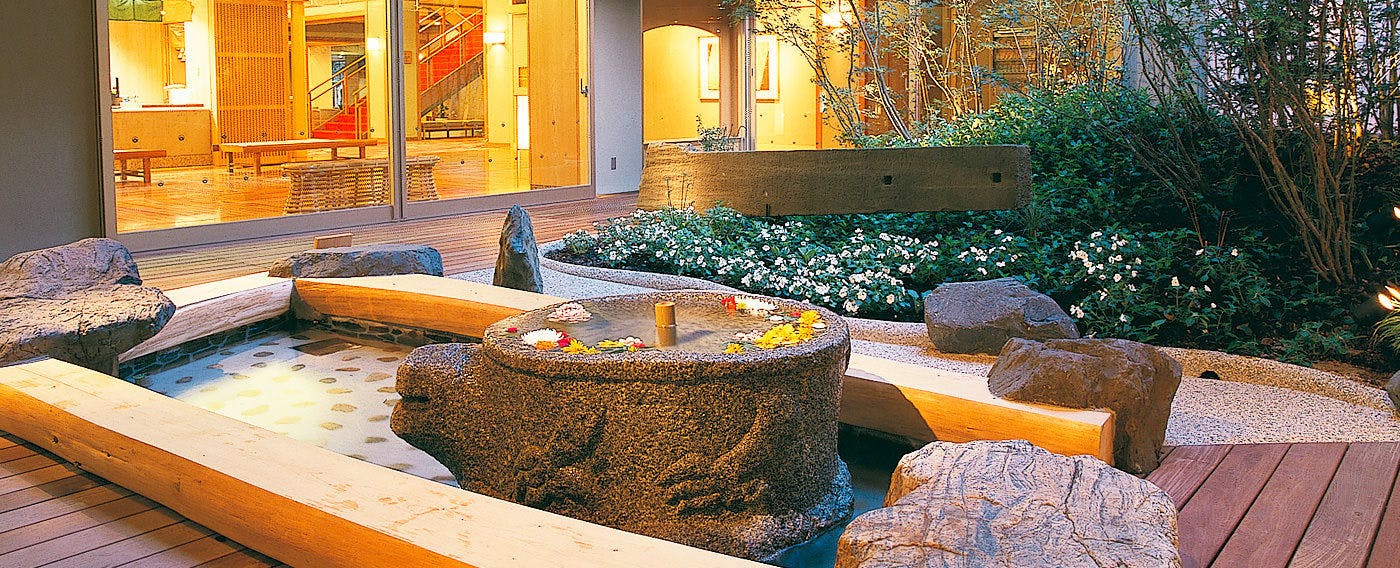 Bath
Tamatsukuri Hot Spring known as 'Kami no Yu' (Bath of the Gods) from old times Tamatsukuri Hot Spring, one of the best springs in the Sanin area, is known as "Kami no Yu" (Bath of the Gods) from old times.
Located 8km to the southwest of Matsue City, this hot spring is surrounded by mountains on three sides, and many ryokan (Japanese-style inns) stand side by side along Tamayu River that flows into Lake Shinji. This hot spring has a long history, and there is an old record that says this hot spring gushed out about 1,600 years ago. In an ancient report called "Izumo no Kuni Fudoki", it is indicated as "Inbe no Kanbe... That is to say, the hot spring gushes out by the river". This hot spring, along with Kinosaki Hot Spring, Misasa Hot Spring, and Kaike Hot Spring in the Sanin area, is one of the best hot springs in Japan. It attracts tourists from Kanto, Keihanshin, and Sanyo areas throughout the year.
Facilities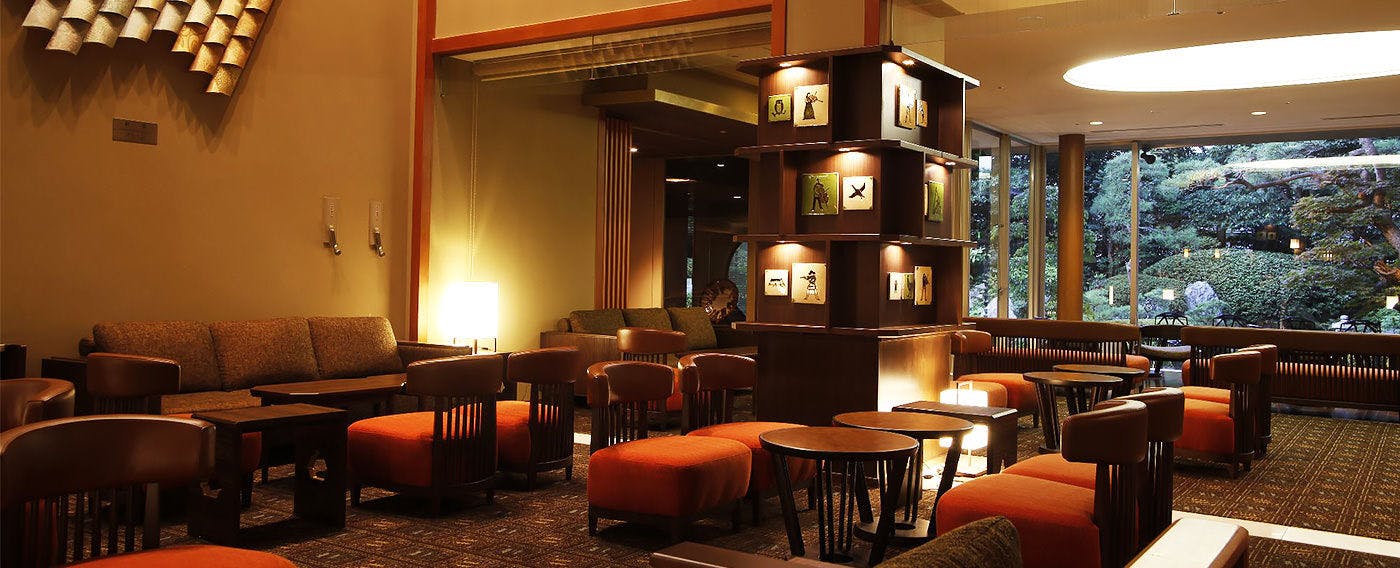 Lounge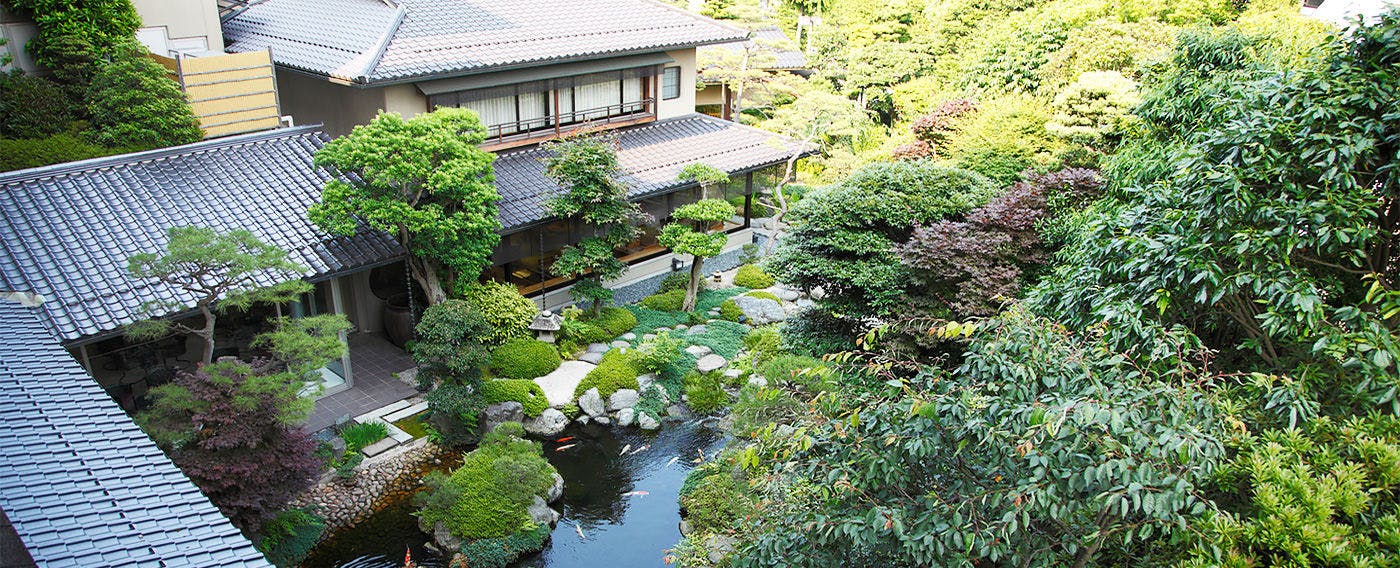 Japanese Garden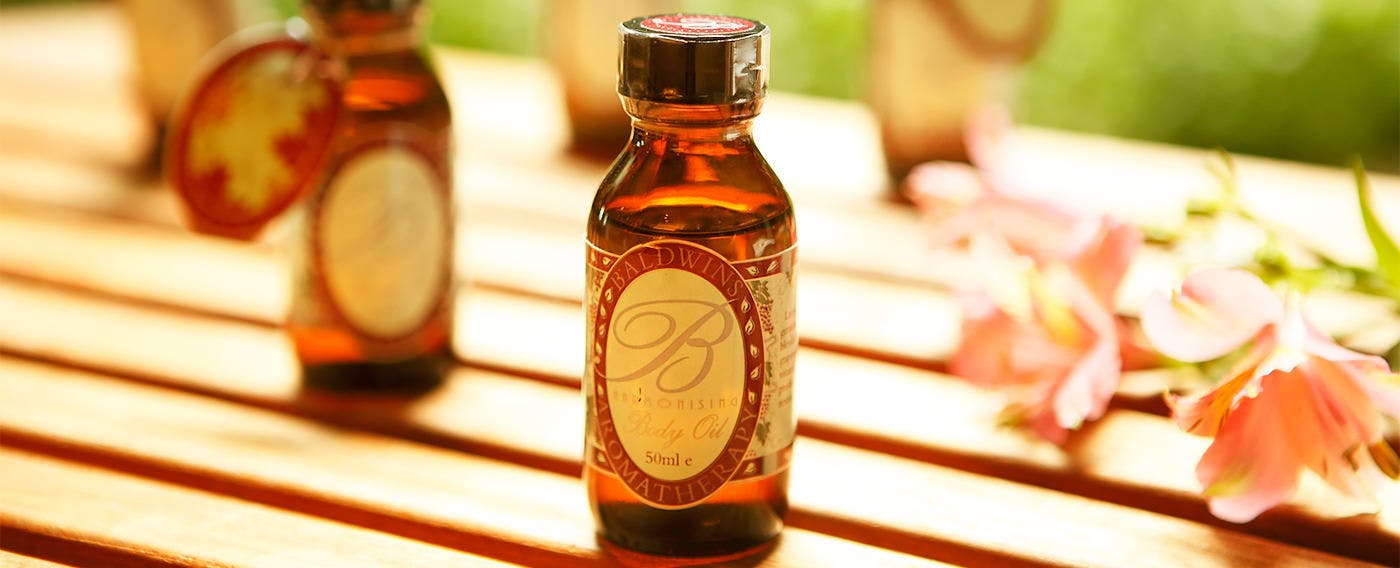 Aroma Salon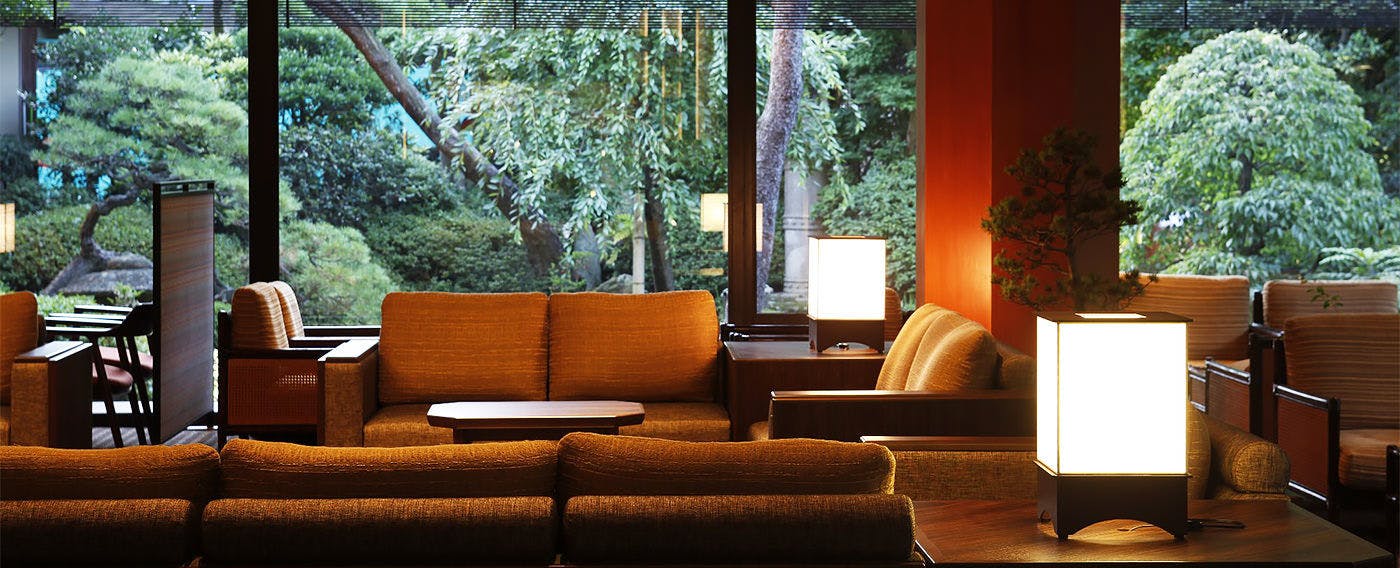 Tea Lounge
The pleasant bath time and recreation space you can enjoy around the courtyard This ryokan provides you with an oasis where you can rest and relax, and that includes hot springs and spa with comfort as theme.This ryokan offers suggestions on ways to enrich both your mind and body. There are hot spring water, greenery, and subtle hospitality. Amazing encounters await you wherever you go in this ryokan, just like when you stroll from one garden to another.
Access
1218-8 Tamatsukuri, Tamayumachi, Matsue-city,Shimane,699-0201,JAPAN
BY TRAIN
From JR Tamatsukuri-onsen Station: 5min by car
BY CAR
From Matsue-Tamatsukuri IC Exit (San-in Expressway): 10min by car
BY AIR
From Izumo Airport: 30min by car
Reviews
We stayed at your hostel while I visit the Adachi Museum of Arts and the Izumo Shrine. My wife wanted to stay your hotel and the meal was really nice. But it was a little disappointed that many family with their little child were little noisy during bath time and breakfast however I accepted it considering of consecutive holidays We were very satisfied with the service of staffs.
+ More
Sep 2015
My stay in this hotel was a birthday present to my parents. The room was spacious and comfortable, the soup stock used as a basis for the cuisine was delicious and it seems that they also enjoyed the different plates that they used. They say that they did not feel chilly after the bath and the skin was very smooth after it. Most of all they were impressed by the cordial service and I am very glad that I took them to stay here as a present. It's a hotel where I would certainly like to invite someone special again.
+ More
Aug 2015
I reserved over the Internet. After that, my friend said, "It is a very good inn", so I came here expectantly. The room I was led showed "Special", it was different from the photo when I reserved, so I confirmed at the reception desk. Upgrade? Wrong? Anyway, I was very satisfied. Not only the room, but the bath and other whole facilities are cleaned properly, and staffs in charge of the rooms keep a distance from me when having meals, so I had a good time of comfortable and delicious meals. I hope to visit again, however, after all, it is too far... Thank you for everything.
+ More
Aug 2015
The atmosphere was quiet and the shops were complete. Both the hot spring and the dishes were excellent. I'm hoping I'll stay there again.
+ More
Aug 2015
I was traveling by myself, but I hugely enjoyed my stay. I felt the room had been carefully organized to the small details. The bathroom was also very clean. It's an inn that I can recommend to my family and friends without hesitation.
+ More
Aug 2015
It was my second stay and the sweet and the tea we received when I arrived were delicious and I felt meticulous consideration everywhere. The service of the staff was great and I had a pleasant stay. I was impressed by the quality and the various dishes of buffet and enjoyed them with eyes and tongue. The room attendant's smile and thoughtfulness were wonderful.
+ More
Aug 2015
It's a really wonderful ryokan. The bath was also wonderful, and the customer service was good and perfect. I can sense even the buffet for breakfast were prepared with quality ingredients that has been tested. Normally, I do not eat anything other than western style for breakfast, but had lots of snack instinctively. I was lucky that the "Flower of A Queen of the Night" bloomed on the day of my stay, making it a wonderful and precious experience.
+ More
Jul 2015
I was impressed after I checked out. I recalled I had left something in the room after I left by car. I informed the lady at the front desk after returning to the ryokan. They said they will bring the things I left behind to the front desk. At that time, the staff in light blue kimono who just sent us off at the entrance came to the front desk. The front desk did not call the entrance staff over, but as we returned right after we left, they might have realized right away that we had left something behind. They asked the front desk for the room number and went to get it. At the same time, the front desk contacted the room staff to check and informed me that we had indeed left something behind. It took less than a minute. The coordination between the staff at the entrance, the front desk and the room was amazing. I was especially impressed by the tact displayed by the entrance staff who came to the front desk when they saw us. They gave me a wonderful smile as they returned my things. Thank you. I deducted one point from bath and facilities as the clock in the large public bath on the first floor is slow. It is slow by 50 minutes when I looked at it. When did it get so slow? It gave it this rating after comparing it with other perfection like the breakfast, the room and the customer service. I pray for the good health of your staff and the prosperity and growth of your inn. Thank you so much this time. .
+ More
Jul 2015
It was an elegant hot spring ryokan as one would expect. The reception and the service was hotel-like, but filled with the heart of hospitality of a ryokan. The water quality of the hot spring was soft to my skin, there was a lot of water, it was clean, and made me relax very well. A part of the facility stood out by its oldness however I did feel that they are making the full effort to maintain the accommodation. The facility did not have permanent strain. Also because it is in a region where there are lots of pottery producers, I was surprised to find beautiful potteries on display freely inside the ryokan. As a result, I felt that many plates of the meal were beautiful as well. The food was all fresh and satisfactory except for the fact that it tasted a bit too strong. I learned that they serve a menu with less amount of food but I could not find it on the internet. I would recommend buffet-style breakfast. It was self-service but one could feel the core of hospitality of Minami. The menu was just abundant and I enjoyed it. I would like tasty bread and coffee for breakfast, however it might just be too much of a request. What left me an impression the most was that the old lady at the rice section of the restaurant was serving rice and porridge with a full smile on her face. She made me feel that I would like to be like her when I get older. The service with a smile by all the employees regardless of their age and sex was better than anything. The service was all very well balanced and I think I would give them high points in the end. I experienced a comfort which you feel in an European first-class hotel. I would like to visit this hot spring inn located in mountains in Sanin.
+ More
Jun 2015
The garden was beautiful, tea and snacks were served upon arrival, futon was prepared while having dinner, and the breakfast was a gorgeous buffet. I enjoyed the Minami's original mochi (sticky rice cakes), garnish and so on. As for the bath, the water temperature was too high to stay in for long, and also it didn't look very clean with fallen hair in the dressing room as they have more female guests. The frequently washed Yukata was worn out, the sleeves shrinking a bit. The room was spacious but old-fashioned, where the door locks in a traditional way (by pushing a button) and tatami mats were coming off in places, looking boring. The futon was clean and I was able to sleep well. As a lazy person, I liked the fact that the check out time was 11 and the brochures for our next destination were given the night before.
+ More
May 2015
The first good point was their courteous service. Regarding hot springs, both the bath in the room and the large public bath were good, and the quality of hot water was excellent more than anything. The service-minded staff including a lady took good care of us for breakfast, and a variety of food with sensitive recipes were served so I was fairly satisfied with it in spite of a buffet meal. What I regretted was that a dinner having at the room was a little bit poor. It was easy on the stomach. The sound of staff's movement and their speaking voice were a little loud at their room next to mine and I was awakened by that (at about 7 am). Overall, it was idyllic inn and they provided a courteous service, so I rated it as excellent.
+ More
May 2015
This was a trip my 81-year-old mom invited me to. The restaurant was a little too far for my mom who had weak legs, but the dishes were so delicious, the room was very impressing, and every one who served us was very kind and had smile on his/her face, and I was able to spend my time very comfortably. This may be the best inn among those we have stayed in the past. This was an inn I want to visit again. Thank you for a wonderful time. I would like to visit Nihonbashi and Ginza next time.
+ More
May 2015
Information
Check-in Time

From 3:00pm to 8:00pm

Check-out Time

Until 10:00am

Tax / Service Charge

Bathing Tax JPY 150 per adult is NOT included in the rates.

Credit cards accepted at this property

VISA / MASTER / JCB / AMEX / DINERS
Children

All children are welcome.
Children of 0 to 2 years old are allowed to share a bed with adults.

Pets

Pets are NOT allowed.

Parking

Free of charge for guests; Capacity 150 vehicles; No Valet Parking Service

Other policies & conditions

N/A