Gora-Kansuiro
"Gora-Kansuiro is an authentic traditional Japanese ryokan located in the heart of the beautiful landscape of Hakone in the area of the volcanically active Fuji-Hakone-Izu National Park. Only a 3 minute walk from the railway station of ""Gora", the Gora-Kansuiro consists of 14 luxurious guest rooms and a lavish Japanese garden. Here you can experience the real ""Ryokan"" atmosphere and enjoy its fine traditional Japanese cuisine. You can take a bath at night in our open-air natural hot springs under a sky full of stars and wake up at the sound of birds singing in the morning. Gora-Kansuiro will give you a great, relaxing and luxurious experience in our oasis of peace."
- VAT is included, but bathing tax (around JPY 150 per adult) may NOT be included.
- Price in USD is based on the exchange rate as of today and might be different from that of the booking date.
Foods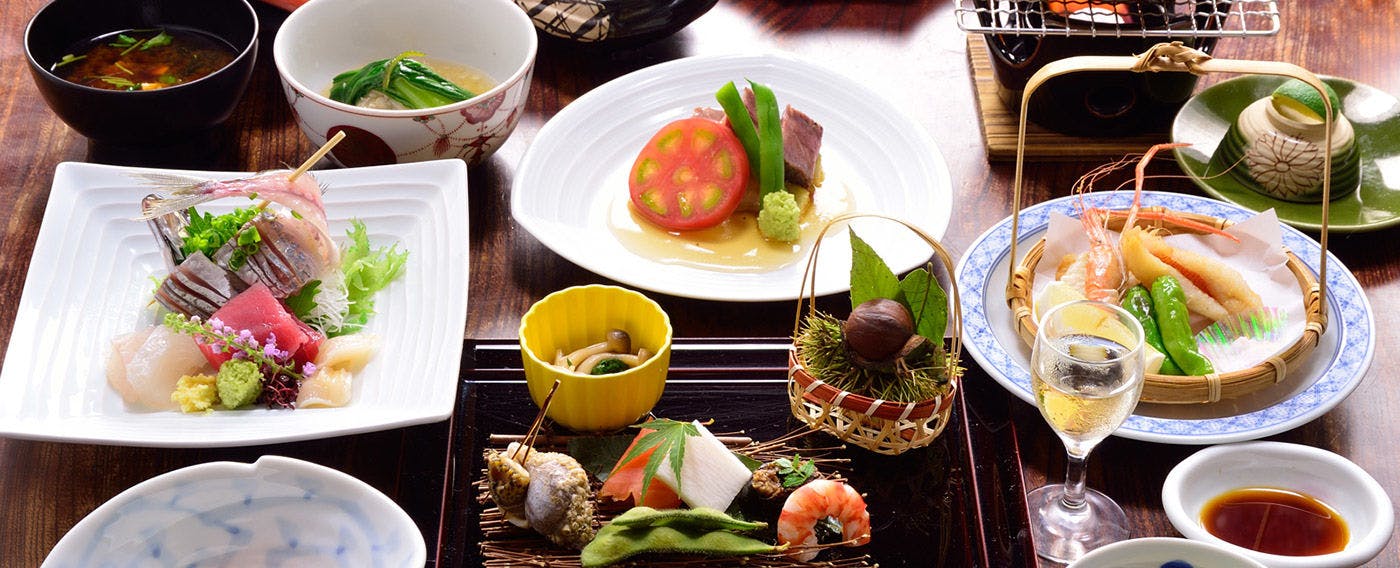 Kaiseki Cuisine
Dine in guestroom At Gora-Kansuiro breakfast and dinner are served in the guestrooms. An attendant will gently explain about each dish as she serves the food in the comfort of your own room. This is the best way to enjoy authentic Japanese cuisine which could be never experienced anywhere else, even in Japanese restaurants or homes. Menu varies according to the different seasons in order to offer you always the freshest and best quality food.

Dinner
Dinner at Gora-Kansuiro is served as a menu of "Kaiseki" cuisine. Kaiseki is highly refined cuisine which emphasizes the use of high-quality seasonal ingredients. A traditional Kaiseki menu consists in one soup and three types of dishes: Sashimi (raw fish), Yakimono (grilled dish) and Nimino (boiled dish). There may be variation which always include a minimum of seven dish. Each dish is exquisitely prepared and beautifully presented as in the finest Japanese tradition. You can also choose from a wide selection of cold or hot sake.

Breakfast
At Gora-Kansuiro breakfast is served between 7:00am and 8:30am. Staff will wake you up cheerfully screaming "Ohayo-gozaimasu!" (good morning in Japanese) to make sure you are ready in time for breakfast as it is served in your room. Breakfast in essentially "washoku" (Japanese style) and includes hot rice, miso soup, grilled fish, tofu, egg dish, Japanese pickles and much more.
Baths
Open-Air Bath 'Meguri-no-yu'
Enjoy hot spring bath Guests coming to stay at Gora-Kansuiro expect with excitement the opportunity to take a natural hot spring bath, "Onsen". Bathing in a spacious bathtub soothes away fatigue and stress. Hakone, which is surrounded by volcanic mountains, is known worldwide for its "onsen" and Gora-Kansuiro has two sources natural hot springs on its property.
Gora-Kansuiro attaches the hot spring tabs in all of the bathroom facilities in the rooms in order to fully satisfy our guests.

The open-air bath is called "Rotenburo" and is located in front of "Kaseien", the Japanese garden. You can enjoy bathing with the pleasant breeze blowing over the hot water surface. The outside bath is called "Kan-no Yu" for gentlemen and "Sui-no Yu" for ladies. You can see one of the two hot spring sources just next to this bath, which is 100% natural hot spring.

"Sen-no Yu" and "Hyoutan-no Yu" are indoor baths separated for male and female guests.
Facilities

Facilities

Facilities
Warm and comfortable place with historical and wooden archtecture The Gora-Kansuiro became well known after the Showa Emperor and Empress stayed at the room named "Kinkatei Hashuan" in Autumn 1955. The Emperor and Empress really enjoyed the wide variety of dishes and the spectacular view of the massive bonfires of Daimonji, which literally means 'great (big) character', burned at night on the mountain sides surrounding Hakone. It was the first time that Japanese Royals stayed at a public hotel. Today the very same room is available to all guests.
Access
1300-20 Gora, Hakone-machi, Ashigarashimo-gun,Kanagawa,250-0408,JAPAN
BY TRAIN
From JR Odawara Station: 55min by Hakone Tozan Railway to Gora Station and 3min walk

BY CAR
From Odawara City Center: 40min by car
From Gotemba-Higashi IC Exit (Tomei Expressway): 30min by car
Reviews
Above all the customer service was wonderful. Smiles from all the employees made me feel relaxed. However, there were two disappointing things. (1) The last meal for the dinner was a butter flavored cooked rice with corn. The food until then was too delicious, it did not suit the sashimi I set aside to eat with the last meal... The butter felt too heavy on my stomach after such a good meal. I like orthodox rice with pickles as the last dish of a meal. (2)Because a sliding door of the inside tiled bathroom is bad-fitting, I must shut it with all my strength. Because the door's glass makes terrible noise when I do so, I was afraid it breaks down. I want it be improved. An oldness of the whole building is charm. I think it's an amazing cultural heritage. Everywhere was tidy and cleaned up. I might have to accept a part like (2) .
+ More
Jul 2015
It's a hotel that uses an old Japanese house, cleaning and maintenance are well managed, besides I could see the trees in the garden from my room, so it was a good, elegant hotel. The food was also delicious, so I have spent some good time here. Thank you for your service. However, there was no mirror in the washroom and it was difficult to shave my beard, the "shaver" that was provided was not sharp enough to shave well, and the "toothbrush" was a bit too soft, which was a pity.
+ More
Apr 2015
I have used here in two and a half years. I came here with my parents three times, and six times totally. Since the wonderful water quality is still good and meals are delicious, I felt relaxed in the quite room. I have always used the room of "Yuri", but I stayed in "Sakura" for the first time, I had the room with the inside bath using a flow from the spring as well as Yuri and the next room, I refreshed in both mind and body. But I regret only one thing. When serving the meals, I felt the way of handling containers were a little bit rough. I thought that they were in a hurry because of little time (but I did not feel the meals were served late), I regret that the containers were slipped by them. I cannot visit at the seasons of red leaves or cherry blossoms just on time, but I would like to visit at those seasons sometime.
+ More
Mar 2015
Though the room was refined, it may be suitable for summer as it's cold at the corridor during winter. I couldn't sleep well on a futon as I'm not used to it and felt heavy. Their own hot-spring bath was using fresh hot spring water and was a great bath.
+ More
Feb 2015
As I had imagined, Gourakansuirou is a lovely inn. We fully enjoyed an unusual experience that felt like a time slip to the Taisho period. My spouse and I forgot about the world and enjoyed the elaborate food, the large garden abd the luxurious kakenagashi-type hot-spring, The nakai (waitress) was such a kind lady that, the next day, she showed us the room where the Showa emperor stayed. We are really grateful for her. Next time we come by with the whole family.
+ More
Feb 2015
I accepted the quality of the equipment and the room because the building was old. But the oldness made me feel nostalgic as if I had been transported back in time from the actual hectic everyday life. The food was delicious and excellent. This stay became a good memory for all 5 members of my family.
+ More
Oct 2014
First stay after 15 years. With this, a total of 4 generations have visited, including my grandmother, parents, son and daughter. My children seems to be rather happy, and I would love to visit again for a longer time.
+ More
Aug 2014
The inn was timeless and I was able to feel its oldness, in a good sense, and history, and the building was as expected. The hot spring the inn boasted was some distance away and one floor down from Yuri-no-ma (Lily Room) I stayed in so I felt inconvenienced from time to time but, since it was far from the entrance to the guest rooms, I was able to relax and bathe and to get away from the daily tension mentally and felt very good, and the water quality of the open-air bath was different from that of the in-room bath and was somewhat viscous, I could also see the garden in front and , as other reviewers have said, it was a very good bath. Also the garden that utilized the slope seemed to be receiving the minimal care, moss grew on the pebble-lined sidewalk, and one could stroll this much of the garden freely, while in the complicatedly embedded pond, carps of various sizes were kept in the natural state not accustomed to human and this gave me a very good impression. I was able to see Oomoji from the western-style room next to the zashiki parlor, and I thought this would be the best room for the festival in August. But, what was a pity was that, even though made with fresh ingredients and through craftsmanship, the dishes were too seasoned and had too much salt. Also, in the morning, I was awakened by the loud noise of someone opening the shutters of their room. I'm sure some people get up early, but there are others that sleep late, so I wish they had been more considerate. It was strange but I enjoyed the good old ryokan that has not been modernized as the they had many veterans among the service staff together with the building, and I could see the continual perseverance of the ryokan that has many stairs. I would love to visit one day during the season with pretty autumn leaves. Thank you.
+ More
Jul 2014
It was very quiet, the food was delicious and I spent a good time. The building was old and it was inconvenient to some extent however the spacious garden was wonderful and I stayed here pleasantly. One thing that was disappointing was that they would need minimum amenities prepared. It is a ryokan where I would like to stay in again.
+ More
Jul 2014
The building is old, but has its charm, and I could feel its history. You will walk along the garden to get to the open-air bath where you can also enjoy the nature. 'Seikyu no Ma', where four females stayed, was spacious enough, and the garden view from the window was also good. Seasonal ingredients were used for every dish, which was made with a detailed care, and its appearance was so beautiful that I could enjoy. I could have dinner and breakfast relaxed since both of them were delivered to the room. It became a comfortable and fulfilling trip because of you who responded to our difficult favors, and my demanding friends were very satisfied. Thank you for the warm hospitality. If I had a chance, I would come visit again.
+ More
Apr 2014
I used it for the first time. I could relax very much at an annex with atmosphere. I have concerns about my daughter because she is little but I was touched with their kind thoughts such as they offered some rice in spite of our order without meals. If the open-air bath opened longer in the morning, it would be better. I would like to use it again.
+ More
Apr 2014
It is an old-style inn. My room did not have a bath, so I used the open-air bath and the public bath. The open-air bath could hold about 5 people and the scenery was perfect. But the public bath was small and there were only two stools while there were four washing compartments, so it was like everyone was sharing. People dine in their rooms and I was satisfied with the fulfilling meal that featured seafood in Odawara. But the restroom was at the end of the hallway and the room had no lock so I did not feel very safe.
+ More
Mar 2014
Information
Check-in Time

From 3:00pm to 6:00pm

Check-out Time

Until 10:00am

Tax / Service Charge

Bathing Tax JPY 150 per adult is NOT included in the rates.

Credit cards accepted at this property

VISA / MASTER / JCB / AMEX / DINERS / UNION PAY
Children

All children are welcome.

Pets

Pets are NOT allowed.

Parking

Free of charge for guests; Available from 2pm to 10am; Clearance 2.5m; Capacity 15 vehicles; No Valet Parking Service

Other policies & conditions

N/A