Toshin an Komeya
"Kome (Rice)" -raised with pure water, the aid of many people bears fruit. Cherishing the hearts of the people this "kome" is a symbol of, we at "Toshin an Komeya" have taken this single character, "Kome" as our name. Heartfelt hospitality, plentiful seasonal freshness born from cool and clear water, the copiously gushing Ito hot spring. Savoring, enjoying, relaxing, we have sought after carefully selected luxuriant delights.
- VAT is included, but bathing tax (around JPY 150 per adult) may NOT be included.
- Price in USD is based on the exchange rate as of today and might be different from that of the booking date.
Foods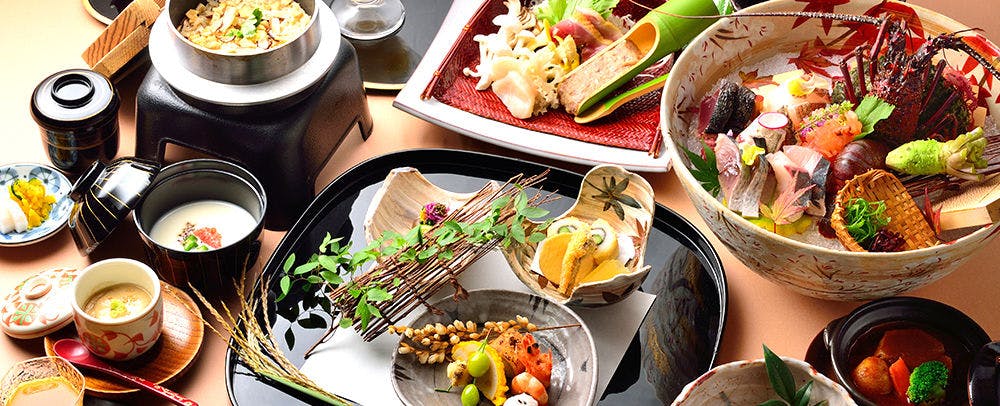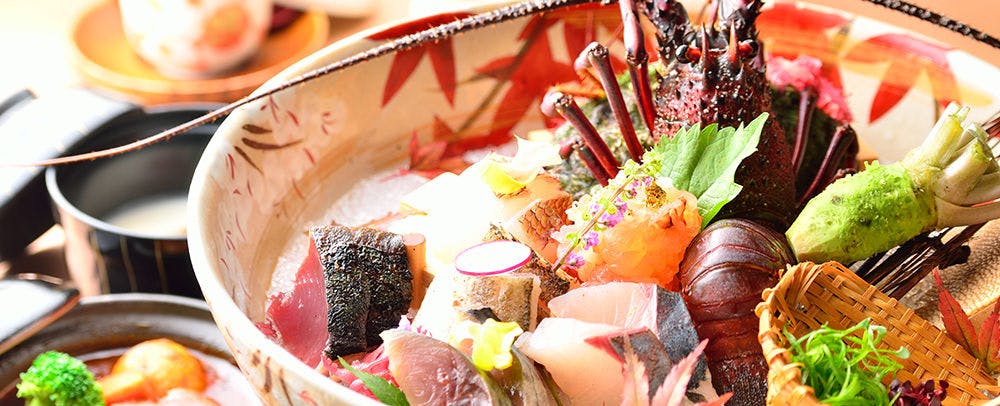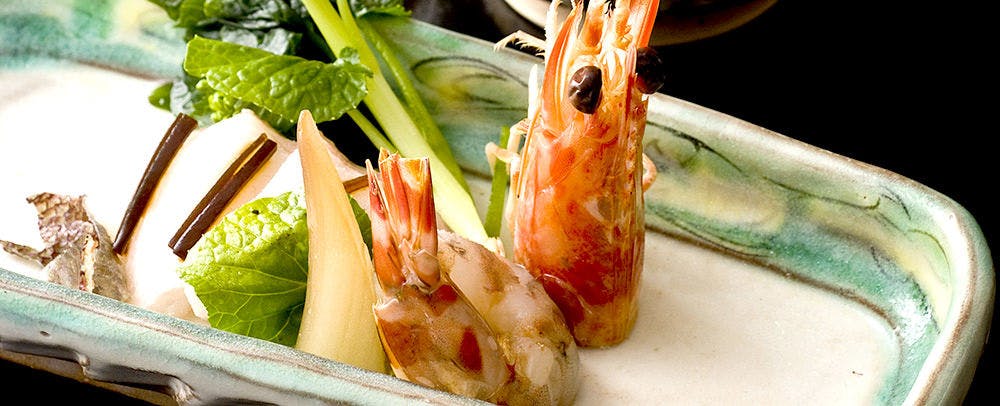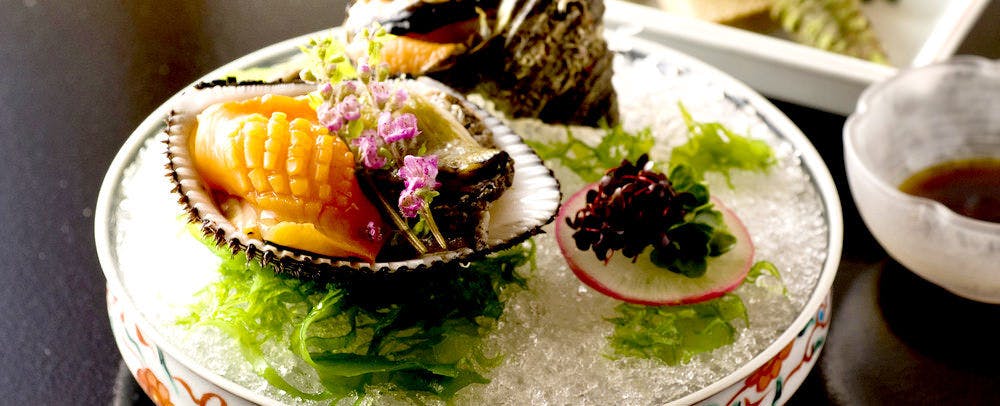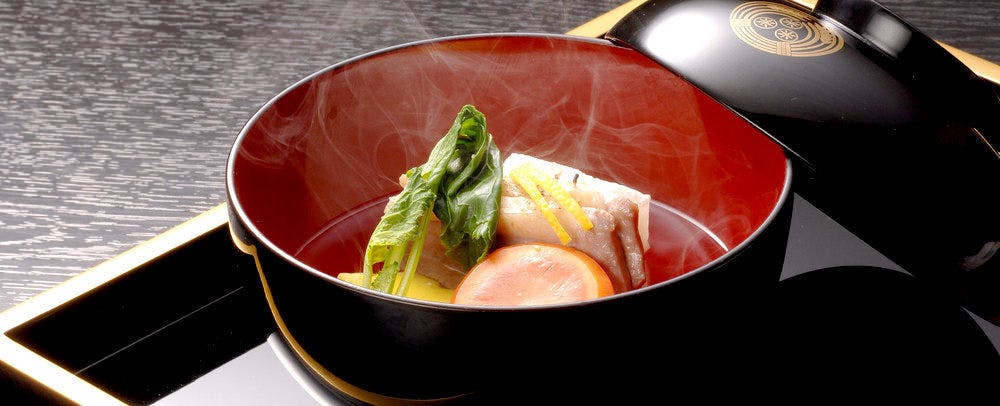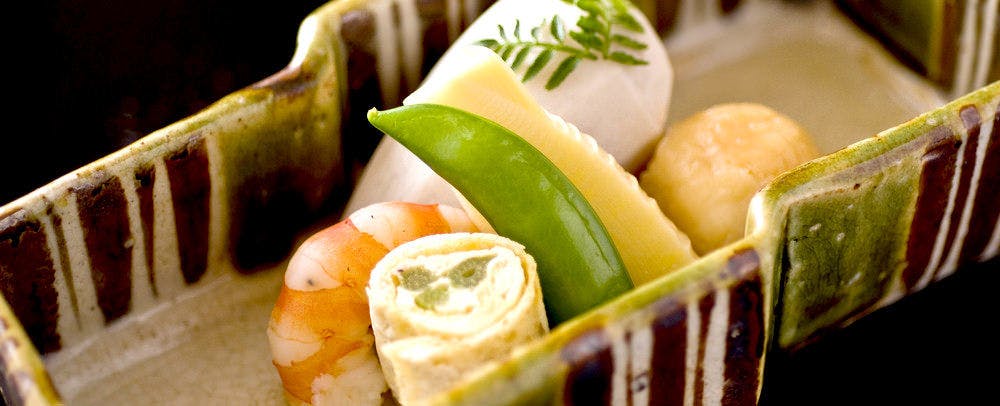 With a focus on ingredients' season and production location, top quality kaiseki course-style cuisine is to be savored with all five senses. "Five Colors, Five Flavors, Five Techniques" are the foundation of Japanese cuisine. The "Five Colors," Red, Green, Yellow, Black, and White are enjoyed with the eyes. In order that the "Five Flavors" of Sweetness, Bitterness, and so on can be experienced, Simmering, Roasting, and the other methods of the "Five Techniques" are applied. In accordance with an ingredient's "season" and differing flavors, we apply the most suitable processes and serve our guests.
Baths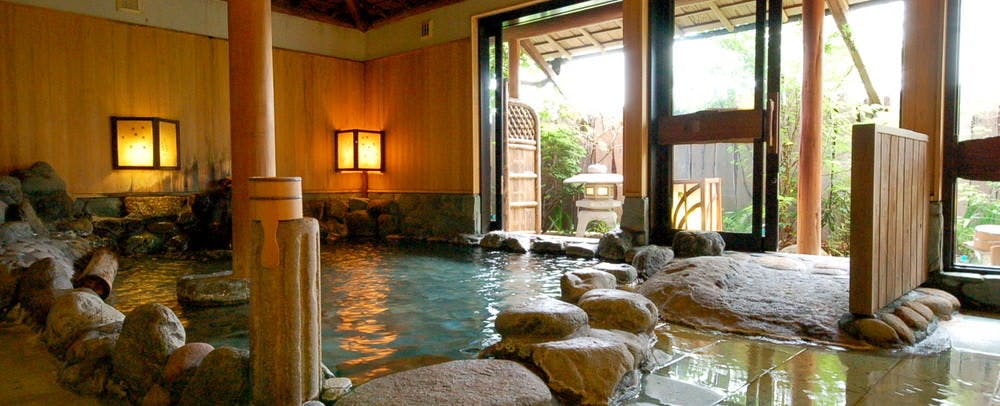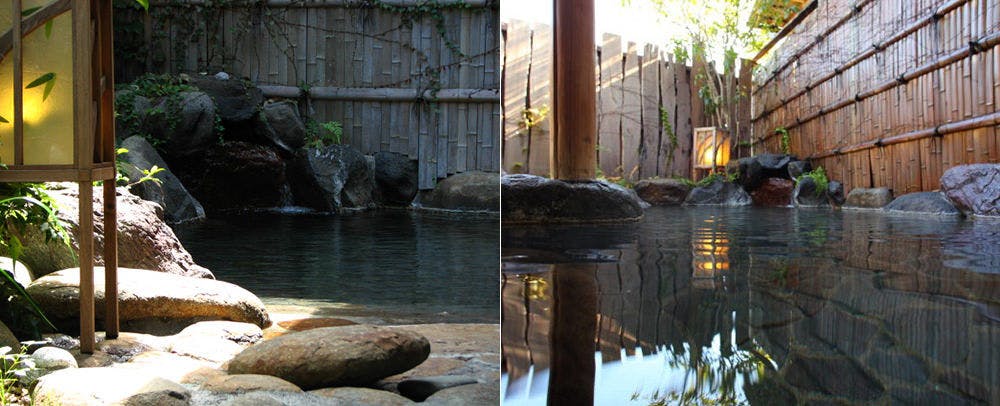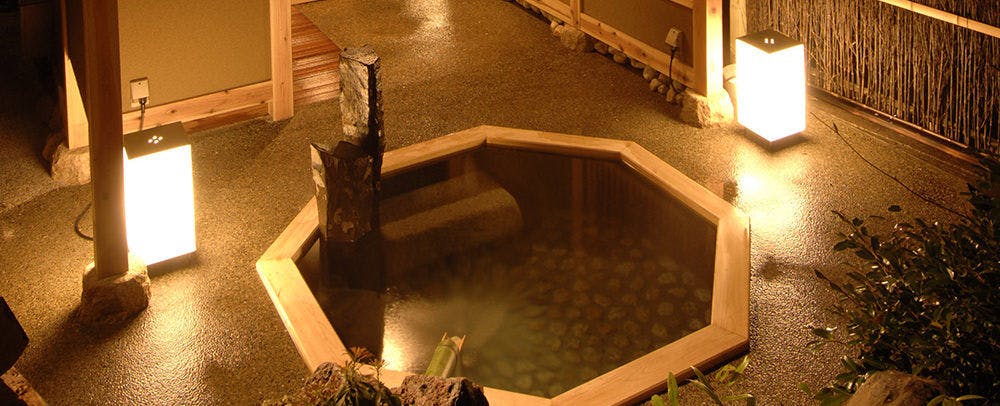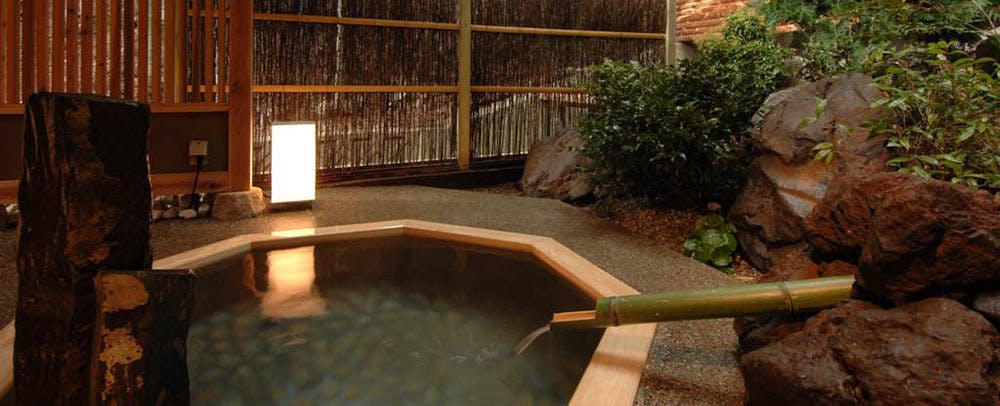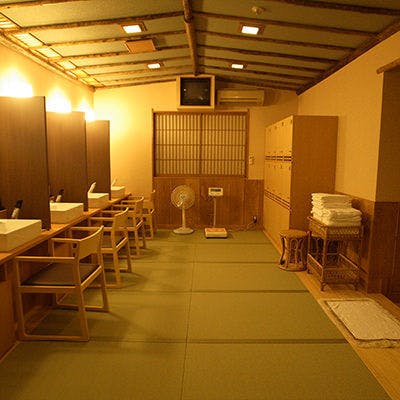 The Luxury of the Free-Flowing Hot Spring~ Delight in the sights of all four seasons at the exceedingly picturesque hot spring. One can enjoy a variety of bathing facilities at Komeya, any one of which features an elaborately designed construction. The large common bathing area is utilized by all guests, and the maximum number of parties is 17. Hardly every crowded, one can enjoy the free-flowing hot spring to their heart's content. A large number of pleased guests have even said, "It's almost like we'd rented the place out for ourselves."

Open-air Rotemburo Bath: Relax and forget about time while experiencing the atmosphere and seasonal coloring.
Privately Reservable Open-air Rotemburo Bath: While turning an ear to the murmuring of the brook, enjoy the hot spring water in a private space surrounded by a bamboo grove.

Operation Hours
6:00 AM - 1:00 AM
Facilities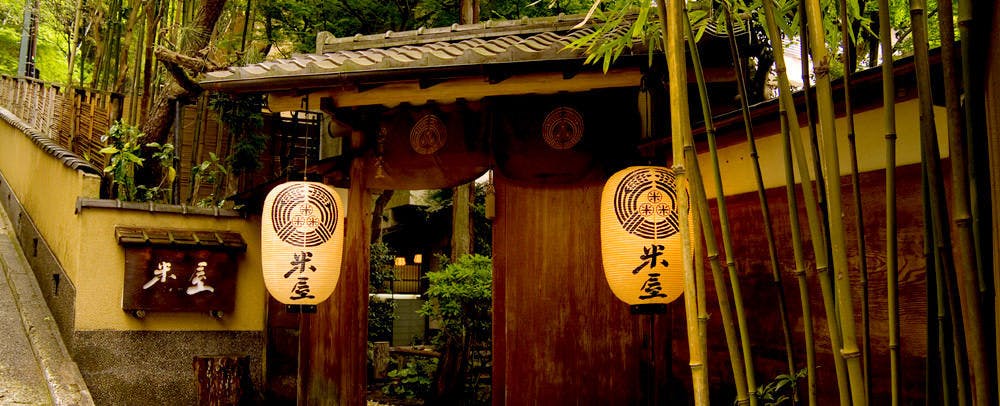 Massage - Manual Therapy , Shiatsu Massage Therapy Manual Therapy (Massage) is a treatment therapy performed bare hands without relying on any kind of tool.
It's said that the etymology of "massage" relates to Greek "μάσσω (handle)", the Latin for "hand" Arabic "مسا (push)", the Hebrew for "touch." Touching with bare hands stimulates the improvement of lymph and venous blood circulation, and soothes the body.
In Japan "Stroking-Pressing-Rubbing-Hitting" the body and the conducting of other manual therapy techniques requires a National Certification. At Komeya you can feel at ease with the medical treatment performed by our nationally certified, superior staff.

Massage staff will come to a guest's room. For inquiries please contact reception (Ext. 9).

Manual Therapy ~ Shiatsu Massage Therapy ~ Services Information
-Full-body Massage: 90 minutes: ¥11,000; 80 minutes: ¥9,000; 60 minutes: ¥7,000
-Foot massage: 2 people, 40 minutes: ¥4,500 (1 person, 20 minutes); 2 people, 60 minutes: ¥7,000 (1 person, 30 minutes)
Access
280, Kamada, Ito city,Shizuoka,414-0054,JAPAN
Guests Traveling by Train
From Minami-Itō Station on JR Itō Line/Izu Kyukō, 5 minute walk.

※Free Courtesy Car Service: Running Periodically is available from JR Itō Station. → A staff member carrying a "Tōshin'an Komeya/Wellness Forest Itō" flag will be at the front gate of Itō Station (roughly 5 minutes prior to departure), so please speak with them.

Running Periodically at: 15:00・16:00・17:00
Reviews
This is the third time I've come here. I always come home totally satisfied. I think that both food and bath are just wonderful. I would like to come back again.
+ More
2017/02/20
I found this inn when I was searching for a day trip hot spring. Minami Itō Station was closer that I imagined from Tokyo Station, and who knew such a nice place to stay was just a few minutes walk from the station... The inn's whole atmosphere was great, the hot spring water quality was good, more than anything the open-air bath in the room was amazing, and as the cognomen gourmet ryokan inn suggests, the food was terrific. Up until now, I've traveled to several day trip hot springs and to be honest, amongst the more than a few places with only nice signbords, this was a wonderful inn that made me want to leave a review for the first time in a long time. Looking back, I think the reason why I was so deeply impressed is the warm reception and hospitality I felt I received from everyone from the proprietress on down.
+ More
2016/12/20
We stayed for a hot spring trip as an elderly mother and two daughter group. Despite the fact that we'd be in contact beforehand, we got a little bit lost while traveling there by car. When we called, they directed us in an easy to understand way, and we were able to arrive safely. The entryway, the room, and the interior of the building possess are refined structure, flowers are arranged in a casual way, and we were able to feel at home in a space somewhat apart from everyday life. However, as my mother has a bit of trouble with her leg, I thought it would have been nice if there were a comfortable chair in the room. Meals were also delicious, and a large number dishes came out over the course of about 2 hours. I felt full and satisfied, but I definitely ended up eating just about everything. (lol) I was restored by the continuously gushinghot spring water in the room, the common bathplace, and the reserved open-air rotemburo bath. The free milk available when just out of the bath was delicious! (lol) I was also glad that all the members of staff, everyone, was considerate and friendly.
+ More
2016/12/20
Perfect score. I've found my most favorite ryokan inn. I've stayed at a number of places like this that have guest rooms equipped with open-air baths, but this is best one of all. Some places can rely too much on just their good facilities, but the hospitality here was also excellent and the nakai hostess's smile, attitude, and consideration were wonderful. Despite the few mistakes and trouble caused on my part, each time I received a pleasant response and warm words. Also, I found all of the food very scrumptious. As I was bid by the proprietress, I would definitely like to come back again. Thank you in advance for that time in the future!
+ More
2016/11/20
I begrudgingly gave up on my midnight snack since the dinner was delicious and plentiful. There was almost no mobile phone service, and whether that's a good thing or a not for you will probably affect the rating.
+ More
2016/09/20
Information
Check-in Time

From 3:00pm to 6:00pm

Check-out Time

Until 11:00am

Tax / Service Charge

Bathing Tax JPY 150 per adult is NOT included in the rates.

Credit cards accepted at this property

VISA / MASTER / JCB / AMEX / DINERS
Children

Children between the age of zero to two are free of charge if they share a bed with you.
Children above the age of three will be charged 2,000 yen (tax not included) as in-house usage fee even if meal / futon is unnecessary.

Pets

Pets are NOT allowed.

Parking

Free of charge for guests;Capacity 9 vehicles

Other policies & conditions

Nothing in Paricular