Japanese-Style Room with Mountain & River View

Breakfast included

Japanese futon bedding

See Details
From $463.86
for 2 guests /night
Japanese-Style Room with Open-Air Bath

Half board included

Japanese futon bedding

Room with open-air bath

See Details
From $1,094.72
for 2 guests /night
- VAT is included, but bathing tax (around JPY 150 per adult) may NOT be included.
- Price in USD is based on the exchange rate as of today and might be different from that of the booking date.
Foods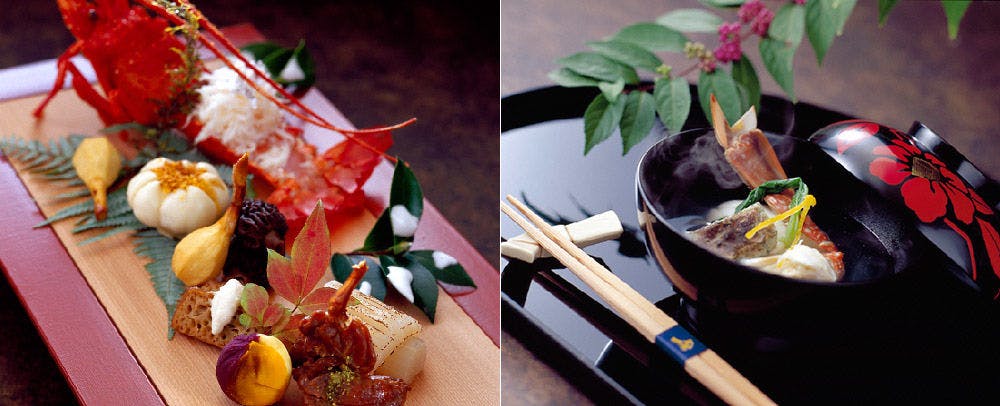 Foods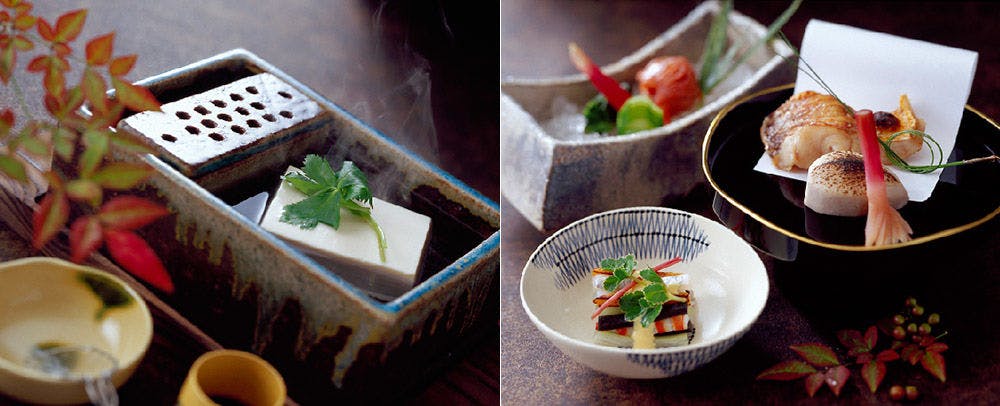 Foods
Traditional multi-course meals featuring local Kyoto dishes Traditional multi-course meals featuring local Kyoto dishes are served for dinner. A Japanese set-menu is served for breakfast and all meals are offered at the guests' rooms.
Baths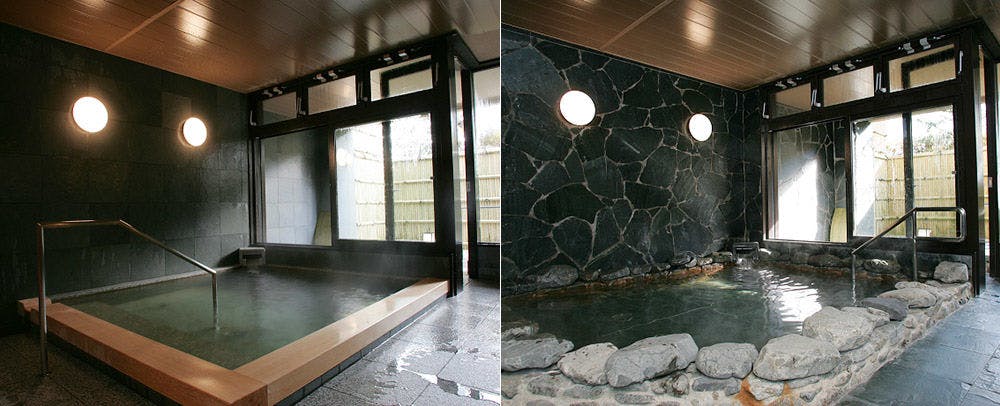 Bath
Blissful moment in steaming baths Relax in the public indoor/outdoor baths.
Facilities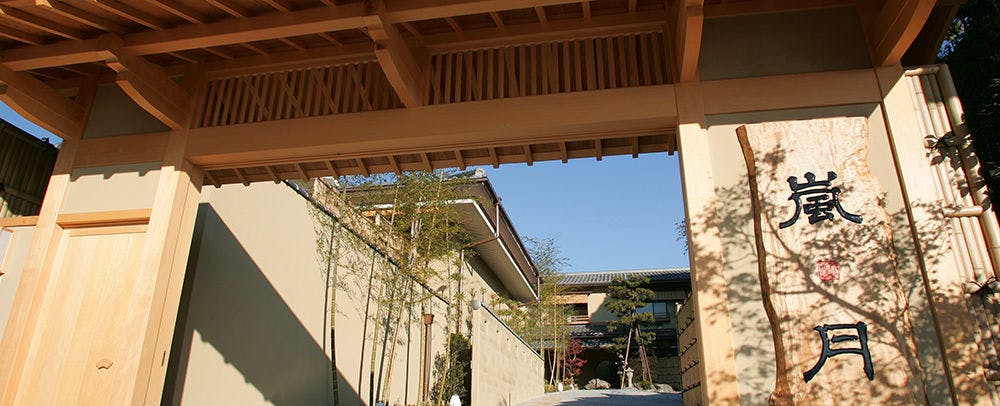 Entrance
Rec, spa, premium amenities Enjoy recreation amenities such as hot springs or take in the view from a garden.
Access
7 Susukinobaba-cho, Sagatenryuji, Ukyo-ku,Kyoto,616-8385,JAPAN
BY TRAIN
From Kyoto Station: Take JR Sagano Line to Saga-Arashiyama Station & 15min walk
From Shijo-Omiya Station: Take Keifuku Dentetsu to Arashiyama Station & 5 min walk
From Osaka Station: Take Hankyu Arashiyama Line to Arashiyama Station & 10min walk

Great location for a trip to city center of Kyoto, 30 min by taxi.
Reviews
It was an inn on the first day of the Kyoto trip where I took my mother who will be soon 78 years old. I am very pleased. It was a beautiful building with a new feel yet there. I also ate the food with delight. The indoor hinoki cypress bath also felt good. Support from the waitress was wonderful, thank you for giving me various advice.
+ More
Sep 2015
I am very satisfied. The building still looked new and was beautiful. The food was delicious. The attitude of the parlormaid was wonderful, and I would like to thank her for giving me a lot of advice.
+ More
Sep 2015
I received as a memento of my birthday. All of meals, bathes and hospitality were comfortable and refreshing. When returning, I appreciated they were seeing off throughout. I would like to let me use again.
+ More
Aug 2015
I stayed there for two nights with my daughter who is a high school student. Some time after our car arrived there, the staff from the inn came to the parking to welcome us, and they served us until we left the inn in the manner maintaining reasonable distance. The room was clean, and we could spend time comfortably. Especially, the bath, lavatory, and toilet in the room were clean and easy to use, so, we could use them comfortably. The view from the room was also great. About the meals, we didn't get tired of them and were satisfied with the content during our two-day stay. Thouth there were troubles - an air-conditioning didn't work well due to gas leaking or TV was dead- the staff dealt with problems immediately and we were saved. However, it was around after 11 o' clock at night when we couldn't use TV, and nobody answered our calls though we called the front desk many times, and we felt very nervous when we went to the front desk. In addition, my daughter said her body came to hurt as the futon was thin though it didn't bother me at all.
+ More
Aug 2015
three people stayed including my elderly mother and daughter. I told them in advance that we want a bath chair in the private bath in our room, so they prepared a chair as same level as the bathtub and it helped my mom move smoothly into the bathtub. We were happy that they cared about my mother's mattress and put double to get rid of the pressure of it, the other mattress was thin and I want to believe that because I compared them to my mother's mattress.... Although we have been demand like as get to cut into bite-sized pieces for my mother about meals on e-mail and moreover they changed ingredients on the day, so we comfortably enjoyed meals, but if they were allowed to wish so much, I wanted to eat a little more meat dishes because it was only one meat dish for two nights . We had a lot of menus and left the last dish Takenoko gohan mostly but they brought it as a rice ball for a night snack, so we had nothing to regret. It was good they prepared socks with Yukata for number of days we stayed. Speaking of concern, I guess after the previous customer have sprinkled drink, the stain remained on the sliding door of the room, except that, I think we received quite attentive service. The staff was used to the handling of a wheelchair, and helped us to the car, but in the corridor, maybe for aesthetic reasons, there was no handrail, so we had to pull my mother's hands to move. In the washroom there was a handrail, so I think she managed to move by herself without any problem. As the number of elderly users is expected to increase, if possible I would like you to consider installing a handrail in all the places. Thankfully they accepted all my requests regarding my mother, such as the food, the chair inside the bathtub, the use of the wheelchair, and that made this trip really enjoyable and a fine moment to be remembered. Thank you very much.
+ More
May 2015
Unfortunately, the weather was not good but the hotel was nice and I enjoyed the one night trip in Arashiyama. I enjoyed the meal in a relaxing atmosphere in my room. Thank you very much for picking me up and sending me off to the parking when it was raining. I would like to stay again when I go to Arashiyama. It was a wonderful hotel where you can feel an atmosphere of Kyoto.
+ More
Mar 2015
At first, when we entered the gate, they came out to welcome us, and by saying only our name, they showed us our room. I just had a request that I would like to spend some relaxing time with my only daughter, who goes away because of work, but we could have breakfast and dinner in the special room with great view, and for the celebration we received even some tai-meshi in an earthenware pot. For my short daughter, they immediately brought a yukata of her size, and because of the furnishing of the room and drawing of a sea bream on the hanging scroll, I could feel that they are paying attention even to small details. Above all, I was impressed by faces brimming with wonderful smiles. When they learned that I was heading out from the outset of the conversation, they brought the shoes out at the entrance, and even prepared a chair every time as they could sense that I have a bad leg from my walking shoes, and that applies to all staffs at the inn. The food were really delicious, the presentation and platters of every dishes brought out the original taste, and the cypress smell in the room was really good. They saw us off till the end of the long road, and as there are many friends who frequently visit from abroad, so I would highly recommend this inn to others. I have worked in the service industry for many years, so I ended up observing when I was a guest, and I am deeply impressed by the cooperative and capable staffs. Thank you for the wonderful experience.
+ More
Feb 2015
The meal was the best. In particular I was so satisfied with Osechi (New Year's dishes) . However, the futon was too thin I got a backache. It's a pity.
+ More
Jan 2015
I found the food very delicious. It was a great holiday. I would like to visit again.
Jan 2015
It was such a great inn. I was comforted by their kind customer service. They prepared a chair for putting on and taking off of shoes, so it was helpful for me who was wearing boots. The appearance of the meal was beautiful, and it was delicious. However, I had a trouble figuring out the switching handle for the faucet of the indoor bath and the shower since I am a person who need reading glasses.
+ More
Dec 2014
The service provided by the young staff were comfortable and considerate. The tatami covered corridor was cleaned well and I didn't feel uncomfortable going to the bathroom barefoot. I only regretted that it was difficult to do my hair after blow-drying it since there weren't hair combs at the undressing room, and there weren't a water server and a weight scale.
+ More
Nov 2014
It Is located about 3 minutes from Togetsukyo bridge and the location is excellent. You can park your car and enjoy Arashiyama. I would give perfect points to the way inn staff talk and provide service. The inn's floor is completely tatami and it gives you feelings of luxury and calmness. The room was cleaned well. The meal is the same as one at a luxury restaurant. Food was tasteful and the quantity was very satisfying. This is an inn you can highly relax and where the service is very impressive. I want to stay here again.
+ More
Nov 2014
Information
Check-in Time

From 3:00pm to 7:00pm

Check-out Time

Until 11:00am

Tax / Service Charge

Credit cards accepted at this property

VISA / MASTER / JCB / AMEX / DINERS
Children

All children are welcome.

Pets

Pets are NOT allowed.

Parking

Reservation not accepted. Available on a first come/first served basis.

Other policies & conditions

Due to the final start time for dinner, the guest's arrival by 7pm would be sincerely appreciated.