Kakujoro
"Ryokan to have the best ""Torafugu"" (tiger globefish) in Japan and local seafoods True Japanese style ryokan since 1925 at tip of Atsumi Peninsula, Aichi, keeping the atmosphere of the old age. It is composed of the main wing ""Kakujoro"", and the annex ""Unjoro"" and ""Suijoro"", newly opened in June 2005, with open-air bath in every room. For you to enjoy slow time flow, Kakujoro was renovated with a new kind of comfort and the style of the Showa period. Kakujoro hopes to be a place where you can refresh yourself in dialogue with something old and encounter with something new."
We are sorry but we don't have any rooms available now.

Please select another Ryokan.
- VAT is included, but bathing tax (around JPY 150 per adult) may NOT be included.
- Price in USD is based on the exchange rate as of today and might be different from that of the booking date.
Foods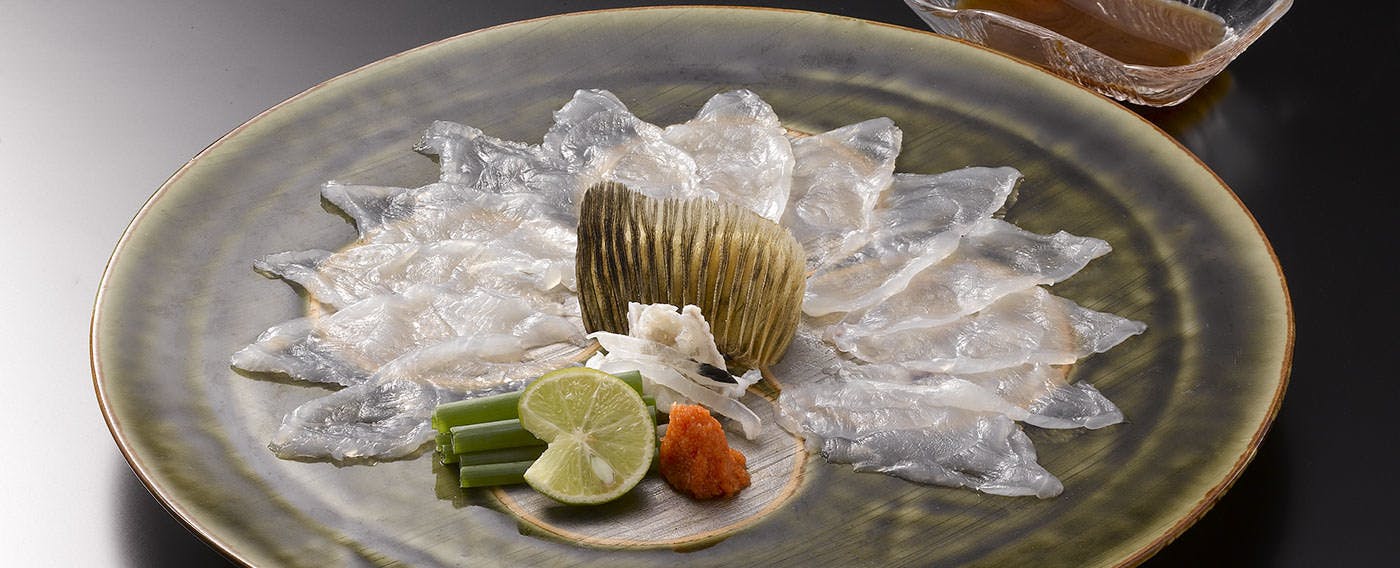 Foods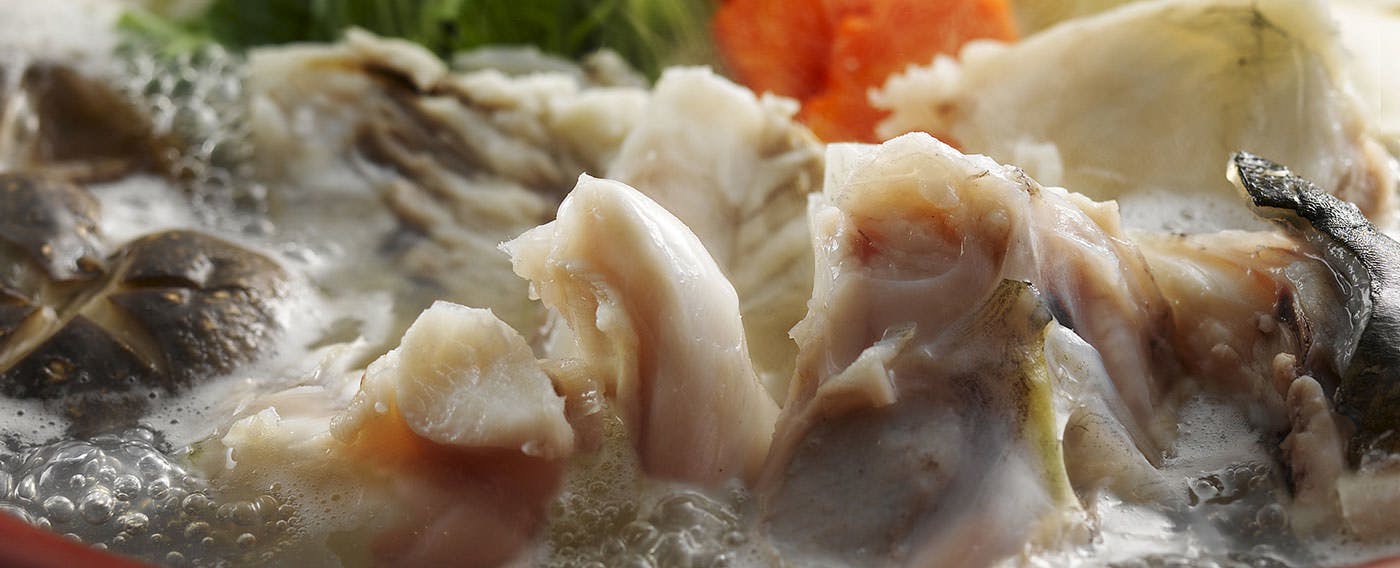 Foods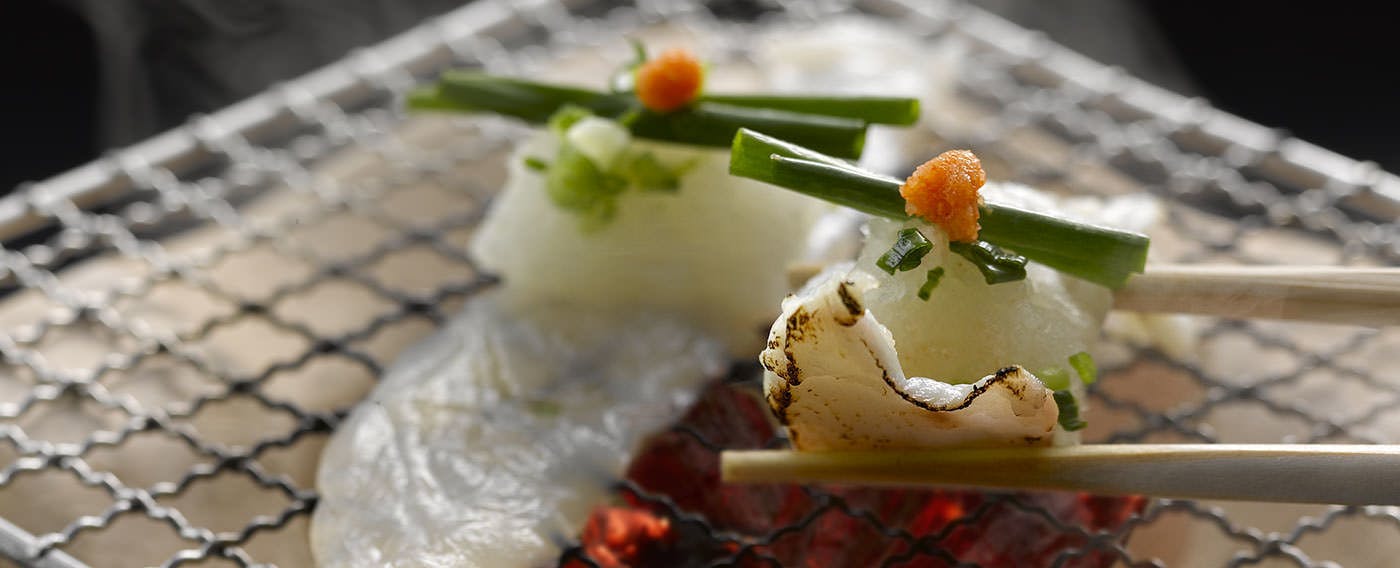 Foods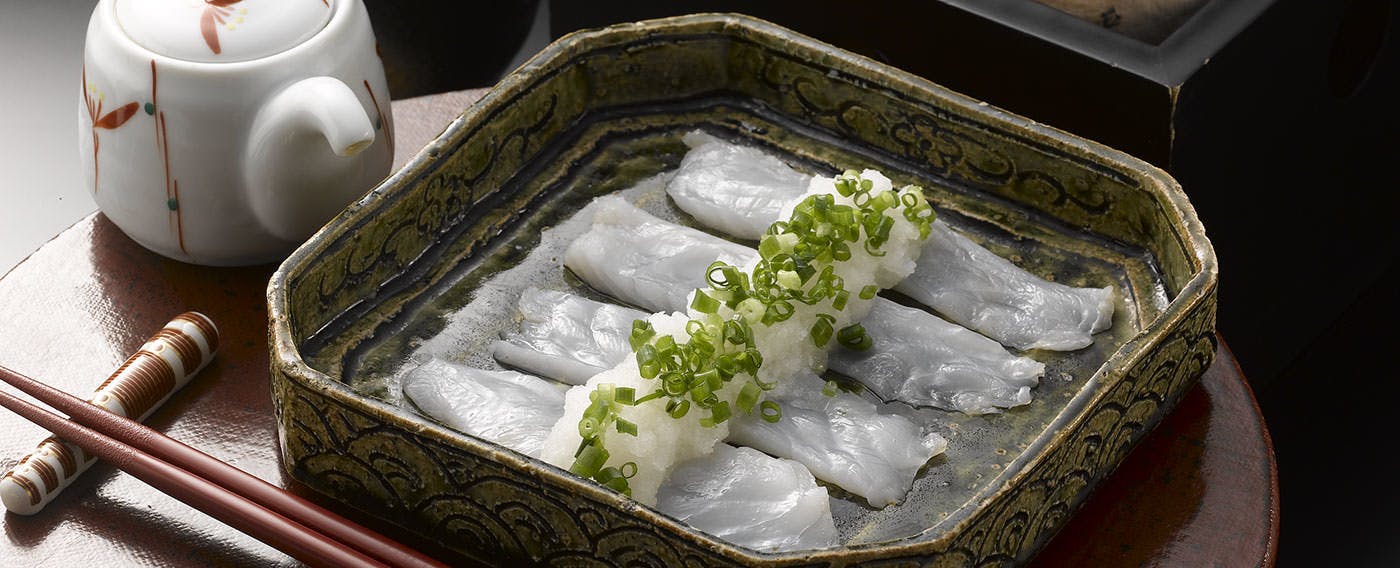 Foods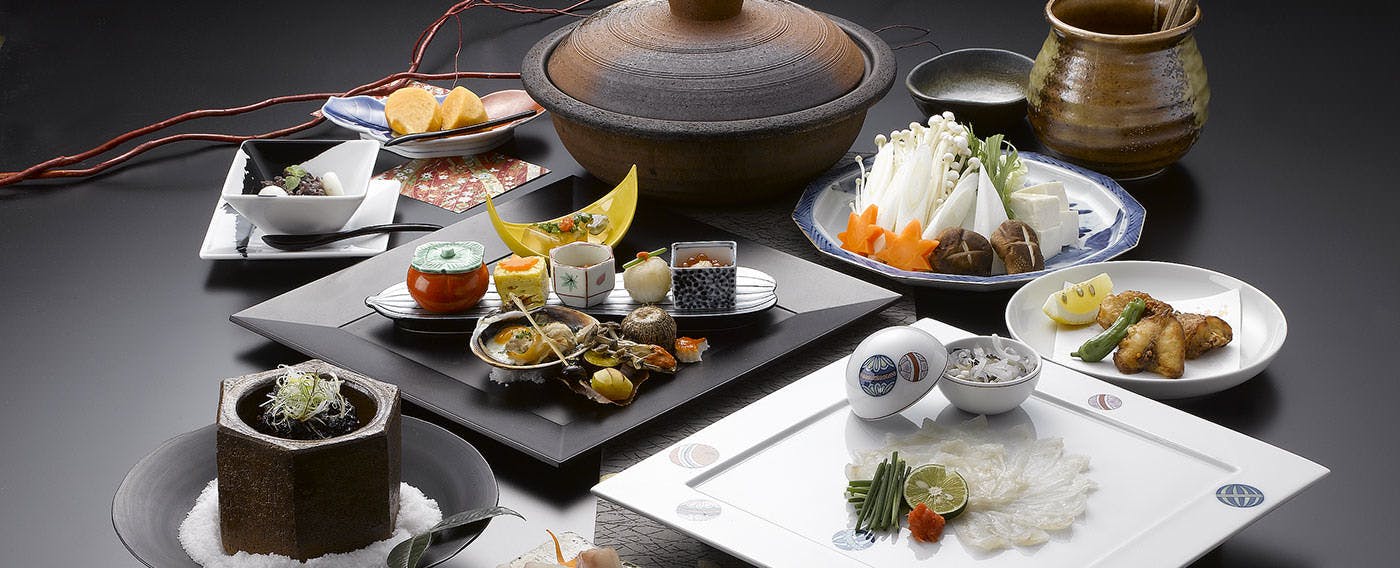 Foods
Foods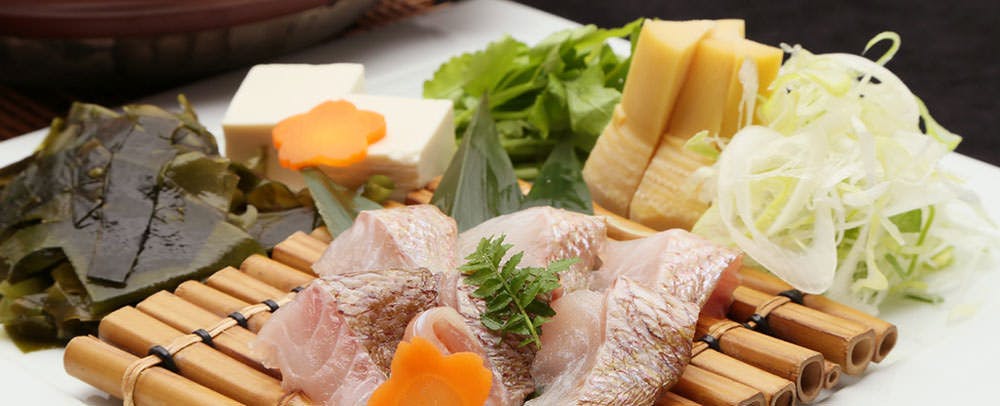 Foods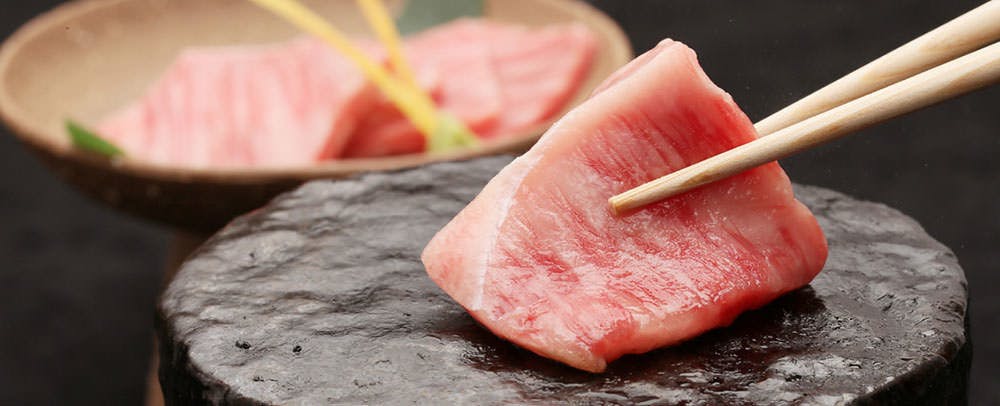 Foods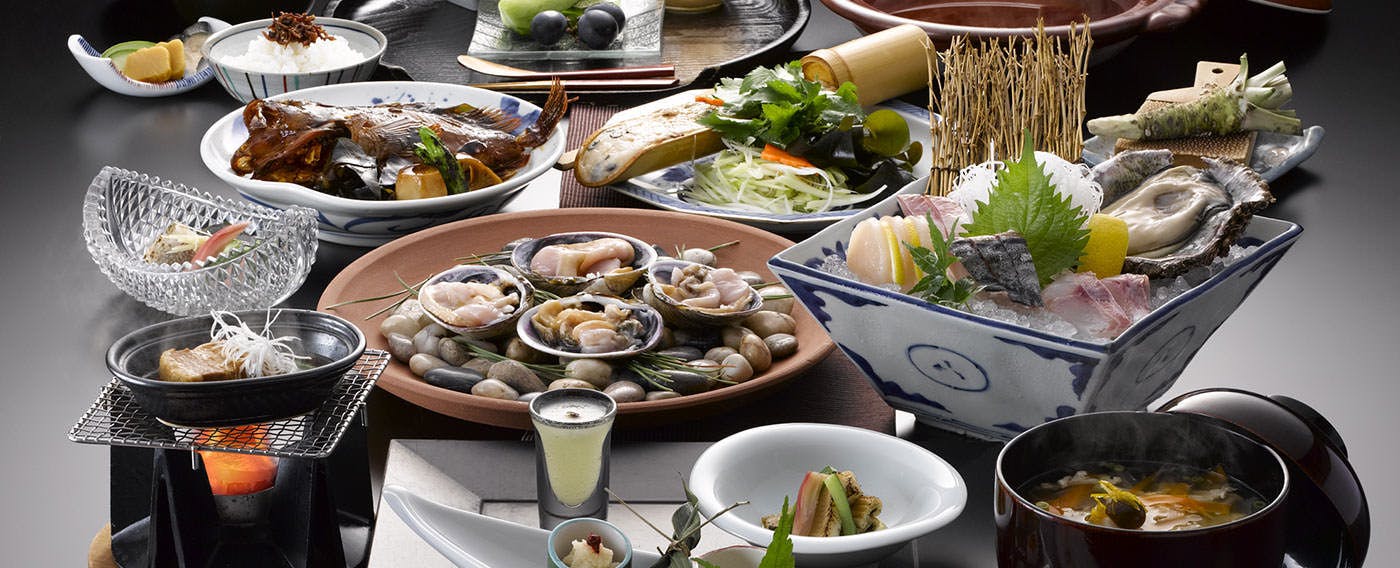 Foods
Enjoy the real taste of Japan Kakujoro has several delicious and unique course menus for its guests. All ingredients are carefully chosen and prepared by highly skilled chef. For fish, chef and staff visit the market each day and only choose the very best. Chef specializes in preparing the uniquely Japanese "Torafugu" (tiger globefish). For lovers of beef, they serve only use the finest local Atsumi beef that is tender and delicious.

There is also a range of superb healthy dishes to tempt your palate offered. A private dining room is available for guests and if you are uncomfortable sitting on the floor, feel free to ask for comfortable chairs.
Baths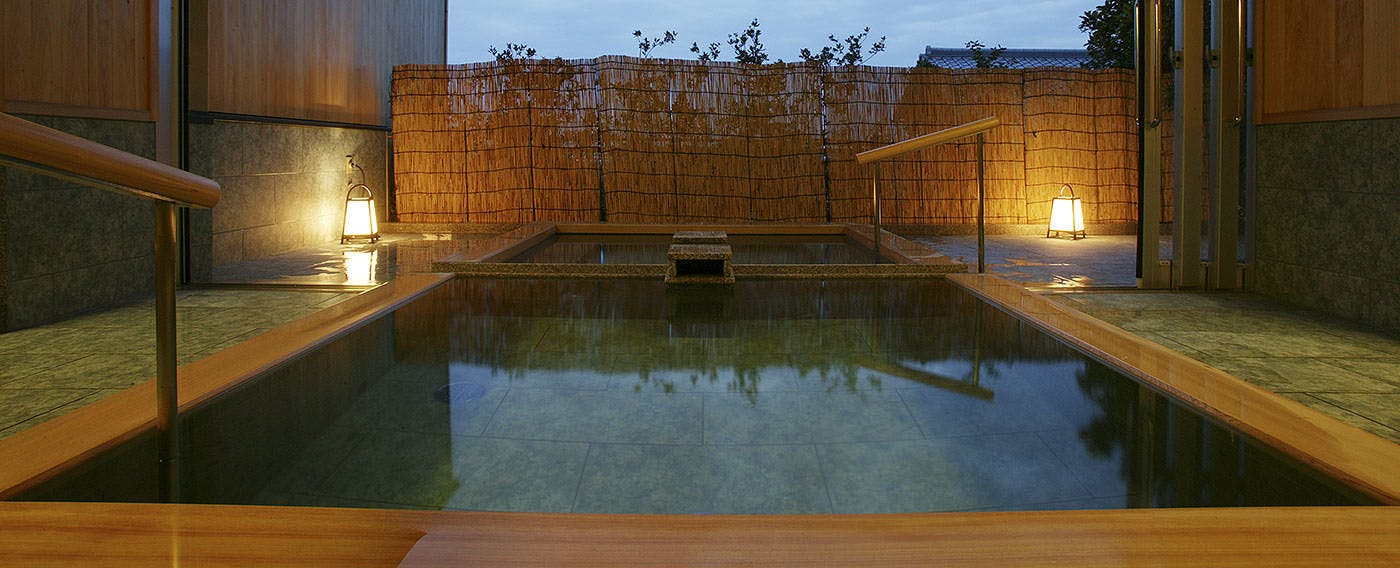 Hot Spring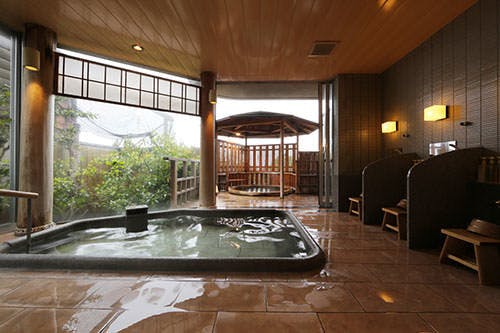 Large Public Bath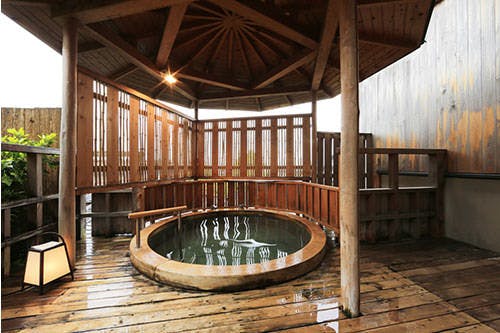 Open-Air Bath
Enjoy the tranquility of your own private bath Bath facilities at Kakujoro are highly praised by its patrons featuring 2 large size hot springs with separate facilities for male and female guests. They are situated on the highest ground on its property affording a gorgeous view of the local surroundings.

Each room has a rotemburo, which with, no doubt, guests will find provides them with the utmost comfort and peaceful relaxation. 2 private bathtubs are available upon a request and foot bath is also available.
Facilities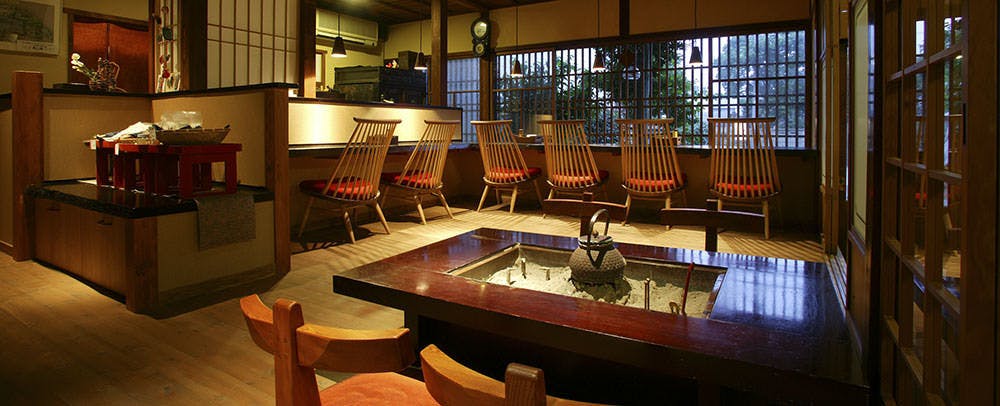 Bar 'Tuns Room'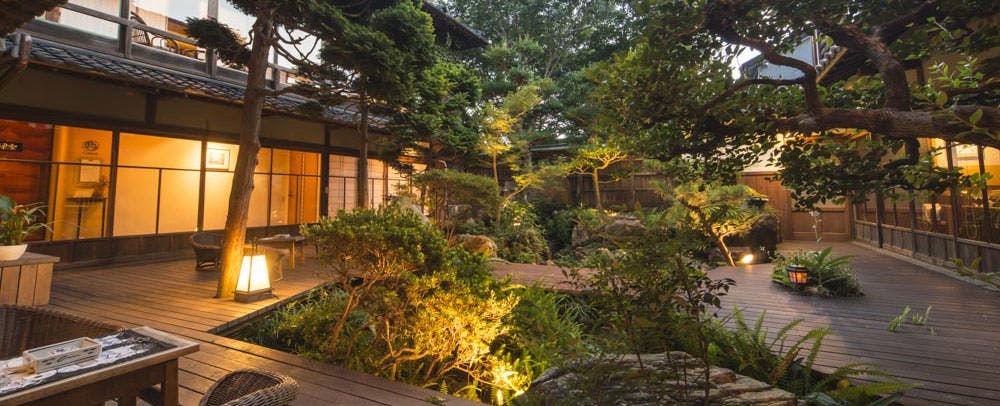 Garden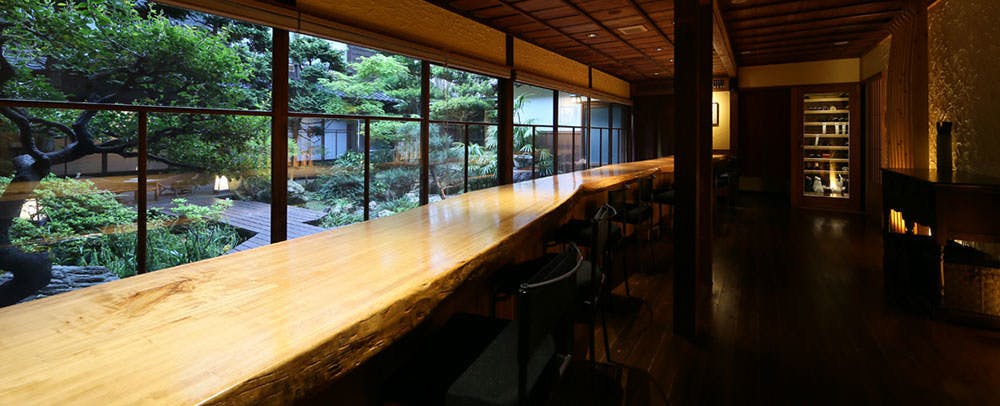 Bar 'Wacra'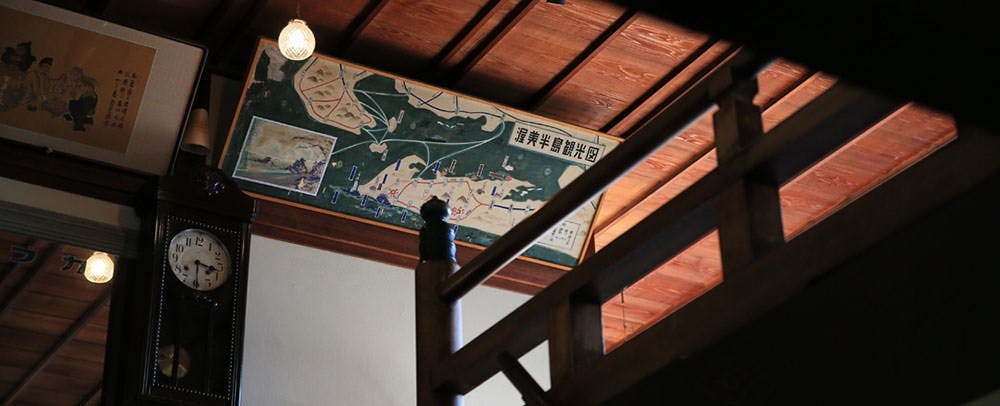 Interior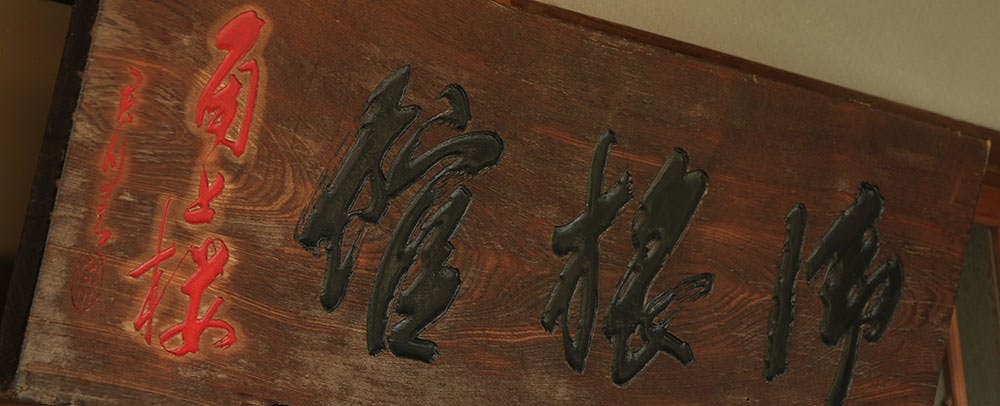 Entrance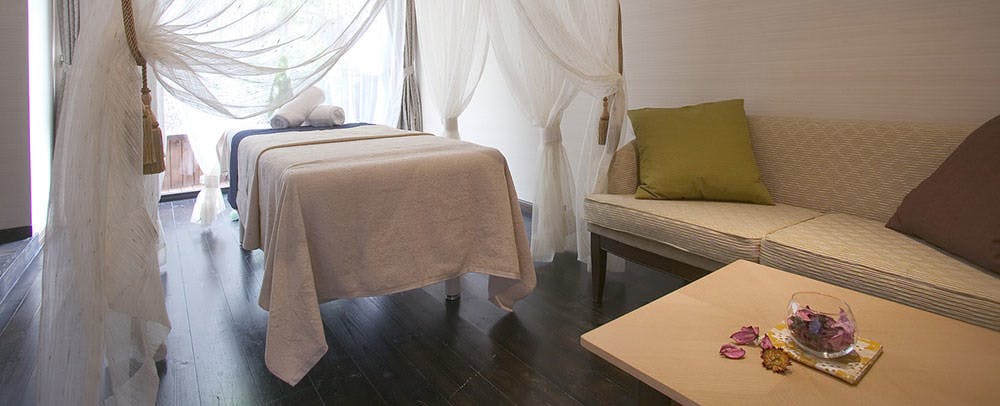 Beauty Salon
A mix of traditional and modern Japanese bar "Wakura"
A cozy and yet sophisticated bar located on the 1st floor perfectly convenient for a cup of coffee or quick drink. In addition, it has a happy hour from 4:00pm through 6:00pm each day where complimentary homemade beef jerky, beer, and soft drinks are served.
During the period of late May through to the middle of June, fireflies glow in the courtyard and entertain the visitors, creating a mystic world of traditional Japanese architecture enhanced by the glowing light of dancing fireflies.

Shiseido Esthetique Salon "Riraku"
To add to your enjoyment and relaxation there is the Shiseido Esthetique Salon "Riraku". It7s a collaboration with Japan's top cosmetic brand Shiseido. Kakujoro is the very first Japanese ryokan to offer this unique service. 2 exquisite services are available: skin and facial care "L'OSERAIE" and Japanese Chi Kung Massage "Qi". Experiencing these services would surely relieve stress and recharge the mind and body.
Access
38, Shimoji, Fukuecho, Tahara-shi,Aichi,441-3617,JAPAN
BY TRAIN
From Tokyo Station: 1hr 30min by Tokaido Shinkansen to Toyohashi Station, and 1hr by Toyohashi Railway Bus to Fukue Stop, and 2min walk
From Shin-Osaka Station: 2hr by Tokaido Shinkansen to Toyohashi Station, and 1hr by Toyohashi Railway Bus to Fukue Stop, and 2min walk

BY CAR
From Otowa-Gamagori IC Exit (Tomei Expressway): 50km via Route 1, 259, toward Irako Lake
From Toyokawa IC Exit (Tomei Expressway): 50km via Route 151, 1, 259, toward Irako Lake
Reviews
I had the privilege of using it for one night. It was a sudden reservation but because of a pleasant customer service it was very comfortable. As per Kakujoro's concept, it felt nostalgic, like I went back to the countryside and I was able to relax. But it seems the preferences are split according to people... I ate the meals that made use of local ingredients such as iwagaki oysters, conger eel and large clams with delight. The bath had a standard cooled down water temperature and getting in it in the summer I was able to take a comfortable leisurely bath. Unfortunately my partner couldn't meet the cat, but it would be nice if they can meet it next time.
+ More
Aug 2015
The staff members were always saying greetings on all occasions, so I spent a very pleasant time. The sashimi at lunch and the summer season specialty natural tiger puffer fish for dinner were delicious, so I would like to thank you for the wonderful time I spent here. I am very satisfied.
+ More
Jul 2015
Following last February, this will be my fifth time staying here at Kakujoro. Every time, I enjoy adding the extra two dishes to the standard meny. This time it was the oysters and the steamed blue crab. The size and rich taste made me think "now these are oysters". Steamed swimming crab's meat is stuffed sweet, the brown meat of a crab is superb. Also, the standard Japanese-style banquets are served with the season's best ingredients by the most delicious way of eating, so this is one of my pleasure every time. Mochi Spanish mackerels, the served thinly of sea basses and sliced raw lobsters. The favorite nabe of hamo. Steamed fugu in a cup. Whole lobster boiled. Grilled trough shell. In addition, a lot of dishes are served more than you can eat. This is an inn which serves the cordial meals made of rich ingredients of the Atsumi Peninsula and you can sense heartwarming service of the hostess, host and staffs.
+ More
Jun 2015
There was a narrow alley in a residential area which was said to be a red light district originally in some reviews. Even though it is also because of us for arriving late in the evening, we were troubled due to full parking as there were too little parking lots provided. Nobody was at the entrance and someone finally came after me yelling loudly, then I had my car parked. I think there is short of hands. I could barely meet the happu bour and was told I made it, but once going outside, there's a bar two doors down. I stayed at the main building, but there were steep stairs to the big bath and it seems impossible to go there if I'm unable to use my leg. I became worried and wondered how guests who are unable to use their leg and stay upstairs or those who stay at the new building will do. The buiilding was old, but it was renovated in its own way. The meals were better than I thought, and I enjoyed the served kelp grouper sashimi. In addition, just like everyone knows by word of mouth communication, the cat was kept indoors. That cat is well attached to people, but I wonder how those who don't like cats feel. I was disappointed by the bath as it's not a hot spring.
+ More
Apr 2015
Especially meals were delicious. It is just the right amount. The taste is also gentle.
Apr 2015
The Fugu dish did not contain fried Fugu but it was not bad for the price. I liked the atmosphere of the Showa retro but I cannot bring my parents because of the steep stairs. You should consider it when you choose a hotel. The service of the staff was good, particularly the landlady, however, I did not have enough explanation about the room and I did not know that there was a underfloor heating system until I checked out the room. I would like to stay again if they have plans with a special rate between 20,000 yen and 25,000 yen.
+ More
Mar 2015
I used the Ikyu limited-plan called, "stay in the new building with an open-air bath in the rooms, with a plan you can enjoy eating fugu, kue and lobster, same price of the main building" It was a special plan until March. I would like to mention a few things I noticed. I was looking forward the dinner, but the real course didn't include fugu, kue or lobster. At the plan's introduction there was photo of sashimi of fugu, but what was served was some local fish. I don't know why, but beef sukiyaki was on the menu too. During the meal I was wondering what's happening, but I thought it must be my misunderstanding, so I kept eating without saying anything. Then I went home and checked the reservation page, I realized the meal was really different from what it should have been. It was written that according to ingredients in stock, the menu may change. However, I can't accept it as an excuse, if it is a plan saying "enjoy eating fugu, kue and lobster", and none of these are among the ingredients. I think the name of the course should be changed. We ate both the dinner and the breakfast at the counter, sitting next to each other. It was all right for the breakfast, but to relax and enjoy the dinner, I think it is better to face each-other. Lastly, even though the old appearance of the ryokan is still preserved, I think the BMG inside the building, which is jazz during the day, and bird's chirping in the morning, spoils the mood of the place. I wonder whether there was BMG before. If there was no BGM, it would be better. Quiet and calm. I hope you find my review useful.
+ More
Mar 2015
I was able to relax. I drank too much in the free bar that started at 4 . Thank you very much.
Feb 2015
During breakfast, the cat that the master was said to keep was in the patio and it peed right in front of my eyes even though through the glass window while I was eating...afterwards it came into the dining area and came close to my feet which shocked me. Because I do not like cats... The hallways smelled of a cat too... Other than that, the employees were pleasant and the food was very delicious. The brandy cake they served me at the check-in was too good for people like me who loves brandy. And I was happy that they served alcohol during happy hour.
+ More
Sep 2014
I chose the separate building prioritizing space and bedrooms, but I was impressed at the appearance of the main building, comforted by the staff's smile, and astonished by the delicious meal as the reputation.
+ More
Aug 2014
The onsen was excellent. My mother and I were very satisfied with the thoroughly maintained, good old Japanese house. The food and quantity for the meal was good. The rice cooked in an earthenware pot is truly delicious. It's a relaxing and comfortable inn. Highly recommended for a trip with grandpa and grandma.
+ More
Aug 2014
I was able to spend a relaxing day for the first time in a long time. I am discussing with my wife that we should revisit in the blowfish season.
+ More
Aug 2014
Information
Check-in Time

From 3:00pm to 8:00pm

Check-out Time

Until 11:00am

Tax / Service Charge

Credit cards accepted at this property

VISA / MASTER / JCB / AMEX / DINERS / UNION PAY
Children

All children are welcome.
Children of junior high school or older are charged adult rate.

Pets

Pets are NOT allowed.

Parking

Free of charge for guests; Outside Parking; Capacity 20 vehicles; No valet Parking Service.

Other policies & conditions

Please contact the hotel in case guests arrive later than 6pm.; Natural produced cooking ingredients may cause allergic reaction. Please feel free to contact the hotel if you have any concerns.