- VAT is included, but bathing tax (around JPY 150 per adult) may NOT be included.
- Price in USD is based on the exchange rate as of today and might be different from that of the booking date.
Foods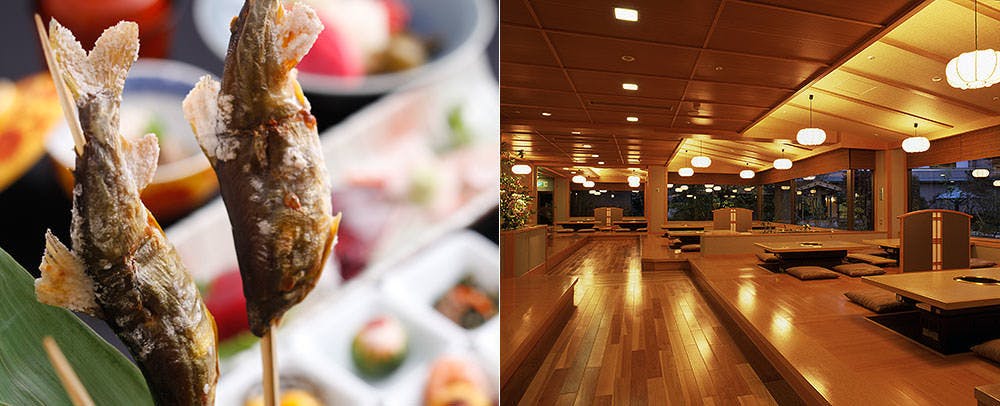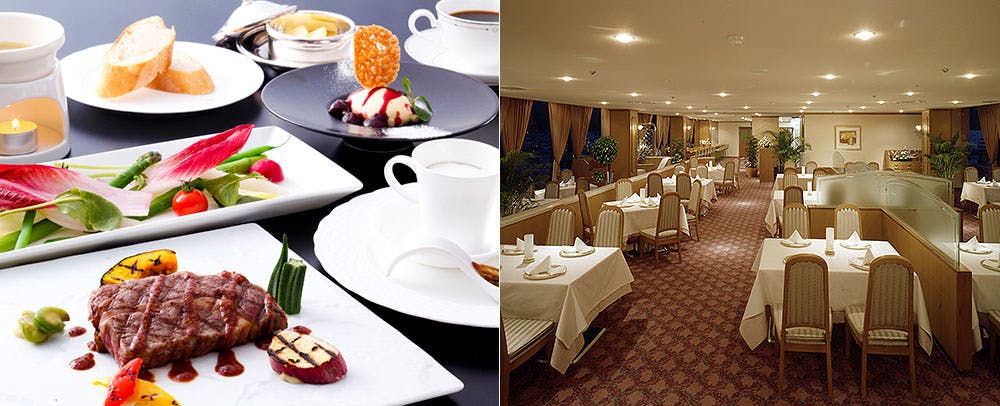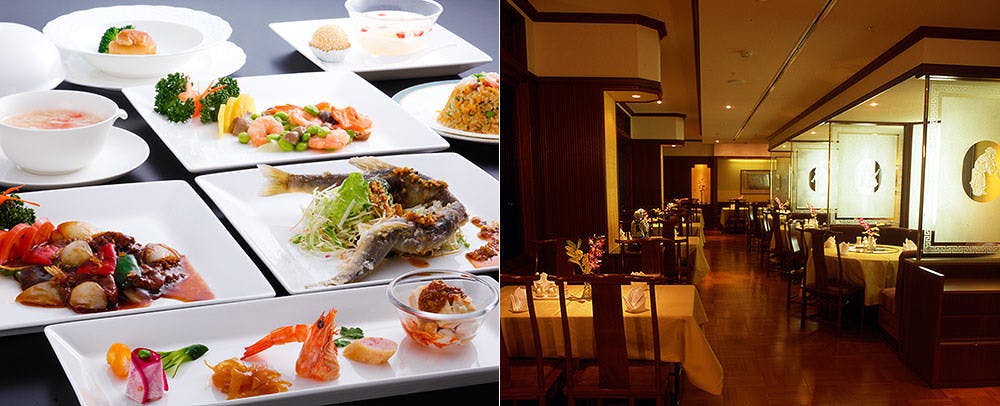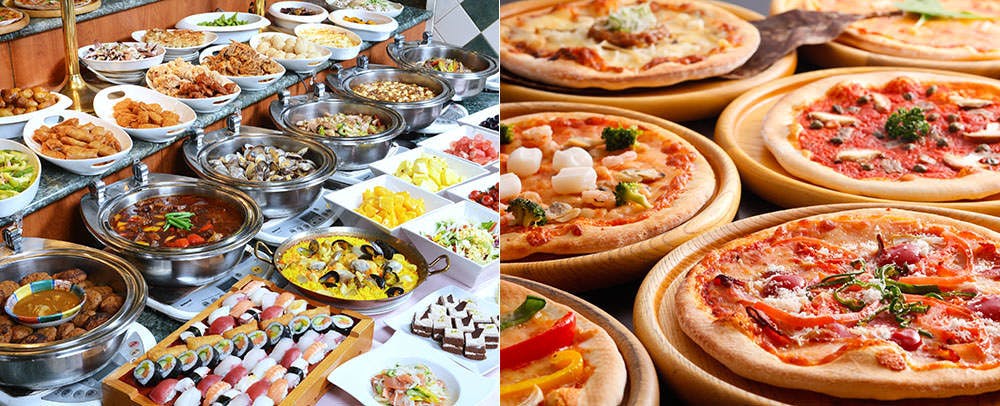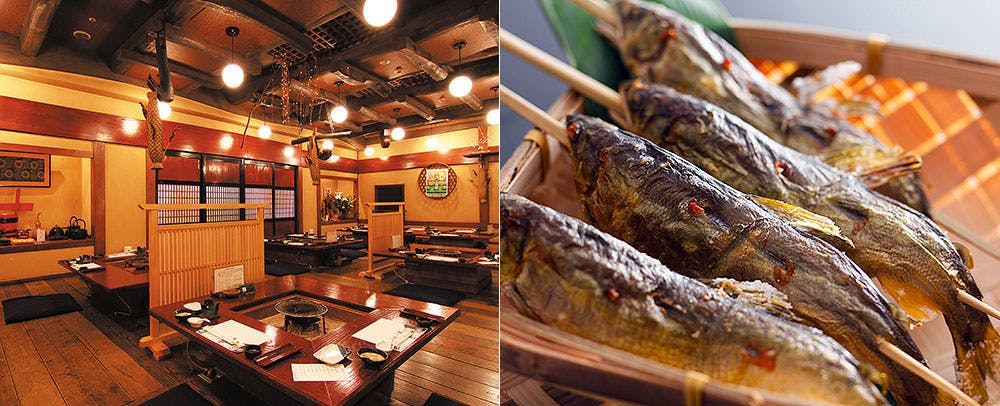 Presenting the taste of the land of Hida through the grace of polished technique. Gathering the flavours of akin to Takayama cuisine, traditional local dishes with Hida's seasonal ingredients and simple hotel-style Chinese and French prepared to suit the customers taste. Enjoy to the fullest at the restaurant and lounge while enjoying a new take on food preparation with the utmost relaxation.

Summit: Steak and Continental Food
Enjoy the original menu boasted by the chef well versed in continental food, featuring dishes prepared with the best ingredients of Hida and authentic French cuisine. The sommelier selects the best wine to compliment the night's meal.

Tenkyōrō: Chinese Cuisine
The Chinese chefs here hail from the land of original Cantonese cuisine. With the best taste and good volume, you can fully relish in the pleasure of gastronomy. Also be sure not to miss out on trying the highly recommended Shaoxing wine.

Smorgasbord at "Green Door"
Featuring around 50 dishes in the regular menu and another 50 in the order-buffet, enjoy the smorgasbord tailored to your taste made on the spot using your favorite seasonal ingredients, with over a hundred dishes to choose from. With the Hida-beef menu and pastry sweets also available alongside order-buffet that you can order to heart's content, enjoy happiness to the fullest.

Local Cuisine at "Shirakawagō"
Decorated with the interiors of an actual olden home, you can relish in the rustic beauty while enjoying your meal. Thoroughly enjoy the spirit of the trip as you enjoy the local cuisine with a sense of nostalgia surrounding the irori-hearth.

Cafe Bar Lounge, "Kinoka"
As you go towards the end of the lobby, you find the lounge overlooking the Japanese garden. Just perfect for a chat or a meetup, sublimely transforming into a tasteful night-lounge.
Live piano: Every night
Baths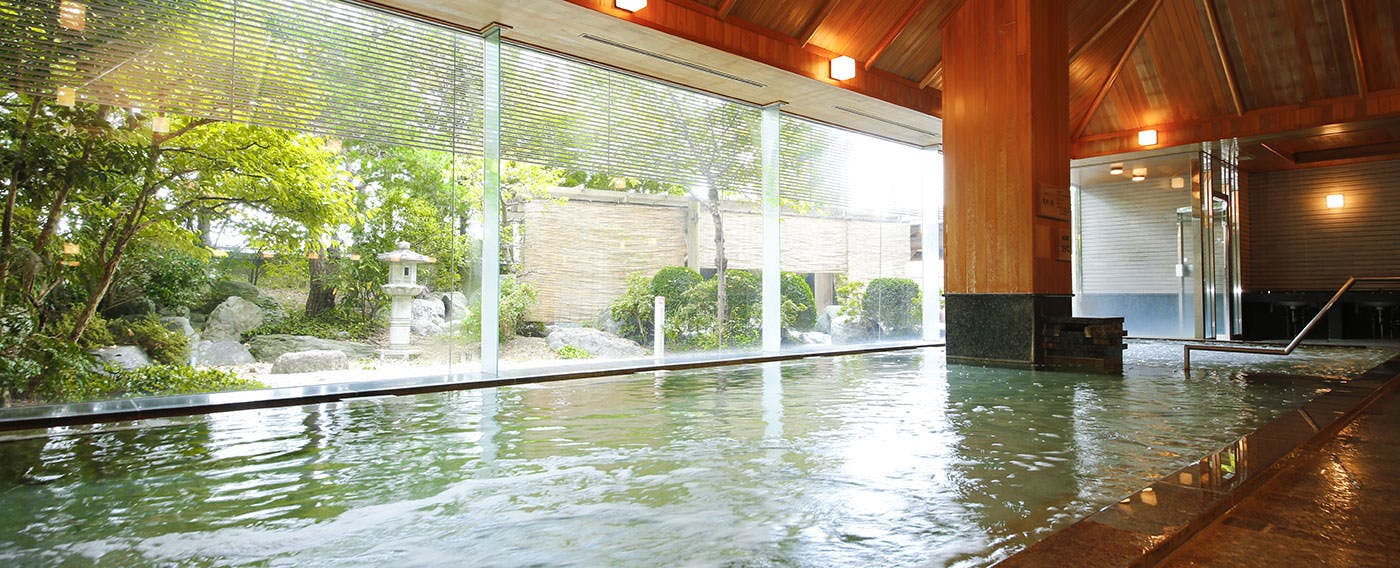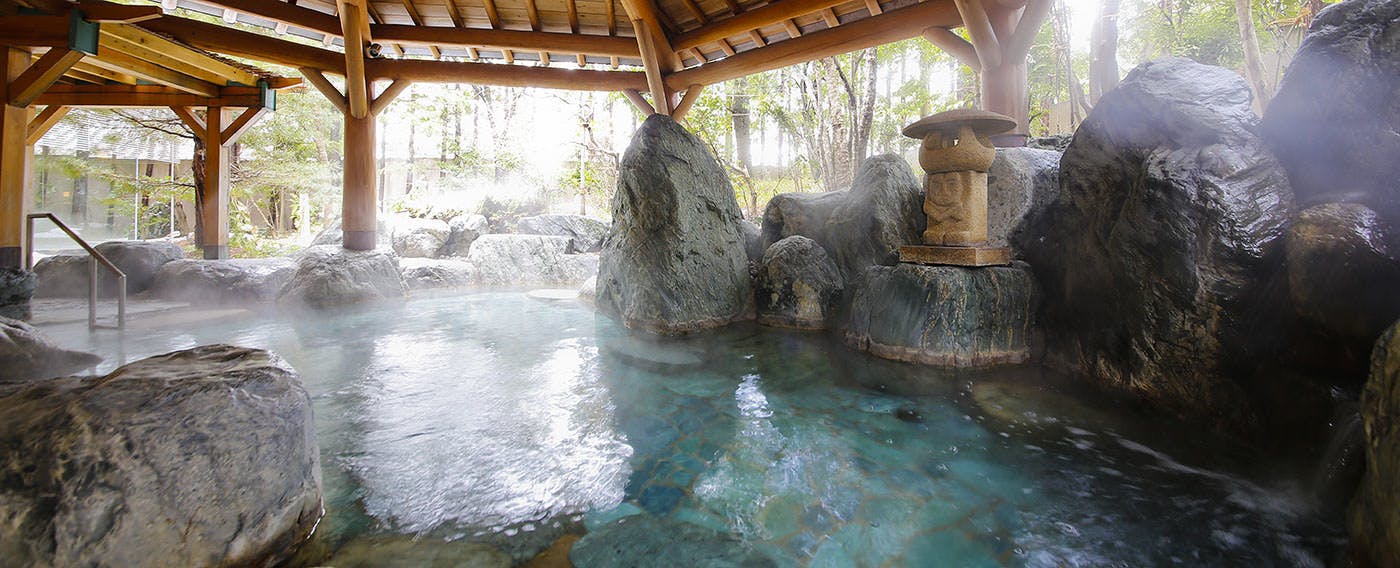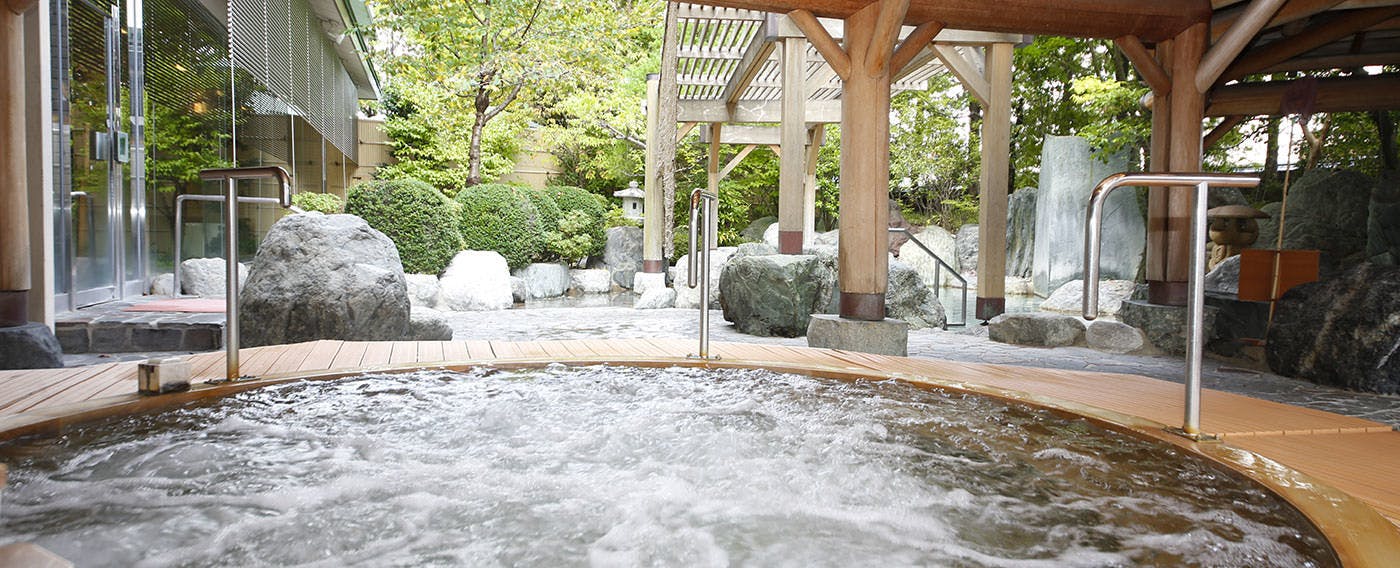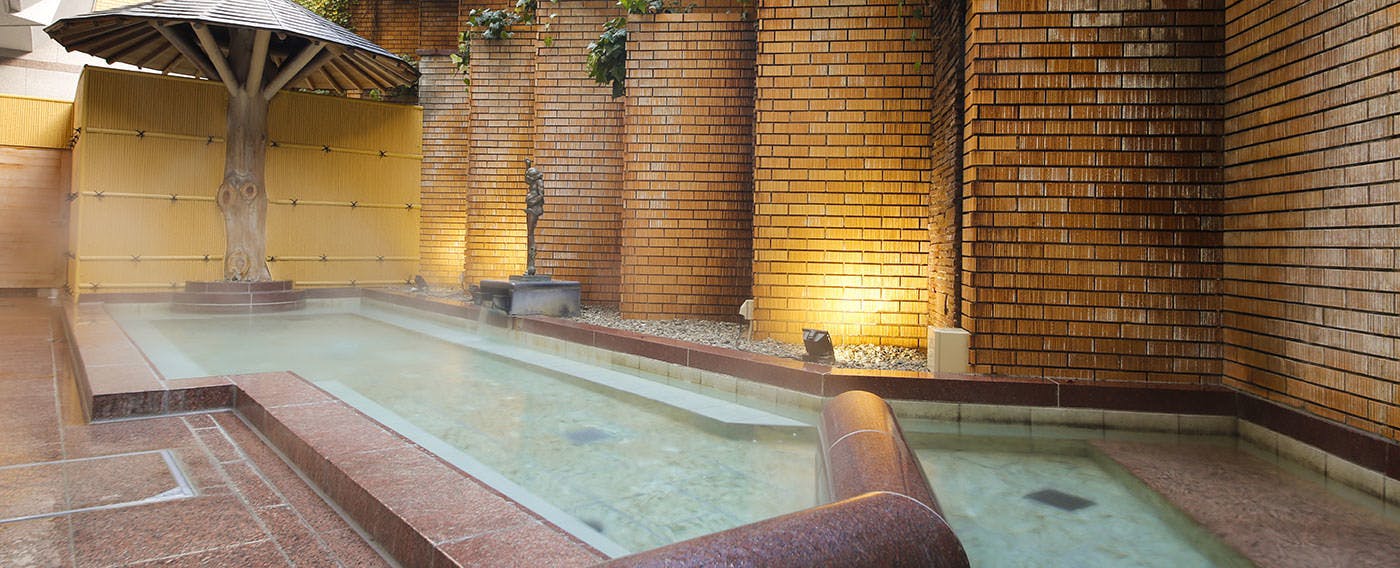 A pure blessing of the Hida mountains Hida Takayama Onsen 'Tenryōno Yu' About the hot spring water quality:
"Bijinno Yu" an onsen that makes your skin soft and smooth.
The "Tenryōno yu" hot spring source is mild alkaline. With a pH as high as 8.2, and its fine beautifying effects on the skin, this onsen is named "Bijinno Yu" or the "Beautifying hot spring". Relax in the hot water that boasts to rid your day-to-day tiredness as it thoroughly soothes your skin.

Reserved private outdoor bathing with two baths of cypress and stone.
"Reserved private outdoor bathing" was conceived originally at Hida Bussankan. Feel free to enjoy this natural hot spring of "Tenryōno Yu" with a small group or your family. For your bathing space you have two options to chose from, a cypress bath and a stone bath.
Hours: 11:00 a.m. to 10:00 p.m. (Reception open till 9:00 p.m.)
Open seven days a week. Usage charges for one group of up to four people is ¥3,240 (for 45 minutes)
For reservation and Inquiries TEL 0577-33-5505

Hot-spring water quality: Natrium, Bicarbonate Spring
Benefits: Arthralgia, muscle pain, fatigue recovery, neuralgia, frozen shoulder etc.
The place offers service to heat the water as the source is of a little low temperature.
Facilities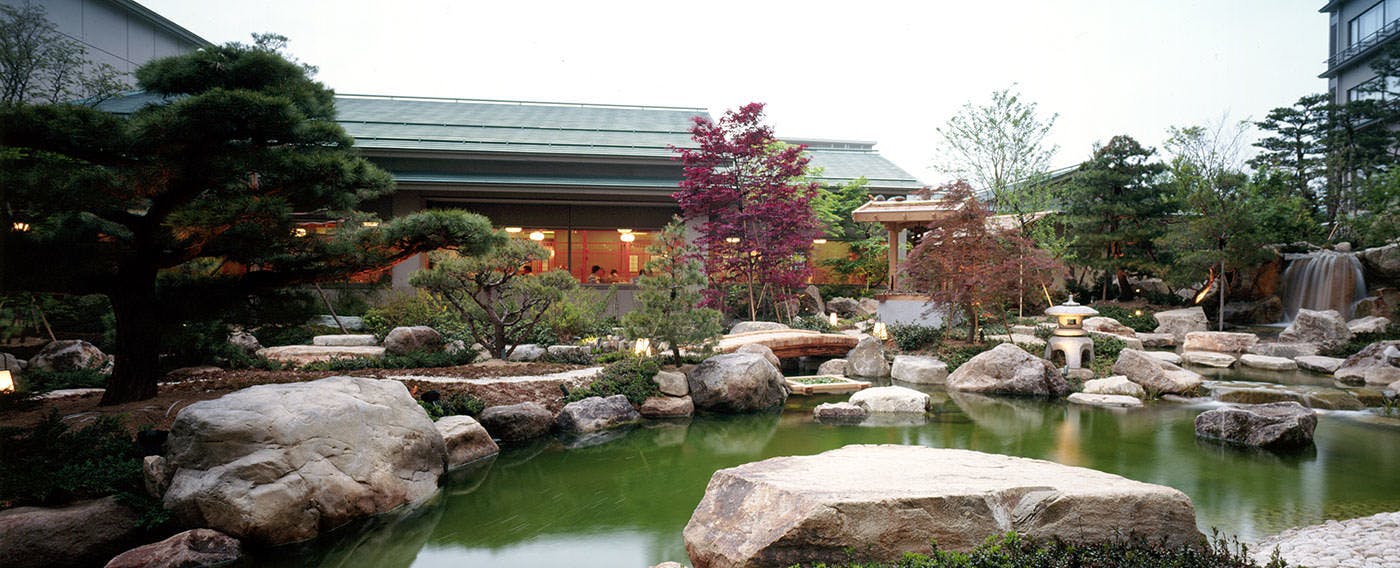 The elegance of Japan, alive. From the moment you take your first step here you feel the comfort. Featuring gently arranged megaliths, flourishing trees, calmly flowing water and a quiet waterfall.
A world of pleasure created by the founder of traditional Souwa style Japanese tea ceremony, Souwa Kanamori, in the form of a Japanese stroll garden with a pond in harmony with the nature of Hida. You are welcomed with great service and a refined atmosphere.

Hida Bussankan
A new tourist spot of the ryokan establishment in Takayama, "Takayama souvenir shopping area, Hida Bussankan", is a place resonating with a mood of trolling down the old town, with select items from around Hida that you can purchase. Also featuring free foot baths and aesthetic spa, it's almost like a theme park of a souvenir shop.
Hours: 7:00 a.m. to 10:00 p.m.
Rental open-air bath, Spa, Annexe: 11:00 a.m. to 10:00 p.m. (Reception open till 900 p.m.)
Access
2-180 Nishino-isshiki-machi, Takayama-city,Gifu,506-0031,JAPAN
8 min walk from Takayama Station(JR Takayama Main Line)
Reviews
I am quite satisfied. I was able to spend my stay very comfortably. From the pickup driver to the staff members, I felt especially comforted by the warm reception of their young staff. The people, the hot springs and meals were all good. I've decided to come stay at Takayama again.
+ More
2016/12/20
We are satisfied. Their hospitality, food, hot springs, everything here gives you satisfaction. We always use this hotel when travelling in Takayama, that's because their great service and and everything is always top-notch and we can confidently choose this place time and time again.
+ More
2016/11/20
The customer service here is great. For dinner they served white shrimp sashimi, but since when I eat raw shrimp, I run a risk getting an allergic reaction, so I asked for a iron plate baking plate to bake the shrimp, they went out of their way to arrange for an individual sized iron cooking plate. So I baked the shrimp and it was very delicious. I was told that from now on, if I inform the staff about any allergies or such in advance, then they will refrain from using such materials for me. The front desk and the greeting staff were also kind enough to please our whims and offer us an umbrella. We were able to enjoy the room's attached bath leisurely without the smell of cigarette or anything, as it was properly deodorized as we asked in advance. This is a hotel where we'd want to stay again. The next day, we went sightseeing for a while, came back for lunch and relaxed and it felt so delicious.
+ More
2016/11/20
Although it was our first time here, we felt quite satisfied with the room, the bath and the food too. The room's outdoor bath was bigger than what I had imagined, and even with two people in it, it seemed to have ample space. Furthermore, there is an outdoor bath in the basement, a public bath and an outdoor bath on the first floor. We felt quite satisfied. I didn't know that their sauna has its own hours of operation, so going there midnight I was a little disappointed not to get in... Also, dinner was served in Ryokutei's individual room and we were satisfied to enjoy the delicious meals in a soothing environment. I was deeply impressed by their attention to even minute details as toothpicks, and their mint which i tried for the first time. Breakfast was also quite satisfying with Japanese and western style food and buffet. The staff was also very kind, and it was very easy to explain everything. Although it was a weekday, I was able to have a great lodging, comfortable and relaxing. I have traveled lot, but at this price it seems to be the best accommodation one can ask for, for sure!!!
+ More
2016/10/20
It was quite an enjoyable trip. I really liked the attentiveness of the hotel staff. When I told them that it was my birthday they seemed to be quite hyped about it. The souvenir place also appropriately wrapped our purchases when we told them that it was a gift. Really happy with everything. I definitely want to go staying again. It deserves more than full-marks in my opinion. Thank you very much.
+ More
2016/09/20
Information
Check-in Time

From 3:00pm to 10:00pm

Check-out Time

Until 10:00am

Tax / Service Charge

Bathing Tax JPY 150 per adult is NOT included in the rates.

Credit cards accepted at this property

VISA / MASTER / JCB / AMEX / DINERS
Children

Children of up to two years old can sleep together.

Pets

Pets are NOT allowed.

Parking

Free of charge for guests; Capacity 200 vehicles; No Valet Parking Service;

Other policies & conditions

Nothing in particular