KANAZAWA HAKUCHORO HOTEL SANRAKU
Right next to Kanazawa Castle, and 5 minutes' walk to the Kenrokuen garden, Kanazawa Hakuchoro Hotel Sanraku is located in the focal point to the most of the tourist sites in Kanazawa as "walking distance". The lobby is furnished with items which emanate the charms of Kanazawa tradition, almost as if it were an art gallery. The coffee color natural Onsen, the in house hot spring is gentle on the skin and referred as "Hot Spring of Beauty", you could indulge yourself into relaxing water after long exploration in this time honored castle town. The hotel put an importance on preparing dinner and breakfast buffet as showcasing a gastronomic culture of Kanazawa, also renowned as one of foodies' paradise in Japan since Samurai period.
- VAT is included, but bathing tax (around JPY 150 per adult) may NOT be included.
- Price in USD is based on the exchange rate as of today and might be different from that of the booking date.
Foods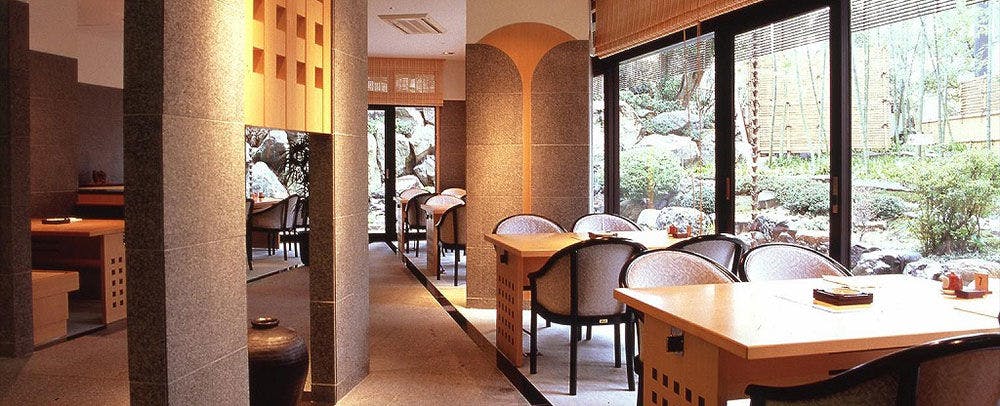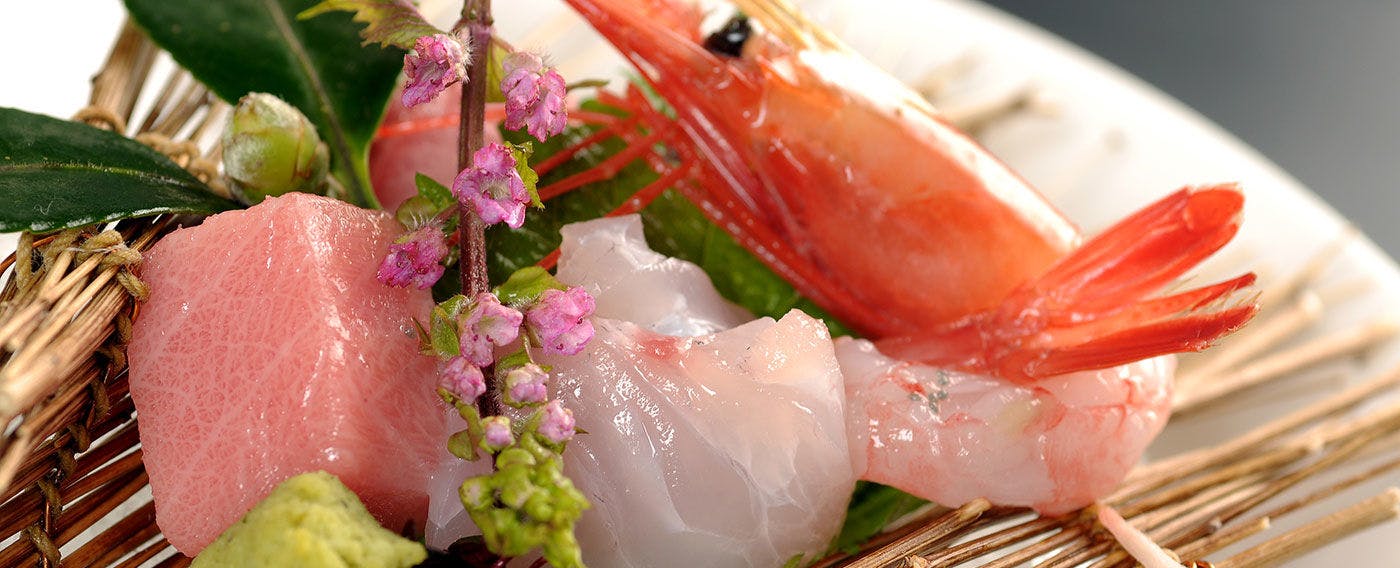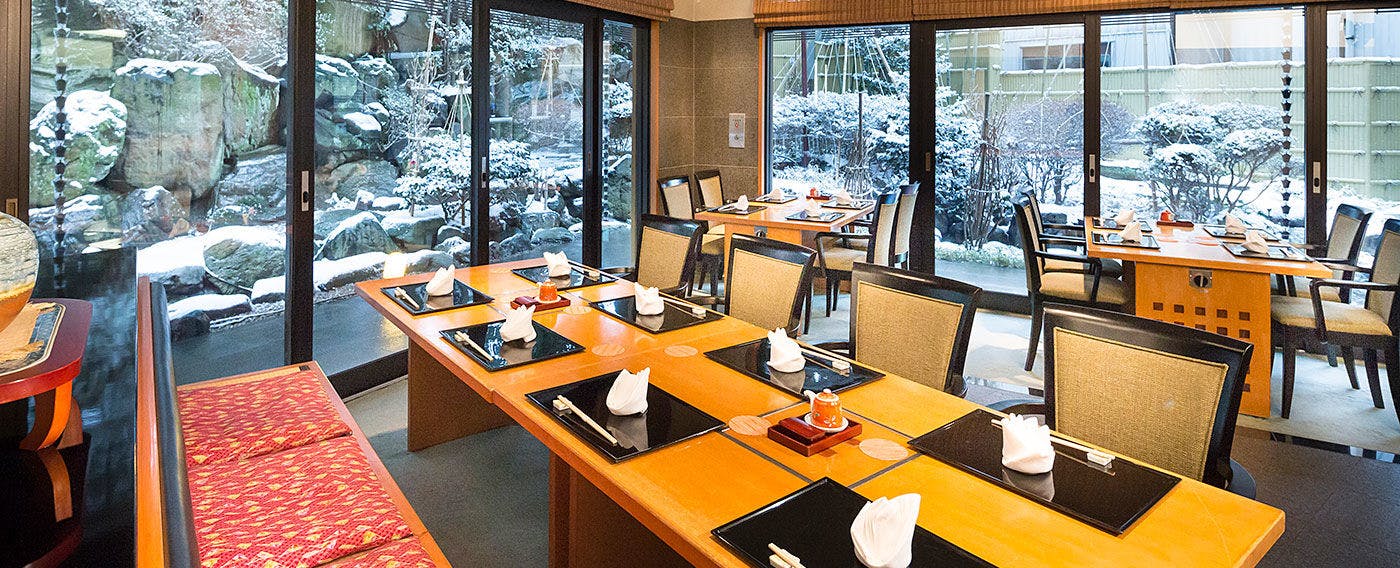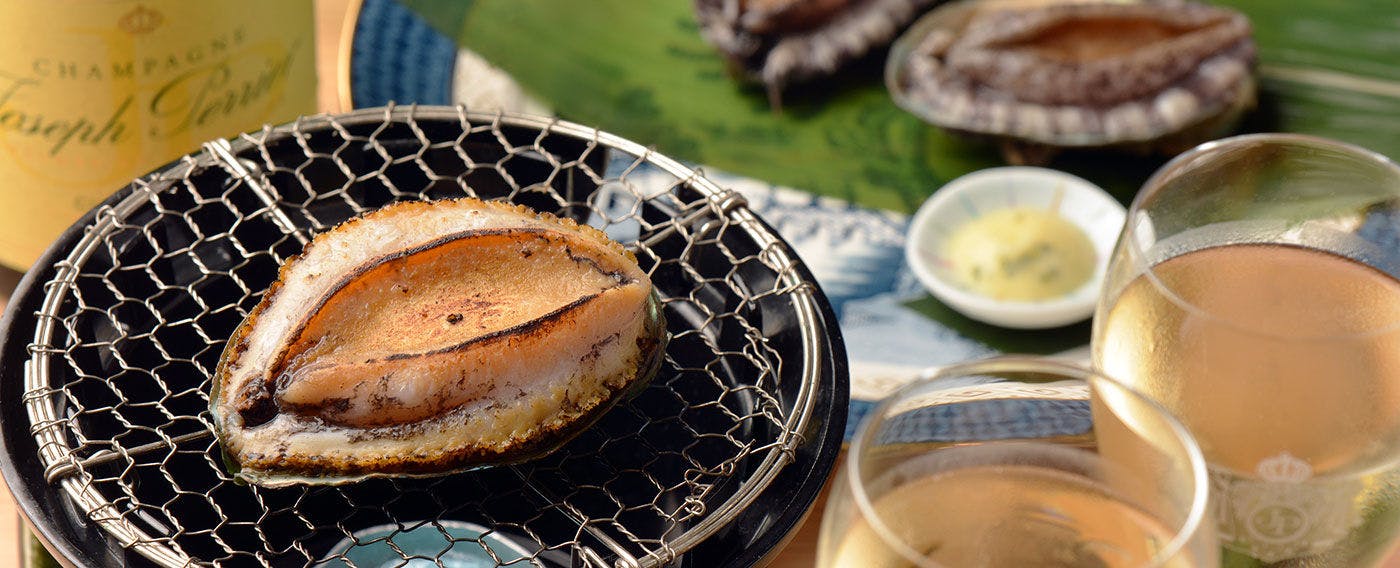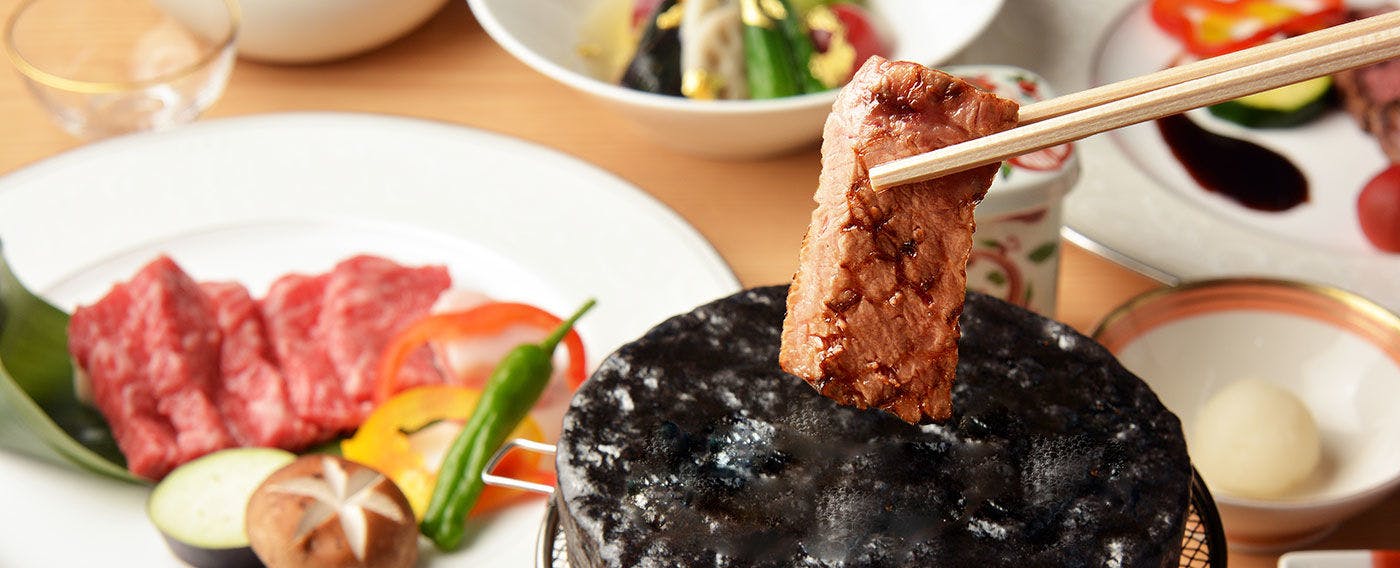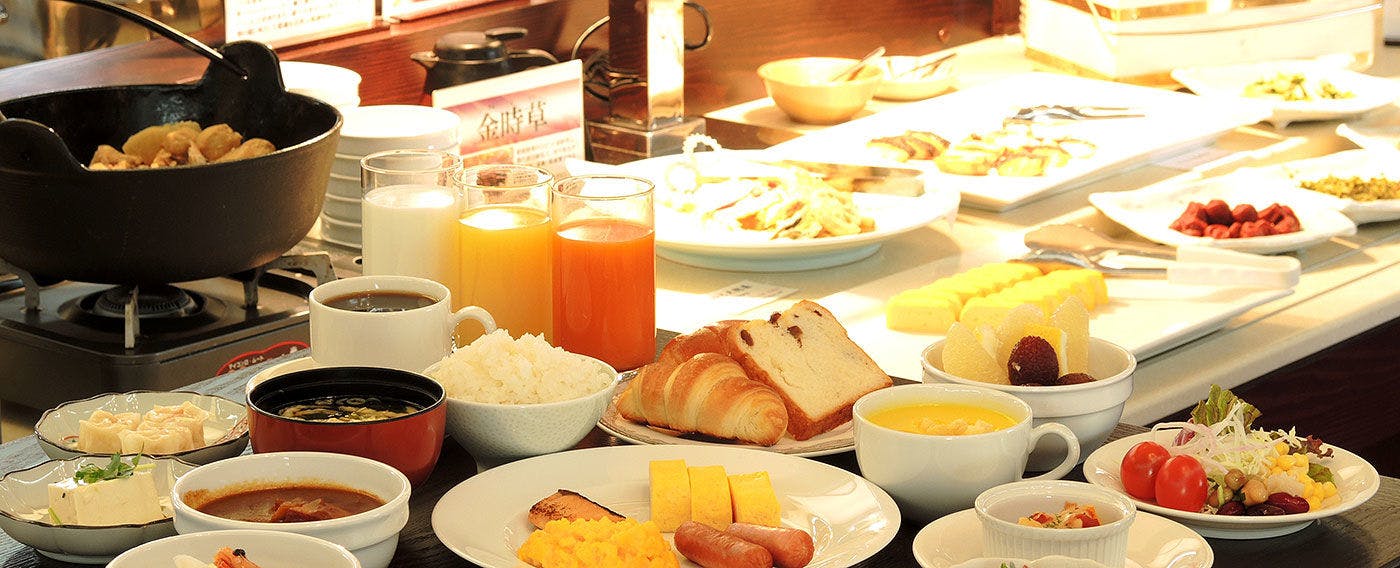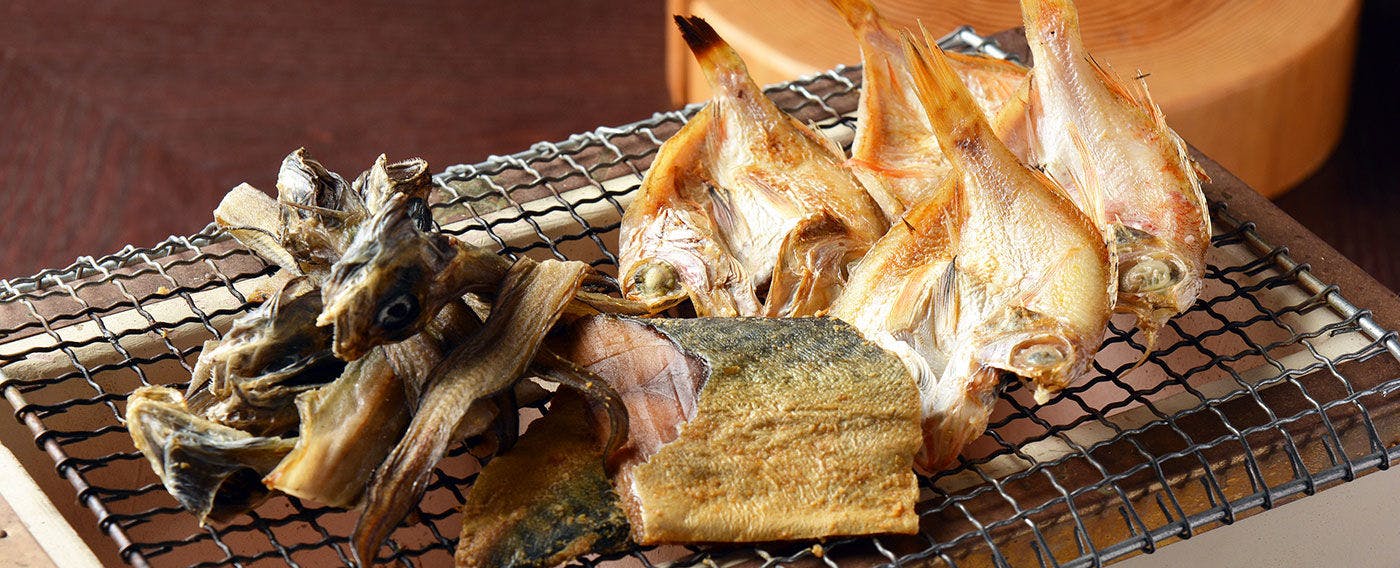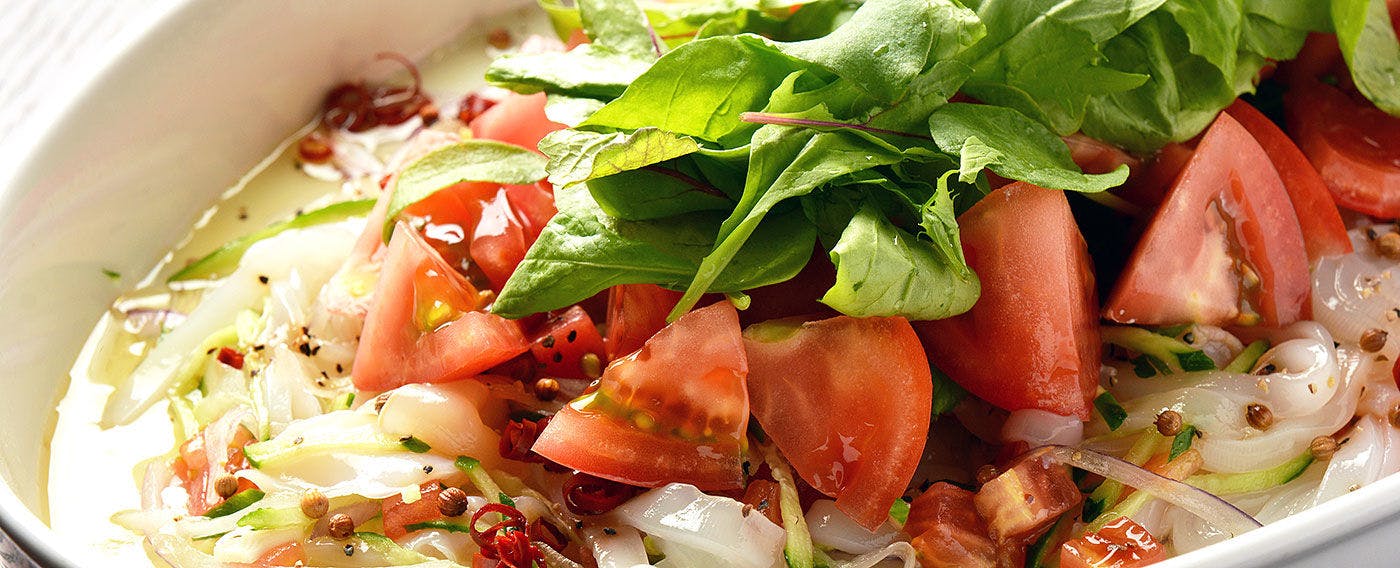 Breakfast Buffet - Swan Breakfast Specialists, "Jiwamon"
"Jiwamon" in the Kanazawa dialect means, "locally raised foodstuffs, regional cooking." Starting off with Kaga vegetables passed down from the Edo Era, we are fastidious about "Local Production for Local Consumption," and make preparations to elicit the highest possible degree of seasonal Kaga flavor.
Attracting popularity from reviewers, our chef's particular speciality- Kaga Vegetable Curry- is also worth tasting at least once.

Baths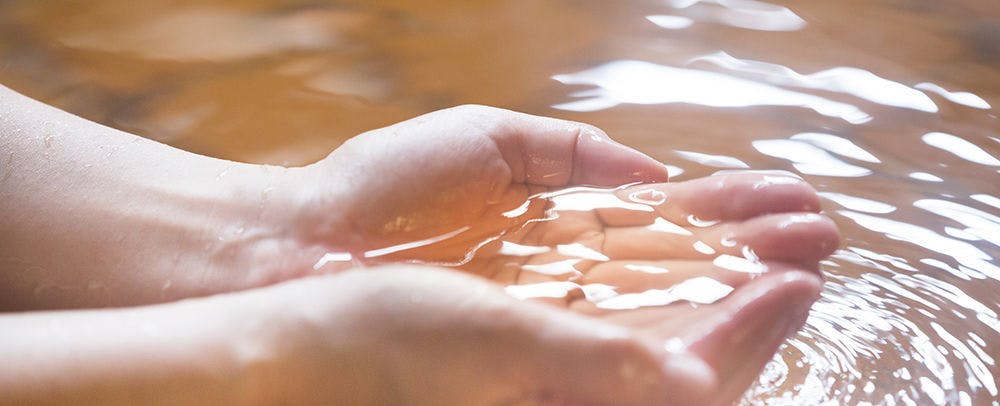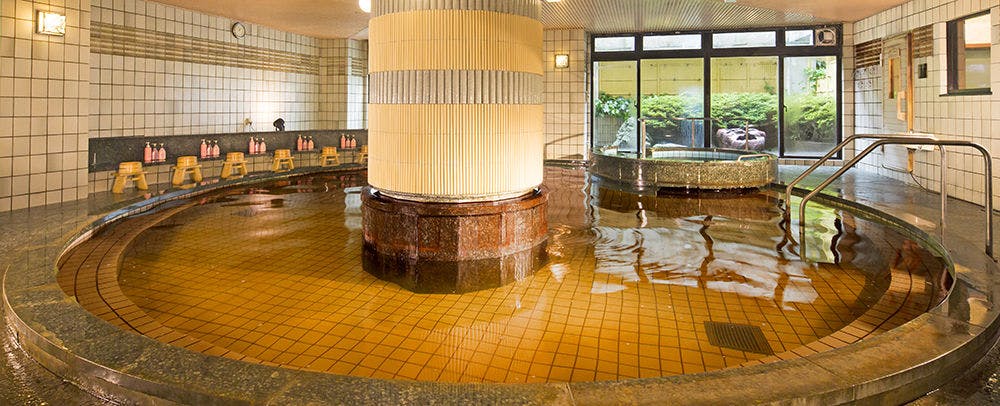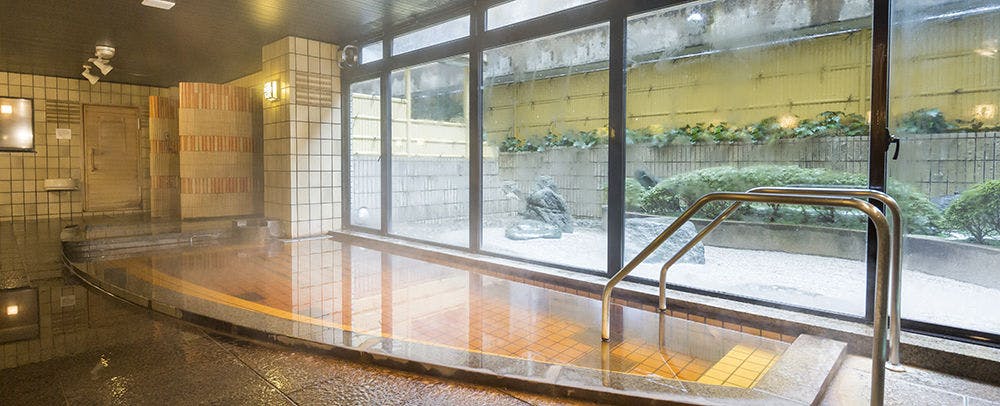 Abounding in beneficial effects, the Hakuchoro Hot Spring Relieve your travel fatigue at the natural hot spring which is a rarity for a hotel within Kanazawa city.
The bicarbonate spring drawn from 807m underground is gentle on the skin and abounds with beneficial effects.Together with the accompanying sauna, spend a luxurious moment resting both body and spirit.

Facilities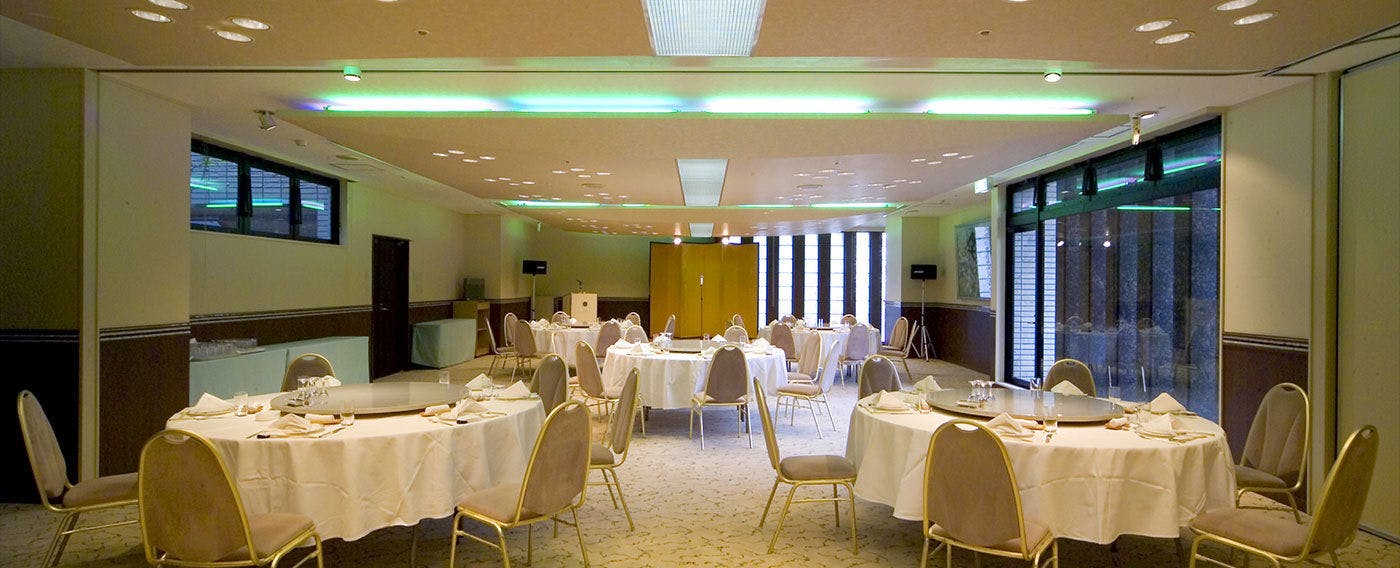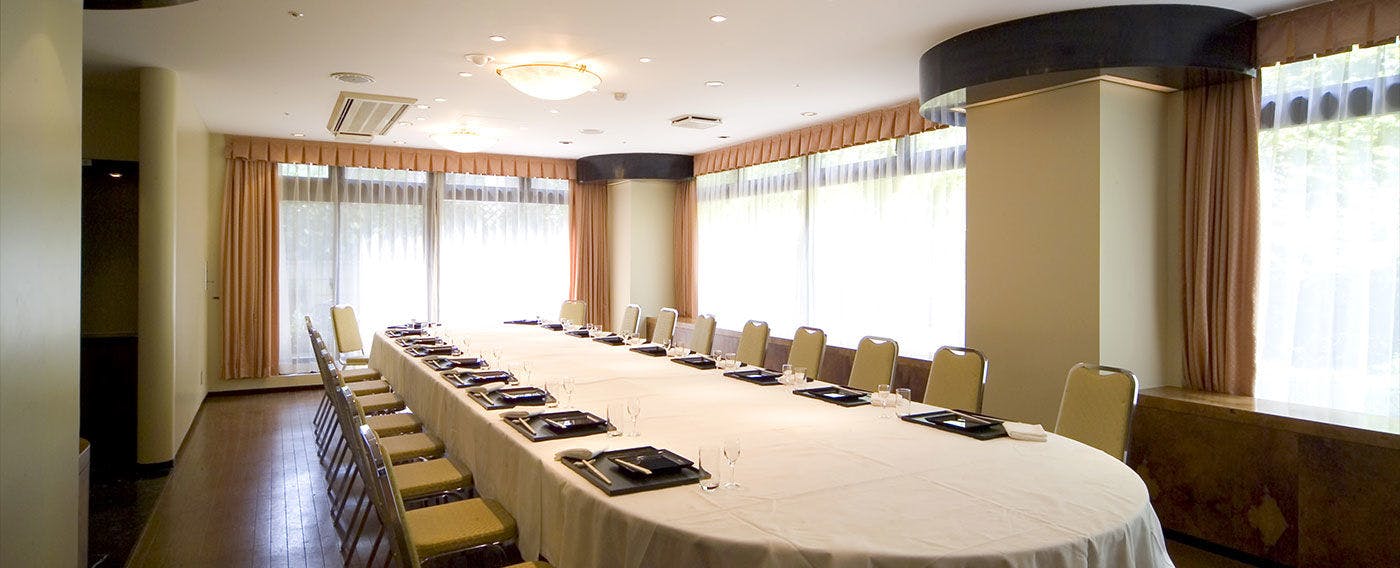 Feel the atomaspher of Taisho Era The moment one sets foot inside, one is enveloped with feelings of nostalgia as if one had slipped through time to the Taisho Era.
Since Kanazawa Hakuchōro Hotel Sanraku neighbors Kanazawa Castle, access to major sightseeing spots is excellent.
Within the building we have assembled furnishings which emanate the aura of Kanazawa tradition, almost as if it were a art gallery. You can look forward to encountering an item that particularly catches your eye.
In addition, the water from our own natural hot spring is drawn from 807m underground and is gentle on the skin. Referred to as "Bijin no Yu (Hot Spring of Beauty)," the beneficial health effects are plentiful.
After enjoying a walk around the city of Kanazawa, why not try unwinding at the hot spring?
Access
6-3, Marunouchi, Kanazawa-shi, Ishikawa, 920-0937, Japan,Ishikawa,920-0937,JAPAN
If Coming from Sightseeing Spots in the Vicinity
From Kenrokuen, approximately 5 minutes on foot
From Kanazawa Castle Park, approximately 3 minutes on foot
From Higashi Chayagai Tea District, approximately 12 minutes on foot
From the 21st Century Museum of Contemporary Art, Kanazawa, approximately 15 minutes on foot

If Travelling by Plane
From Komatsu Airport, take Komatsu Airport Limousine Bus to Kanazawa Station West Exit (approximately 40 minutes), then after arriving at Kanazawa Station please transfer to bus or taxi.

If Arriving from Kanazawa Station
By Bus: From Kanazawa Station, board Hokuriku Testsudo Bus (red and white bus) Board from Kenrokuen-guchi Bus Terminal Stance No. 6, 7, and alight at "Kenrokuen-shita / Kanazawa Castle" bus stop. (Walk in the direction of Otemachi for 5 minutes)-From Kanazawa Station board "Jokamachi Kanazawa Shuyu Bus (Loop Bus)" *right bound route*
Board from Kenrokuen-guchi Bus Terminal Stance No. 7, and alight at "Kenroku Motomachi" bus stop. (Walk in the direction of Otemachi for 5 minutes)
Reviews
The bath was really excellent. I was pleased that in spite of all the issues I caused, the lady at the front desk with glasses interacted with me in a cheerful manner. Thank you so much. The matcha green tea and Japanese confections were really delicious. If possible for breakfast, I like Japanese-style individual trays, so please take that into consideration if that's possible. I would like to come back again.
+ More
2017/04/01
It is close to Kenrokuen and convenient. I could see a little bit of the castle illumination from the hotel. Since there are not many places to eat at night, it would probably be better to make a reservation in advance if you want to eat nearby. I took a taxi to Omichō Market and ate in an izakaya restaurant. Breakfast was a buffet and there were lots of Japanese and western foods. The bath was big and my skin became silky smooth. There were always towels available and it was simple to use. I found the staff members polite and pleasant.
+ More
2017/04/01
The exterior was ordinary, but the lobby and other parts of the hotel were charming. Located near the castle, I was also able to walk to Omichō Market and more. The facilities are not new, but they are fully equipped, and bove all, I was able to relax with the combination hotel-hot spring. Travel magazines were lined up in the halllway, and they came in handy. I thought I'd definitely stay again next time.
+ More
2017/03/01
I had been thinking to have dinner at a traditional townhouse, but since I didn't know the location, thank you so much for kindly advising me and making a reservation. I was able to spend my time comfortably in the sparklingly clean room. I had been thinking there was no hot spring within Kanazawa city, and so I was glad to have found a good place. The breakfast buffet was prepared with local specialities, and it was delicious. It is located near Kenrokuen, and so I could check my baggage at the hotel and go sightseeing without having to keep up with it.
+ More
2017/03/01
In comparison to the price, I felt that the hotel atmosphere, customer service, and other things were on a high level. There was an oldness to the room, but the cleaning was thorough and I have no complaints. When staying in Kanazawa, this hotel is definitely not a mistake.
+ More
2017/01/01
Information
Check-in Time

From 2:00pm to 12:00am

Check-out Time

Until 12:00pm

Tax / Service Charge

Bathing Tax JPY 150 per adult is NOT included in the rates.

Credit cards accepted at this property

VISA / JCB / AMEX / DINERS
Children

Baby cot, bed guards, toilet bowl for infant, diapers pot are available for free of charge *Need advance notice
Slippers for children are available at front desk
Diaper changing table are available at second floor
Children who are 0 to 5 years old are free of charge if they share a bed with you.


Pets

Pets are NOT allowed.

Parking

JPY 1000 per night; 14:00-12:00; Clearance 2.1m; Capacity 50 vehicles; No Valet Parking Service

Other policies & conditions

Nothing in particular