- VAT is included, but bathing tax (around JPY 150 per adult) may NOT be included.
- Price in USD is based on the exchange rate as of today and might be different from that of the booking date.
Foods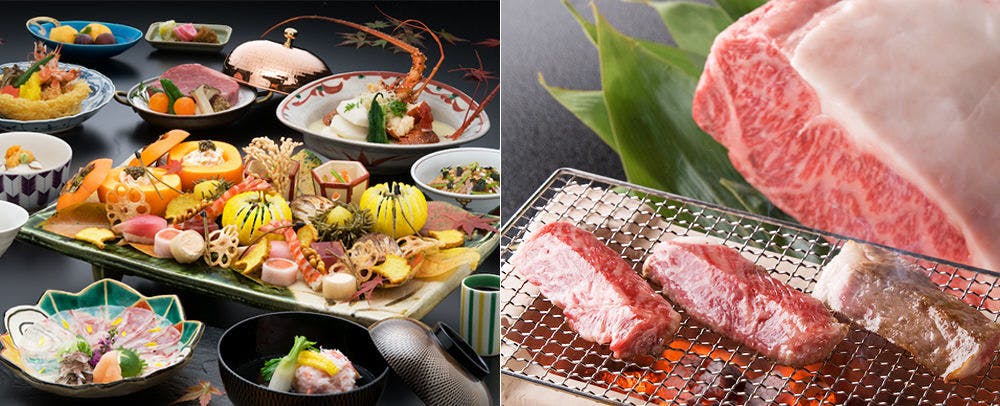 We have prepared an array of the best of Arima's delicious bounty of the season for you. In Arima, beautiful scenery greets the visitor whatever the season. Of course the visual delights extend to our delicious cuisine that makes optimum use of the natural flavours of fresh seasonal ingredients.
* Please note that the content of dishes varies with the season and time of year.
Baths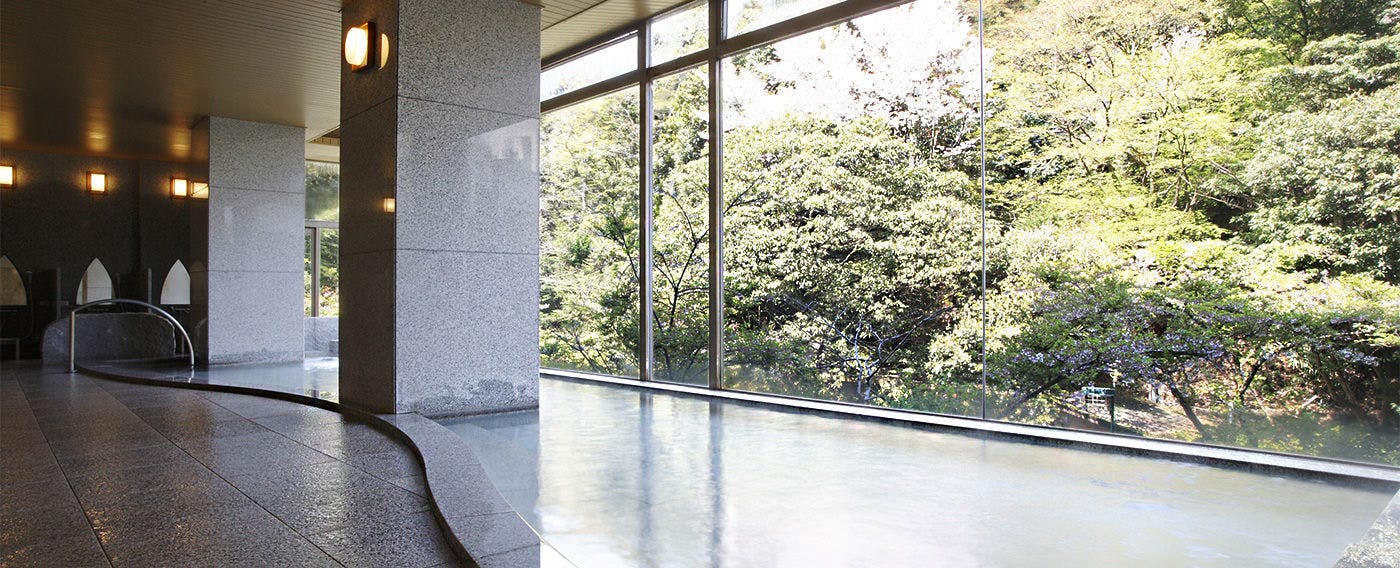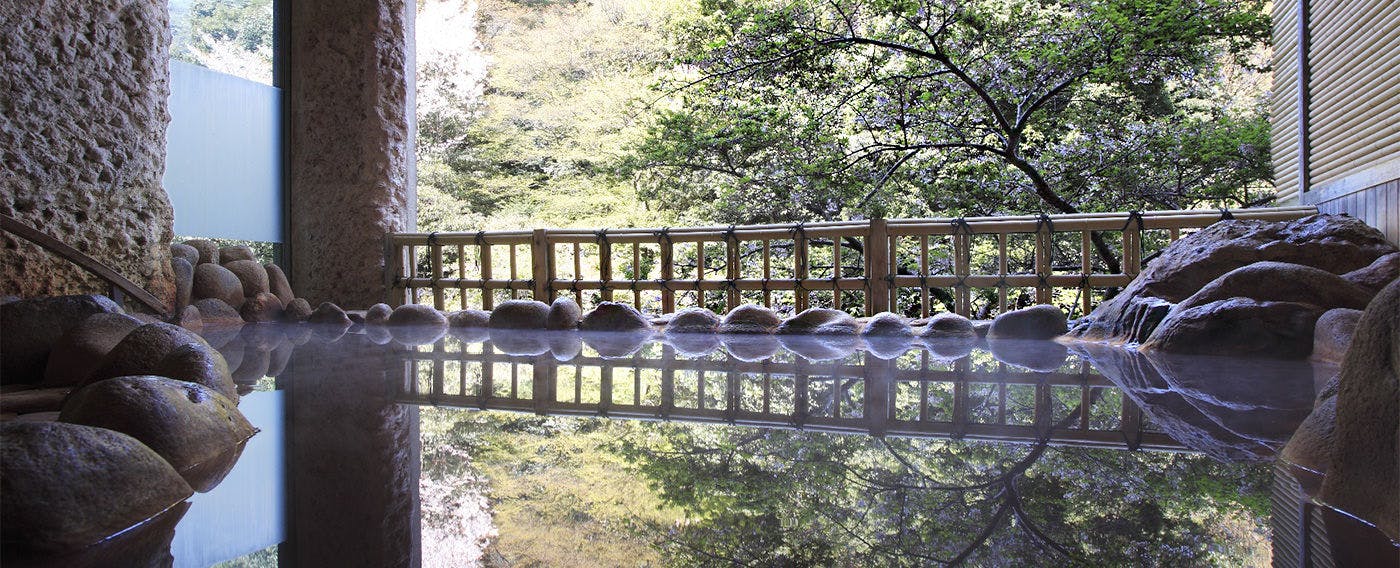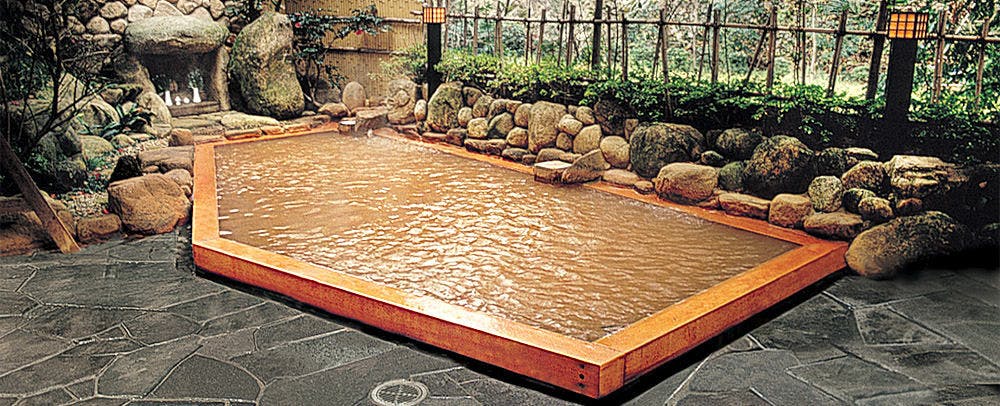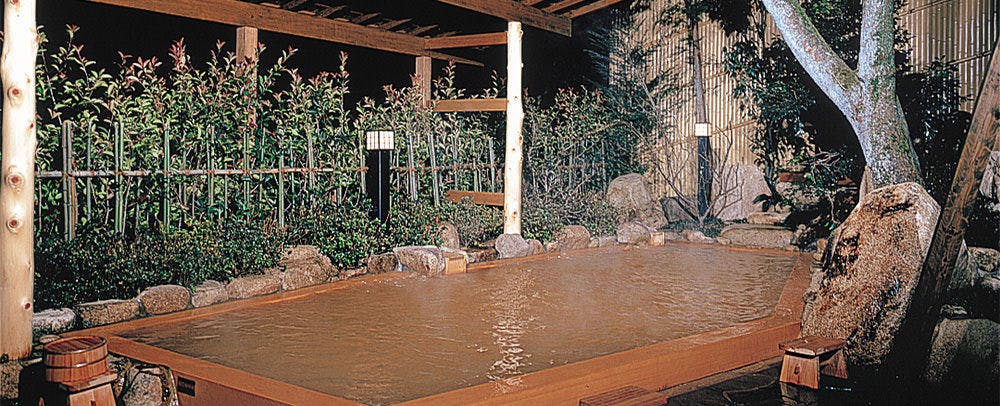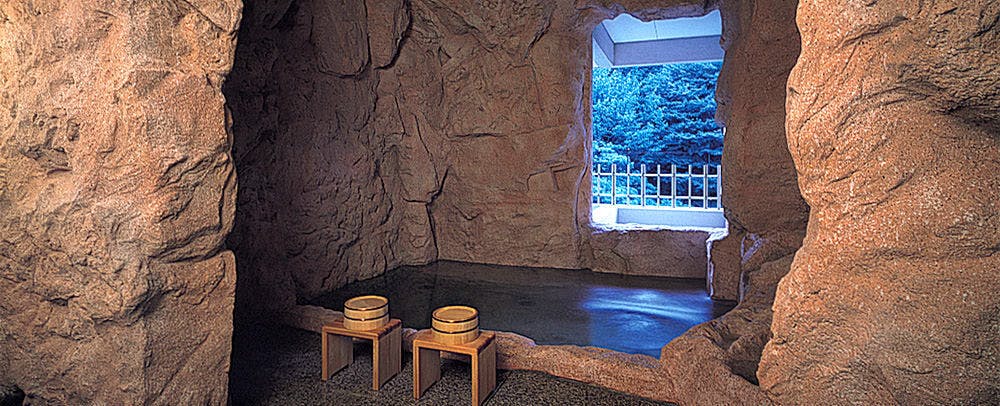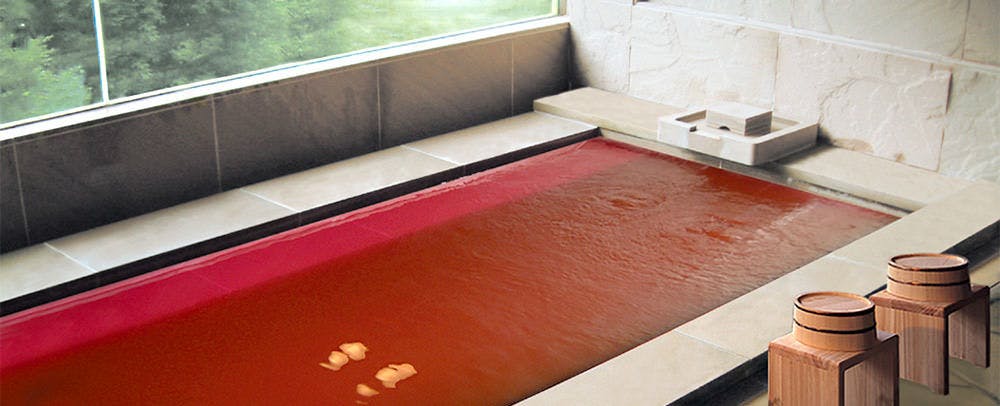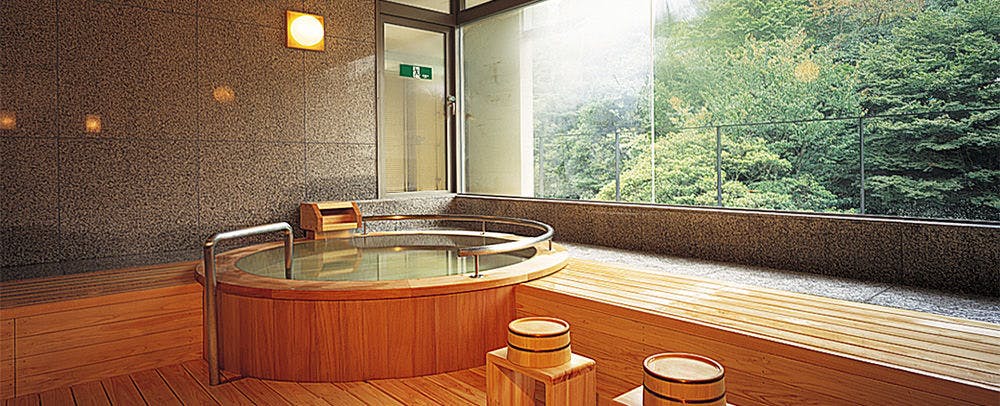 Kinpa Kourokan big bath, Kinpa bath, Ginpa bath / sauna, and an outdoor hot spring bath. Sister bathhouse Yugetsu sanso.
The bath at Yugetsu sanso - You can access their open-air hot spring bath by going out of the building and crossing the Gekko bridge.
Theme bath, reserved bath..
15:00 - 24:00, 6:00 - 10:00 / 40 minute bookings (charge, reservation required)
Only available as a privately reserved bath. Enjoy some private time here.
Facilities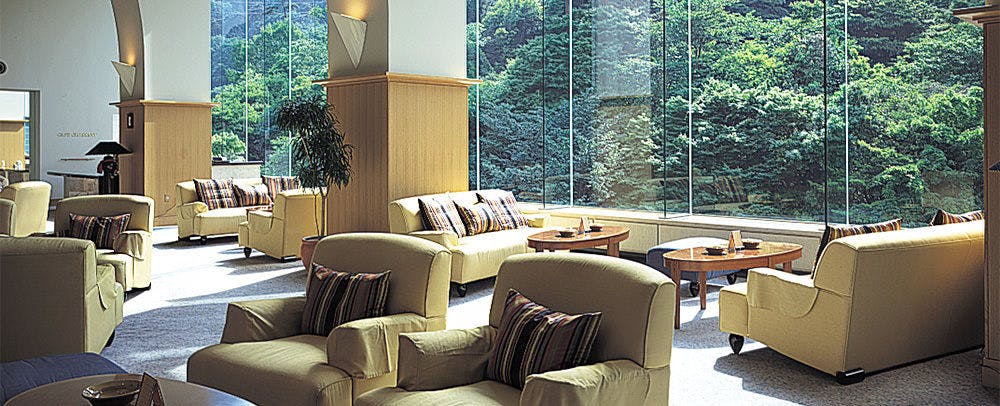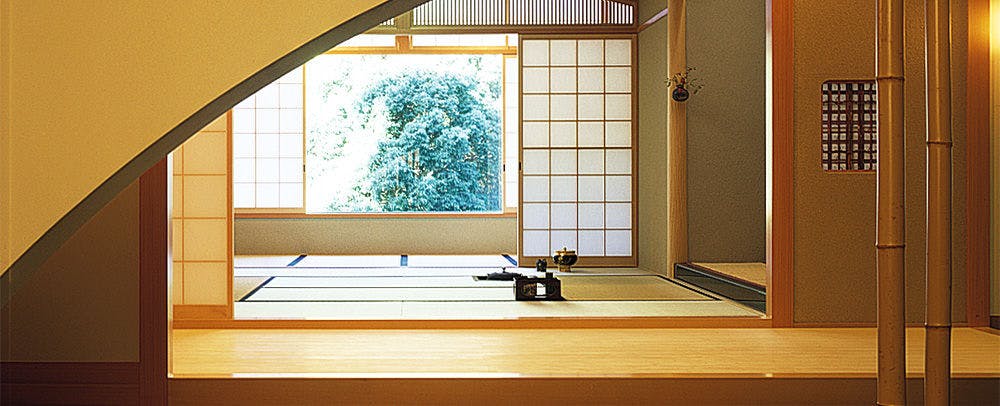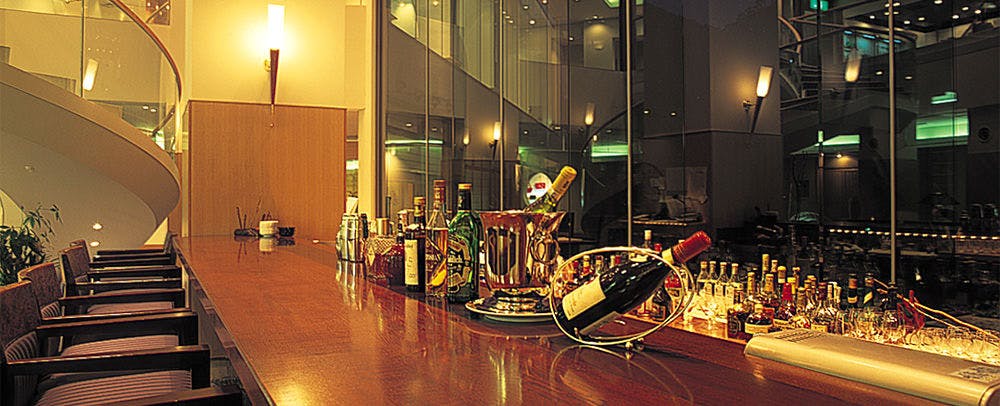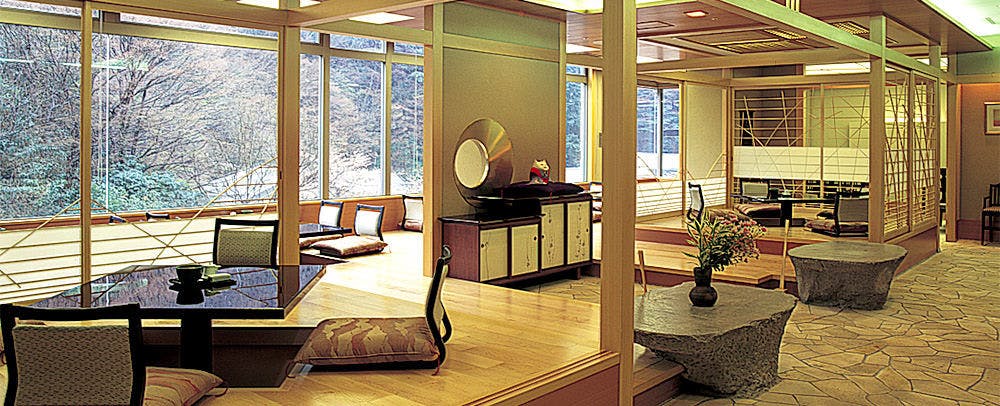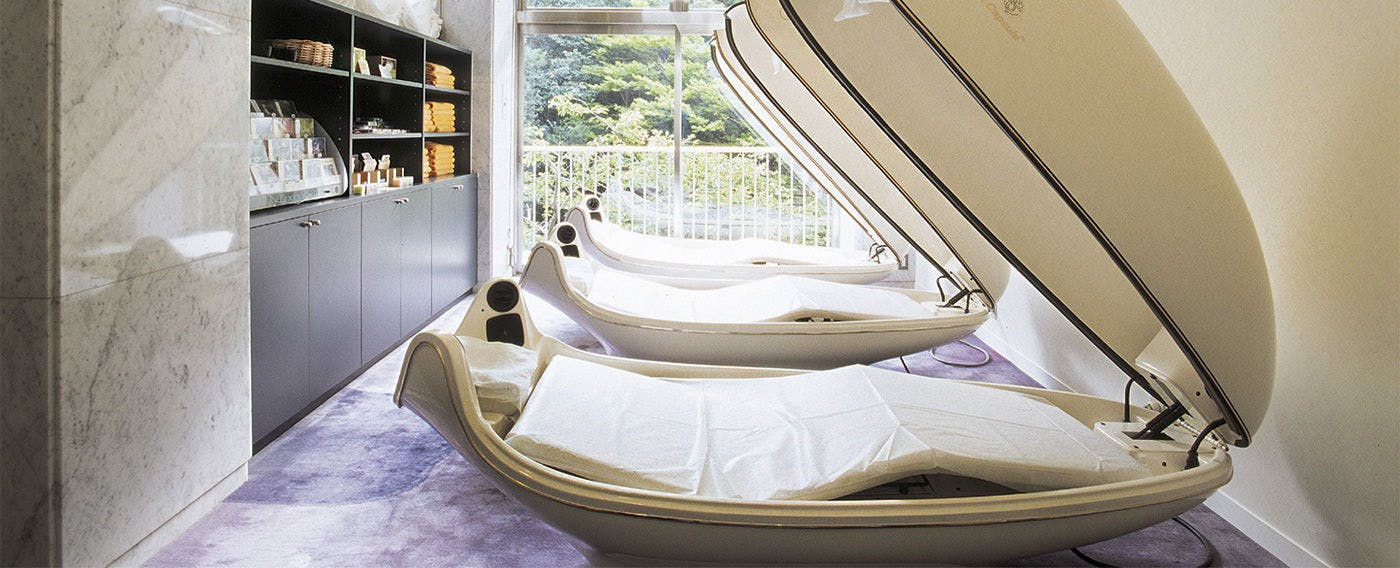 The colours and the heart of the seasons welcome you. Gekkoen Korokan has put together a range of amenities for you to further enjoy your stay. Please make wonderful memories in this relaxing and comfortable place.
Beyond the glass windows of the lobby the spectacular scenery of Mt.Ochiba stretches out before you.

Refresh salon Uchu.
(In sister inn Yugetsu sanso)
11:00 - 21:00. ¥2000 for about 25 minutes.
Beauty treatments, recovery from physical exhaustion, stress relief, and others: In this relaxing space, you can choose any of 8 options to best suit your needs.
Access
318, Arimacho, Kita-ku,Hyogo,651-1401,JAPAN
By car
From Sannomiya via the Shin Kobe tunnel,about 30 minutes.
From Osaka via the Chugoku Expressway,about 45 minutes.
From the Chugoku Expressway Nishinomiya Kita IC, 5 kilometres, about 10 minutes

By train/bus
From JR Sannomiya, bus 45 minutes, taxi 30 minutes.
From JR Sannomiya, Shin Kobe, subway, Kitagami express train (Sannomiya to Shin Kobe to Yagami, transfer), to Kobe Dentetsu, about 30 minutes.
From Osaka (Hankyu Umeda), Hankyu bus 55 minutes.
From Osaka (Itami) Airport, taxi 30 minutes.
Reviews
I heard it mentioned often in commercials ages ago. I think the ad went something like "Moonlight night, moonlight night, Arima". We were very happy to stay at Gekkoen Korokan to celebrate retirement and our thirty year wedding anniversary. In the scenery from the inn the green of the mountain went well with the murmurings of the river: even a place where there is nothing can have something very striking. I have the impression that the atmosphere of the place would change as the seasons change. I realized once again that a true inn has pleasant hospitality and the enjoyment of good food at its heart. Out of all the inns I have stayed at this one left me with the best impression. If I ever have the chance, I would like to stay here again. I look forward to enjoying your hospitality again. It was a very good anniversary experience. Thank you very much.
+ More
2016/07/06
When my hot-spring-bath-loving father said that he really wanted to go to Arima I seached for an onsen that had its own spring and decided on Gekkoen Korokan. It was unfortunately raining when we arrived at Arima Onsen Station, but within 5 minutes of us calling the inn they had very nicely come to pick us up. The building looked like it had been around for a while but it was beautiful and clean and well looked after. The riverside hot spring water was wonderful and both my father and I were impressed. I've been to many hot springs in the past but I would have to say that the quality of the water here would be number one or two out of all of them. Also, the room was spacious and the view was wonderful, and we enjoyed the delicious food very much. The staff were great and my father was very pleased with the whole experience, so it was good that we had decided on Gekkoen Korokan. If there's ever another opprtunity I would like to visit again.
+ More
2016/06/14
It was a good inn. Dinner and breakfast in particular were very fancy and satisfying. The staff were also very kind. I visited the bar and the cocktails were great. The prices were reasonable too. I enjoyed trying the different baths. I'd like to stay again and enjoy another room. Thank you for the good memories of Arima.
+ More
2016/05/06
I went for a wedding anniversary and it was much better than I had imagined it would be. The water of Golden hot spring was excellent and my skin became incredibly smooth. The food and the huge number of dishes, it was all very tasty and satisfying. I had mentioned earlier that it was my wedding anniversary and I was deeply moved when the staff brought us a congratulatory tray and commemorative items at dinner time. I was able to fully enjoy Arima at a leisurely pace and I came away with very good memories.
+ More
2015/08/10
We stayed there on a Thursday as a family of four. The outside seemed a little old but the rooms had been beautifully refurbished and the beautiful scenery of the mountain right there in front of us was very soothing. Our room was composed of one area of 15 and another area of 18 tatami mats, and there were 2 toilets. It's not a very big inn and perhaps also because it was a weekday there weren't many guests in the big bath or the open-air bath and we were able to get very comfortable. The spring water was nicely moisturizing for our skin. Our children are not so fond of kaiseki cuisine so we went with kobe beef sukiyaki instead and they loved it. We had dinner and breakfast in our room and it was nice having the time together as a family. The hot spring water was very good for my second son's atopic condition so I'd like to go there again in the near future.
+ More
2015/08/01
Information
Check-in Time

From 3:00pm to 7:00pm

Check-out Time

Until 12:00pm

Tax / Service Charge

Nothing in Particular

Credit cards accepted at this property

VISA / MASTER / JCB / AMEX / DINERS / UNION PAY
Children

Children are welcome.

Pets

Pets are NOT allowed.

Parking

Free of charge for guests;Capacity 50 vehicles

Other policies & conditions

No Outside Food or Drink Allowed.