Yumenoian Yuyake Koyake
"Your own hiding place Starting from the seafood of the Seto Inland Sea, fresh local ingredients such as local organic vegetables, dreamlike alcohol, selected utensils .... this ryokan is especially particular about eating. You can eat meals leisurely at a dining table. All the rooms have an open-air bath where you can enjoy the superb landscape of woodlands which Yumesakicho is proud of. Healing beauty salon treatments, relaxing chairs... Yumenoian Yuyake Koyake is a ryokan for your excellent private time."
- VAT is included, but bathing tax (around JPY 150 per adult) may NOT be included.
- Price in USD is based on the exchange rate as of today and might be different from that of the booking date.
Foods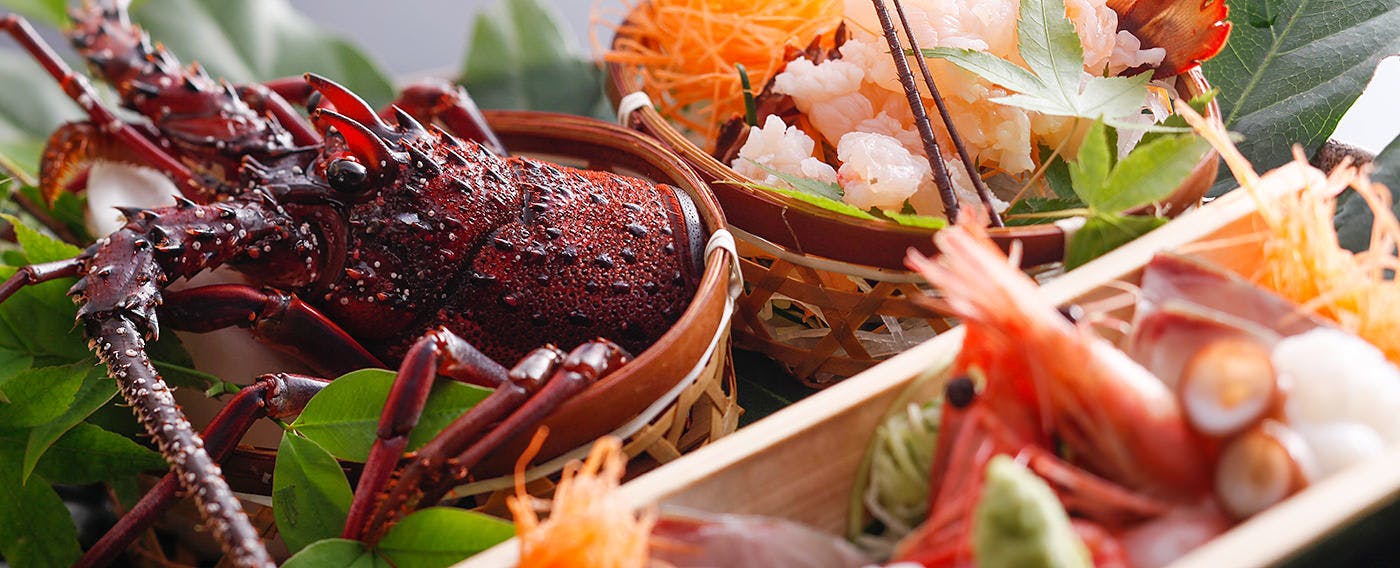 Foods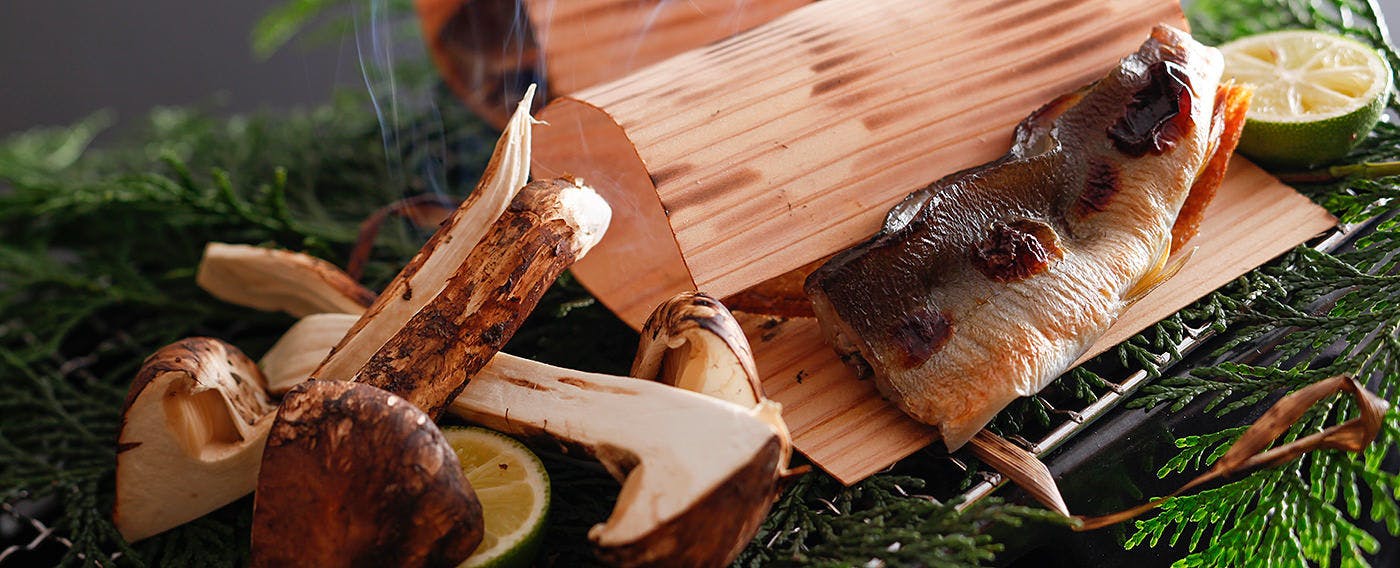 Foods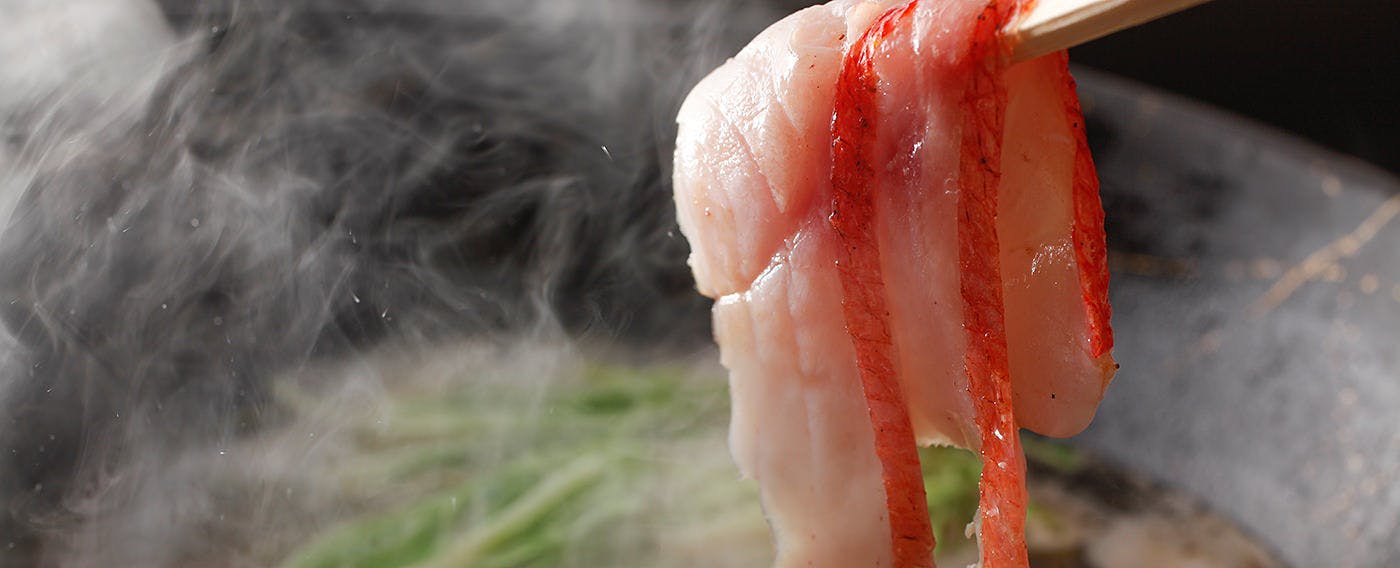 Foods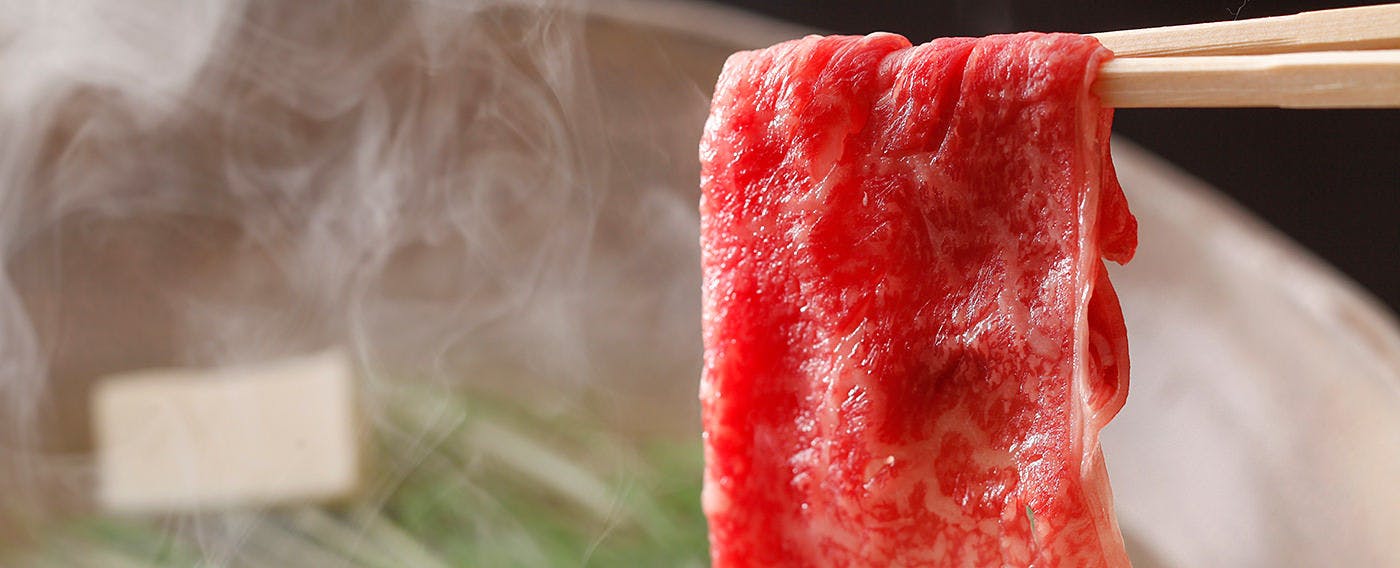 Foods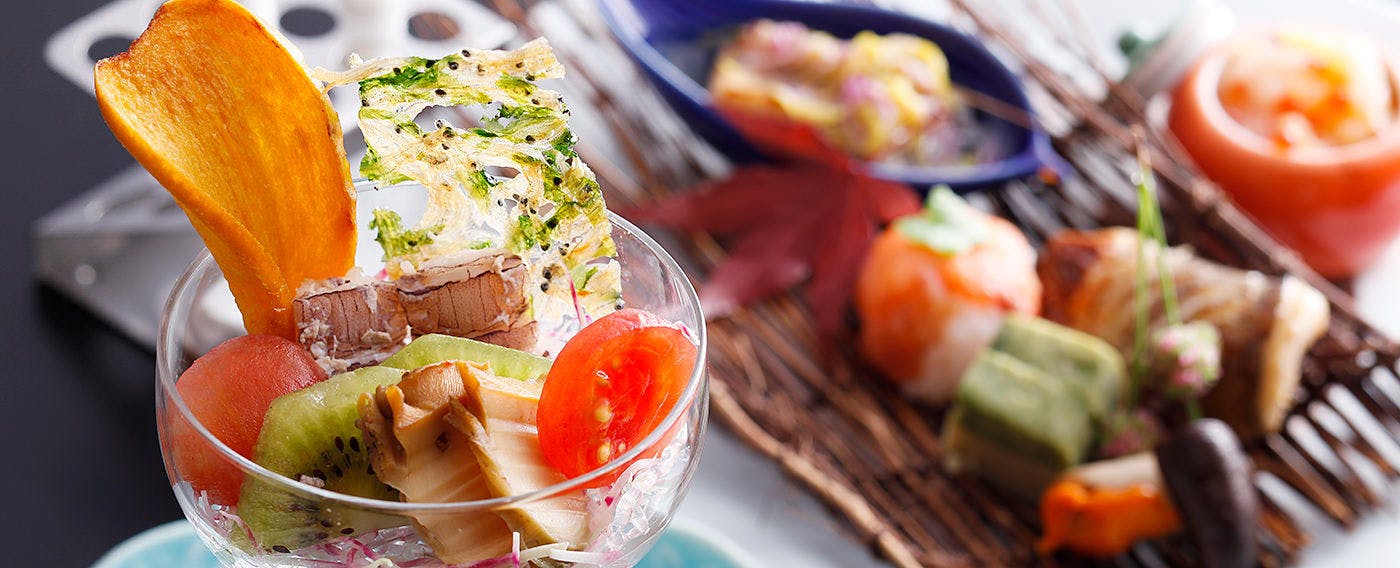 Foods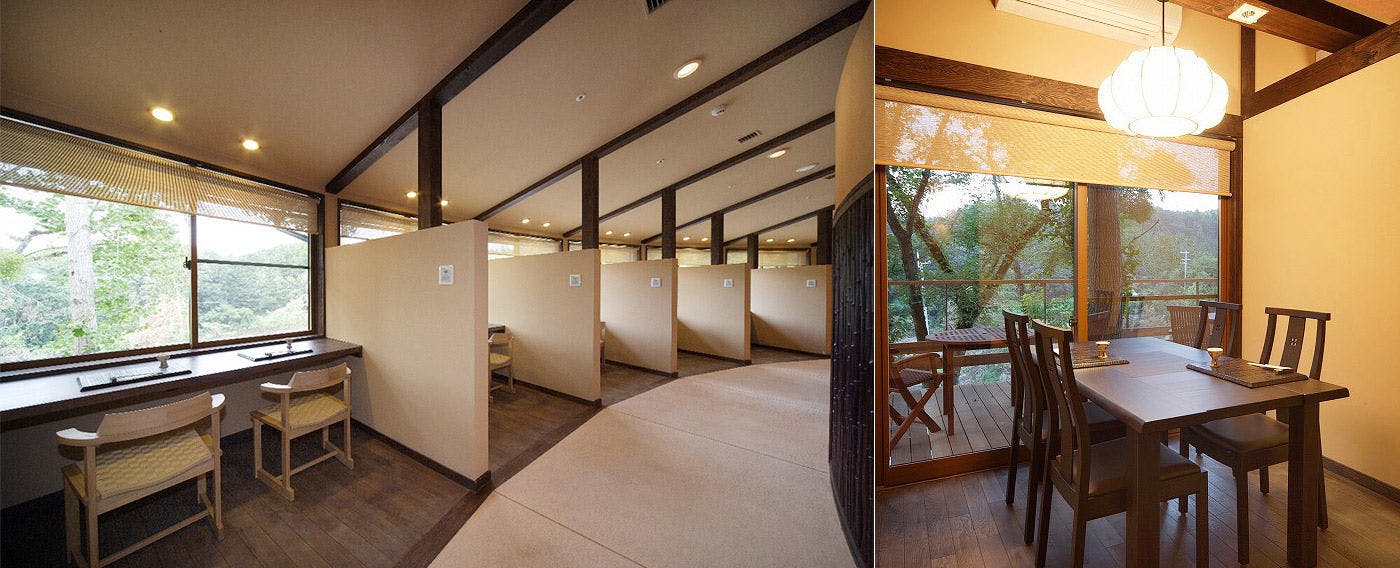 Restaurant
Particularity about eating The main part of Yuyakekoyake is "local ingredients" selected by the staffs who got satisfied by their appearance and taste.
This ryokan uses the seasonal ingredients grown by the local people of Yumesakicho, who have rooted in this place and love it. They are good for health. They are delicious all the more because you eat them in this place. Sweetness inherent in the ingredients and their umami taste are condensed in every dish. "I definitely couldn't eat that ingredient until now, but I am surprised to find it is so delicious..." The dishes will give you such a wonderful experience with the depth of the flavor. You should look forward to them.

Staying room and eating room are separated.
You eat meals at a table in the dining room, not in your room. Each dish is served at the best timing so that you can eat hot things hot and cold things cold, enjoying the taste of dishes just cooked.
The kitchen is an open one where you can see how the fresh vegetables just gathered from the green field are cooked to the exquisite dish. The dishes are served by the staff who loves eating.
"Delicious conversation" about ingredients and recipes... is one of the prides of this ryokan.
Baths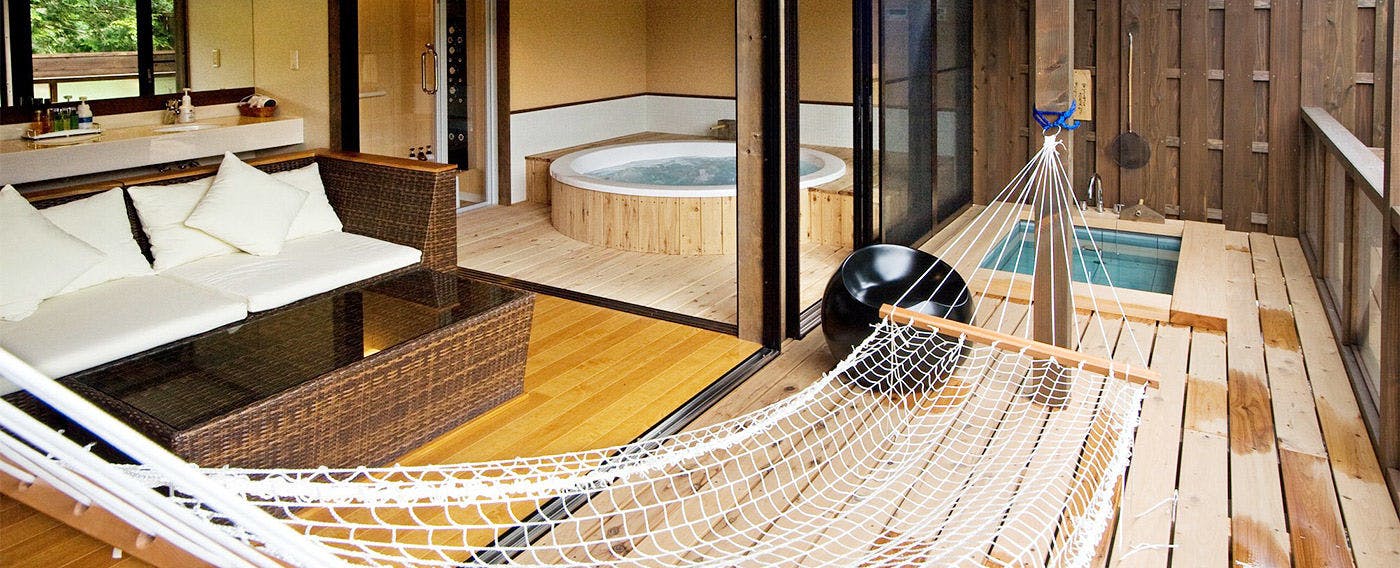 Private Bath 'Tombo'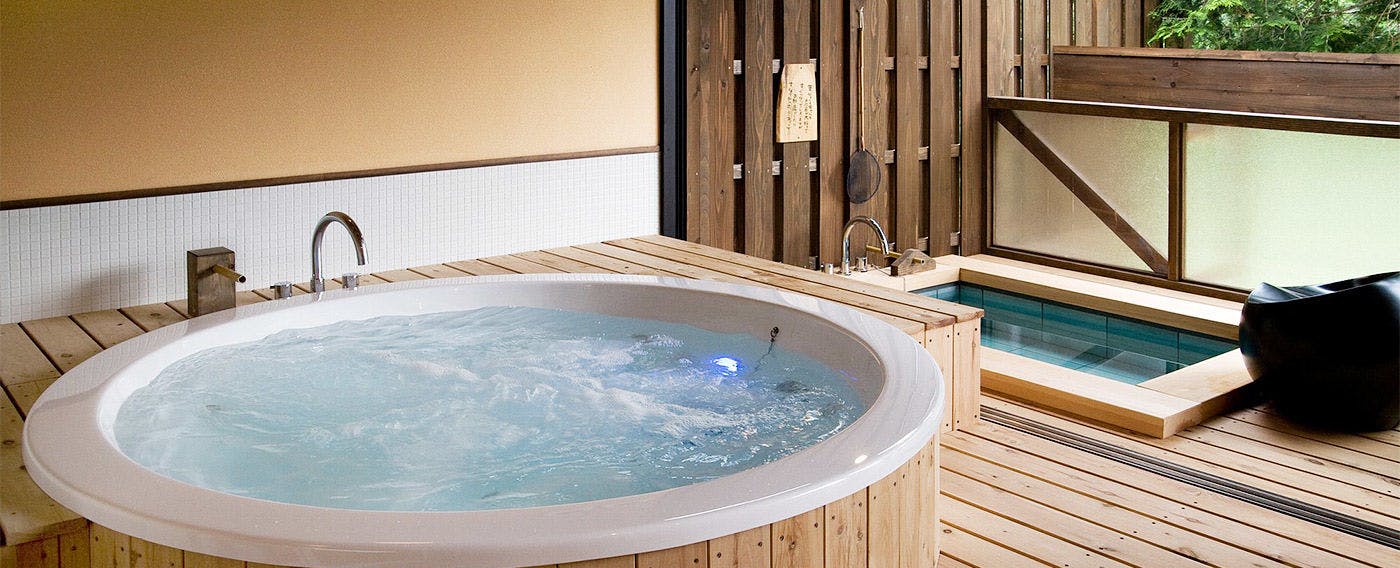 Private Bath 'Tombo'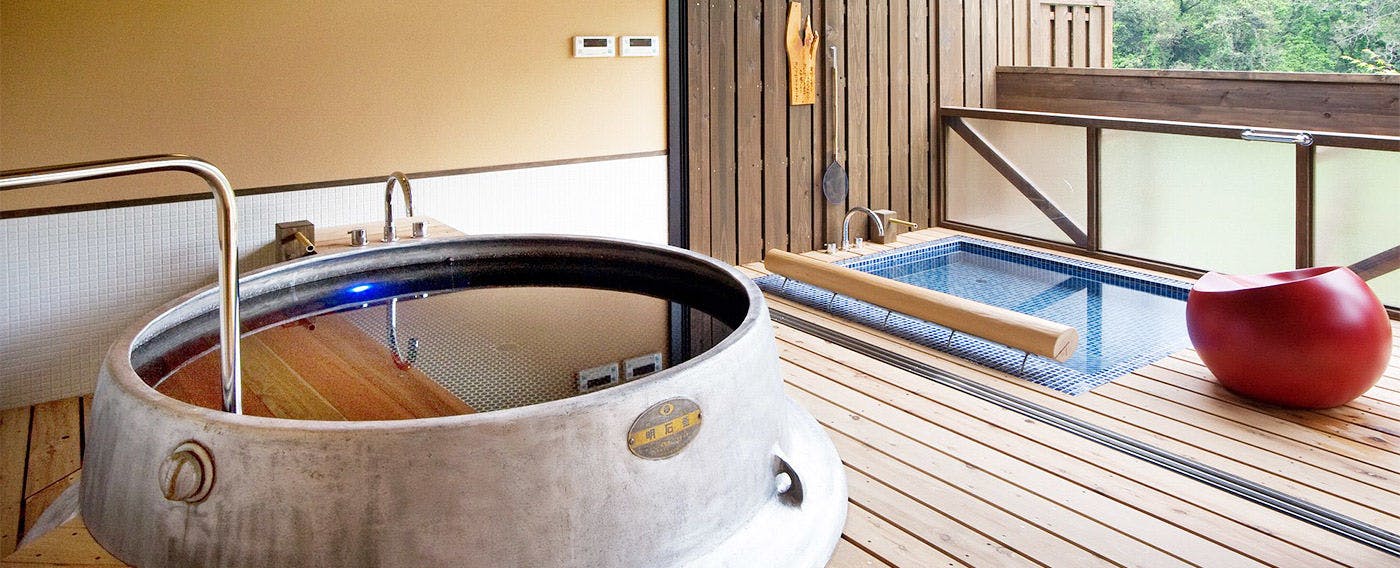 Private Bath 'Chocho'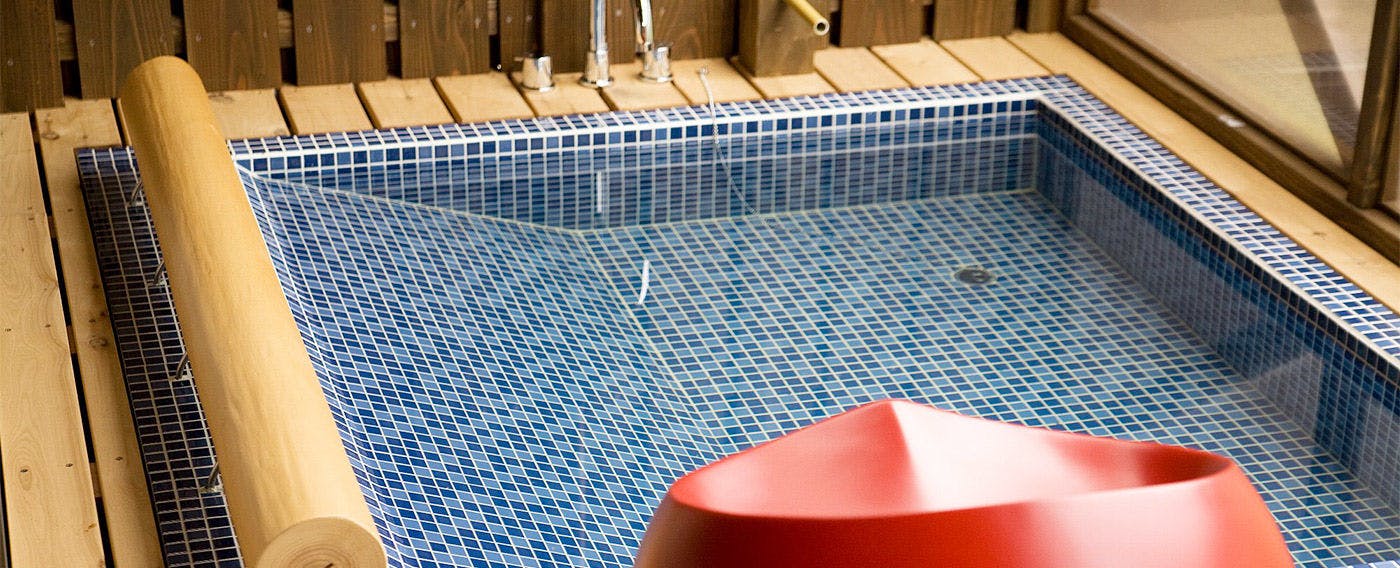 Private Bath 'Chocho'
Private space of high quality Green-rich woodlands surrounding the ryokan.
All the rooms have an open-air bath so that you can enjoy this idyllic landscape to your heart's content. Please enjoy your best holiday by taking a hot bath under the sky filled with stars, and in the fresh green and under the sun.

Private bath
"Private Vista" is the hot spring bath where you can keep the landscape spreading in Yumenosato to yourself. The spacious spa and the luxurious time of yourself will make you enjoy blissful time to your body and soul's content.
Facilities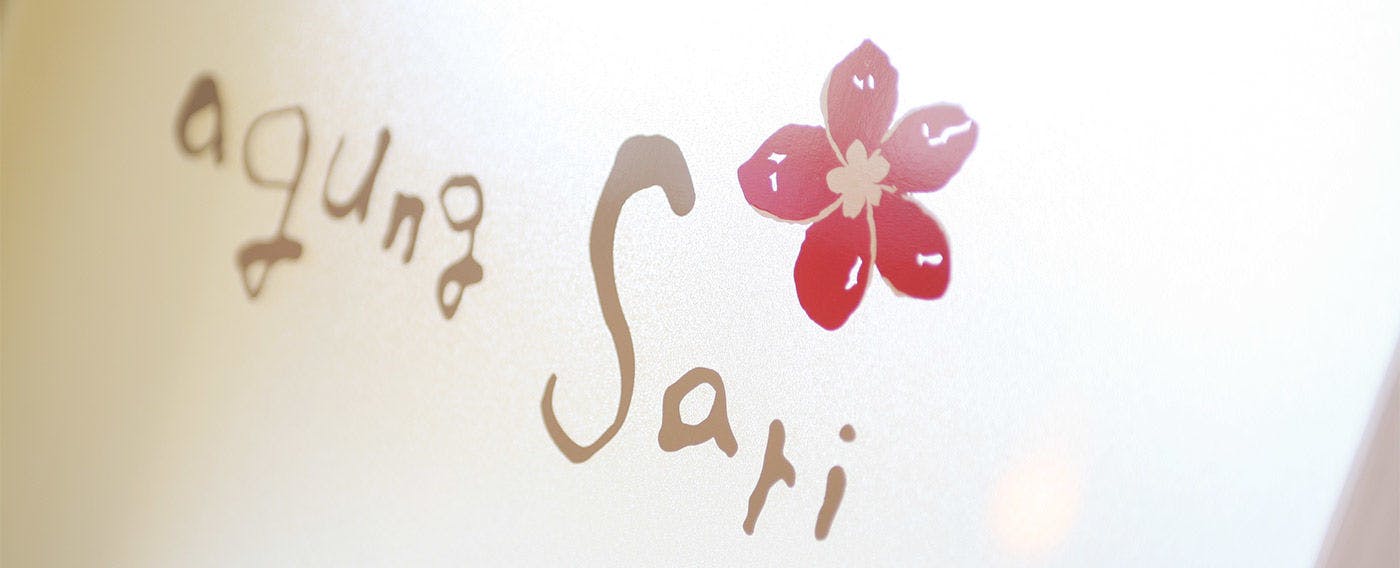 Spa 'AGUNG SARI'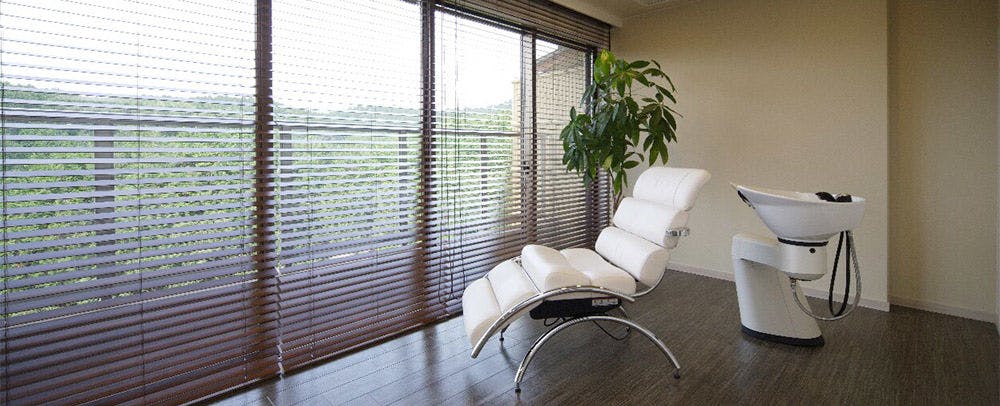 Spa 'AGUNG SARI'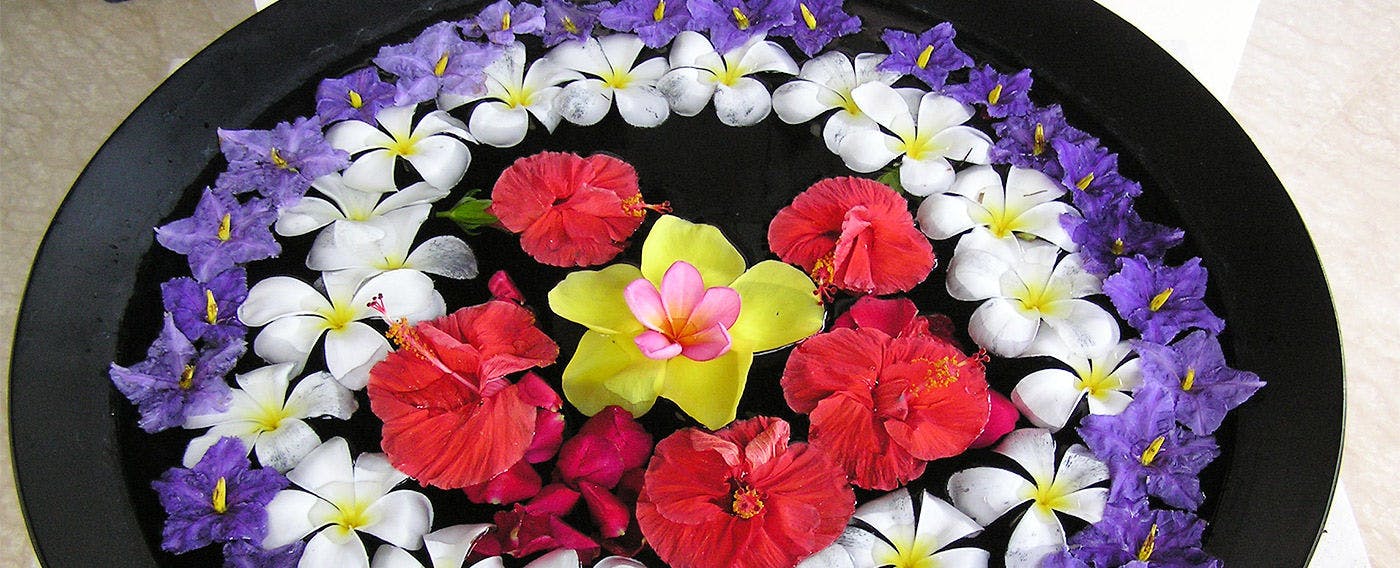 Spa 'AGUNG SARI'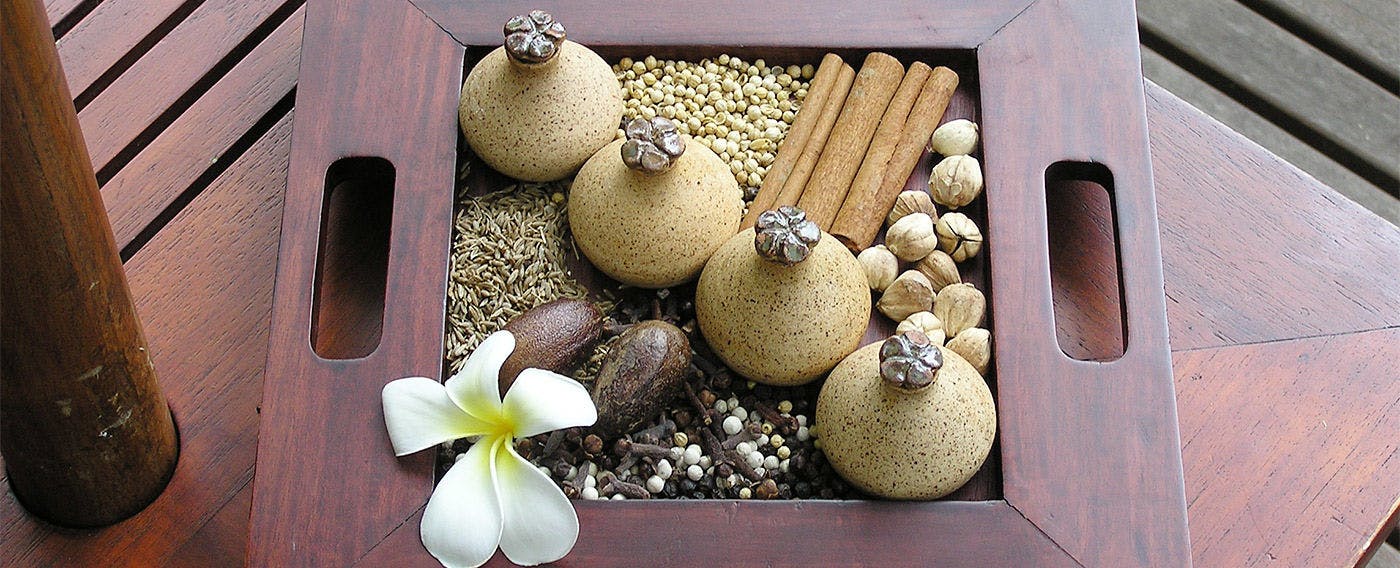 Spa 'AGUNG SARI'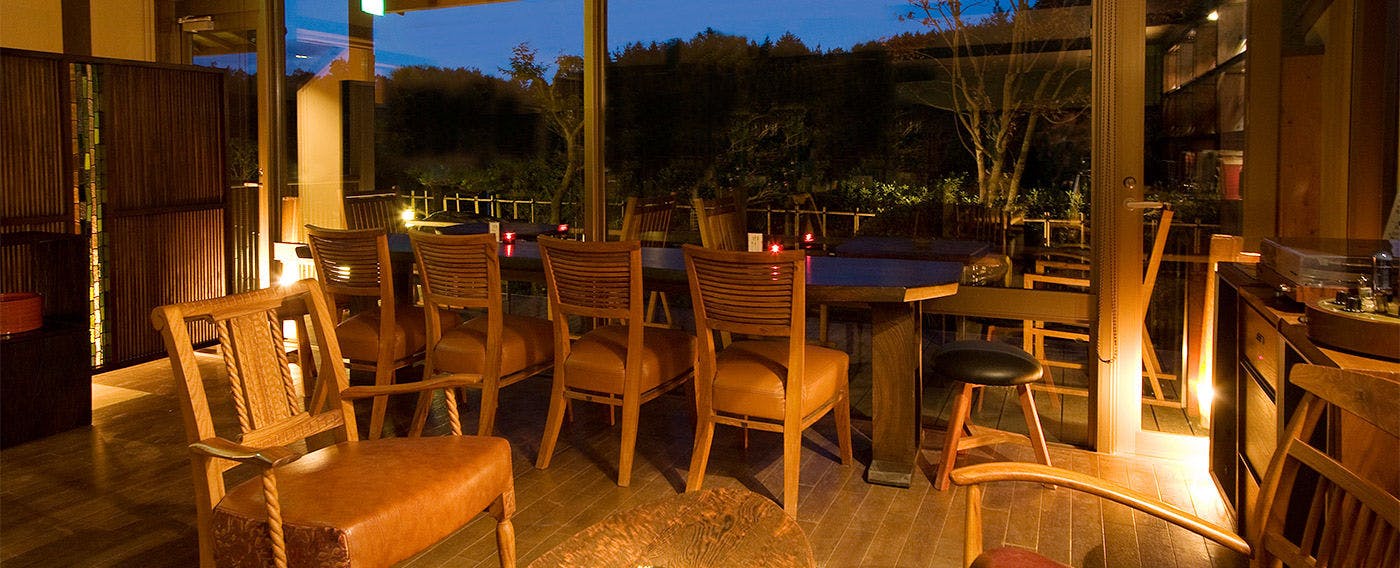 Lounge K's Bar
Lobby
Spa, lounge bar AGUNG SARI SPA
"AGUNG SARI SPA" provides the oriental relaxation using herb balls that are used in the traditional therapy of Thailand. They have used medical herbs for more than 800 years in Thailand. 11 kinds of selected herbs will take the stiffness out of your muscle gently, permeating to your skin slowly to increase your metabolism. Beauty and health... this therapy is gathering people's attention in Japan because it has high effect on the stress care.
Delicious air, idyllic landscape of woodlands, and refreshing fragrance will make you relax. The herb beauty treatment will make you feel you want to give rewards to your body and soul.

Self lounge K's Bar
This bar has taken the style of self lounge so that you can enjoy your quiet time leisurely. The furniture of BC workshop is arranged in a calm space with sparse lights. Please enjoy delicious alcohol to your heart's content. You can also eat a dessert after meal.
Access
187 Maenosho, Yumesaki-cho, Himeji-city,Hyogo,671-2103,JAPAN
BY TRAIN
From JR Himeji Station: 45min by bus to Yumenoi Stop, or 40min by taxi
Reviews
12 Reviews
Wonderful hot springs and cuisine. This time I chose the 'Quality before quantity course' for cuisine, but there was certainly enough content to fill my stomach. I was able to spend a carefree day off.
+ More
Sep 2015
The attitude was always polite, I could spend some pleasant time here and I am satisfied. The food was also quite delicious.
+ More
Aug 2015
I had a very enjoyable stay. The food was delicious and the outdoor bath in the room was also very nice. The rotation of men and women at the public bath was good, but the absence of a sauna was a bit dissapointing. Furthermore, the fact that you could only get a regular massage after eating was a little unfortunate.
+ More
Sep 2015
I visited with my parents who are old. Even though it had been a long time since the last time my parents went for a trip, we spent our time at ease after all kinds of consideration. It was easy to get into the open-air bath attached to the room, they really like it a lot. The sake drunk was nice and the meals were delicious, I will definitely visit to this hotel again.
+ More
Aug 2015
If I answer whether to repeat or not, I will never repeat and it is not possible, never. The reason is that the view from the room is too bad. By the sitting place, mountains can be seen, the directing feeling of an extraordinary space is zero because the surface of a mountain appears, and solar panels can be seen to a building..., more creative idea should be demanded. I wonder if you think from a visitor's point of view? When I want to hear chirps of birds, I open the window, there is a hole..., in this time, insects will be getting in from the opening window. I wonder whether you check properly after the guests left? Maybe, you will not check. This was a trivial matter, but I had an unpleasant experience. Customer services are not good. They must have known the visitor's arrival or must have predicted, but they were laughing and chatting. The man guiding the visitors advised them, therefore they might resign, their minds are too low. I have never experienced like this before, I really regretted, I could guess the inn's quality. It seemed to be particular about meal, it was very delicious. That was only a good point.
+ More
Jul 2015
Since I was pregnant, I was looking for an inn that has rooms with an open-air bath and I decided on this inn. The reserved bath was so wonderful. I was not able to go to the big bath so it was satisfying. There were two kinds of reserved bath and I enjoyed both of them. I was able to use it for a long time like 50 minutes and 100 minutes so I could take my time to enjoy it. What satisfied me was not only the bath but also the quality space for relaxation. The rooms were wonderful, too, because I could view the fresh greens and hear the frogs from the room, which was very healing. For the three days and two nights we had easy time to ourselves in the room, which satisfied us very much. As the bugs are in season, the open-air bath connected to the room had bugs floating on the water. It would be better if the bath were covered.
+ More
Jun 2015
A multilevel room and a slope to a chartered bath seemed to be a little hard for my accompanying elderly woman to use. One thing that disappointed me happened at dinner when I was told that as the last dish, sea bream chazuke (rice with green tea poured over it) would be served due to poorly cooked rice, instead of rice cooked with shredded sea bream, which was supposed to be served originally. I could not accept the last dish would be sea bream chazuke right after I ate alfonsino shabu shabu. I told them it was annoying to force me to eat it because of the inn's own reason. And I passed up the food afterward. One poor service ruined the enjoyment of the food that I had had until that time, causing an awkward atmosphere between us. After the incident, they took very much care of me, so this time I tentatively accepted their sincerity. I read the other review posted saying that Sakura Shrimp Kamameshi (cooked rice in an iron pot) was undercooked. You should do something about Kamameshi in my layman's opinion.
+ More
May 2015
It was great as the meals were delicious and the service from the hotel staff was very kind. This is now one of the hotels I want to come back.
+ More
May 2015
Thank you for having me. Rice with sakura shrimps served for dinner was hard even after it was cooked and I could not eat much. It was disappointing. I asked for Japanese breakfast and the vegetable salad was filled with delicious vegetables made in the hotel's own farm with sweet dressing that went well with it. I understand that they would like many guests to use it however the fact that the time limit for the private bath is 50 minutes was too short and I could not relax much without time. I liked it that I could do nothing but be in the open-air bath in the room in the morning; it was refreshing. Overall it was very good and I would like to visit again as a loyal guest.
+ More
May 2015
I was there on Golden Week holidays. Since the moment of check in, I felt the inn being very lovely with a relaxing atmosphere. The room was clean and quiet , and I had spent a relaxing time. The chair was comfortable as well, and I fully enjoyed a relaxing time just sitting, peacefully gazing at the greenery from the window. (listening at a relaxing song on the equipped CD player...) As for the meals, the room was a relaxing space and was comfortable as well. The set-outs were enjoyable and all of the ingredients in season were great. However, for me who eat little nowadays, the portion was large, and just infront of the dessert, I got totally full. Next time, I would like to choose the plan with more moderate portion. And for the time for breakfast, I am glad for the consideration over the matter of allergy. Thank you. For the bath I used the open-air bath at room and it felt really great. I would like to visit again in an another season. Thank you. The staff responded nicely with non-excessive care for the bath.
+ More
May 2015
Their service were thoughtful with delicious meal complete with the platters on top of the wonderful bath. The riceball I had to wait for was also splendid. Overall, it's an inn brimming with cleanliness.
+ More
May 2015
The room was so-so. The meals were the worst.
Apr 2015
Information
Check-in Time

From 3:00pm to 6:00pm

Check-out Time

Until 11:00am

Tax / Service Charge

Bathing Tax JPY 150 per adult is included in the rates.

Credit cards accepted at this property

VISA / MASTER / JCB / AMEX / DINERS / DEBIT CARD
Children

Children of 12 years old or under are NOT allowed.

Pets

Pets are NOT allowed.

Parking

Free of charge for guests; Available from 3pm to 11am; Capacity 180 vehicles; No Valet Parking Service

Other policies & conditions

Children of 12 years old or younger are not allowed to stay.We are very sorry that we don't serve dishes for a vegetarian.