Meigetsuso
Height to lok down the Zaoh peaks. Japanese-villa-style rooms, with unique atmosphere at each room, stand among the 13,200 sqm site. This one-of-a-kind resort has both essences of Japanese-style and Western-style. On a day with full moon in each month, you can enjoy the moon out from the Zaoh peaks with live concert. Besides, there is lounge, sake storehouse, shop, and library. At Meigetsuso, finding your favorite place to relax.
- VAT is included, but bathing tax (around JPY 150 per adult) may NOT be included.
- Price in USD is based on the exchange rate as of today and might be different from that of the booking date.
Foods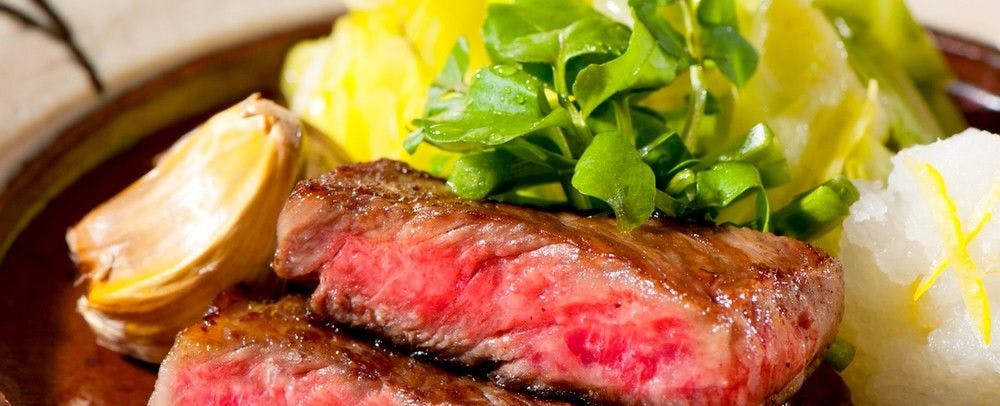 Foods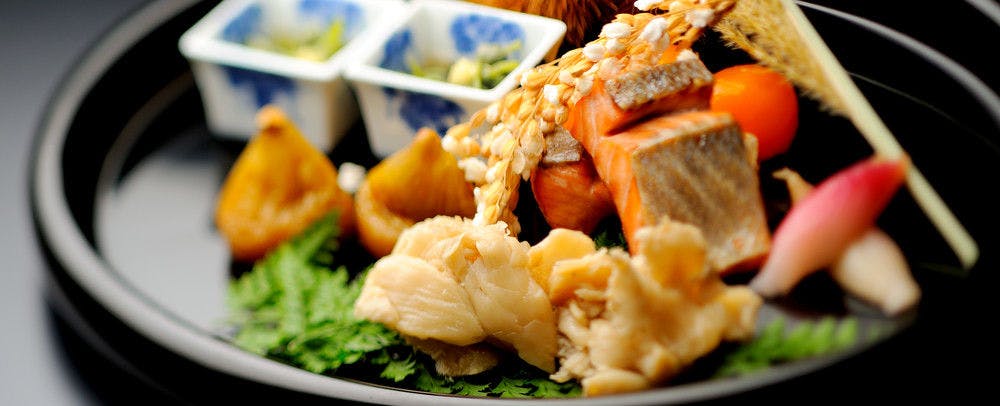 Foods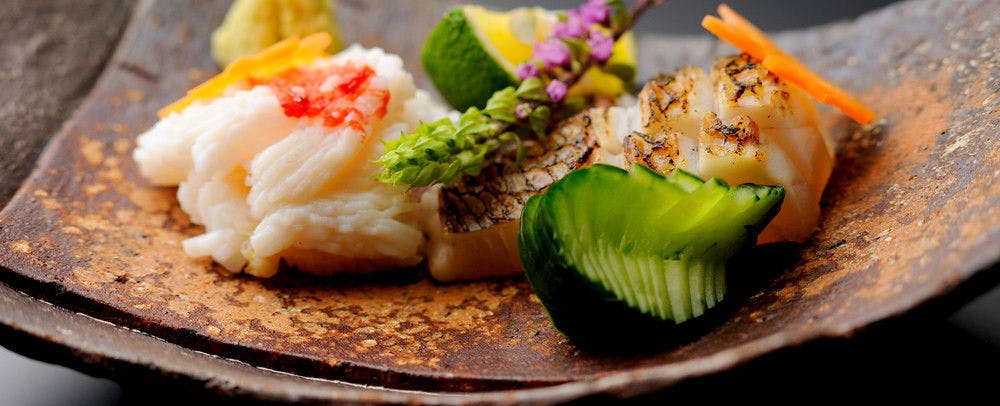 Foods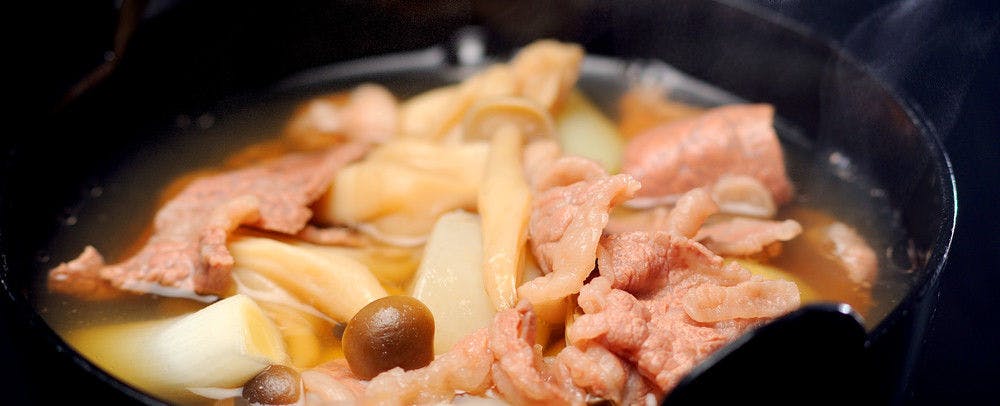 Foods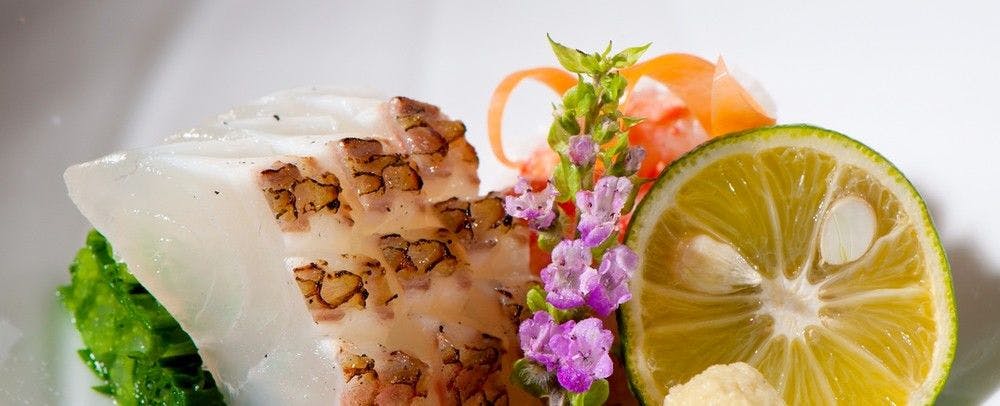 Foods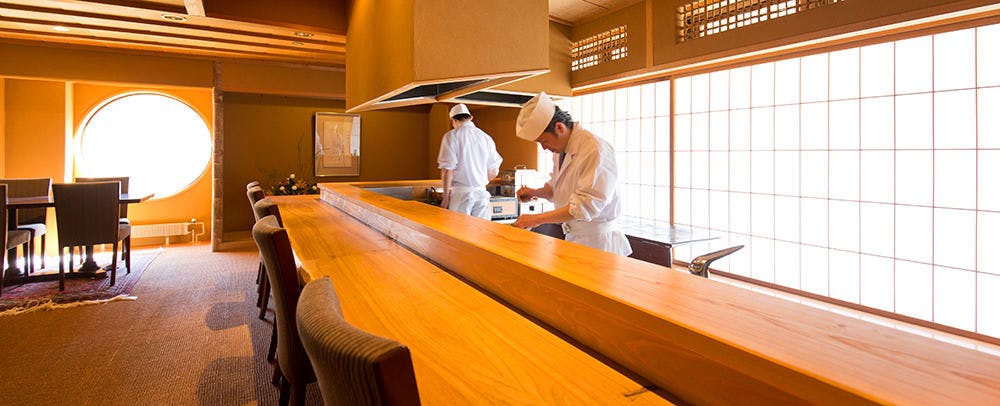 Counter Dining 'Yu' with Chef's Cooking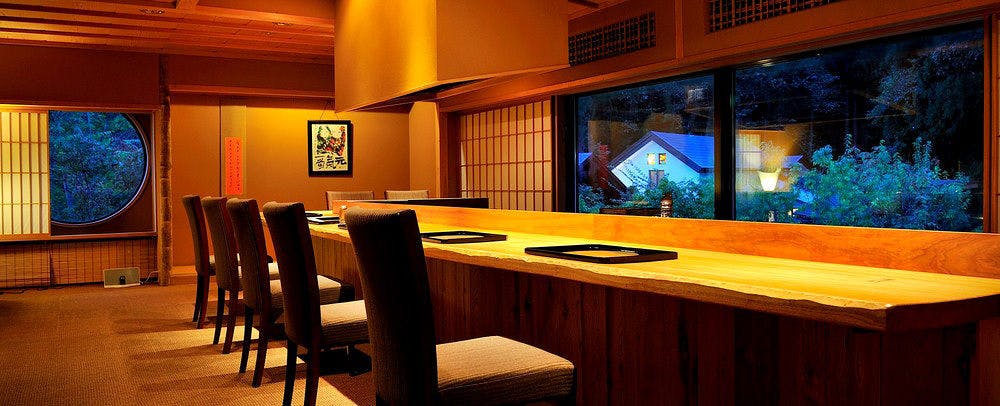 Counter Dining 'Yu'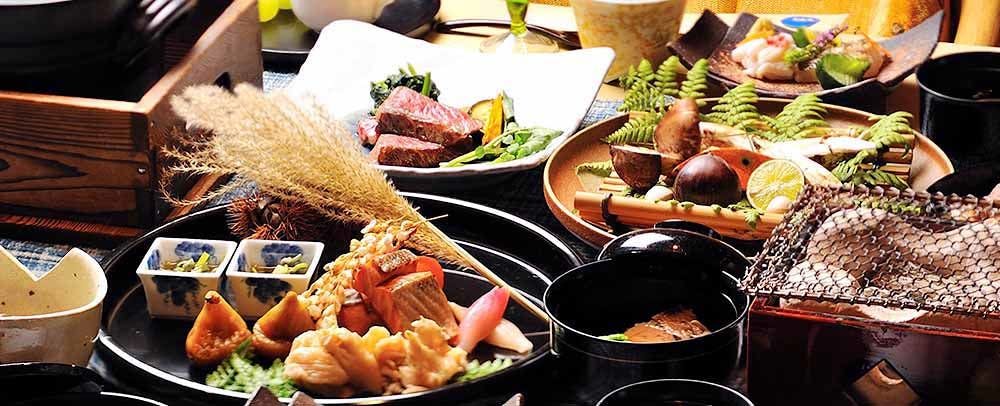 In-Room Dining
Enjoy meals in a style you like Counter dining "Yu"

Dishes make the most of seasonal and local ingredients of Yamagata. Chef goes to the market on his own, and cooks with carefully selected delicious ingredients in each season. At this couter dining "Yu", chef cooks right in front of you. And you can enjoy talking with chef about foods and chef's special local brew, as much as you like.

In-room dining
Eating dishes in guest room makes you relaxed. The traditional kaiseki cuisine has flavor and scent of season, cooked with local foods from mountains and ocean. This region is famous for Yamagata beef high-grade rice, mountain vegetables, and mushrooms. Also close to the Sanriku Coast. The kaiseki cuisine has monthly menu, from aperitif, appetizer and main dishes.

Japanese and continental breakfast both available
With Japanese breakfast, you can choose seasonal miso soup, as well as rice porridge and cooked rice. Especially, in winter, local dish of Yamagata "Nattojiru" is also served. Why dou't you try it? Continental breakfast has choice of beverage after meal, as well as fresh-baked bread and egg dishes.
Meigetsuso prepares your breakfast in dining space of each guestroom. When you wake up, fresh breakfast is already served on a table. After enjoying relaxing morning time, you can feel total heaven like having a doze and sleeping again. If the weather is nice, you can have breakfast at the terrace.
Baths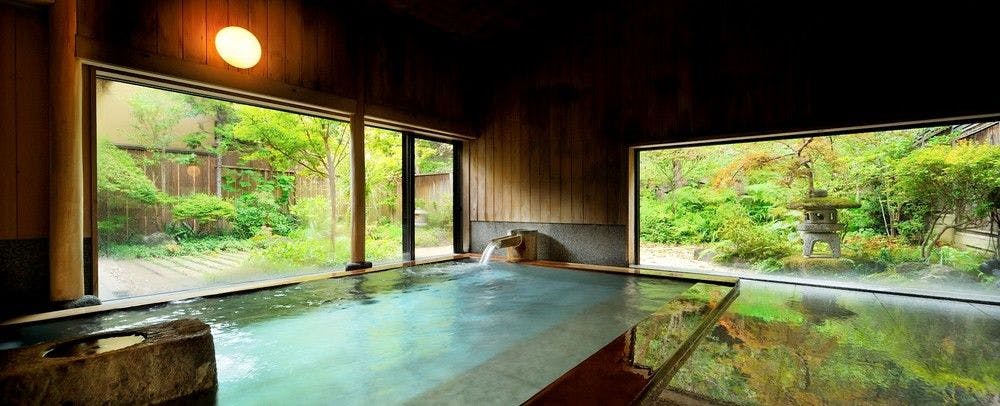 Large Public Bath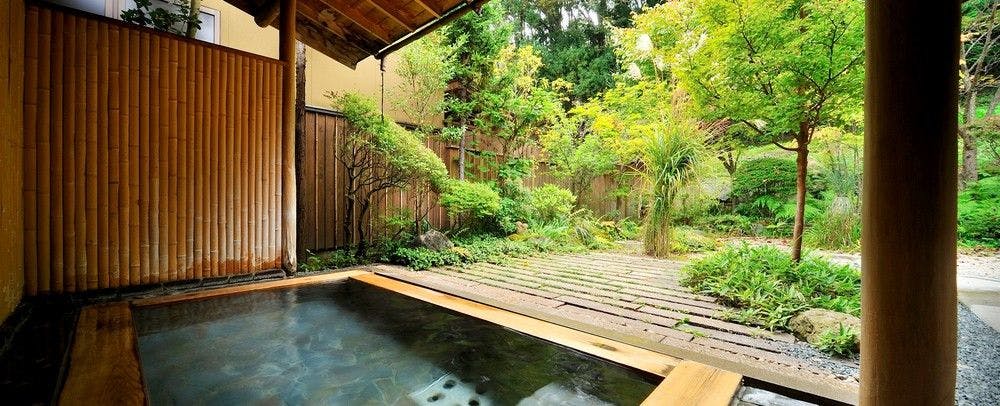 Open-Air Bath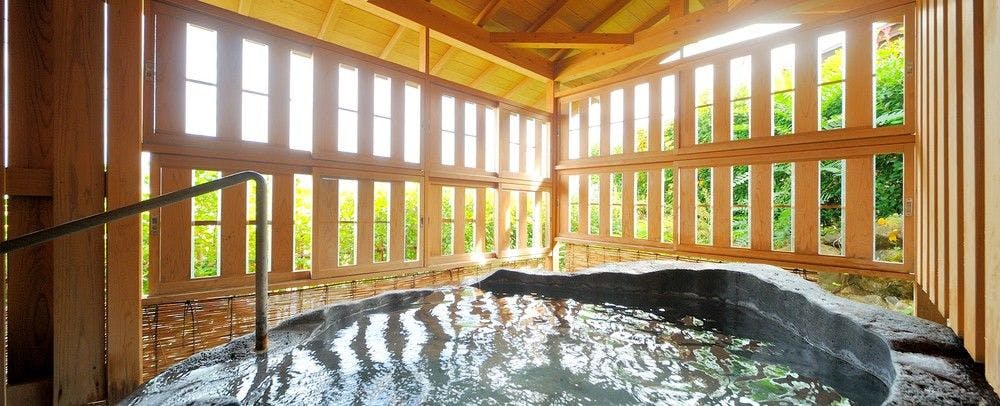 Private Open-Air Bath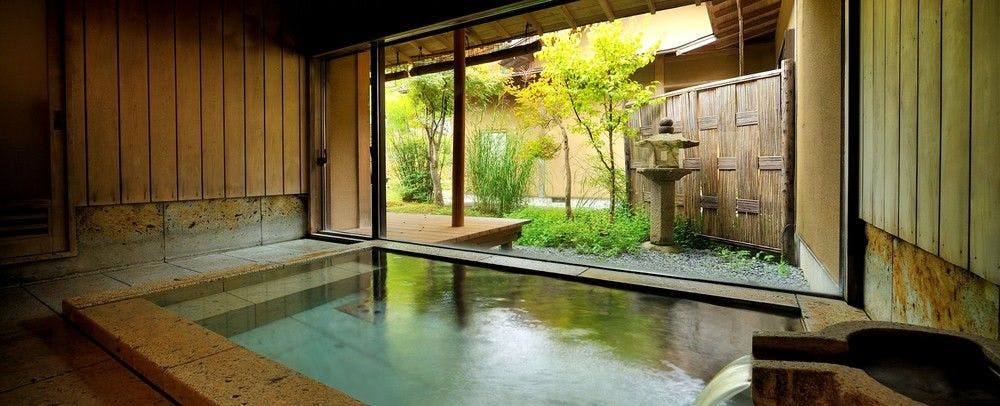 Private Bath for Family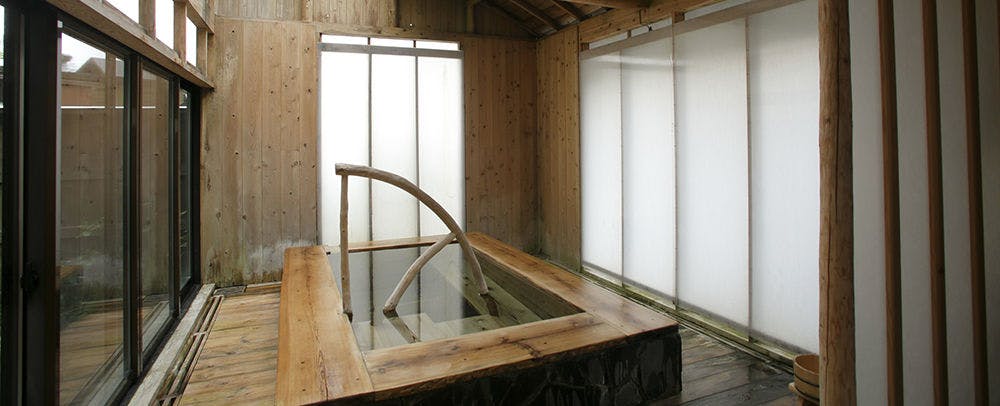 Private Standing Bath
Large public bath and open-air bath Large public bath and open-air bath
Large public bath, separate for male and female, has fragrant Aomori khiva in its ceiling, walls and bathtub. A bathtub and place for washing the body are made of granite, so the scent of wood is refreshing. Hot spring water has sodium and calcium, and good for cut and bruise. The scenery spreading to wide window is as beautiful as a picture. In the dressing room, towels and amenities are prepared. The open-air baths spread out of large pulic baths. Taking a bath in the rich nature relaxes your mind and body. After bathing, you can have a rest at salon, while drinking a local cold barley tea. In addition, shaved ice and draft beer (with charge) are served in summer.

Open-air bath for private-use
Very popular and large open-air bath, uniquely shaped like the Zao rock hollowed out. From the bathtub, you can overlook the Zao peaks. Reservation is not required in advance, and you can use it freely as long as it is not occupied. If the entrance of staircase to the bath is closed by a bamboo pole, it is the sign of "occupied". This kind of generosity is charm of Meigeitsuso.
Facilities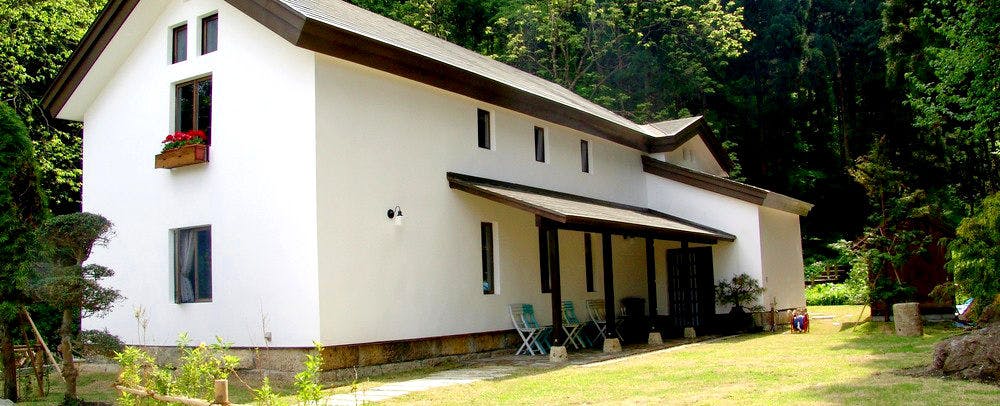 Gallery Façade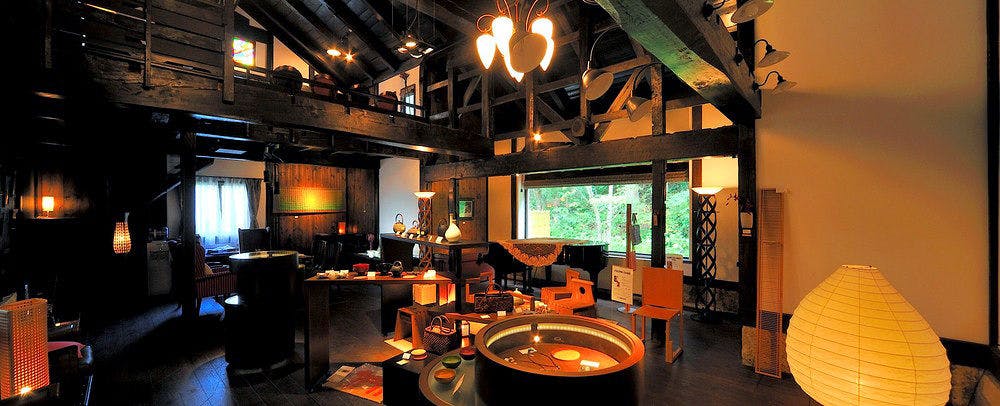 Gallery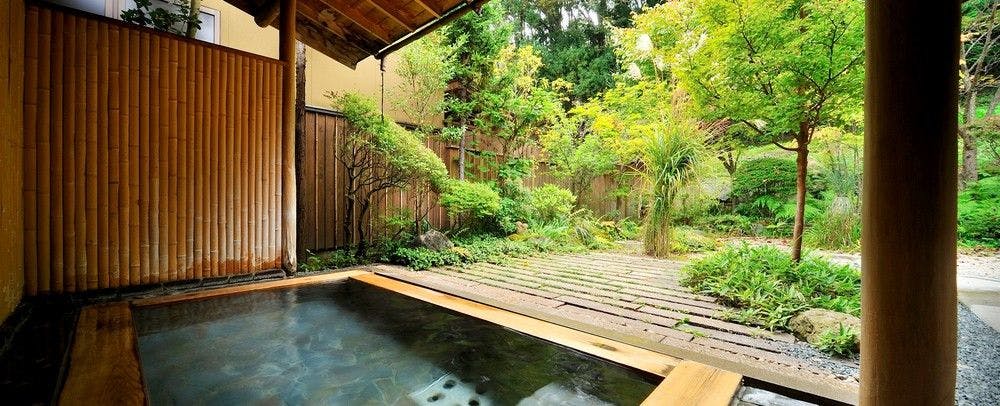 Lounge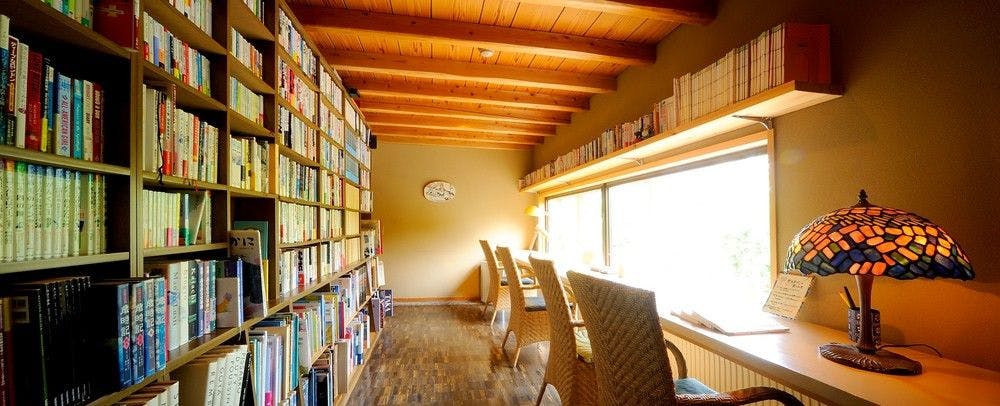 Library
Library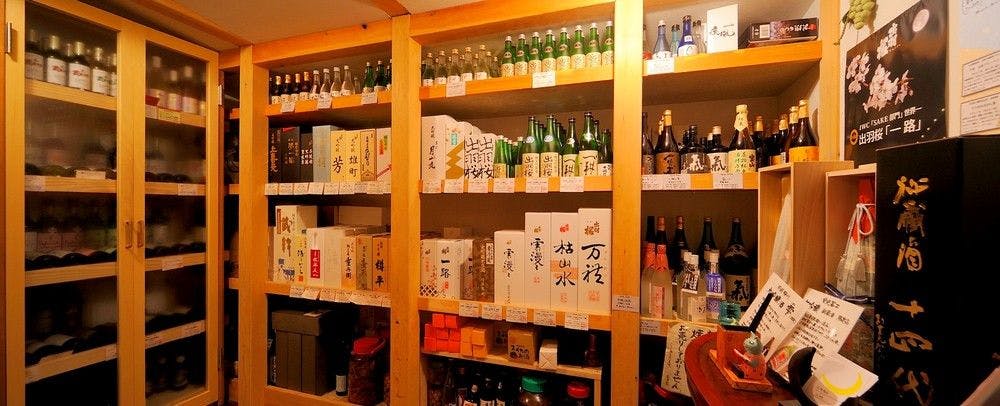 Wine Cellar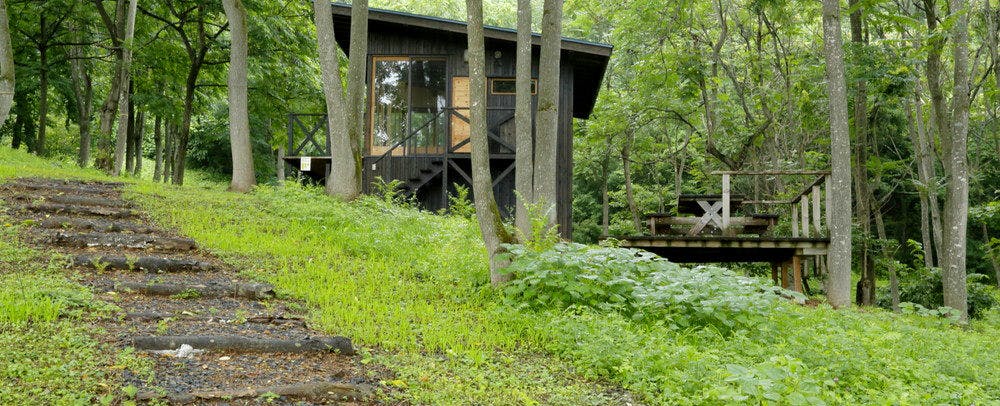 Yoga Room
Yoga Room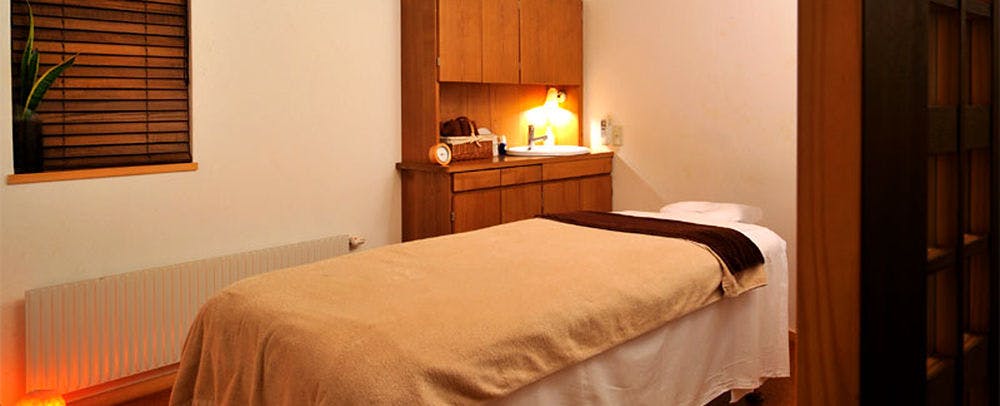 Body Salon
Gallery with live concert, lounge, and library Warehouse gallery
On a day with full moon in each month, a live concert is held at this warehouse, removaled and reconstruted from Akita. You can enjoy music of many styles, like classica, jazz and flamenco guitar. It has a program of the whole year, so please contact about detailed contents. Except for a day with full moon, it displays works created by artists from Yamagata, in collaboration with "Design network of Yamagata", as a gallery. Open from 9:00am to 10:00pm. A lot of crafts made in Yamagata!

Lounge
Coming out of room with irori, Japanese-style fireplace, you can see the lounge like a lodge on the left. A cool brreze blows in summer, fire lights in the fireplace in winter. Help yourself to drink a cup of coffee. Stay here whenever you want, and in many ways whatever you want, for example, reading, writing a letter, and listening to your favorite music. Open from 7:00am to 11:00pm everyday.

Library
Small library, which faces the courtyard, has wide range of books, such as picture book, fairy tale and full-scale book of paintings. There are books of beautiful dishes, Western books including photos of interior decoration, and also rare book like concerning Yamagata and Ueyama. Please help yourself to read many books while looking out over the courtyard. Manga comics are also available in the back.
Access
5-50 Hayama, Kamiyama-city,Yamagata,999-3242,JAPAN
BY CAR
From Fukushima-Iizaka IC Exit (Tohoku Expressway): 80min by car via Route 13
From Yamagata-Zao IC Exit (Yamagata Expressway): 20min by car via Route 13
From Kaminoyama IC Exit (Tohoku-Chuo Expressway): 10min by car via Route 13

BY TRAIN
From Tokyo Station: 2.5hr by Shinkansen to Kaminoyama-Onsen Station, and 5min by taxi
From Sendai Station: 1hr by Senzan Line to Yamagata Station, and 14min by Ou Main Line to Kaminoyama-Onsen Station, and 5min by taxi.

BY AIR
From Tokyo: 55min by air to Yamagata Airport, and 50min by car via Route 13
From Osaka: 75min by air to Yamagata Airport, and 50min by car via Route 13
From Nagoya: 60min by air to Yamagata Airport, and 50min by car via Route 13
From Sapporo: 50min by air to Yamagata Airport, and 50min by car via Route 13
Reviews
12 Reviews
It was a very good inn, but I thought it was dangerous for us old people because there was no handrail in the bathroom. The private family bath was also not open for ever, so when I went to see the state. The signboard said "the bathroom is occupied", but there was no one in it.
+ More
Sep 2015
When I checked in, I was told that there was another room available, so they prepared a room of a higher grade and larger than the one I had reserved, which made my stay even more comfortable. I was very excited about the food, and although it's possible to the menu in the "This Month's Cuisine" section at the website, I chose not to see it, so that I could enjoy the fun of being served dish by dish. As I'm a local, maybe I'm used to having Imoni (a potato and meat soup), because I didn't find it different, and it felt heavy in my stomach too. I've visited some times, but this time the famous udon that I love wasn't in the menu; instead, there was a very autumn-like rice cooked with matsutake, which was delicious too, but I really missed the udon... I guess I'll have to leave the special udon for the next time... The space after you leave the bath is always comfortable, and I love to spend some time relaxing there. As I had decided to stay at Meigetsuso without looking at my watch, cellphone or TV, I started reading a magazine at that place, and got so absorbed that, when I realized, the day was already dimming, and I felt the autumn in the sounds of the insects. I love this space at all seasons.
+ More
Sep 2015
This was my second stay. Everything was upgraded compared to last time and I am very satisfied with it. The open air bath in the room is very big and I had a great time. In addition, there are 4 types of baths, but it was a pity as I had no time and only went to one of them. I want to try all the baths next time. It's an inn you can boast about to anyone.
+ More
Sep 2015
My friends told me that this hotel was good, so I decided to stay here too. The best thing was that there were several different baths. It was the first time I tried a standing bath. Besides it was possible to have breakfast in the living room, so it helped a lot that I was able to leave the futon as it was in the Japanese-style room. Concerning the food, they paid more attention to the quality rather than to the quantity, and it was delicious. I had plenty of time to relax before the check out at 11:30. If I have an opportunity to come here again, I would like to stay here.
+ More
Sep 2015
This inn is one of my favorites and so I have been indebted many times. I stayed here with a fried who was here for the first time. I was amazed and was happy here. My friends understood why I come to stay here so many times. I loved the dinner without fail as well as the breakfast. I felt happy eating in the living room, in addition to that the time to check out was at 11:30 which was quite rare for Japanese style hotels. The"Tamakonnyaku" in the evening and also the "fresh juice" in the morning, at the place near the big bath where we could have a rest, were good. Because we were in a party of all women, we had no chance to turn on TV at all. I was free from my daily stress, and so I felt as if time has stopped being at ease. This Beauty Salon is superb, though I could not go there today. This is an inn with well facilitated and good consideration that I love so much that I cannot express my feeling writing in it.
+ More
Sep 2015
We came here to celebrate the 77th birthday of my grandmother. I was thankful that we could enter the guestroom one hour earlier, as we got sick for the long journey. As thee facilities are not made barrier-free, I think it is not appropriate for elderly people, but the concept is to enjoy an extraordinary time in a hide-way inn, I think it is acceptable. As for the food, there were no special meal of the inn, so compared to an inn where I stay for the special sweet, I felt it was expensive, but I was convinced thinking that an investment for such a high grade facility was necessary. I bitterly complained, but I thought it would have been better that a woman had responded a call as I could not see the other end of the line, when I received a robotic response from a person of the same generation. The room was very clean and my grandmother was pleased as there were many place to take photos, but we left the inn, giving up an idea to stay there consecutively.
+ More
Sep 2015
This time going to Sizuoka is my main purpose and I was thinking about staying for another night, then I remember my friend told me staying there was great and I booked. First, it was good I went there. For me the inn was little bit expensive to stay, but I could enjoy interior furniture, my room (rainbow), meals (a counter seat), and the service (the summer festival was just going on and thoughtful events entertained me). And the bath (I was pleased with my first time Tachiyu). It was my first time to stay there but I felt comfortable and felt as if I have visited there many times. At the outside gallery there was no staff, and I could have drink freely and spent a relaxed time sitting in a chair. I'm only praising, but there's nothing which made me uncomfortable, the staff's manner was good and I'd like to thank you for making me feel that I'd like to come back again. I could feel unobtrusive care. It's a good and memorable inn.
+ More
Aug 2015
It's a relaxing ryokan no matter what time i'm here. The food was obviously great, and since the bedroom and the dining room are separate, so I could be lying around the washitsu (Japanese-style room) while the waitresses brought us breakfast and dinner quietly, from another passage. The main dishes were Yamagata beef or abalone, and both were very good. It was fun to see typical ingredients of Yamagata everywhere. In a large porch, there was a round konnyaku (a Yamagata specialty), cold tomato, cucumber and even shaved ice, which let me enjoy the air of summer. It is a luxury only allowed for adults to have draft beer while feeling the cool wind and listening to the sound of higurashi cicadas. There was a fireworks festival coincidentally and I enjoyed it as well. It is a ryokan I would like to stay at again. I will visit again.
+ More
Jul 2015
My heart's desire was fulfilled with this being my second stay. It feels as comfortable as it used to, and made me want to stay longer. For this year's wild vegetables being early, the wild vegetables I was looking forward to was not that great, but I was again impressed at how good the rice tastes. I think the rice ball was the best...sorry. The room had the opposite view from before, and the greenery was beautiful. But, much to my dismay, I found myself waken up earlier than planed by a laud voice saying "You need to wake up for the hot spring, wake up, wake up..." in the early morning at 5:30, which I lamented my misfortune as if of a work of the devil, but let go because "Things happen...". I definitely like to go stay again. I hope for a quiet neighbour this time as well...
+ More
Jun 2015
[Room and amenities] The yukuta lacks elasticity, so I don't really like wearing it to sleep, but they also prepared other pyjama which was quite comfortable as it was fresh and soft to the touch. I bought one the next day when I saw it selling in a shop. The organic pillow was also comfortable. The grainy feel of the carpet in the Western style room felt good against the sole of my foot. [Services] The person in charge was always attentive during our stay, and I had a pleasant stay. And I only noticed this when I left in the morning, but it made me really happy to see my car washed which was probably done at night. [Bathroom, bath, onsen] My family visited nearly all the bath, and they love the private bath that was deep enough to stand in. And although it is also available in every room, they still prepared towel and bath towel in every bath, perhaps because they assumed that people would use them many times. [Facility/Equipment] I had a good impression of quiet atmosphere visually. The building itself does not look new, but the maintenance is well kept. From the firewood placed at passing through the gate from the parking lot to a fire with charcoal in the restroom of the room, I felt their consideration about scent. [Meal] When I stayed, the main dish was the Yamagata beef, this time there were a lot of edible wild-grass dishes (sansai and migaki-nishin's nabe were especially delicious), so my elderly mother was satisfied. The rice leftovers were made rice balls as a late-night snack by them. [Satisfaction] I felt this was the best course for a lady's session as a whole. This time, my family visited together, they would like to come again because everyone was greatly satisfied. I would like to visit again too.
+ More
Jun 2015
Arriving at the inn being send-off by the full bloomed cherry blossoms in front of the stations. My mother who was tired of walking seemed happy with the greetings from all of you. As for the meals we could enjoy the seasonal menu. The facility was big and I could take a walk around as times allows, and thanks to you, I could spend a relaxing time. Next time, I would like to visit with my family.
+ More
May 2015
I'm physically disabled a little bit and can only sleep in a bed, so I selected the room and stayed but was surprised as the width of the bed is narrow though it's the high-grade inn. About the high-grade inns, I have only stayed in a Japanese and Westrern style room, however, even when I was sleeping I had a feeling of uneasiness and couldn't sleep well, so I was very much disappointed as the rest was wonderful and I could be satisfied. If the width of the bed becomes wider, I would visit and stay for two nights or more in a row, so, I am satisfied this much.
+ More
Mar 2015
Information
Check-in Time

From 3:00pm to 6:00pm

Check-out Time

Until 11:00am

Tax / Service Charge

Bathing Tax JPY 150 per adult is NOT included in the rates.

Credit cards accepted at this property

VISA / MASTER / JCB / AMEX / DINERS / DEBIT CARD
Children

All children are welcome, with the following fee.

Pets

Pets are NOT allowed.

Parking

Free of charge for guests; Capacity 40 vehicles; No Valet Parking Service

Other policies & conditions

N/A