- VAT is included, but bathing tax (around JPY 150 per adult) may NOT be included.
- Price in USD is based on the exchange rate as of today and might be different from that of the booking date.
Foods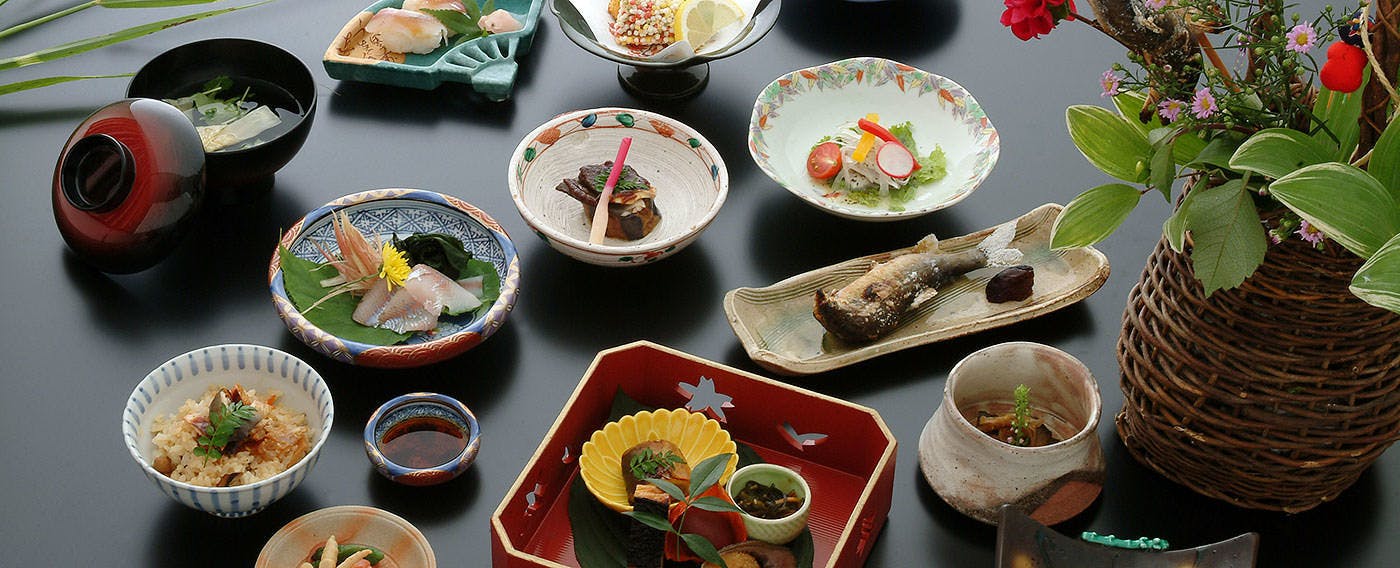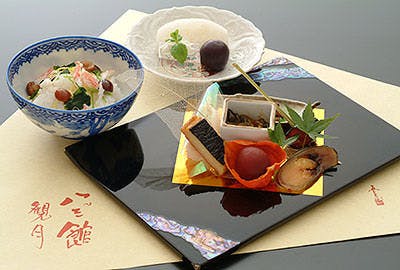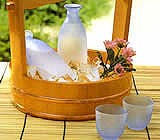 Enjoy the Kyoto style Japanese dishes, that we make the most of seasonal ingredients. We source the rich food of the mountains of Hida, and the seafood delivered to us directly from the Japan sea (Toyama is 80km away), river fish we source locally from Miyagawa, that runs next to our ryokan, to create a seasonal dishes for our guests.
The head chef will provide a menu which is colorful, in August and September we have the sweet fish from Miyagawa, Hida beef marinated in Sake lees, or a beef steak, local specialties such as river blowfish sashimi and hornet larva will be prepared in the full course menu. Both dinner and breakfast will be served in our restaurant in private rooms.
Photo:An example of our dinner menu
Souwa-ryu Honzen-kuzushi Oshidori-Zen
Oshidori-Zen, an authentic Kaiseki style cooking with a stream from Souwa, which is a type of tea ceremony, is our special menu.
Here in Hida-Furukawa there is a traditional menu called .Souwa-ryu Honzen-kuzushi, which is prepared for occasion of celebration or sorrow, and we have created our unique version of the menu.
The definition of the menu, is several small dishes served along steamed white rice and soup on a tray.

It starts with several trays of starters and before the main tray you will be served some tea and Japanese sweets. On the main tray you will find many creative dishes with the ingredients from the local mountains and the sea food from the Japanese sea. The detailed servings with plenty of color is sure to impress your eyes and soul.
The unique and beautiful trays and china have been used for over 130 years.
※Please make a reservation for Oshidori-Zen Delicious Sake
We recommend the Kikizake set for dinner. You can enjoy four different sake from two of our local brewery, and one kind of the night's recommendation, total 5 different sake to enjoy with your dinner.
Baths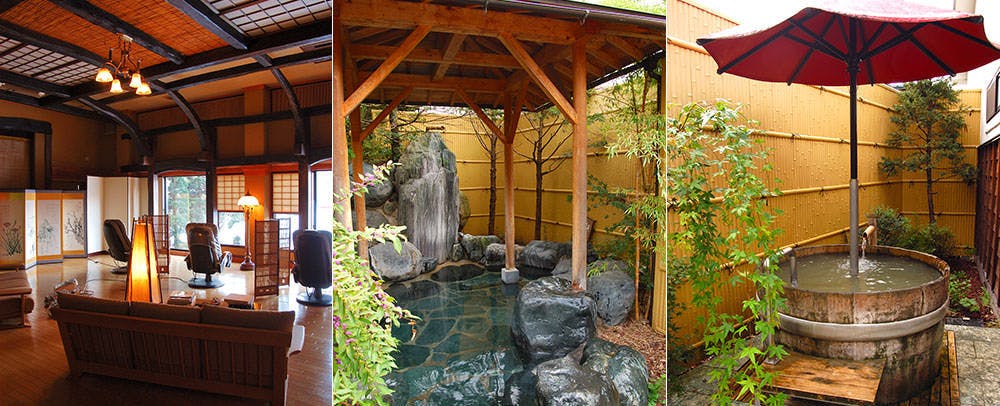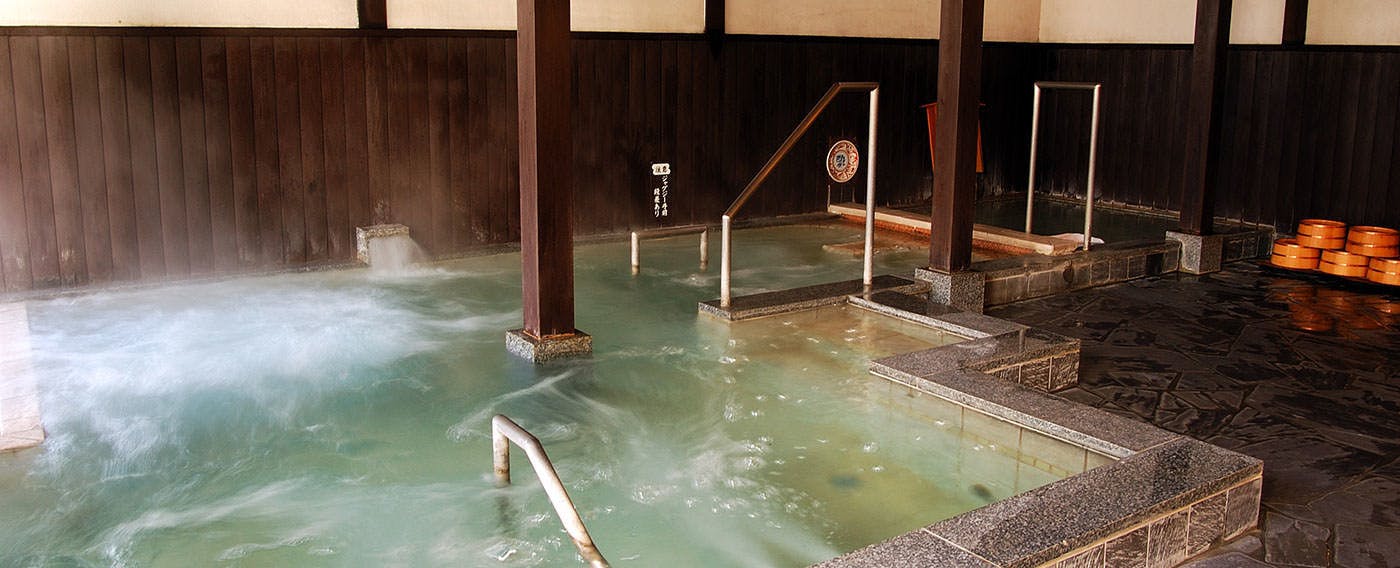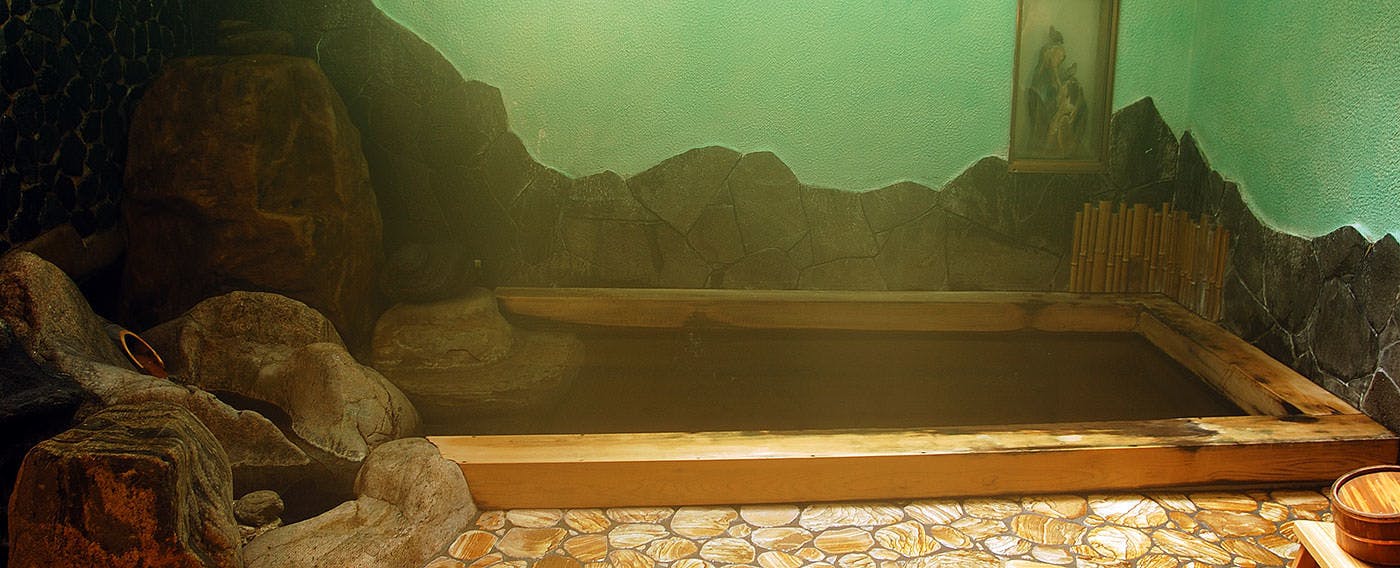 Our bathrooms have different flavors, to sooth your fatigue. You can charter by the hour except for the cleaning hours, at 23:00 we exchange the baths between Ladies and Gentlemen so you may enjoy both baths during your stay. We recommend you wear the Tabi (Japanese socks) that we have prepared so you can enjoy the warmth of our wooden floors.
【Photos】Relaxation room /Open-air bath in the garden / Sakagura-Doburoku bath

■Open-air bath in the garden
A garden open-air bath to enjoy the wilderness, it is covered with a roof. You can enjoy the refreshing feeling in the open air being surrounded by rocks and trees
■Kama buro
An old style Goemon-Buro bath. We will prepare it with rose petals for ladies only, until 19:00.
■Sakagura-Doburoku bath
This is a bath using Sake barrels that we have brought from our local breweries. It contains Sake and is great for your skin.
■Large public bath
The hot spring we have delivered from Togenkyo hot spring is known to have efficacy on neuralgia, shoulder pains, bad [poor] circulations and bruises. We have a bath that we prepare every month and depending on the season, we would use flowers, fruit or vegetables in the bath.
■Oshidori no Yu (For chartering)
Oshidori in Japanese is a word we use for couple that are connected, there is a saying that if you enjoy this bath, you will be connected with your partner or family. Please enjoy with your family or partners.
※2100 yen/60 minutes
※Please let us know at the reception if you would like to charter the bath room.

Facilities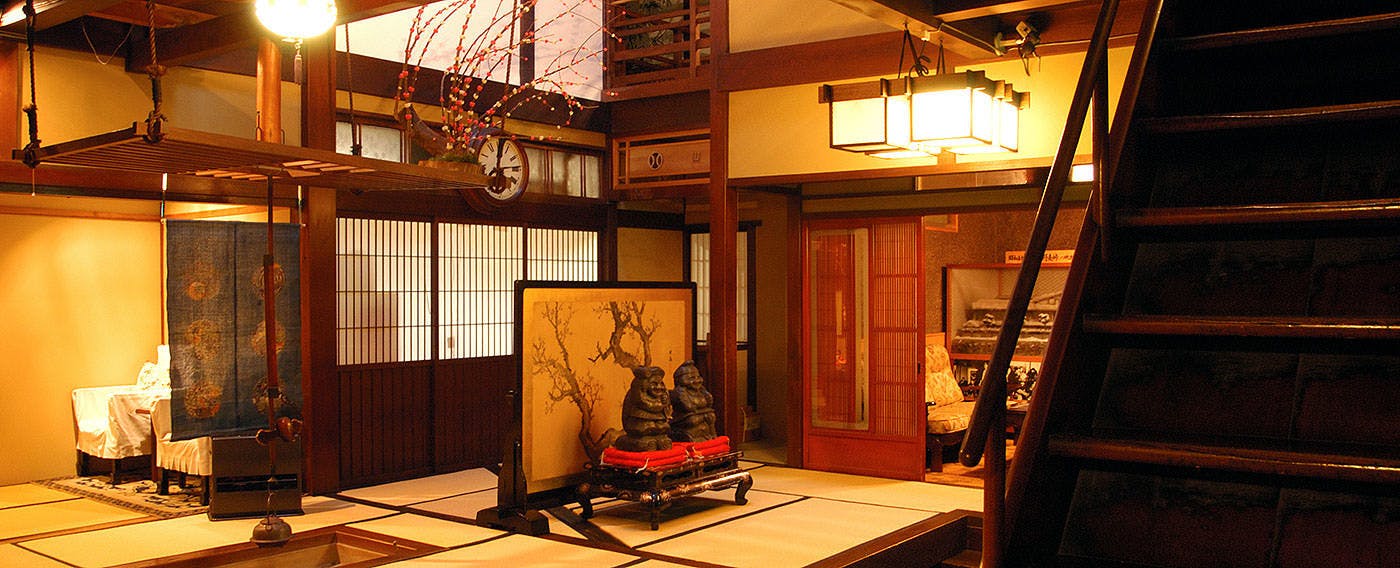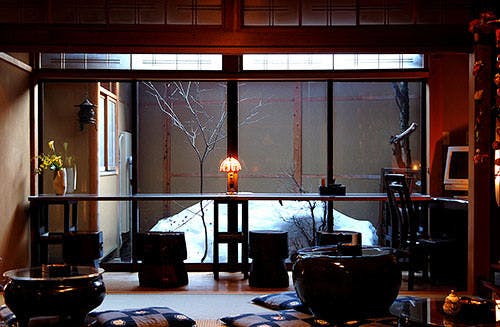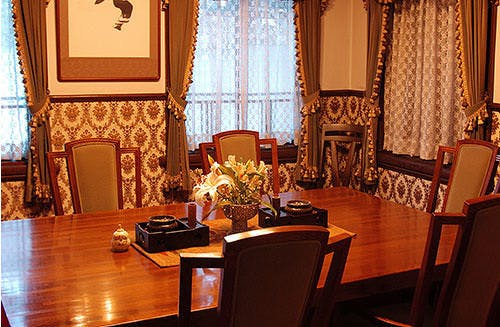 A mixture of modern and historical combination, a space to feel the craftsmanship of Hida. Our ryokan is called Yatsusan. Our ryokan is called Yatsusan. Our founder Sangoro moved to Hida from Ecchu Yao 150 years ago to start his business. Ya of Yao, and San of Sangoro is the origin of the name. Ever since we have worked on our hospitality to welcome our guests.
The main building is a Shoka-Dukuri, built in Meiji 38 (1905), Kangetsu-Sou with the tea room and restaurant is a Sukiya style building from the early Showa period. The atmosphere that you can feel here has the history from Meiji/Taisho/Showa all in one place, will heal the heart of our visitors. The open ceiling space and the fire place has the elegance of Hida architecture. The furnishings places casually makes you feel as though you have gone back in time. Hospitality of Hida-Furukawa, to experience the Nostalgic warmth.

Information
【Guest rooms】
SHOGETSU 6 rooms, 20 people, KANGETSU 12 rooms, 60 people, KOUGETSU 6 rooms, 25 people. 
【Banquet hall】
Big Banquet hall, 100 Tatami with stage, 2 Medium size Banquet halls (30 Tatami/ 20 Tatami)
【Other facilities】
Convention Hall, Meeting rooms, Reception room, Wedding hall, shops
【Restaurant KANGETSU】
10 rooms and 2 tea rooms
【Bath rooms】
Indoor bath (Ladies 1/Gentlemen 1), Open-air bath in the garden (Ladies 1/Gentlemen 1), Doburoku Bath 1, Kama buro 1, Oshidorino Yu (For charter)

Access
1-8-27, Mukai-machi, Furukawa-cho, Hida-city,Gifu,509-4241,JAPAN
From JR Hida-furukawa Station: 7min walk
From Nagoya Station: 2hr 35min by Express train to Hida-furukawa Station & 7-min walk. Or 3hr 20min by direct bus
Reviews
The location was close to main spots in Hida-Furukawa, it was a very comfortable ryokan as I had read in the reviews. The decorations and the seasonal arrangements such as Hina-Dolls were very nicely organized. As they call themselves a Ryotei-Ryokan, the food was very good. When I made the booking they had told me no children under 7, so I had thought it was only comfortable for adults but my two sons enjoyed their time there too. I would love to go back again.
+ More
2016/03/23
It was a great place, the food was wonderful and the service was pleasant, the buildings and the rooms were settling and we had a very relaxing time. The location along the river and the surrounding temples were a nice environment, we could not go anywhere due to the rain but it was still enjoyable. If the weather had been nice, we would have gone for a walk. The area around Takayama, has an atmosphere like Kyoto a little while back, my partner commented. We would love to come back again.
+ More
2016/11/17
This accommodation is a great place being true to it's reputation with a historical and traditional background. You can enjoy the local Sake and sweet fish which is a specialty from Hida-Furukawa that you can only enjoy when in season. The renovated suite with a private bath was very nice and the amenities were impeccable, we could feel the detailed hospitality of a long-established Ryokan. If you are traveling to Takayama, this place is worth the extra trip.
+ More
2016/06/20
We have not been so satisfied in a while, it is a wonderful place to experience. I heard it was a registered tangible cultural property so had the image of it being old so, I was surprised that it was beautifully maintained. The best thing here was the meals. Everything was delicious and my girlfriend who was not feeling too well was satisfied too. We ate a lot, enjoyed the hot spring and slept well, it was all very refreshing. I am looking forward to our next visit.
+ More
2015/05/11
From the time of checking in till the time we checked out, we felt the detailed and warm hospitality of the staff. The rooms, and all the public space was well maintained and very refreshing. The meals were all satisfying and delicious. I was disappointed that the bath in the room was not a hot spring, but when we opened the doors it was really spacious and nice, we could also enjoy the view of the snow too. The wood stove in the living space was relaxing, so I would love to come back to the room again.
+ More
2015/03/31
Information
Check-in Time

From 3:00pm to 6:00pm

Check-out Time

Until 10:00am

Tax / Service Charge

Bathing Tax JPY 150 per adult is NOT included in the rates.

Credit cards accepted at this property

VISA / MASTER
Children

We regret to say that we do not accept children under the age of 12 years old, so thank you in advance for you understanding.

Pets

Pets are NOT allowed.

Parking

Free of charge for guests; Capacity 30 vehicles; No Valet Parking Service

Other policies & conditions

Nothing in particular