Kamogawakan
Standing in the rich green of a pine forest, a Sukiya-zukuri style Inn of elegance. Kamogawa Onsen's "Shiosai no Yu" has a unique open air bath, please enjoy it as well as the delicious seasonal seafood from our neighboring village, Minami Boso. Three minutes by foot to Kamogawa Sea World.
- VAT is included, but bathing tax (around JPY 150 per adult) may NOT be included.
- Price in USD is based on the exchange rate as of today and might be different from that of the booking date.
Foods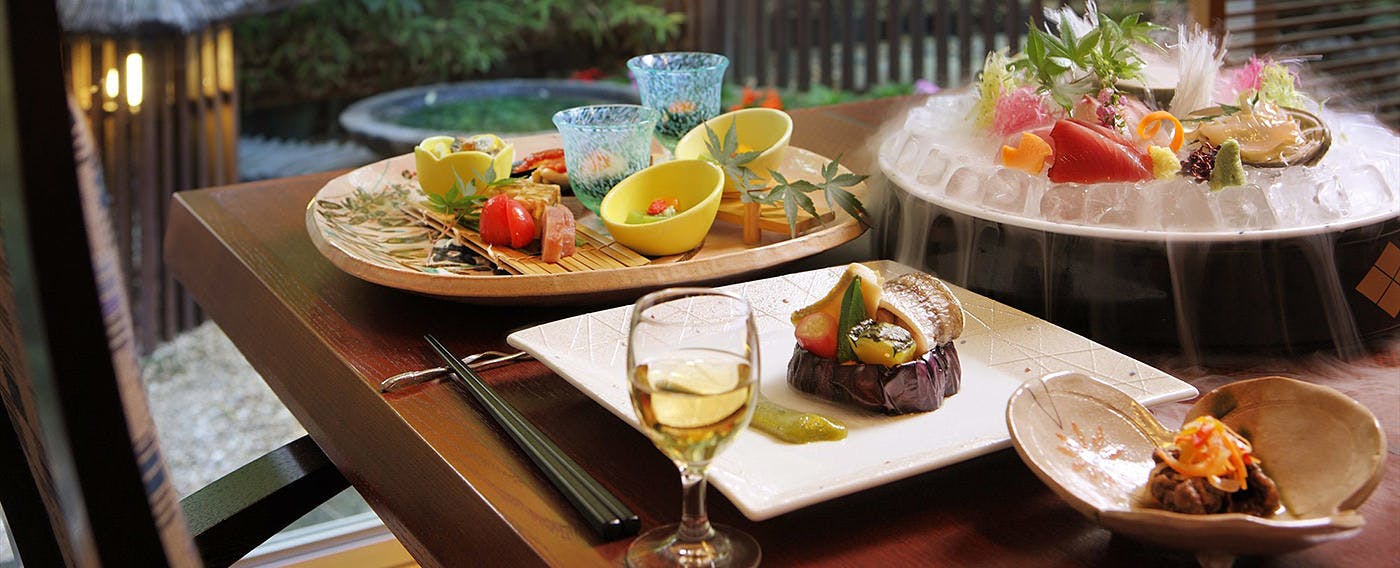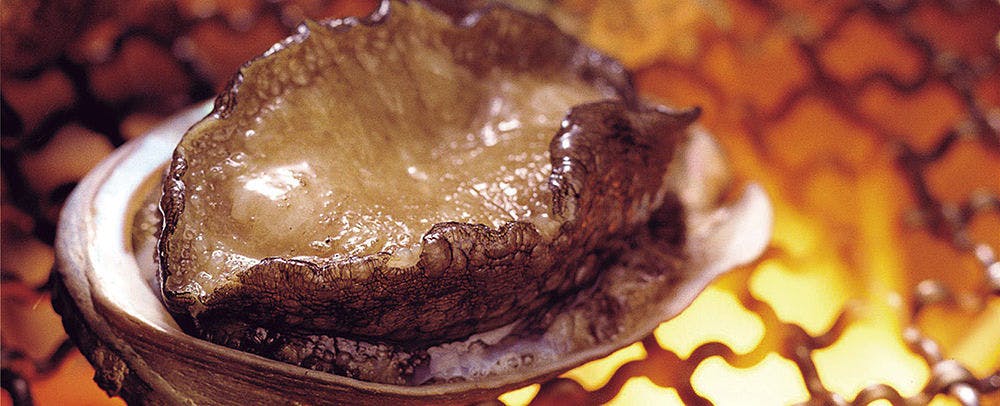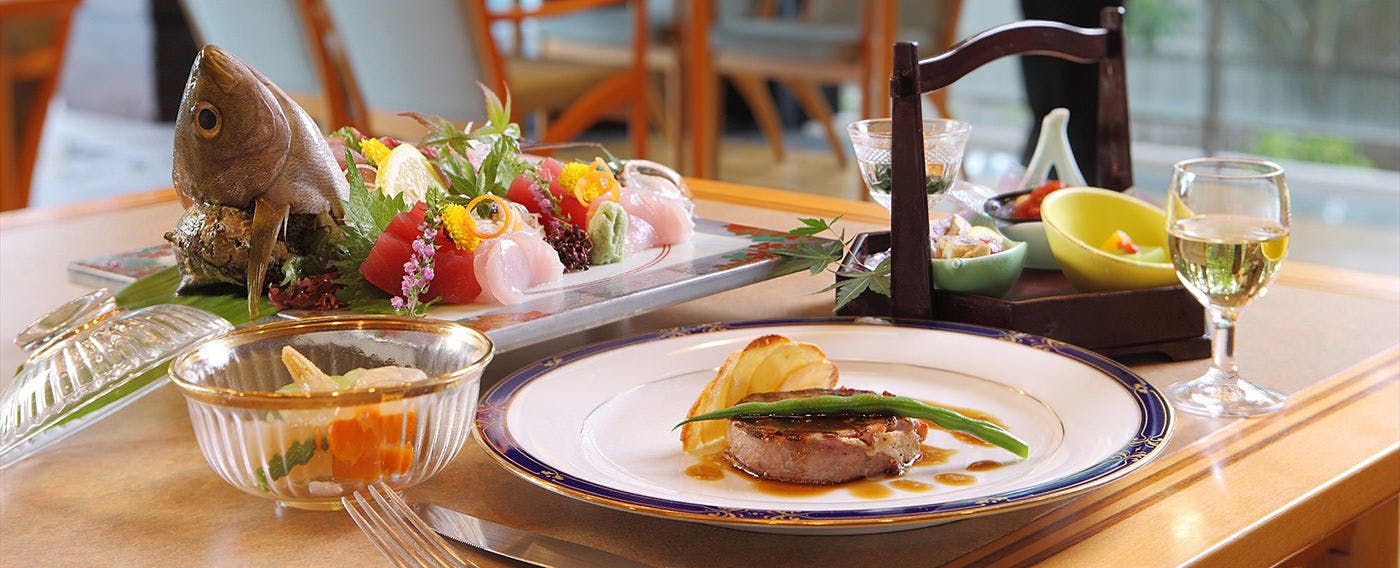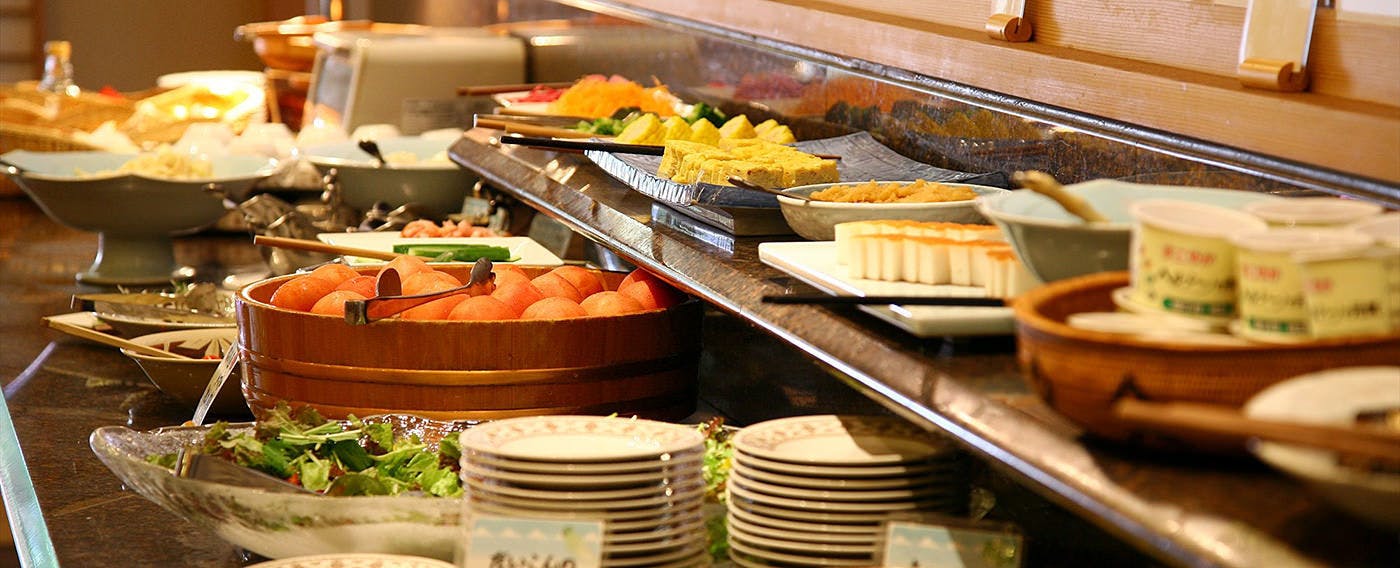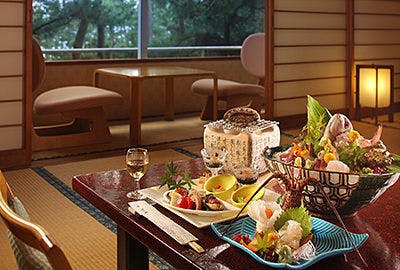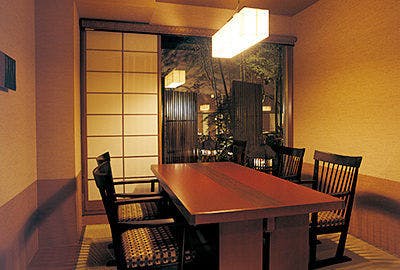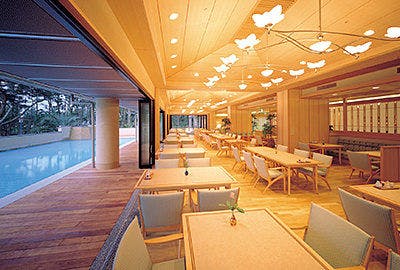 Using the Kitchen knife with heartfelt skill Caught from the Kuroshio current of Minami Boso, Kaisen cuisine of fresh and lavish seafood, the delicious taste of the rich bounty of the earth from the village of Boso. With the careful attention of the chef, and outstanding skill with the kitchen knife many dishes are completed, and a smiling flower blooms and the trip to Kamogawa.

In-room private dining
Centered around abalone, Ise lobster, and other select ingredients, you can enjoy while relaxing in your room. Without holding back, enjoy slowly the Boso area's fresh produce of the sea.

"Ryotei Yoshidaya" a restaurant with private dining rooms
In a private dining room enjoy a luxurious gathering while looking onto a Japanese garden. Mainly for 2 people, but with rooms that can accommodate up to 6 people, while looking on to the stylish Japanese garden you can enjoy the meal freshly prepared in an open kitchen. Besides that, offering a delightful show, not just on how to eat but how to enjoy cuisine with your 5 senses.

Restaurant "Cuisine Shikisai"
A fantastic restaurant surrounded by pine trees, with a garden pool lit by the light of nature in the day, and by luminescent lights at night. A blending of Japanese and Western style cuisine, you can enjoy seasonal soups, salad, beverages such as tea and coffee with a partial buffet. Of course, all ingredients will be from the sea and mountains of the Boso area. We choose one type of fish per day directly from the Kamogawa fish market and prepare it for you.
Baths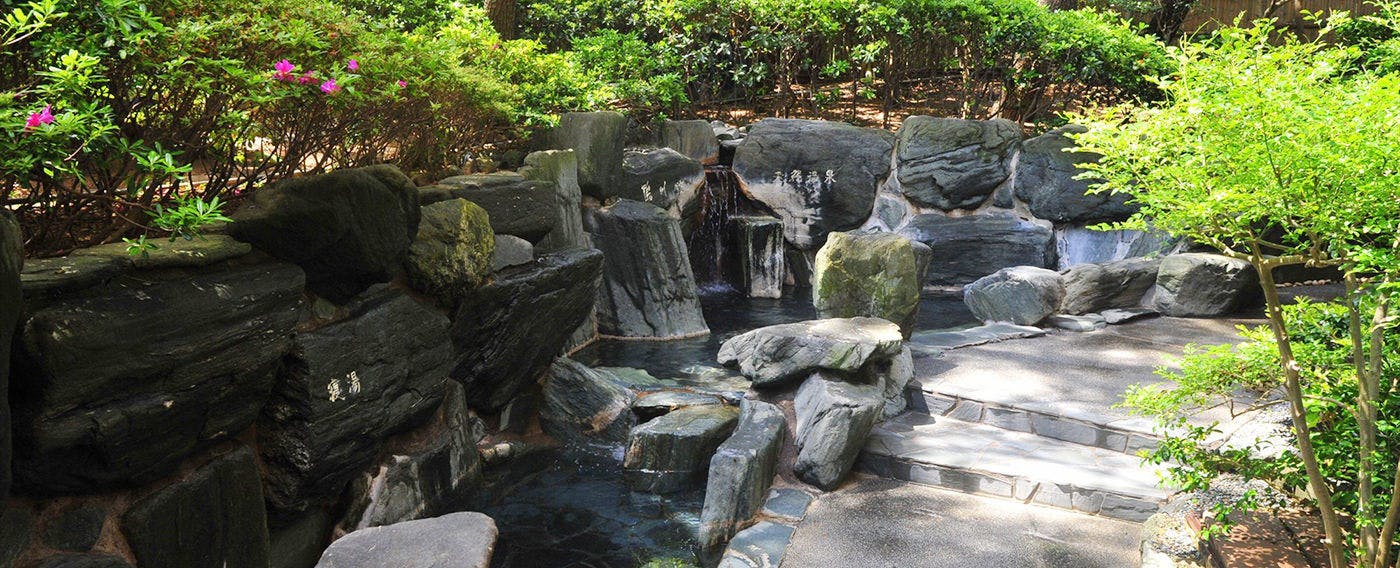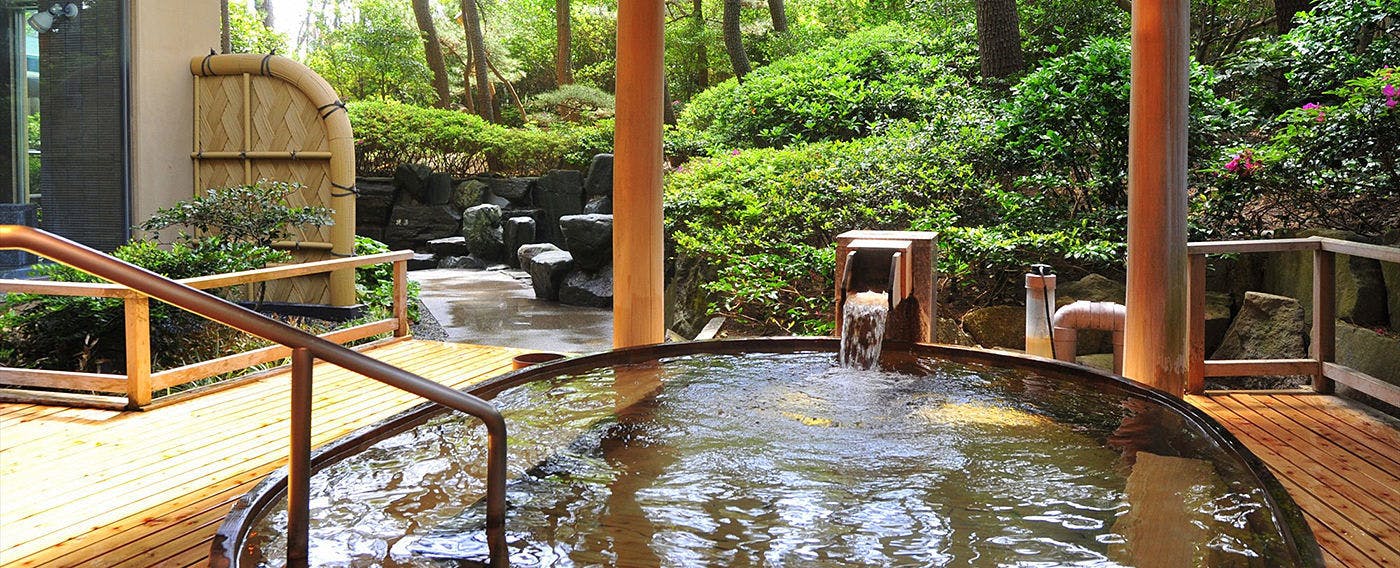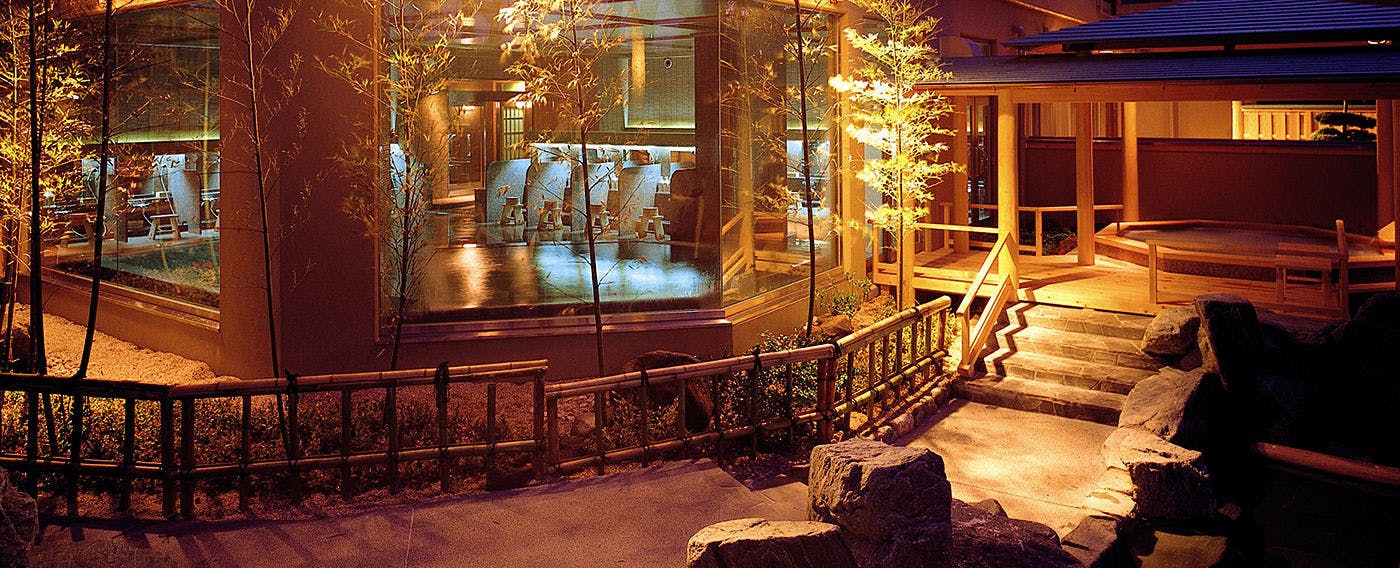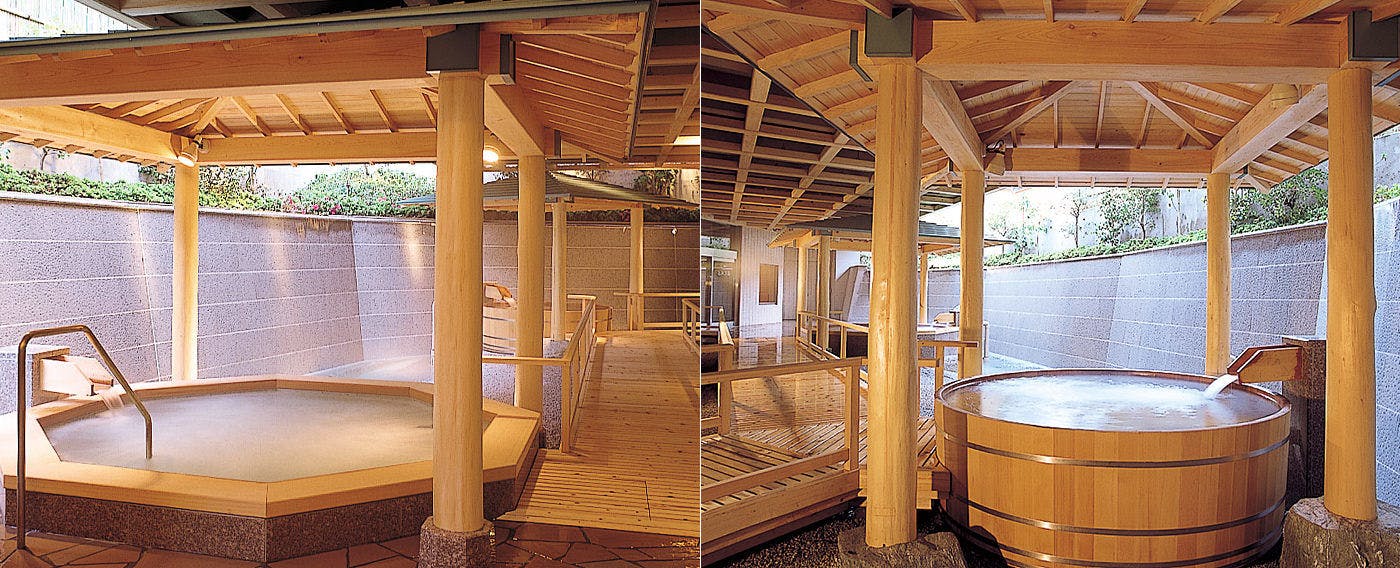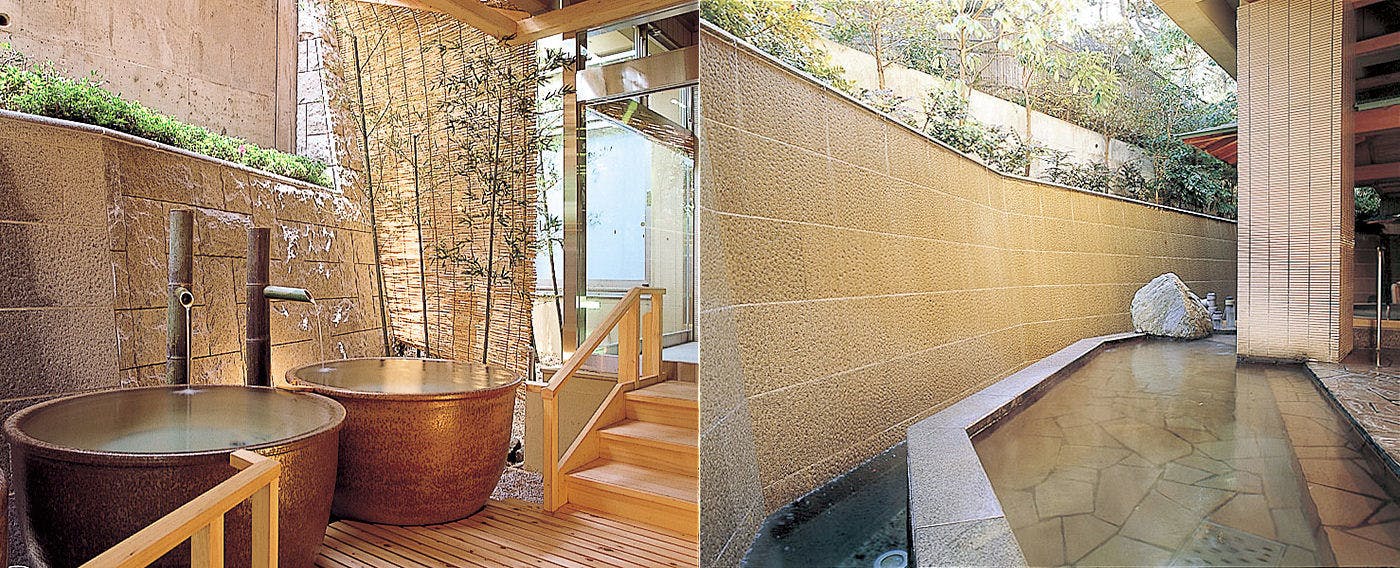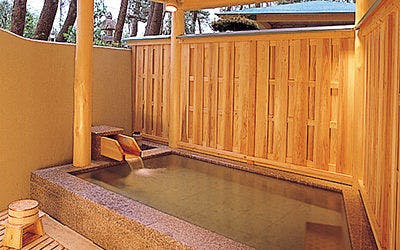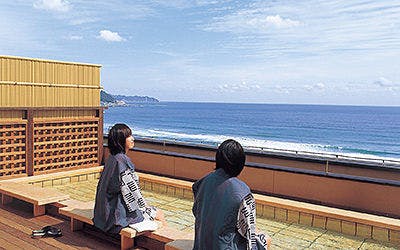 Large Hot-springs Bath for men "Awa Hakkei no Yu"
There's nothing like bathing in the hot-springs while feeling the breeze of a pine forest on your skin. Forget daily life, let the moment flow slowly.

Large Hot-springs Bath for women "Shiraito no Bihada Yu"
Watching the waterfall of the hot-springs, take it easy and relax. A depth of relaxation that you had forgotten now comes back to you.

Healing foot bath "Haruka"
From the roof of the Kamogawakan building there is a foot bath corner where you can look over the majestic Pacific Ocean.
■ Business Hours: 10:00- 20:00
※ May be closed due stormy weather or special events.
Facilities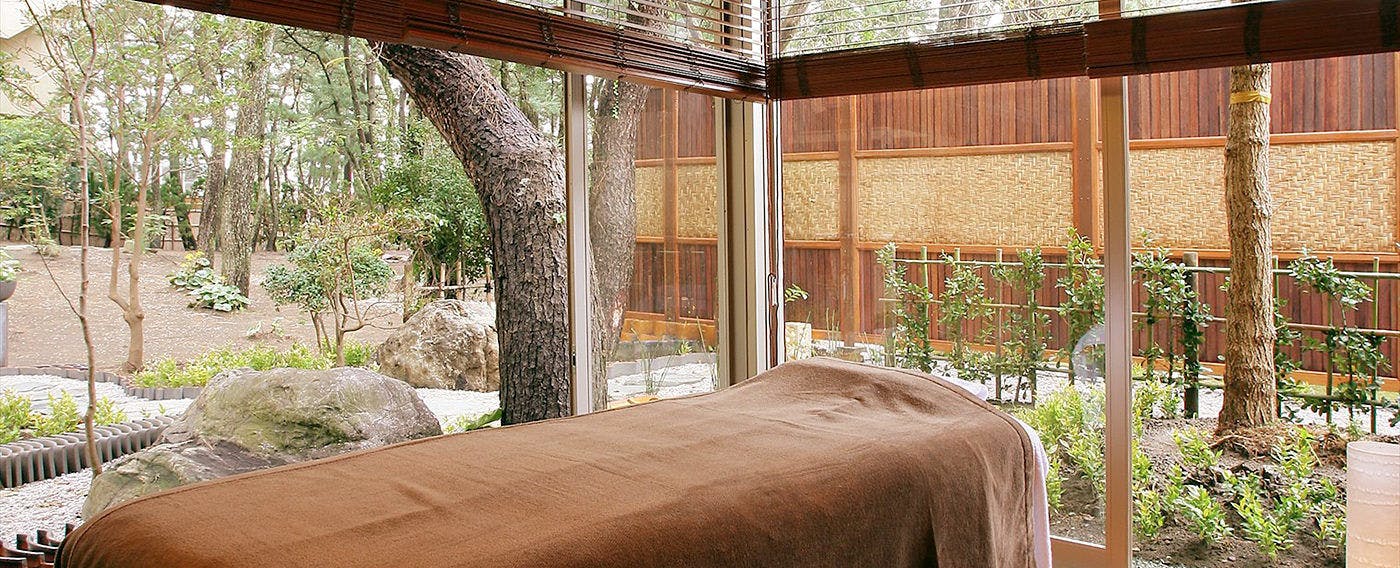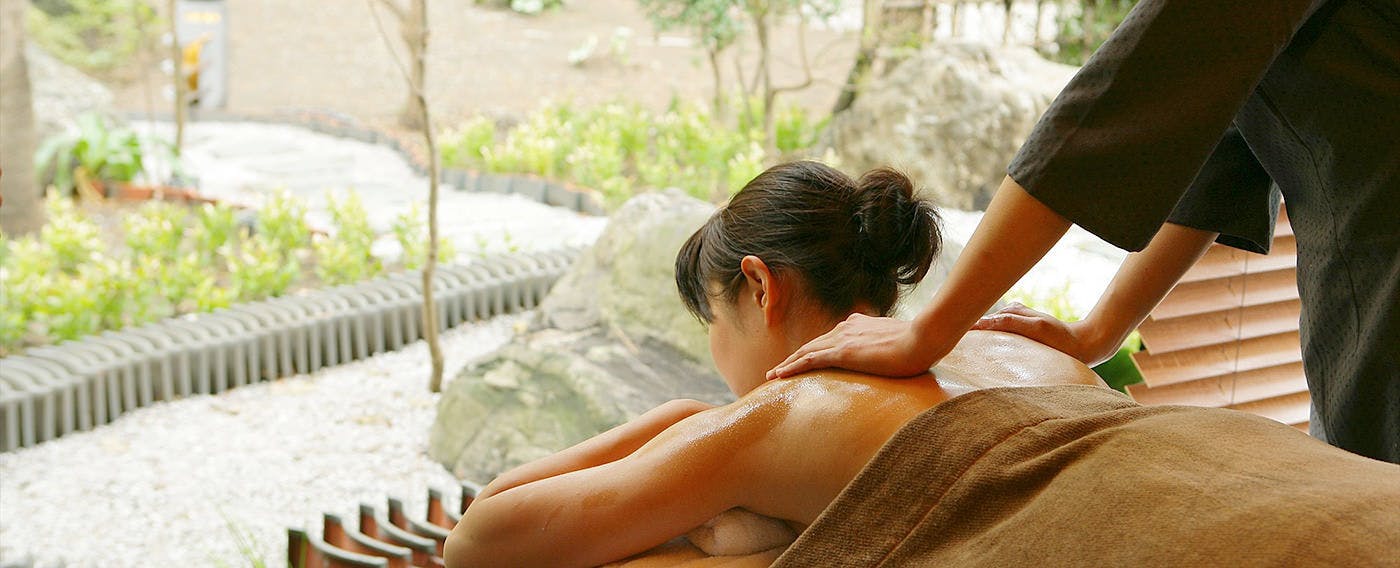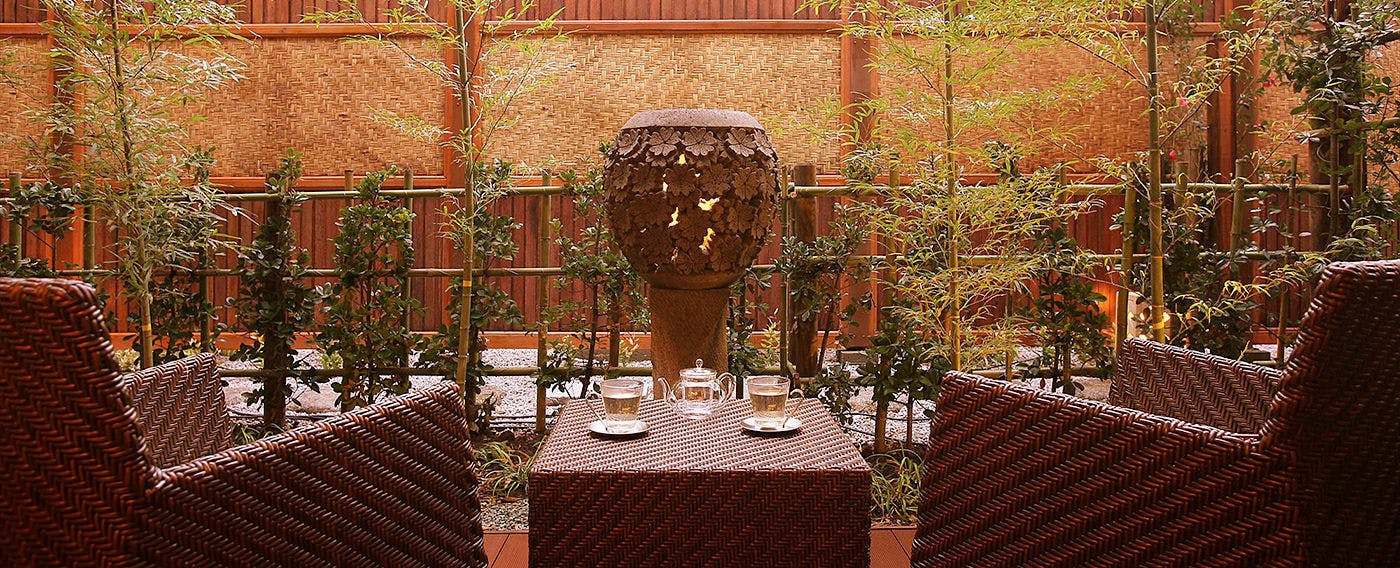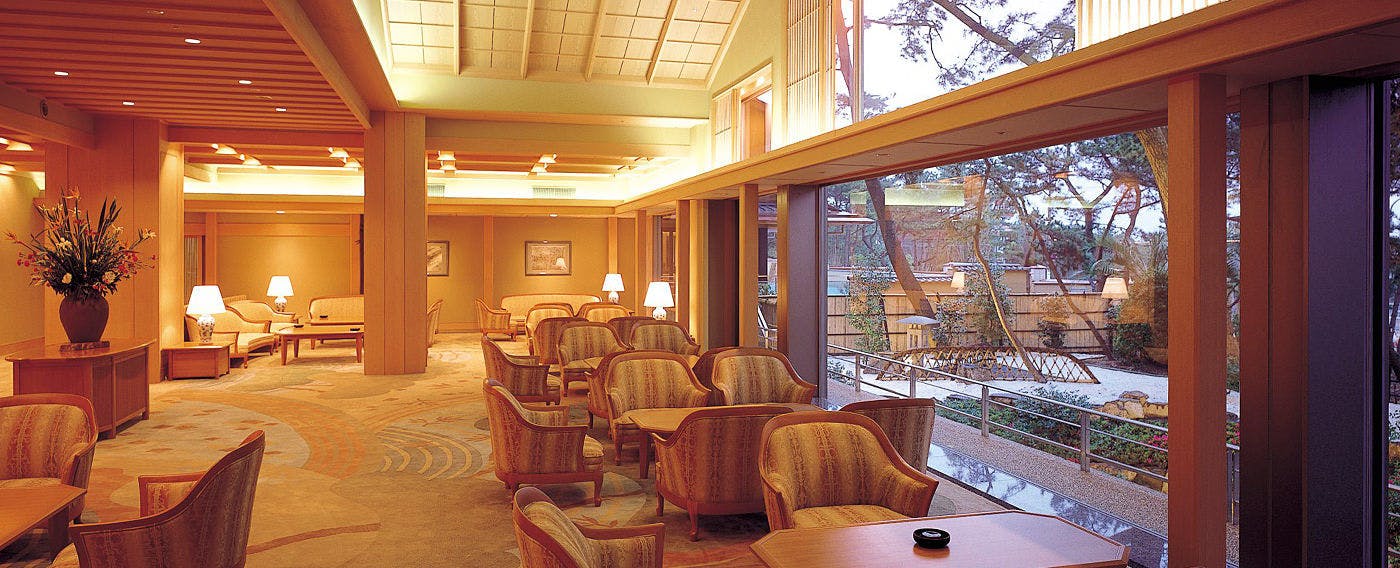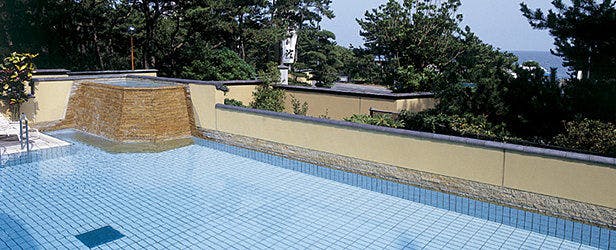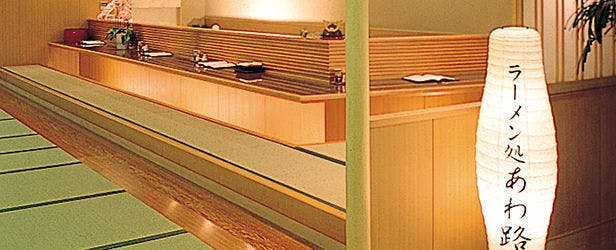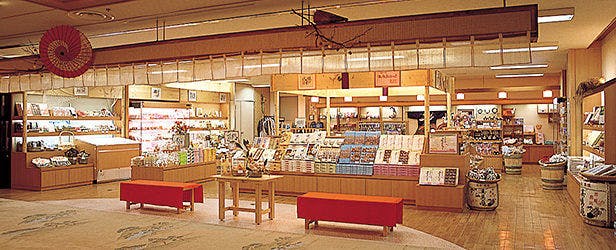 The best healing for you…
Kamogawakan La Shoro
"Relaxation Salon Juniper" and Oriental body massage.
In a superb space for the body, please enjoy heart friendly healing.
Available for one person or as a couple.
■ Business Hours: 15:00-18:30, 20:00-22:00
Access
1179, Nishi cho, Kamogawa city,Chiba,296-0043,JAPAN
■ Car: From Tateyama Expressway Kimitsu IC, via Boso Skyline Kamogawa Toll Road, 30 km 45 minutes
■ Train: JR Sotobo Line Get off at Awakamogawa Station, Taxi approx. 5 minutes(If pickup service required, please make a reservation in advance)
■ Express Bus: From Tokyo Station (Akushi Bus) to Awakamogawa Station (Kameda Hospital) 120 minutes, Get off at Kamogawa Seaworld Station, 3 minutes on foot
■ Airplane: approx. 80 minutes by taxi from Haneda Airport
Reviews
This time we came here for my parents Golden Wedding anniversary (50years!) and also my Mother's 77th birthday celebration. We had arranged for a celebratory cake and a place to set off fireworks, two days before they confirmed the booking so we left on our trip with confidence. Also, at the celebration dinner for my parents, all the hotel staff joined us in celebrating, it was a very happy and memorable time. Thanks to wait staff and all staff at the hotel. The dinner was abalone steak and Ise lobster sashimi, as well as celebratory cakes and desserts, we couldn't finish it all I was sorry we had to leave it. The room was actually two rooms and from the private Hinoki (cypress) bath in the room we could see the scenery from out the window. Everyone in the family enjoyed the free drinks in the lobby and the wide variety of baths. I think I want to go again.
+ More
2016/09/02
Last year I came here with my family during summer vacation, it was very good so we came again this year. This year also the baths were good, the food was good, and there was nothing bad to say about any of the service. My family was very satisfied. Especially breakfast! Last year the breakfast buffet was very good and popular with my family, so although this year we could have breakfast in the room, we changed to the buffet instead. It was a good choice, the ingredients are very good (the rice is delicious, the vegetables are delicious) also the seasoned dished (Nimono (simmered dishes) were delicious, the omelet was delicious) in the morning I ate both Japanese and western dishes until I was full. I will also come again.
+ More
2016/08/18
For the first time in two years I was able to stay at a ryokan and relax, I spend a good holiday. As for Sea World, I was advised to buy advanced tickets. But I went there and to purchase "twilight tickets", but I was told they could only be bought during opening hours up to 18 o'clock, so it was bit of a shock. I should have purchased advanced tickets... Please inform other customers about this in the future if they have such inquiries. The room was very clean and the view of the sea very nice. The amenities were also substantial. In the public bath, you can choose three different baths of varying temperatures, although in the morning I though the lukewarm bath was a bit cool, I like lukewarm baths I was happy just having such a bath available, and overall I was very satisfied. The meal was really delicious, the ingredients fresh, it was wonderful. Especially the eggplant in white sesame, soup-type appetizers, the Ochazuke, and the picked things were really delicious. My mother also praised it extensively. There was also a lot of variety for breakfast, it was really delicious, it was a happy time. We want to stay again in this very fine ryokan.
+ More
2016/07/27
I stayed here with my mother and older brother, 3 of us. Although it was the first time for me, my mother and older brother had stayed before on a business trip, and also with my late father. To tell the truth when I booked the reservation, I thought this place was the same as other neighboring chain type hotels, but Kamogawakan was completely different. Anyways, it's quiet and calm. Even just entering from the road without feeling the surrounding atmosphere I realized it was an inn of white sand and green pines. Many elderly people come here, I think. My mother was pleased with the number of chairs in the lobby and that even the elevator has a chair. There was even something different about the height of the chair in the large public bath. The Yukata has way to tuck in the waist belt, and for walking around in the hotel they provide bags and also tabi socks, I felt there was a lot of attention to detail. The hot-springs are also lovely, because it was cold I only went in briefly but in a warmer season I'd like to enjoy it more slowly. There were enough shower spaces too, so that even though there were quite a few people I felt it was spacious enough. We had a very pleasant meal at the Yoshidaya private dining restaurant. In charge of our dining room was a male wait staff by chance from the same city, he was of an age to be one of our children for my brother and I, or like a grandchild for my mother, but we had a very comfortable feeling from his kind polite response to our requests. After the explanation, we received a beautifully arranged and delicious meal (I enjoyed Isaki fish maybe for the first time, it was delicious). The meal was a blending of Japanese and Western cuisine, and there was plenty of it, and we were happy there were many varieties of Japanese sake to choose from. The breakfast buffet also has a great deal of variety and I enjoyed eating in a calm atmosphere while watching the pine forest. This time it was a weekday in the off season so I wondered if that is why I could spend time so relaxingly? We thought we want to come again to this ryokan in Minami Boso. Thank you for a wonderful holiday.
+ More
2016/02/23
The hot-springs were really great. The food was so gorgeous exceeding my expectations, and very delicious. The treatment from the staff was wonderful, worth the price. I will go again.
+ More
2016/02/21
Information
Check-in Time

From 2:30pm to 8:00pm

Check-out Time

Until 11:00am

Tax / Service Charge

Bathing Tax JPY 150 per adult is NOT included in the rates.

Credit cards accepted at this property

VISA / MASTER / JCB / AMEX / DINERS / DEBIT CARD
Children

Children below the age of two are free of charge if they share a bed with you.

Pets

Pets are NOT allowed.

Parking

Free of charge for guests;Capacity 100 vehicles

Other policies & conditions

Nothing in Particular