Nasukogen no yado SANSUIKAKU
We would like our customers to sincerely enjoy a relaxing time. Today's SANSUIKAKU has been shaped by our accumulated wishes that have come true one by one.Built in the beginning of the Showa era about 90 years ago, the old wood archtecture is holding its ground with the thin paper for better or worse. There are some drafts coming from the windows of the wooden frame, there is a door header magnificently positioned at a low place, and stairs playing a creaking apologetic note. We would be grateful if you could regard these as a taste of the simplicity. We will add a small hand to this facility to show a new expression while intending to leave the tastefulness of this historical artwork.
- VAT is included, but bathing tax (around JPY 150 per adult) may NOT be included.
- Price in USD is based on the exchange rate as of today and might be different from that of the booking date.
Foods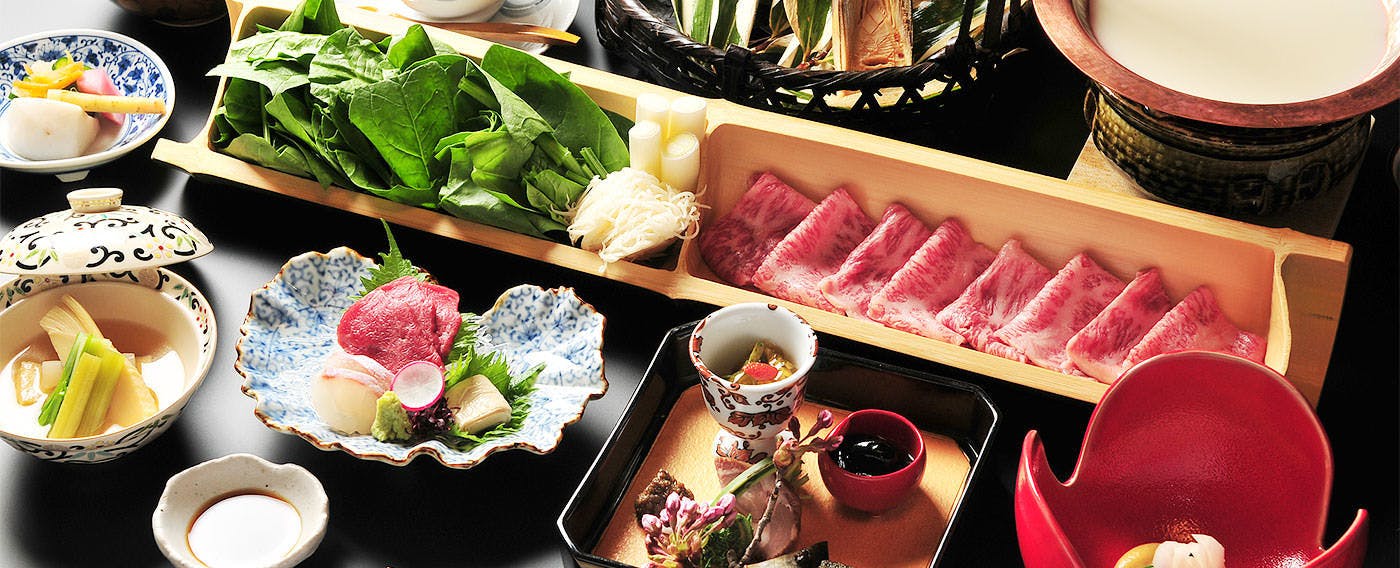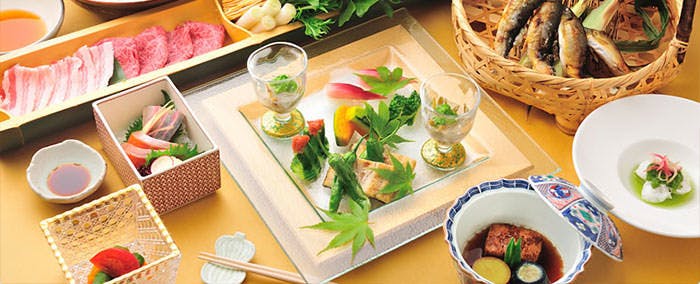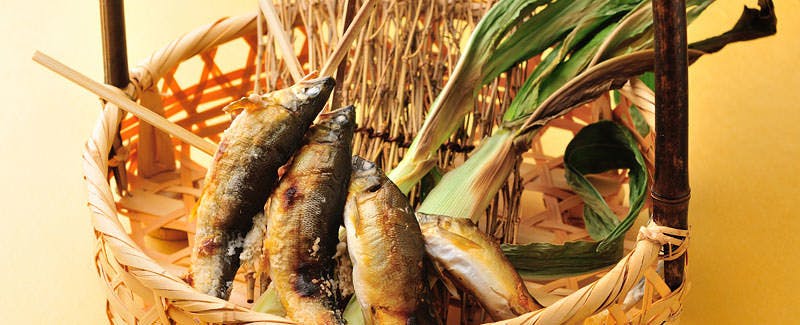 We will serve you Yamazato cuisine or local dishes from the mountain village. The Japanese dishes using the fresh ingredients are produced locally with fertile soil in Nasu.
Please enjoy each of the dishes arranged in the colors of the four seasons, and relish the taste.
Baths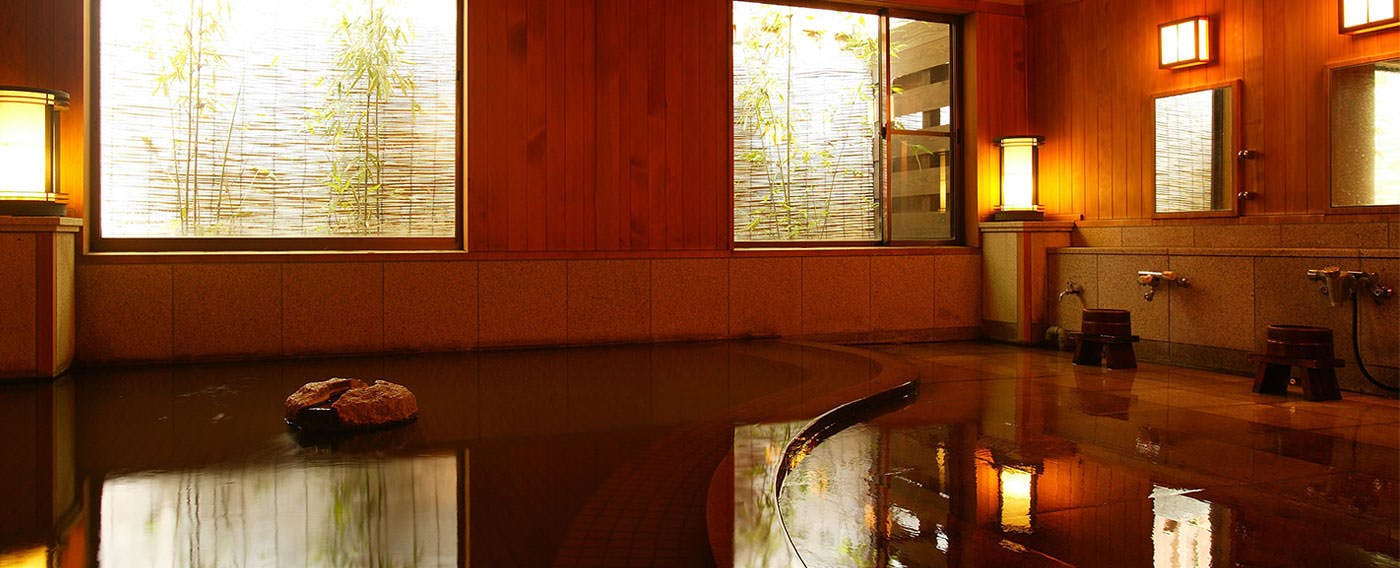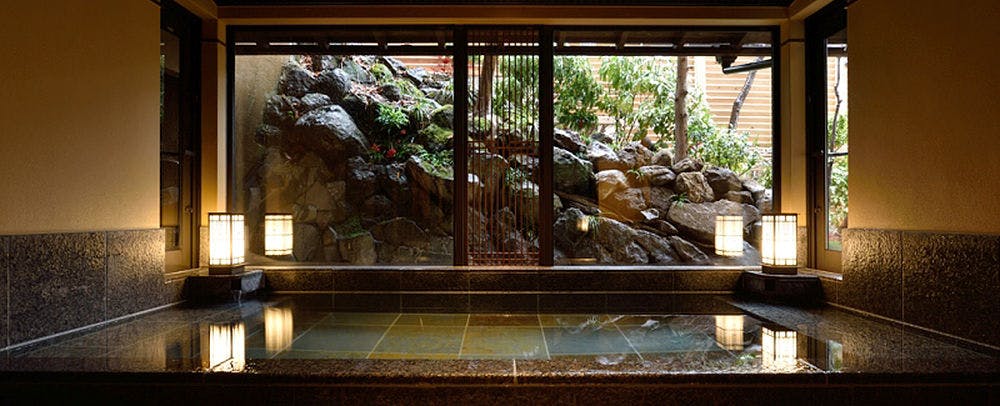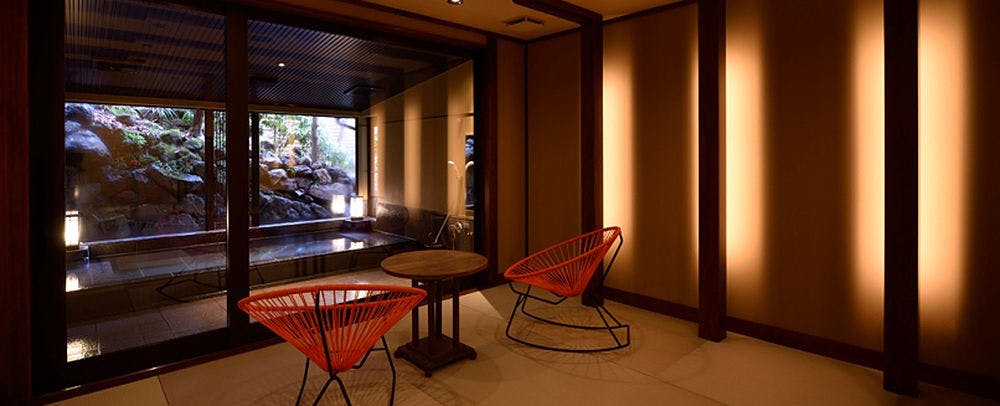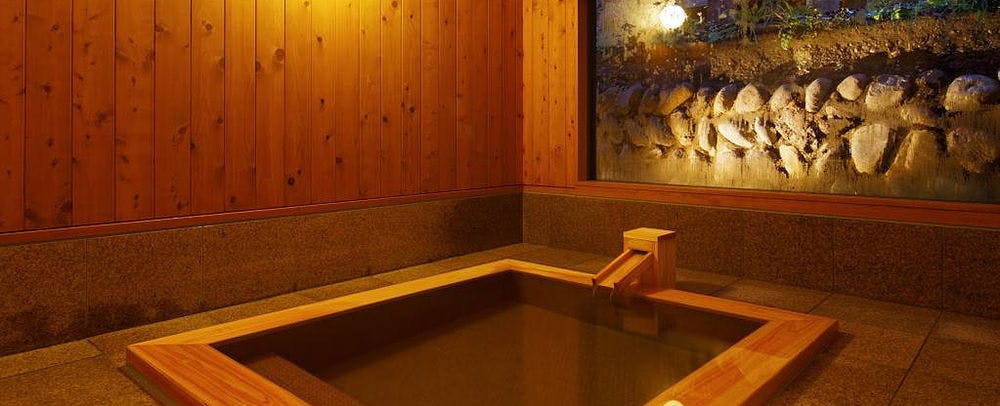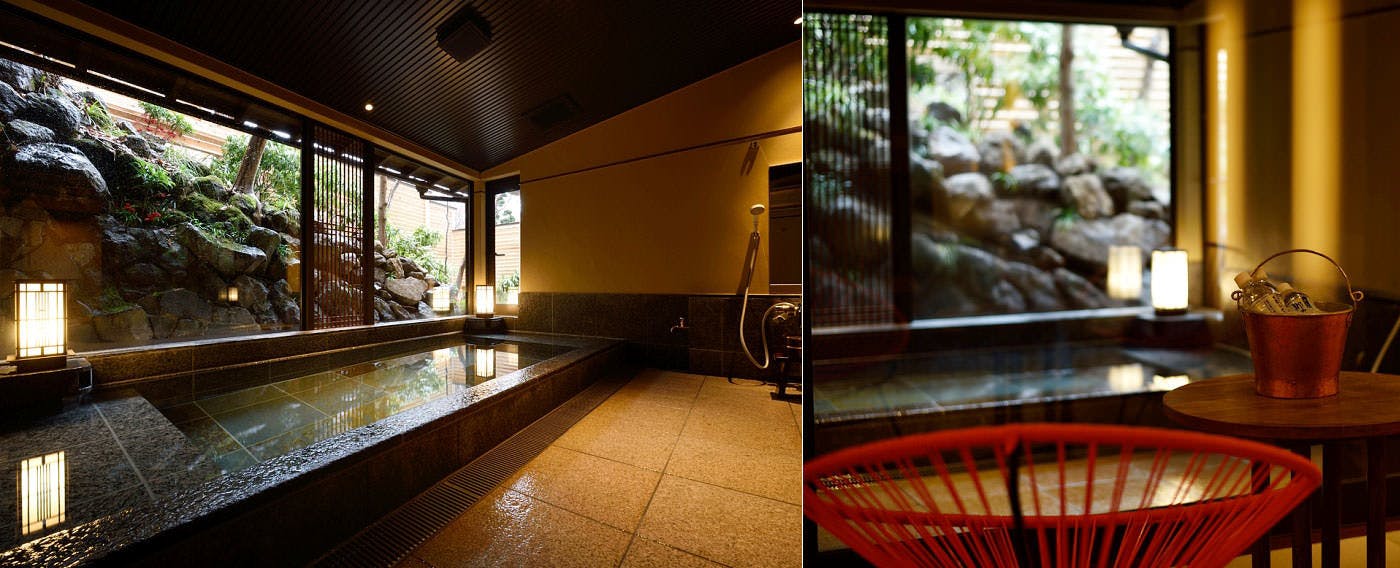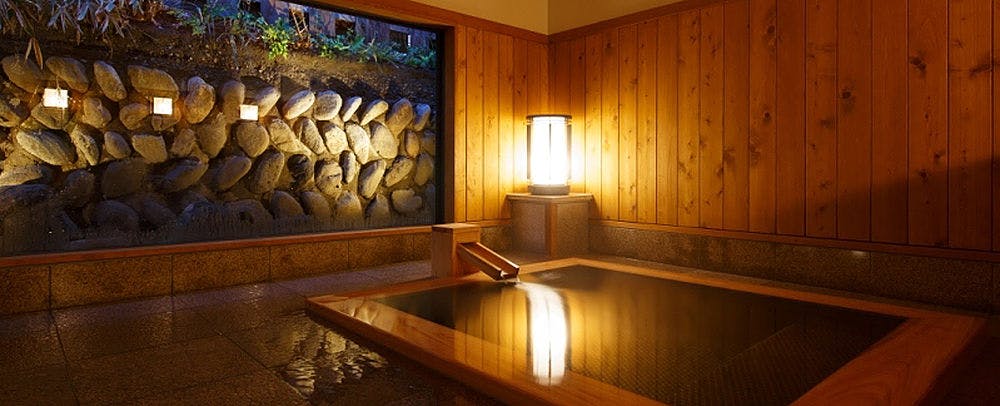 Goyo by reservation This bath is available upon reservation in advance. The use is for 50 minuites. Please pick up the key at the front desk when you want to use. Please be sure to return after use. As for the time to make a reservation, we will accept your reservation after your arrival. Please understand that, depending on your arrival time or the busy situation of the bath, it may not be available.
We will serve drinks to the users. Please enjoy the drink during your bath. (Please refrain from bringing other drinks there.)
By advanced reservation only / JPY3,240 per use

Uro bath by reservation
This bath is available upon reservation in advance. The use is for 50 minutes. Please pick up the key at the front desk when you want to use. Please be sure to return after use. As for the time to reserve, we will accept your reservation after your arrival. Please understand that, depending on your arrival time or the busyness of the bath, the bath may not be available.
We will serve a drink to the bathers. Please enjoy it during your bath. (Please refrain from bringing other drinks there.)
By advanced reservation only / JPY2,160 for a use

Large bath
Please warm up while listening to the flowing sound of the hot springs water and being wrapped up in the soft light and fragrance of the cypress. There are baby beds for small children in the dressing room for the female bath.
Available hours for use: 24 hours (We replace the mens and womens hot water at midnight.)
Facilities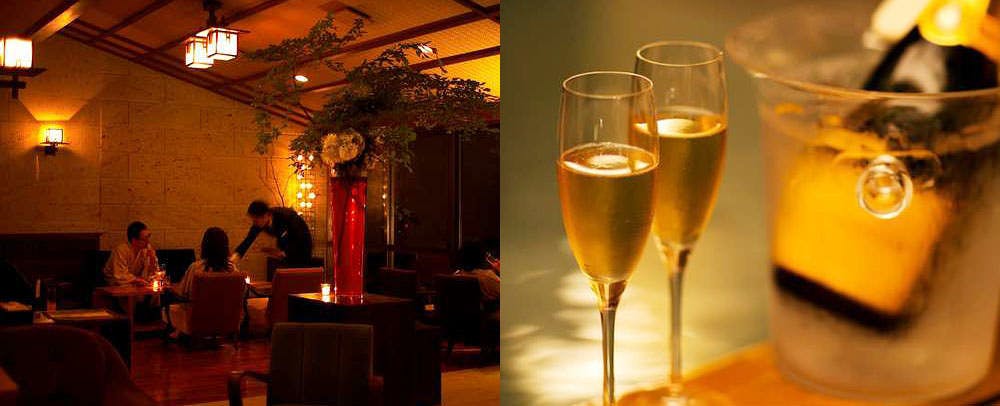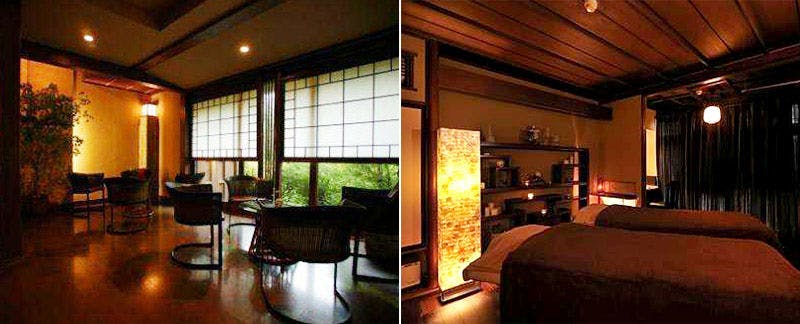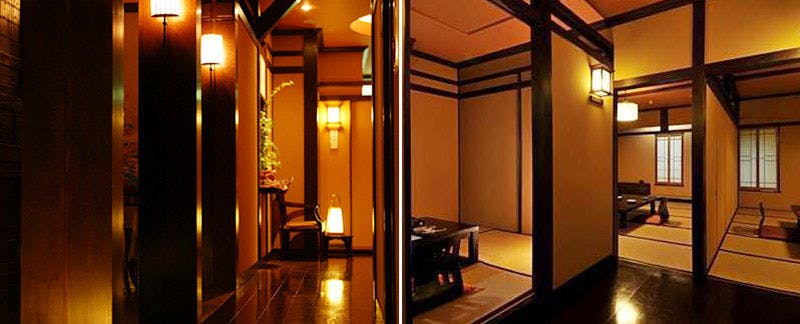 Lounge 206 Walk through the small gate of the inn, continue on the foot path into the woods, then you will see the cordial light as if softly welcoming you. The name of the bar "Lounge 206" was picked based on it's address of Nasu-cho Yumoto 206. It has been running quietly in the middle of the Nasu woods. It opened on December 1 in 2004 with the concept that guests would like to experience another space and time during their stay at our inn.
The look of the trees from the window of Lounge 206 is sometimes gentle, and sometimes harsh, which is different from the one of Sansuikaku. It will be a special time for you to spend an evening and emptying a cocktail glass mixed by a master bartender while observing the various expressions of nature in Nasu. Not only those staying over, but also visitors for the bar-only are welcome, too.

Lobby, Ippuku-Sayu
A cup of coffee is available at the lounge "Ippuku-Chayu". Please feel free to use.
Open hours are from 15:00 to 22:00

Dining room, Mori no An
Dinner, you can enjoy dinner either at the dining room table or in a private room.

Aroma Therapy
The fragrance of essential oil made from plants reminds you of a warm feeling as if being wrapped by mother earth and the revitalizing power of natural healing. Try the massage for your relaxzation of body and soul.
Access
206 Yumoto, Nasu-machi, Nasu-gun,Tochigi,325-0301,JAPAN
FROM Nasushiobara Station(SHINKANSEN).
By taxi : about 30min. Please tell the driver to go to "SANSUIKAKU".
BY PUBLIC BUS : about 40min. Take the Toya bus bound for Omaru onsen. Get off at Tsutsujigaoka Stop.
BY SHUTTLE BUS "Rindo": about 40 min/free of charge. Reservation is needed beforehand.
Please ask us to make a reservation.

From Tohoku Highway,
BY CAR: get off at Nasu IC and turn right on Route 17. Go straight for about 12km. At the "Ikkenjaya"intersection, go straight 300m turn right at the sign"SANSUIKAKU". Go along the road for 200m and you will find us.

Free bus ride on a public bus (no charge)
One free bus ride is available on a regular route bus, only for guests who made a reservation for a stay at the Nasu Hot Springs at least 3 days before the reservation date.
The travel time is 40 minutes. Get off at the bus-stop, "Tsutsuji-Ga-Oka," and walk 300 meters.

Departure time is according to the time schedule of the regular bus.

Please tell the driver your name and "Sansuikaku" when you get on the bus.
Reviews
We enjoyed staying in the inn with its comfortable feeling and competant staff since we arrived there. The meals were delicious and well considered as well as arranged beautifully. It is an inn we would love to visit again.
+ More
2016/11/20
I heard that the entrance was on the second floor with a locational condition. Also we could overlook the lower scenery although our room was on the first floor which lower than the entrace. The structure of rooms and the building as a whole were unique and interesting, for example, I was surprised finding a door unexpectedly. In addition, the public space has a tasteful atmosphere with time-honored flavor consist of antique furnitures placed on a often creeking floor, and softly textured chairs and desks are in a harmony, allowing visitores get relaxed. Guest room was also interesting in the structure, and mysteriously warm place like an atmosphere of Kasama-pottery. The bed room was spacious and it would be much better if additional furniture like an ottomans-chair was added. (It will be a Yoga space otherwise.) The inn has no open-air bath, and the prospect was not open, however, such a condition is well matching with this inn. I could relax in both guest room and public space. I liked it's quiete and comfortable environment in spite of the inn was busy and almost all rooms were ocupied. I had no inconvenience about the simple preparation of amenity and the flavor of meals was mild which I liked very much. A soy milk pot was wonderful dish. Staff were all kind and very polite to take care of guest in trouble respecting privacy, which was appreciated. Since the weather was bad having Typhoon, I could not see around much except the inn and a museum, yet the trip was heartly touching, simply because stay at the inn was excellent. I like to come again.
+ More
2016/08/20
I staied with my husband who is Canadian, mother and a friend of her, four in total. Staff were hotel-like polite and very comfortable. The one in charge of our room was warm and relaxing. The meals were all carefully made and delicious with tasteful sellection of tableware. I spent a great time with good to see and good to eat experiences. The room interior was very Japanese in a room and mix of Japanese and western in another room connected each other. Therefore both groups enjoyed confortably being in matching place respectedly. Regarding hot spa, although there were no open-air spa, we enjoyed tasteful clean hot springs. We did not use the bath for reservation. I could have a cup of coffee or tea while reading newspaper taking time in morning, in the lounge behind the lobby. If I could say a demanding request, I will enjoy better the fresh roasted coffee if you put an espresso machine (type to just put and hold beans) .
+ More
2016/08/20
I have no specific preference or disliking about the time-honored room and bath to be reserved. Regarding the two rooms connected layout, I rather like one bed room was enough since two rooms looked like each independent rooms. Regarding the black-haired wagyu in dinner menue, it was wonderful in both of volume and quality. I like beef and have tried many brands of beef including Kobe-beef and Matsuzaka-beef. The one served by the inn was truely excellent from the point of view of cost performance. Regarding the staff manner of welcoming costomers, everything was comfortable without any flaw from arrival to departure at the parking lot.
+ More
2015/10/20
All meal was delicious using local ingredients. Guest room was tasteful and clean. Only the room light bulb was clicking. Regarding hot springs, bath was half open-air. The large bath looked a little bit limited in space to me. A services including the one for the customers were just wonderful as well as comfortable lounge to relax after the bath. I want to come again whenever heading the same area to stay. Thank you.
+ More
2015/08/20
Information
Check-in Time

From 3:00pm to 6:00pm

Check-out Time

Until 11:00am

Tax / Service Charge

Bathing tax is 150yen per night for one adult.

Credit cards accepted at this property

VISA / MASTER / JCB / AMEX / DINERS
Children

Please feel free to use.
Please understand that rooms available for young children are limited.

Pets

Pets are NOT allowed.

Parking

Parking fee : free; Parking place : outdoor; Number of parking : 25; Valet Service : None

Other policies & conditions

Please understand that it is not possible to specify the room