- VAT is included, but bathing tax (around JPY 150 per adult) may NOT be included.
- Price in USD is based on the exchange rate as of today and might be different from that of the booking date.
Foods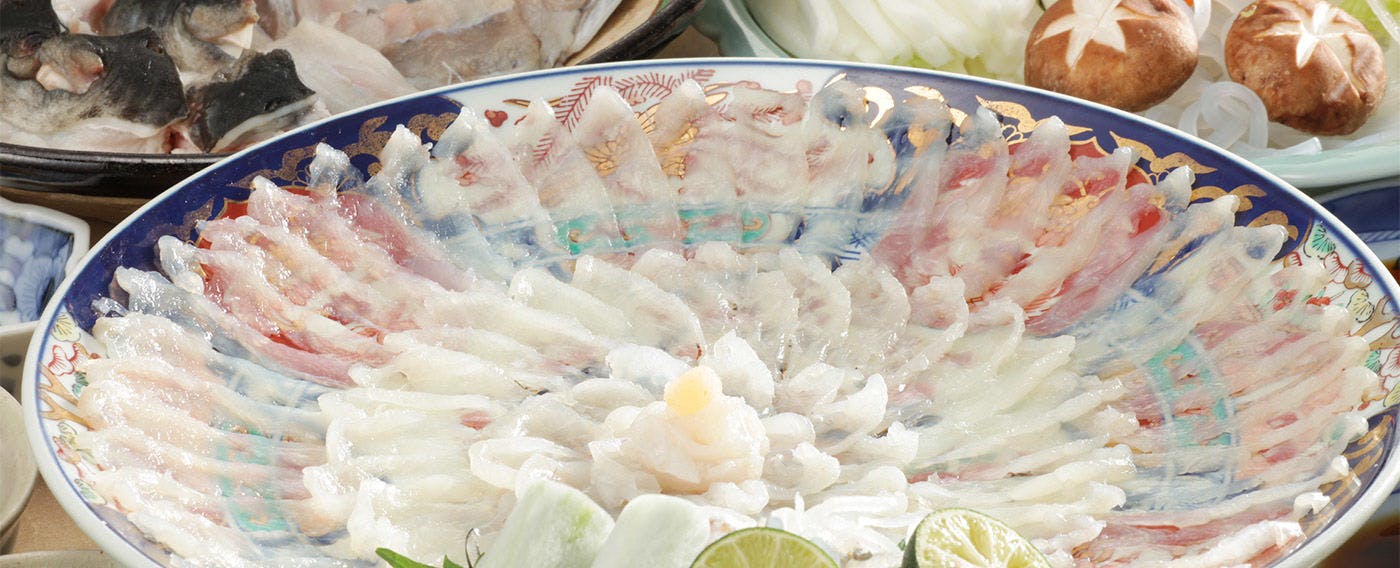 Foods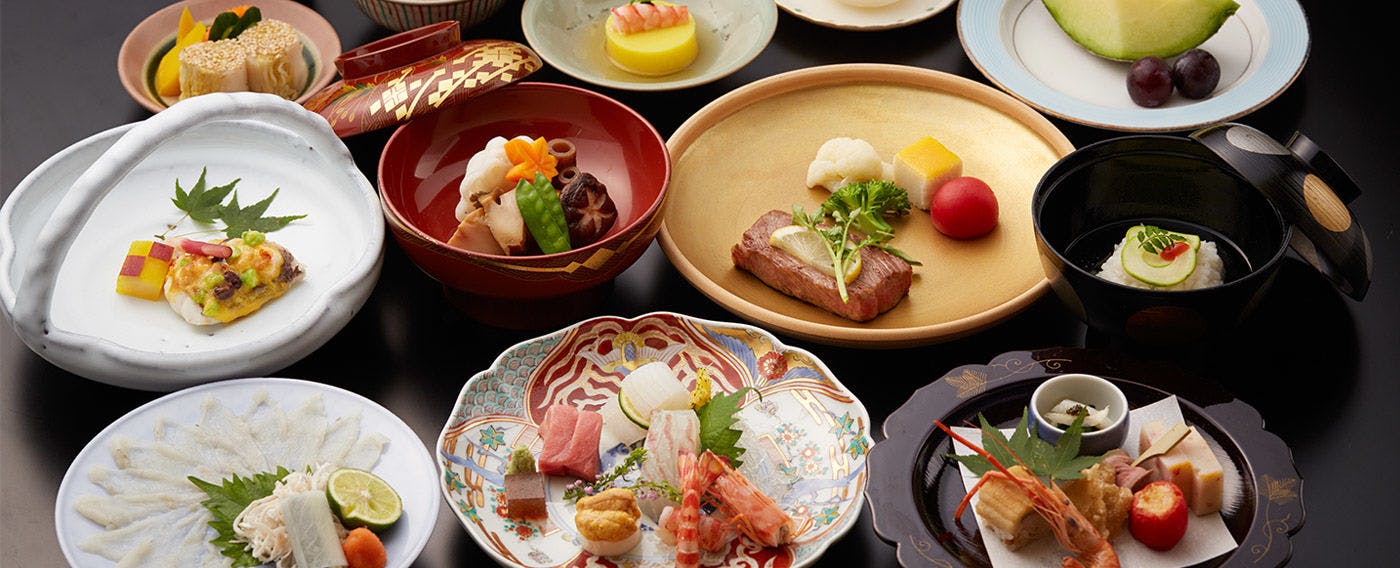 Foods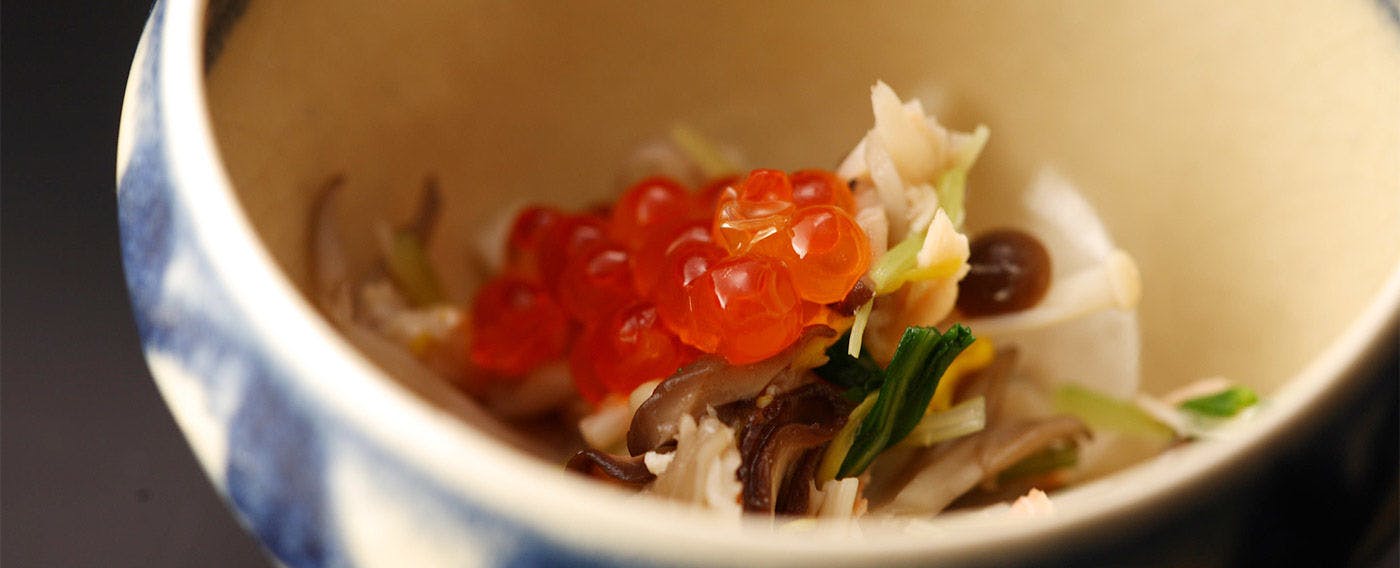 Foods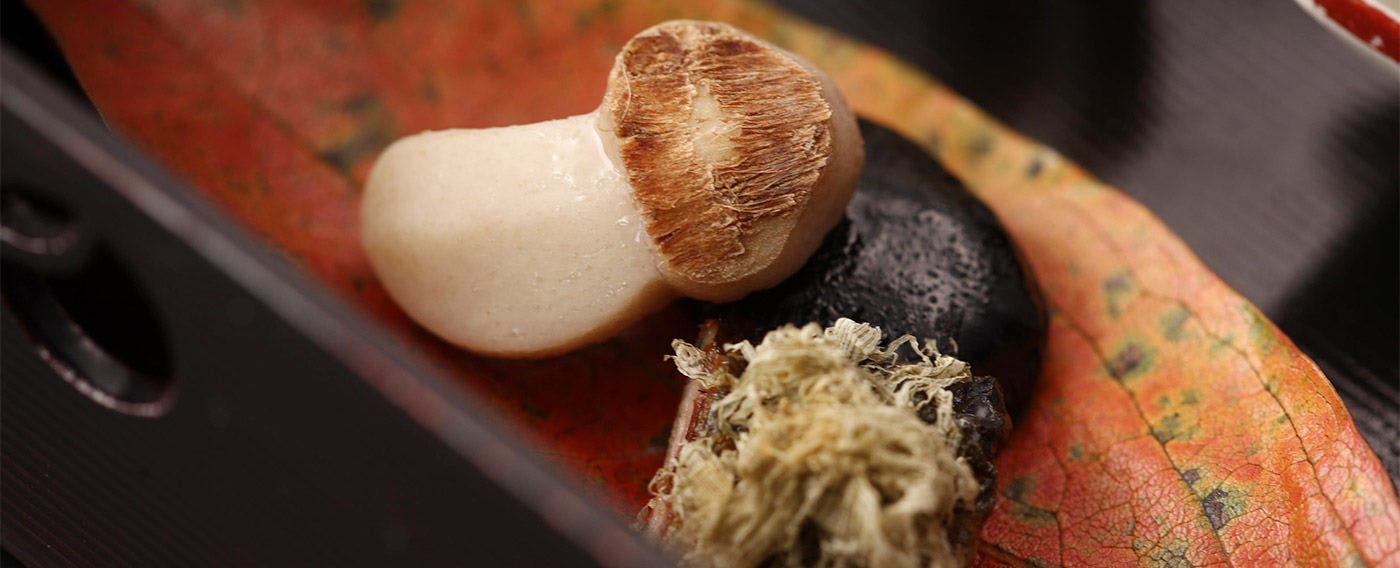 Foods
Foods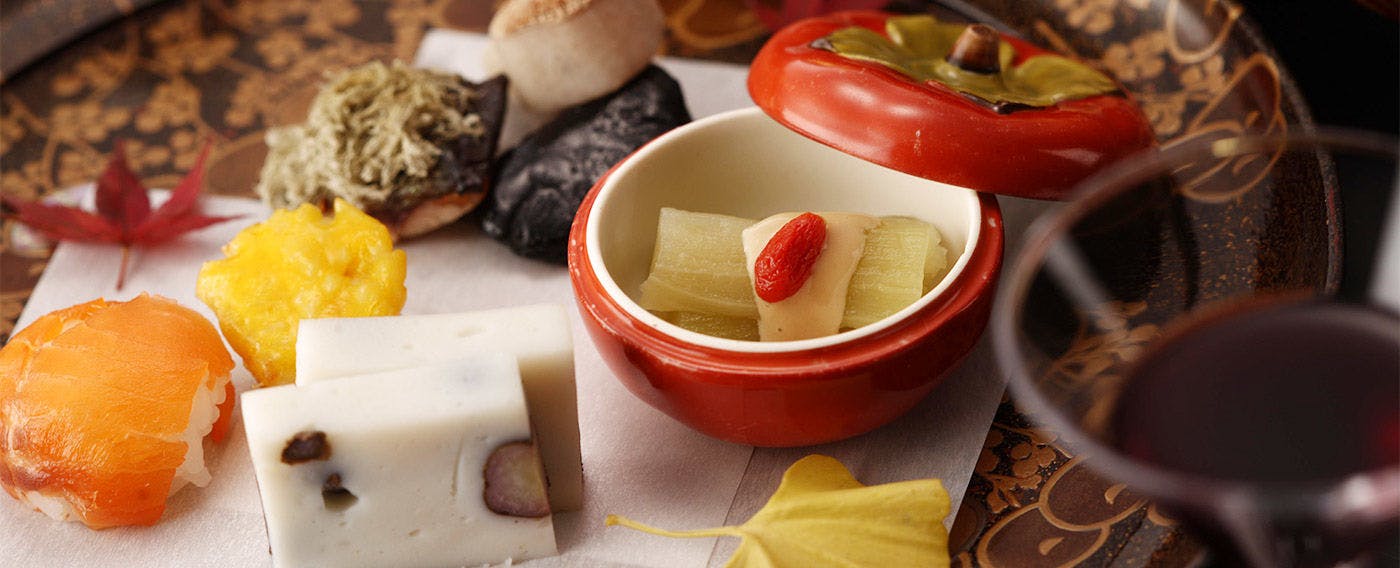 Foods
Each season is accompanied by its own taste Numerous delicacies like you only could have in Yamaguchi, surrounded by sea and mountains. Each season is accompanied by its own taste.

Spring: tilefish
The highly-valued "tilefish" has been used in high class cooking throughout the ages, and is called "Guji" in Kyoto.

Summer: conger pike
It is a luxury you can savour in this season, with its refined taste and light colour of its fatty meat. Please be sure to enjoy the "flavour" of the local specialty conger pike.

Fall: Japanese tiger prawn
The Japanese tiger prawn, considered to be the king of prawns due to its beautiful figure and magnificent taste. It has especially received a good reputation for its "make-up" with an unique taste and tender texture, and for its chewy texture when "grilled with salt."

Winter: pufferfish
The invigorating pufferfish sashimi being a sure thing, but the concentrated taste of pufferfish in a hot pot, or the meatiness of fried pufferfish are are luxuries you can savour in this season. Please, relish on the taste of Winter.
Baths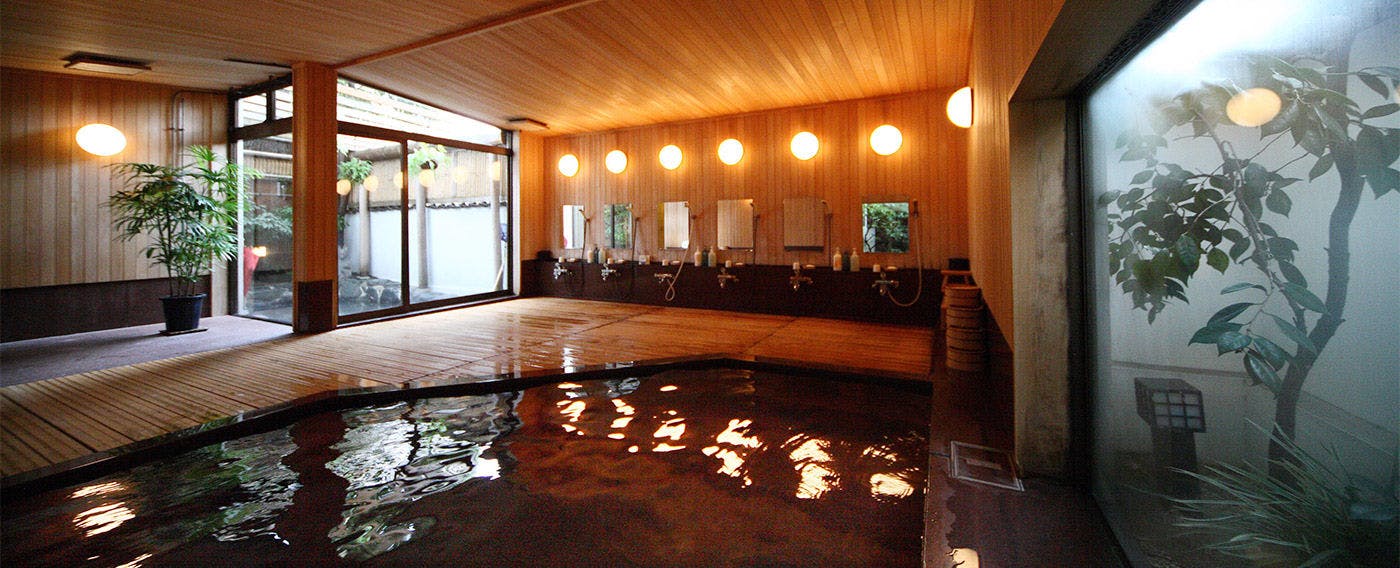 Large Public Bath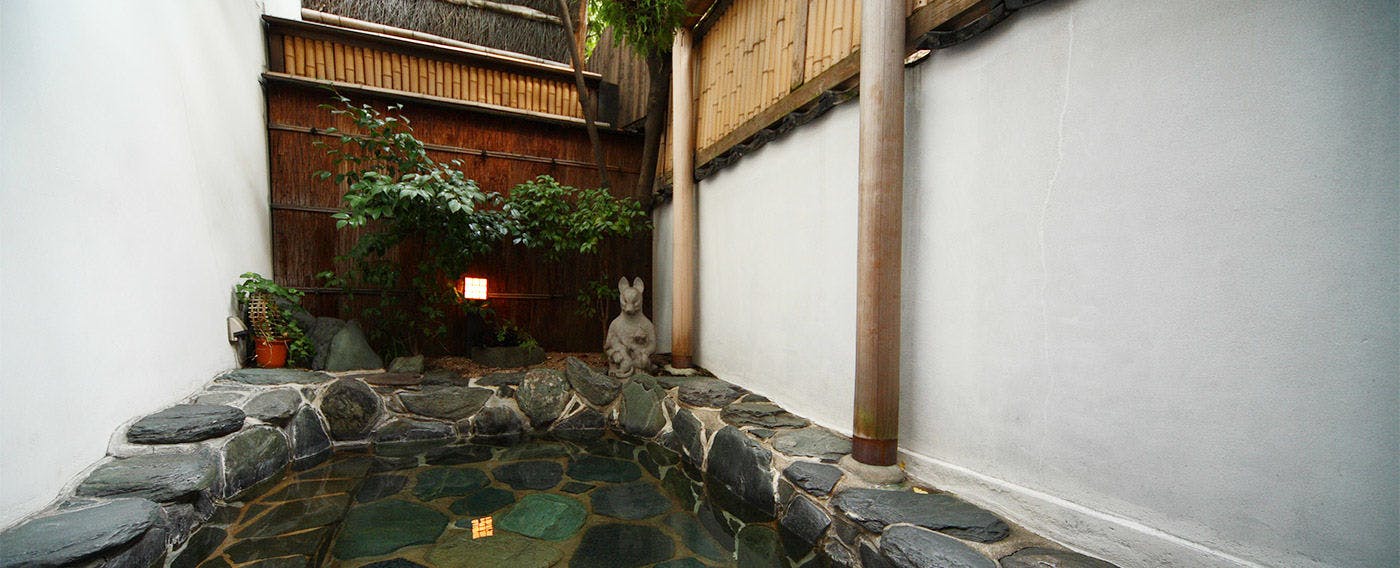 Large Public Bath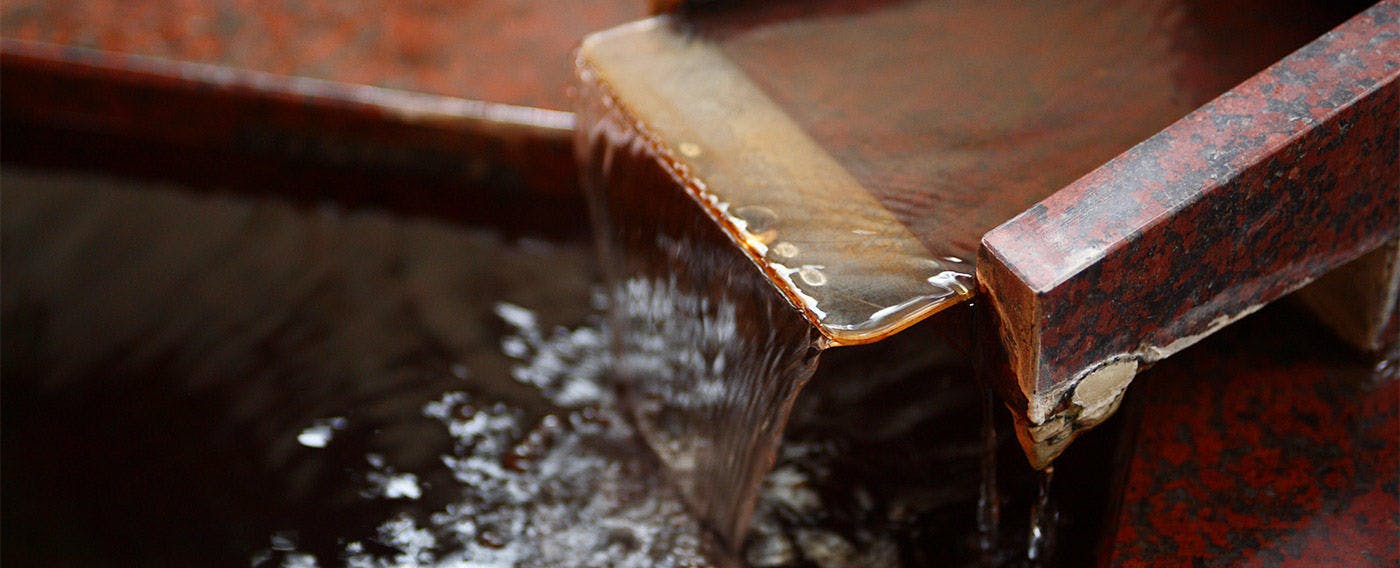 Open-Air Bath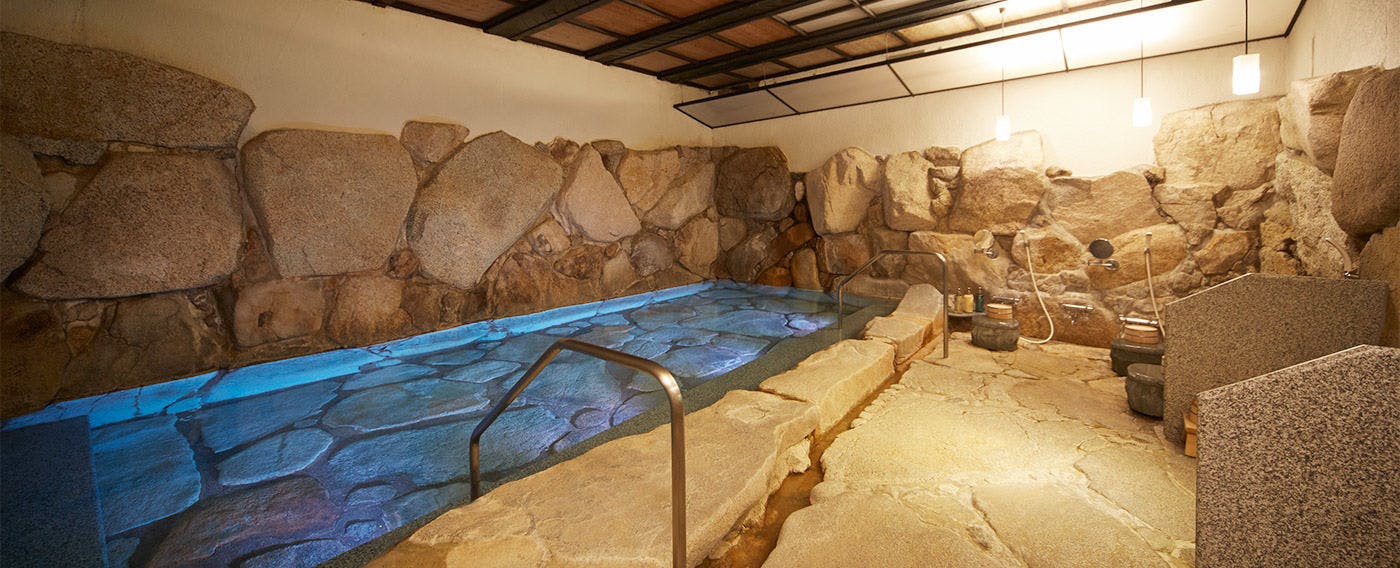 Rock Bath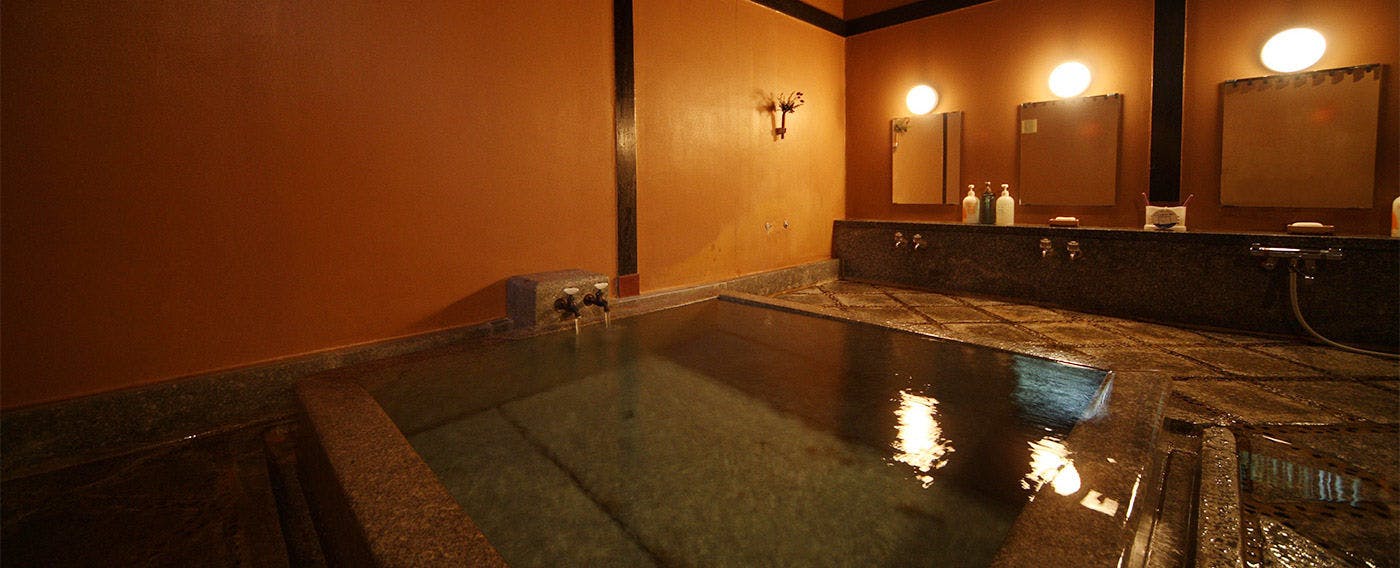 Private Bath
Running water from a natural spring This ryokan has a large family bath, and uses running water from a natural spring without rotation. Yuda Hot Spring's hot spring is really hot at 72 celcius degree and is for that reason cooled down with water at first, but after only spring water is poured in to maintain the temperature. The natural spring is used as "running water," so you get the regular fresh composition of a spring. Please enjoy the hot spring, soaking gently in warm water.

Family bath "restoration water"
The bathtub with restoration water was made at the end of the Tokugawa Shogunate, and is historical and cultural property where patriots loyal to the emperor like Takasugi Shinsaku, Kido Takayoshi, Saigō Takamori, Ōkubo Toshimichi, Itō Hirobumi, Ōmura Masujirō, Yamagata Aritomo, Inoue Kaoru, Sakamoto Ryōma from the Choshu, Satsuma and Tosa-clans and nobility like Sanetomi Sanjo from Shichikyoochi, frequently gathered at Matsudaya, to use the baths keeping the secret for overthrowing the shogunate a secret.
Open from 3:00pm to 9:00am
Reservation NOT available
Facilities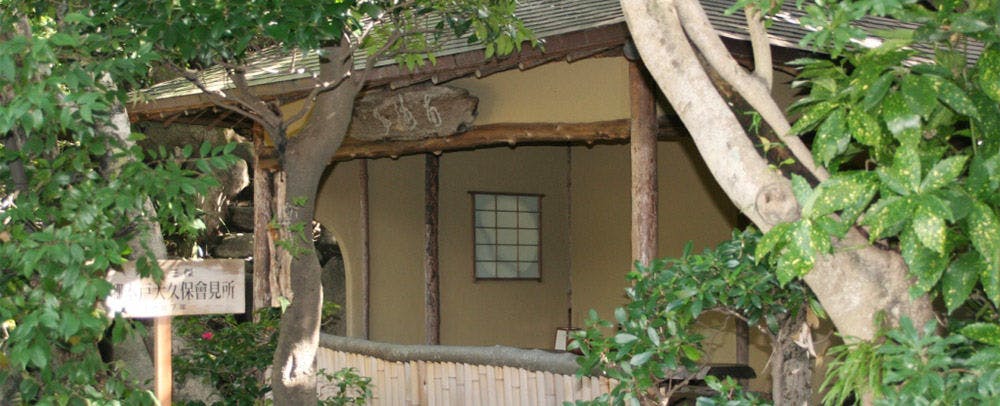 Facilities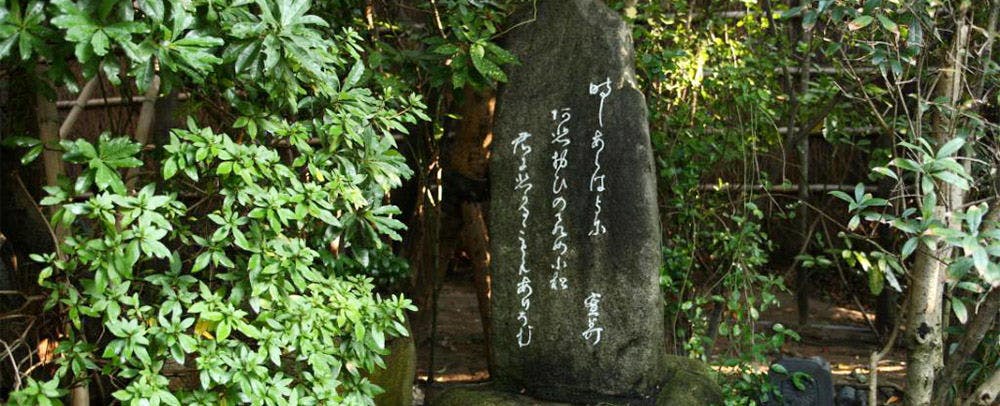 Facilities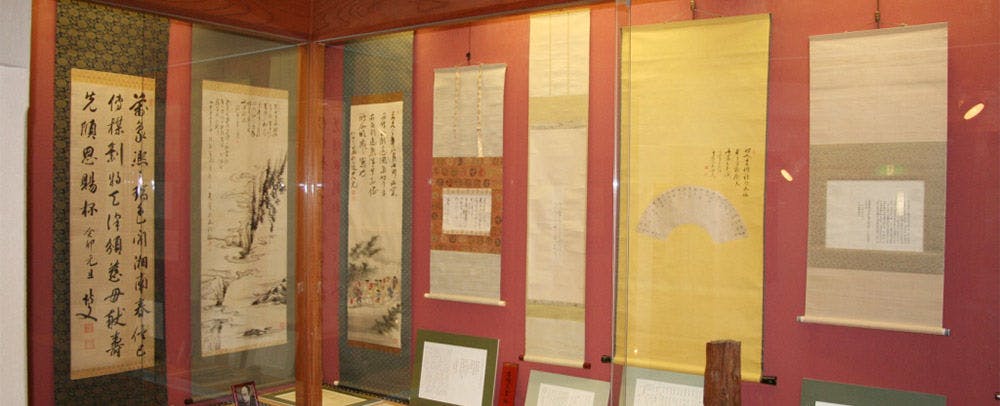 Gallery
Feel the historical atmosphere Patriots who fighting for a new era, trying to make the Meiji Restoration happen. "Matsudaya Hotel" is known as a gathering place for them.
Proving this history are numerous of remaining cultural artefacts.
In the Restoration reference room, the "maple tree of patriotism," next to the hallway, on whose trunk Takasugi Shinsaku has inscribed his feelings is exhibited.

Lounge bar "Kinki"
At lounge bar "Kinki", alcohol, tea and coffee are served.
There is also a gallery, so you can relax and enjoy the atmosphere.
Open from 4:00pm to 10:00pm / 7:30am to 10:30am (coffe lounge)
Access
3-6-7 Yuda-onsen, Yamaguchi-city,Yamaguchi,753-0056,JAPAN
BY AIR
From Yamaguchi-Ube Airport: 50min by car

BY TRAIN
From Shin-yamaguchi Station: 20min by car
Reviews
This is the 11th domestic stay of this year, and the 10th hotel. Needless to say, it is the No.1 traditional ryokan of the Yamaguchi prefecture. For the past few years, I have had a life to use an airplane for more than 30 times a year, but I have decided to change the ways of my travel and travel time and decided to look for relaxation. After finishing the practice in the morning on Saturday, I arrived so fast while buying a fish paste in the service area and eating it. I realized by myself that the Yuda onsen was in the middle of the city and could easily be accessed from the interchange. When your car passed through the solemn gate, you will see a cool and dignified reception desk of the hotel. That was a place to check in where dim sunshine was showering down filtered through the trees cutting off from the heat. This hotel was lapped over by my memories when my parents took me to "Resorts in Atami, Hakone and Izu" in my childhood and made me feel nostargic as if I went back to be a kid and its massive architecture brought me to the good old days for Japanese people. "Takasugi no ma" is your accomodation tonight. While sitting down on a chair at the veranda, through the crytal clear glass I watched colored carps swimming elegantly, red pines with handsome foliage and silent greens of trees contrasting with strong sunbeam and heard the chatter of happy children then I realized that I had fallen asleep on a tatami mat for about 40 minutes. After that, I took a bath in my room and watched greens with the light turned off. I was thinking that it would be the time of swimming at hotel on my ordinary visit and I fell asleep again. My room attendant came to greet me that made me get up. My room attendant flexibly responded to my request of meal time and I ate up the excellent foods alongside her superb timing of service. As the dishes had light but wonderfully seasoned, I could see each of them are carefully prepared, especially common Japanese conger's bones were thoroughly cut. I ate all before my room attendant told me to do so. I couldn't help falling asleep here again. I got up again by knocking by my room attendant who came to clean up, and well, I am going to prepare the bedding quickly. ended up When I was setting up my breakfast time for tomorrow, I asked about scenic sites and she recommended me to visit Jorurikouji temple and Five-story pagoda. I saw the management went beyond the principle of efficiency-first and cost performance, that is a balanced mixture of new and old by keeping up the traditions firmly and taking in new things to catch up the times and the magnificence of serving meals at each room. I would like to visit in autumn and winter gustatory season while it is difficult to book the hotel. Thank you for all your hospitality.
+ More
Aug 2015
It was more than I expected of a long-established inn so I was really satisfied. It does not mean I don't have any complaint like; Is it not better if you prepare a more luxury futon? The receptionist who got a phone call were not really fluent in speaking... And dinner was not very sufficient in quantity), but many nice points which make me forget a bad points (Room was big and beautiful, better than in pictures. The customer service of waitresses was good. A reserved bathhouse called "Ishin no yu" was great. There were many good spots in the inn itself, such as the the garden or reference room. Shabu-shabu of pike eel was very delicious. I was impressed by the quality of breakfast that were not being unusual) so that I give them all five stars as a result. It was not just to be a property with a value to visit, but it was a inn with a distinctive environment that I would remember from time to time.
+ More
Aug 2015
I had a enjoyable stay.
Jun 2015
Though I have never written word of mouth. First of all, why I would write it was unclear. Anyway, I have a lot of complaints for Ikkyu. Though I do not have to go if I would not want, however, I would like to write a little bit somehow this time. I stayed in Matsuda-ya because a fussy shopkeeper of a sushi shop in Yamaguchi recommended when I dropped in by chance. Oh, I wonder what it is. This nostalgic feeling. When I was a child, there were carps in the garden of my parents' house, my grandmother's simple meal (of course, Matsudaya's is professional one). The sober pillars and the gate. After I became an adult, I only stayed at the stylish 5 red pavilions in Tokyo, but I think this type's is also good. Probably, this must be a great hotel, but it was the nice hotel which reminded me of my childhood. Postscript: To the woman from Funairi taking charge of me, thank you for your polite hospitality. Thank you for your help next time.
+ More
Jun 2015
I stayed at the hotel for the first time in the past 25 years. It was very pleasant and we could relax, so we are very happy. The volume of the food was just right and they were tasty. We could also relax in Onsen and we tried the bath of Ishin this time, However, my husband says the hotel should create a better advertising copy than the one such as "We will help older generation" As we have plenty of time now, we would like to come back again.
+ More
May 2015
We stayed at the main building for the first time in many years but there was no problem in the cost effectiveness, etc. and it was good. I thought it was one of the few hot-spring inn that I can recommend in the west of Kyoto. My concern is that "the light in the rest room" was too dim. I think they did so in consideration of the fact that it is not a place to illuminate brightly, but I hope them to request opinion of someone else. The dinner was much better than I had expected. I would like to express my gratitude to the master chef once again. As an impression of the inn, it features a great weight as I expected. However, the volume of breakfast may be smaller. Also, it is regrettable that I could not order a glass of wine. I also hope that the types of "sake" will be increased. Although I gave some frank advice, I stille believe that it is a hotel to which I can give almost "perfect" points.
+ More
Apr 2015
I chose Matsudaya hotel as an inn at Yamaguchi, and it was my first time to go with my mother. I was impressed by how open the town of Yuda hot springs was. However, once I went into the property of Matsudaya hotel, I could stay in comfort because of its quiet atmosphere, the garden, and the staff's great customer service. The hot spring bath was especially great. The hot spring had neither color nor smell and made my skin smooth right away. There were four kinds of indoor baths, and I tried three and the rock bath was outstanding. The meal was made with various ingredients and was very delicious. As I told them in advance that my mother can only eat low-salt foods and cann not eat deep fried things due to high blood pressure and reflux esophagitis, they made a prompt response and my mother could enjoy foods and finished all on the day. Thank you. When I was coughing for I caught a cold, an assistant put some candies in a little pouch and gave it to me so that I can lick a candy on the way. Thank you for your thoughtfulness. I would definitely visit there if I had a chance to go to Yamaguchi again.
+ More
Apr 2015
It was my third stay at the hotel and it had been 20 years since the last time. Most things remained just like before and I felt really nostalgic. The family bath and the big public bath were both superb. The building is old but well maintained and is laden with history. The In-room dining was good as well as the menu of other meals and the taste. The service of the staff was nice and I had an enjoyable one night stay. I am going to stay at this hotel from now on when I go to the town of Yuda Onsen.
+ More
Oct 2014
The ryokan had lots of atmosphere. It was good as I was served by one waitress all the time.
Aug 2014
I stayed here for the mother-and-daughter trip plan. The meals could be taken at room, which made it possible to spend a time relaxing as ever. The room attendant in charge was the same at the night and at the morning, which was comforting. As for my request for the timing of the present and cake for my mothers celebration, they complied as much as they can. It was my first time to visit this hot spring, and my skins got smooth and it was great. Though being a hotel in the mid town, the garden was nice with the great illumination.
+ More
May 2014
It was a profoundly great inn. Especially the garden viewed from the room, a private bath for family Ishin No Yu, and the food were great. The room was also meticulously clean and I could feel relaxed the whole time. This was an inn that made me feel that I wanted to revisit it.
+ More
Feb 2014
It was a laid-back inn and our family enjoyed both the garden and the bath. A bathtub with history was also nice. Thank you very much.
+ More
Oct 2013
Information
Check-in Time

From 4:00pm to 8:00pm

Check-out Time

Until 10:00am

Tax / Service Charge

Bathing Tax JPY 150 per adult is NOT included in the rates.

Credit cards accepted at this property

VISA / JCB / AMEX / DINERS
Children

Children are allowed to stay with following fees.
- Children of elementary school or older, with same meals and bedding as adults: 70% of adult rate
- Children of elementary school or older, with children meals and adult bedding: 50% of adult rate
- Children of under elementary school, with meals and/or bedding: charged according to meals and bedding
- Children of under elementary school, with no meal and sharing a bed with adults: free of charge

Pets

Pets are NOT allowed.

Parking

Free of charge for guests; Capacity 30 vehicles; No Valet Parking Service

Other policies & conditions

Nothing in particular