We are sorry but we don't have any rooms available now.

Please select another Ryokan.
- VAT is included, but bathing tax (around JPY 150 per adult) may NOT be included.
- Price in USD is based on the exchange rate as of today and might be different from that of the booking date.
Foods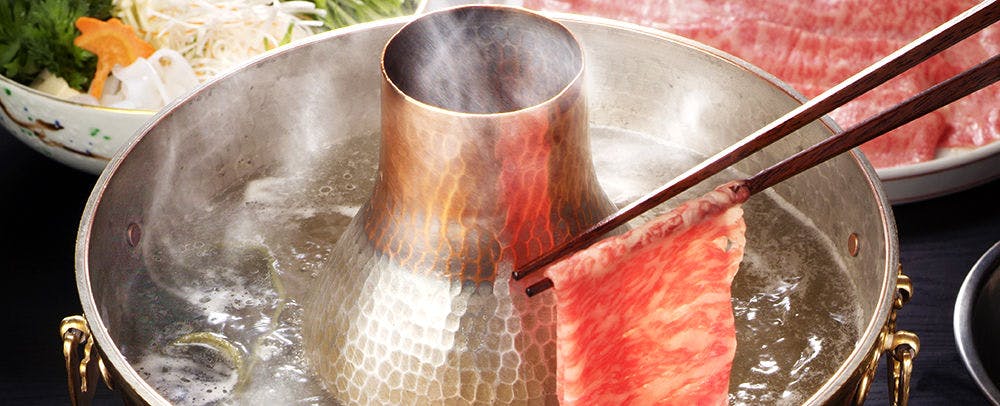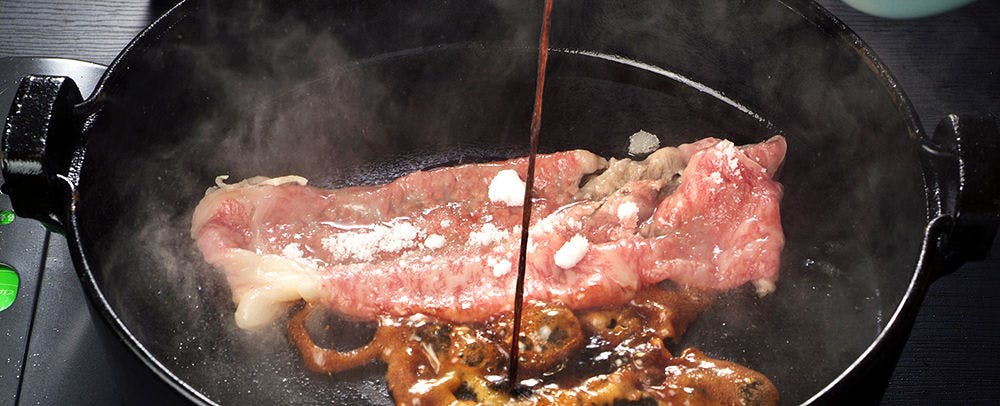 Ubuya Kaiseki cuisine Our various "Kaiseki dishes" (Japanese haute cuisine) are lovingly prepared with vegetables in seasons. We are sure our excellent dishes, great tastes and smell of seasonal vegetables will satisfy you, and also also your eyes and tongue. We hope you enjoy your time with our seasonal dishes and feel at home.
Baths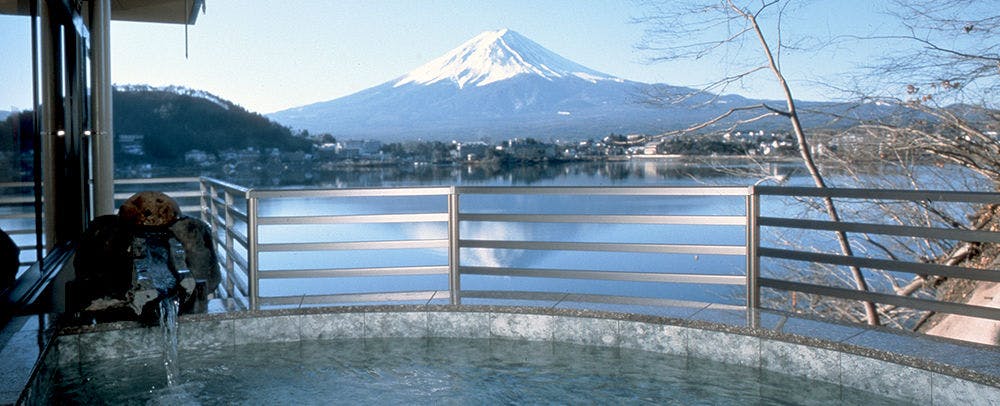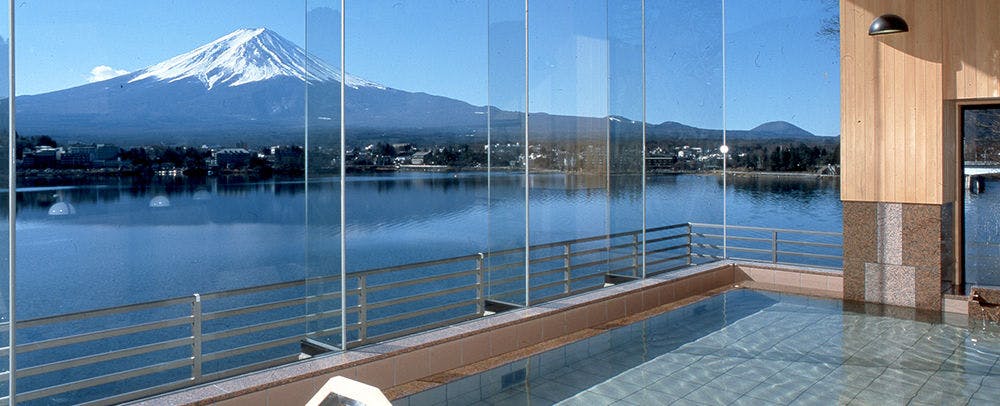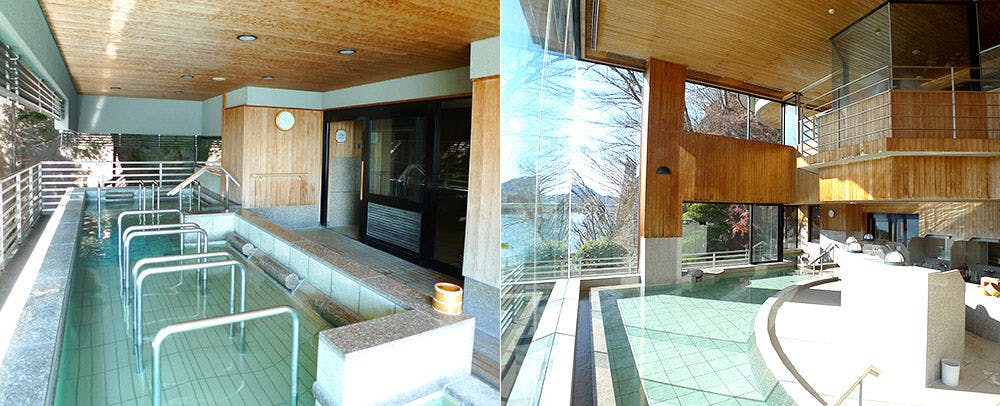 Midori, the house of hot spring Poudly presented the "Midori." It featured the hot spring bath to have the great panoramatic view of Mt.Fuji and the Kawaguchi Lake. There are many type of bath, such as an open air, large, and jucuzzi. You may enjoy a bath in one of their outdoor tubs for rent, and enjoy the sight of a natural planetarium.
Facilities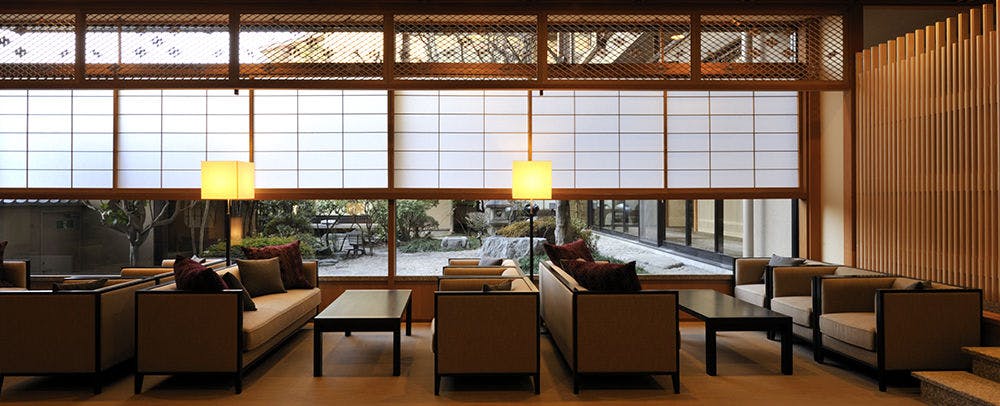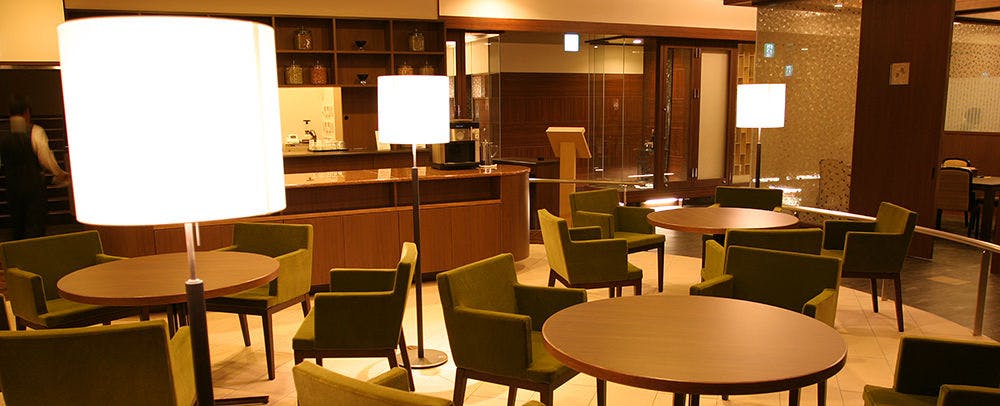 RESORT BEAU SPA When after having enjoyed hot water with the view of Mt.Fuji, why don't you receive a beauty treatment by all means? We offer the foot and body care for couples together and nail care for women.
Access
10, Azagawa, Fuji Kawaguchiko-cho, Minamitsuru-gun,Yamanashi,401-0303,JAPAN
BY TRAIN
From Shinjuku Station: Take JR Chuo Line Express train to Kawaguchiko Station (2hr 15min) & free shuttle bus to the hotel
BY BUS
From Tokyo Station: Take Tomei Express Bus to Kawaguchiko Station (2hr 35min) & free shuttle bus to the hotel
From Shinjuku Station: Take Chuo Express Bus to Kawaguchiko Station(1hr 40min) & free shuttle bus to the hotel;

Reviews
This trip was planned by my lovely family to celebrate my sixtieth birthday and my retirement. I was surprised of the sixtieth birthday ceremony you prepared for me in the dinner since I had not heard it in advance from my family. We had a moment of fun, happiness which became a good memory for me. Also the wine, the photos and warm comments you gave to me were so impressive. You the "Ubuya" are the best top grade hotel in Kawaguchiko-Lake. We who were 5 agreed totally on it. All the food was excellent, and specially the meat cooked on a plate made us smile naturally. We all were satisfied. It was the first time we got in a elevator which tatami in the floor, the one to go to the Onsen(hot spring). The Jacuzzis were all great. The only thing we would like to experience next time is Ubu rolls(Soft and sweet rolls) and also would like to see the Fujisan-Mountain. We are looking forward to them next time we come. You were a great hotel.
+ More
May 2016
We were received with Matcha (a powdered green tea) as a welcome drink. After finishing the check-in a young man dressed with a hakama/kimono that people in shrines wear guided us to our room. The fragrance of incenses inside the hotel was much more than pleasant.. Our room was upgraded which they kept it in a secret and cleaned everywhere. The Okami(landlady) treated us with care, working with seriousness. The food was so perfect with nothing to criticize. The herb tea service we had in the lounge made us relax so we could sleep very well. The best thing was the hospitality of the staffs who I guess they have studied a lot and specially the smiles of all female staffs.
+ More
Api 2016
It was a very confortable. Just in front of Mt.Fuji, so I could enjoed the view from a window when it was sunny.
+ More
Api 2016
We could spend a good relaxing time. Thank you very much for letting us use the same room we stayed at the last time as we requested. The tour to enjoy the autumn color leaves in the night was splendid. Looking at the Fujisan-Mountain while sitting in the massage chair and enjoying the coffee of De'Longhi served in the lounge. Thank you very much.
+ More
Nov 2015
We spent a night to enjoy a relaxing time on the weekend. We were healed by the Fujisan-Mountain that we could see from our room. The room was clean and spacious with a open-air bathroom which was wide enough so that two persons can enjoy it. Since it did not use hot springs water, we used the large spa(hot springs) as well. There were many children in the dressing room so I thought it would be noisy but since it has two floors the second one was very calm letting me enjoy the warm water as much. The sauna was big very different from the narrow ones we can often see. The Fujisan-Mountain view from the spa was astonishing so it was a good idea to go before the sunset. Personally would have liked to have a big bottle containing face lotion, and another one containing cotton and swabs to use without any hesitation. Also a hand towel in the room would be necessary. As soon as we got in the room we took a bath but did not want to use the same towel again. Also the smell of the towels in the room was not good. For dinner, we changed it from Shabu-shabu(thin slices of beef parboiled in hot soup.) to Sukiyaki (Japanese beef hot pot to be eaten with egg) and having it cooked by the chef was a very unique and great experience. For breakfast maybe you could have arranged more local delicious vegetables and fruit of the season so that we can feel much more that "we are on a trip". We thought that you were a hotel that listen to the voice of the guests. Your staffs attention was very pleasant. We would like to come again soon.
+ More
Jul 2015
Information
Check-in Time

From 3:00pm to 6:00pm

Check-out Time

Until 11:00am

Tax / Service Charge

Bathing Tax JPY 150 per adult is NOT included in the rates.

Credit cards accepted at this property

VISA / MASTER / JCB / AMEX / DINERS
Children

All Children are welcome.
Bed sharing is allowed up to 2 years old.

Pets

Pets are NOT allowed.

Parking

Free of charge for guests; Capacity 50 vehicles; No Valet Parking Service

Other policies & conditions

Please contact the hotel in case of arrival after 6pm.