- VAT is included, but bathing tax (around JPY 150 per adult) may NOT be included.
- Price in USD is based on the exchange rate as of today and might be different from that of the booking date.
Foods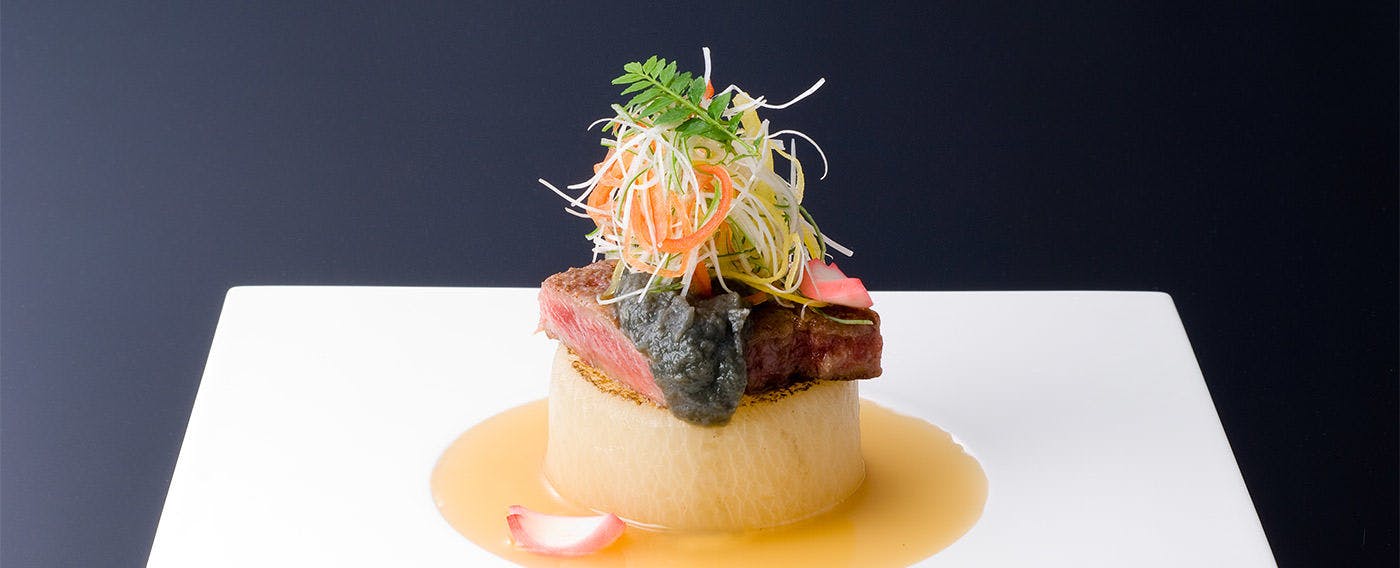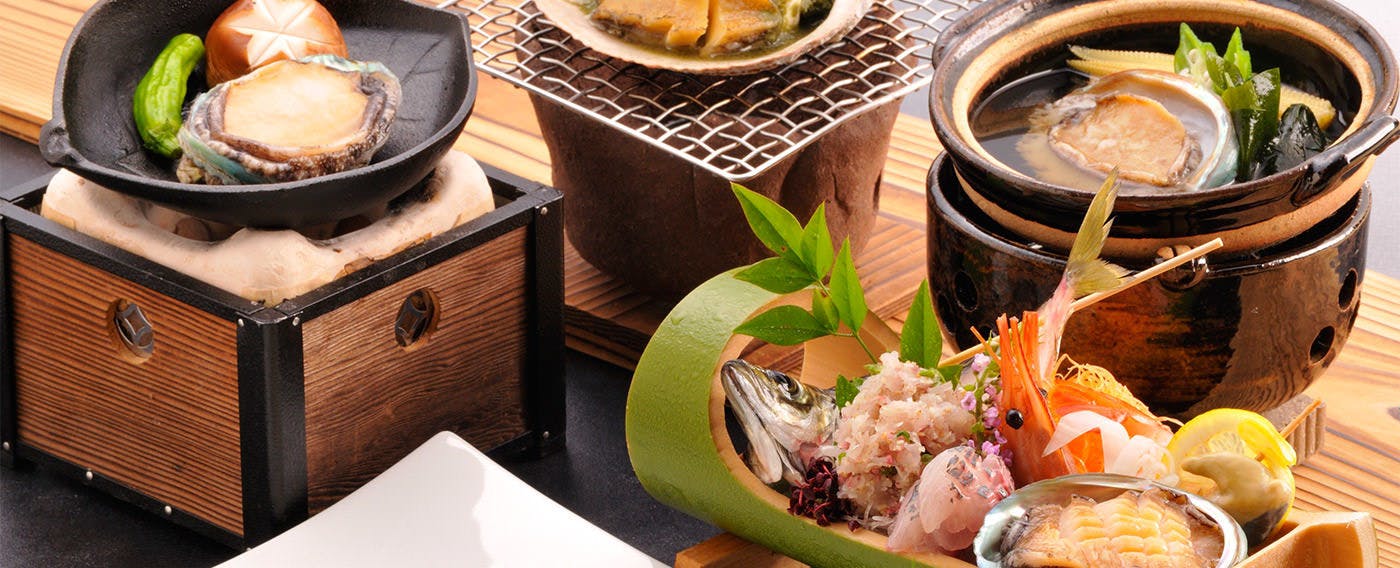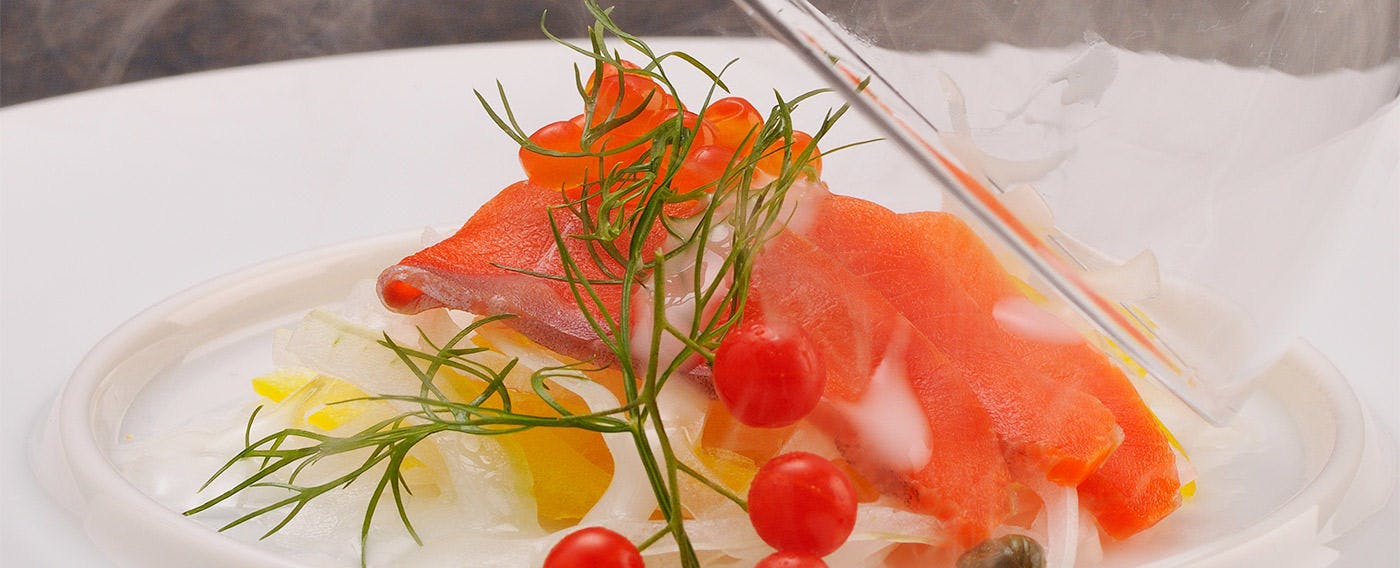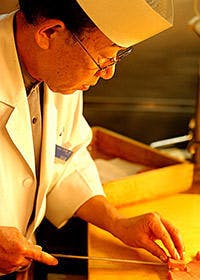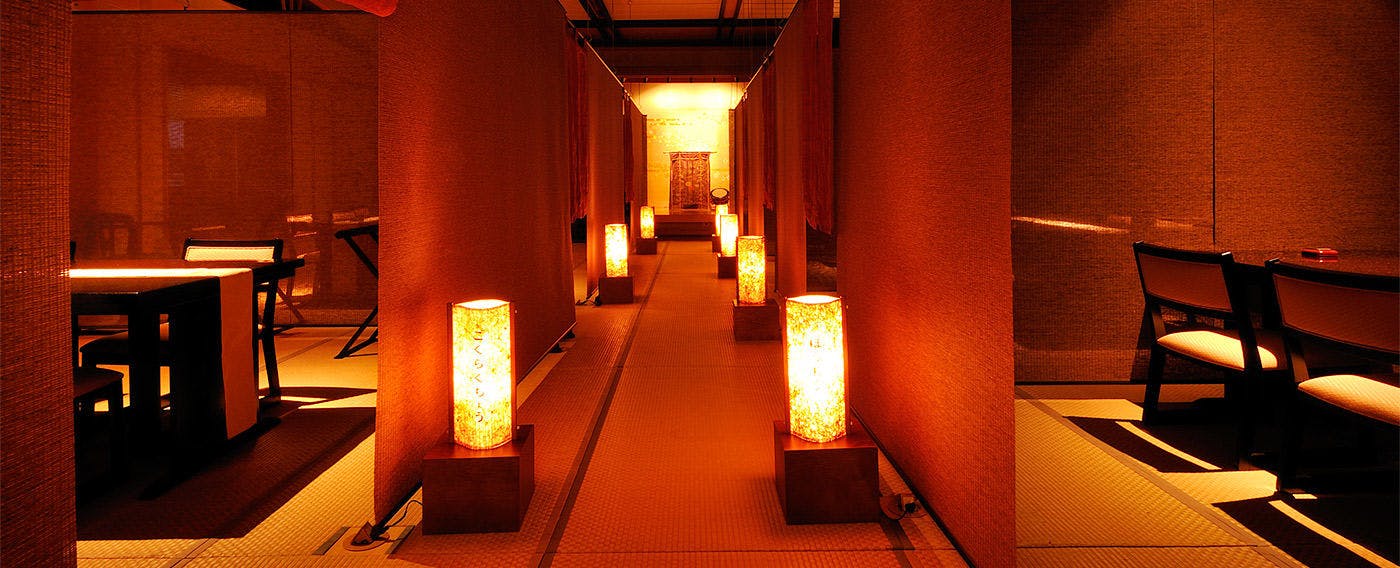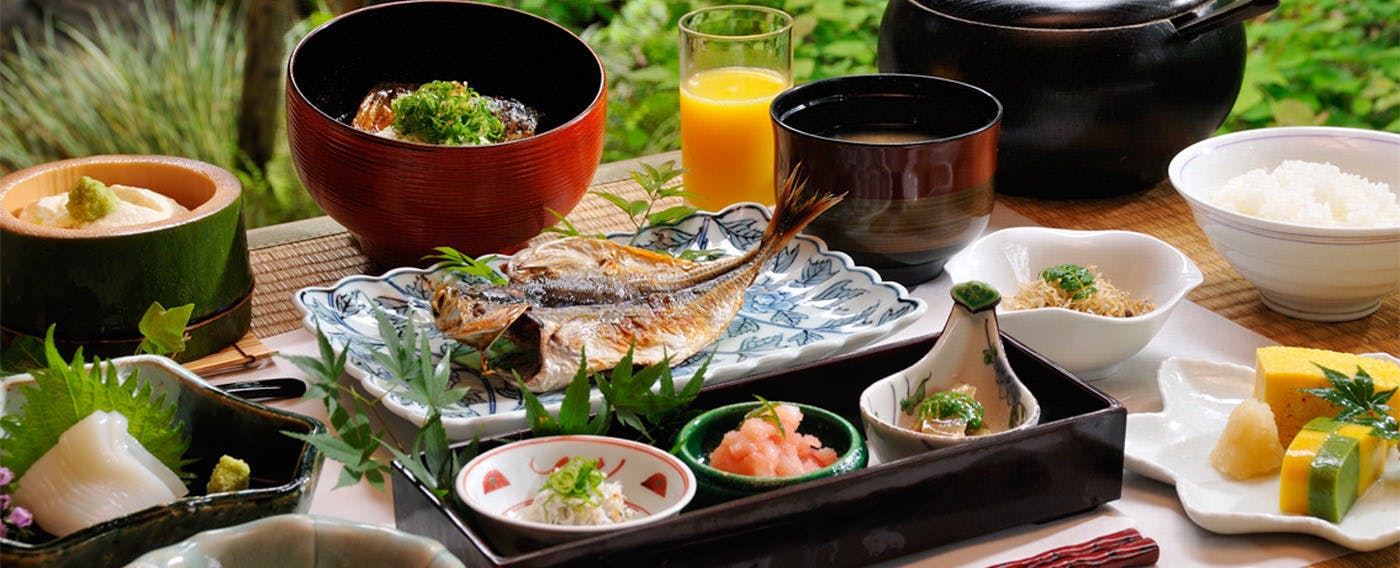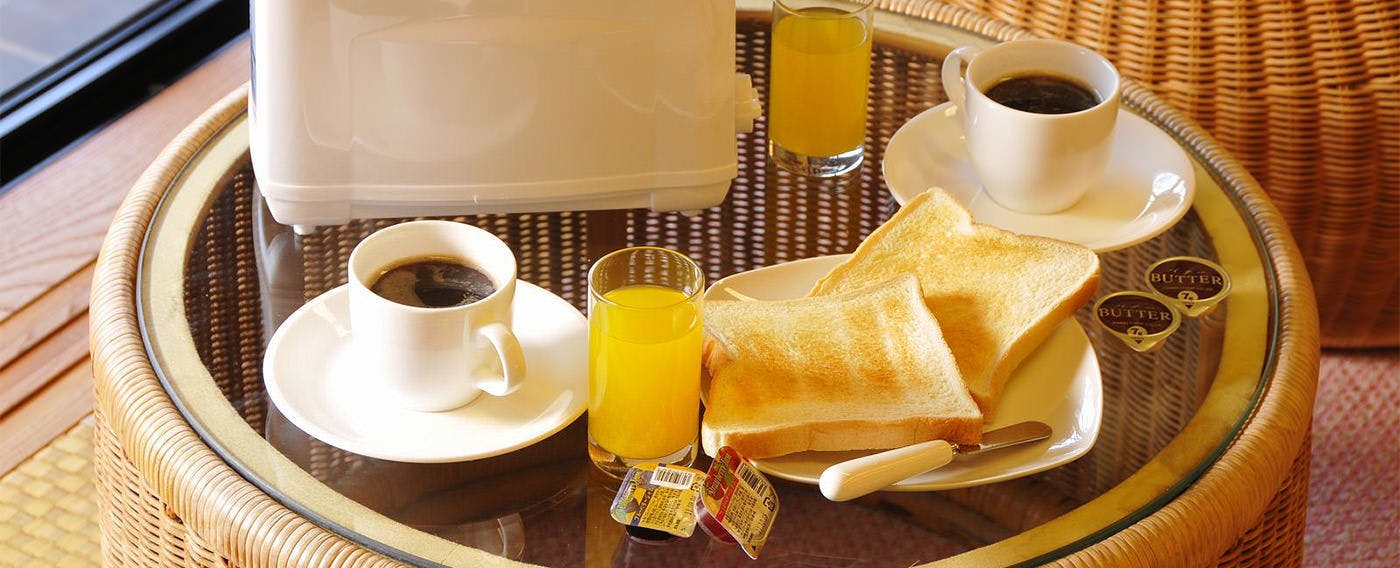 Promise from Shouhei-sou At Shouhei-sou, we serve meals at a time convenient for you.
If you would like to have dinner at a later time because you had a late lunch, a late breakfast because you would like to sleep in, we will cater to your request.
Head chef Osamu Ego
All meals are supervised by our Head chef who is authorized by All Japan Technician's union [Zengiren Meister].

[Zengiren Meister] is a recognition for a set of technical skills test which is carried out based on the Human Resources
Development Promotion Law and when passing a certain level, they are recognized as a technician. A Meister is a technician who has over 20 years of experience and is eager on teaching the younger generation in the field.
Our head chef Osamu Ego was born in Kyoto in 1943, started his carrier in the kitchen when he was 16. He started working for Shouhei-Sou when he was 24 and has been working with us for over 45 years as a head chef.
His artistry is based on choosing great raw materials, a technique to bring the best out of the material is his characteristic, and has pleased many of our guests.
in 2011, he took office as [Fujinokuni Shokuno Miyako Dukuri Shigotonin], he was also rewarded the [Surugano Meikou] prize which is a prize for talented technicians in Shizuoka area. He selects many materials from the Izu-Nagaoka area and presents inventive dishes on a daily basis. he plans to spend more time out of the Ryokan, and help the upbringing of the younger generation.

Restaurant
We have prepared a restaurant with a private atmosphere.
For breakfast we recommend our Japanese breakfast, a local specialty such as [Dried horse mackerel] from Numazu, [Chirimen Sansho].
We will also be able to provide a continental breakfast before 8:30 AM and after 10 AM.

Baths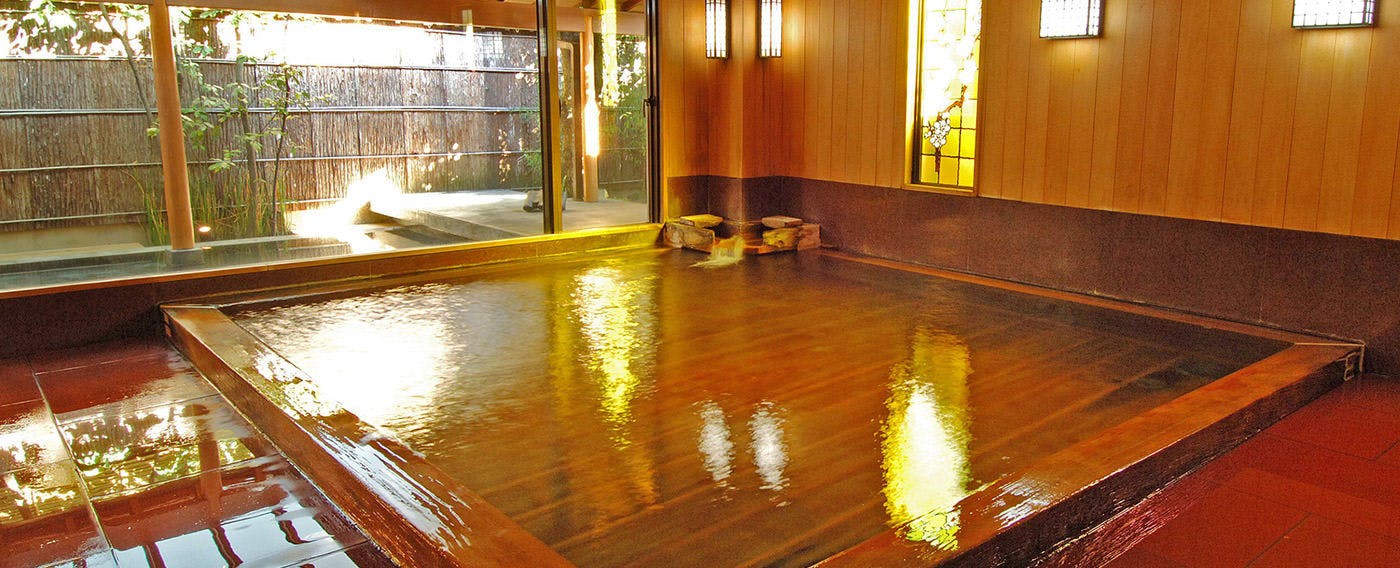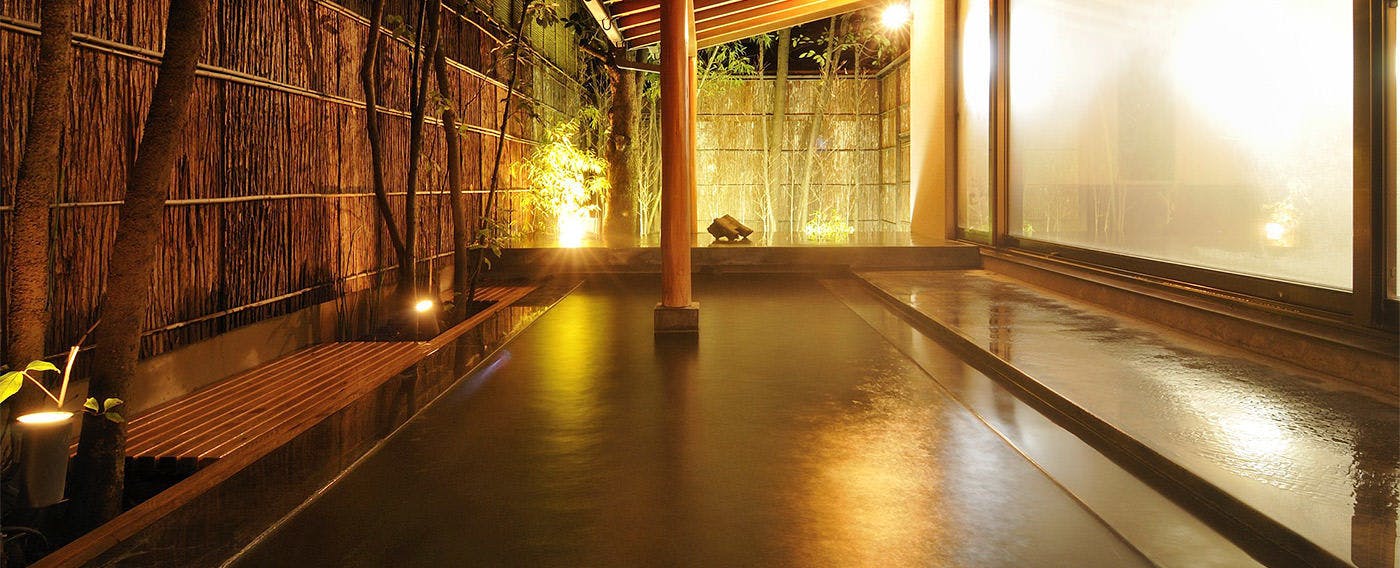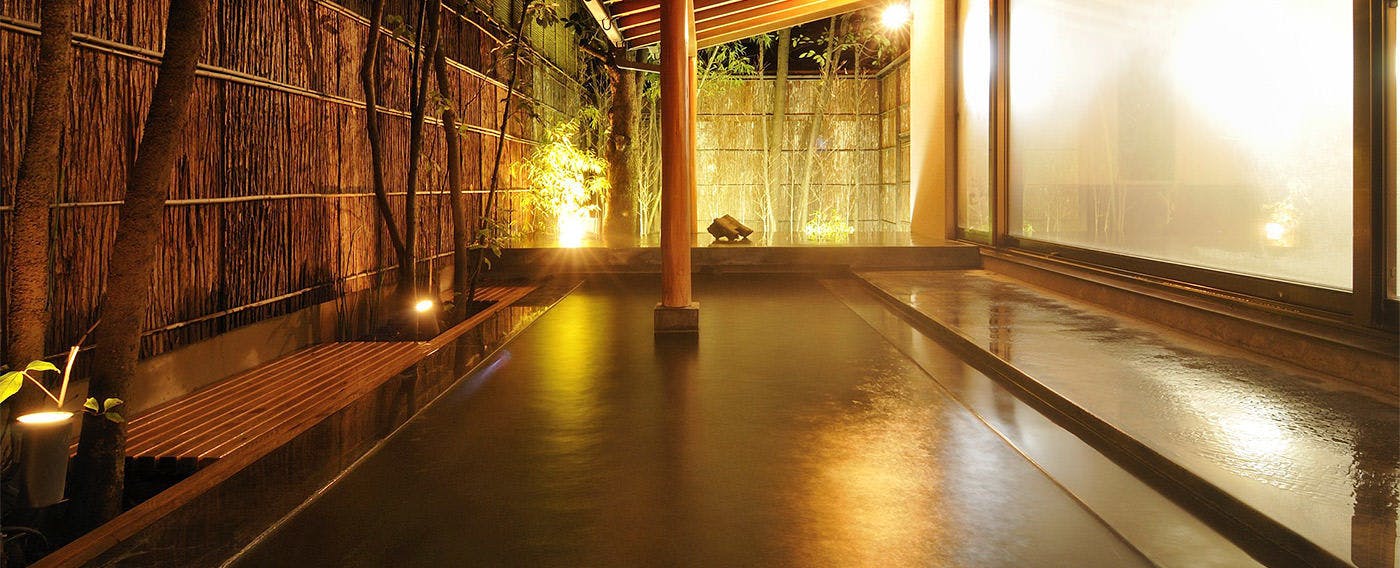 Large bath Try on your yukata, and take a walk through our garden towards the large bath. The inner bath is created using a 2000 year old Japanese-Cypress, an open-air bath surrounded in the nature will comfort you. The baths are named [FujikobainoYu] and [FujihakubainoYu], and the bathing time will differ depending on time and gender, usually you will be able to enjoy both during your stay. The extravagant Cypress bath is a characteristic to Shouhei-Sou, with the relaxing Japanese style atmosphere.

Ideyu produced by IDEE (open-air bath)
A simple and modern appearance is a unique space with solids emphasized, it is especially popular amongst our younger guests and will leave great memories of your trip. Of course they are all natural springs, hot spring of Izu-Nagaoka. The smooth touch on your skin, it also works great for arthralgia and muscle pain(s). Both the large bath and Ideyu are popular amongst our female guests.
Facilities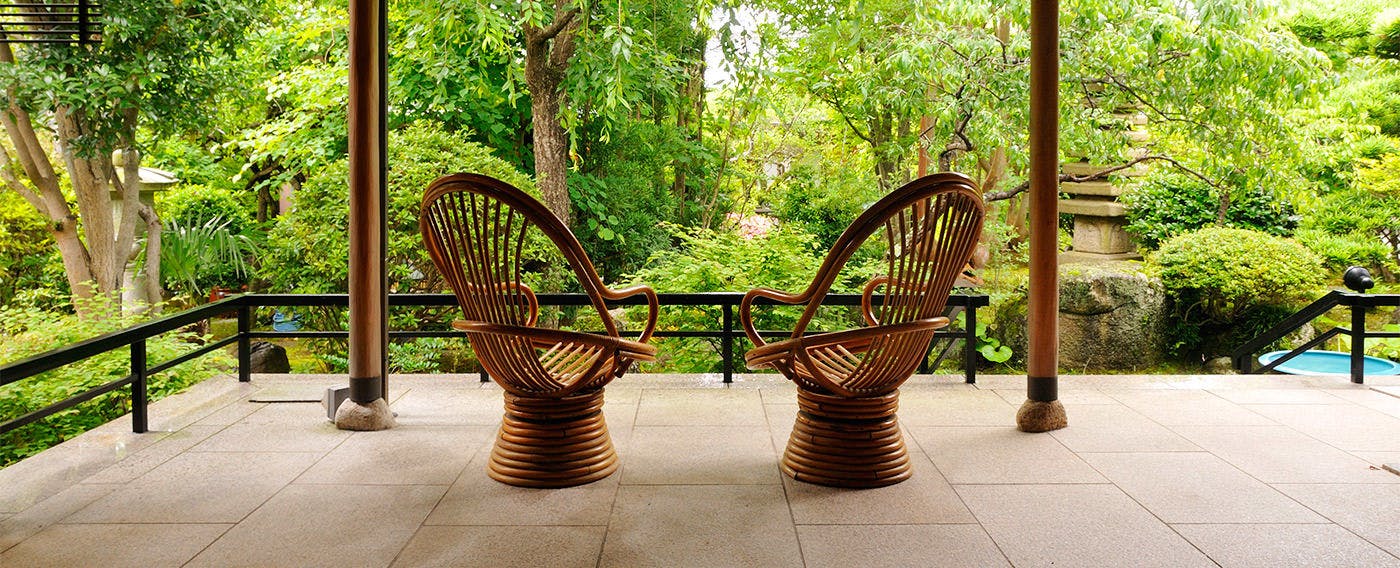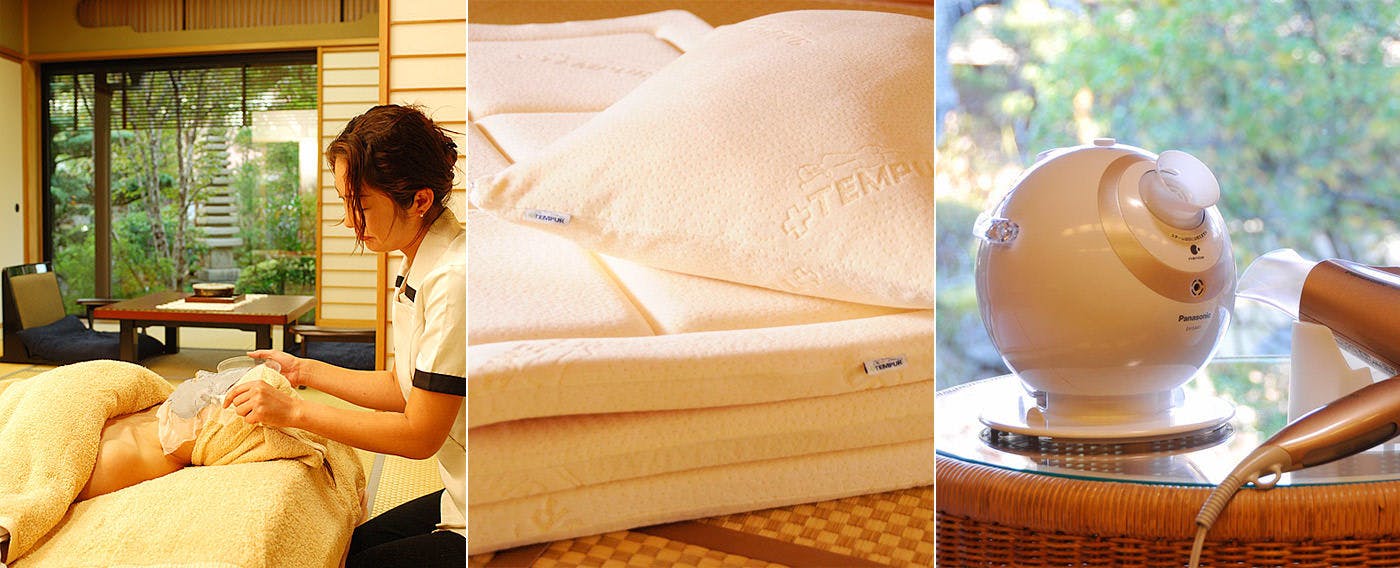 Shouhei-Sou has a Japanese garden on site, surrounded by a rouge wall, in the center of the site we have a traditional garden with the four seasons aggregated, around the garden we have the main building Yume-an which is a modern sukiya-style building and Hourai-kan which is a modern buiding with deluxe suites, there also is a Japanese style cottage surrounding the site. Great architecture with a work of craftsmanship, using precious woods will leave an impression on you.
Hospitality of Shouhei-Sou
Left: Spa service in your room
Center: All rooms equipped with Tempur mattress and pillows
Right: Nano hair dryer (equipped in the SHOHEI floors, Urban floors with private baths), Night steamers are available on requests.
Access
256-1 Kona, Izunokuni-city,Shizuoka,410-2201,JAPAN
7mins by taxi or bus from Izu-Nagaoka station.
Reviews
It was our first stay at Shouhei-Sou. Also our first visit to the Izu-Nagaoka area. We enjoyed our time in Mitsu sea paradise and Hiruzen hansharo which was registered to the UNESCO natural heritage, and stayed at Shouhei-Sou to end our trip. We had heard good reviews of the food but it was all above our expectations. The food not only looked great but it was really delicious and we had a little too much to eat. The Japanese style Kaiseki for dinner and breakfast was all impressive under the supervision of a Meister chef. The hospitality of the service staff was spectacular. We enjoyed both of the large baths, and we stayed in a cottage. There was a small museum in the New building which was relaxing too. We felt the hospitality from all the people working there and we thought it was a great place to stay at. Although we noticed some very young service staff and thought they were a little in-experienced but we felt their warm hospitality so in the end it was all good. We will come back to Shouhei-Sou for our next trip to Izu-Nagaoka.
+ More
2016/10/20
We had not been to Izu in a while but I am glad to have discovered this great place. The quality of the food and the hot-spring was spectacular and we are very satisfied. We noticed attention to the details in all food menu, the china they had selected and we could feel that they really make an effort. The hot spring had a simmering texture which was very nice. You sometimes get tired of hot springs on a short trip but their hot spring was really relaxing. the details in the bathrooms were impressive too. All rooms are equipped with Tempur pillows and my mother found them to be very comforting for her sleep. The service staff were all polite, only assisted when we asked which was a great point for me. Since I took my mother with me, I noticed it will be nice to have a hand rail at the entrance of the bath. My mother has a bad leg and as she was entering the bath, the other guests advised us to be careful because the entrance was a little slippery. The room wear is clean but we thought they were a little tatty, maybe a new set will be better. Next time we would like to stay in a room with the garden view. Thank you very much.
+ More
2016/11/17
We had stayed here for several nights last summer and this was our visit since then. We always appreciate the heart warming service at Shouhei-Sou. We chose the Kaiseki with a selected main dish, but the serving amount was more than enough and the quality was great. We were lucky to be able to taste the sea eel soup which was just entering season. At this place we can enjoy traditional Kyoto Kaiseki, without traveling all the way to Kyoto. The manager was very considerate and we had a pleasant stay. We will love to come back again next year. Thank you very much.
+ More
2016/07/20
We stayed at Shouhei-Sou for the first time for my boy friend's birthday. The whole place was really clean and beautiful, the hospitality of the service staff was great too! I had told them that it was his birthday, and they had a gift for him which was very nice. The food was delicious, the special soup using the siphon, the dressing on the salad at breakfast were my favorites. The restaurant was separated privately, although it was not a private room we felt enough privacy. I did notice the rice was not warm enough, and it took time for the service staff to come to serve us, which was something they could work on. Even though some issues, it was all a great stay. The sea eel soup sounds tempting so I will be back again in the summer time.
+ More
2016/08/20
We stayed here in the spring holiday. Thank you for the room upgrade. It was a great room and we had a relaxing time there. The food was delicious and the serving amount was good too, we could enjoy until the end of the course. The children loved the western breakfast. The space between the guests and the service staff was balanced which was great for relaxing. All in all it is a well balanced accommodation and we would love to come back. highly recommended.
+ More
2016/04/20
Information
Check-in Time

From 3:00pm to 9:00pm

Check-out Time

Until 12:00pm

Tax / Service Charge

Bathing Tax JPY 150 per adult is NOT included in the rates.

Credit cards accepted at this property

VISA / MASTER / JCB / AMEX
Children

Children under the age of 1 are free of charge if they share a bed with you.

Pets

Pets are NOT allowed.

Parking

Free of charge for guests; Capacity 10 vehicles; No Valet Parking Service

Other policies & conditions

Nothing in particular.