- VAT is included, but bathing tax (around JPY 150 per adult) may NOT be included.
- Price in USD is based on the exchange rate as of today and might be different from that of the booking date.
Foods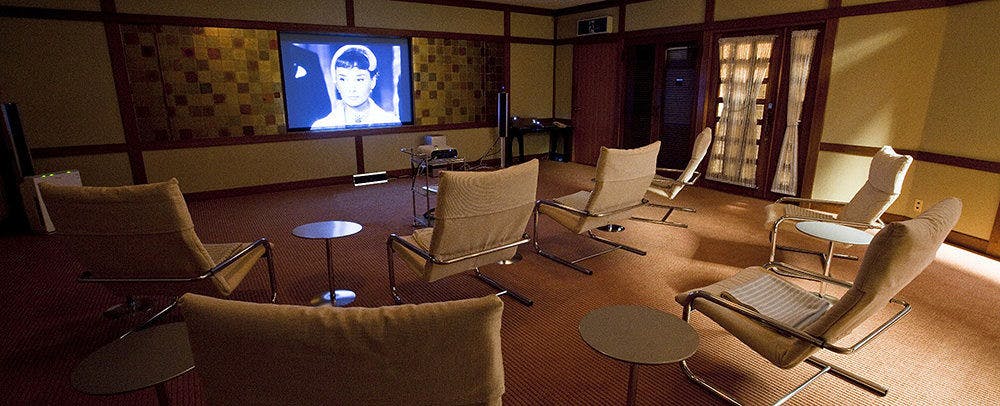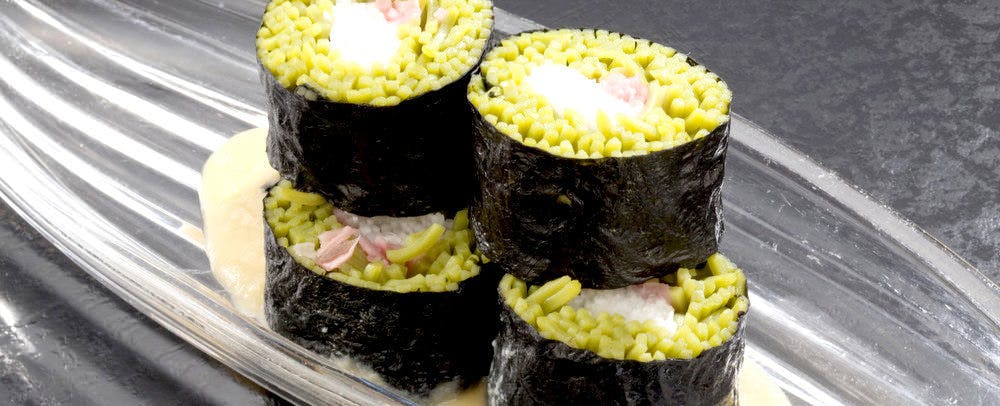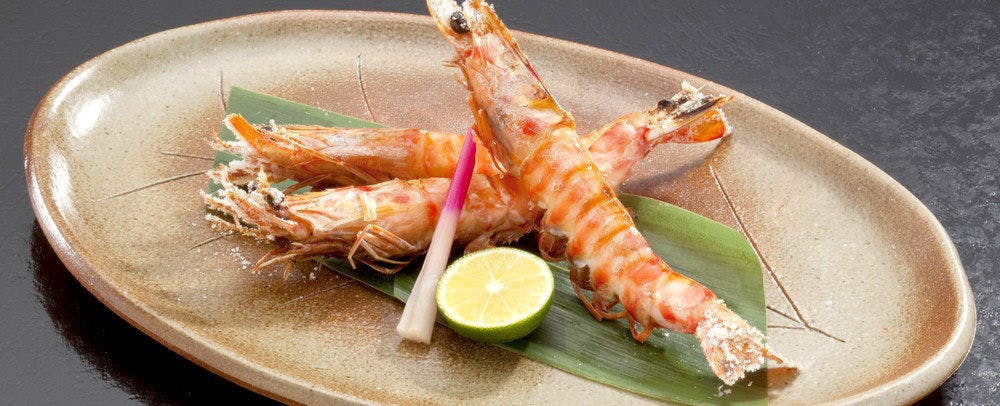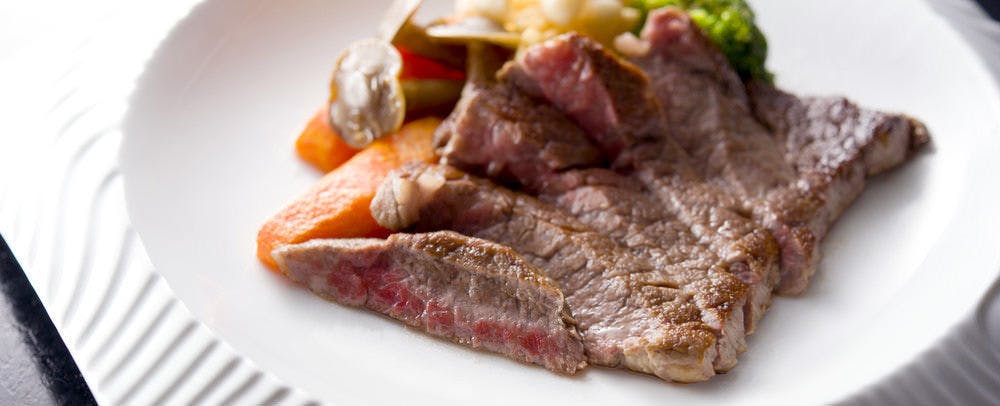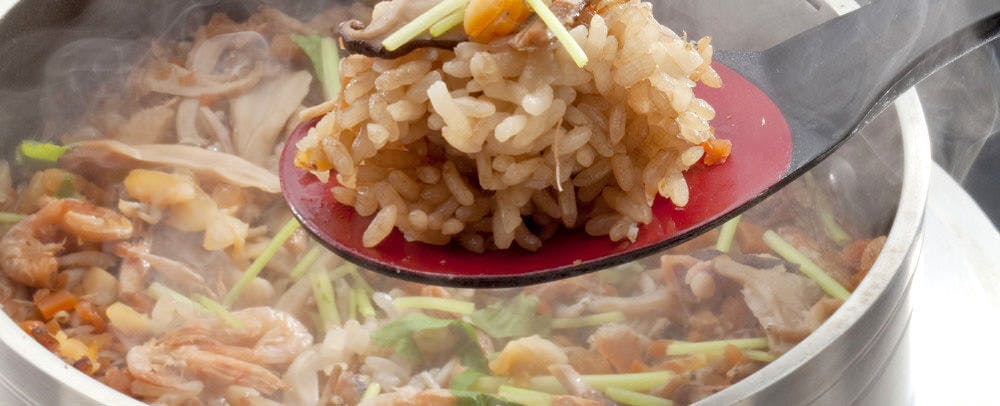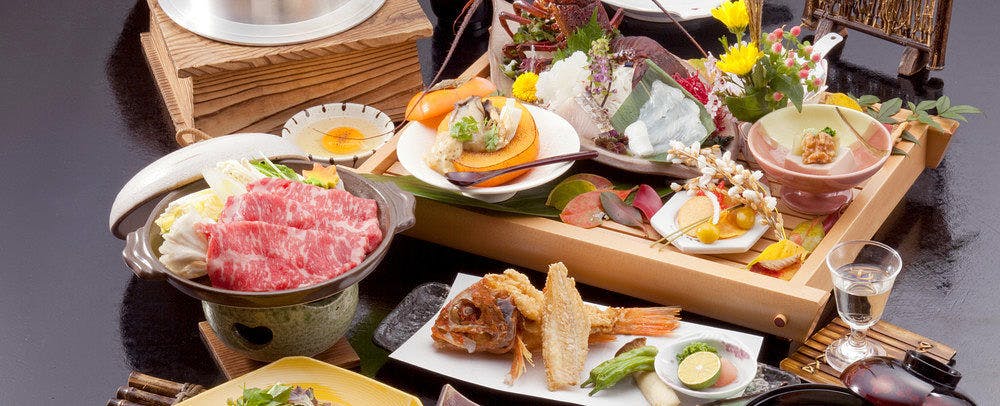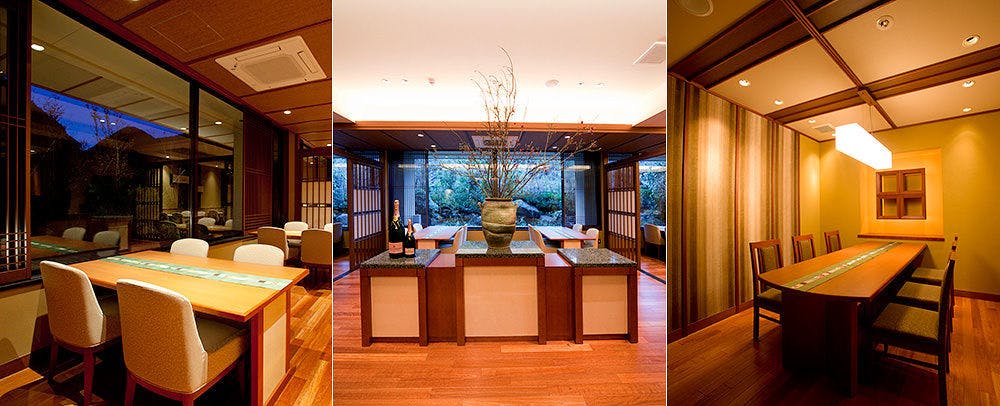 A place to experience nature's goodness bred by the god of the sea, and nourished by the mountains. Anytime you want, you can enjoy a meal unique to Rendaiji Onsen (hot-spring) here. Restaurant "Daigo" Now Open!
A newly opened restaurant specially established to serve an amazingly delicious fine-dining experience.
Baths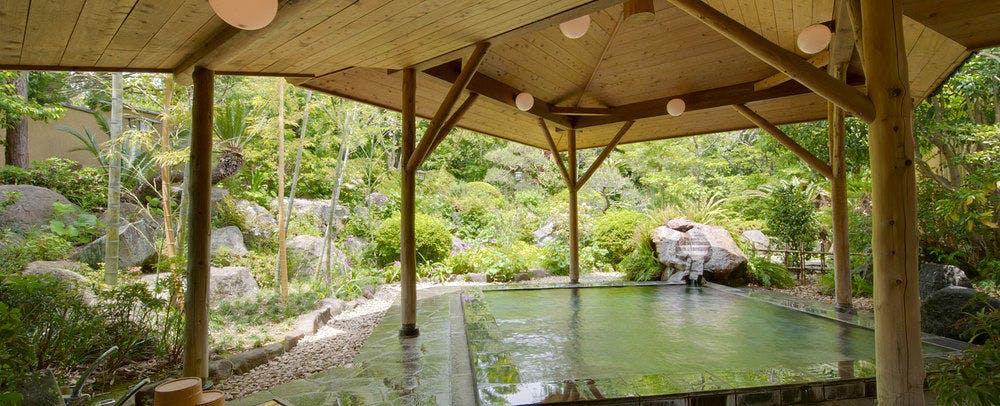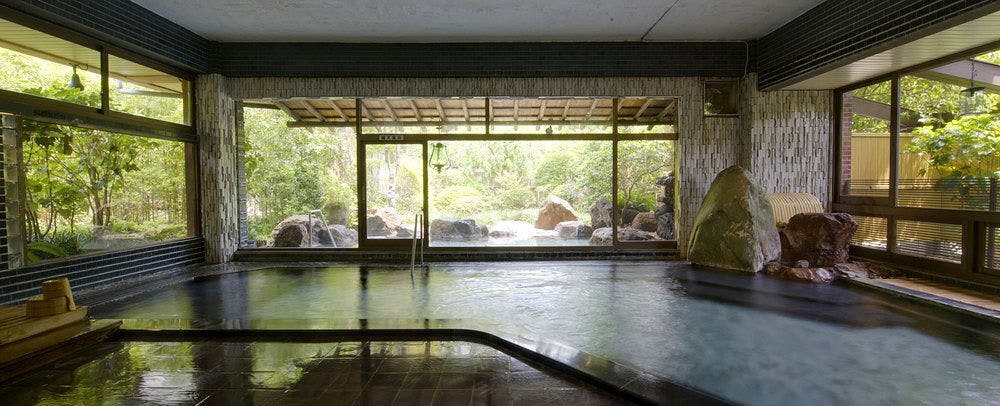 Hot spring water is sourced from the Rendaiji Onsen. Relax and let your heart be at peace immersed in this source water hot-spring.
Stretch your body and be mellowed by the sound of flowing water and calmly passing breeze in this spacious outdoor bath. All of the hot spring water is sourced from the Rendaiji Onsen.

The Hot Spring
From 14:00 to 10:30 the next day (Cleaning hours are excluded)
From large baths that both men and women can enjoy to reserved baths for families, everyone can experience the the spirit of all four seasons. Relax in the all natural hot springs with flourishing with three sources (running at 550 Litres per minute, at 51.8 degrees C).
Facilities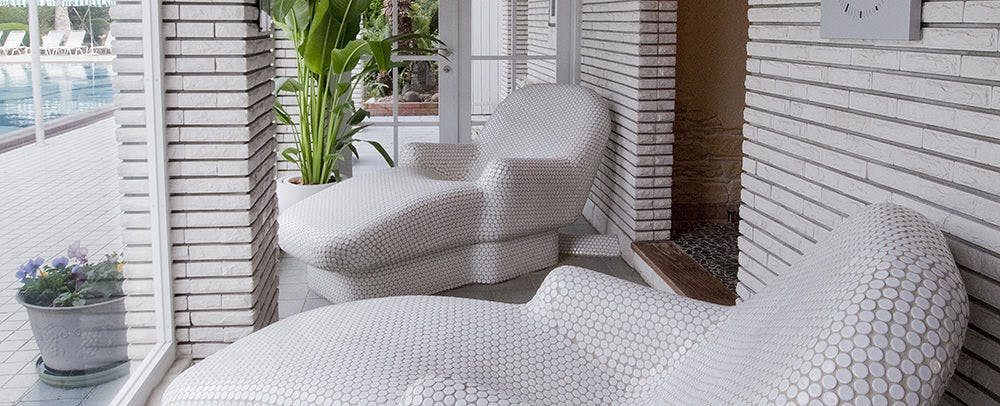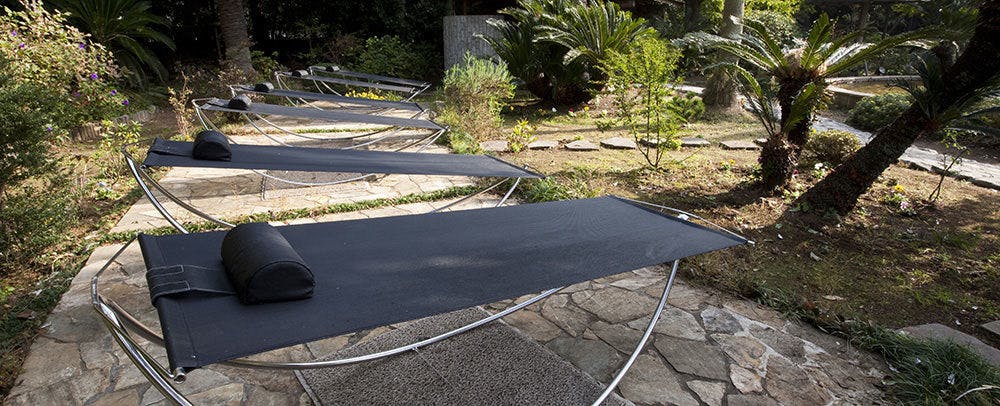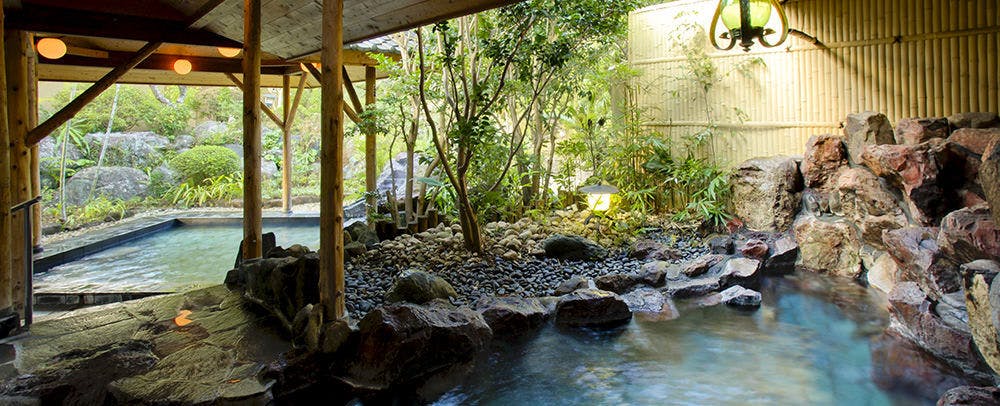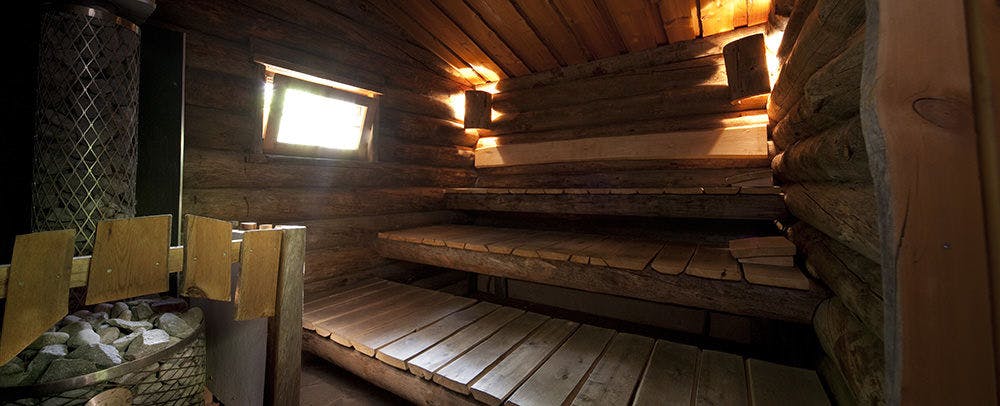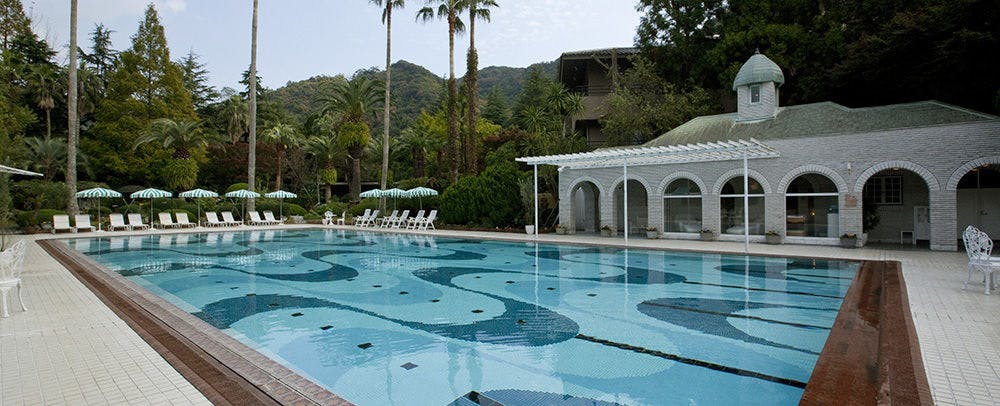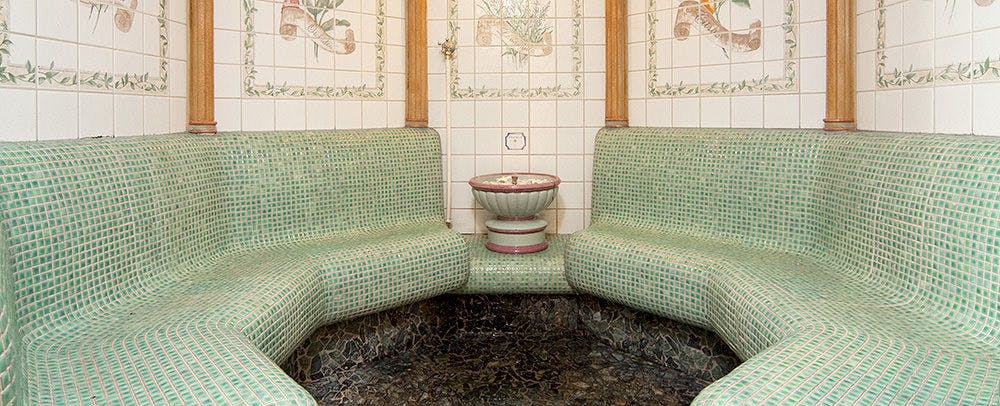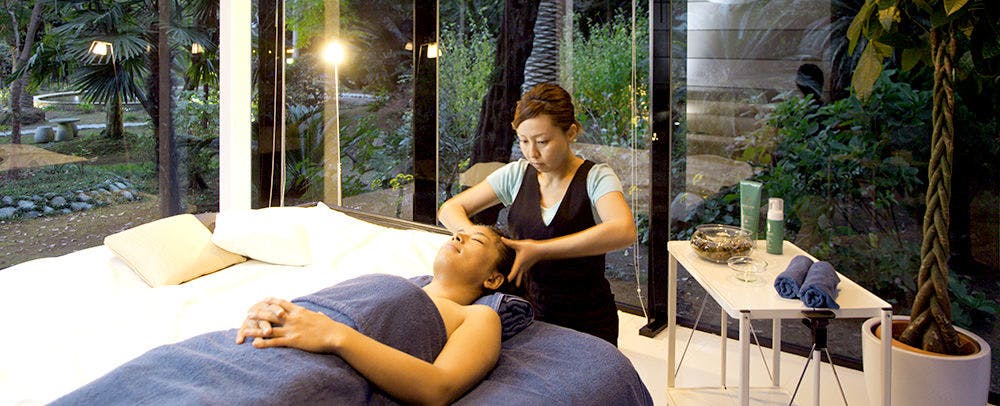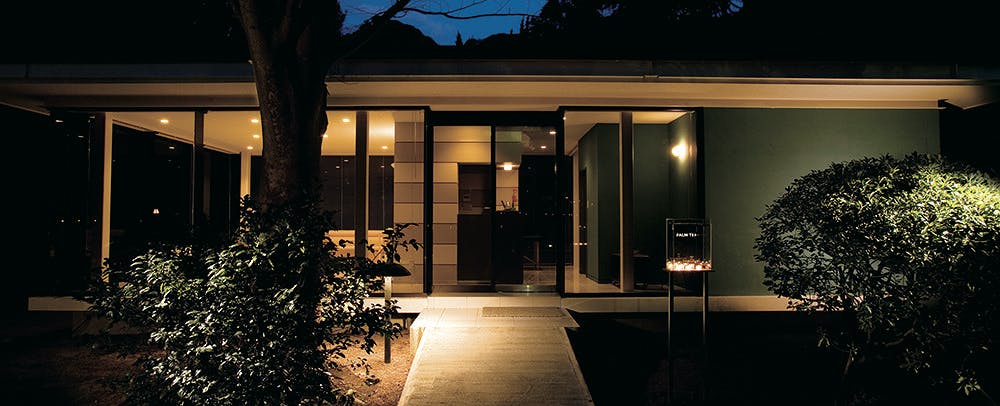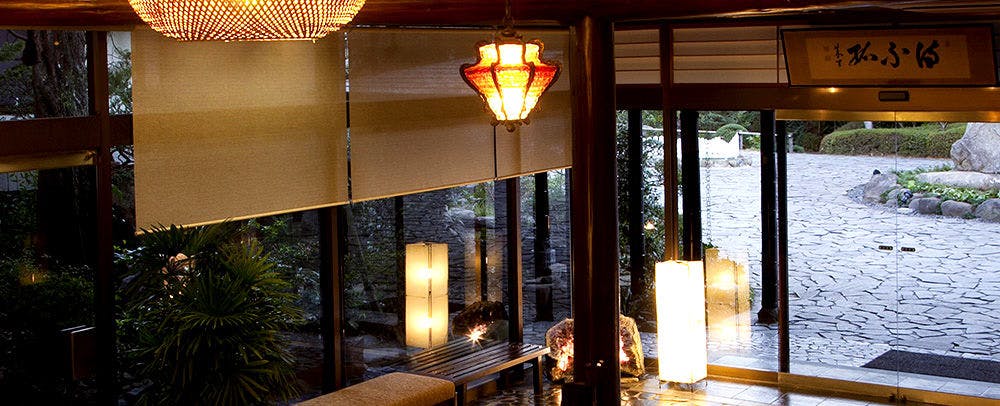 Seiryuso Garden Spa
Seiryūsō Garden Spa is a relaxation facility that helps restore the human body's natural balance of four vital elements "Water, Wind, Fire and Earth" that the ancient Greek Philosopher Empedocles postulated.
One can enjoy exercising in this high quality alkalie rich hot spring water in this Swimming Spa.
The atmosphere is fresh with sea breeze and mountain wind imbued with the rich aroma of Thermarium. The sauna is heated by authentic firewood in the log-cabin that is made from beautiful and authentic Kelo-wood.
The soil is made like Hammam Palm Terrace (Spa Suite) in the head-spa. So relax and indulge in a luxurious time to soothe all five senses.

The En'yu Teien "Garden"
This vast garden is surrounded by a forest consisting of two thousand Palm trees, Himalayan Deodar Cedars, Gingko and amongst plant life.
Wild birds dwell in the garden's forest, where the pristine air of the Mount Amagi meets the ozone rich air brought by the Pacific, where flowers of all four seasons blossom and a simple peace of mind resonates in the gentle warmth of the sunlight.

Open Air Public Hot Spring "Bath"
Wrapped in the flavour of each of the four seasons, the garden outdoor bath "Toki no yu", the open air bath "Shirasagi no yu," the family bath "Tsukiyu no yu" and others get spring water from three sources drawing 550 L clear pH 8.2 weakly alkaline water.
All of the baths are full of hypoallergenic therapeutic waters which do not require the need for 51.8 degrees C heating. The water is effective to relieve neuralgia, joint pain and coldness.

The Finnish style authentic log house sauna "Kelo"
This log-house sauna is based on the traditional saunas of the Lapland region, north of the Arctic Circle, made from logs of Kelo-wood. The sauna maintains an average room temperature of 60 to 70 degrees Celsius, heated by firewood sourced from heritage land forests in the mountains, radiating warmth and gentle scents of wood.
In Finland it is a custom to warm the sauna as a courtesy to welcome important guests. Similarly, "Kelo" is an important part of the resort's hospitality to all its guests.

Hot Spring Exercise Spa "Swimming Spa"
Charge through walking exercises in the 25 metre long pool, with fresh water flowing in at 170 litres per minute from the source spring 100 metres beneath the ground.
Even while performing light exercise, such as walking or swimming, an Onsen experience can be gained through gentle water pressure and mineral absorption.
Even people with sensitive skin or body can enjoy the spa with comfort.
At a cozy 30 degrees C in the winters and 29 degrees C in the summers, one can come visit the sauna through all four seasons of the year.
Drift away into bliss, gazing at the sky above while afloat the soothing water.

Ancient Roman Style Bath "Thermarivm"
The Thermarivm is an ancient Rome inspired lavish sauna beautifully designed with mosaic interiors and marble.
Gentle heat radiating from the ceiling permeates one's body, enhancing metabolism and energizing the immune system. The ever circulating fresh air and aroma is gentle on the skin so it doesn't cause dryness.
People of all ages can use this thermarium with ease of mind.

Head Spa "Palm Terrace"
The warm seaweed extract jelly helps remedy the deoxygenated state of the scalp, creating a calm state of mind.
The gel extracts waste and excess sebum, and the Decollete massage helps relieve stiff neck and guides your body to produce healthier hair by increasing blood circulation.

Palm Terrace "Spa Suite"
This spa is a private luxury space providing treatments aimed at helping detoxification.
The Palm Terrace, being adjacent to the Garden Spa (Thermarivm, Kelo and Swimming Spa), is quite convenient to reach. Hours of operation 14:00 onwards, limited to one couple per day.
Access
Kochi 2-2, Shimoda-city,Shizuoka,415-0011,JAPAN
From Tokyo Station: 55min by Tokaido Shinkansen to Atami Station & 1hr 30min to Rendaiji Station
Reviews
This is my first time staying here. The room, bathroom, the joint out-door bath and everything was spotlessly clean. It may be an old resort, but it is a very nice and fun place. The garden that one can see from the eating place was also very nice. The best thing was that their meals were so delicious and were prepared with the seasonal colours in mind. This is the resort with the most tastiest food that I've ever been to! There were a lot of seniors staying there that day and it made for a very calm atmosphere. I simply spent my time relaxing all the while there. At night the corridor leading to the public bath was a little dark though, I think. It's certainly a place that I recommend to my friends as well. Next time I would like to stay for a couple of nights and also try out their pool and other facilities.
+ More
2016/10/30
They had some foreigners staying that day, and the resort staff seemed to treat them quite professionally. The facility might seem a little aged, but I think that this Japanese resort is very well maintained and worthy of pride even when talking internationally. They have many hot springs and pools, various saunas and resting places are located just the right spots in the inn, and it seems to me that one can stay for a long time just enjoying the resort. The hot springs were really comfortable. One can calmly have their meals, enjoying the facilities and atmosphere of the dining room, and the warm correspondence of the staff. Although all of the food was delicious, after having boiled Kinme-dai followed by potatoes, the volume seemed quite a lot for us middle aged couples (lol). Just a standard meal might have been enough for us. Maybe having small amounts of delicacies, or just something fried could have been better. But still, I'm highly satisfied with their service how they changed the serving of Abalone since I don't like it much. All in all, it was a nice inn. Enough to relax and have fun with my family. Looking ahead, I think the resort can do great if they sequentially refurbish the old toilets etc. while preserving the good places even though old.
+ More
2016/10/12
This would be my fifth visit. The tranquility here kind of gives you a dignified feeling. It is such a great resort, that one feels satisfied every time. It is a place where one can pleasantly spend their days in peace. The following week my son's family would be coming here. It seems they booked the same room as mine. I believe they will enjoy their stay here, eating in-room and with children. Thanking you for your service.
+ More
2016/10/09
It's a long time since I found such an impeccable resort. Their facilities and customer service are on point, couldn't ask for more. The hot springs' quality is amazing, my skin didn't get dry or tingly even after taking multiple baths. The whole building has a supply of free-flowing hot spring and a hot spring pool which is refilled every night, it's the luxurious hot spring facility. Thermarivm is comparable to the spa-resorts in Europe. There aren't any programs that utilize this, regardless this was an amazing authentic style facility. I'm not sure when the guest room were renovated but the rooms looks like new and I could tell that they perform maintenance often. The food was excellent as well. The abalone wasn't too soft but wasn't too hard either, and the sashimi and fish's freshness were outstanding. But I wish the red snapper would have a stronger taste as I eat as relish with sake. But my wife really liked the dish, she said the simple taste tells how fresh they are. I also had some great experiences in the front with the place's customer service. I was greatly satisfied than staying at Kyoto or Kanazawa's food-resorts with specialty dishes, at just 50,000 yen per night. I would like it if the resort considers the following two things. Firstly, they should try and install lockers with keys. Customer may appreciate that when they go for a bath, as they carry smart phones and cameras to the pool side. Secondly, they should make a meal plan that offers less volume of food. They should refrain from the idea, that many resorts seem to follow, that good service means feeding your guests till they cannot move anymore. There are a lot of young women and middle aged people who would appreciate a lighter diet and would love to come back to this resort for a change.
+ More
2016/10/04
We stayed here to celebrate my parents golden wedding anniversary. The resort's hot spring bath isn't too big, but it is very comfortable. Children and adults alike can enjoy their hot spring swimming pool facility. The children were using the pool three times a day, morning, afternoon and night. It's good that the check out time is 11am, so there was no rush. This is a long-established resort, and every staff's hospitality was very nice and thoughtful. This is certainly great value for money. Thank you.
+ More
2016/09/12
Information
Check-in Time

From 2:00pm to 5:00pm

Check-out Time

Until 11:00am

Tax / Service Charge

Bathing Tax JPY 150 per adult is NOT included in the rates.

Credit cards accepted at this property

VISA / MASTER / JCB / AMEX / DINERS
Children

Children fee may differ from a room type, please ask us at the time of making your reservation.

Pets

Pets are NOT allowed.

Parking

Free of charge for guests; Capacity 30 vehicles; No Valet Parking Service;

Other policies & conditions

Nothing in particular