Ryugon Hotel
Surrounded by vast Japanese gardens that change colours each season, Ryugon provides traditional Japanese-style accommodation housed in historic buildings, some originally built in the 17th century. It boasts large hot spring baths and a lounge room with a Japanese hearth.
- VAT is included, but bathing tax (around JPY 150 per adult) may NOT be included.
- Price in USD is based on the exchange rate as of today and might be different from that of the booking date.
Foods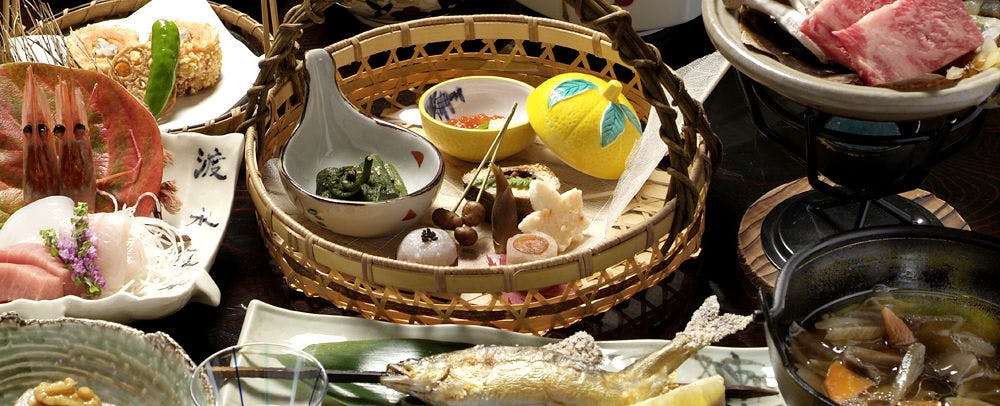 Foods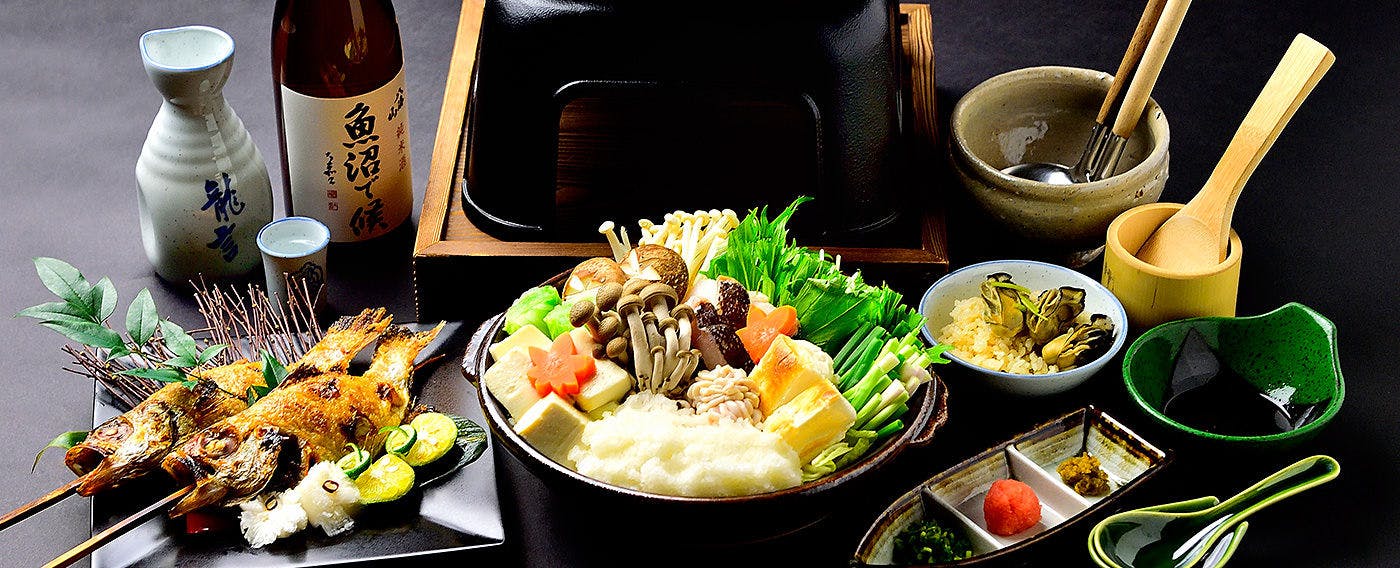 Foods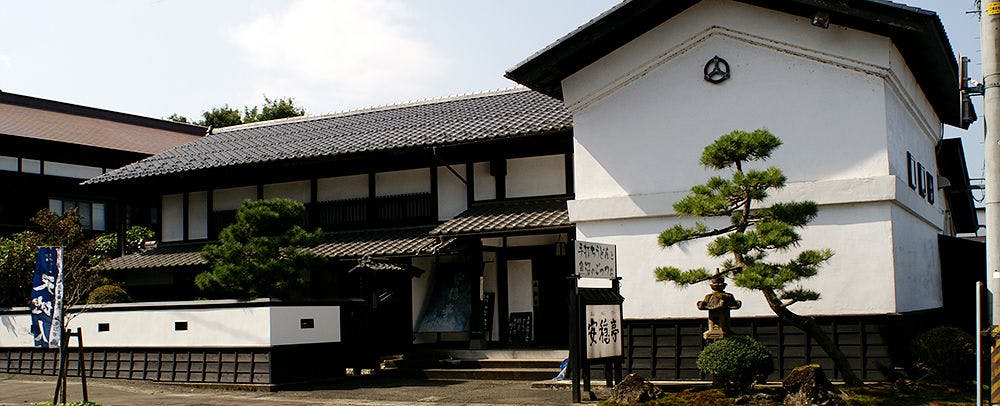 Restaurant
Taste the Authentic Japanese Food… Rryugon's welcome mochi, koshihikari rice, tateyaki, kamadaki, and more Japanese traditional foods..
Baths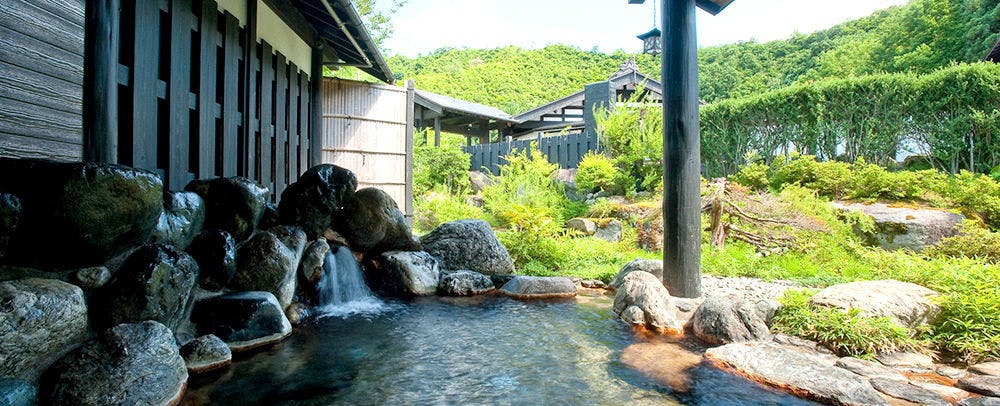 Public Open-Air Bath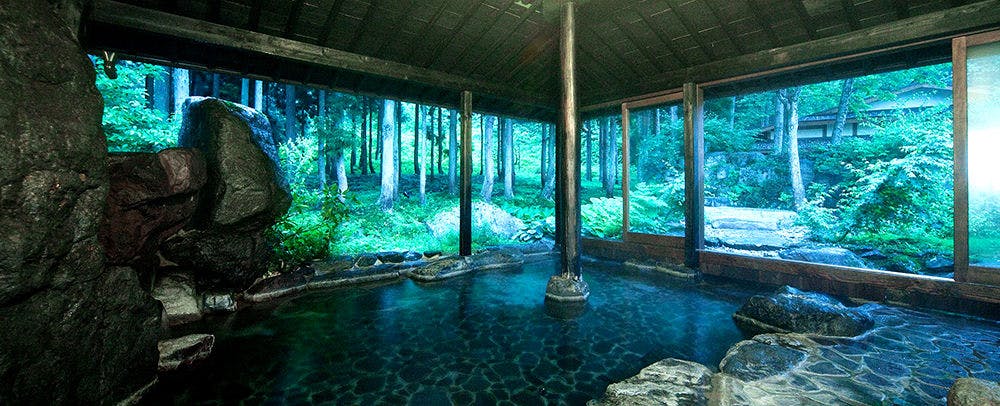 Private Open-Air Bath
Public and private baths with different views There are 8 baths with different kind of views offered at Ryugon.
Facilities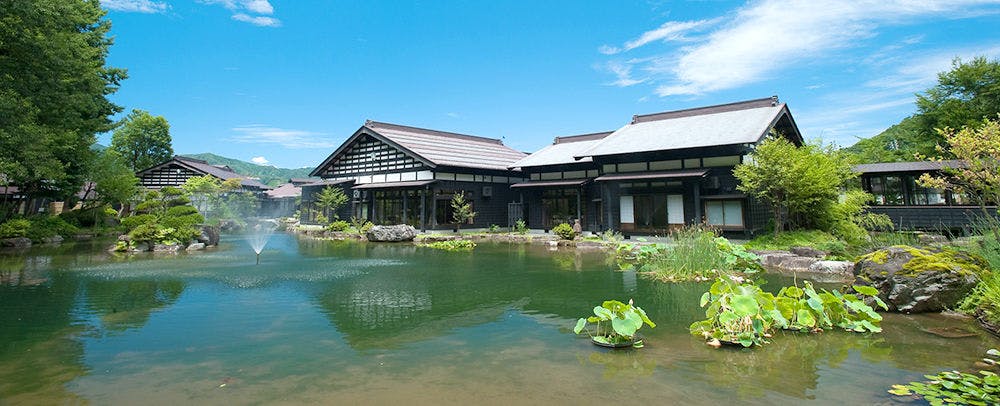 View from Japanese Garden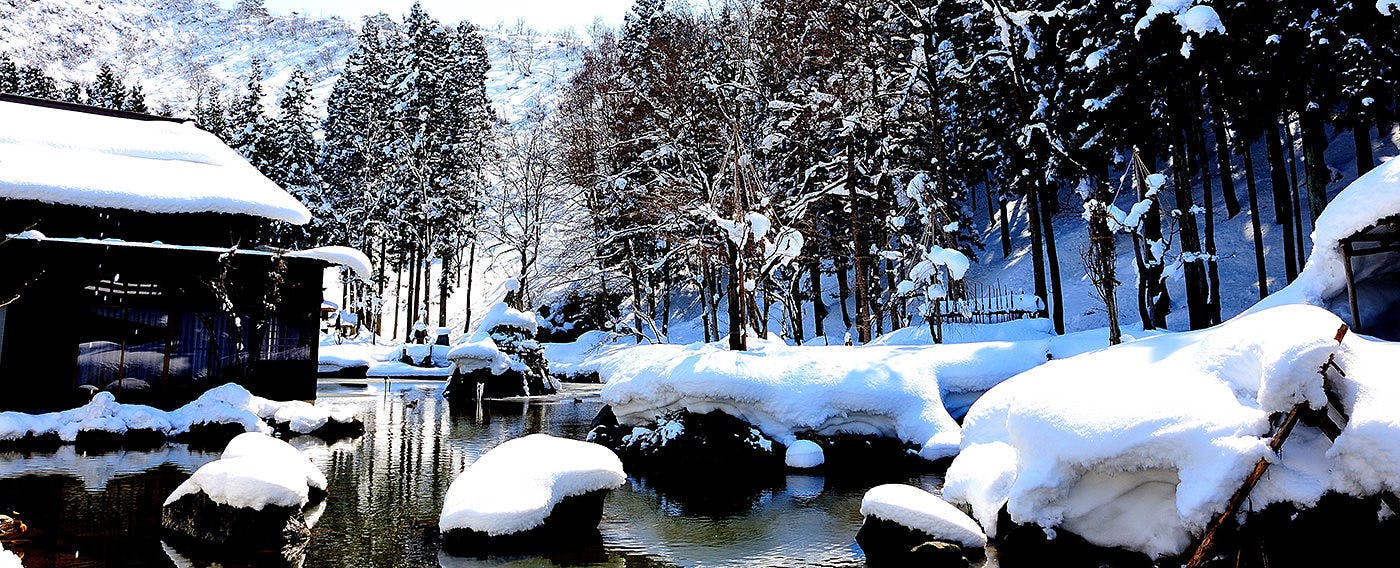 Japanese Garden with Snow
Lobby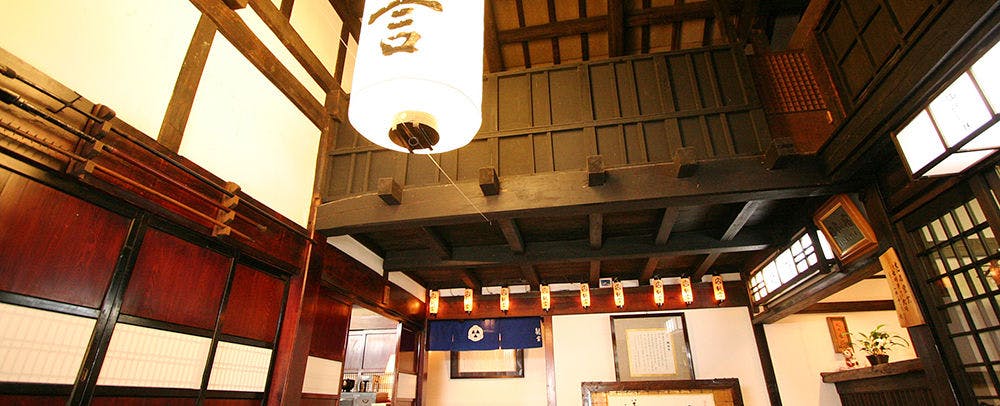 Entrance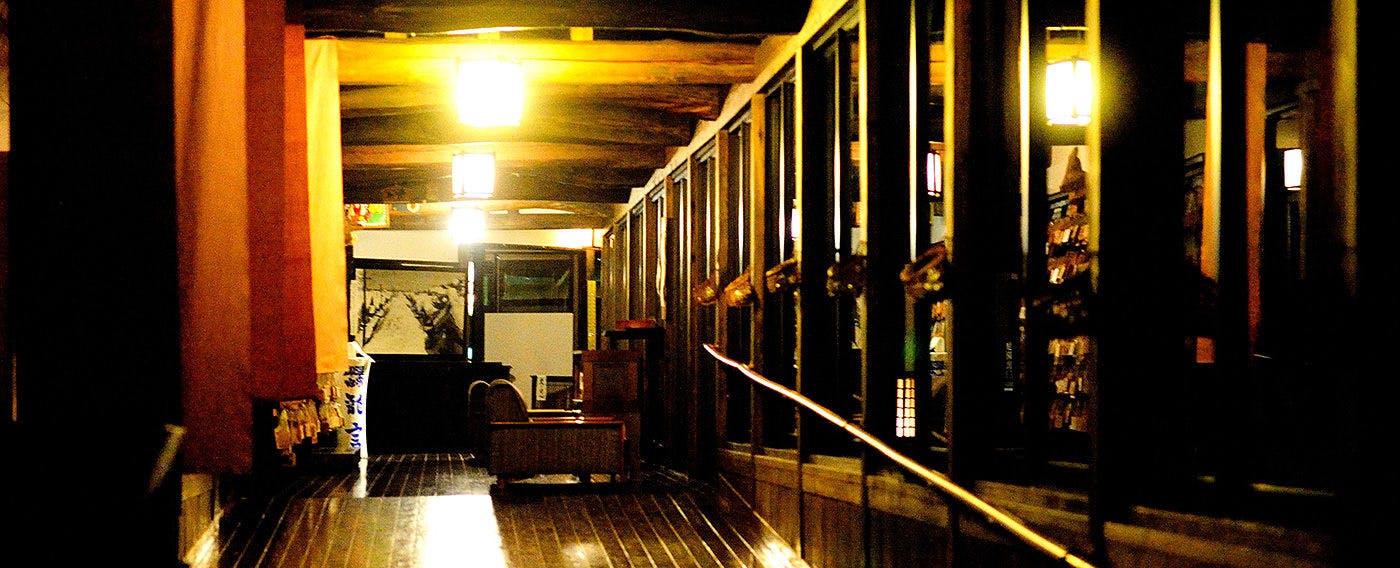 Gallery 'Sannokura'
The buildings of Ryugon tells the tales of the old Japan and its culture. The buildings of Ryugon were formally mansions of wealthy farmers and landlords of nearby villages from 150 to 200 years ago, which were transported and rebuilt on the present location
Access
Sakado79, Minamiuonuma-City,Niigata,949-6611,JAPAN
BY TRAIN
From Tokyo station: 1hr 20min by Joetsu Shinkansen to Echigo-Yuzawa station, and 20min by Joetsu Line or Hoku-Hoku Line to Muikamachi Station*. Or about 30min/JPY 6,000 by taxi from Echigo-Yuzawa Station.
From Niigata Station: 40min by Joetsu Shinkansen to Urasa station, and 10min by Joetsu Line to Muikamachi Station*.

*Shuttle service available for free of charge from Muikamachi Station.
Reviews
I could stay in one of the rooms in a curved shape. The view of the garden and the room were wonderful. An open-air bath reserved and the large public bath were all wonderful too. The food with abundant local colors, the good Japanese sake, new rice and river fish were all really delicious too. Also, when I was selecting sake, the staff in the hotel took great care of me. The Oinarisan given when we were leaving the hotel was so good that it made me surprise. It was a wonderful, happy and delicious time. Thank you very much.
+ More
Sep 2015
I was satisfied with both of the room and meals. I enjoyed staying pleasantly thanks to every hotel staff's good service. I deducted a star for the impression of too many facility (room) extension.
+ More
Sep 2015
It's really a wonderful hotel. While I felt I had time slipped into the past, the aircon, toilet seat and tv were new, so I wasn't bothered and had a great time. I can feel the meticulous care they put into their reception and service. The garden is also excellent, and the meal cooked with the iron stove and smell from the fireplace was great. I gave it 4 points as they didn't welcome me when I reached by car, but it's a hotel I would visit again.
+ More
Aug 2015
I would have been better if the futon were better, and there were many steps in the room, but the food was good.
+ More
Nov 2014
There's no explanation on the preivilege of enjoying a private bath for free or eight-colored water melon at all, nor were we invited. About ikkyuu it should be enforced among the inn littie bit more, and it's not good to be nothing but like the inn described in the website. I didn't particularly felt like having some water melon...but couldn't feel "I've come" or "I'm leaving" as clerks around me just greeted, which made me felt uncomfortable. I stayed there 20 years ago, and it became bigger compared to that time, so, if there are changes it cannot be helped, I guess. For the elders, it may be tough to walk around as the corridors have gone due to the extention of the building and there are ups and downs everywhere. The quality of the bath and the meals were genuine, which was a good point.
+ More
Aug 2014
I stayed there for the first time...I visited during busy obon holidays as it's too hot this year. Contrary to my expectation, I could spend time in relaxed way though it's busy time. After entering the front door, I felt good Japanese-style space and "heart of hospitality" and enjoyed relaxing time and the scenery. The carps in the pond were great. About meals you were happy to meet my request when I asked for reduced sodium dishes, and I was quite satisfied with the taste and ingredients. The scenery I saw from the private open-air bath...my heart was comforted by the luxury that "there are no excessive things." The care all staff showed me was comfortable and I could have a pleasant stay. It's the inn I'd love to visit again when the season turns. Thank you very much for all your care.
+ More
Aug 2013
Though I consider it a high class inn, it is not posh, and you can feel the casual service and comfort at this inn. Whiles the room attendants explanation of reserved open-air bath and its fee, I mentioned I was on the free plan, and then with apology I was offered sake at dinner as a sign of apology. Such thoughtfulness is delightful. The dishes were mainly local cuisine with local wild vegetables and though its not gorgeous, they certainly are heart-felt dishes. The sashimi made from fishes from Sado waters were fresh and satisfying. My meals were served in room but with requisite minimum service and the conversations with the local room attendant and local rare stories, I had a interesting time. The hot water felt gentle and both open-air bath and big bath are large enough to enjoy the hot water relaxingly. The resting place is also quiet and when a companion of mine was enjoying reading a book, they offered us to "Take it back with you if you like", and taking the word for it, we brought back 4 books. It is said to be a house of a local wealthy merchant relocated in a different era, and perhaps that is the reason you have to walk a long passage to reach the open-air bath and the resting place, which is a little inconvenient.
+ More
Aug 2013
It was a wooden Japanese-style one-story inn, and it certainly is one of the luxury inn in Echigo. Just as it being a relocated residence of a wealthy farmer, even just the profound entrance heals the fatigue of the journey. Including the vast garden, everything was well attended and I had a really comfortable time. The meal was at a different room from the accommodation room, bur being served the local gingo sake by the landlady as a service, and with the room attendant always with a smile, I experienced the unique Japanese hospitality I would't get at hotels. I visited here with my co-workers. At the time of checkout, a sushi chef gave each of us two pieces of special Inarizushi (fried bean-curd stuffed with boiled rice) to eat as a snack when we were hungry on the way back home by airplane, and we were all impressed by that. But, as others wrote, the amount of the food was a little too much, and some of the food was unpalatable to me (Ganmo (deep-fried tofu mixed with thinly sliced vegetables) was not good). A fact that private homes were clearly seen through the gap in the fence surrounding the open-air bath spoiled the fun of it. (I think there is still some room for making an improvement by either planting trees or heightening the fence.) Those are the reasons that I didn't give you a perfect ten. But I am sure that this is a Japanese inn that I can recommend other people.
+ More
May 2013
I made a reservation during Golden Week, got over the traffic with excitement and arrived. I arrived just at around 5 o'clock and they were pounding mochi (rice cake) at the entrance, which rose my expectations even higher and made me think that the building and the atmosphere were nice. The ryokan itself was trying to conduct events in a good atmosphere however the quality of the staffs varied and honestly I had a feeling that they were not properly educated or taught to handle matters as occasion might demand. There was no explanation about the trekking tour and the private open-air bath which were a part of the plan until I asked about it (when I went to make a reservation of the open-air bath, the staff told me right away that I need extra 2,000 yen without checking my plan), and regarding the food, they might not be able to help it since it is served in the room, however they only took the first 15 minutes to serve everything from the appetizer to the main dish, and left without explaining about the main beef as it was grilled; when I finished the appetizer and opened the main plate, the beef which was said to be of A5 rank was well done. The sauna at the bath was broken and it was left there as if it were a barn, they woke me up without consideration by calling 45 minutes before breakfast saying that they were supposed to put away the futon 30 minutes before breakfast for preparing the food (although I double checked with the front since there was no explanation about breakfast the day before and asked them if it was ok for them to wake me up 15 minutes before breakfast), and they did not see me off; honestly I was disappointed. There were nice staffs too, like one of them who told me about the atmosphere of the hotel in winter. But since the building has a special atmosphere, the gap was disappointing. It would be good for older people who would not be fussy about the service.
+ More
May 2013
I stayed here at our family trip. Soon after arrival, we were offered some mochi which just have been pounded at the entrance. Even my son was delighted. The guest room was well attended and we had a comfortable time. There seemed to be rooms with several sizes, so I would like to try other rooms next time. As for the food, the taste was great but the amount was so large even the adults nor the children could eat it up. Especially, the children were served the so-called Okosama Lunch menu, which all came in great amount. Reflecting on it, I wish I made a contact about children meals beforehand.
+ More
Mar 2013
My children were so excited because they could play on a sled and at snowballs in the huge garden. Mochi (rice cake) pounding as a greeting was fun and it was delicious too. The room was warm with a kotatsu (Japanese foot warmer) however I found the washroom and the toilet extremely cold and would have appreciated if there was a small heater or something. The person who used the private bath before us failed to return the key when the time was up, so when we went to the reception to get the key, we ended up returning to our room again. This was a pity as the system was set up for time management by handing over the key at the reception. I hope they will improve the system so we could properly use it at the time we booked at. While the meal made using local ingredients were delicious, I had to give it a demerit as the grilled fish has gone cold.
+ More
Mar 2013
In a hot spring while it snowed like the weather in a country of snow, I felt the coldness of the snow on my warmed cheek by the public open-air hot spring. It was really a luxurious moment. I wished those of you who have barely experienced snow before can have this wonderful experience. Ryugon is a wonderful and attentive hostel. Also the staff delivered us service that we felt good. Their courteous service made me feel that the staff education was thoroughly done. The food was Niigata-like which was delicious. Those who have stayed in this hotel once will absolutely consider staying again. Thank you.
+ More
Jan 2013
Information
Check-in Time

From 2:30pm to 6:00pm

Check-out Time

Until 11:00am

Tax / Service Charge

Bathing Tax JPY 120 per adult is NOT included in the rates

Credit cards accepted at this property

VISA / MASTER / JCB / AMEX / DINERS / UNION PAY
Children

All Children are welcome.
Bed sharing is allowed up to 3 years old.

Pets

Pets are NOT allowed.

Parking

Free of charge for guestsCapacity 25 vehiclesNo Valet Parking Service

Other policies & conditions

N/A