Ochiairou Murakami
"Situated in ""Amagi Yugashima Onsen"" in a tranquil yet traditional and authentic hot spring retreat & resort spot in Izu peninsula, Ochairou Murakami has its own long history of more than 150 years to serve Japanese affluent elite guests with its uninterrupted traditional service standards and quality. The well preserved traditional architectural structure of its facilities as a whole is the priceless historical value in Japan and all rooms has been accredited as a national cultural heritage."
- VAT is included, but bathing tax (around JPY 150 per adult) may NOT be included.
- Price in USD is based on the exchange rate as of today and might be different from that of the booking date.
Foods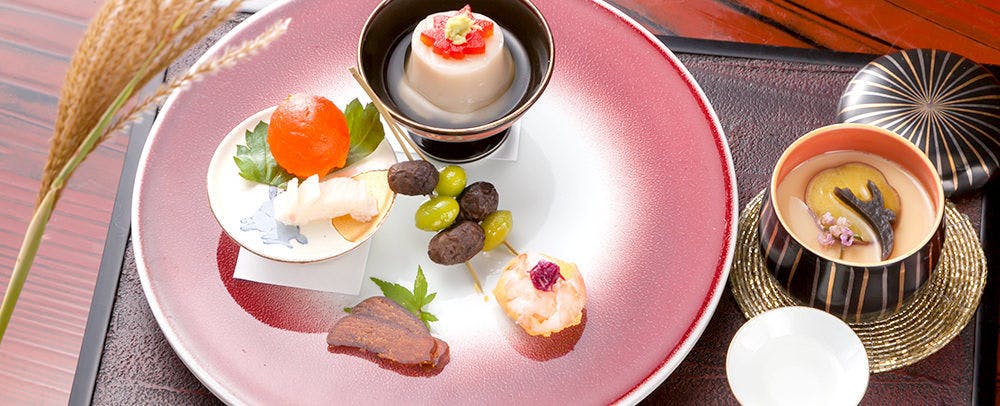 Foods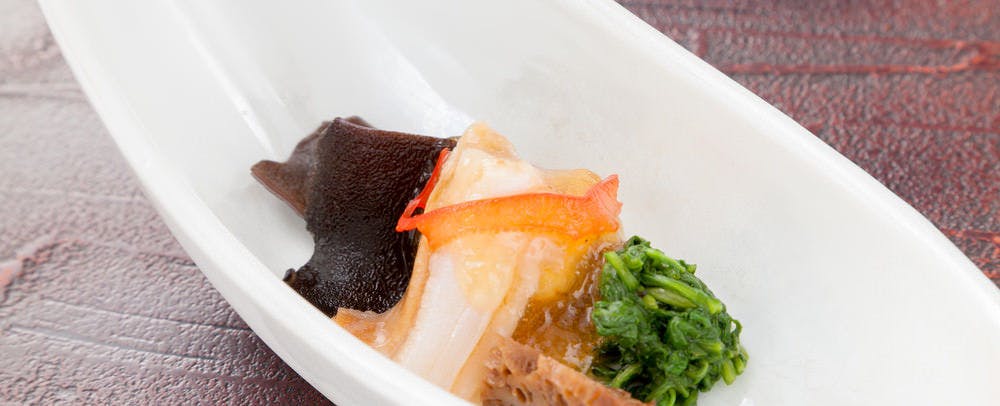 Foods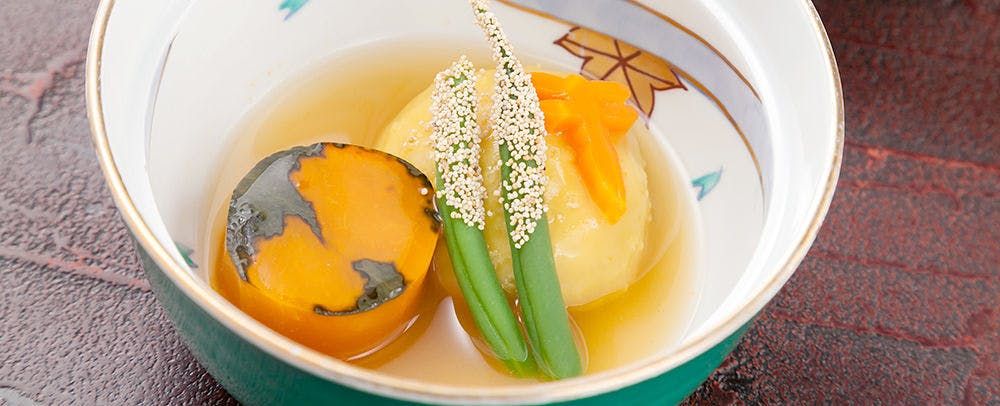 Foods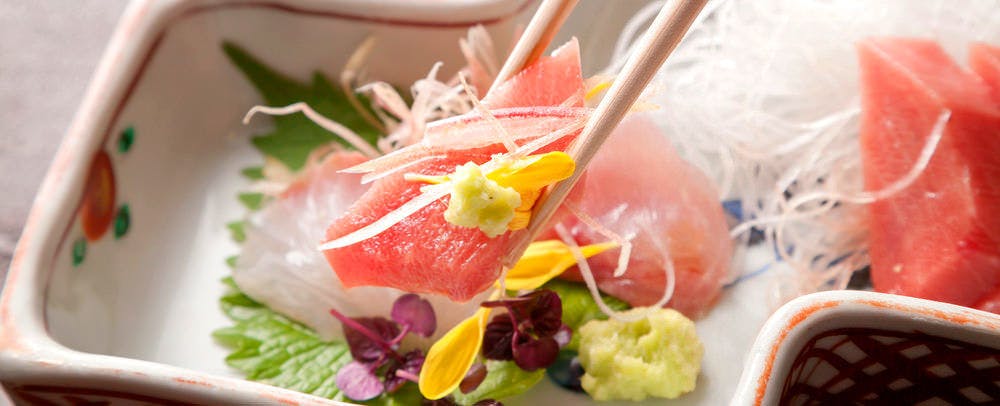 Foods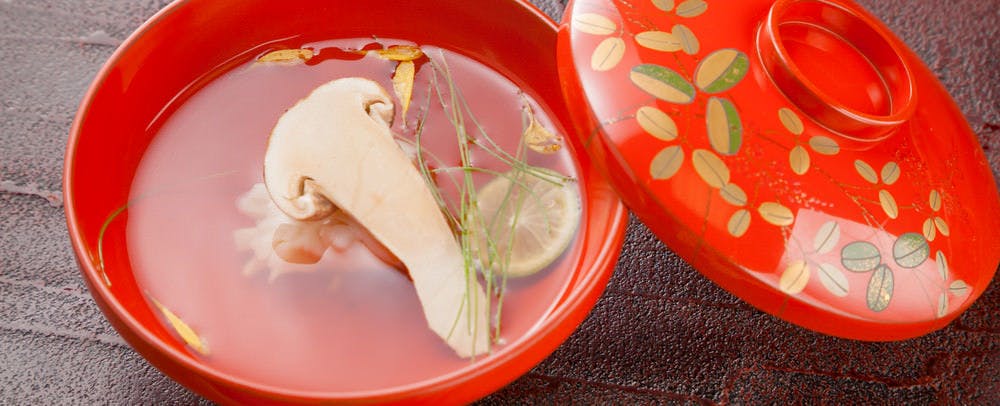 Foods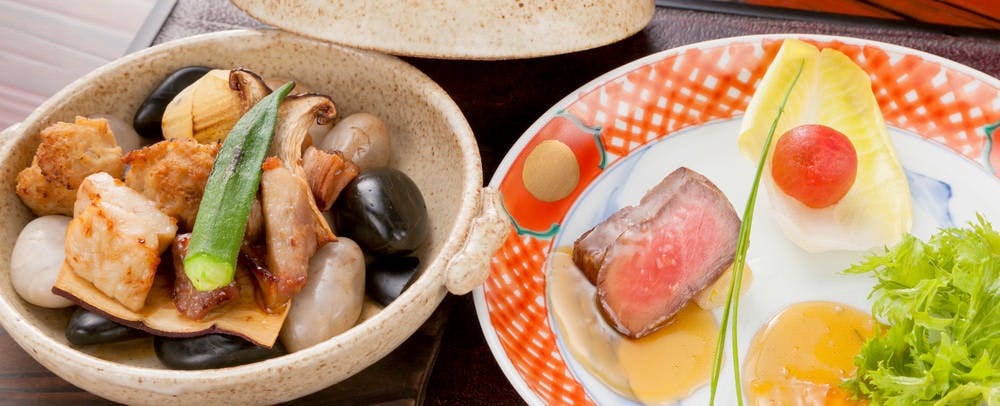 Foods
Delicate "Kaiseki" Style Seasonal Gastronomy at Ochiairo Murakami Kaiseki style dinner is comprised of number of small intricately prepared and arranged dishes including seasonal fishes, carefully selected vegetables and so on. Japanese believe that our mother nature is the greatest artist and the notion of "Kaiseki" is primarily based upon the art of nature. The shapes and the design of foods on each dish are naturally decorated with various shapes that would figuratively resemble with our nature such as river, mountain, and flower etc. Ochiairo Murakami serves different Kaiseki menus in a monthly basis with carefully selected local vegetable, fresh fish taken from Suruga-bay and most highly ranked quality rice produced in a "Kesennuma" in Niigata Prefecture. Special Customized Menu Ochiairo Murakami is also flexible to meet guest's preferences such as slight modifications of menu content such as the amount of "Sashimi" or replace "Sashimi" with steaks made from local Japanese beef or vegetarian option,. etc. There are other options are also available. Please feel free to ask us about your preferences
Baths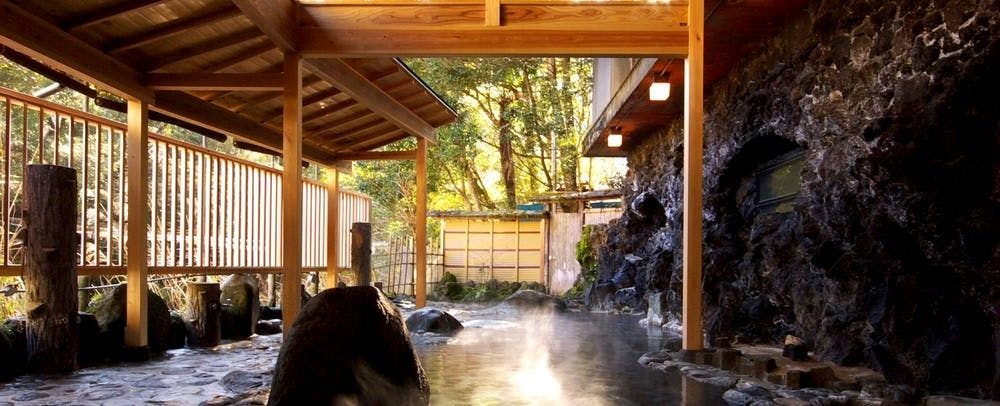 Large Public Open-Air/Cave Hot Spring Bath 'Tengu-no-yu'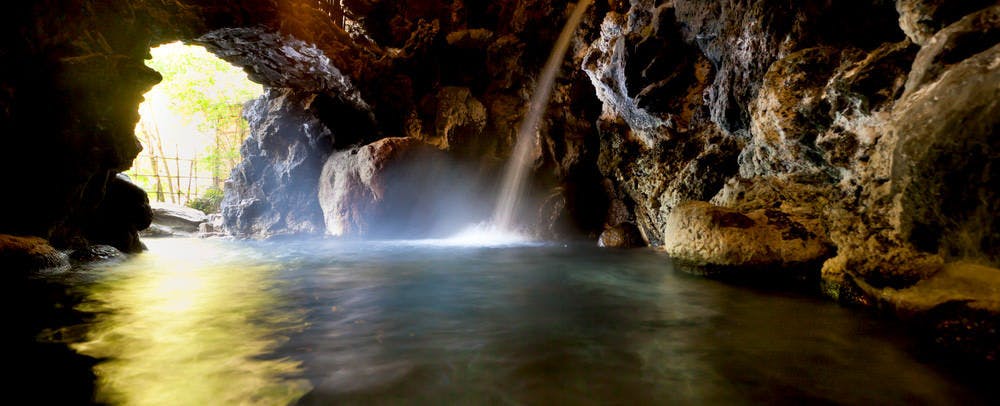 Large Public Open-Air/Cave Hot Spring Bath 'Tengu-no-yu'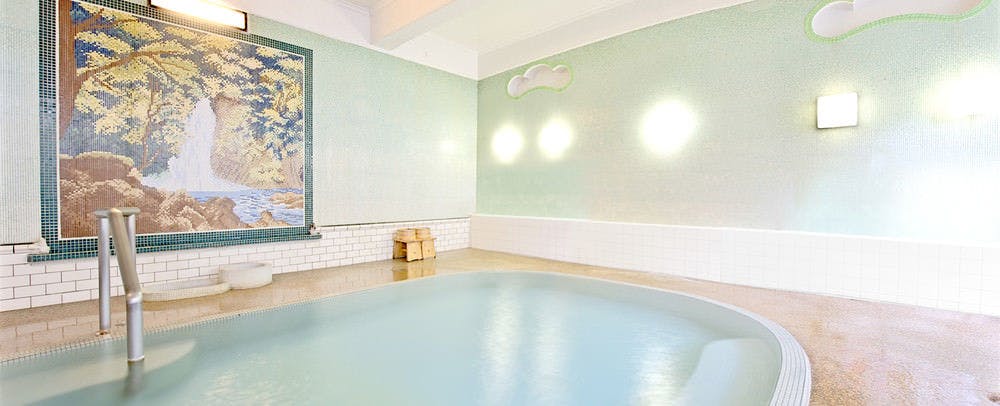 Large Public Hot Spring Bath with Modern Tile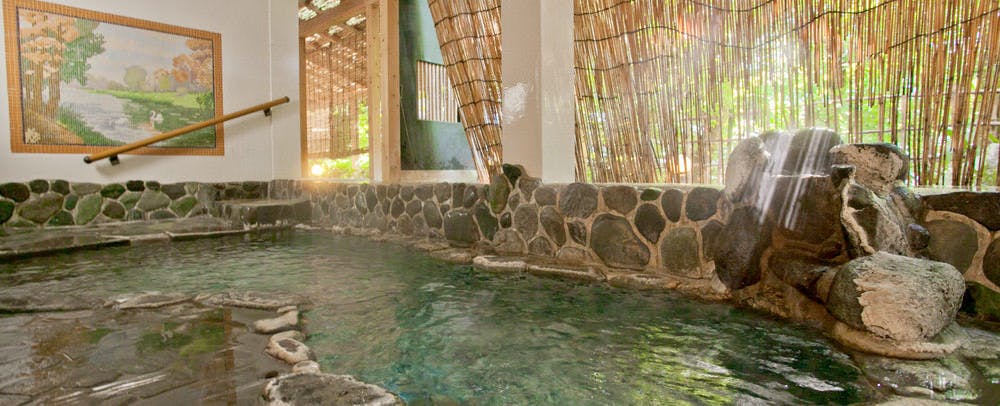 Large Public Hot Spring Bath with Modern Tile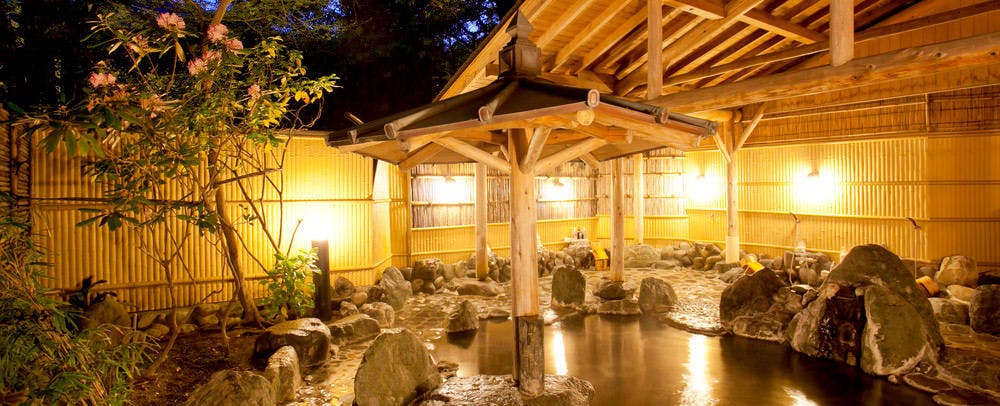 Open-Air Bath for Private Use
Soak in Mysterious Cave Hot spring As well as its recorded tangible cultural heritages Ochiairo Murakami is also well known for unique open air hot spring and cave hot spring. There are shared indoor and outdoor open air hot spring bathes for both women and men. If you want to soak in those public bathing space privately without any interruption, you can reserve them in advance. Those private hot springs are spacious enough to include 20 people simultaneously. Water is Sulfate spring water which is considered to be effective for healing arteriosclerosis, neuralgia, muscle ache, chronic digestive dysfunction, atopic dermatitis, chronic dermatitis and hemorrhoid.
Facilities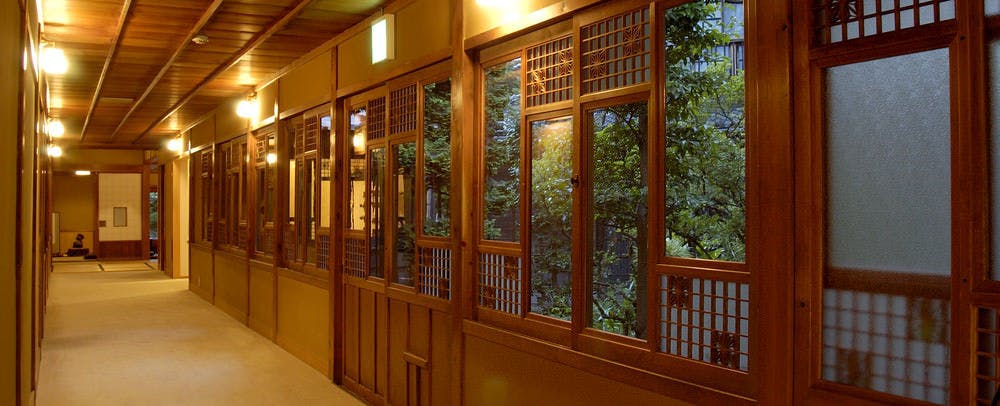 Corridor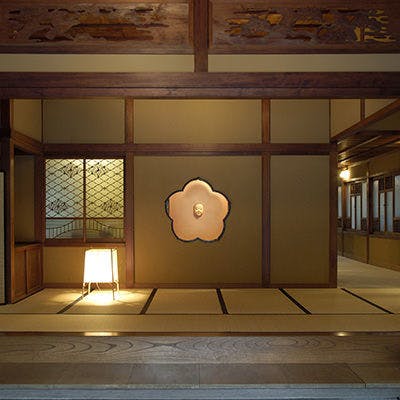 Entrance
Ochiairou Murakami, the quiet and calm place on the mountain, among the freash stream and beatiful green. Adachi Mitsutoshi, a historically known entrepreneur started his gold exploration development business in "Amagi" area and he also initiated a luxurious traditional "ryokan" business for retreat & resort for business related partners and affluent travelers from Tokyo. On 1874, all construction for facilities was completed. Ochiairou was initially named by Mr.Adachi to be called "Minun-rou", meaning a traditional inn offering spiritual repose and peaceful calmness, as if guests would be peacefully able to sleep on the cotton like clouds in sky.
Access
1887-1 Yugashima, Izu-city,Shizuoka,410-3206,JAPAN
From Narita Airport(3hr 15min): Take Narita Express train("NEX") to Tokyo Station -> Take Shinkansen to Mishima Station -> Take Izu-Hakone Line to Shuzenji Station -> 20min by taxi, or 30min by bus No.4. From Fujisan Shizuoka Airport(2hr 45min): Take bus to Shizuoka Station -> Take Shinkansen to Mishima Station -> Take Izu-Hakone Line to Shuzenji Station -> 20min by taxi, or 30min by bus No.4. From Kansai International Airport(5hr): Take Tokyu Express Train("Haruka") to Shin-osaka Station -> Take Shinkansen to Mishima Station -> Take Izu-Hakone Line to Shuzenji Station -> 20min by taxi, or 30min by bus No.4. Shuttle service is available for free of charge from Yugashima Bus Stop.
Reviews
The Japanese style hotel was beautiful with collection of the best Japanese traditional craft technology. We could relax in a room in where we felt craftsmen's breathing through the block work. We felt comfortable with the hospitality of the spirit of the proprietor who decided to take over the hotel and the staff with the same spirit. Also S san, the waitress for our room, thank you very much for taking care of us with your cheerfulness and faith. Also the food was so good that my mother 78 years old told me that it was the best food she has ever had. The taste and appearance also are really good. I think I should be able to visit the hotel in each season. Thank you very much.
+ More
Aug 2015
This is my most favorite inn in Nakaizu. I was surprised that the foods were dramatically better compared with last year. Ms. Kumi's tea room was great, too. It is old and has nothing much but the merits would be its matured and tastefull ambience that made me feel relaxed. I will come again.
+ More
Jun 2015
It's a very good hotel. The hotel has a historical and cultural value, and naturally an impressive reception hall, elaborately designed kumiko craftsmanship techniques, good taste even in a single piece of glass window, and I'm impressed by the careful maintenance and usage of all these. All the baths were clean and comfortable, and the service from the staffs were satisfactory too. The food for dinner looks enjoyable too (there were lively conversations during dinner about the how cute and refined the food looks), and I ate it deliciously. It might not be sufficient for the younger ones, but I find the flavoring of the menu just right as this is a place we go to shake off our daily fatigue without having to worry about a heavy stomach.
+ More
Jul 2015
I used it for the first time. I was satisfied by everything, including the layout of the room, the bath, dinner and breakfast. A guided tour of the building started at 10 o'clock and the master of the hotel took us to rather unexpected places, so he has shown us many things and masterpieces of skill of craftsmen which one does not get to see nowadays, and I can only say that I was very satisfied. I have stayed in many hotels before, but this one was totally unique.
+ More
May 2015
I have visited Izu several times, but it is the best Japanese inn there and I am very satisfied with it. About all including the hot spring, meals, and the room. For me this was first time visit, but my parents visited there once 17 years ago and talked about their nostalgic memory at that time. A room clerk, K-san (?), soothed our heart in her manner of dealing with us, and we again got an impression that everything is done to perfection in the inn. We heard it's also good to visit there in June, the season of fireflies. If time permits, we would like to visit there once again. We would like to stay at the same room as the murmur of the stream is very good. When I returned home, I told my wife, who couldn't come with us this time, about many things showing the brochure, and she said she really wants to go there... Really, it is the wonderful inn. Only those who have visited there can understand it. I'm deeply hoping I could visit there again in no distant future.
+ More
Apr 2015
I appreciate the inn as it always makes me feel comforted and relaxed. However, this time I was disapponted very much. About the meal bones were not removed and there were long bones, which was very different from the past experiences and I didn't enjoy the meal at all. An waitress told me it is very tasty for those enjoying lunch boxes sold at convenience stores, but I would like you to lightly season dishes like before. It is quality not quantity.
+ More
Aug 2014
Thank you so much for the past weekend. Though it was my first ever stay, I felt a nostalgia of being back home and soon enough my heart felt loose as if melting. The garden, the bright greenery of mountains beyond, sounds of cicadas and small birds and the stream of the river... It was the perfect model of "Japanese summer vacation" The room had taste as well. The room attendant was very nice too. The dishes were classical Japanese cuisine. The soup was delicious and delicately created through out. There were an inviting wine but I chose sake, and it was the right call. The bath was especially wonderful and even my husband who is peculiar to spring quality kept saying that "the hot water here is good". After check out, Mr. Murakami, the master of the inn, gave us a tour. Since my grandfather used to be a Japanese muntin (kumiko) work craftsman, he was truly looking forward to it. I was very impressed to hear the detailed explanations my grandfather never told me, and to see the kumiko woodcraft with advanced technique. The master is full of class and warmth as if to seep out (so as the landlady) and is a lovely person. When I was to leave, with being sent off by the room attendant who carried my luggage to the car, the very nice young man at the front (who explained things from my perspective with consideration), and the man who was sweeping the garden at the gate with a wonderful full smile, I thought it was a satisfying stay with only good memories till the end. I send my regards till I am to stay again. For people who are to stay: the view room where you can reach by crossing the suspension bridge in the premises is a very comfortable place when the weather is good. Next time, I would like to read a book and relax at the place.
+ More
Jul 2014
Thank you very much for changing part of the dinner plan for my liking. I am also grateful about the matter of breakfast and western food. It was a shame there was a bug in the esthetic facility which disturbed me from concentrating. Since it is a room inside the nature, I wish I could borrow a insecticide. I couldn't go to the bathroom at night... For there were a lot of people at the big bath dressing room, it was hot, and it made me keep sweating even though I just went through the trouble of bathing. Other than that, it was a truly lovely place. I couldn't even resist making the next reservation. The hot spring was also great. I would be looking forward for the next time. I will let you know about the breakfast later.
+ More
Jul 2014
I found this hotel on the website by accident, but it made me feel more relaxed than I expected and was very satisfactory. I could feel the pride and hospitality that the owner and the employees had about the hotel and it made me feel pleasant. This was the hotel I would definitely like to visit again. If I must point out one thing, it would be that the atmosphere would have been fantastic if there was not a karaoke machine in the lounge where the staffs guided me to first. It might be a matter of the taste, but it seemed like it did not match the fantastic space and it was disappointing.
+ More
Jul 2014
I came back after a month. As it was a season for firefly viewing, we borrowed lanterns to go to Deaibahi and saw many of them. Because it was an old hotel, I could find various problems when I tried to evaluate the hotel, considering it is a high-class hotel, however, I was healed at the hotel for some season same as last time. However, the main dish was shabushabu this time, which could be because of the new trend of detox, but I didn't like it. Since the soup and the boiled dishes were really great, I was confused by the sudden change from Kaiseki to vegetable shabu shabu. The soup stock were good, so I wish they served the orthodox Japanese food though out. Or, I would like it to be able to choose the orthodox Japanese food course on menu. I am satisfied for the things other than that. If you may ask me, I think it is uncommon for an inn in this price level to have a check out time at 10 o'clock. This means that we can not bathe after breakfast, and I would like it changed.
+ More
Jun 2014
It was a great ryokan in the quiet hot spring resort. I found the waitress a little rude however everyone was nice and the food was beautiful which made me very satisfied. Thank you. By the way the type of the room where I stayed this time certainly had special circumstances and it only had a bathroom and a toilet outside the room. I understood that the hotel had numerous reasons for having rooms like this however I found it difficult to use them. I do have various complaints about the small details, however in total I would evaluate the hotel highly for some reason. I guess it must be the atmosphere?
+ More
May 2014
My husband and I stayed. At the time of the check-out, the owner took us to a tour of the building. Again, I was impressed that I could stay at such a nice inn. The service of the waitresses was so good that my first trip to Izu became reliable and fulfilling. I also reserved a private open-air bath. Very satisfied. If I have to talk about any imperfection, that is the shampoo of the guest room public open-air hot spring was a rinse in shampoo type. The other public hot springs were separated. However, it stayed as a wonderful hostel. Again, I would like to stay in this hostel in other seasons. Really thank you very much.
+ More
Apr 2014
Information
Check-in Time

From 3:00pm to 6:00pm

Check-out Time

Until 10:00am

Tax / Service Charge

Bathing Tax JPY 150 per adult is NOT included in the rates.

Credit cards accepted at this property

VISA / MASTER / JCB / AMEX / DEBIT CARD
Children

All children are welcome.

Pets

Pets are NOT allowed.

Parking

Free of charge for guests; Capacity 20 vehicles; No Valet Parking Service

Other policies & conditions

N/A