- VAT is included, but bathing tax (around JPY 150 per adult) may NOT be included.
- Price in USD is based on the exchange rate as of today and might be different from that of the booking date.
Foods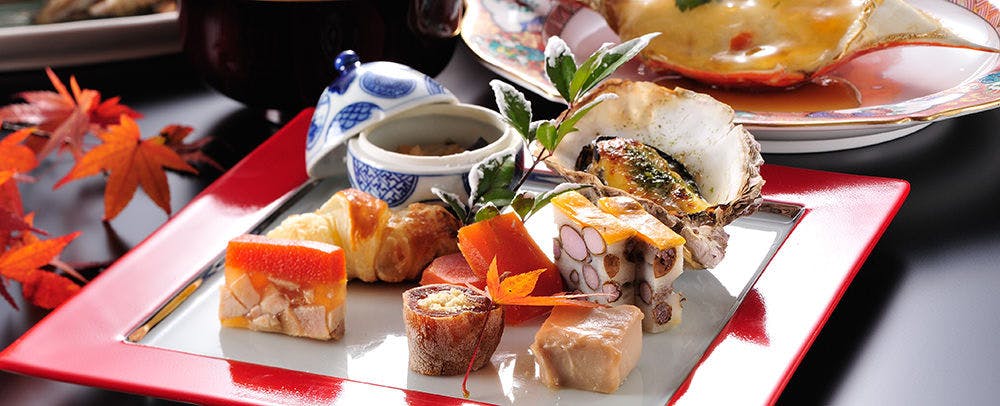 Foods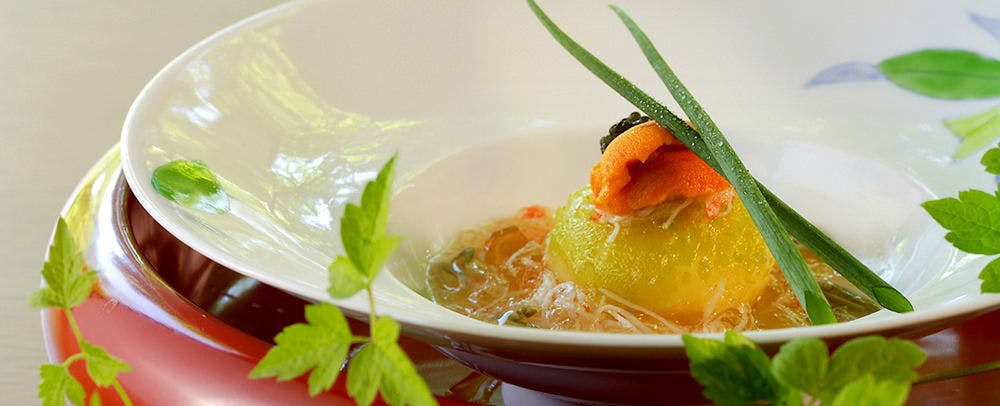 Foods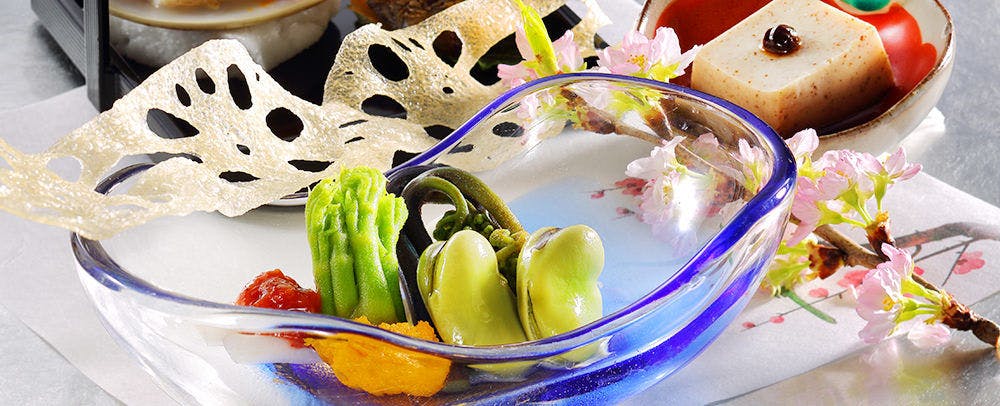 Foods
Japanese breakfast and kaiseki dinner Japanese breakfast and multi-course kaiseki dinner are served at a private dining room. Seasonal specialities featuring local vegetables and beef are served.
Baths
Rock Bath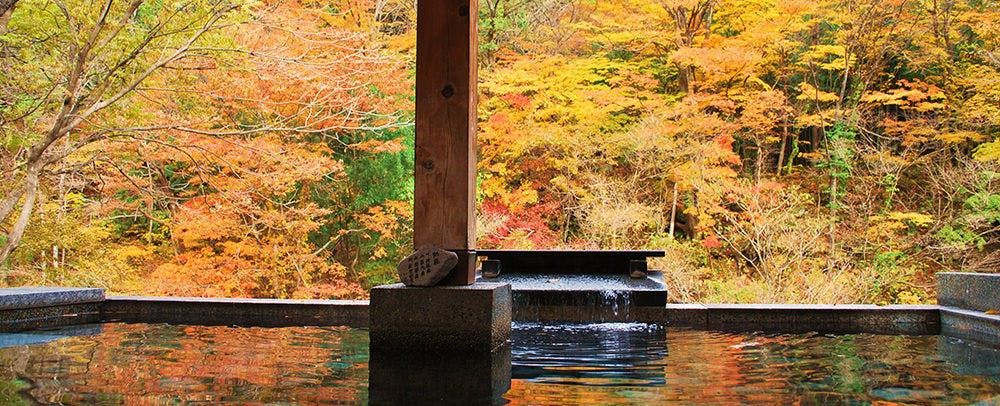 Wooden Bath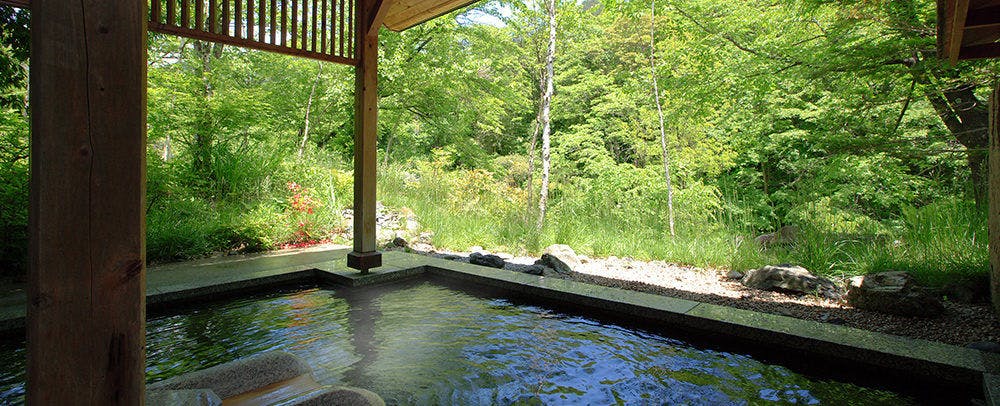 Open-Air Bath
Rock bath, wooden bath, and open-air bath, all with hot spring Enjoy the hot spring bath of stone, wood and open-air bath. The open-air bath along the valley is surrounded with nature breath.
Facilities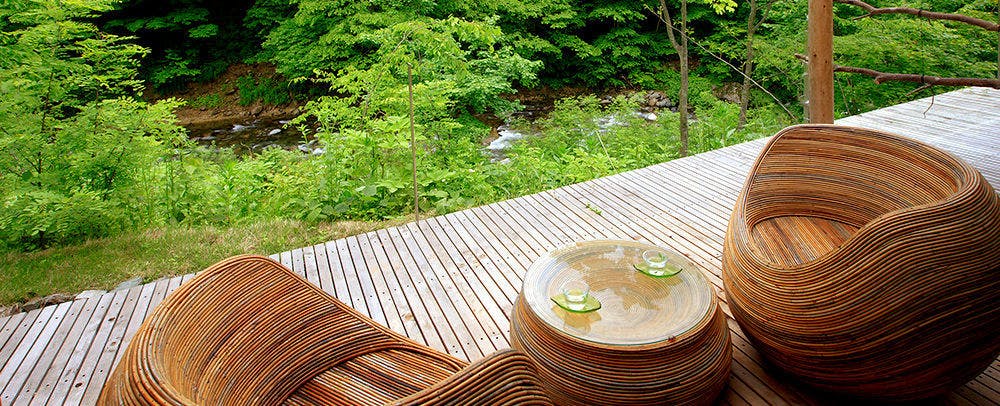 Esthetic Room 'SORA'
Beauty salon 'SORA' The beauty salon "SORA" filled with negative ion, we offer high-quality relaxing time which is added special hotspring effection. Choose a course to meet your wishes from each program which improves conditions of skin, mind and body.
Access
614 Tanigawa, Minakami-Machi, Tone-Gun,,Gunma,379-1619,JAPAN
BY CAR
From Nerima IC Exit: 90min by car to Minakami IC Exit, and 10min by car.

BY TRAIN
From Tokyo Station: 75min by Shinkansen to Jomokogen Station, and 25min by bus to Minakami Station, and 8min by shuttle service.
Reviews
Tanegawadake with its quiet scenery, lovely building and rooms, delicate staff who provided good customer service, really made my stay a pleasant and exciting one. I was surprised to have such a service as a staff came to our room and take us to the restaurant when dinner time came, and it was a fresh feeling. Though I was with my mother this time who is 88 years old, we ate dinner, which was cooked easy for elder people to eat, and it was delicious, so we could eat it all without leaving anything. As my mother does not usually eat much, I was surprised to see her eating well. The visit became a happy and wonderful memory for us with thoughtfulness and a letter my mother received. We really thank you very much. When I make a trip with an elderly person who needs care such as a child, I cannot relax myself, but the stay in Senjyu An was something special. I felt the spirit of the hotel through even in the smiles of staff and a small conversation. This hotel is one that I would like to visit again.
+ More
Sep 2015
That was a superb hotel true to the high reputation. The foods and the hot spring were both very nice. A negative point was that the ceiling cloth was coming off. I found that as soon as I was led into the room and it was a shame since everything else was very good. I would like to visit this hotel again.
+ More
Sep 2015
I stayed at Senjuan after 5 years. With the limited express to Minakami gone, it brought a little inconvenience to me as I didn't own a car, but there was pick up service at the station, and check-in was early at 1 pm, so I didn't feel any inconvenience. I stayed at the only barrier-free western style room for 2 this time. The bath and shower at the open air bath in the room were big, fresh wind could come in and it was literally heaven. Aroma candle was also placed in the room at night, and I could relax in the bath as I watch the candle flame. The bed was absolutely comfortable and there was nothing to dislike. But a downside was the lack of light in the room. It is practically impossible to read a book or newspaper in the room at night. I could do nothing and turn in early, but it brought me a little trouble in some instances like during winter when the sun sets early. Nothing to criticize about the meals for 2 days. I wish to try them again in a different season. The servicing staff maintained a reasonable and comfortable distance. The library located in the middle of a stroll was quiet and good.
+ More
Aug 2015
It was a very wonderful inn. The meal was very delicious. The hot spring was also very comfortable and we could enjoy a calm time. The only thing I worried about was towels in the large public bath. The corner where towels were piled up became a blind spot from the door, so we were wandering around to find towels. Normally, we go forward toward clothes baskets, so when the corner is there, we have to go back. I thought it was just me who had problem, but the next person who came to the bath was also wandering around and when I was drying my hair with a hair dryer, an another person asked me, "I wonder if I had to bring towels from my room...". Also, a bottle of body soap in the large public bath was empty, so I moved to the next washing corner, but the bottle placed there was also empty. An another bottle was also empty and after moving twice, I could finally find a bottle with soap... when I though I could finally wash my body, again, a bottle of shampoo was empty. I took a bath wondering if it happened only to me. The trouble I mentioned above may not be a big deal, but I was a little concerned about it. It's been for the first time in a while that I travelled to Gunma region, but I would certainly like to visit this hotel again if I had an opportunity. Thank you for all the service.
+ More
Aug 2015
I used to visit there frequently but I visited there for the first time in seven years because I had an errand to run near there The proprietress does not look like being out now. The inside of the inn was clean and the bath was comfortable as usual. I think that it is better if they make more efforts in meals. They caused an error for souvenirs and I regretted their handling of it. I will use it when I have opportunities to go near there.
+ More
Aug 2015
This time, unfortunately, I was disappointed by meal related issues. I think fresh dishes making the most of high-quality ingredients would be better even if you have to reduce the number of dishes. It may also be better if you could figure out some way to change a method of seasoning and cooking in the flow of a full-course meal. I also think it'd be better if there are spare bathrobes and yukatas in a room. The hot spring and the spa resort were excellent.
+ More
Jul 2015
The food, the room, the facilities, the service and the environment at the inn were all satisfactory I can sense the courtesy and hospitality of the staff. The young staff worked really hard and left a good impression on me. Even the meal were very delicious. (There were some reviews that commented that something was "lacking", and I think these people probably prefer a richer taste. ) My wife just recovered from a illness so I consulted her on various matters beforehand, and she was really glad with the meticulous care provided. I was very glad to be able to visit in the season of wonderful fresh green. (If you dislike insects, you might want to visit in winter when they will be gone) I would definitely like to stay here again.
+ More
Jul 2015
It was my first visit. Thank you for preparing for the procedure of making tea at the tea room. The welcome drink after arriving, the offer of hot zunda buns at room, I wrote a wish on a bamboo leaf on the star festival and released fireflies at the night sky. Then I took both diner and breakfast relaxed at a private room, and at room I refreshed myself with open-air bath and stone sauna. The interior of the inn is thoughtfully creative and enjoyable. It would have been convenient if I could have had some information for the time of drink service before dinner, but overall I felt the inn's effort. It is one of the inn I would like to visit again.
+ More
Jul 2015
In the same way as the rummer says, I could spent a wonderful day. The staff were good, the splendid view, and delicious dishes, I will come and stay again. I truly appreciate it.
+ More
Jun 2015
I stayed at the hotel in the end of May with my 100-year-old mom and my brother. Fresh greenery was very beautiful. Because the path to the dining room was a little too dark and not safe to walk, I led my mom by the hand on the way there, but I forgot to do so on the way back after dinner, so she staggered in the connecting corridor, almost loosing her footing, while I tried to pulled her, ending up hurting her back, and she is still suffering. It was too bad as we all were looking forward to the trip. It would be helpful for old people if the lights are a bit brighter on the path.
+ More
Jun 2015
To add to the location of the hotel where one could see Mt. Tanigawa, I thought that the balance of the unique yet relaxing building, the decoration, the garden and the hot spring was good. One thing that disappointed me was that the meat at dinner was hard and I found it not so good.
+ More
Jun 2015
The facility and the customer service were wonderful, and I could be refreshed. As for the meal, I was excited about the quality rather than the volume, but I was not impressed much. It is a high-end Ryokan as a hot spring inn, so I hope that they do better in cooking.
+ More
May 2015
Information
Check-in Time

From 1:00pm to 7:00pm

Check-out Time

Until 11:00am

Tax / Service Charge

Bathing Tax JPY 150 per adult is NOT included in the rates.

Credit cards accepted at this property

VISA / MASTER / JCB / AMEX / DINERS
Children

All children are welcome.
Children of elementary school or younger are not accepted at Western-Style Room and Japanese-Western-Style Room.

Pets

Pets are NOT allowed.

Parking

17 cars.

Other policies & conditions

Our check-in time is till 7:00 PM. Please inform us if your arrival will be over that time.