Hatori
Located inside Yamashiro Onsen, Hatori is a resort that reflects the best feelings of onsens of olden times. Overflowing with the comfort of nature, and the serenity of Japan at every place, with 'kindness, warmth, richness, charm', the place, full of elegance, welcomes everyone with fine hospitality and warm-heartedness so that all guests can fully enjoy their own unique journeys.
- VAT is included, but bathing tax (around JPY 150 per adult) may NOT be included.
- Price in USD is based on the exchange rate as of today and might be different from that of the booking date.
Foods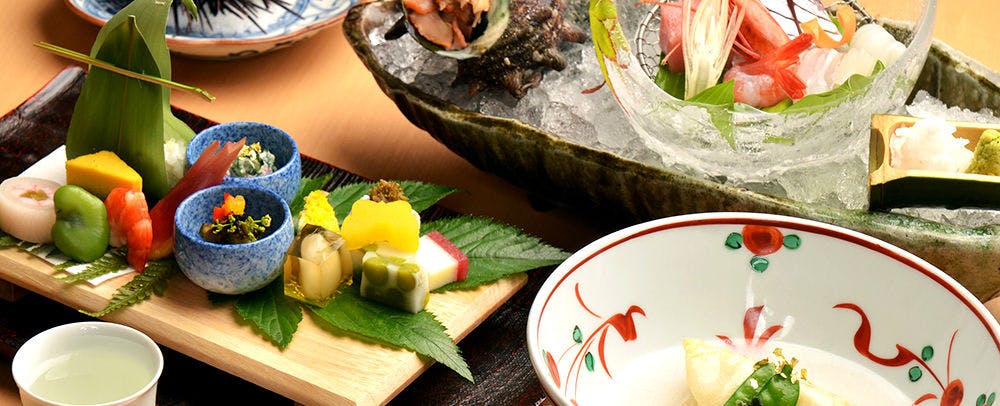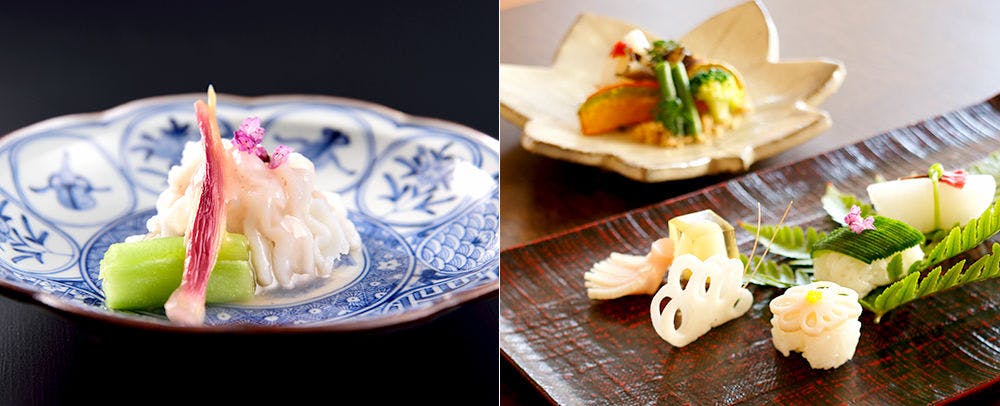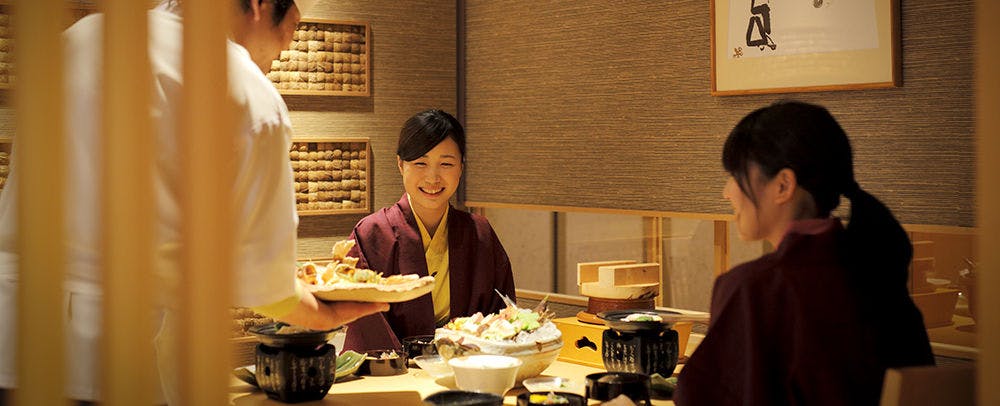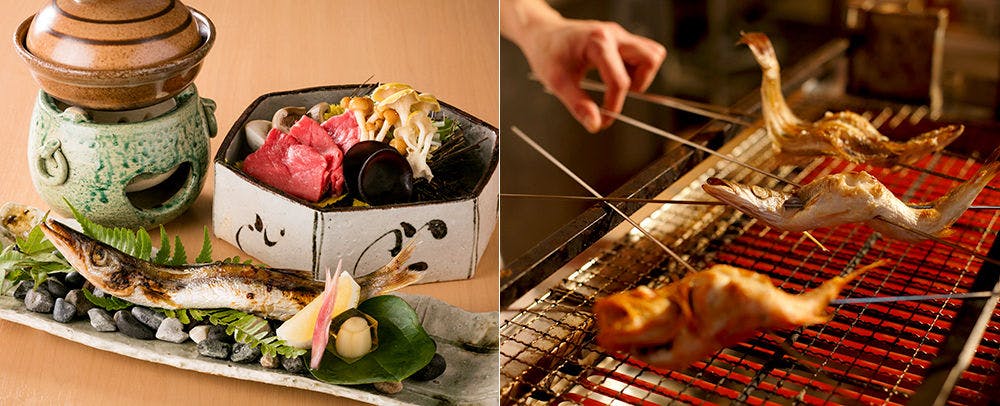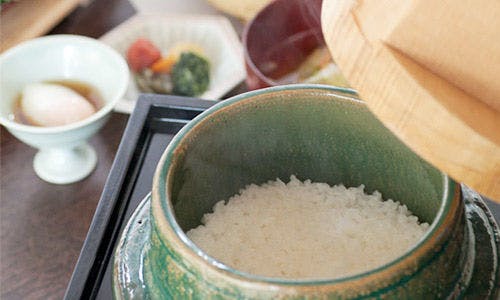 Food at Hatori Flavours of Kaga, Luxuries of the Season The dinner consists of Kaiseki cuisine that changes according to the months. You will be served food that is gentle to your body, made from a careful selection of ingredients from Kaga. Starting with all natural ingredients the dishes are prepared using the month's best foods from the sea and the mountains of Kaga. Relish the richness of each season.

Restaurant Uzuki
Enjoy moments of tranquility as you enjoy the flavours of the season of Kaga, at the serene restaurant.
Note:
As there are a limited number of seats, an advance-reservation system is used. Also, if there are children guests as well, then you will be served at table seating.
Note:
All seats are non-smoking at the restaurant 'Uzuki'.

Breakfast that's Gentle for the Body
Kaga's own Koshihikari rice with renowned 'Hatakeno Osashimi' served with fresh vegetables, ginger miso and natural salt. Hatori's pride, It is a breakfast that's gentle for the body.
Baths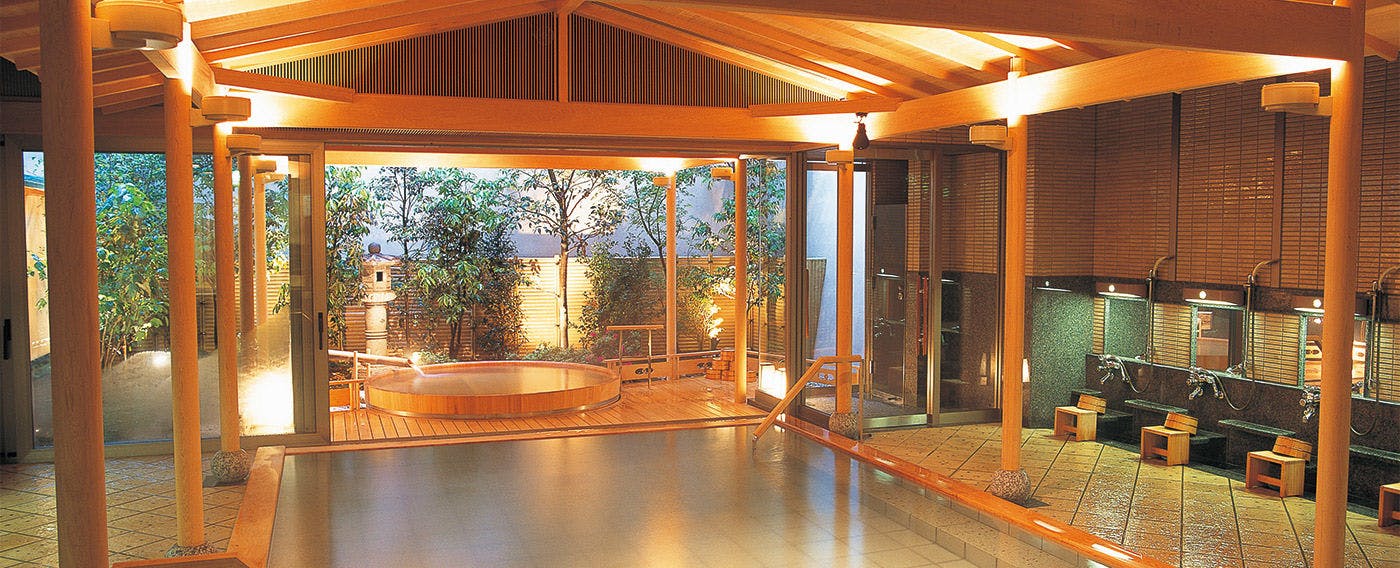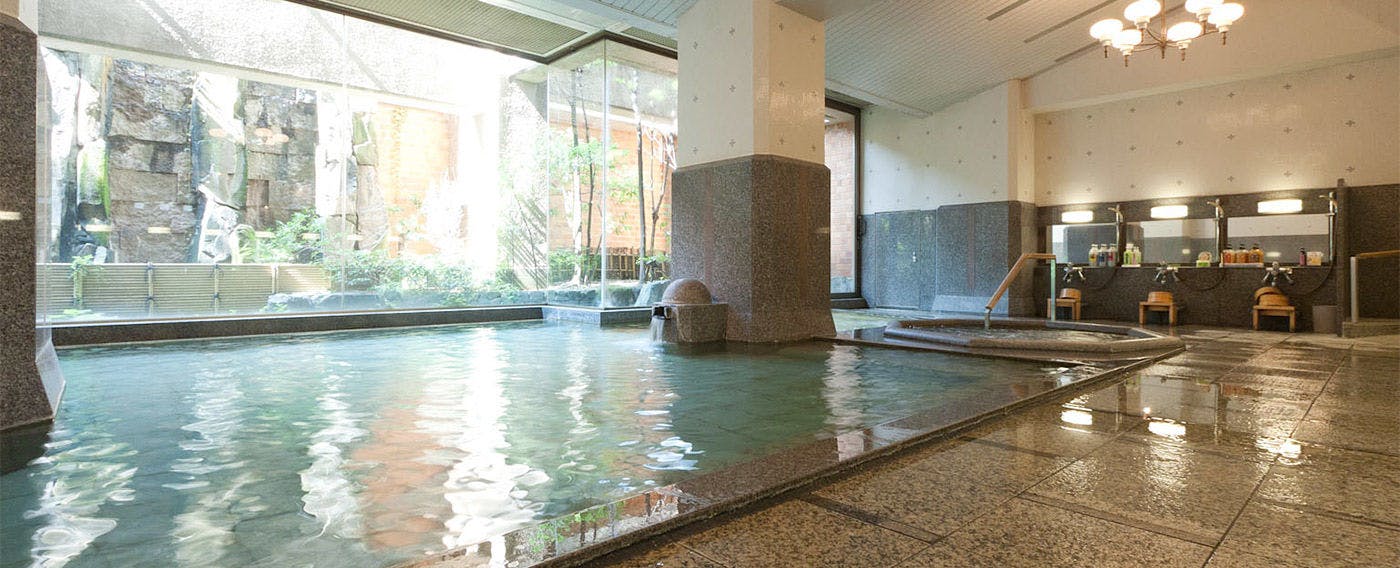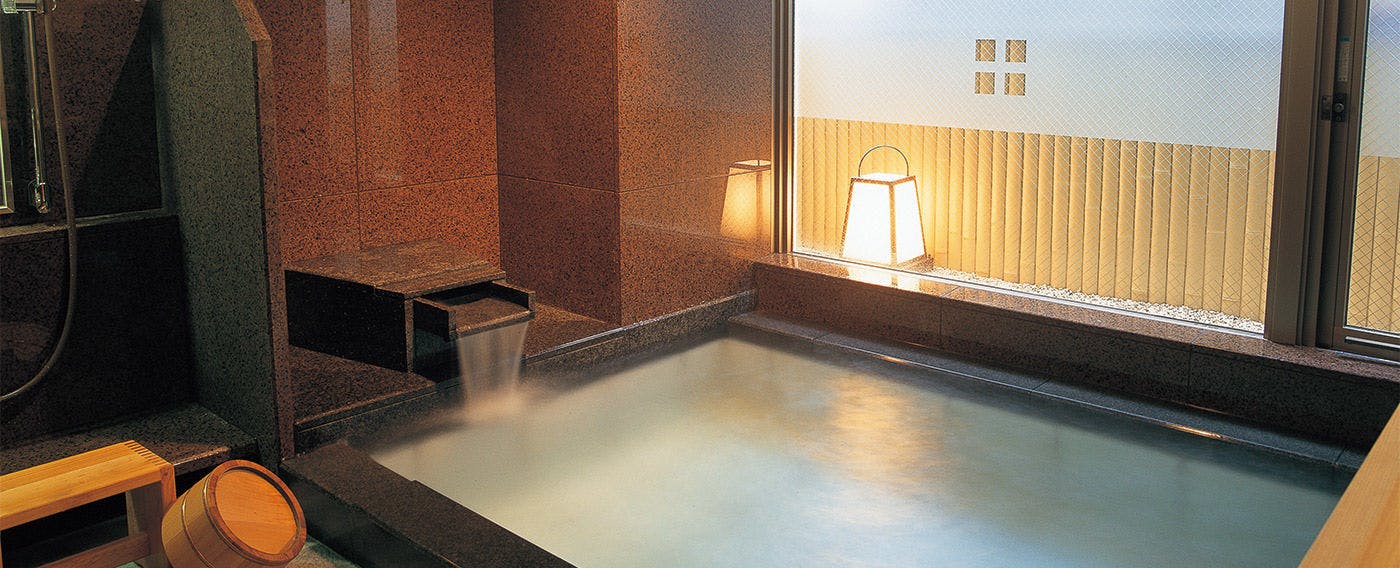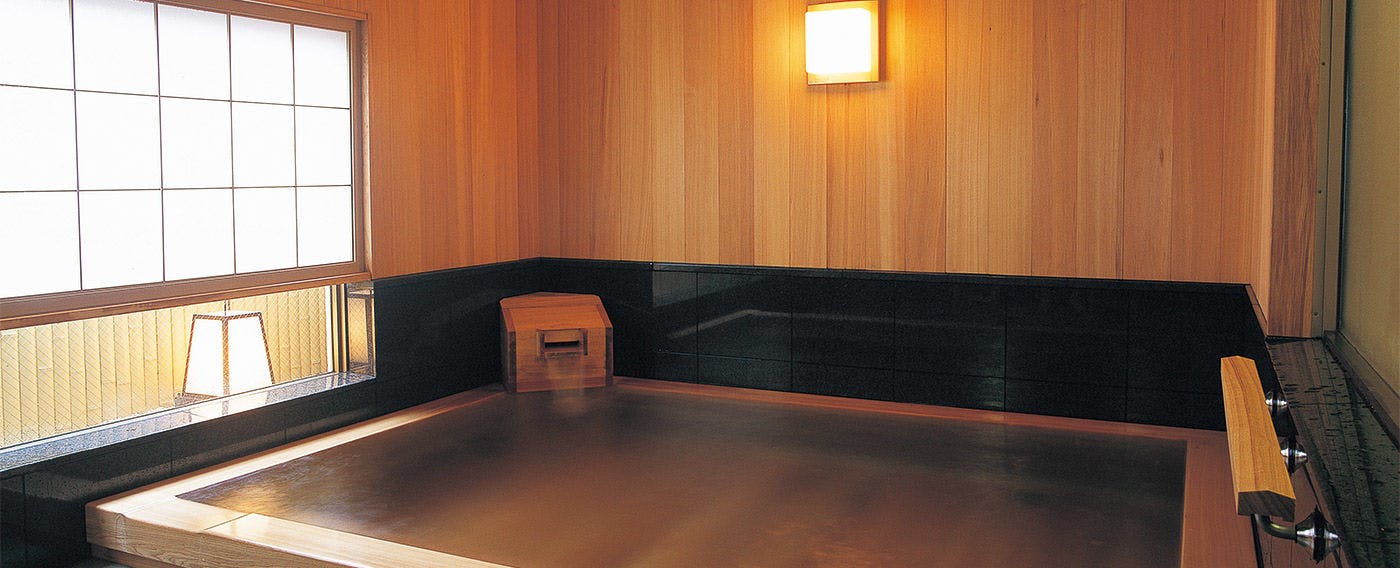 So that you may enjoy taking a bath as many times as you want during your stay, each bath has plenty of bath towels available.

Wooden Made Shared Bath 'Kumanbo-no-yu'
Let the moisture and the warmth of the water heal your mind and body. The shared bath is made from luxurious all natural wood and has an open air bath and sauna made with Japanese cypress overlooking the garden. The sound of the flowing water and the warm scent of cypress will gently ease and heal your mind and body.

Shared Bath Made of Stone 'Oyakushi-no-yu'
Resonating with the good feelings of Yamashiro Onsen of olden times, the place is a shared bath made of stone. Warm yourself with a jacuzzi and a variety of hot water baths in this spacious place.

Private Baths for Reservation
Fresh natural water onsen to comfortably enjoy for families, couples or just by oneself. Focusing on its atmosphere, it's a unique bath made using elements of nature such as whole cypress and rocks. (Needs Reservation)

You can also enjoy a trip to another onsen at the sister facility of 'Rurikoh'. (5 minutes by foot)

Timing: 7:00 to 23:00
Charges: Kurakake no Yu, Makomo no Yu 1,080 yen / 50 minutes
Facilities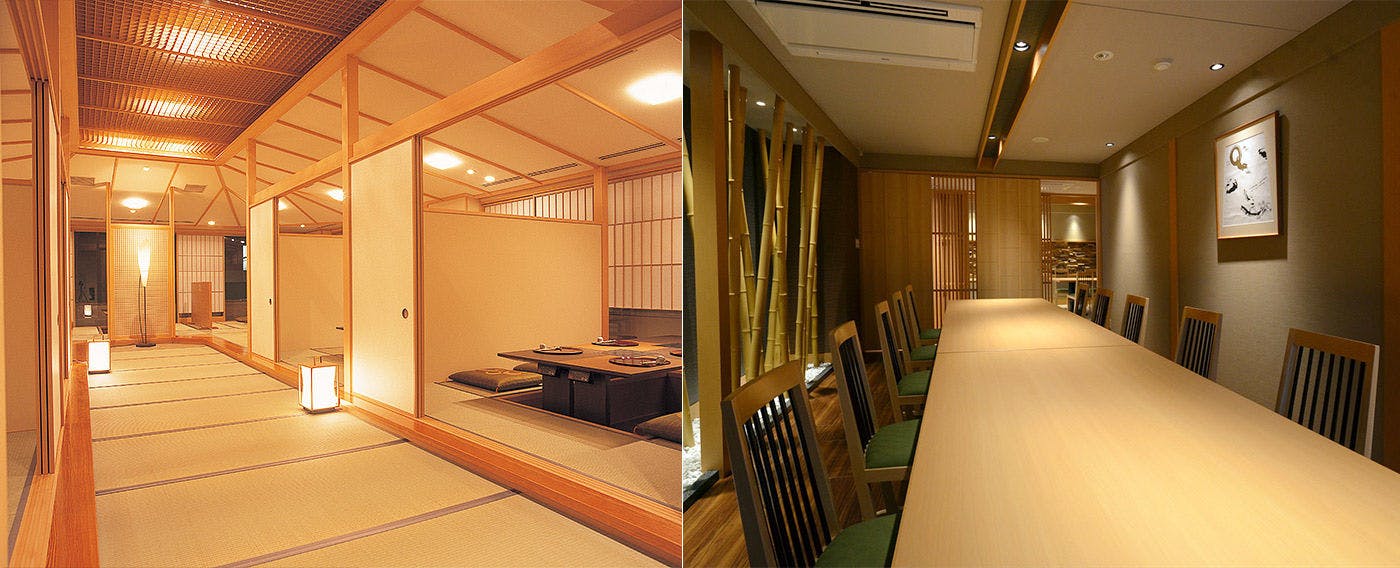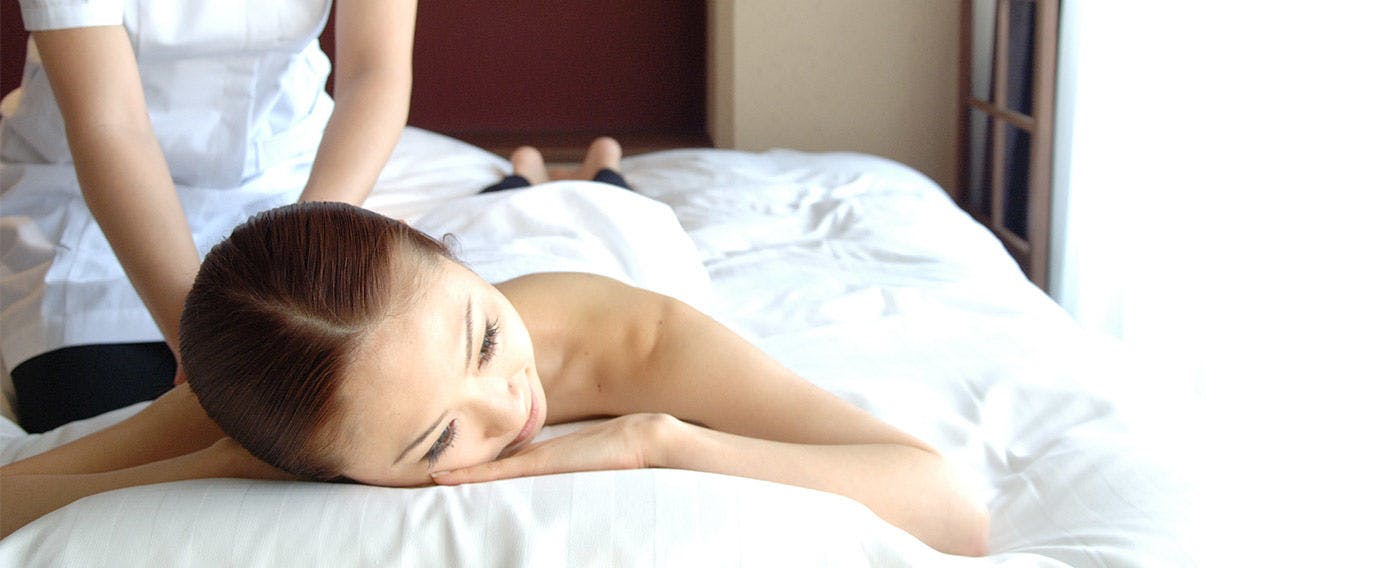 Hatori Relaxation Service
Post-bath service: Chilled ice cream is served at the lounge after baths. (from 15:00 to 18:00)
Kaga Drum Performance: A powerful and majestic Japanese Taiko performance that evokes all your five senses.(from 20:40 to 20:55)
Table Tennis Court Lending (from 15:00 to 24:00)
Nails Set Lending: You can use it all you want before checkout. (available on a first-come-first-come basis)

Morning Market: Featuring an abundance of the freshest bounties of the sea, and goodness of the mountains. Be sure to check it out. (6:00 onwards, no fixed holidays)
Access
Onsen-dori17, Yamashiro-onsen, Kaga-city,Ishikawa,922-0254,JAPAN
Accessing Kagaonsen Station
Approximately 3 hours from Tokyo (Hokuriku Shinkansen - via Kanazawa)
Approximately 2 hours & 10 minutes from Osaka (Hokuriku Main Line / Thunderbird·Super Raichō·Raichō)
Approximately 2 hours & 20 minutes from Nagoya (Hokuriku Main Line / Shirasagi) Approximately 5 hours from Hakata (San'yō Shinkansen - via Shin-Osaka - Hokuriku Main Line)

From Kaga Onsen Station to the Resort:
1) Shuttle Bus
Pick-Up: Scheduled according to advance reservation. (from 13:30 to 18:00)
Departure: 5 Slots at 8:30 a.m., 9:10 a.m., 9:50 a.m., 10:30 a.m., 11:10 a.m. (one-the-day reservation)
2) Taxi
Approx. 10 Minutes

Access from Komatsu Airport to Yamashiro:
1) Taxi from Komatsu Airport Approx 20 Minutes Approx 6,000 yen
2) In case of advanced reservation, one ride can be arranged from 4,200 yen
3) Bus from the Airport to JR Kagaonsen Station

Accessing by Road:
Approx. 3 Hours from Osaka
Approx. 2 Hours & 30 Minutes from Nagoya
Approx. 5 Hours & 20 Minutes from Tokyo

Reviews
I believe the resort has a high Cpk index. I think it's mainly catered towards families, groups and so on.
+ More
2017/11/01
If it's Yamashiro Onsen, you've got to stay at Hatori. Thank you for entertaining all my requests once again. The baths, the food, the service and the rooms, everything was just perfect. I'd just like to make one request if I may. I'd be grateful if they could also provide the men's bath with moisturizing milk. The chartered 'Kurakakeno Yu' bath was also splendid with its large bathtub. Our attendant staff also gave us some wonderful service. The senior proprietress also came to see us off when we were leaving. We didn't get a chance to meet the proprietress-to-be this time, next time we hope to meet them as well. We would love to come here once more.
+ More
2017/11/02
Delicious food along with great onsens, it had been a while since I'd stayed at a resort. Since we got there early, there was only one person at the front desk, their welcoming introduction and explanations seemed a bit unrefined once we entered. We'd like to request a bit more smooth of a welcome. We felt like the landlady was being very over-friendly at times.
+ More
2017/09/01
Both dinner and breakfast were very tasty. I was traveling just by myself but, I was able to spend my time leisurely. Our room staff's service was especially wonderful. Just that the breakfast didn't come with coffee which was disappointing... I'd like to come here again if I get the chance.
+ More
2017/09/01
I came here for my first time for a college reunion. It's a very impressive resort, and everyone was highly impressed. Most of our members were saying that the place is just too good for its price. With fun conversations with the room staff, polite service of the people at the reception, all of us were very satisfied with the great food as well. The baths were also very clean and we comfortably spend our time there. Even though our coordinator changes every year, as a rule, we feel that as a Kaga Onsen resort that's very reasonably priced, I'd put this as a candidate for our get-together again next year. It's certainly gonna be easy for the coordinator to decide our resort now. For my short trips till now, I'd been finding restaurants around Shinagawa Station by my company's service. But honestly, it didn't yield much success. So we picked from amongst the best ranked onsen resorts in Hokuriku, looked at their homepages, and selected the resort with the best image. The place in reality is just like image is. And I'd also rank it very high as per my short trip. Thank you very much.
+ More
2017/08/01
Information
Check-in Time

From 3:00pm to 7:30pm

Check-out Time

Until 11:00am

Tax / Service Charge

Bathing Tax JPY 150 per adult is NOT included in the rates.

Credit cards accepted at this property

VISA / MASTER / JCB / AMEX / DINERS
Children

Children are welcome.

Pets

Pets are NOT allowed.

Parking

Free public parking is available on site (reservation is not possible)

Other policies & conditions

Nothing in particular