- VAT is included, but bathing tax (around JPY 150 per adult) may NOT be included.
- Price in USD is based on the exchange rate as of today and might be different from that of the booking date.
Foods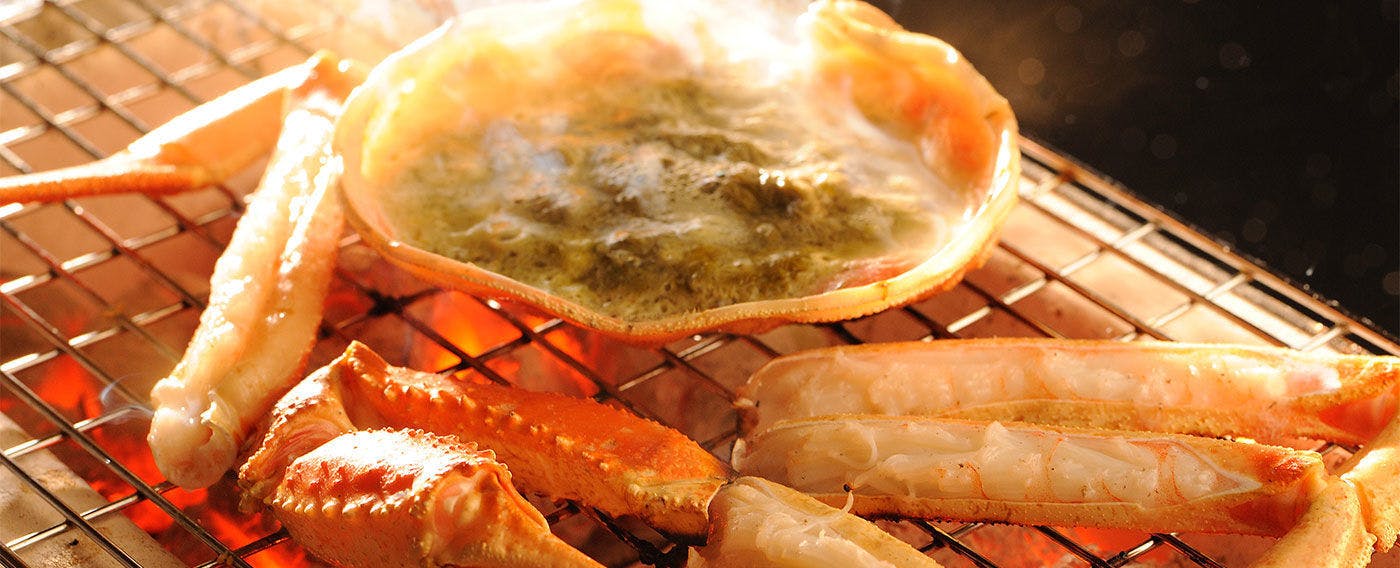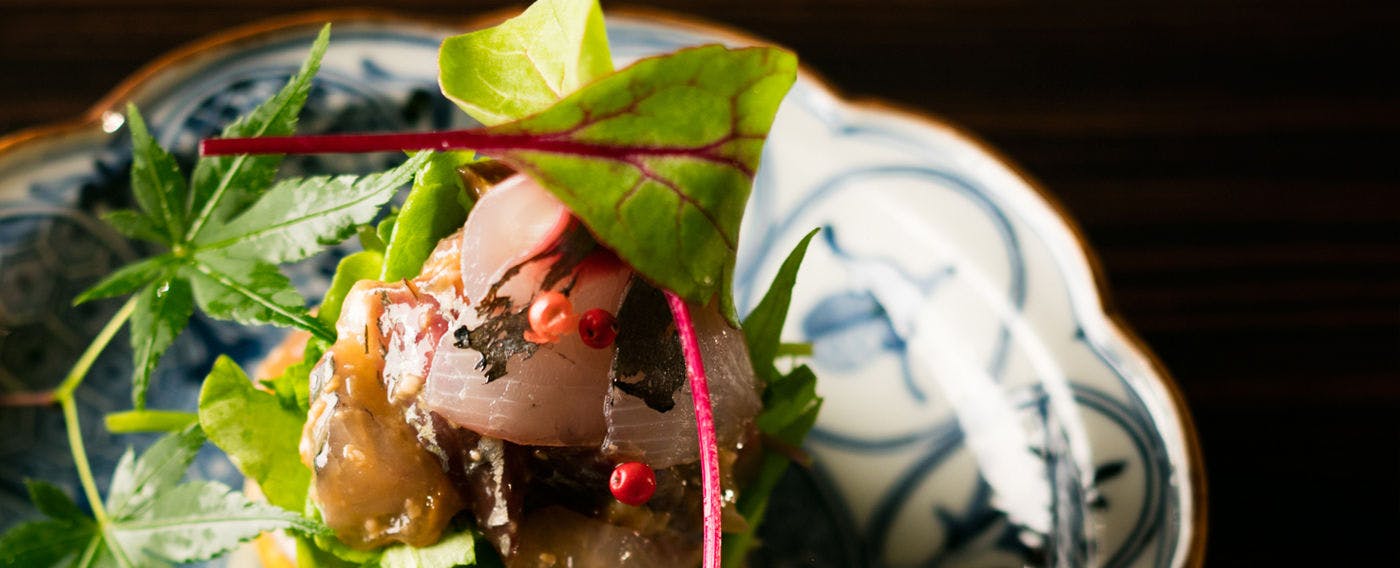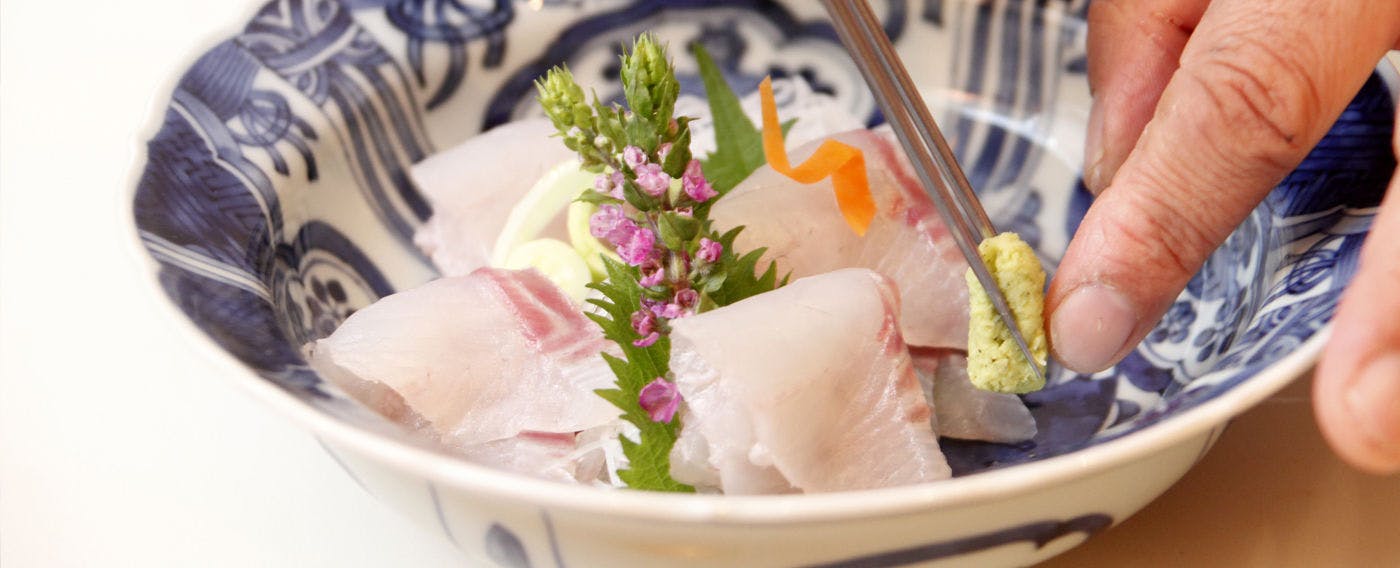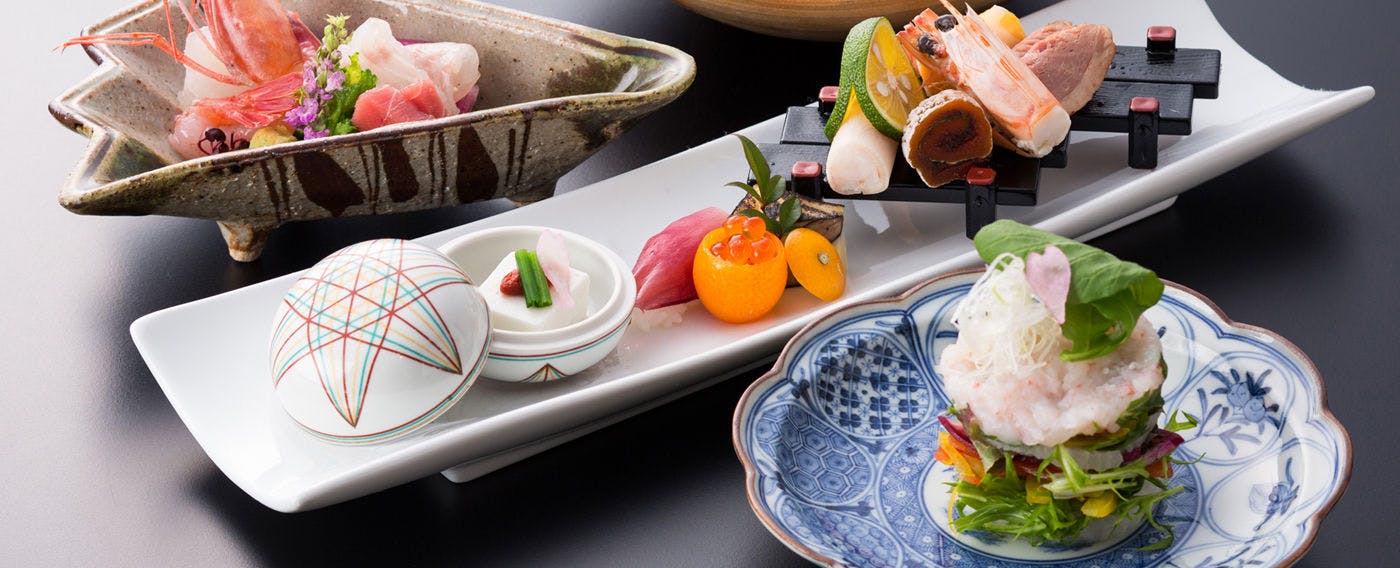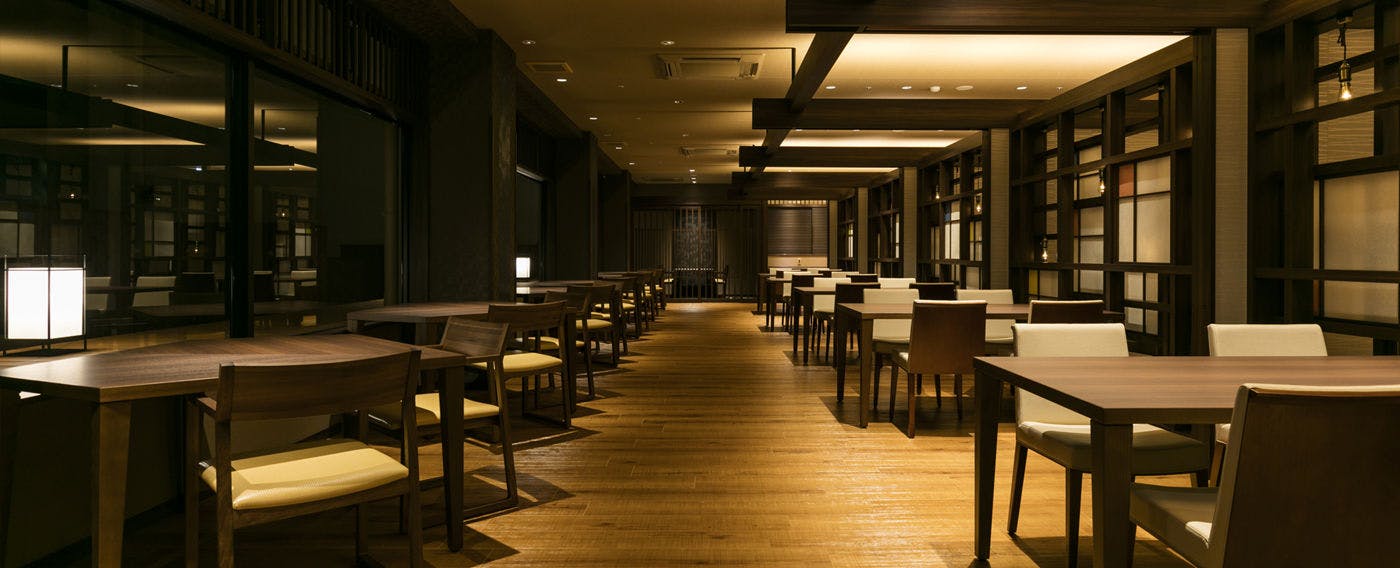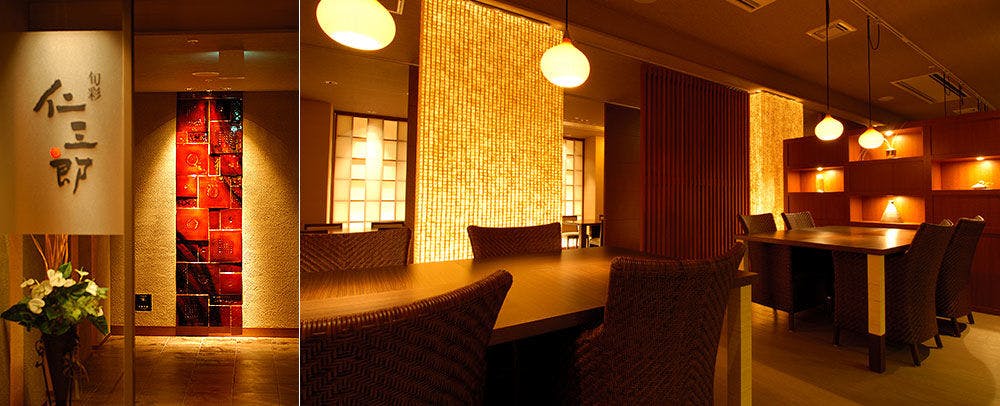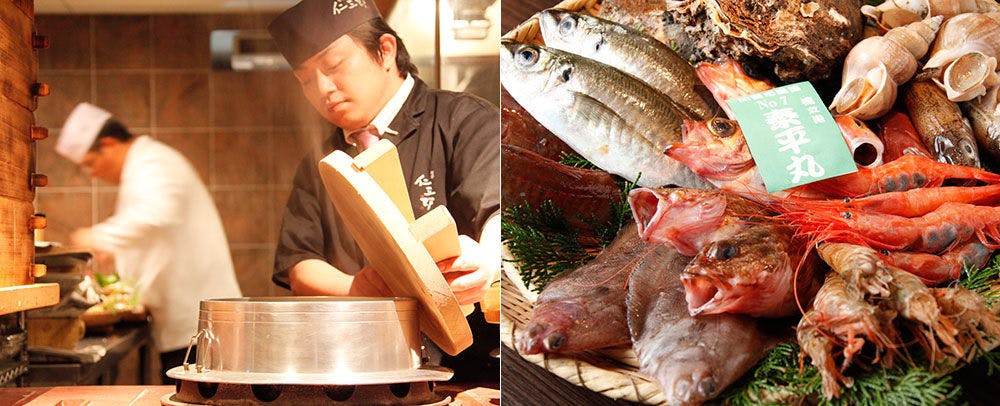 A Taste Unique to Kaga There are various meal plans available, dining, or banquet meal etc. The dining restaurant 'Nisaburou' is especially recommended. It's also recommended that you book early since the place is often full on weekends. Relax and fully enjoy the flavours of Kaga with someone special.

Dining Restaurant 'Nisaburou'
'Nisaburou' is the place where you can relish the seasonal ingredients of Kaga most deliciously. Have some sashimi and nigiri sushi made with fresh fish sourced directly from the local harbour to start, and enjoy prefix Kaiseki with which you can choose your main dish that is made by abundantly using vegetables from the mountains of Kaga. Other items that the place also prides upon include Kaga's Koshihikari rice made with fresh spring water from Mt Haku in a kamado pot and springy fresh kamameshi of the season. The kutani ware tableware and utensils that the food is presented in are a feast for the eyes as well. Treat your taste and sight to the delightful preparations at your table set in a refined atmosphere.
Baths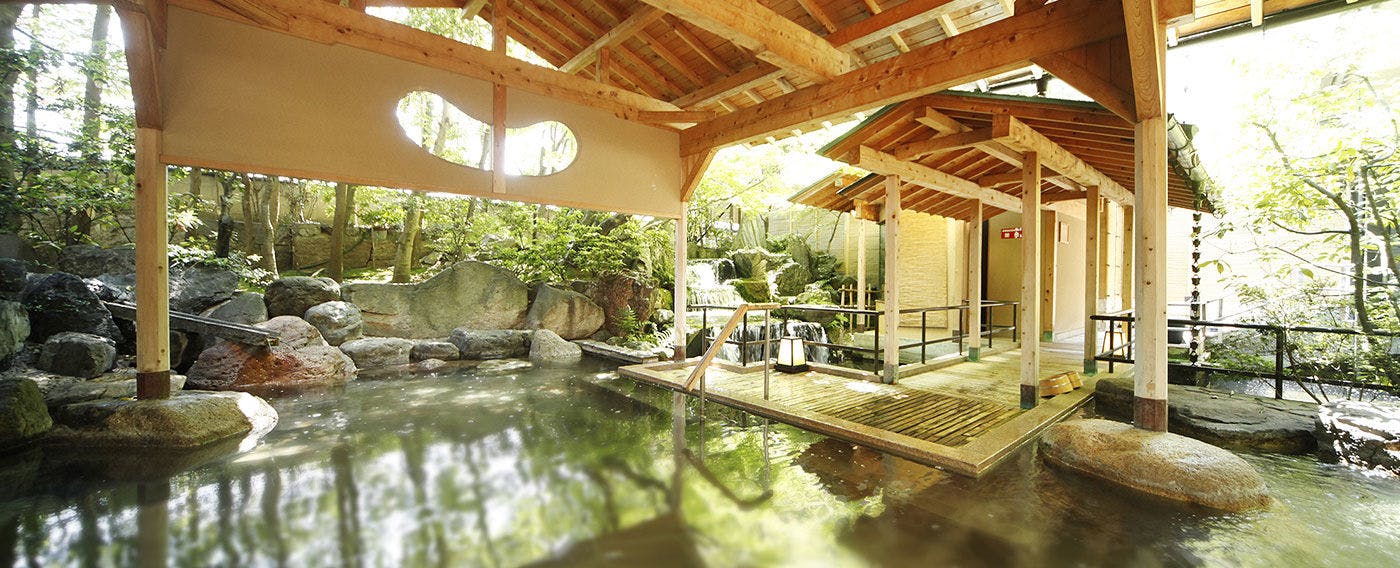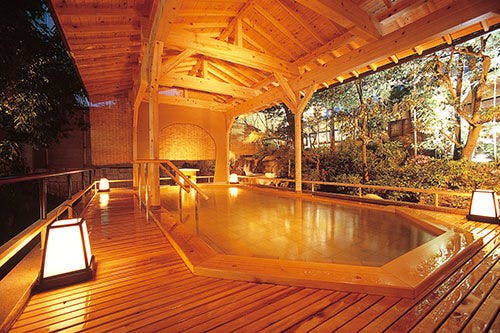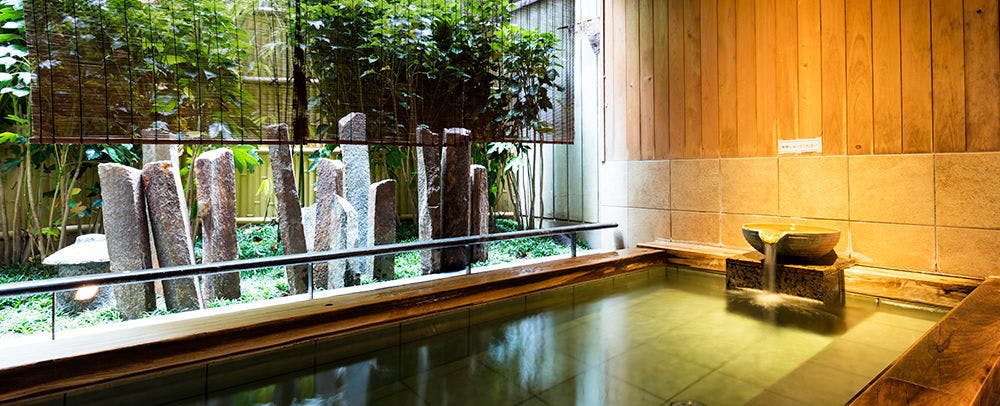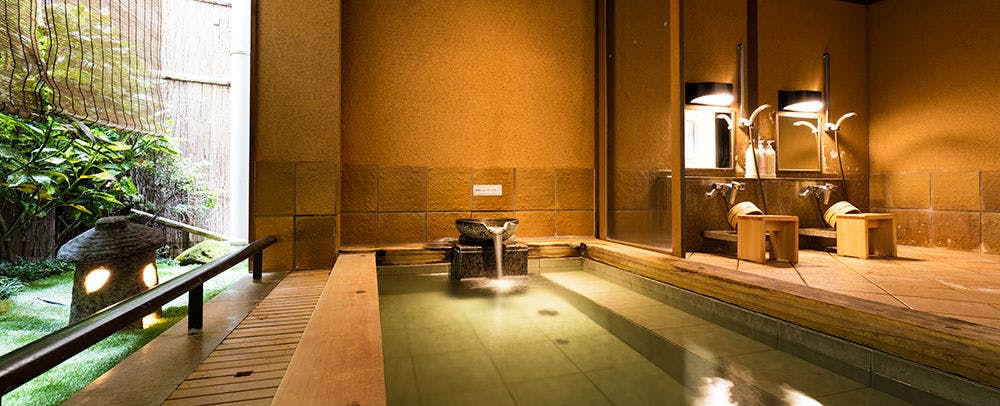 Play in the Hot Springs A Variety of Onsens Experience the elegance of each of the four seasons from the garden open-air baths of 'Nikko' (for men) and 'Gekko' (for women). You can enjoy a playful time in the baths under the sunlight or at night when it's quiet. In addition, both baths, for men and for women, have saunas with them.

Private Bath for Reservation 'Gosai no Yu'
Each of the five private baths available for reservation has its own charm to suit the occasion, be it for couples or families. Relax and fully enjoy the onsen experience in a private space all to yourselves.

Foot Bath
An atmosphere of relaxation and healing facing the garden with foot baths full of hot spring water. Have your legs enjoy the hot water as you lend an ear to the breeze rustling through the trees.
Facilities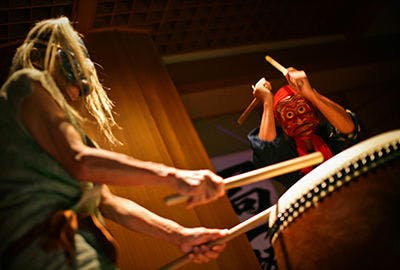 Kaga Taiko Drum Performance
An impactful Kimendaiko (devil mask taiko) performance, for a memorable night at Kaga. (From 21:00 till 21:15)

Post-Bath Facility
Enjoy chilled mugicha tea and other seasonal cold teas after your bath. (From 16:00 till 18:00)
Access
19-58-1, Yamashiroonsen, Kaga-city,Ishikawa,922-0295,JAPAN
Accessing Kagaonsen Station
Approximately 3 hours from Tokyo (Hokuriku Shinkansen - via Kanazawa)
Approximately 2 hours & 10 minutes from Osaka (Hokuriku Main Line / Thunderbird·Super Raichō·Raichō)
Approximately 2 hours & 20 minutes from Nagoya (Hokuriku Main Line / Shirasagi) Approximately 5 hours from Hakata (San'yō Shinkansen - via Shin-Osaka - Hokuriku Main Line)

From Kaga Onsen Station to the Resort:
1) Shuttle Bus
Pick-Up: Scheduled according to advance reservation. (from 13:30 to 18:00)
Departure: 5 Slots at 8:30 a.m., 9:10 a.m., 9:50 a.m., 10:30 a.m., 11:10 a.m. (on-the-day reservation)
2) Taxi
Approx. 10 Minutes

Access from Komatsu Airport to Yamashiro:
1) Taxi from Komatsu Airport Approx 20 Minutes Approx 6,000 yen
2) In case of advanced reservation, one ride can be arranged from 4,200 yen
3) Bus from the Airport to JR Kagaonsen Station

Accessing by Road:
Approx. 3 Hours from Osaka
Approx. 2 Hours & 30 Minutes from Nagoya
Approx. 5 Hours & 20 Minutes from Tokyo

Reviews
My boyfriend took us to this resort as a birthday present to me. I was impressed by the spacious lobby, and I was surprised when we got guided to our room. Even though it was a traditional room, there was no sign of it being old, it was a very spacious and nice room. Even though the room had its own attached open-air bathroom, I was excited just walking in the room itself lol Apart from the main room, there was also a living room, I liked it as it was an incredible place for relaxation. We ate crabs for our in room meal! There were many crab dishes, and all of them were so tasty, I almost cried. The show after dinner had such an atmosphere that it almost made me forget my daily life for a bit, it was absolutely fun. The room staff as well, for tea cups, they brought a nice couple's set! Charming and nice, the whole trip was very satisfying. I kept thanking my boyfriend for bringing us to such a nice resort, I'd love to come here again.
+ More
2017/12/01
I could feel the 'goodness of staying at a large resort'. I had a nice time traveling by myself having a very large shared bath, the Taiko show at night and shuttle service. Staying at a resort where there are fewer rooms, the bath is also down-sized, this resort was perfect for me since I like my baths big. Also to note, their polite staff members. The shuttle service staff, the young staff at the front desk, everyone was very nice and kind. The people I came across in the onsen town were also very warm, and the whole Yamashiro experience was just so impressive. It was a fast-paced trip on my side, so next time, I'd like to come and stay relaxingly!
+ More
2017/11/01
We stayed here for a family trip before childbirth. Our attendant staff very professional like a veteran, very polite and composed, being treated so kindly our child also opened up to them. For meals, we had both dinner and breakfast in the room, and we fully enjoyed them. The only unfortunate thing was the open-air bath. One part of the cypress bath tub's end was rotten and discoloured. We chose the room solely because we had a child with us so we thought a futon style room would be good. A room with beds would have been better if our bath had a stone made tub instead, I regret that. Apart from that, the rooms are spacious and the service is also very satisfying.
+ More
2017/11/01
From checkin to checkout, we were served by the same staff person. Being consecutive holidays, there were many groups of customers over at the place, still, we were given good attention and care. Having a very polite staff member serve us, we had a very comfortable time. I could feel that we'd want to come once again to stay at Rurikoh.
+ More
2017/10/01
The rooms were large and beautiful and I'm very satisfied! Sadly, there was mold in the ceiling of both the room and the bath! And there cobwebs at the open-air bath! Don't they clean it!? I think the cleaning staff is kinda low level. I wonder if some light bulbs were broken, or were they just saving electricity. Even though I had made reservations for an open-air bath with onsen water, the staff who were guiding us told my husband that it's not onsen water. That's about the only negative point for service. The water was described as alkaline simple spring water on the wall, and even the home-page said that it's onsen water, so it had to be onsen water. Even though it's an amazing resort, these 2 points make its score lower. It's not that we're paying a small sum of money for our stay, so the last they can do is remove the web and mould. All my excitement was dispelled when I saw that mould. The food was tasty. The massage machine in the lounge was great! It was better than the one in the room. But I wonder if we're coming back again. At the same price level, there are much more luxurious resorts out there.
+ More
2017/09/01
Information
Check-in Time

From 3:00pm to 7:00pm

Check-out Time

Until 11:00am

Tax / Service Charge

Bathing Tax JPY 150 per adult is NOT included in the rates.

Credit cards accepted at this property

VISA / MASTER / JCB / AMEX / DINERS
Children

Children are welcome.

Pets

Pets are NOT allowed.

Parking

Free private parking is available on site (reservation is not necessary)

Other policies & conditions

N/A