Niki Club
7"Auberge to enjoy cuisine and refreshing spa. Enjoy 'Niki cuisine' with strictly selected fresh foods, in a relaxing style. Spa refreshes your body and mind, with the feeling of nature in five scenses. Niki Club has two staying styles. In either stay, you can live simply and spend preciouse time to think about yourself in silence."
We are sorry but we don't have any rooms available now.

Please select another Ryokan.
- VAT is included, but bathing tax (around JPY 150 per adult) may NOT be included.
- Price in USD is based on the exchange rate as of today and might be different from that of the booking date.
Foods
Main Dining Room - La Brise, Main Wing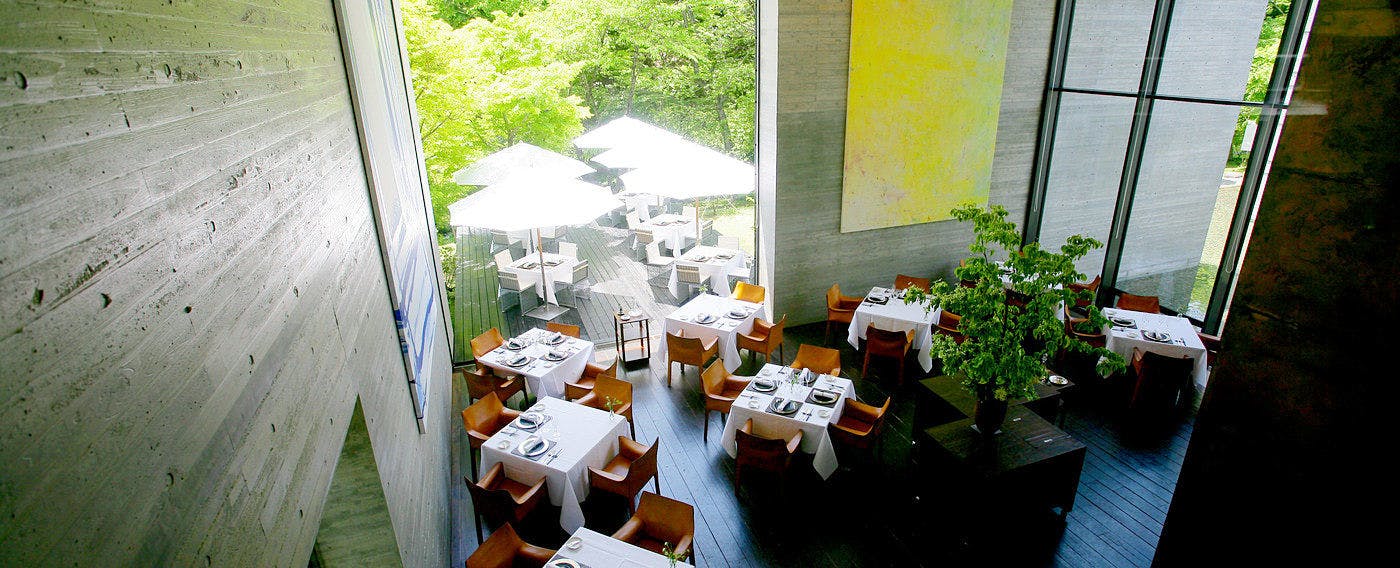 Main Dining Room - La Brise, Main Wing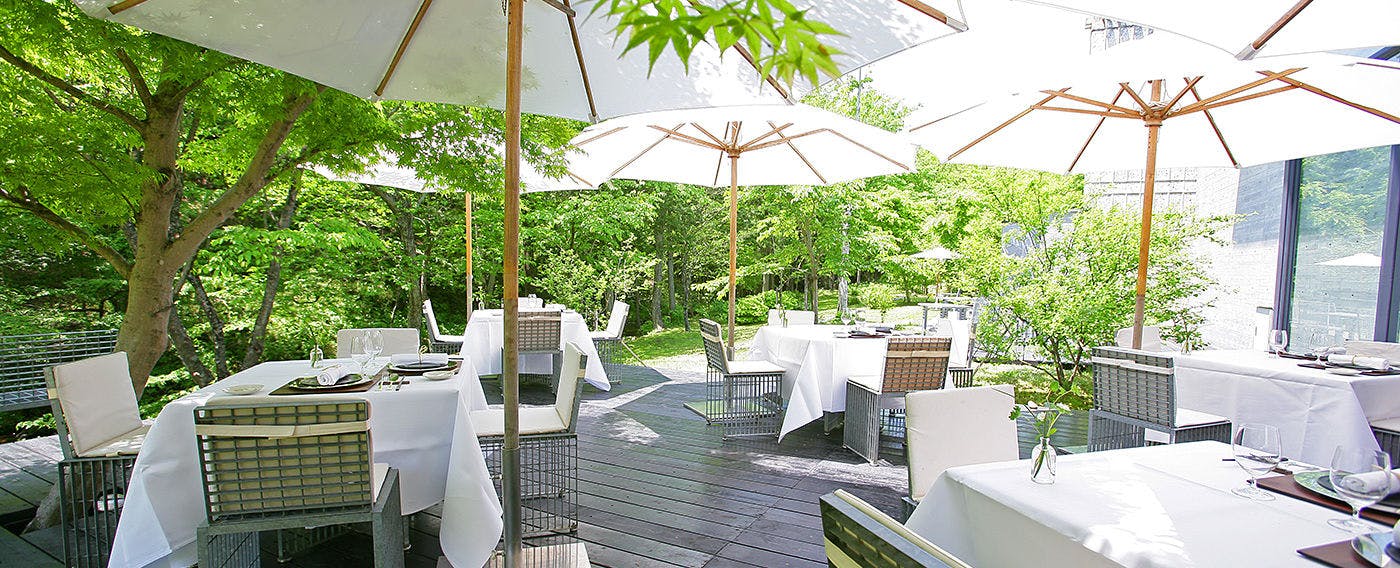 Terrace, Main Dining Room - La Brise, Main Wing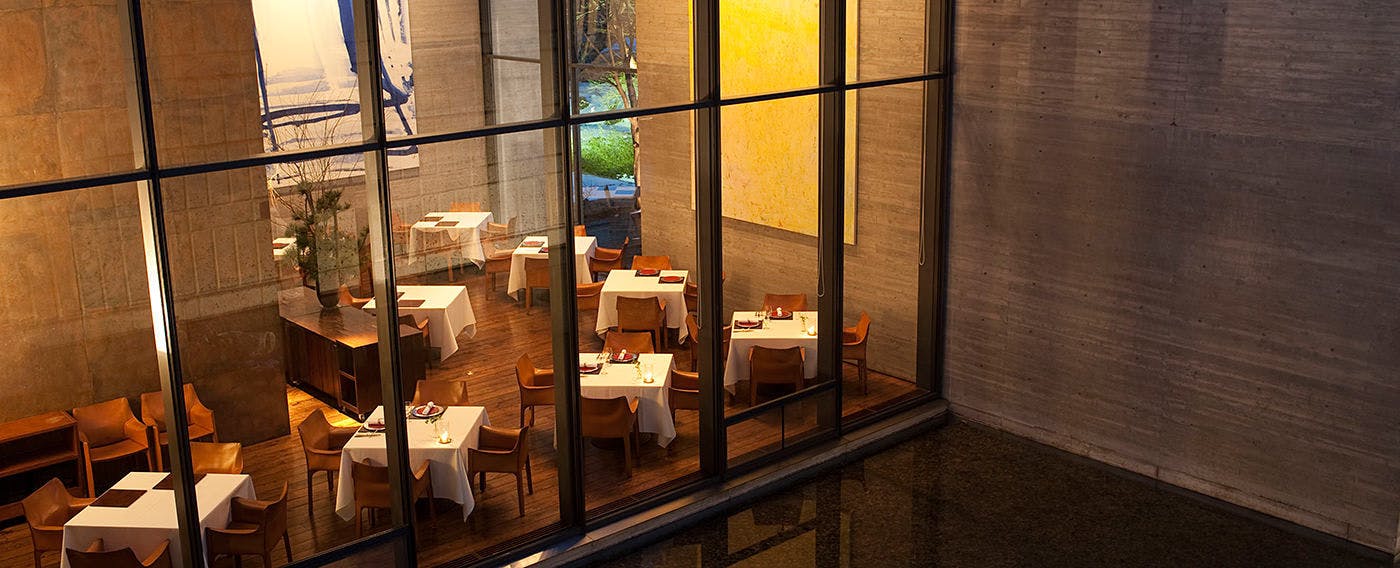 Main Dining Room - La Brise, Main Wing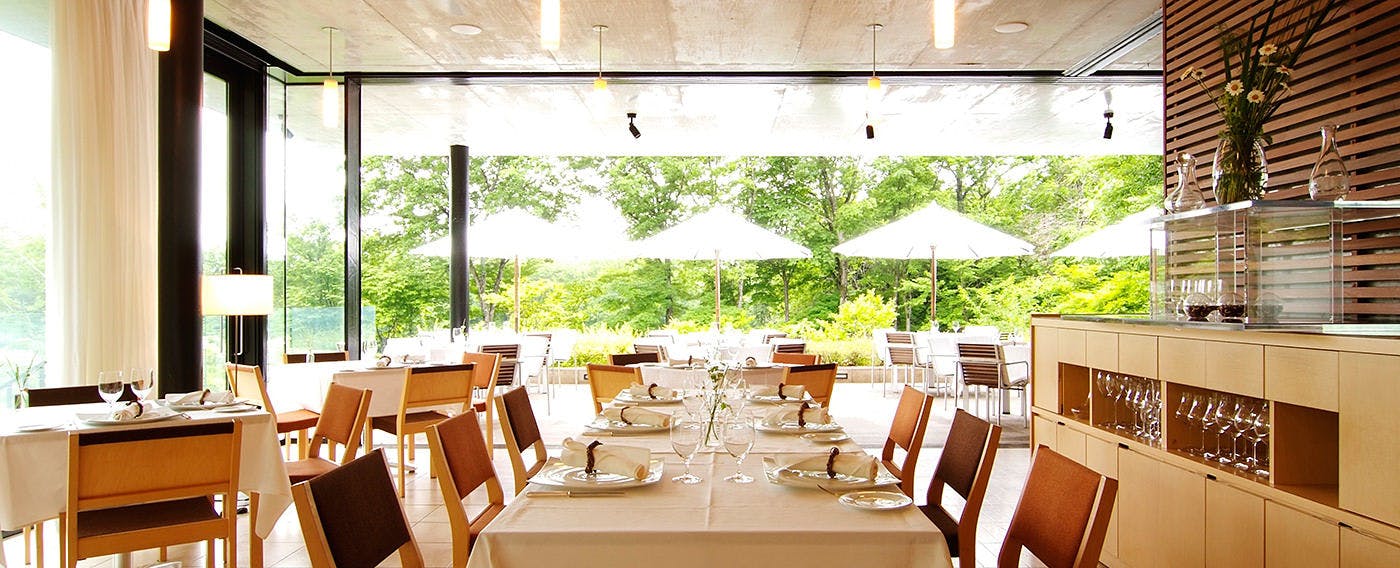 Garden Restaurant, East Wing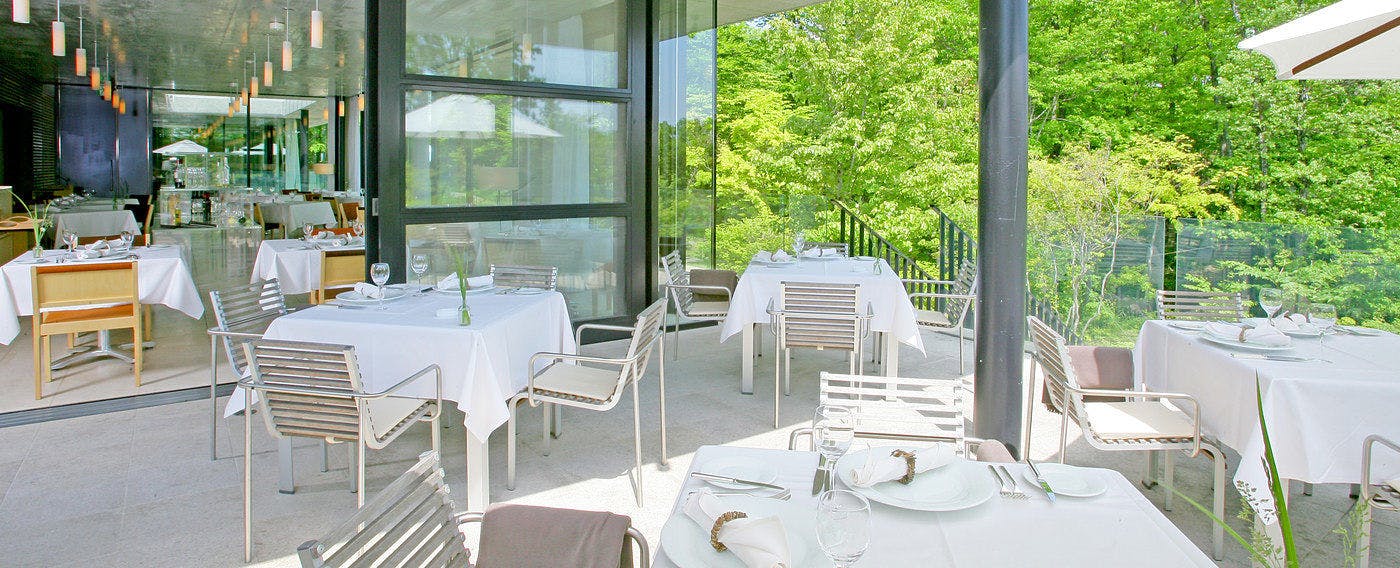 Garden Restaurant, East Wing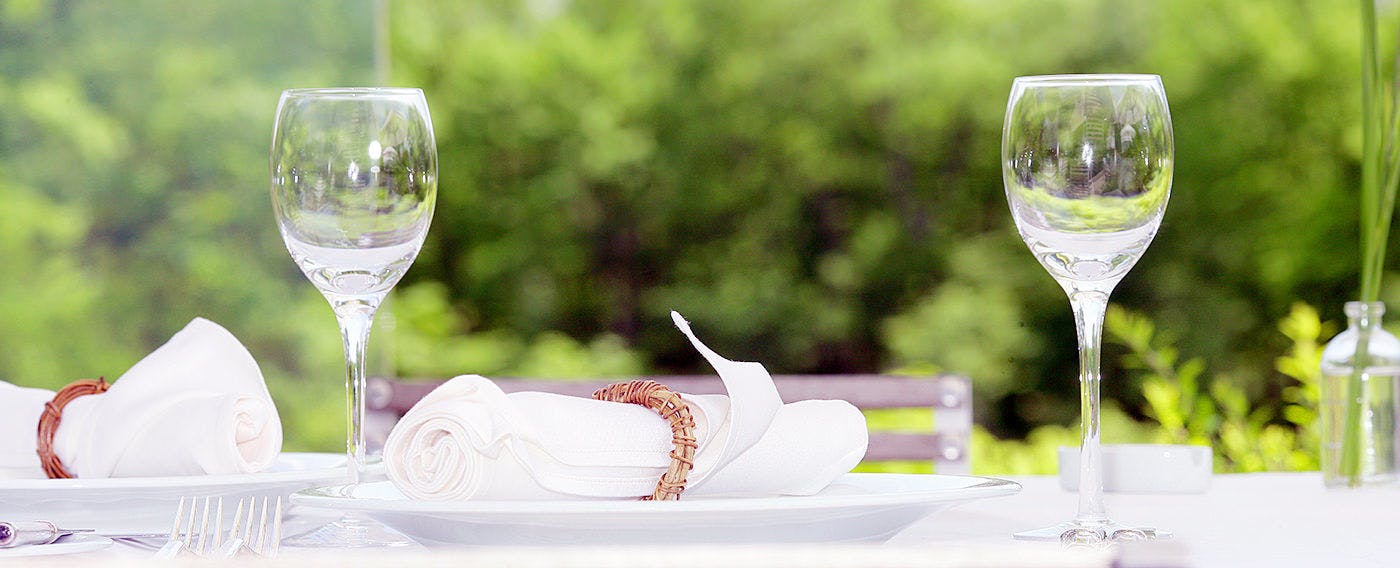 Garden Restaurant, East Wing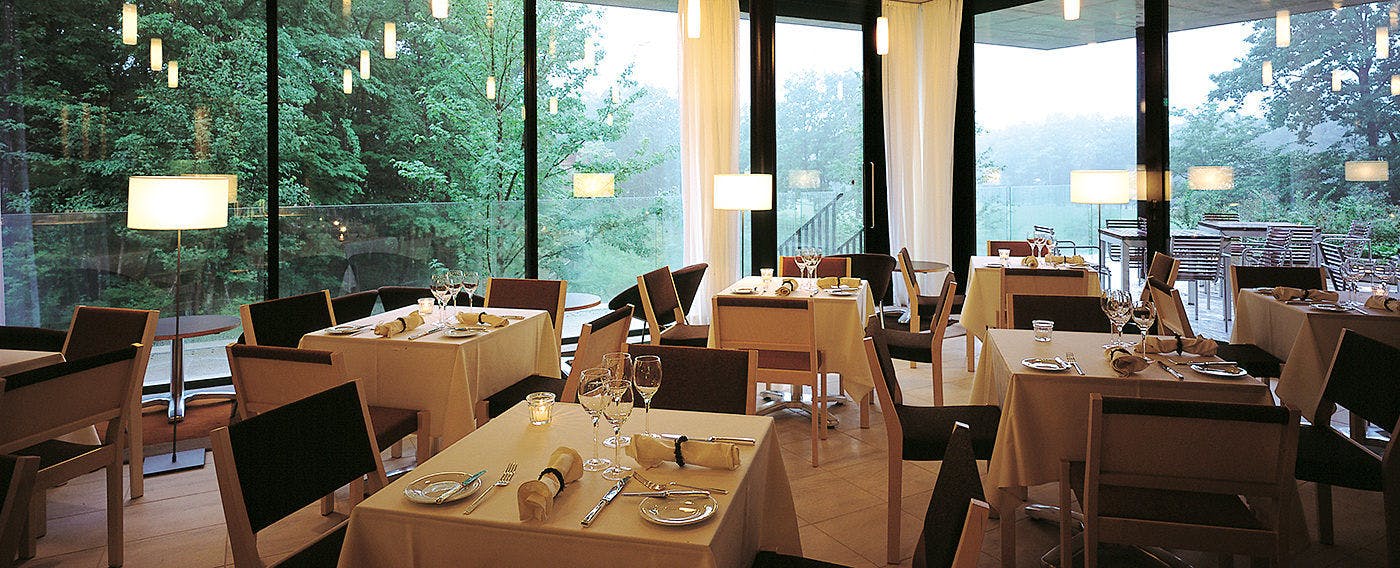 Garden Restaurant, East Wing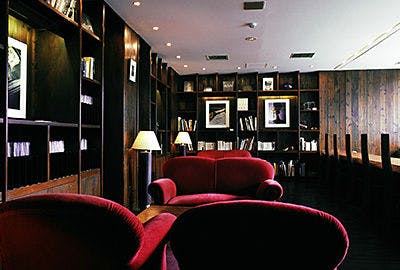 Liquir Room/Library
La Brise' in Main Wing & 'Garden Restaurant' in East Wing The restaurant 'La Brise', Main Wing, is surrounded with high ceilings and large windows. This chic dining is the symbol of this auberge, Niki Club. Tables are also available in the terrace, where you can enjoy breeze while eating.
'Garden Restaurant' in the East Wing is the very open dining with splendid view. You can enjoy 'spa cuisin'e in a pleasant atmosphere with your family.
Baths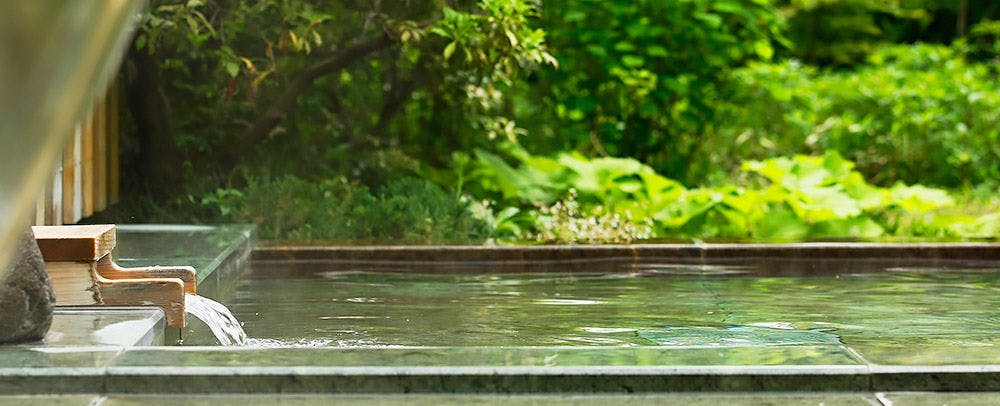 Open-Air Bath in Forest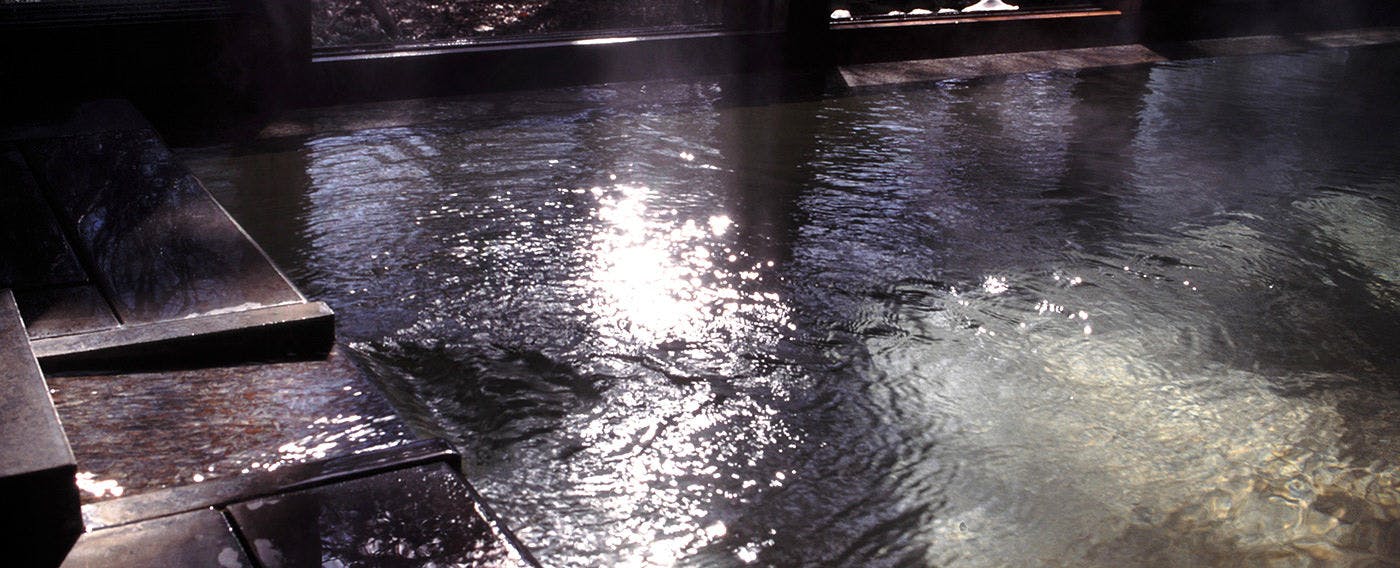 Large Public Bath, Main Wing
Large Public Bath & Open-Air Bath in Forest The hot spring coming up from the ground. Main Wing 'Niki Club 1986' has bath with guestrooms, and a large public bath. When you walk by the path throuth the forest, you can find the open-air bath as well. Take a bath with a great view of Nasu mountains. It might be a quiet time to loose your heart and body.
Facilities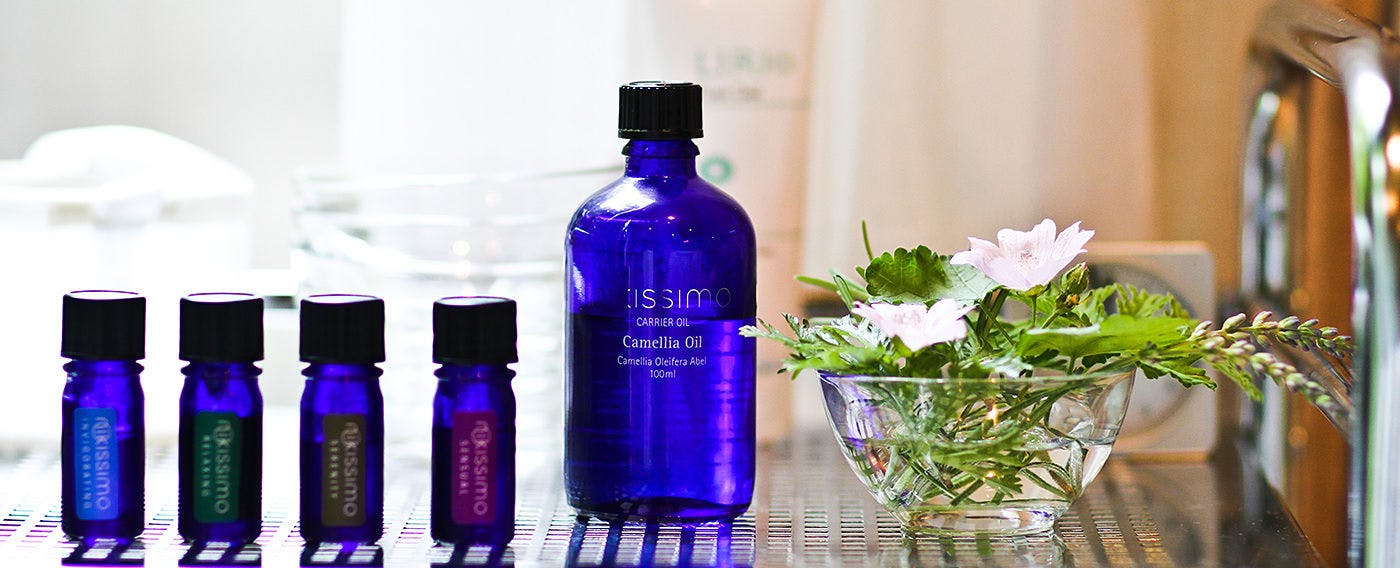 Original Cocktail Oil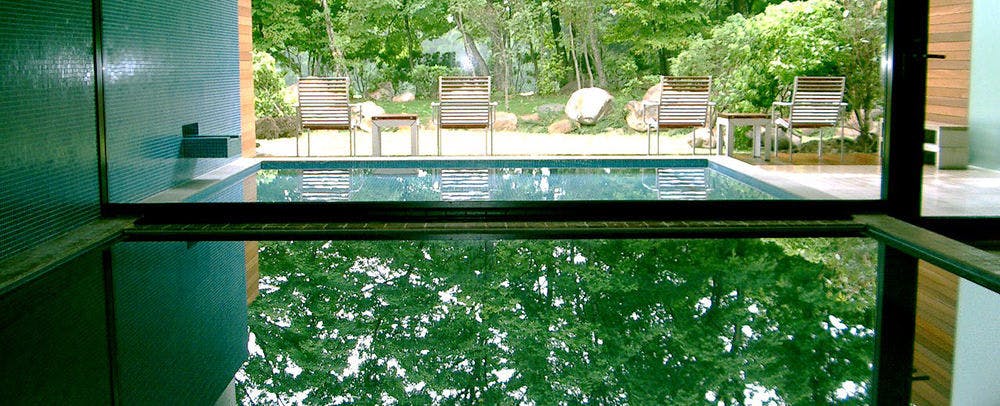 Spa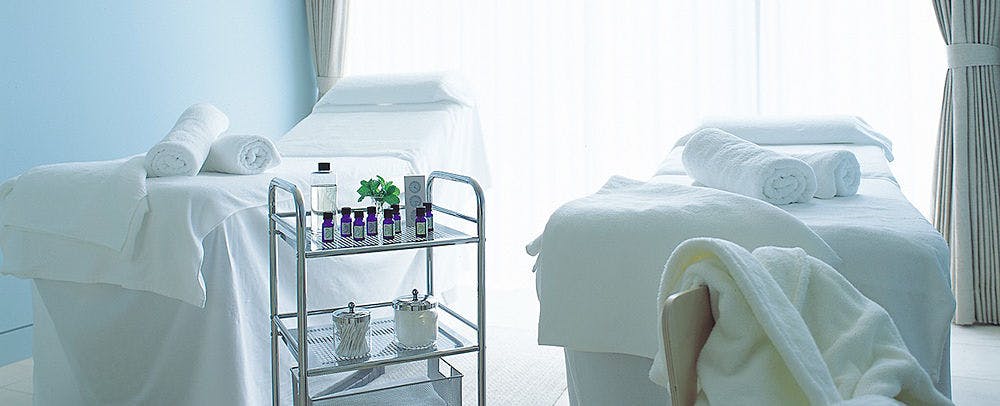 Aroma Treatment Salon 'nikissimo'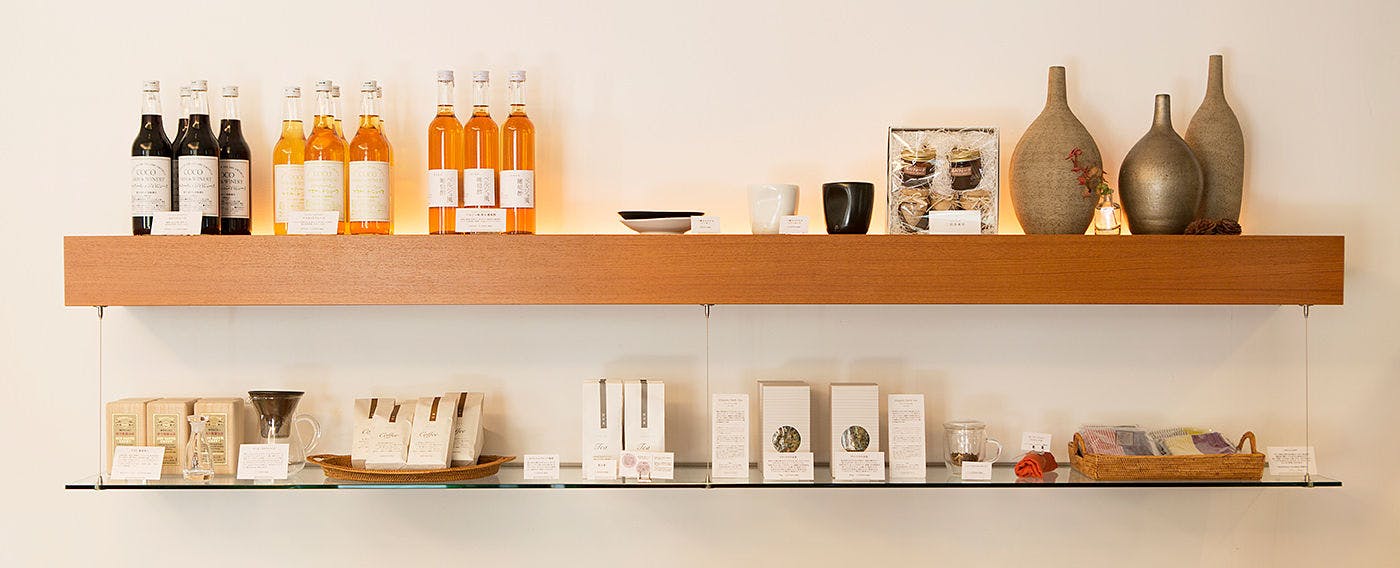 Niki Boutique
Tennis Court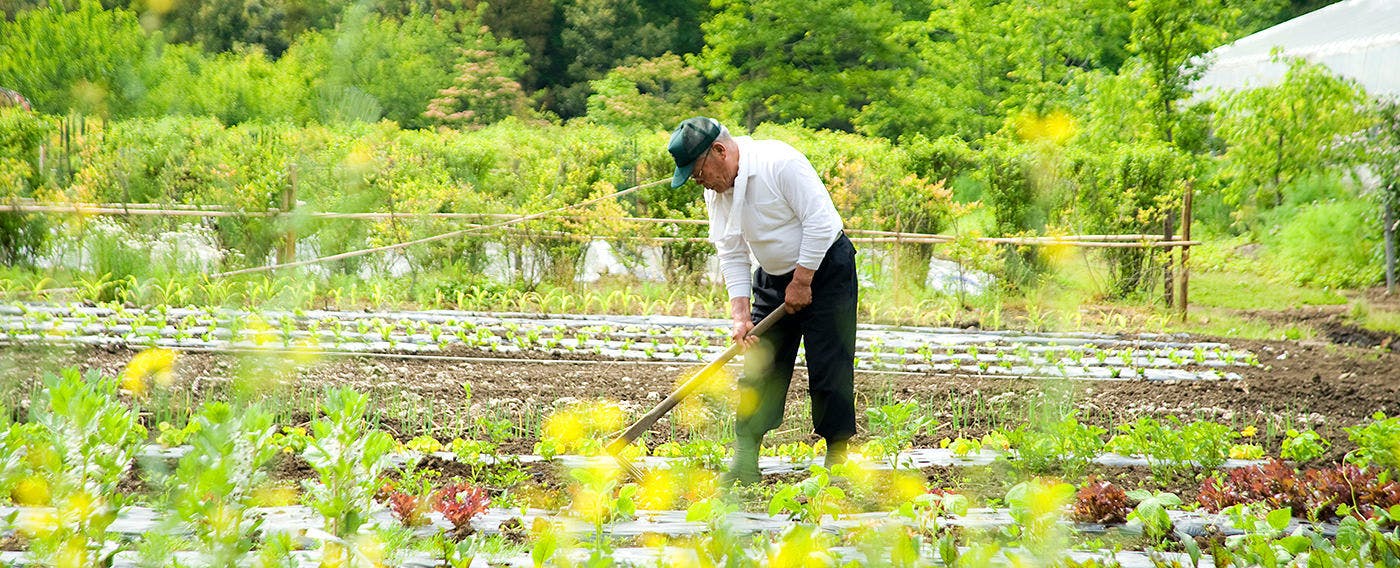 Kitchen Garden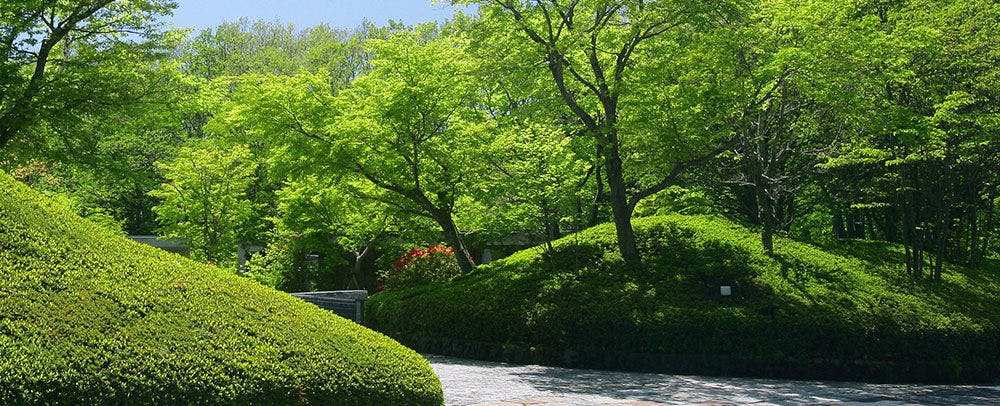 Entrance, Main Wing 'Niki Club 1986'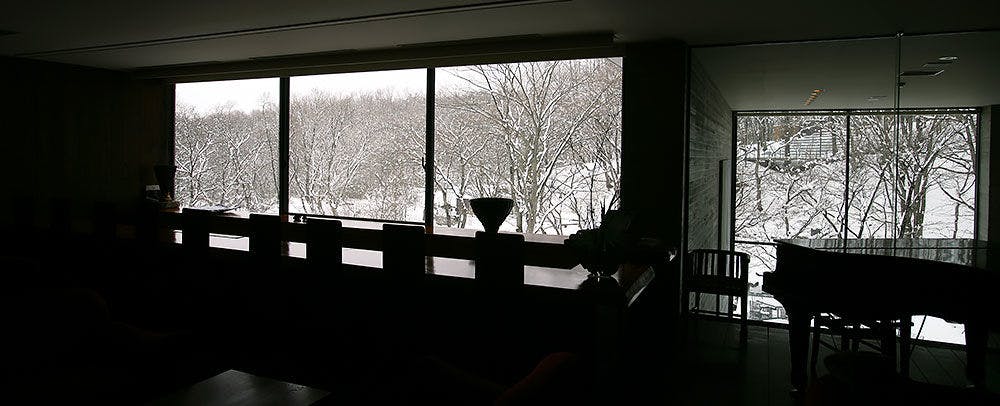 Liquir Room (Winter)
Treatment salon 'Nikkissimo' & Shop in East Wing Niki Club offers holistic healing program at 'Nikkissimo', in NIKI CLUB & SPA, based on the naturopathy. Have consultation at the relaxation room, and Niki Club offers you some courses arranged for your condition. Using original essential oil and all done by hands. Hope you'll enjoy the time to relax in the treatment.
Access
2301, Michishita, Takakuotsu, Nasumachi, Nasu-gun,Tochigi,325-0303,JAPAN
BY CAR
15min from Nasu IC Exit (Tohoku Expressway)
30min from Nasu-Shiobara Station (Tohoku Shinkansen)
20min from Kuroiso Station (Tohoku Honsen) Shuttle service available from Nasu-Shiobara Station West Exit (30min ride) with below schedule.
From Nasu-Shiobara Station: 12:30pm / 2:30pm / 4:30pm
From Niki Club: 11:10am / 1:10pm / 3:10pm
Reviews
I stayed in the east building. Of course the room size and the balcony were very nice, and the entire site existed like a village, a large open space and a tree house, babbling stream, with benches everywhere, so I could feel the nature at an easy pace. All the staff members treated us very confortably, and we enjoyed a delicious meal. All of them were really wonderful.
+ More
Oct 2015
I stayed the hotel after playing golf with my husband. The vast site was dotted with cottages and we stayed at the east building. The room was equipped with Conran interior decorations and it was simple, functional and stylish. Outdoor clothes, pyjamas and coats were prepared. As for shoes, outdoor shoes and slippers for the room were prepared. In addition, a coffee grinder was available for my husband who loved coffee, so we received every imaginable service. Each dish of the dinner and the breakfast was delicious, as we felt the feeling of a person who cooked them. A staff member of the restaurant explained friendly and answered to our questions sincerely, so we could have a pleasant dinner. We spent two days going for a stroll and playing tennis in a relaxed manner. Next time, we would like to visit there in the foliage season.
+ More
Sep 2015
With wonderful facilities and a fantastic concept that blends into the nature, this place is as great as first-class overseas resorts. The open air hot-spring built in the nature is also good. I stayed in the east building and used the large bath there, but my only disappointment is that there was no fan in the dressing room, so I couldn't spend too much time there after the bath. But the duplex room in the east building and the food were perfect, so I want to visit it again.
+ More
Sep 2015
I've stayed here many times, and I've never been betrayed. This time I was extremely satisfied too.
Sep 2015
My wish was granted, and I stayed for two night for the first time. (East building, standard room with twin beds) it's the place where people make it one's motto to spend time in nature. It's not a gorgeous resort where everything is taken care of. About rooms and surrounding environment, only necessary things are prepared as much as needed. We can be set free from everyday life. However, where to be indulged in the utmost luxury such as meals and bedding materials, everything was provided enough, and the staff were friendly, so I was very much satisfied. Room: I stayed at a room with twin beds in a detached building from the east building. The room was big enough. There's no toiletry items such as toilet lotion. Spa brand's face soap and cream were available. TV is smaller. There's a DVD player. It's better to ask where you can get slippers and a bathrobe as it's difficult to find the place having them. Moving within a site: It's good that roads aren't paved too much, but there are many gravel roads, which make it difficult for women to walk around in their high-heeled shoes. I went there wearing flat shoes, but sneakers should be recommended. A room is equipped with easy outdoor shoes to wear. Bath: There's the biggest bathtub on the first floor in the east building. The bath water temperature at the open-air bath was higher. As other people wrote about, the hot spring pipe has broken down. About 10 minutes slow walk from here, there's an open-air bath. There's no showers and others. You must try it as you can feel like "having a bath in a forest". What made me surprised a lot was a 15cm big frog was boiled in a hot water. I should have got rid of him, but I had no courage. I didn't go to the indoor bathroom in the main building, but it seems to be a small one. The bathtab in the room was a nice one, but it takes more than 30 minutes to fill water with it as it's too big. Meal: About breakfast I tried both Japanese-style food in the main building and Western food in the east building. As expected, both are excellent. Anyway, vegetables are tasty. I could tell the good quality of ingredients when having French full-course meal at night. I don't think charging for 11,000 yen is expensive. Bicycle: I rented a power-assisted bicycle at Art Biotop and went on a bicucle trip to the bridge where I can see Shozo cafe and the gorge. It was very pleasant. Finally, the lady working at the front desk in the east building was very nice and told me about popular tourist site including Minamigaoka farm in detail, and the good atmosphere impressed me more than anhything else. I would like to go to see again.
+ More
Sep 2015
The four members of my husband and my parents and me stayed. Parents-in-law were glad of the stay a lot. We were surrounded with rich nature, had delicious food, soaked in a hot spring, and we could spend so leisurely, it was wonderful stay. Nest time, I would like to visit in the red-leaves season.
+ More
Sep 2015
The chair in the bath at the main building was too low, and I wish it was as high as the one in the eastern building. I noticed the cars were hidden by the plants, so perhaps they could turn the unusual lifestyle into a selling point? They can refer to OLC. In particular, there is a car belonging to the staff?? parked at the path from the eastern to the main building all the time. Lastly, a lukewarm word to the black tea for lunch.
+ More
Sep 2015
This is a hotel I have wanted to visit for a long time. The room was very clean and comfortable. Both the dinner à la carte and breakfast were very tasty. The atmosphere of the bar was pretty good. The open-air bath felt good, giving an open feeling. It maybe normal for such a high-grade hotel, but I was surprised by the staff members calling me by name at the front desk, in the restaurants and also on the paths, which was not a few times. The service they offered was not too much yet not too less, which was more like a hotel in Kyoto rather than a classic hotel. They said it would be different in winter. I would love to stay in the main building next time. Thank you very much.
+ More
Sep 2015
It was part of the birthday celebration vacation. I would like to return the time. That is my honest impressions. Come from the other prefectures, and Nasu for last destination as his wishes. The fact is I chose a higher Inn from the other evaluation until the last minute, but the environment, and meals which I use often in Yokohama so I trust and chose this inn. So far I went to a various Inn, but never had any regrettable experience like this. Number 1 regrettable thing was, the important dinner. There was a live music, it has resounded to the outside, and just play a minor code, moreover it was the level I can't hear at all even if I talk with high voice. To those who know the music, it is just a selfishness forcing of Showa banquet level. It would be better to play quite background music such as classical music when leaving. I was surprised because no one noticed. I would like to return the time. From above I can't even taste the dinner because from the middle of dinner it was a taste of sand which cannot even pass through my throat. I felt sorry for the guest of honor from what I chose. I supposed to take a photo as souvenir but it was not for that. After that, 7: 30- Strolling. Although I thought I want to participate, but there was also a lingering of dinner, so I decide to be enjoying it. The day before East Building's hot spring was out of order, that's surprised me, but I went there because I wanted to visit it from arrival until the dinner. Since the next day I was guided by the other I heard by chance, to those who comes out from Inn's hot spring. It was a dark atmosphere, I soaked in hot springs, and when I go back into the room, peoples whose line for strolling, there are ten or so whose stopped for few minutes in the Inn's room area. It couldn't be passed either, so we didn't have any choice, but return to the main building of the hot-spring and wait until it passes. The breakfast's atmosphere was the only relief. The pancake, which was the main dish, couldn't be called delicious by any standard, but a grateful breeze was blowing, that refreshed us and our surroundings. And the parking area is easy to find. In addition, they judged that we are the type of guest who are easy to understand, and I felt that they changed their manner. Because this time we wanted to go to other prefectures too, to save time, we rented a car. And at the parking areas we were treated specially because of our luxury car. I was disappointed of the simple arrangement before going home. The main guest and I liked the surroundings, but it was surface and could not decide, it was an unhappy trip till the end. They didn't notice or say us anything, maybe because only the surface could be seen, I thought.
+ More
Aug 2015
I stayed at the main building with my mother who had a weak leg. Although I was satisfied overall, I think this inn is not suitable for elderly like my mother as it had lots of stairs. And I was bothered as I could hear the sound of children crying in the room next door. However, I could never forget the hospitality from the staff and the wonderful taste of the meal.
+ More
Aug 2015
It's been 15 long years since I had a wonderful and relaxing 3D2N stay. I am very satisfied. I would love to visit again. However, I wished they changed the cooler in the room to a fridge.
+ More
Aug 2015
It is my second stay. I had a trouble at the time of taking care of the bill. It ruined our family trip. I really feel disgusted. I would not mention what happened here since it was finally solved after 30 minutes at the time of our departure, but the manager, after all, did not come out even for an apology. They, as a inn, do not seem to understand how serious the issue is. I have been to various inns, but this is the worst third-rate inn ever. For those who are staying there, it is better to be careful with the amount of the bill.
+ More
Aug 2015
Information
Check-in Time

From 3:00pm to 10:00pm

Check-out Time

Until 12:00pm

Tax / Service Charge

Bathing Tax required.

Credit cards accepted at this property

VISA / MASTER / JCB / AMEX / DINERS
Children

All children are welcome, charged as following.
- Bed sharing: Free of charge
- Baby cot: JPY 2,970 per night
- Bed or futon (included in the number of guests): JPY 8,316 per night
- Kids meal: JPY 2,970 or 4,752

Pets

Pets are NOT allowed.

Parking

Free of charge for guests; Outdoor parking; capacity 25 vehicles; No valet parking service.

Other policies & conditions

Please specify the transportation to come to the hotel, smoking preference, and desired dinner time at the time of booking (If the time is not available, the hotel will contact the guests); During 8/8-8/15 of 2015 and 12/30-1/2 (2016), special CXL policy will be applied. Charged 20% for 10-4days prior to arrival, charged 60% for 3-1day prior to arrival, charged 100% for same day or no show.