Japanese-Style Room (Open-Air Bath)

Half board included

Japanese futon bedding

Room with open-air bath

See Details
From $567.10
for 2 guests /night
Japanese-Style Room (Open-Air Bath/Twin Bed)

Half board included

Japanese futon bedding

Room with open-air bath

See Details
From $747.45
for 2 guests /night
Japanese-Western-Style Room (Open-Air Bath)

Half board included

2 Single bed(s)

Room with open-air bath

See Details
From $747.45
for 2 guests /night
- VAT is included, but bathing tax (around JPY 150 per adult) may NOT be included.
- Price in USD is based on the exchange rate as of today and might be different from that of the booking date.
Foods
Foods
Kaiseki cuisine with plenty of seasonal fresh seafood and vegetables from Izu Our Kaiseki cuisine takes advantage of the geographical merits of Izu and uses plenty of seasonal fresh seafood and vegetables. Our chief chef Junji Hamanaka, who refined his cooking skills in Kyoto for many years, exercises his talent for extracting the utmost taste of ingredients together with composing unforgettable treat to both eyes and palate.
We also renew our menu every month to provide guests with most delicious ingredients at the peak of their season, please take your time and enjoy our delicious Kaiseki in our dim and intimate private dining rooms.
Baths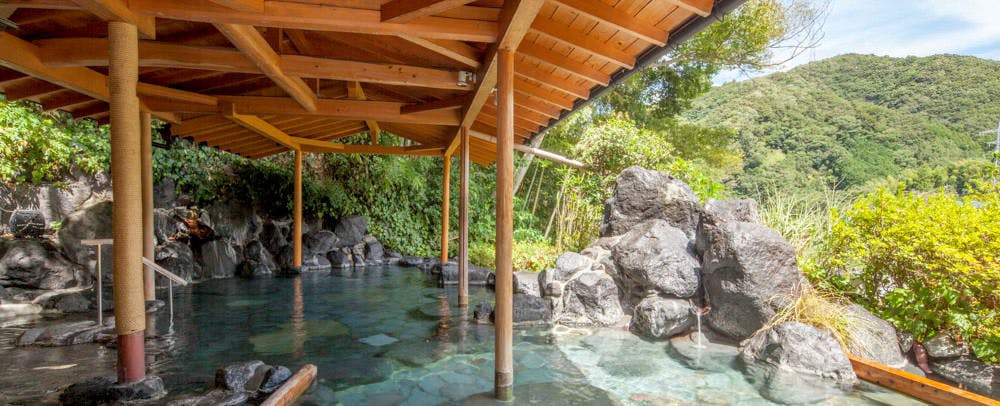 Open-Air Bath 'Kawa-no-yu'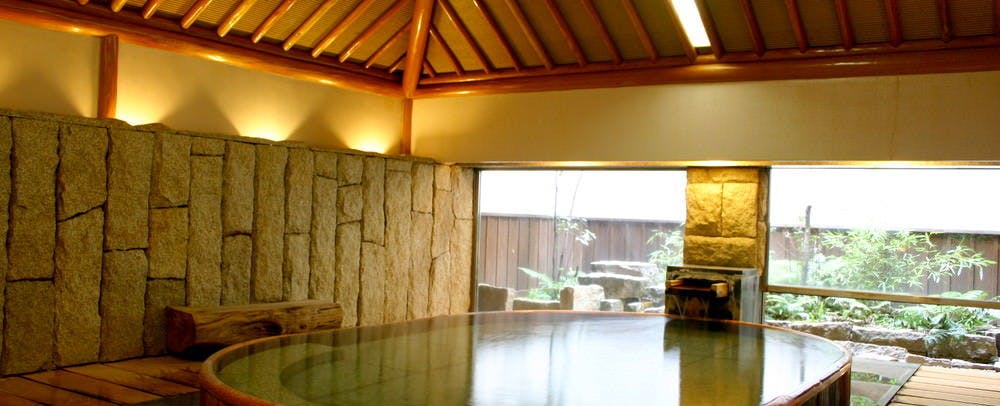 Large Public Bath 'Kura-no-yu'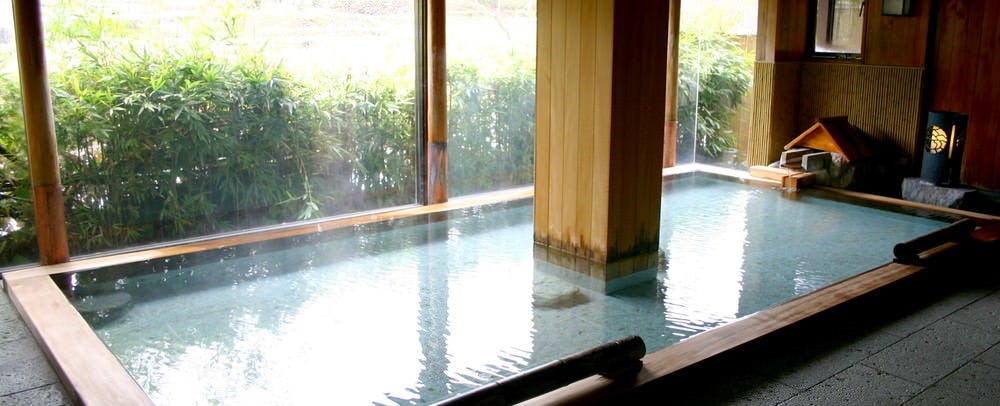 Large Public Bath 'Seseragi-no-yu'
11 different baths with overflowing pure hot spring At Sagasawakan we have 11 different baths with overflowing pure hot spring.
2 large outdoor open air public baths, 3 large indoor baths, 2 private baths (indoor and outdoor), family bath and hot stone bath. Please enjoy different bath scenery with sound of pleasant murmur of the Kano River, feel the gentle and slow caress of time letting the soft hands of time carry you through the rich surrounding nature and its seasonal changes.
Facilities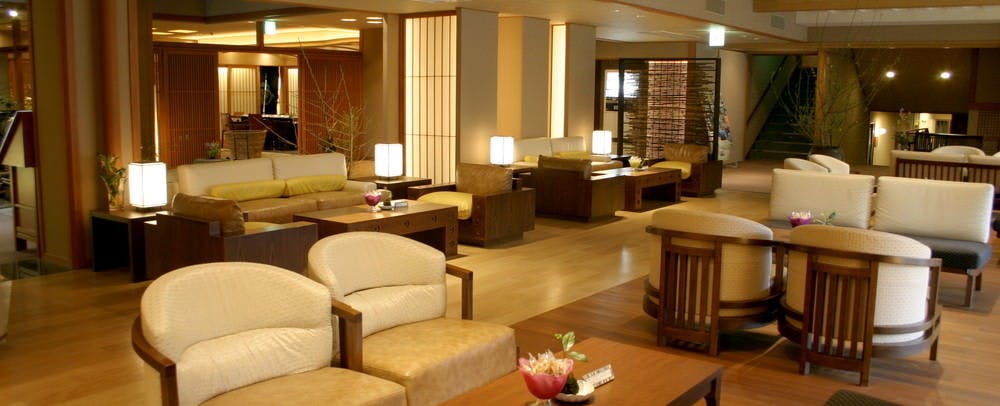 Lobby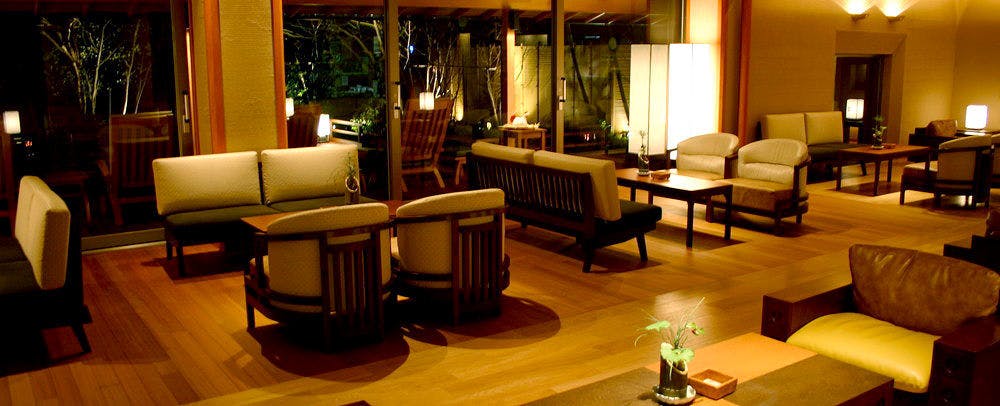 Lobby
Spa Treatment and Massage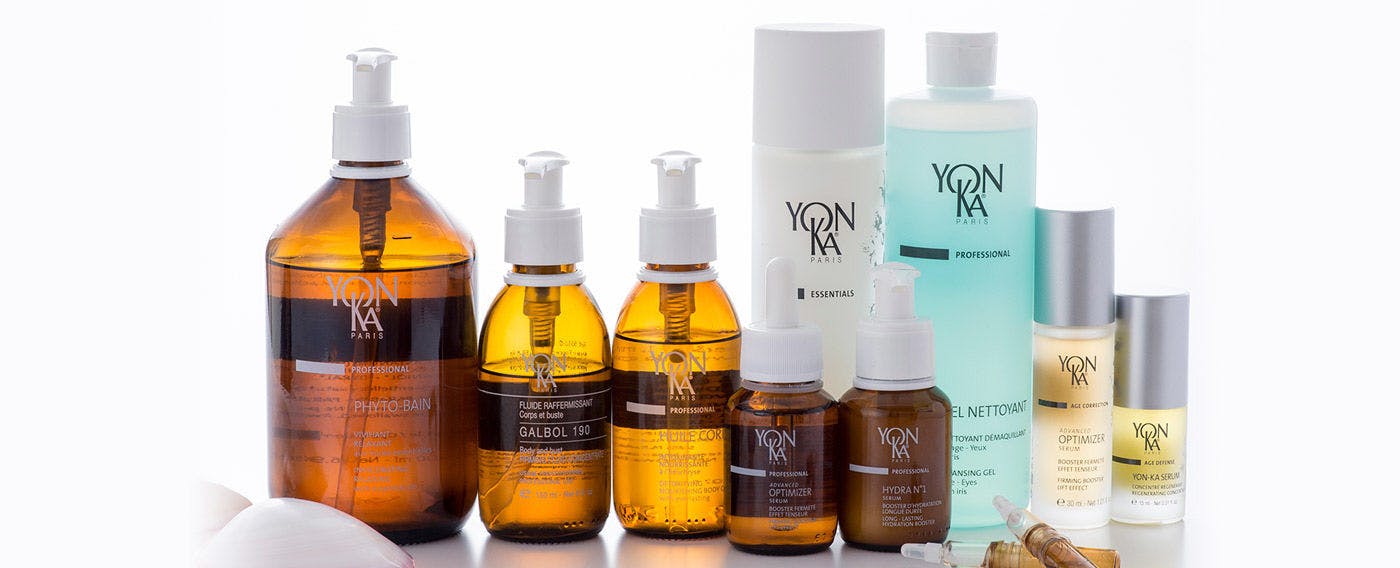 Amenities 'YON-KA'
Forget about your daily routine to enjoy a peaceful time Enter our premises thru beautiful wooden entrance door and forget about your daily routine to enjoy a peaceful time. Our lobby treats you gorgeous view of garden and lobby terrace deck is surrounded by beautiful garden view and river. It will revitalize your mind and body taking away all stress and fatigue.
Access
400-1 Kadonohara, Izu-city,Shizuoka,410-3209,JAPAN
BY TRAIN
60min from Tokyo Station to Mishima Station by Tokaido Shinkansen
35min from Mishima Station to Shuzenji Station by Izu Hakone Line
Or 2hr by express train Odoriko-go to Shuzenji Station.
40min from Shuzenji Station to Sagasawakan by Tokai Bus.

BY CAR
From Numazu IC Exit (Tomei Expressway): 45min drive
Reviews
The room, the bath, the service... I was fully satisfied with them all. It was a shame that the open-air bath was not hot, probably because it was raining during the night. It was such a wonderful inn, and I could relax. I want to visit again at any cost.
+ More
Sep 2015
Last year, I stayed at Asebino unit and liked it very much, so this time I decided to have a stay at the main unit, Sagasawakan. I had a great expectation, but it let me down. Both the food and the staff reception was better at Asebino. The cooked dish was not richly flavored and sashimi was not fresh and chilled. The hot spring was good.
+ More
Aug 2015
It was such a hot day but I had a very enjoying moment. Because there are many baths and the cleaning was done very well, I had a good feeling. The room and dinner mad me satisfied. If the breakfast has a little bit more, I think this hotel will be even more charming. This is the hotel that I will visit again for sure.
+ More
Aug 2015
I stayed here in my birthday. My wife and daughter ask me to stay here for the second time, so that's what we did. We were very happy that the nakai (waitress) remembered us from the last time. Both the onsen and the meals were extremely satisfying. We will definitely stay here again.
+ More
Aug 2015
I visited there for the first time in about five years. A number of hot springs have plenty of water and a good open-air baths with views, and my sons are also very happy for pools . I think the meals are also getting more delicious than before. Although it was the first time to stay in the room on the second floor, the room is very clean and I was very relaxed. The other people are talking about this, but we have to bring our towel into the bath, they provide us a private bag and towel itself is also clean, I think there is no problem . We also enjoyed coffee next to the lounge. I would like to stay there for 2 nights next summer.
+ More
Jul 2015
I went to Sagasawakan for the first time in 4 years. We decided to stay over two nights to relax in a leisurely manner. It was because we could not experience many baths in one night. At any rate, all the baths were clean and spacious and had a wonderful view. In addition, there was an open-bath wide enough to enter two person, it was literally a heaven. On the afternoon of the second day, I and my wife took a bedrock bath. I was just refreshing to rinse a large enough sweat in the next-door bathroom. And the expected meal was...a plenty of wonderful dishes which made me feel that I am happy that I am a Japanese. The color, a sense of seasons were good and above all, the taste was wonderful. I stayed over two nights, but each night we had different kind of dishes. I also had a good impression with the service of Mrs. M, the waitress who provided unobtrusive but right services. On the afternoon of the second day, we went for a stroll near the inn for one hour. I have found the murmur of a stream, chirping of birds and the five young birds in the swallow's nest. I could enjoy peaceful and slow time to the fullest.
+ More
Jul 2015
I visited it to celebrate a birthday and it was a very nice inn full of hospitality. Each one of the food was delicious, and I remember little of good food served at a different inn restaurant, but the food served here was delicious enough for me to remember each dish even after I got home. The temperature of the bath water was so perfect that I did not feel dizzy, and I could feel relaxed taking a bath. I would like to visit it again. Thank you very much.
+ More
Jul 2015
Went once in Spring, and this is my second stay. A total of 9 people stayed, including the family of my uncle, aunt and cousin. The meal was served in a big room, the food tasted excellent but the amount was stacked high like a summit that we could hardly finish it. I think this is the best hotel I have ever stayed as the hot springs was perfect and the consideration shown by the staff was also wonderful. I have already booked a room for my third visit in September. I have asked my brother and his wife to come with me. I don't know where to go next once I found this great hotel. You should come visit this hotel.
+ More
Jun 2015
The waitress in charge of us was not attentive and disappointing as we had to refill our tea ourselves. The bath was not bad, but I wish they had a some more amenities in the bath (like make-up remover, face washer in the bath or at the basin. ) And the dryer was not good; it was old and I wished they had a newer and more powerful one. And I think the dressing room in the bath should be fully equipped with drinking water. Overall, the facilities was disappointing as it had a musty smell (humid smell); the dryer in the room was old and unusable so I hope they can replace it with a new one. Drinks in the fridge are charged and not very complete, so I wanted to get some at the vending machine; I was disappointed to find an old vending machine that had nothing. It was less satisfaction considering to the amount of money.
+ More
Jun 2015
The room, the bath, the food and the service were all wonderful. My only complain is that I had to bring the towel in my room all the way to the bath which was a bother, so I wished they had at least placed a small towel at the bath, The room is spacious and I had a great time there, and I could literally monopolize all the bath so I had a really great time. For the food, every single dish that was brought in was impressive. We were mostly served by a single person from our arrival to our departure. The building is big, and I didn't see other guests much so I had a relaxing and private time. I would love to visit again, and is currently considering which room to stay in and when to visit next time.
+ More
Jul 2015
This is my 6th visit and 1st visit in 3 years to Sagasawakan for the firefly and its bath. As always, the service we received were friendly but not too friendly, and that coupled with the private open air bath and stone sauna enabled my wife and I to have a relaxing day. Recently, some ryokan have towels on standby in the bath, but I supposed that's hard for Sagasawakan with the number of bath they have. I was disappointed to find that the number of fireflies have decreased compared to our last visit, but with the send off I received when I left, I find myself wanting to visit again on my way back.
+ More
Jun 2015
I enjoyed a lot. The water of the hot spring bath was smooth, so I could go in over and over. I felt I may get tired by trying too hard to go in different kinds of bath tubs. all the dish was delicious, and I could enjoy all. Only thing I was disappointed was that it was a non-smoking room.
+ More
Jun 2015
Information
Check-in Time

From 2:30pm to 5:00pm

Check-out Time

Until 10:30am

Tax / Service Charge

Credit cards accepted at this property

VISA / MASTER / JCB / AMEX / DINERS
Children

All children are welcome with below prices.
- 0 to 1 year old: Free of charge (bed and meal can be served with additional fee)
- 2 to 3 years old with no bed and no meal: 10% of adult rate
- 4 to 6 years old with bed only or with meal onlyl: 30% of adult rate
- 7 to 9 years old with bed and meal: 50% of adult rate
- 10 to 12 years old with bed and meal: 70% of adult rate

Pets

Pets are NOT allowed.

Parking

Free parking for our guests; Capacity 30 vehicles; No Valet Parking Service

Other policies & conditions

Please make sure to contact the hotel in case the guest is not able to stay on the reserved date, or the cancellation penalty will be charged.; The hotel may contact the guest to confirm the reservation.