Syoutoukan
The Sea and Mt. Fuji, a Picturesque Gourmet Inn. From the scenic top floor open air bath, glimpse Mt. Fuji past Suruga Bay during the day and at night enjoy the fish-luring fires on the horizon; taste the "Finest Quality Izu Creative Japanese Cuisine" which makes use of fresh ingredients from Mitsuhama. Private relaxing soaks in the open air rotemburo installed in room, family bath, stone sauna, and other complete hot spring facilities are available. Here at Shotokan, there are gentle hours to envelop travelers.
- VAT is included, but bathing tax (around JPY 150 per adult) may NOT be included.
- Price in USD is based on the exchange rate as of today and might be different from that of the booking date.
Foods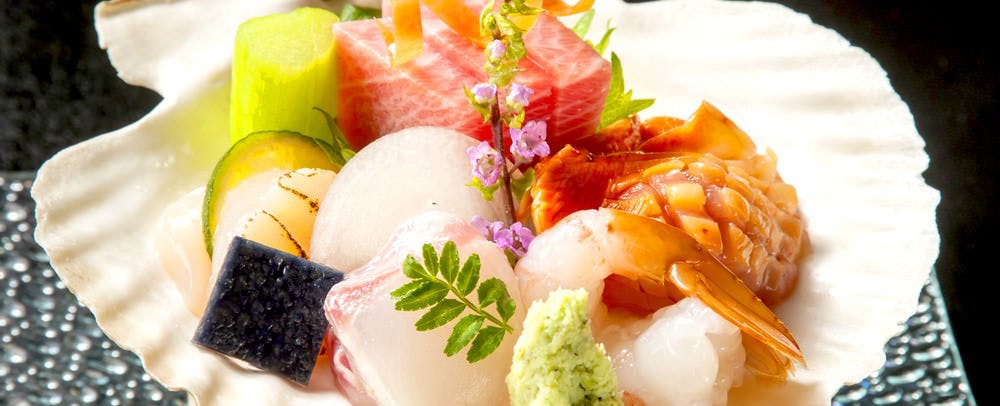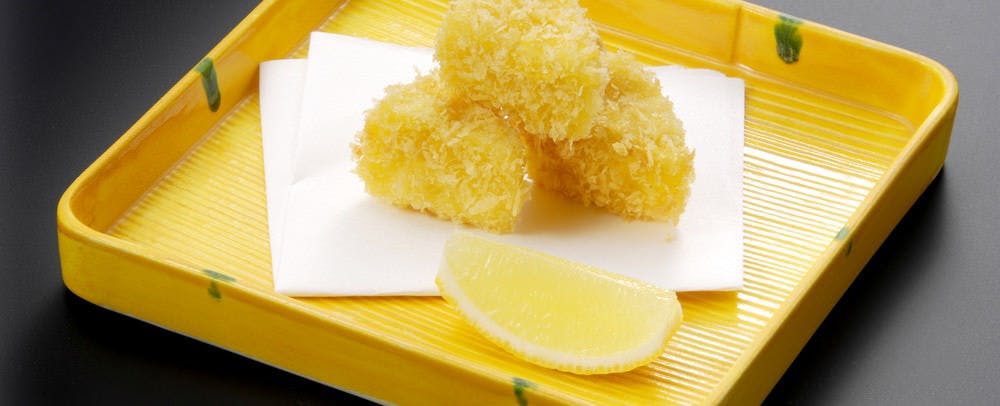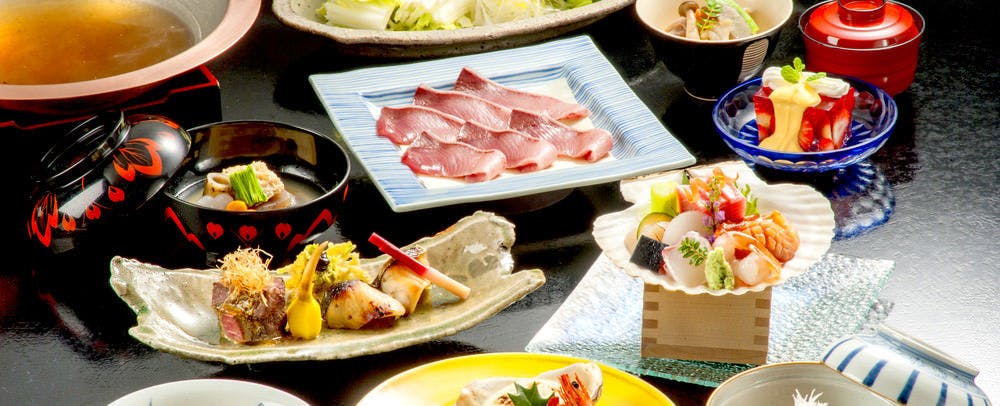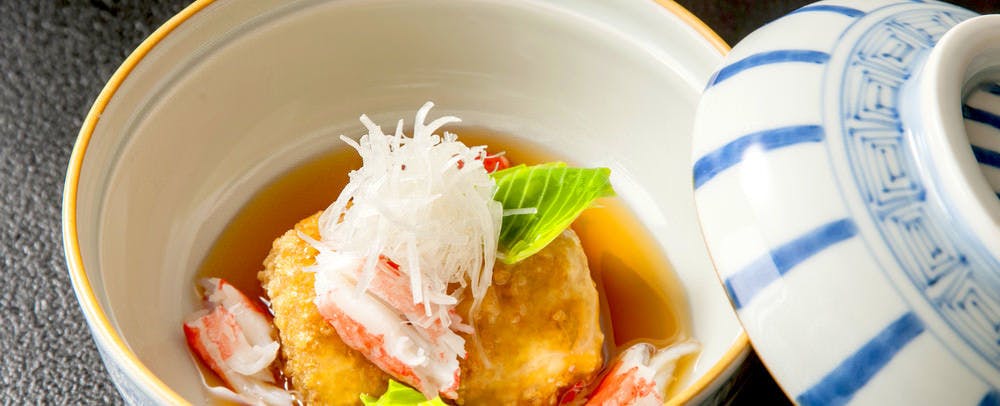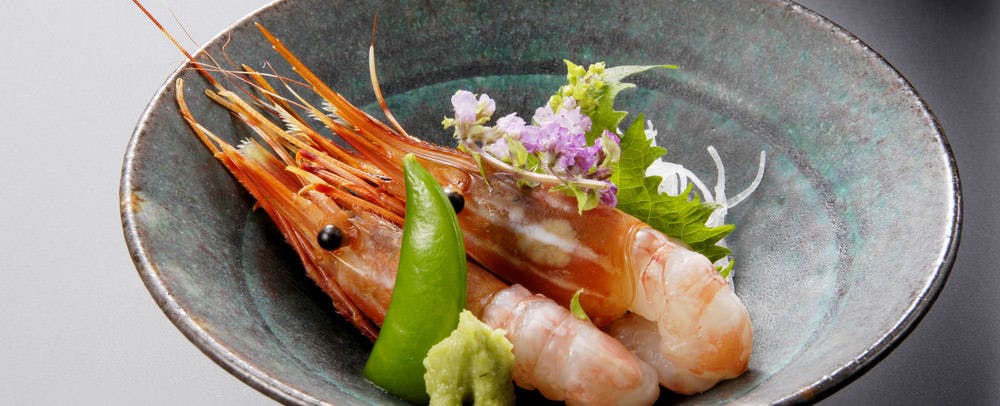 Carefully selected ingredients with attention give to each of the four seasons. Delicious flavor being a given, but also pleasing to the eye, Shōtōkan creative cuisine allows one to savor the essence of wabisabi, the aesthetic sense that prizes subdued refinement and suggestive beauty. Spend a blissful, smile-tinged moment.

Private Room Ryōtei

Taking in plentiful season products, the entire kitchen staff diligently devote themselves day after day in order to be able to serve food that will linger in a guest's mind.
Both evening and morning meals are to be had in-room or in the private ryōtei room.
Baths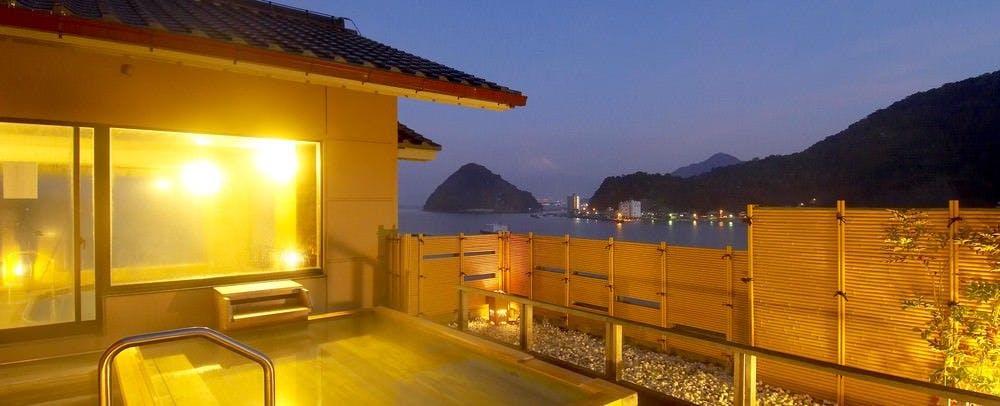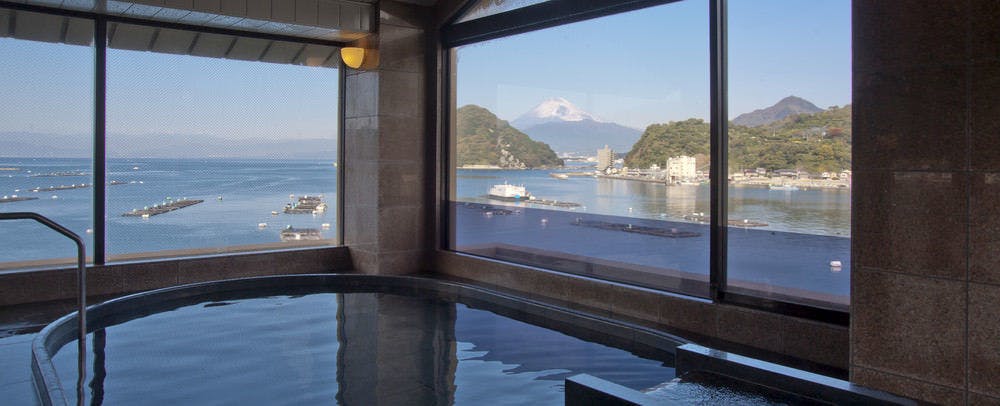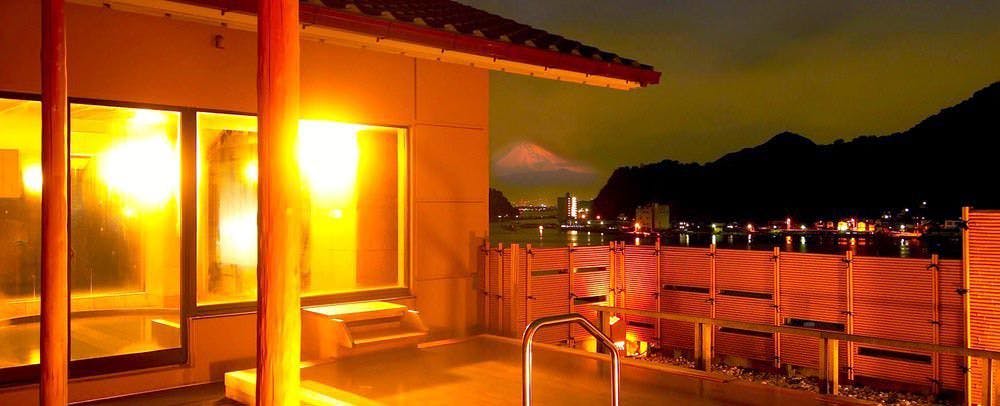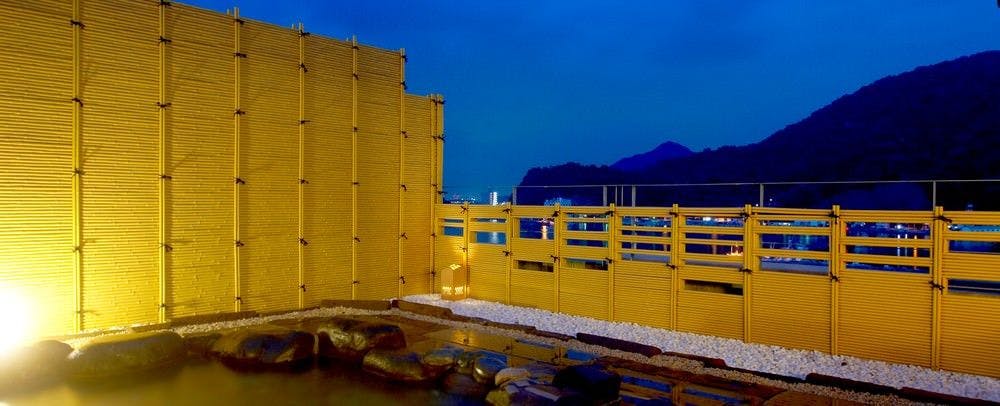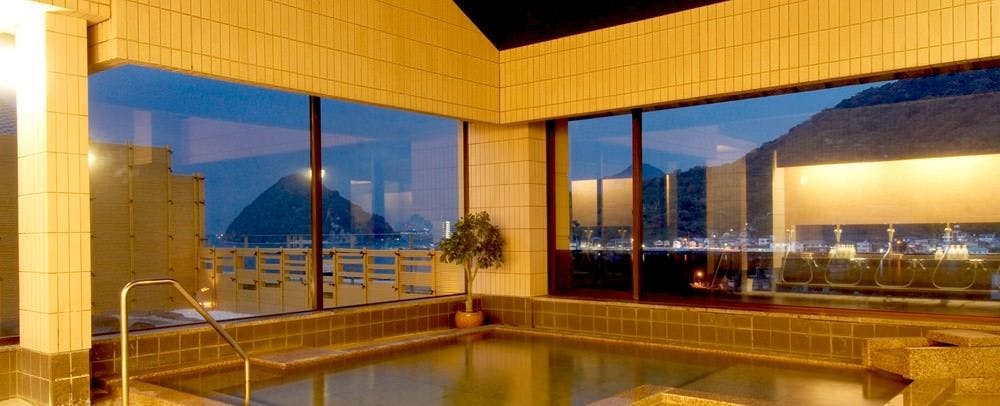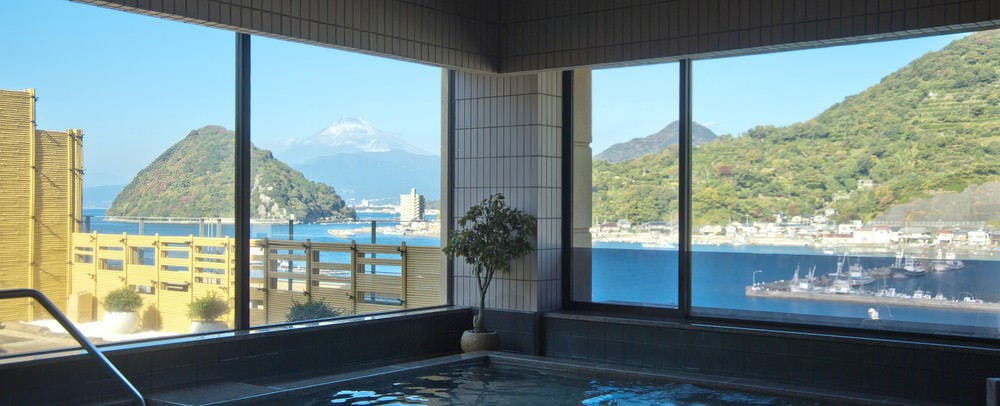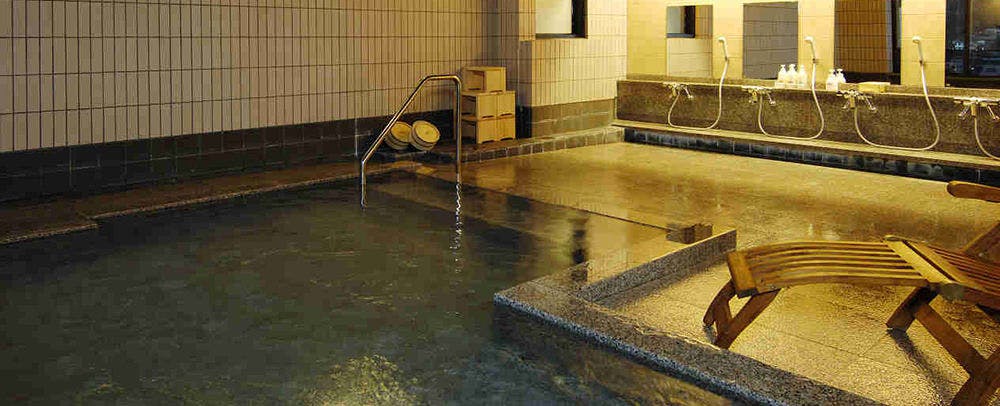 Fuji no Yu (Fuji Hot Spring)

Fuji no Yu is a large bathing area furnished with cypress open-air rotemburo baths. The rotemburo has two cypress bathtubs and each presents different scenery that can be enjoyed.
From the liberating open-air bath of Fuji no Yu's rotemburo one can see an unbroken view of Suruga Bay and beyond, past Suruga Bay one can gaze upon Mt. Fuji. The magnificent sea of Mito and visible beyond that, Mt. Fuji. The landscape offers an unrivaled view.
From the indoor bath of Fuji no Yu one is able to view Suruga Bay.

Ashitaka no Yu (Ashitaka Hot Spring)

Ashitaka no Yu is a large bathing area furnished with stone open-air rotemburo bath. Erected on the sea's breakwater, the scenic view from the highest floor of Shōtōkan is unparalled.
Ashitaka no Yu's open-air bath faces the opposite direction from that of Fuji no Yu. From this open-air rotemburo as well, one can see an unbroken view of the sea of Mito. The nightscape is of the same stunning sort as Fuji no Yuji; while soaking in the hot spring water and gazing at the bobbing fish-lure flames and town lights, unwind and let time slip away calmly.
From the indoor bath of Ashitaka no Yu one is able to see Suruga Bay and Mt. Fuji.

Privately Reservable Bath (Family Bath) Information

At Shōtōkan, the privately reservable bath "Katsuragi no Yu" can also be enjoyed. Use is alloted on a reservation system based on reservations made on actual date of stay. If interested, please make a reservation with at the front desk.
 Privately Reservable Bath Charge - 1 block of 45 minutes: ¥2,160.

Stone Sauna Information

Attracting attention for its detoxifying effects, a "stone sauna" is also available for use at Shōtōkan. Stone sauna facilities are installed within the building, so if guests could please make a reservation on the day of their accommodation.
 Stone Sauna Charge - 1 person for 1 block of 60 minutes: ¥1,620.
Facilities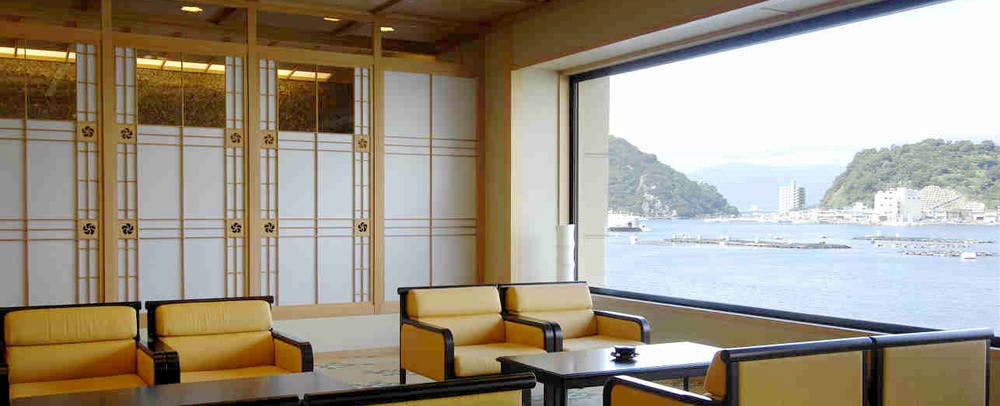 The Landscape, First-Rate Delicacies Established in the 44 year of the Meiji Era (1911). The beloved landscape is one that transcends historical period.


Puppy and Kitty Accommodation Facilities are Provided (Free of Charge)

As per guest request we have prepared pet accommodation (kennel) facilities. Interested guests, please consult with us at the time of reservation.

※ It is a (24 hour) heated and air-conditioned comfortable space.
※ Accommodation (kennel) facilitities are monitored from within the office.
※ Pets are not allowed to accompany their owners inside of the building.
※ Meals are not arranged, so if guests could please provide for their pets.
Access
7 Uchiura Mito, Numazu City,,Shizuoka,410-0223,JAPAN
Guests Traveling by Train, Bus, and Ship
From Tokyo (55 minutes by Shinkansen [Bullet Train])→ Mishima
From Tokyo (115 minutes by Odoriko Train) → Izunagaoka
From Tokyo (115 minutes by Asagiri Train) → Numazu
From Shin-Ōsaka (189 minutes by Shinkansen [Bullet Train])→ Mishima

From Mishima (20 minutes by Izuhakone Railway) →
From Izunagaoka (Approximately 20 minutes by Bus) → Izu, Mito Sea Paradise (beside Shōtōkan)

From Numazu (Approximately 40 minutes by bus) →
Izu, Mito Sea Paradise (beside Shōtōkan)

※From the nearest station, Izunagaoka Station (Izuhakone Railway), courtesy car service (14:00-17:00) is available. Please request in advance.
Reviews
Looking at all the good reviews I thought I'd come and stay here once.
There was one room staff who looked after our needs the whole while.
Even though the staff taking care of our needs were young and were doing the duty all by themselves for the first time, they were well-mannered at all times and provided us with great hospitality.
I believe it must also be their nature, and also the result of resort's education in service.
The rooms offer great views and although compact, the layout of the rooms made them very comfortable and pleasant. Personally I liked the scenery from the window at the entrance a lot.
We had our meal with other guests at the banquet hall, when we came back to our room after the meal, the room looked all tidied up like a new room and the futon were also laid out. I was really impressed by how nicely they had done the room preparations.
Preparing for tickets for the neighbouring Sea-paradise
informing us about the strawberry picking place
It felt like the resort is really putting their all into being considerate and caring about the customers.
I'd like to try out the ganban'yoku this time around. Turned out the breakfast menu was full of my favourite items, so tasty!
+ More
2017/06/01
We made a lot of fun memories with us relatives.
It's the best location, right in front of the sea, and has awesome courteous hospitality.
The rooms and open-air bath were spotless and had amazing views.
Dinner and breakfast were luxurious too, and we had a memorable time.
Thank you so very much.
+ More
2017/05/01
Definitely, I want to visit here again. It was a great ryokan.
2017/04/20
I stayed for the first time with my wife (in her 50s) and my daughter (20s), and we are very satisfied with our stay. We have no problems or complaints at all about the customer service we received from the room clerk, at the front desk and so on. Every dish of the meal was extremely good, the tableware itself was smart, and since the abundant dinner menu items were served at just the right, relaxed timing, I never got the feeling that, "I could never eat all that..." Since breakfast is served all together, I think it might be a bit much for the ladies. We were really lucky with the weather that day and could clearly see Mt. Fuji in the morning glow from our room, and the view of Mito Bay and Mt. Fuji from the open-air bath in the large bathing area, "Fuji," was also a wonderful sight to behold. As for the hot spring, I thought the indoor bath water was a little tepid, but the outdoor one was plenty warming and excellent. The inside-the-bay pleasure cruise in the adjoining harbor was also fun, and the extraordinary leisure can be really refreshing. The only negative point about the guest room came when it was time to go to sleep, and I wanted to obscure the light a bit. The ceiling lamp couldn't be adjusted, and the alcove's stand lamp was too bright. (I ended up darkening the room a big by hanging a robe) Also, I'm sure that if I had asked it would have been provided, but since I wanted to be warm while sleeping, I think it would have been nice if extra blankets were provided in the closet.
+ More
2017/02/20
Food, Service, Room and Building's Cleanliness, Scenery (We were able to really get a good view of Mt. Fuji)- every aspect was wonderful. The young nakai hostess who took care of us the whole time was a very nice seeming person, and we spent a very pleasant time. With driving us out to the Panorama Park and setting us up with special advance tickets to Sea Paradise, there was really nothing left to be desired (By the way none of which we requested, but which were thoughtfully and nonchalantly picked up in conversation. We really appreciate it.) I definitely would like to go again.
+ More
2017/02/20
Thank you for everything you did. The food was delicious and the reception from all the staff was great. It was disappointing not to be able to see Mt. Fuji at all because of the rainy season. I thought I would like to come back. Most impressive was the thorough cleanliness. There was nowhere unpleasant inside of the building. I go that feeling that maybe it is because the senior staff that laid my bedding leads everyone and works with care. As the meals were so delicious, I would also appreciate if there were an optional plan to reduce the quantity.
+ More
2016/07/20
I stayed for 2 nights and fully enjoyed Japanese hospitality. Amazing flexibility and my whole family was delighted. Thank you very much.
+ More
2016/03/20
Information
Check-in Time

From 2:00pm to 5:00pm

Check-out Time

Until 11:00am

Tax / Service Charge

Nothing in Particular

Credit cards accepted at this property

VISA / AMEX / DINERS
Children

Children are welcome.

Pets

Pets are NOT allowed.

Parking

Free of charge for guests;Capacity 30 vehicles;Valet Parking Service Available (free of charge for guests)

Other policies & conditions

Nothing in Particular