Myoken Ishiharaso
Surrounded by forests, Myoken Ishiharaso is located along the Amori river, coming from the Kirishima mountains. In the 10,000sqm site, beautiful flowers bloom in every season. You can see shadows of local fishes on the river surface, and birds are flying and playing. This is the warm-hearted ryokan to heal your mind.
Japanese-Style Room(8Tatami-Mat/Mountain Side)

Half board included

Japanese futon bedding

See Details
From $462.90
for 2 guests /night
Japanese-Style Room(8Tatami-Mat/River Side)

Half board included

Japanese futon bedding

See Details
From $639.24
for 2 guests /night
- VAT is included, but bathing tax (around JPY 150 per adult) may NOT be included.
- Price in USD is based on the exchange rate as of today and might be different from that of the booking date.
Foods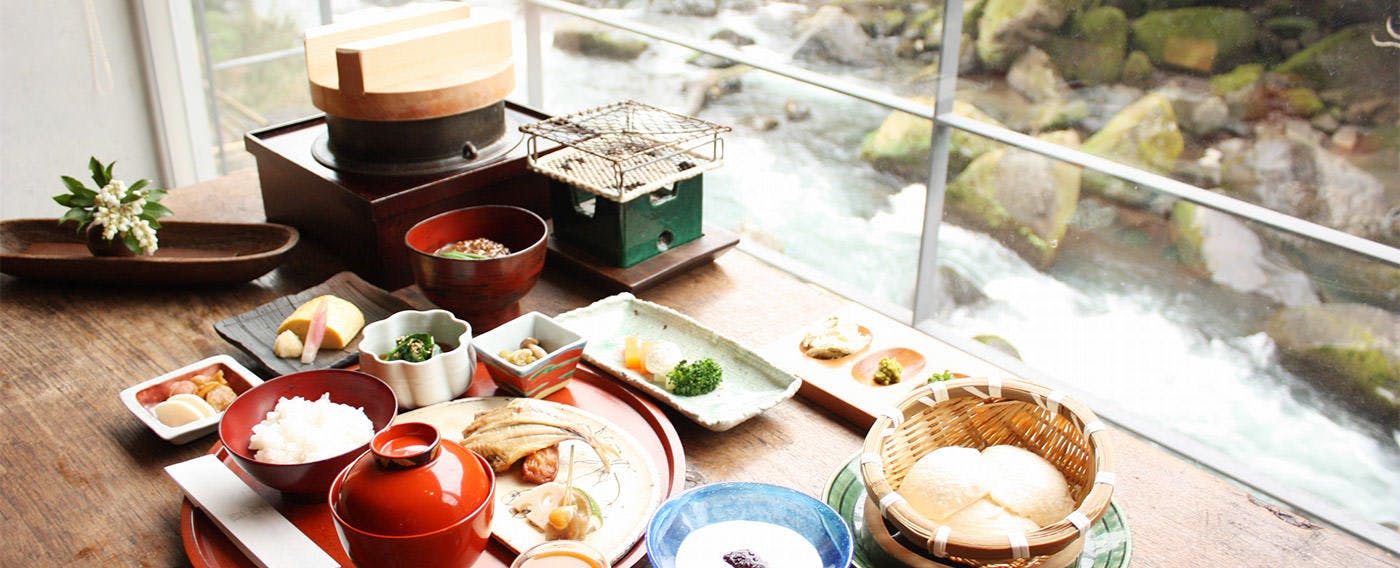 Foods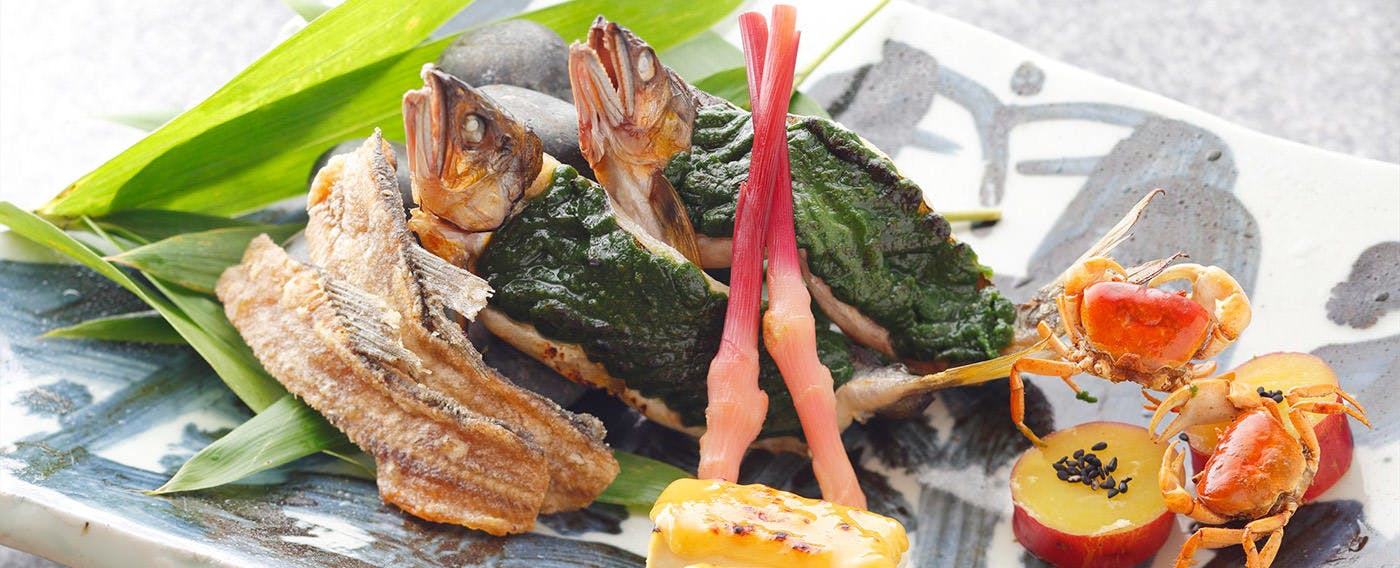 Foods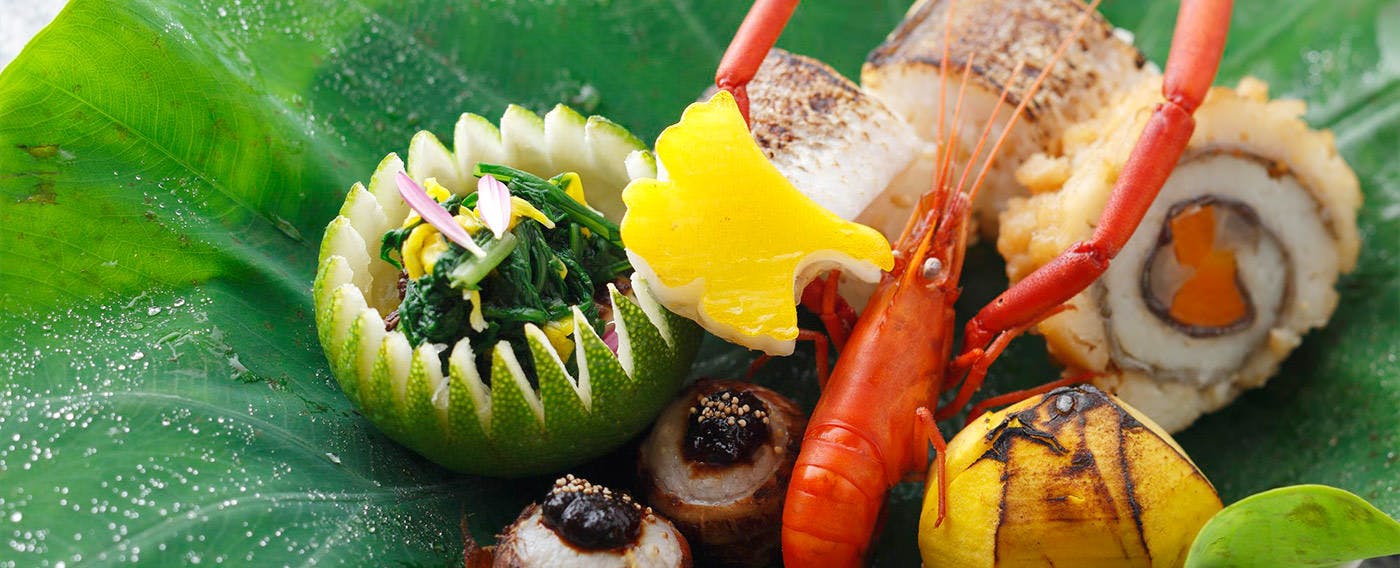 Foods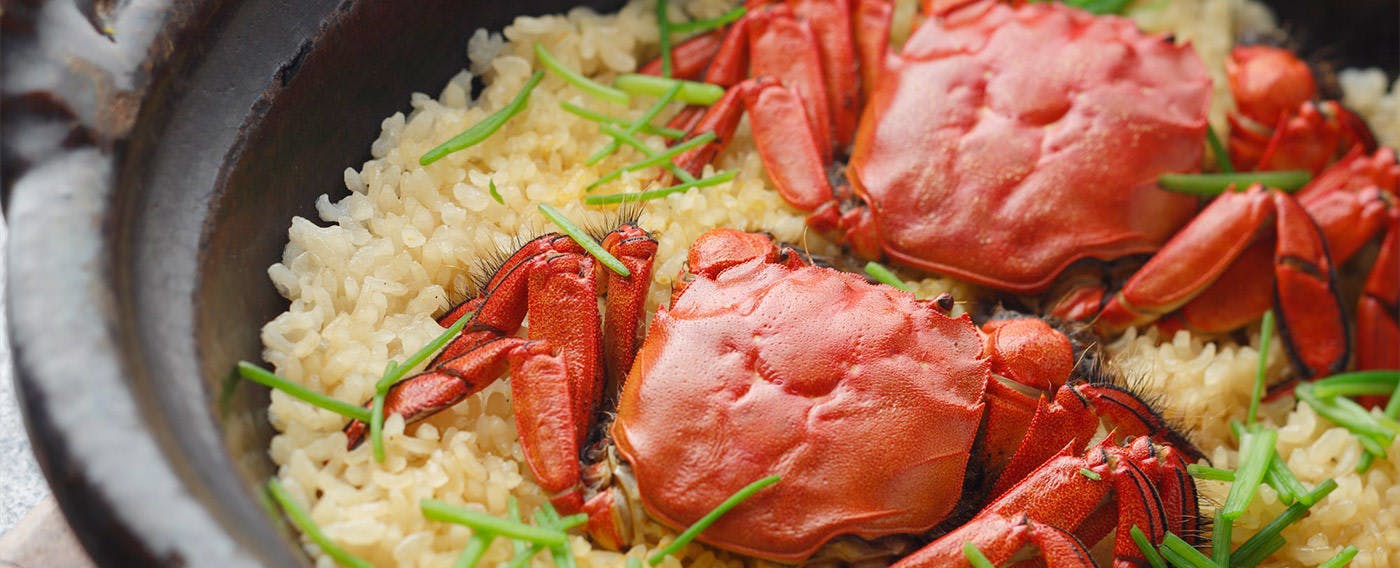 Foods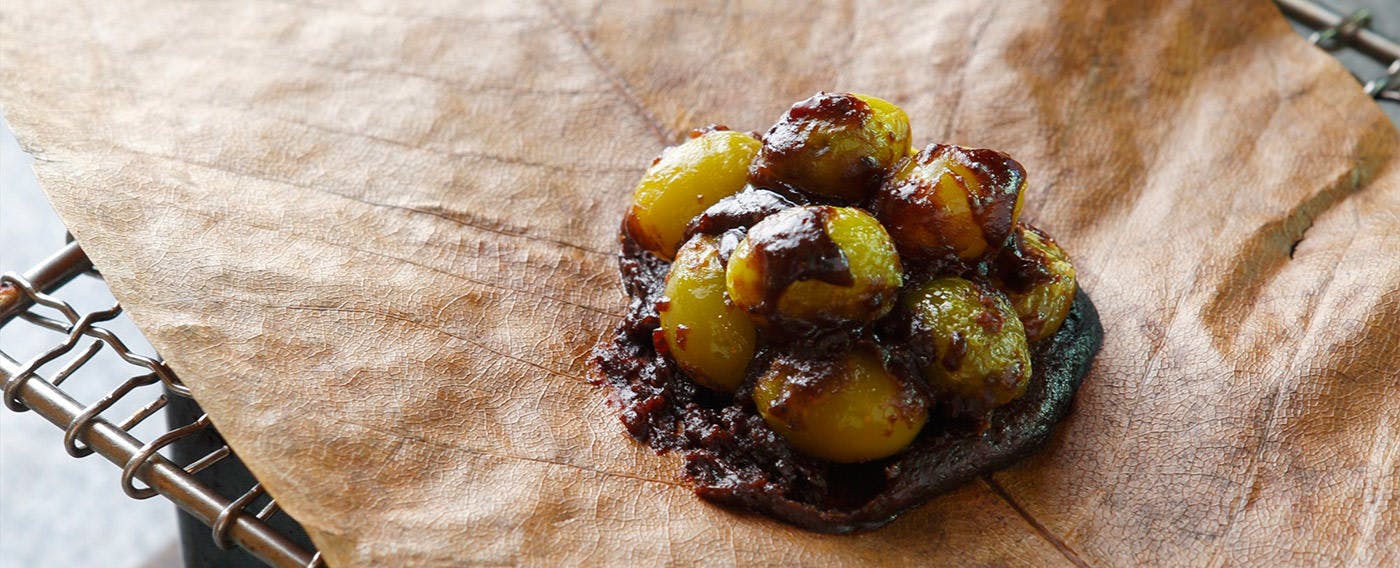 Foods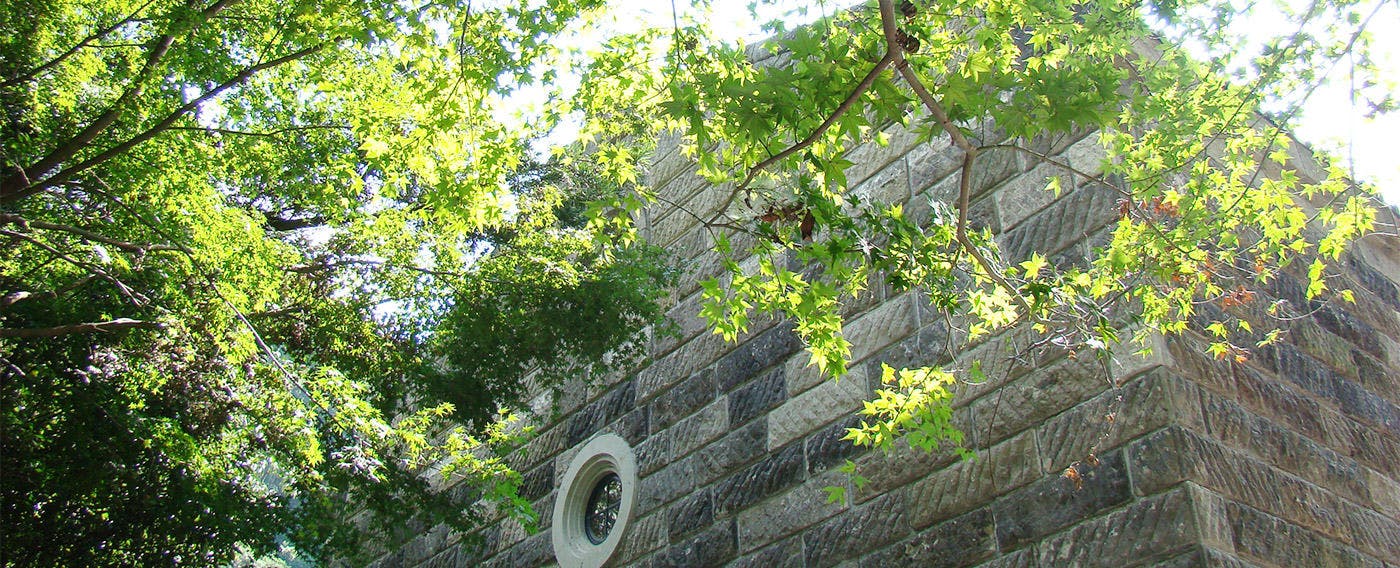 Restaurant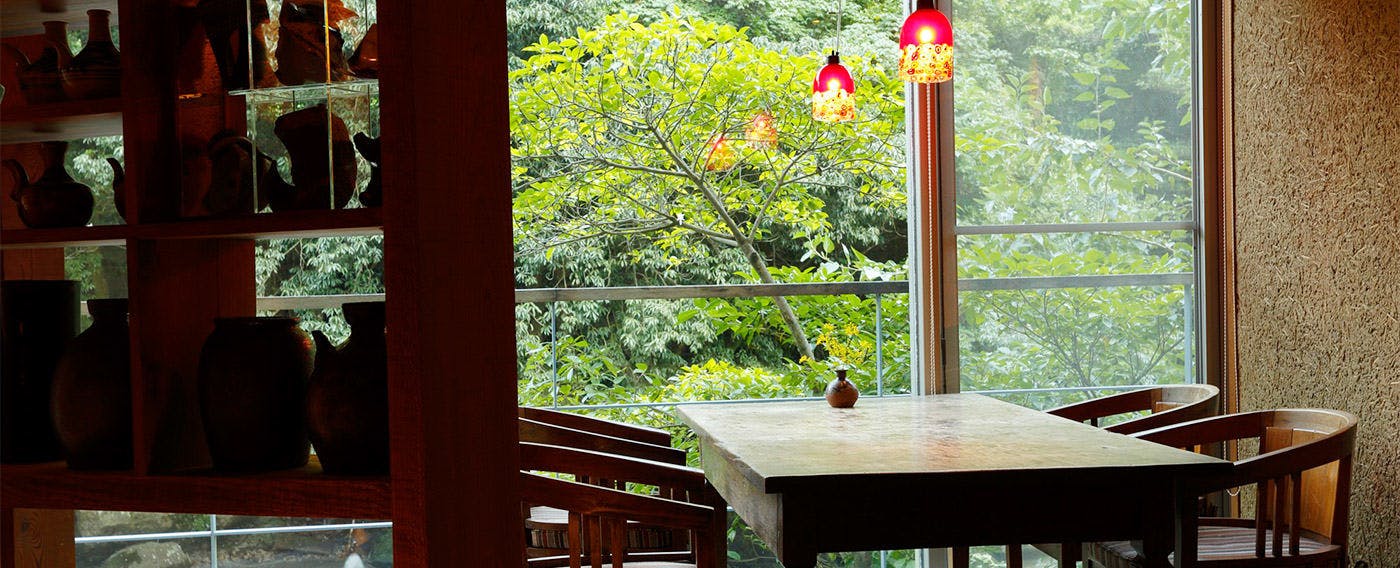 Restaurant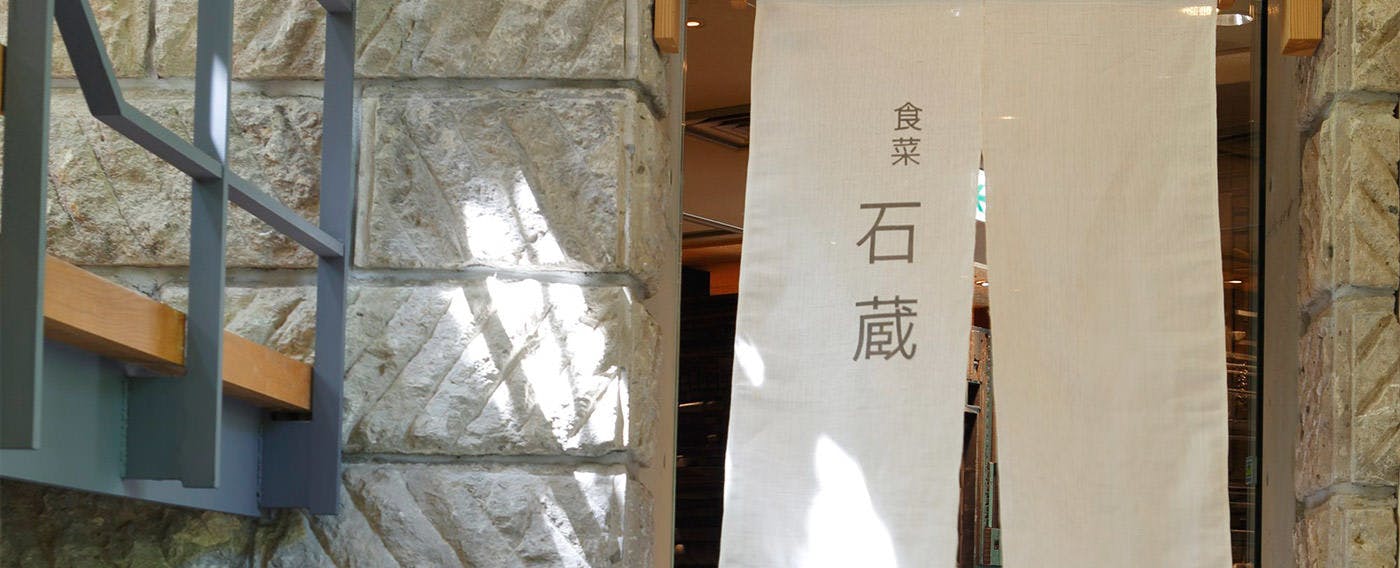 Restaurant
Feel exclusive and lavish meal with your eyes and lips Tries to create nice foods, right to the town of Myoken. Seasonal foods from local area, seafoods, stream fish, foods from mountain, originally-made tofu and soba noodle, are selected and made good in nice dishes. Shochu is served with "karakara", the traditional ceramic cup from local. Wine is also available, which goes well with Japanese cuisine.
Baths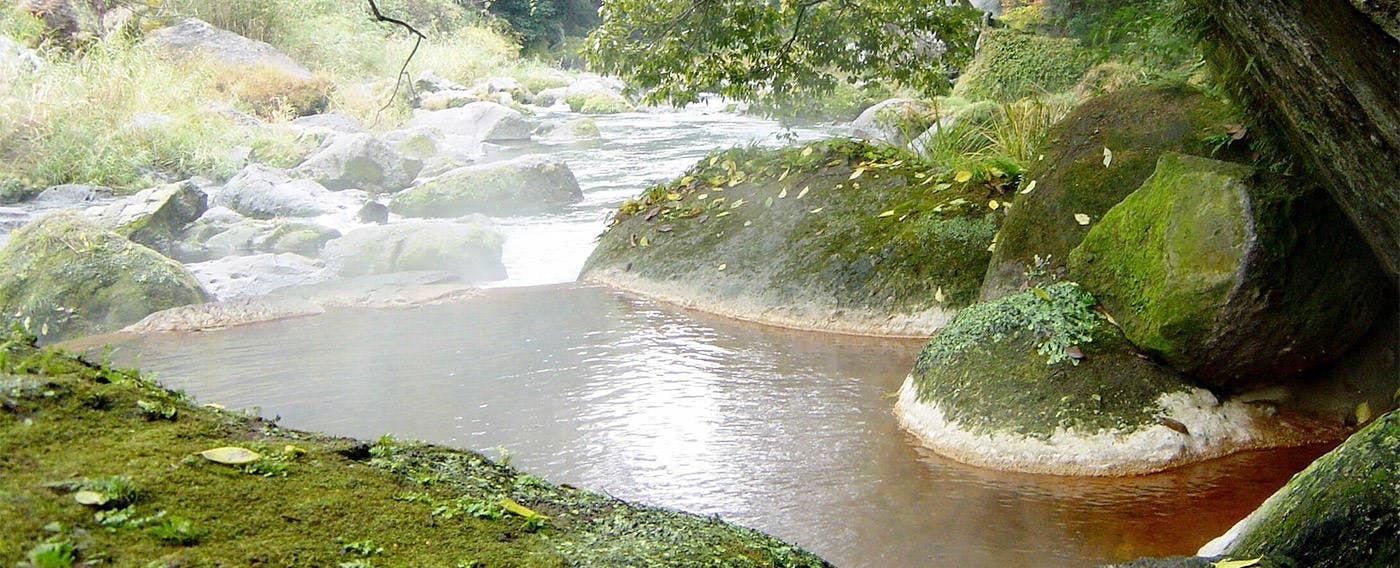 Open-Air Bath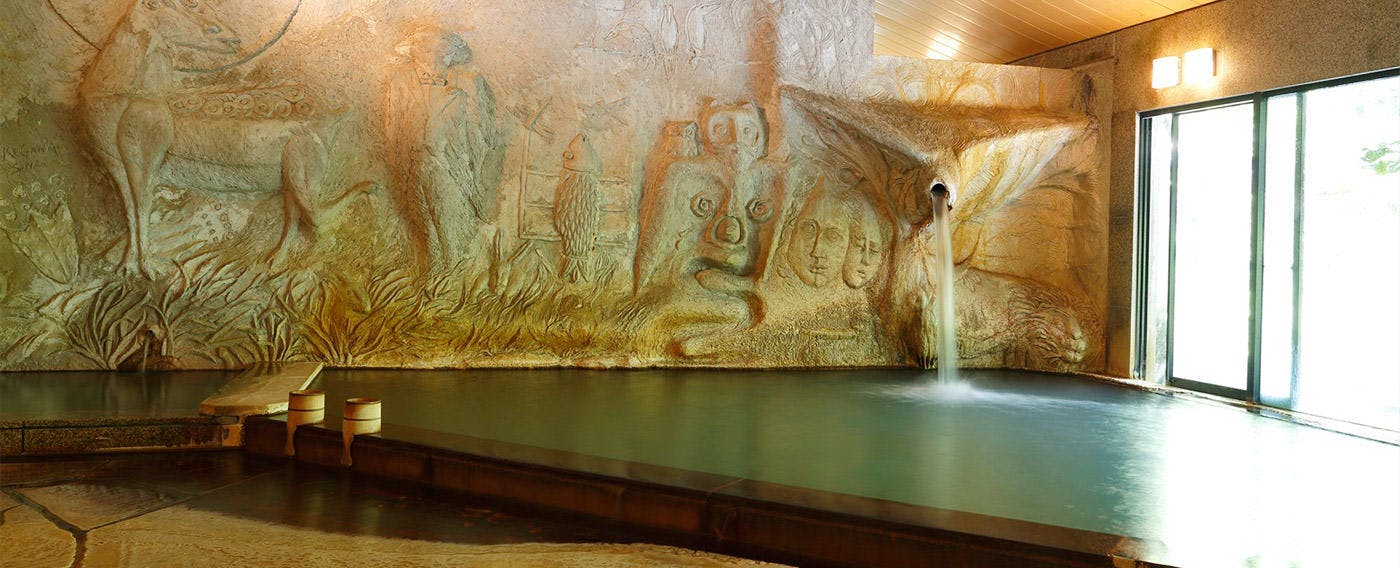 Large Public Bath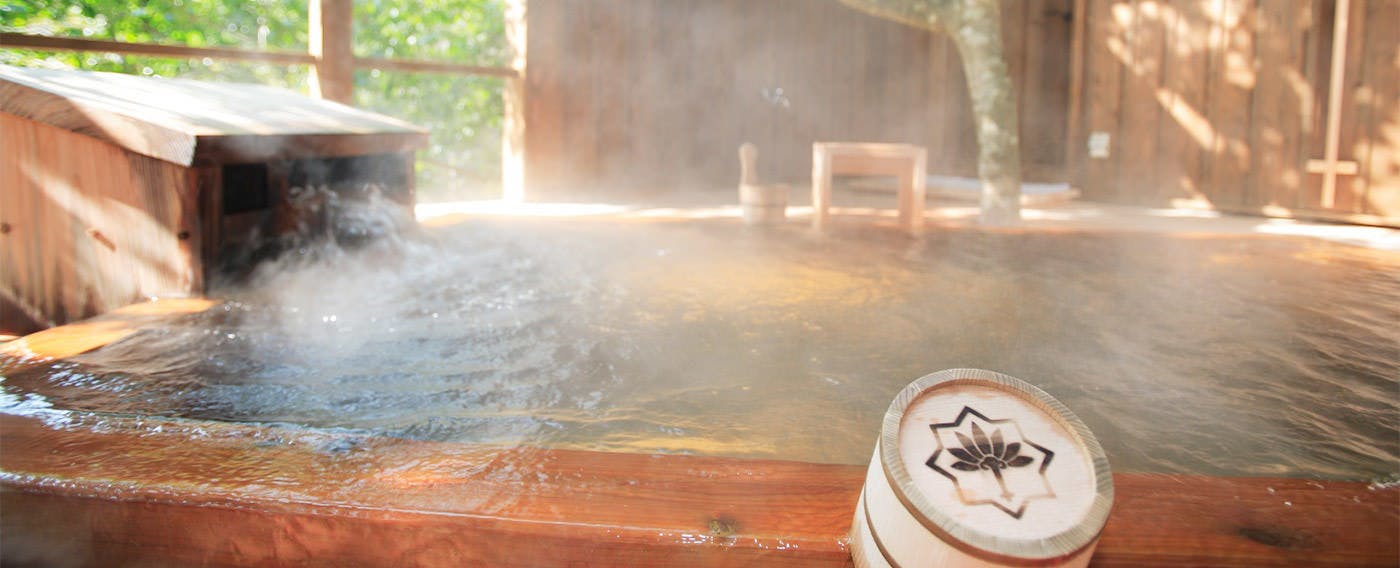 Open-Air Bath
Enjoy 3 hot spring baths, including strictly-kept natural ingredients "Mukunoki" open-air bath is covered with huge Aphananthe aspera like a roof. Hot spring comes directly from the bathtub, so you can fee the weak sparkling. Open from 10:00am to Midnight, while 10:00am to 3:00pm is for male only.

Large public bath "Amoriden" is found after passing the quiet corridor. It's a little away from the main wing, as it was built very close to the hot spring source. Open from 6:00am to 11:00pm.

"Nanaminoyu" open-air bath is made from rocks along the river. Feel the birds singing and river stream. Open from 10:00am, while 10:00am to 3:00pm is for female only. Available with prior reservation per 30min.
Facilities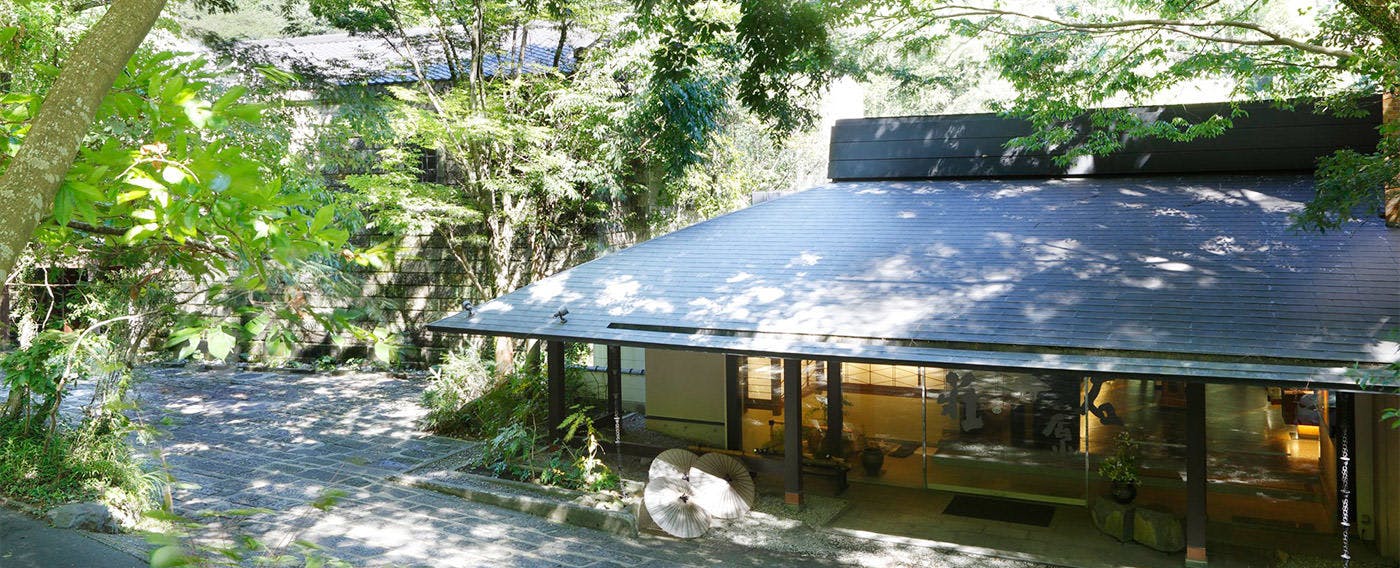 Facilities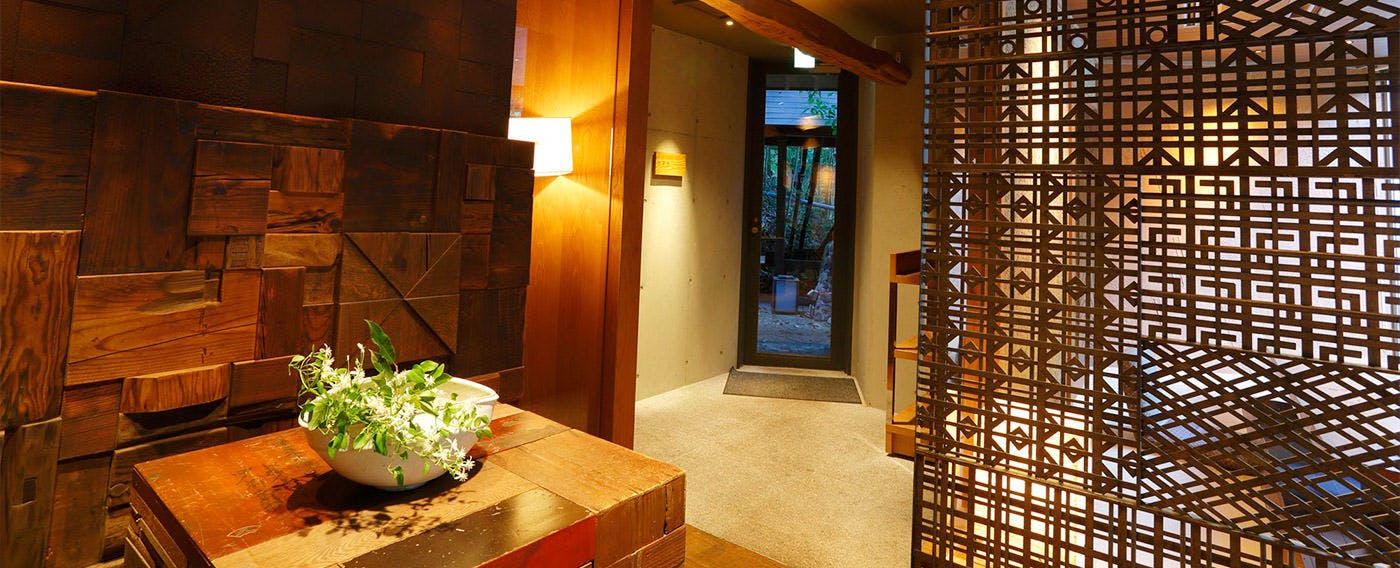 Facilities
Facilities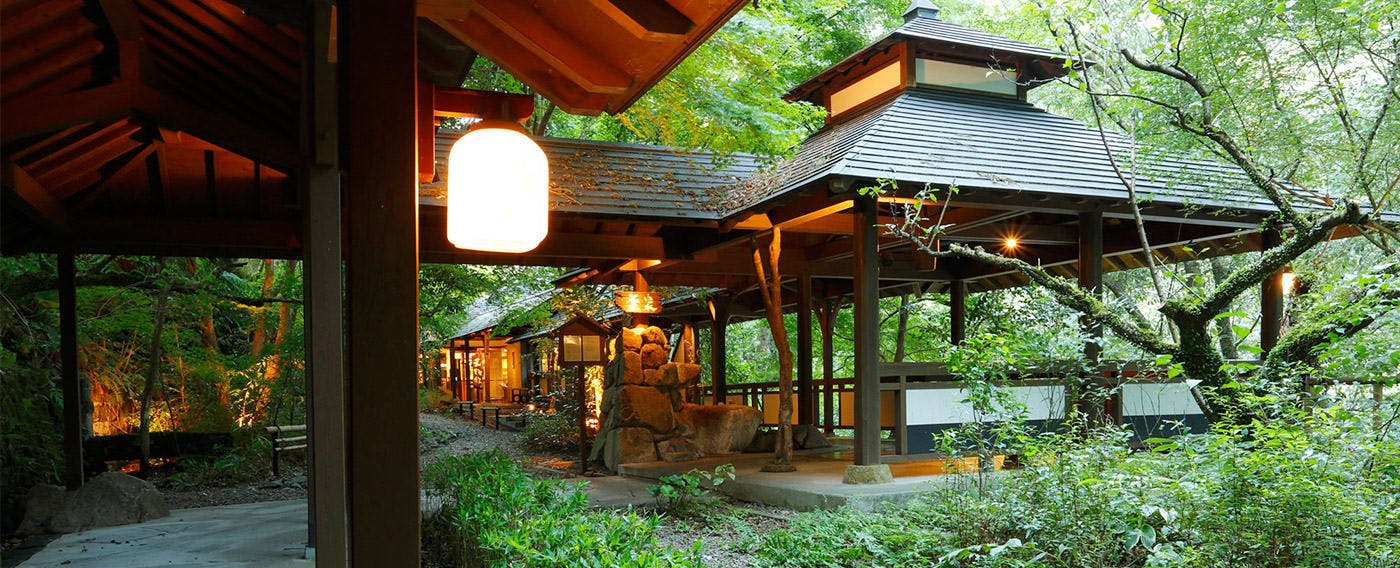 Facilities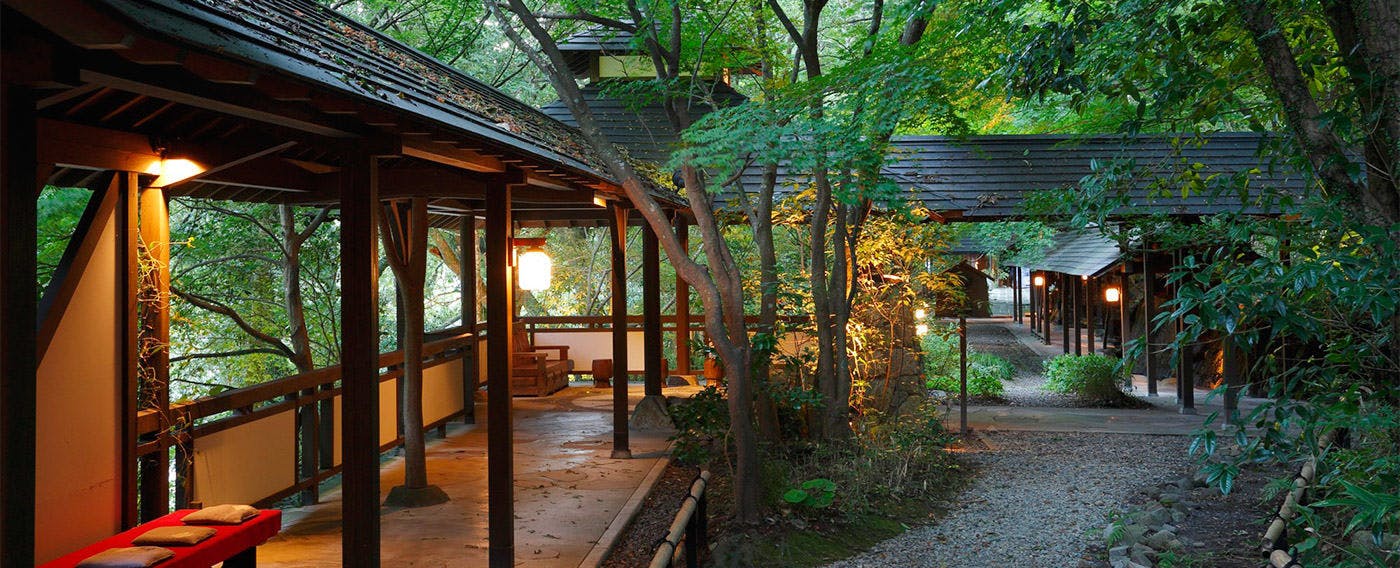 Facilities
Ryokan surrounded by forests, located along the river Myoken Ishiharaso heartfully hosts guests, with thanks to them.
Subtle but comfortable. That's the hospitality here.
Access
4376 Kareigawa, Hayato-cho, Kirishima-city,Kagoshima,899-5113,JAPAN
BY AIR
From Kagoshima Airport: 15min by car

BY CAR
From City center of Kagoshima: 45min via Expressway
From City center of Miyazaki: 2hr by car via Expressway

BY TRAIN
From JR Hayato Station: 15min by car
From JR Kareigawa Station: 10min by car
Reviews
This time I could finally stay at the hotel, which I always wanted to visit, and this stay not only did not disappoint my expectations, but rather it exceeded my expectations. First I am attracted to the spring quality. The water rich in iron makes my skin moist. I liked the rustic open-air bath along the river and spacious indoor bath very much. Every dish was original and very delicious. The seasoning took advantage of local ingredients, and the taste was elegant. Among them, I was moved by ayu broiled with salt and figs dressed with miso. The detailed attention and the good service made me feel the thorough professional job attitude. It has become my favorite place. This is the inn I want to visit again in another season.
+ More
Aug 2015
I stayed here in my 60th birthday celebration trip. I felt especially grateful for the chartered open-air bath, the food and the exceptional hospitality by the staff. Thanks to all of you I have a wonderful memory. Thank you so much.
+ More
Jul 2015
The view from the room was also lovely. In the fresh green of nature, there was a outdoor hot spring along the river which I enjoyed a relaxing time. My macule loosened, and the pleasant hot water got rid of my tiredness of long driving. The service of the inn was comfortable, and I am very grateful for the considerations and attention care taken toward my meal. It was the good trip that is unforgettable.
+ More
Jun 2015
I stayed one night in a tea ceremony-style room on the river side, in the week after Silver Week. In general, the bath and food were more or less, but the installations in the main building and the reception by the staff was in the level of disappointment. (maybe the Ishikura unit is different, but...) First, I was left waiting at the lobby for about 10 minutes, then they served me tea and sweets and took me to my room. Previously, I saw someone commenting something like this, so I feel this ryokan hasn't reflected about anything at all. In the room, there was a fragment of a contact lens lying on the tatami; I don't know if it belonged to the client who had stayed there before, but that made me think whether they had properly cleaned it. Also, in the pillow, there was a mark of ink that had been washed, and in the pajama there was something like a stain removal mark, which my wife found disgusting. I understand that it must have been washed in eco-mode and used so many times, but shouldn't a first-class ryokan replace the ones that are especially dirty? The room had a normal appearance of a high-class traditional ryokan, It seems that Ishikura is different, but if you come here expecting a modern Japanese style, you get disappointed. The food was good. Especially, the rice and miso soup were fantastic. It's possible to see the greenery and trees of the riverside from the bath, which is wonderful. Many employees were shifting among their roles, which made me think that they are not really investing on professional development. In this trip, before staying here, I had stayed in some ryokan, but compared to those, this feels inferior, honestly. From my point of view, I find it hard to understand why this ryokan is rated so high. Maybe the food and the onsen are the selling point, but I expect you improve some soft aspects, like the reception by the employees.
+ More
May 2015
We stayed there on the 10th of May. We were thinking about staying at the accommodation across the river, too, but it was the right decision to stay at Myokenishihara-so lol We used other people's comments as reference, and it turned out that everything was satisfying including atmosphere, services of staff members and food. It was a bit difficult that we had to go out of the building in order to go to the bath....also, every single dish was made with meticulous care and we were happy with that, but the alchohol drinks seemed to be relatively expensive. If we drink local shochu (a brand which is called premium shochu) and if it was the same price as in Tokyo....it was disappointing. But it is a reccommendable accommodation as a whole.
+ More
May 2015
We decided to stay there attracted by the onsen and delicious food. As it was during the golden week period, we could not stay at the spacious room facing the high river, we stayed at a smaller room facing a mountain, so my feedback about the guestroom is a little low. The hot water was very soft and warm and I enjoyed a wild open-air bath, a highly elaborated private open-air bath. The after-bath salon was very spacious so I could relax. As for the meal, it was wonderful for an inn in Kyushu region and the ingredients, the broth as well as the taste were refined. The restaurant in a warehouse was with a nice atmosphere. I would like to stay at a room in a warehouse next time.
+ More
May 2015
I was reunited with my friend for the first time in a year and we had an animated conversation, and we had a relaxing time while enjoying Onsen. A little careful attention, such as a hot-water bottle, made me happy. But I felt a bath was far and it would be great if it was at least located within the inn where was easy to go. Also, I was a little puzzled because during the dinner time, there was no explanation of how to prepare a futon while a room attendant was unavailable.
+ More
Mar 2015
I am a huge fan of super potato so I was really looking forward to it. The accommodation was more wonderful than I expected, but I found the services to be disappointing. A trip consists of a job to arrange a series of schedules before departure, from choosing a hotel to booking the plane, which is a busy job one way or another. It is essential to receive the minimal information from the inn we booked. It was a pity as we didn't receive adequate information this time. It was truly a pity as even though it was my fault for not checking, the situation could be avoided with a word from them. The room, food and quality of bath were all good, but that experience left a bad aftertaste at the very end which was truly regrettable.
+ More
Feb 2015
The room was clean, but a little narrow, though that might be because many people are using it. My family enjoyed the amenities and the mattress. We tried the paid private bath, but personally, I prefer the free private bath. I appreciate them cleaning it every time. The food was also really delicious. It helped that they were quick to deal with our request for additional dishes. Also, the tableware was very magnificent. I had a really fulfilling weekend. I would like to visit again.
+ More
Jan 2015
The ingredients used and presentation of the food were both wonderful, and I rejected the Takikomi gohan as I was full so I'm grateful to them for making it into a riceball and serving it together with the dessert in my room. My room was located beside the highway, but I am satisfied with it as the room is spacious, the meal area was separated into rooms, which was novel, and the interior was chic, relaxing and made with good taste. However, franking speaking, I did not enjoy the bath as much as I thought. The workplace of some company is visible from the large female public bath, and I am bothered by the stares, but as the only bath other than the large public bath is a paid private one and mixed open air one, I could only use the large public bath in the end. I am thankful that the mixed public bath had different timings for males and females.
+ More
Jan 2015
I visited there for celebrating my mother's 60's birthday because of the good reviews and did not want to compromise in choosing an inn, but was my expectation too high? I felt even more disappointed comparing the fact that the hot spring Ryokan in the neighborhood, which I stayed the day before, was reasonable and yet its facility, service, and hospitality were all too good. Describing in one word, I was given an impression they always had us wait. Aren't they understaffed compared to the number of the guests? A line of flow is bad maybe because we stayed at the main building rather than at Ishikura. There are steps on the passageway to the bath and at the corridor in the main building, and it felt especially dangerous as the passageway to the bath was dark at night (I know they were stressing on the design and ambiance, but... ). I had tea at the lobby when I arrived, but I had to wait until they came out, and I also had to wait again to be brought to the room. It took 3 hours for dinner to be ready. I felt it would be appropriate if the accommodation fee was 20,000 yen per head. It was very obvious that they were particular over the tableware for meal.
+ More
Jan 2015
Thanks to the service, the trip was as wonderful as I imagined. I stayed with my family making a total of 5 people, but upgraded from 2 connecting room to the special room which consisted of 3 room including a tea room. the flowing river is a feast for one's eyes, with outstanding coziness that can be felt with your skin and ears. if it is a warm season, open the window and surely you will submerge in the atmosphere. Immediately after entering the room, my wife and daughter let out a cheer from the wash basin. They were surprised to find that the skin lotion and such that arranged there were the natural cosmetics from Germany that they both use regularly. Every bathroom is splendid. As for the riverside outdoor bath, it is a slight distance from the main building and you will have to go down some stairs after removing your clothes.; A place worth enduring the cold and dip in, to the point that I went in again the next morning while it is still cold and dark. The food, there is no other choice but to let out an exclamation, all I can only say is thank you If I have to say anything, it was a stay during the season cold enough that part of the fallen snow was still left in shaded area; The hotel really know their stuff, having the air conditioner on to heat up the room before we actually got inside. However, when it was time to sleep, the air conditioner noise (quite loud) and dryness (my nose and throat are weak?) bother me so I turn it off. Then I woke up out of coldness in the middle of the night. I got an impression that I want a layer of blanket atop the futon, like I would have got in winter. The girls'' room is further inside and also asked for hot water bottles so they seem to be awfully warm and comfortable; We 3 guys in the room beside the river on the other hand put on another yukata and covered our feet with haori to no avail. Not only that, cool air also assailed from the river side that we had to move our futons away from that side...The 3 of us were in a situation where we kept waking up by the cold, waiting, and finally launched to the bathroom when it opened around 6 a.m. Later on, we learned that the staff could have got us blankets even in the middle of the night, but we endured because it was late in the night (laughs). Incidentally, if it were an underfloor heating system for hot spring, you could have a really comfortable setting quiet enough to hear the river murmuring and does not need to worry about dehydration like with air conditioners...or so I imagined. Anyhow, it was worth making a trip all the way from Kanto area. I would like to visit again in an another season except winter.
+ More
Dec 2014
Information
Check-in Time

From 4:00pm to 7:00pm

Check-out Time

Until 10:00am

Tax / Service Charge

Bathing Tax JPY 150 per adult is NOT included in the rates.

Credit cards accepted at this property

VISA / MASTER / JCB / AMEX / DEBIT CARD
Children

All children are welcome.

Pets

Pets are NOT allowed.

Parking

Free of charge for guests; Capacity 50 vehicles; No Valet Parking Service

Other policies & conditions

Please contact the hotel in case the guest arrives late.