Hiiragiya Ryokan
"HIIRAGIYA was established in 1818, and has gained a requtation as one of the most beloved of Japan's traditional inns, or ryokan. Under the ownership of the same family for six generations, Hiiragiya has been host to internationally famous men and women-writers, artists, politicians, scientists, and members of the imperial family. Both Nobel Prize winning novelist, Yasunari Kawabata, and noted author, Junichiro Tanizaki, considered Hiiragiya to be their home away from home. Hiiragiya takes its name from a type of holly (hiiragi) that is believed to bring good fortune. You'll find the symbol of the holly leaf, its trademark, throughout the inn. It is a wish that it will bring you the good luck it has brought here over the years."
- VAT is included, but bathing tax (around JPY 150 per adult) may NOT be included.
- Price in USD is based on the exchange rate as of today and might be different from that of the booking date.
Foods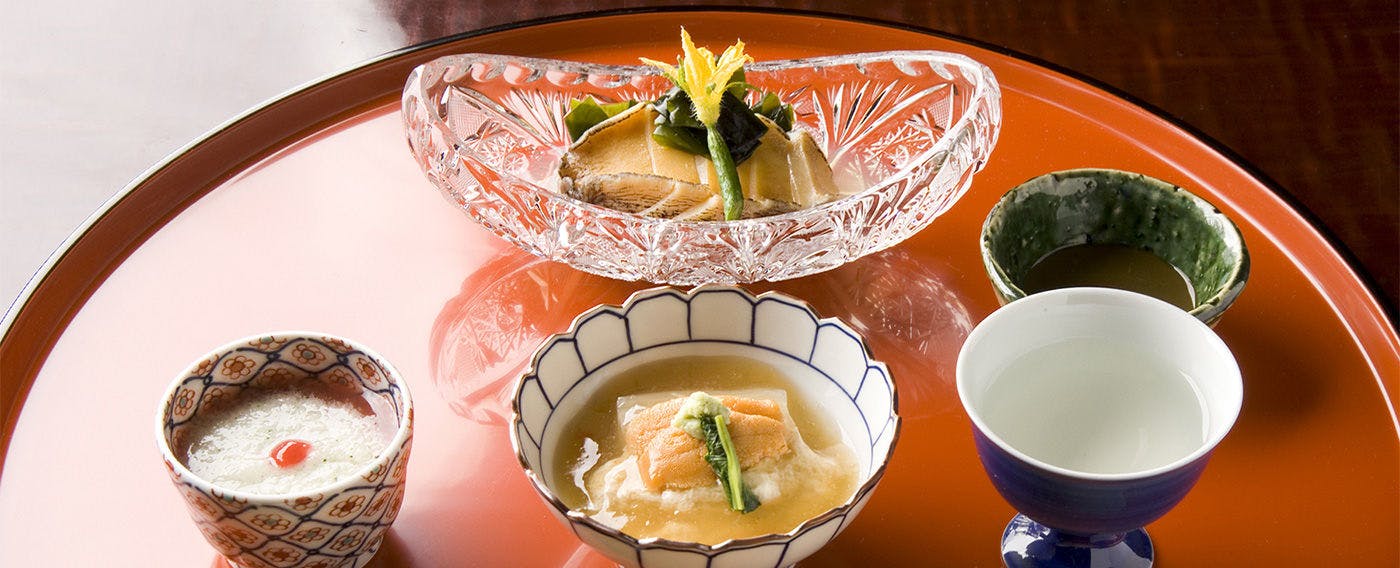 Foods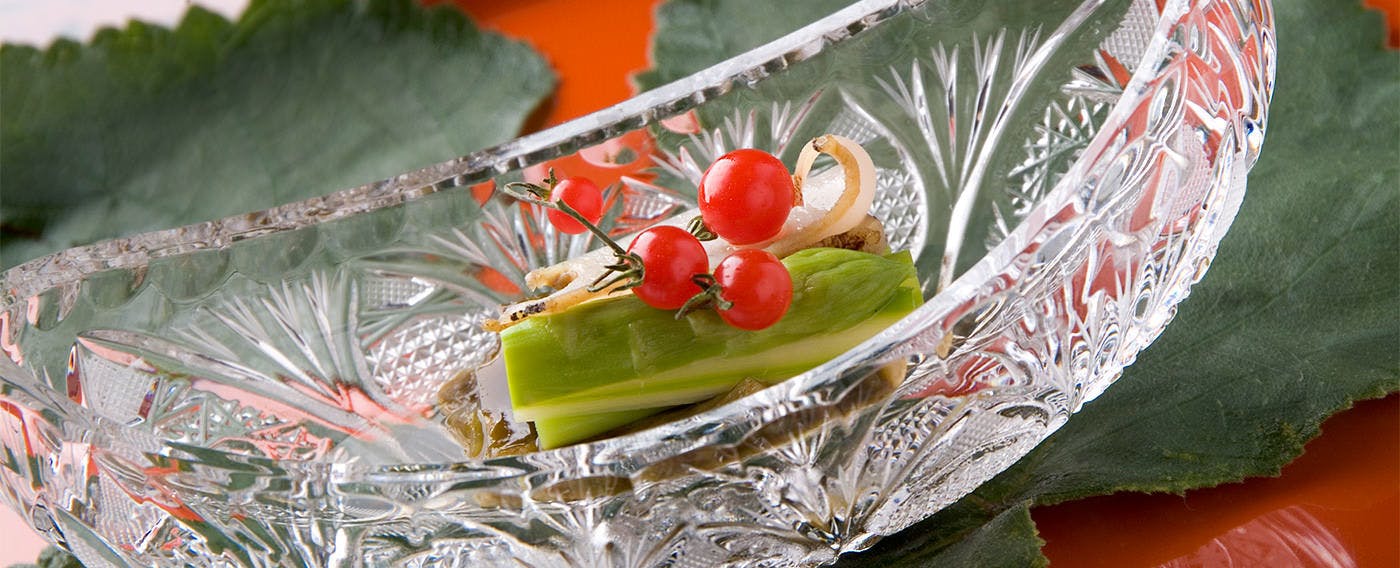 Foods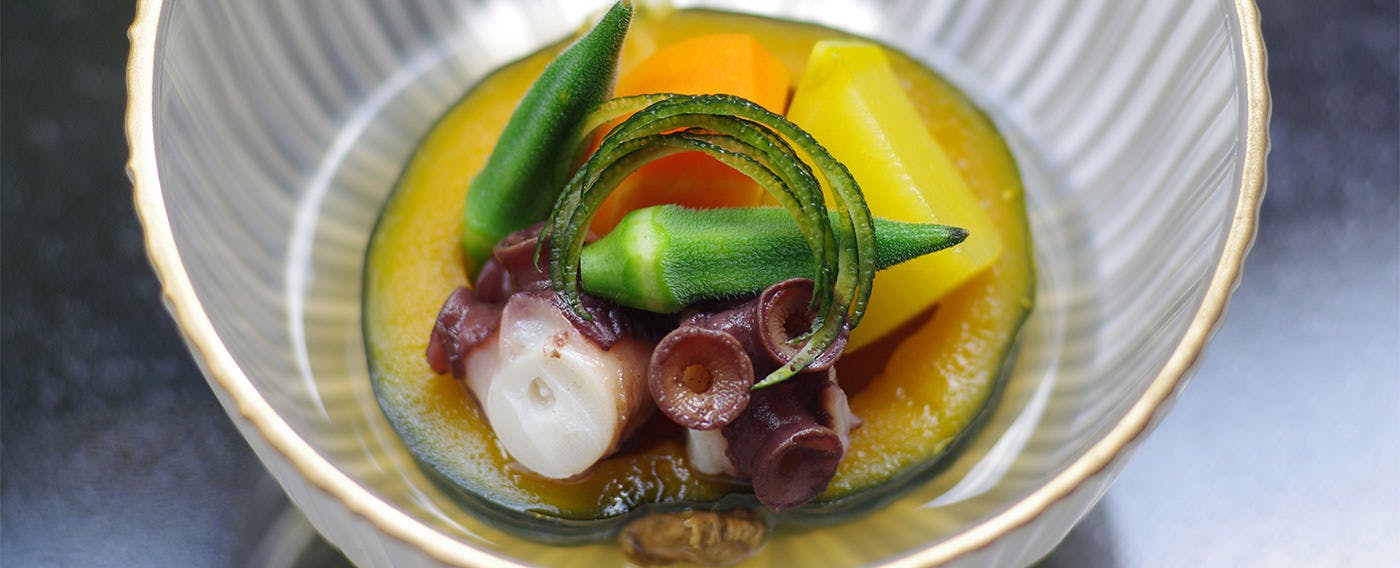 Foods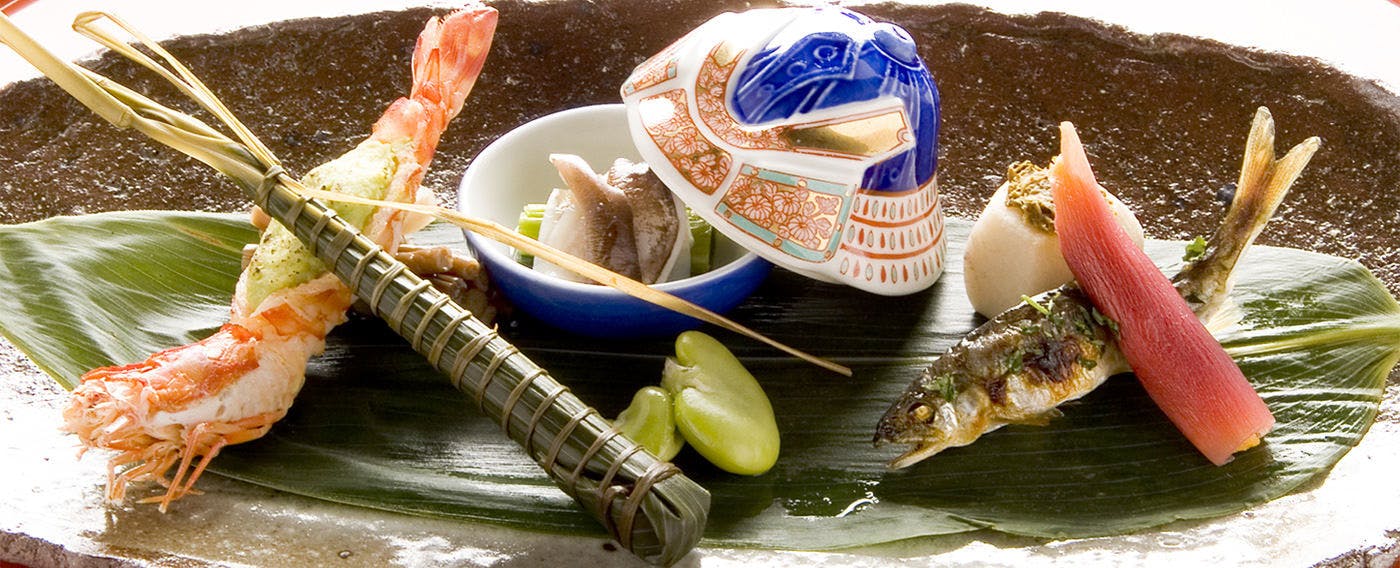 Foods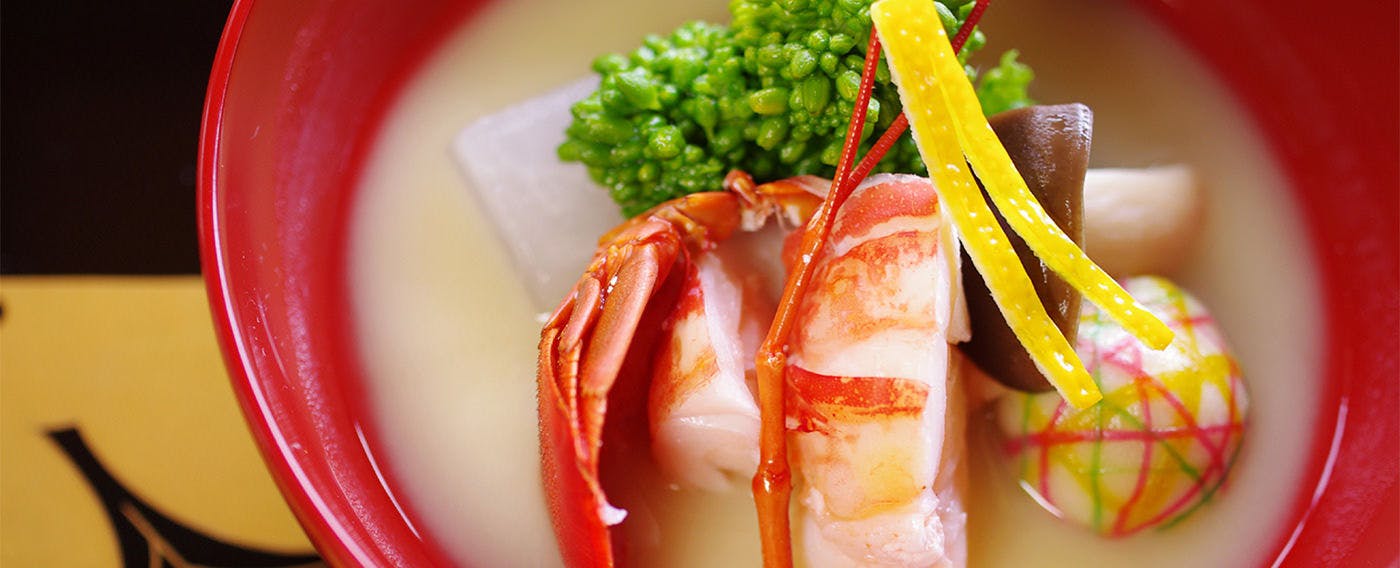 Foods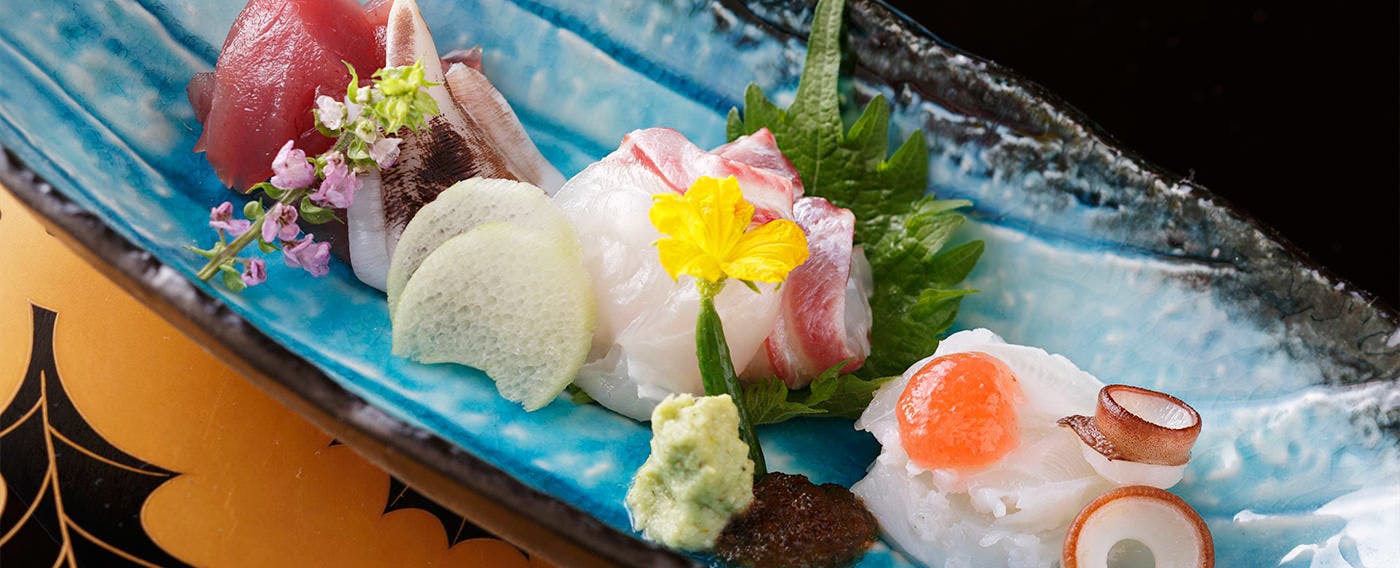 Foods
Kyoto-style kaiseki cuisine Hiiragiya serves the finest quality Kyoto-style Kaiseki cuisine, carefully prepared with the freshest seasonal ingredients, and elegantly presented on handcrafted Kiyomizu ceramics and the finest lacquer ware. A variety of different Kyoto specialties are also available a la carte in season.
Baths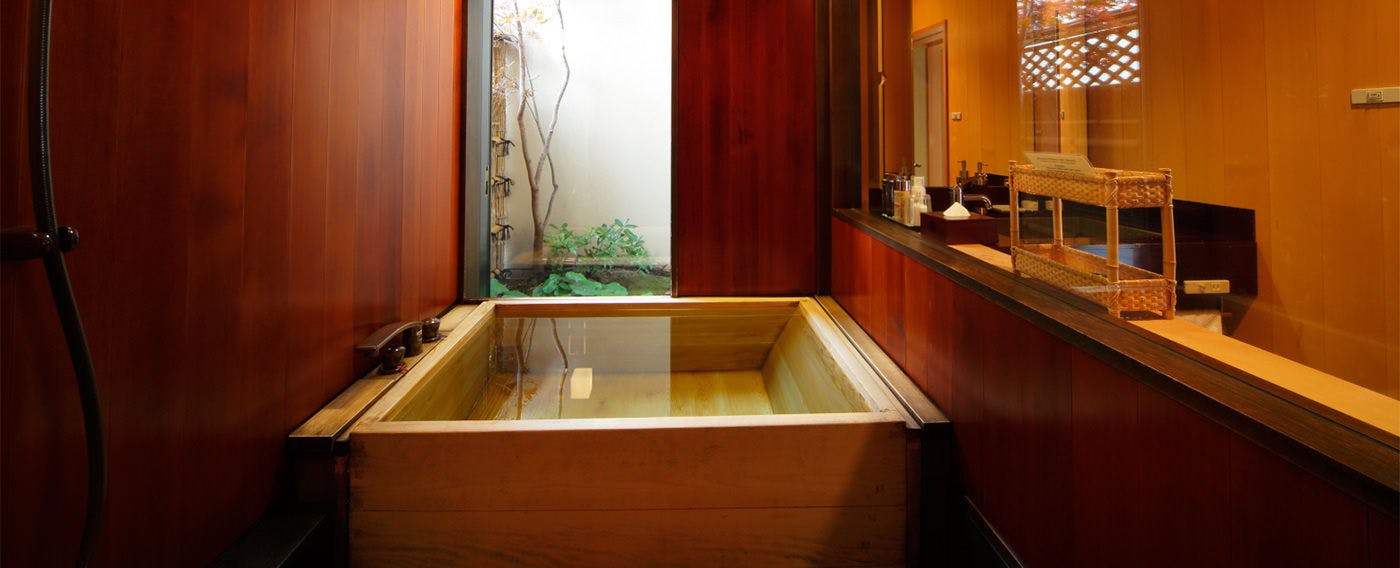 Bath
Home away from home In the bathtub of fragrant podocarpus is the atmosphere of the ancient capital of Japan. Private family bath is also available. Travellers to Kyoto, where everything nostalgic from water stream and mountains to colors of wind, go on a trip again just as going back to their hometown.

Bath at this ryokan is not of hot spring.
Facilities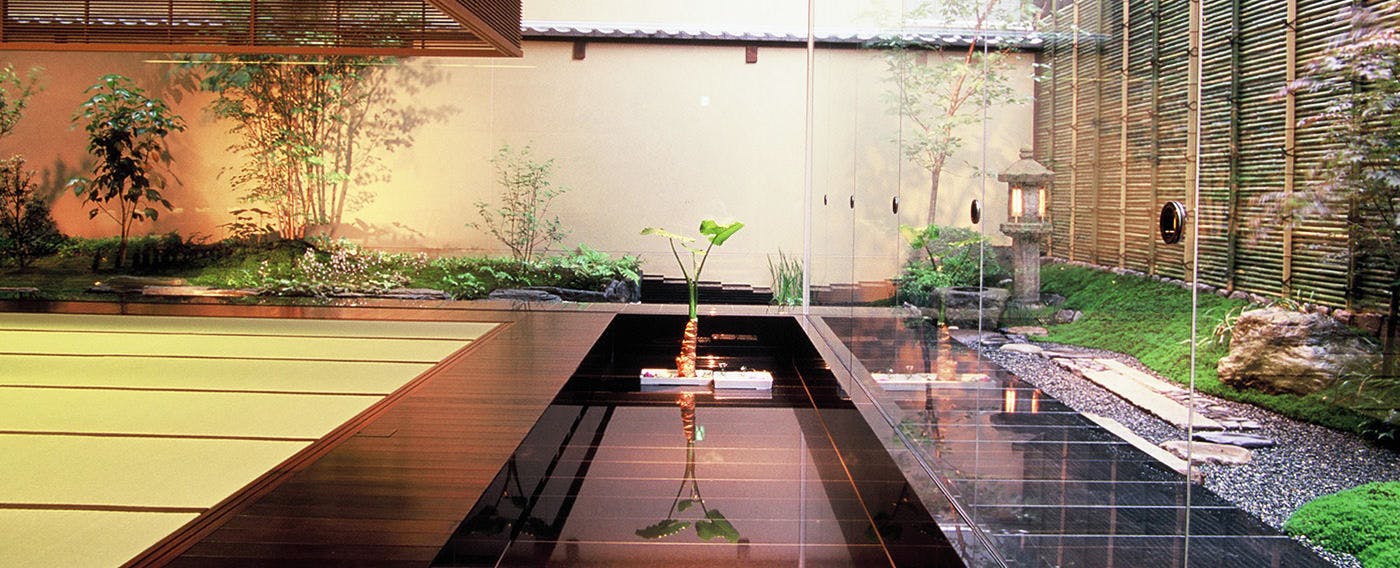 Interior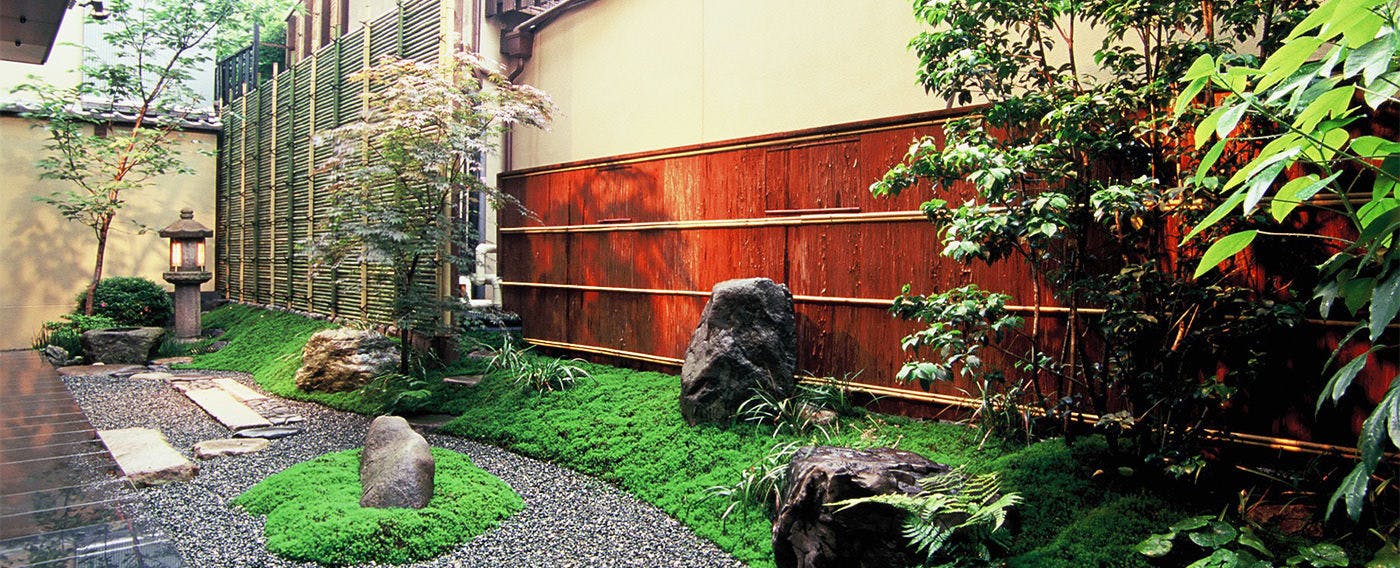 Interior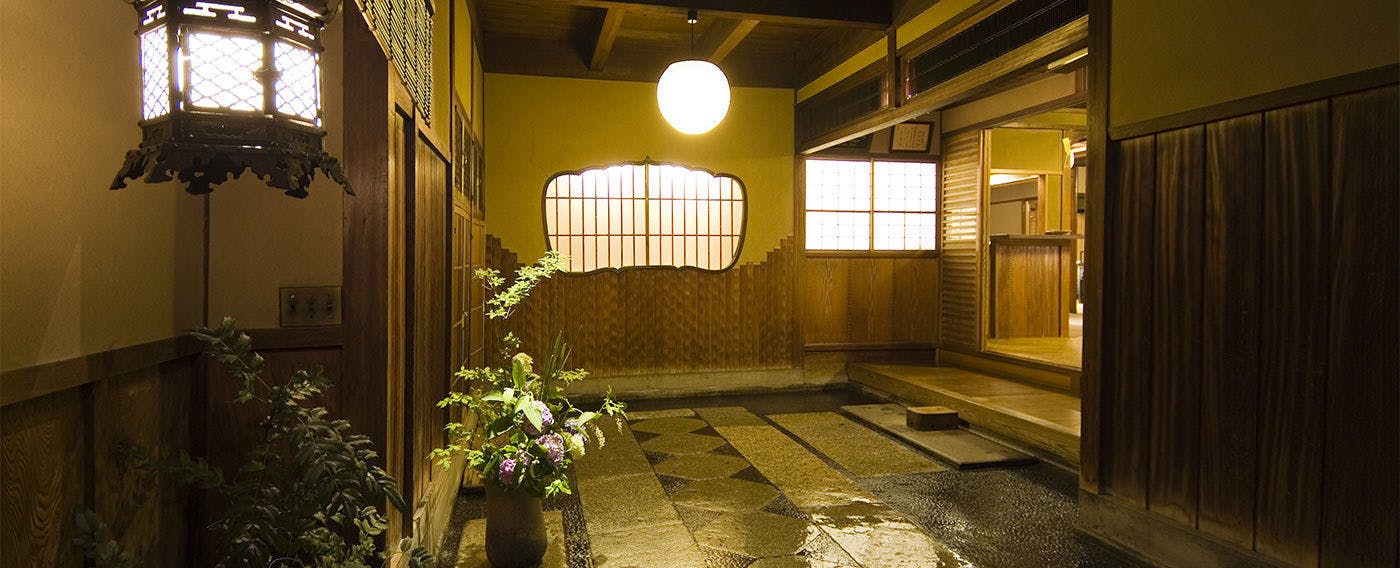 Entrance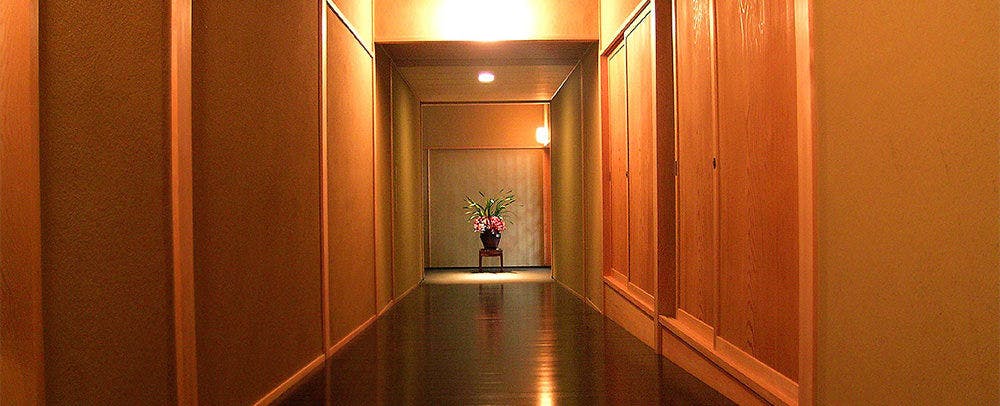 Corridor
Kyoto in the ancient capital of Japan Something not lost, and something not to be lost, in ages. Hiiragiya keeps and highly esteems those things in Kyoto. It tries to make the spirit of Kyoto in each piece of rainy stone in the garden and each dish of Kyoto cuisine with hospitality.
Access
277 Nakahakusan-cho, Fuyacho Anekoji agaru, Nakagyo-ku, Kyoto-city,Kyoto,604-8094,JAPAN
BY TRAIN
From Kyoto Station: 10min by taxi
From Karasuma-Oike Station (Subway Karasuma Line): 7min walk
From Kyoto-Shiyakusho-Mae Station (Subway Tozai Line): 5min walk
From Sanjo Station (Keihan Line): 10min walk or 5min by taxi
From Kawaramachi Station (Hankyu Line): 10min walk or 5min by taxi

BY BUS
From Kawaramachi-Sanjo Station: 5min walk

BY AIR
From Kansai International Airport: 75min by JR Express Haruka to Tokyo Station, and 10min by taxi. Or 2hr by Taxi (around JPY 30,000)
Please note that children age 12 and under can't stay in this room.
Please note that children age 12 and under can't stay in this room.
Please note that children age 12 and under can't stay in this room.
Please note that children age 12 and under can't stay in this room.
Please note that children age 12 and under can't stay in this room.
Please note that children age 12 and under can't stay in this room.
Please note that children age 12 and under can't stay in this room.
Please note that children age 12 and under can't stay in this room.
Please note that children age 12 and under can't stay in this room.
Please note that children age 12 and under can't stay in this room.
Reviews
12 Reviews
This hotel is so famous since a long time ago. I stayed here as first time, it was really wonderful. I thought that the holly tree marks are everywhere is overdo but I felt Japanese style atmosphere. The lacquerwares, the pail of the bath and the pail of Yudofu are works by living national treasure. I was amazed about thickness of those bare wood. I can assure this is a fantastic hotel as exactly Japanese style with the handiwork of FUSUMA's knob, the copper sink of the washroom and beautiful appearance of the courtyard at second floor in the new building which I stayed. Also, their thoughtfulness about meal was awesome, too.
+ More
Feb 2016
I spent a special day as New year at Hiiragiya and I went back to my home with the happy feeling which seems like many good things will come to me in this year too. Those arrangement for New year and delicious New Year dishes... I admire every single hospitality of Hiiragiya. I enjoyed the family bath because they cleaned the bath and changed the hot water of bath once per day. We are going to come back to Hiiragiya again in Spring!
+ More
Jan 2016
This inn is so beautiful.
Dec 2015
This was my first time to visit. My daughter and I relaxed and took it easy here. And this hotel is traditional in Kyoto so I didn't expect about the bath. However, the bath was spacious, We fully enjoyed comfy facilities. At first, my daughter ordered western breakfast but they accepted willingly that my daughter want to change to japanese breakfast even it was late request. We stayed only overnight at this time but I'd love to bring my family here next time and stay with full meal service!
+ More
Dec 2015
It is a wonderful hotel, but the service and the quality of food of a certain Gion Shirakawa hotel were not inferior, so thinking about the price the other hotel seemed a better option. People expect much from a long-established hotel, so I think it's very difficult to respond to their expectations perfectly.
+ More
Sep 2015
The meals and ofuro were extremely pleasant, but the noises and vibrations from above and the sides at night and in the morning were annoying, honestly.
+ More
Sep 2015
It was my travel with my mom in long time, so we stayed at the place I wanted to visit in Kyoto for a while, room 63 in the new wing of Hiiragiya. The hospitality through the entrance was splendid, and soon after entering, I was certain that it was going to be a great journey. Miss Sathi, who was in charge of our services, has cheerfully and attentively made our trip several times delightful. I am very grateful and my request to see the main building was granted by showing me the room which Yasunari Kawabata has stayed, while telling me histories of each rooms. Had any chance, I would like to stay again.
+ More
Sep 2015
I could feel the very detailed consideration by the room service staff everywhere, which made me extremely satisfied. The food was delicious too. Thanks to all the staff, my trip to Kyoto became a wonderful memory. Thank you so much.
+ More
Aug 2015
We stayed as 3 generations of girls (grandma, mom and daughter). It is an accommodation with atmosphere, we could have a relaxing time in luxuary, spacious room with sophistcation. My mom ended up using the family bath all by herself, and apparantly she could relax very much. The temperature of the hot water for the in-room cypress bath(?) was adjusted good, and it was clean and comfortable, though, it seemed a bit dark in there as there was no window. Every dish served in our room was elaborately done one by one and tasted good, I always feel that I am missing something as I have allergies, but this time it was the kind of menu I even felt happy that I have allergies. We could fully relax at the accommodation, and the best thing was that my mom liked it there. The maid for our room always provided timely services, and we could enjoy the relaxing meal time with ther caring serving and calm personality.
+ More
Aug 2015
I like both hotels and onsen, but for me, who loves a ryokan that conserves a historical building with great care, like this one, this was a stay to be remembered. The meal was truly delicious and the garden that we can see through a polished old glass window,quiet room, the bath...I can give a perfect score, even without onsen. A gift for anniversary given by the mistress as well as the attention to prepare red rice pleased me. As the waitress was a very nice person, it was the right choise that I asked my husband to stay at Hiiragiya when my husband proposed me to go to a onsen. Thank you.
+ More
Apr 2015
This was my second visit to Hiiragiya. I stayed at the new building last time and this time at the main building, and found that they have different atmosphere and both made me feel relax. The same staff who was in charge of our room last time served us this time, and I was impressed by the effortless yet elegant hospitality again this time. Also when I told her/him that we visited as a birthday celebration this time, they gave us red rice for breakfast and gave us a souvenir at the check-out which made me deeply impressed. I spent the best birthday staying at Hiiragiya this time, getting the pleasant service and having delicious food. Thanks to a great landlady, a landlady and the staff, and I would like to thank you all from the bottom of my heart. I wish the grand landlady all the best for her good health.
+ More
Mar 2015
Thank you for the service. To simply put, wonderful My wife visited Hiragiya after many decades, and was really delighted when she saw the landlady and senior landlady. While the number of foreign hotels in Tokyo have multiplied and eventually exceeded Kyoto, I reconfirmed the Japanese roots when I stayed at Kyoto after a long while, and lol The room in the annex was wonderful as it focused on Japanese style right down to the minute details. Although it seems that the rooms will be booked during the Sakura season, I would love to visit again. I am grateful to the young waitress. Thank you.
+ More
Mar 2015
I am sincerely grateful for the wonderful time I had during this stay. The room was well-maintained. The word from the landlady who guided us to the valuable time. The graceful conduct and smile from the waitress. The countless number of wonderful dishes. Even now, I feel warm and fluffy when I think back about it. To borrow a phrase from "If I go on a trip", "I was again able to realize the experience of staying at a famous ryokan and what makes a famous ryokan" with the hours spent at a ryokan I loved. Thank you,
+ More
Feb 2015
I stayed with my partner. Since we came all the way to Kyoto I was thinking I would like to stay in a ryokan where I could relax, and this was a truly wonderful ryokan. They reserved a place where I could rent a kimono at the best speed, and I also asked for a few requests on a short notice but they responded with speed and that was very helpful. Breakfast was tasty and I think that it is a ryokan that makes one want to stay again.
+ More
Dec 2014
It is the inn that you can fully enjoy the taste of Kyoto as you stay in the inn. A calm service with class offered a feeling of security as if you were in Imperial hotel. There is nothing astonishing, but there is a greatness that an authentic classic high-end Ryokan can produce. Thank you.
+ More
Nov 2014
Information
Check-in Time

From 3:00pm to 7:30pm

Check-out Time

Until 11:00am

Tax / Service Charge

Credit cards accepted at this property

VISA / MASTER / JCB / AMEX / DINERS / UNION PAY
Children

All children are welcome, though dependent on room type.

Pets

Pets are NOT allowed.

Parking

Free of charge for guests; Length 5.3m; Width 2.0m; Clearance 2.5m; Capacity: 10 vehicles; Valet Parking Free of charge

Other policies & conditions

Guests are recommeded to arrive by 7pm, due to dinner service. / Bath at this ryokan is not of hot spring.
Inspiration
A long standing hotel in the heart of old Kyoto: Hotel Hiiragiya in Kyoto Prefecture
Located in the center of the city, 10 minutes by car from Kyoto Station, Hiiragiya nevertheless allows you to experience the charm of Kyoto as it was long ago. The hotel reminds you of its history, softly puts your heart at ease and brings to mind the serenity of good old Japan. It is also known to be the favorite hotel of Yasunari Kawabata.

As you pass through the gate, the first thing that grabs your attention at the entrance is the proudly displayed motto "To make the guest return". Ever since Hiiragiya was established in Bunsei era, this hospitaple notion of making the guest feel so comfortable he would return another time has been the hotel's identity, and it hasn't changed at all.
The still elegant sukiya style main building and the comfortable new building
Hiiragiya offers room in two buildings: the main building still retains the sukiya style charm from the late Edo era as well as the traditional hospitality, while the new building is equipped with all the modern comfortable facilities.

Sukiya style main building is made of wood and has two floors. Most of the rooms have a view of small inner garden with its lush greenery. Some of the rooms, still in use since the hotel's establishment in 1818, have their decorations changed every season, which allows you to experience the seasonal charm. These rooms have been visited by the patriots of late Edo era, the imperial family of Meiji and later eras, writers and artists of all sorts. Surely you too will be able to enjoy their timeless charm and hospitality.

The new building was finished in February, 2006. It has 7 rooms, all with comfortable modern facilities and proper beds. They follow Japanese style to minute details while also making use of modern technology to provide functionality. These rooms offer a different kind of comfort compared to the main building.

Plaster walls, cypress pillars, pine bathtubs and other luxurious materials of traditional Japanese crafts, not to mention the gorgeous interior decorations, create a truly sublime space.

The room baths are the most prominent. They utilize the underground water and are made with umbrella pines. They have a great aroma and revitalize both your mind and your body. Even if you choose a room without such a bath, you can still use the family bath.

Also, everything in this hotel, including clothing, bowls, stationery, walls and the whole interior, has the trademark hiiragi (holly olive) pattern. Looking for those patterns is another way to make your stay memorable.
Cozy service developed by a long standing hotel with a history
Yasunari Kawabata once wrote a text for Hiiragiya, which had the following words:"It had status since the old days, yet was never pretentious". Just as these words suggest, on the one hand Hiiragiya is an old hotel with established reputation, yet on the other it has carefully followed its tradition of cozy service. Graceful hostesses will take care of your necessities.
Every need the customer has is dealt with thoroughly yet nonchalantly, from welcoming and setting the table to advice on attractions. You will be able to experience the same coziness Yasunari Kawabata did and spend peaceful time as if you were resting at home.
Attention to detail in every bowl, Kyoto style course meals
Every meal of your dinner will be delivered to your room. The dinner is luxurious Kyoto style course meal with beautiful food made with shore fish and Kyoto-grown vegetables. Cuisine made with fresh, carefully examined seasonal ingredients is served in only the best bowls like Kiyomizu Yaki. Course timings are meticulously precise and you may have Japanese alcohol together with the meal. Even the breakfast feels very carefully made. Breakfast includes meals that are easy on your mind and body, made from Kyoto boiled tofu, local and seasonal ingredients. You may be served Western food, if you prefer so.

Of course, there are plenty of Shinto shrines and Buddhist temples right next to Hiiragiya, but it is also right in the middle of Sanjo street, which means there are also many stylish cafes and traditional Japanese shops you really want to visit. Kamokawa and Nishiki Market market are also within walking distance. We recommend checking in early, so you can walk around the neighborhood. Once you are tired, return to the hotel for a perfect bath that will take away all the fatigue, then have a delicious Kyoto style dinner. Once you experience the luxury filled with Japanese spirit and taste the fabled hospitality you, too, will want to return to this hotel, just as the words "To make the guest return" near the entrance tell you.
+ More