- VAT is included, but bathing tax (around JPY 150 per adult) may NOT be included.
- Price in USD is based on the exchange rate as of today and might be different from that of the booking date.
Foods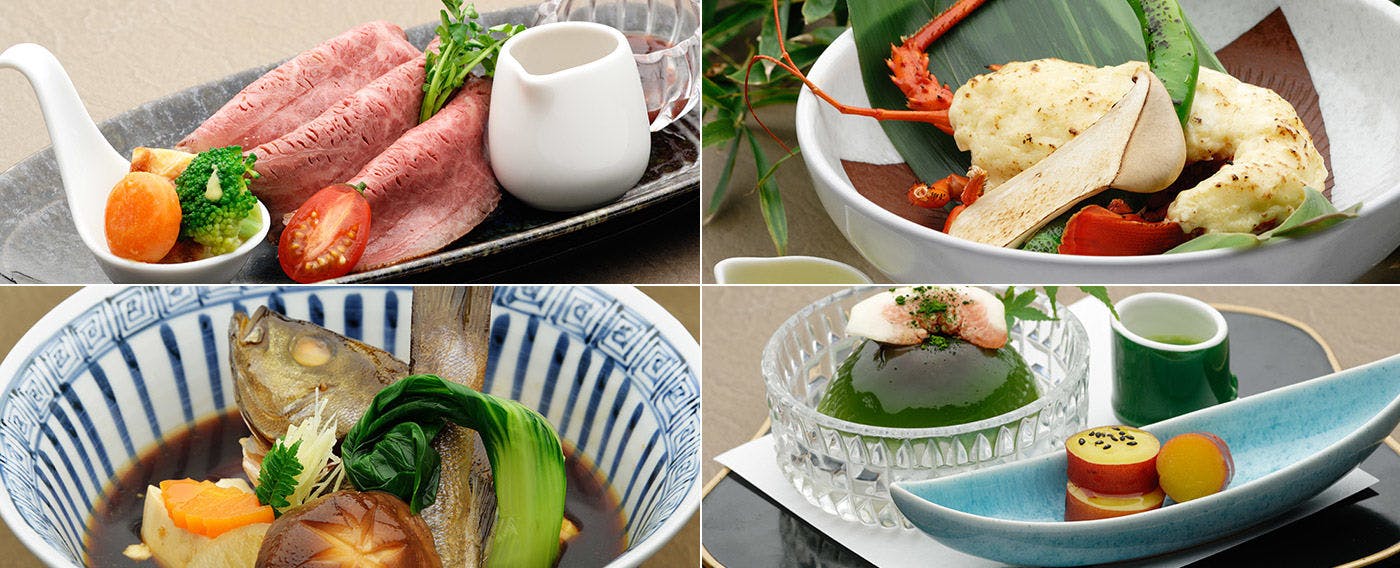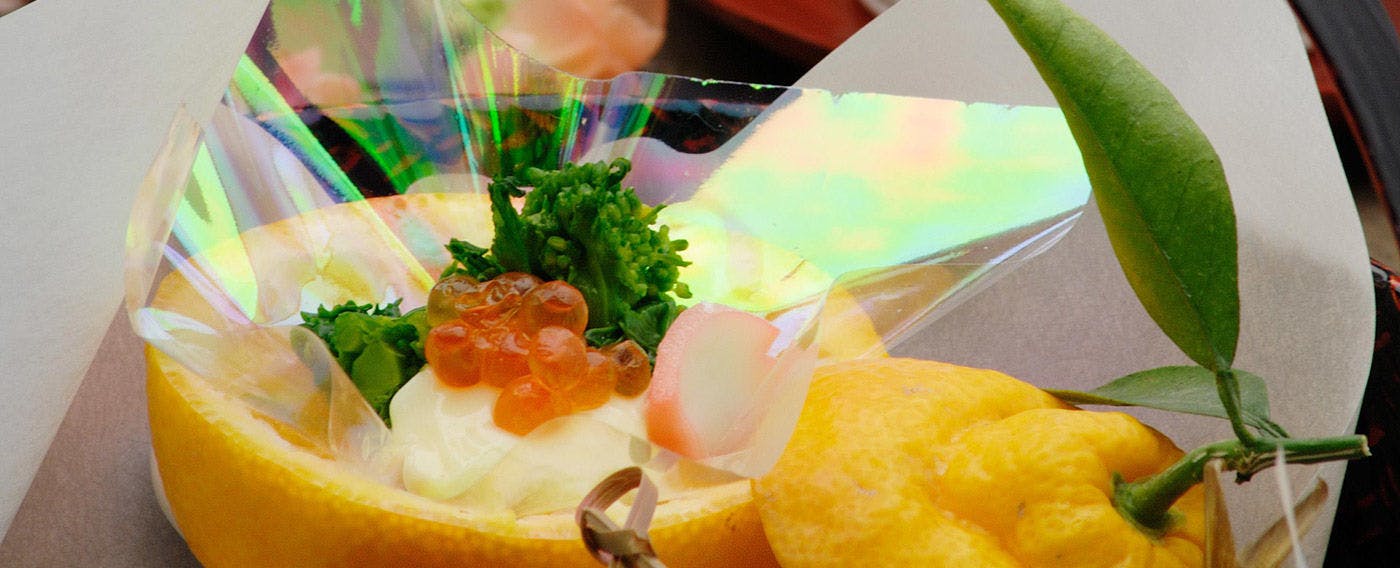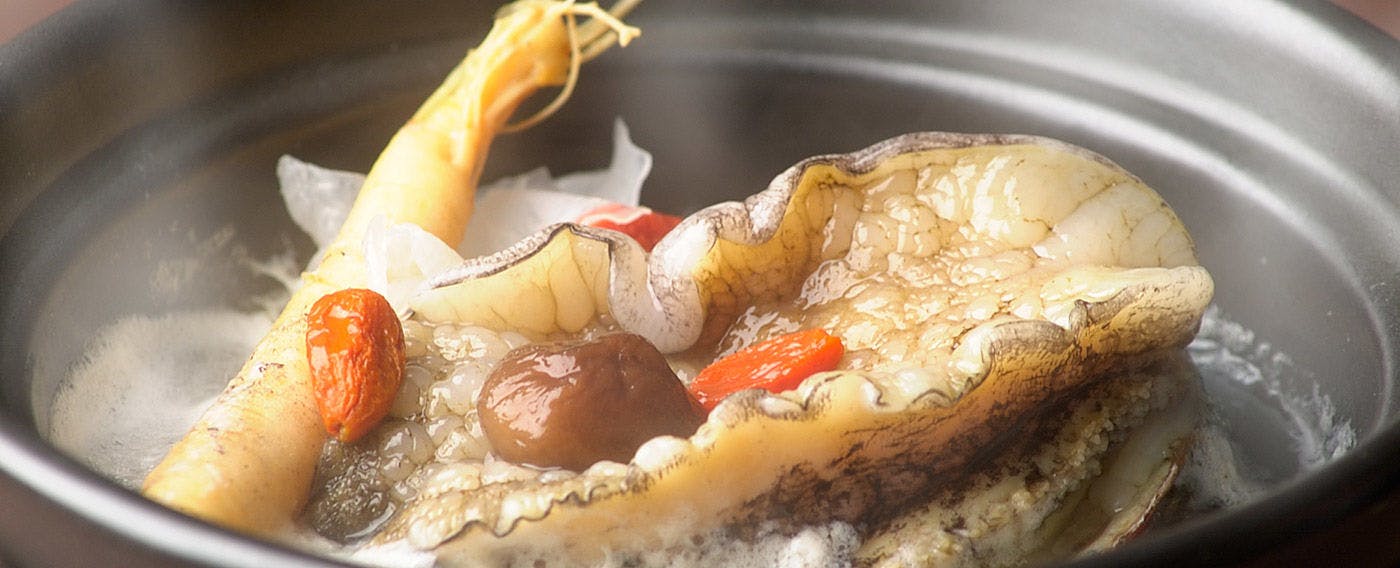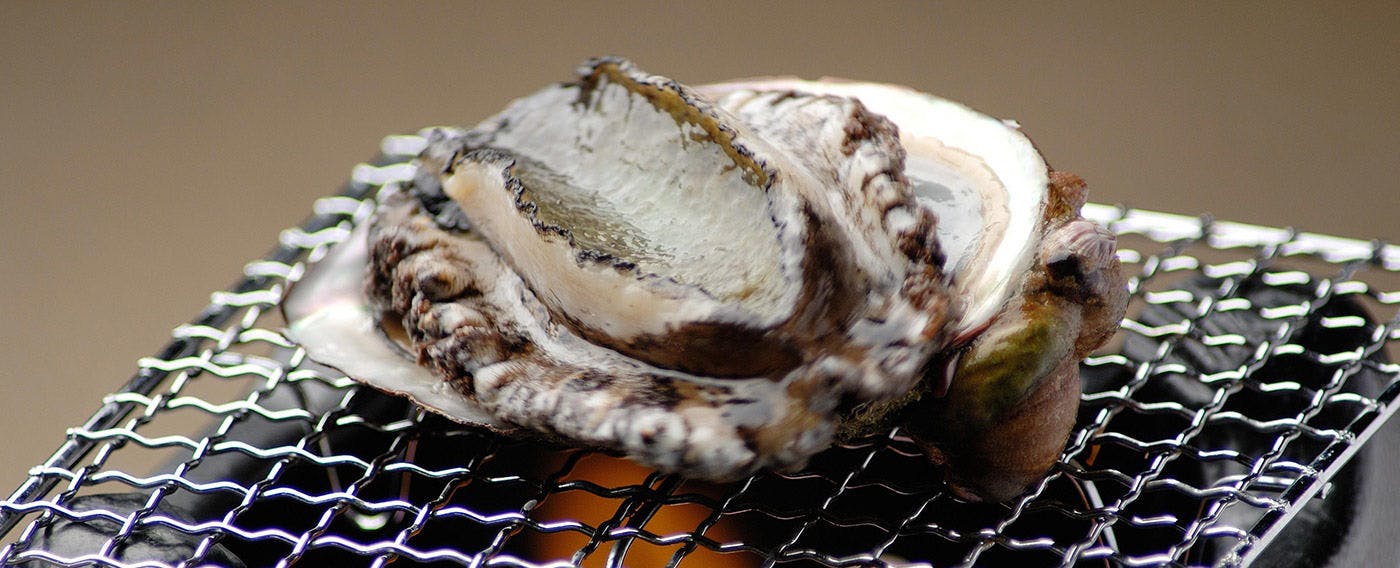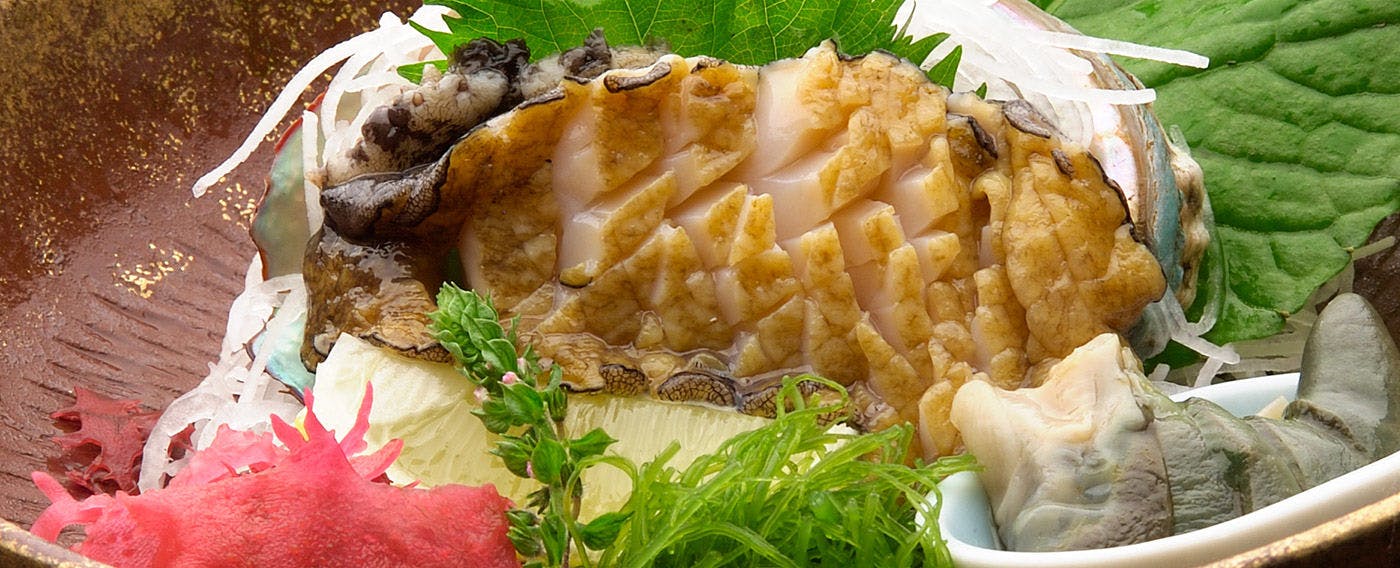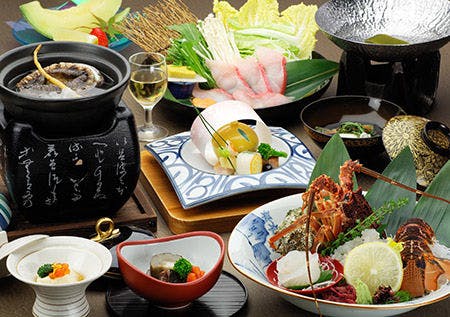 The season's variety grown in Izu will please you with its vibrant colours. The cooking is tailored to the taste of Seizan-Yamato with vividness and seasonings from the earth and the ocean of Izu.
Cherish the colours of the season whilst enjoying the best products of the period. After your day's visit you can enjoy dinner in your room. Chose an apéritif and an item of your choice, then top it off with desserts to your liking.

The Yamato Yūzen
With dishes changing by the month, this place offers three types of menus from the chef's choice, with the most popular being "Awabi no odori-yaki", Dancing grilled abalone.
They have a popular course meal where you can choose from four kinds of main dishes, increasing your options to pick from. vImmerse into the season with an apéritif, a carefully crafted gem of a meal and a fun dessert of your selection. Be sure to enjoy the unique hospitality Seizan has to offer.

Seizan Kaiseki
It's like tradition for Seizan Yamato to pick only the best abalone.
You can choose from three kinds of abalone dishes according to your preference.
Enjoy your abalone fresh with the scent of the shore. Once again, you can chose your apéritif and dessert from three choices. A prix fixe menu hospitality unique to Seizan Yamato. 
※ Please note that orders for main dish, dessert and apéritif are accepted only until 17:00 on the same day.

Sōken Bizen
The Sōken Bizen has a special menu with a focus on only the best quality delicacies. Their serving size is around 70-80% of a regular meal and the place utilizes only the healthiest of cooking techniques, refraining from fried food. A perfect place for those who follow a healthy lifestyle.
If you desire to have the Sōken Bizen meal, then you are required to declare so at the time of reservation.

Primarily having a seafood focus, the use of meat, fried foods, butter/creams and such is done as sparingly as possible. The menu contents change according to the seasonal ingredients; "Ice Shrimp Sashimi", "Abalone Yakuzen Soup" and the "Splendid-Alfonsino Shabu Shabu" are three classic items that you can enjoy throughout the year.
※ Please keep in mind that Sōken Bizen does not offer a choice of entrée, apéritif or dessert.
Baths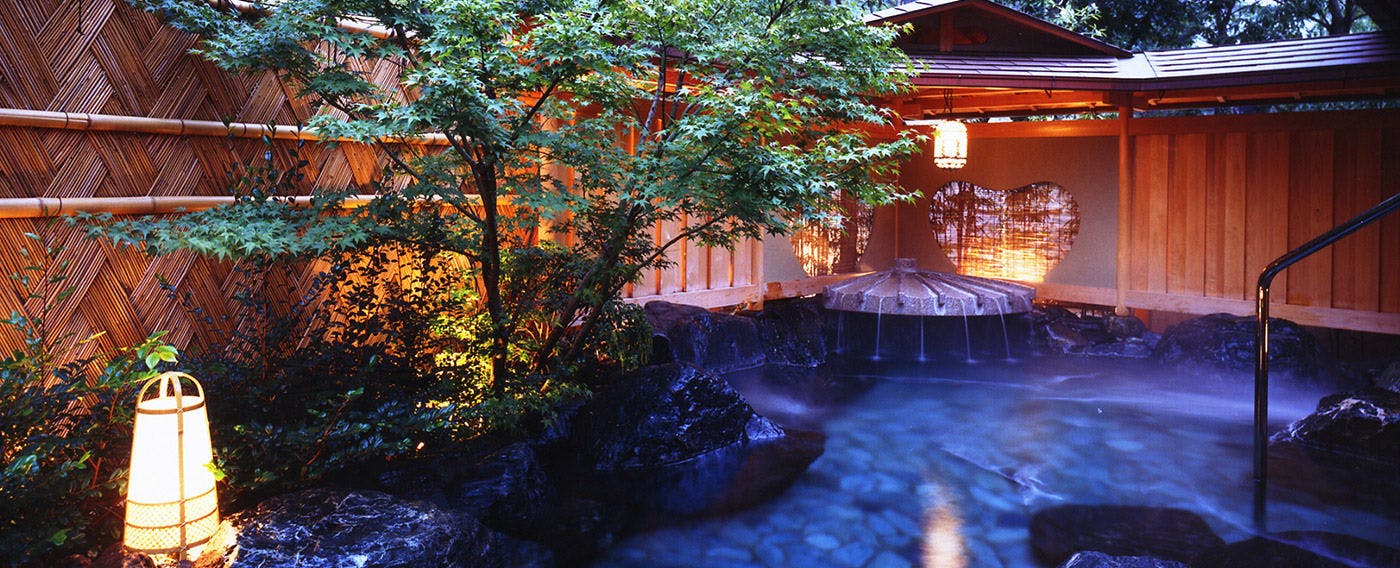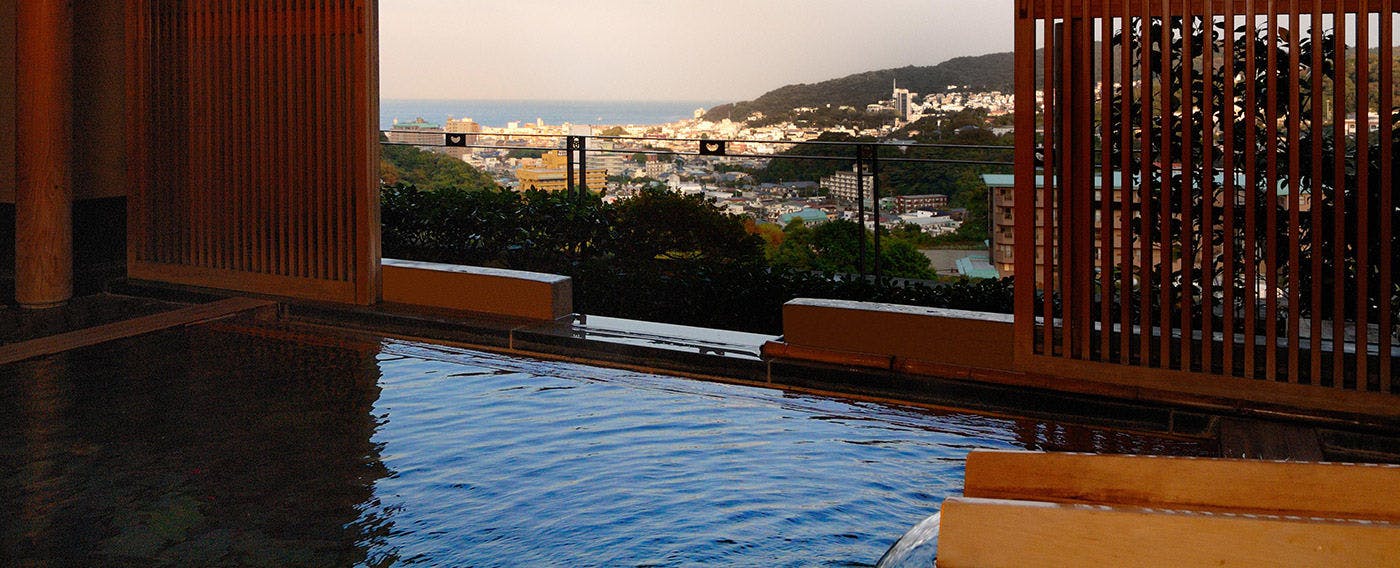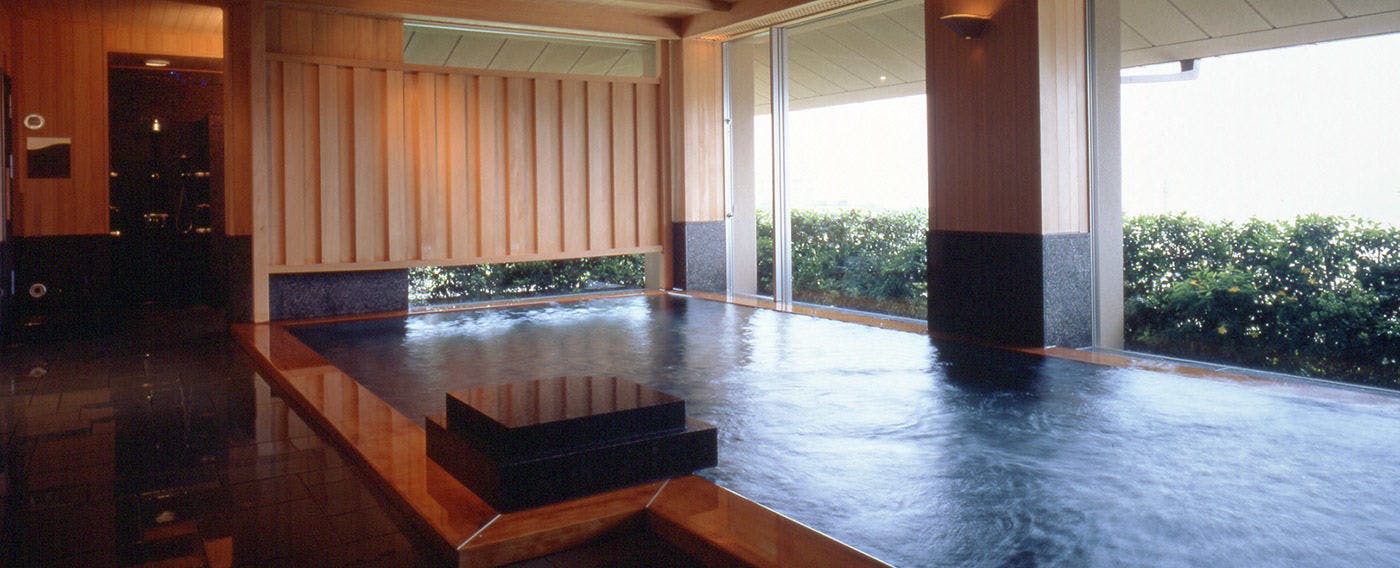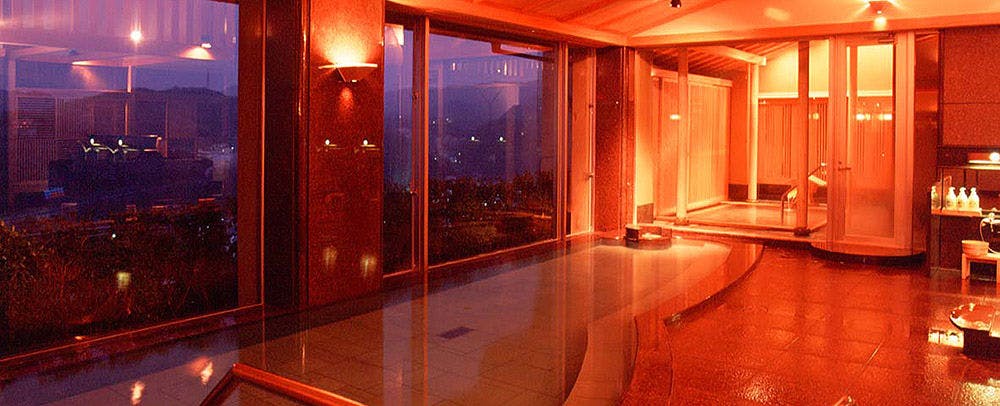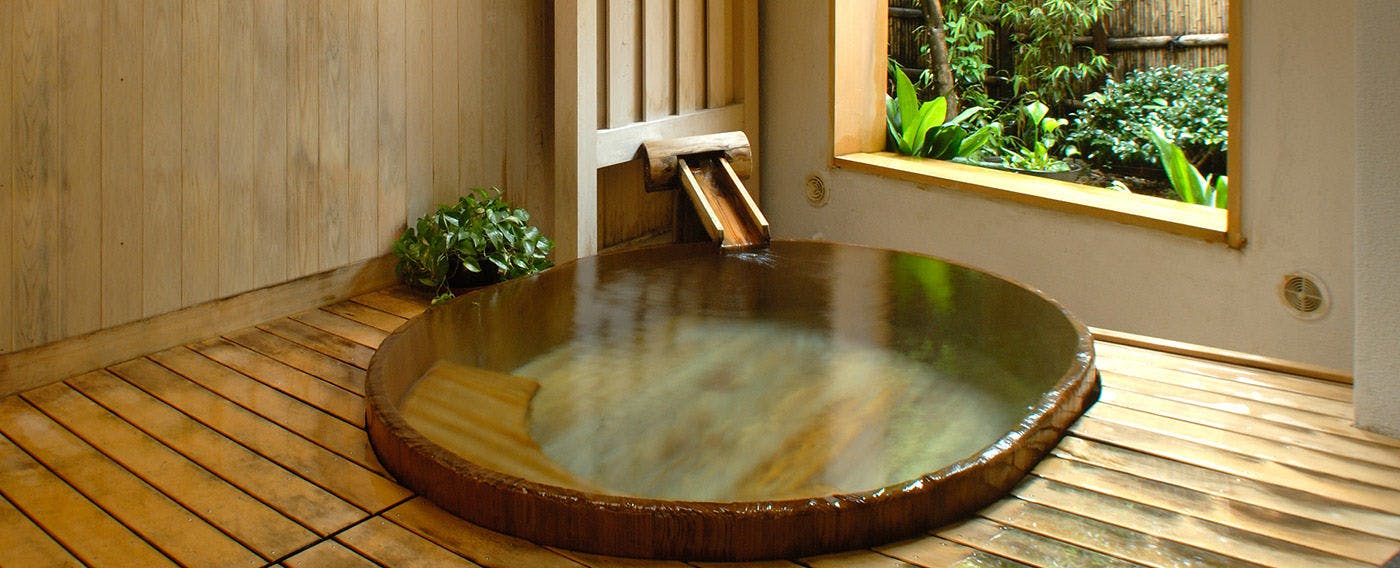 You can relax in the historic Itō hot-spring with a 100% natural source water. Crossing over the pontoon bridge, there is a large public bath with a rich amount of hot water, the admiration of Itō. It is a large open bath that you can enjoy mornings or evenings, elegantly surrounded by dense trees.

Hoshino-Yu
The Hoshino-Yu, "The Bath of the Stars", is an outdoor rock bath surrounded by serene forested mountains. You can even enjoy a full view of the starry night-sky while relaxing in this deep bath.
Kazeno-Yu
The Kazeno-Yu, "The Bath of the Air", bath creates a heavenly atmosphere with its steamy mist floating above the waters in the comfort of the sky.
Tsukino-Yu
The big public bath Tsukino-yu, "The Bath of the Moon", overlooks the cityscape of Itō and the glittering blue Sagami Bay, with source hot water poured flowing in a spacious bath.
Hanano-Yu
The Hanano-yu, "The Bath of the Flowers", has a spectacular view, just like Tsukino-yu. On a sunny day, one can see the Miura and Bōsō peninsulas far off in the sea.

The reserved bath: Suzumeno-Yu
"The Bath of the Sparrow", is tastefully made from Hinoki cypress reminiscent of old Japan. Even if your room does not have a side-bath service you can reserve this bath for yourself at ¥1,620 for 50 minutes. It is a private bath, without any interruptions, to enjoy with someone special.
Facilities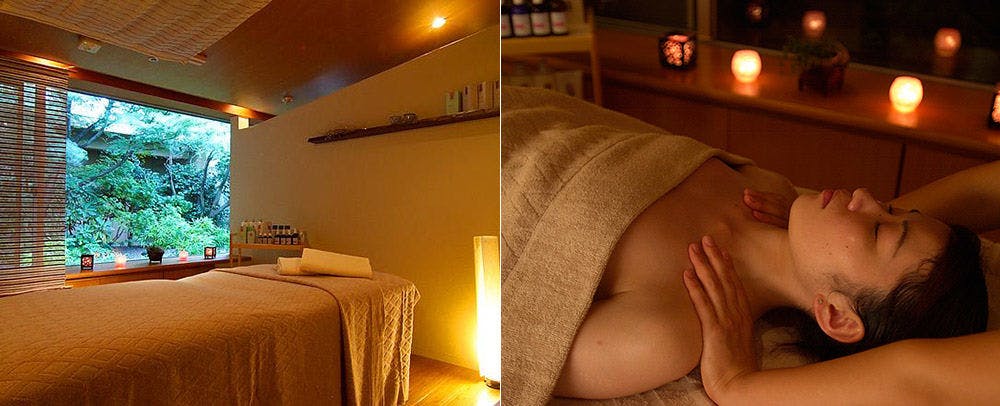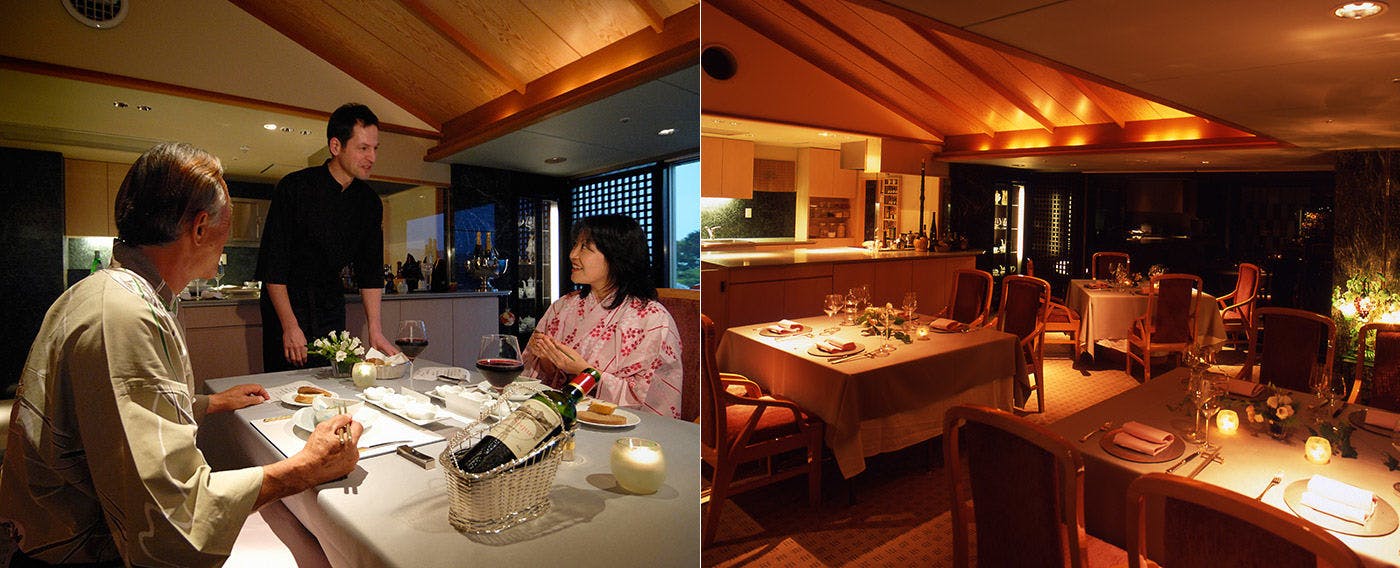 Relaxation Space surrounded in Japanese Elegance: Aroma-Este "Kirakira"
Relaxation Space surrounded in Japanese Elegance. Enjoy relaxation in private with gentle aromas. Gentlemen, ladies and couples are welcome to indulge in this esthetic experience.

Izu's fine Ingredients meet Historic European Gastronomy: Private Dining "A Table"
Izu's fine ingredients meet historic European gastronomy with private dining at "A Table", a tiny auberge in the resort. Relaxingly enjoy the world of taste of Rock Volmail, and immerse all of your five senses as you experience the live kitchen.
Access
203, Oka Ito-shi,Shizuoka,414-0055,JAPAN
From Tokyo or Shinagawa Station to ITO by "Shinkansen"on the "Kodamago" for Nagoya or Osaka,
it takes 50 to 55 min to reach Atami Station.At Atami Station, transfer to the Ito Line going toward Izu Shimoda and ride for about 24 min to ItoStation.
From Tokyo or Shinagawa Station to ITO by special express "Odoriko" (no transfers)get the special express "Odorikogo" on the Izukyuko line for Shimoda,which takes about 1 hr and 50 min to Ito Station.
Reviews
Repeater here. I always stay at this resort, it's really relaxing. The room staff, bed staff, and all the employees' courteous behaviour is always delightful. It's definitely one of resorts that I want to go back to.
+ More
2016/09/20
We were on a girls trip with three generations of daughters from the family. Since we frequent Izu so often, we don't go for much sightseeing. This time the resort was our main place of stay. Since my mother is elderly, to please her, I booked a place near the bath through e-mail. Once we arrived, the customer service was good, also, the person in charge of the room was very nice. With kind guests and carefully selected delicious foods, we enjoyed great meals throughout visit. Also, the staff who prepared our futon beds was very neat and mannerly. We have stayed in various accommodations, but, the building here, although not new, showed attention to minute details, and it was very comfortable. Enjoying the saxophone after dinner was also a nice touch.
+ More
2016/09/13
I really liked how the staff introduced us to various topics of Itō's local culture and meals. The hot springs were amazing! All four baths were extremely comfortable and felt really relaxing. It helped get rid of my tiredness beyond my expectation. The meal was unique and full of originality, and the umami was delightfully strong.The meals were high in freshness. The warmth of the shrimp-wrap excellent in taste and firmness. Autumn's sweet potato sauce was delicious too. Here is a resort that you will want to visit again and again, to enjoy natural hot springs and seafood.
+ More
2016/09/04
Out of the blue, I made an appointment Friday evening, for lodging on Saturday. It was the middle of summer vacation, after Obon festival days. I thought there would be no vacancies, but I thought I'd try for the place with the most delicious food, Seizan Yamato. Lo and Behold! There was a vacancy! Moreover, it is possible to get a special price for Ikyū members. So if anyone would suddenly feel the urge to go to a hot spring trip, it's worth it to search up a reservation. You never know, you might find a vacancy! All in all, I enjoyed delicious food and courteous hospitality, great arm massages, and cozy hot springs. Although the facilities of the room feel a little bit of olden, it's nothing to worry about, since the atmosphere at this inn is amazing. I will come to stay again.
+ More
2016/08/24
We suddenly decided on this trip for an occasion, and I am grateful for having spent such a splendid time there. I have been to Izu about ten times till now, but this resort is definitely the best I have experienced! Their hospitality is courteous and everything is served with a smile. Each dish is intricate and delicate and has gentle taste and volume to it! I don't think there's any other resort that would put in so much thought and effort into making special dishes for children. My children got really excited and were prancing around carelessly to my embarrassment. But surely, I would love to come again.
+ More
2016/06/23
Information
Check-in Time

From 2:00pm to 5:00pm

Check-out Time

Until 11:00am

Tax / Service Charge

Local Hot-Spring Tax \150 will be paid.

Credit cards accepted at this property

VISA / MASTER / JCB / AMEX / DINERS
Children

Children are welcome.

Pets

Pets are NOT allowed.

Parking

Parking available, free of charge for hotel guests.

Other policies & conditions

Pick-up service is available at JR Ito station. Our shuttle bus arrives every 30 minutes after 13:30 till 17:30. Our driver holds a flag and wait for our guests in front of the ticket gate. Reservation is not required.