Zagyosoh
Soft hospitality of true Japanese style. The Japanese ryokan Zagyosoh among the warm weather and rich nature appreciates traditional atmosphere to enjoy seasonal things. This is the town of bayberry, where you can find something nice, not found in cities. It also tries to offer nice tea and snacks with careful thought. Enjoy the time at Zagyosoh as much as you like.
- VAT is included, but bathing tax (around JPY 150 per adult) may NOT be included.
- Price in USD is based on the exchange rate as of today and might be different from that of the booking date.
Foods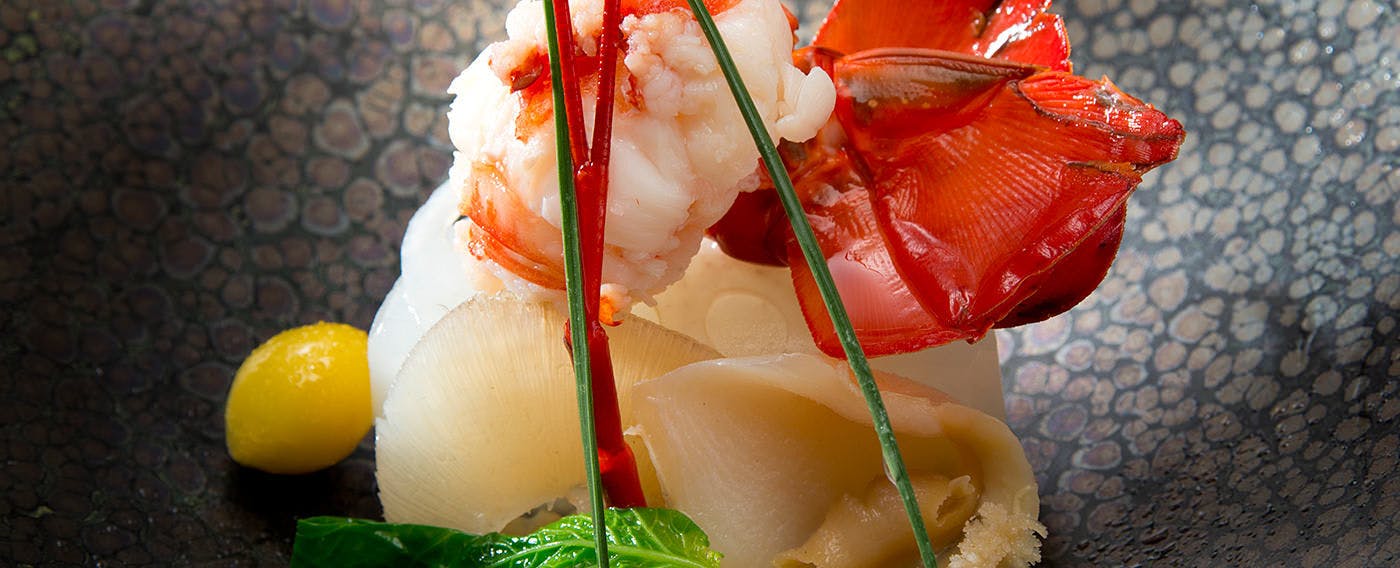 Japanese Cuisine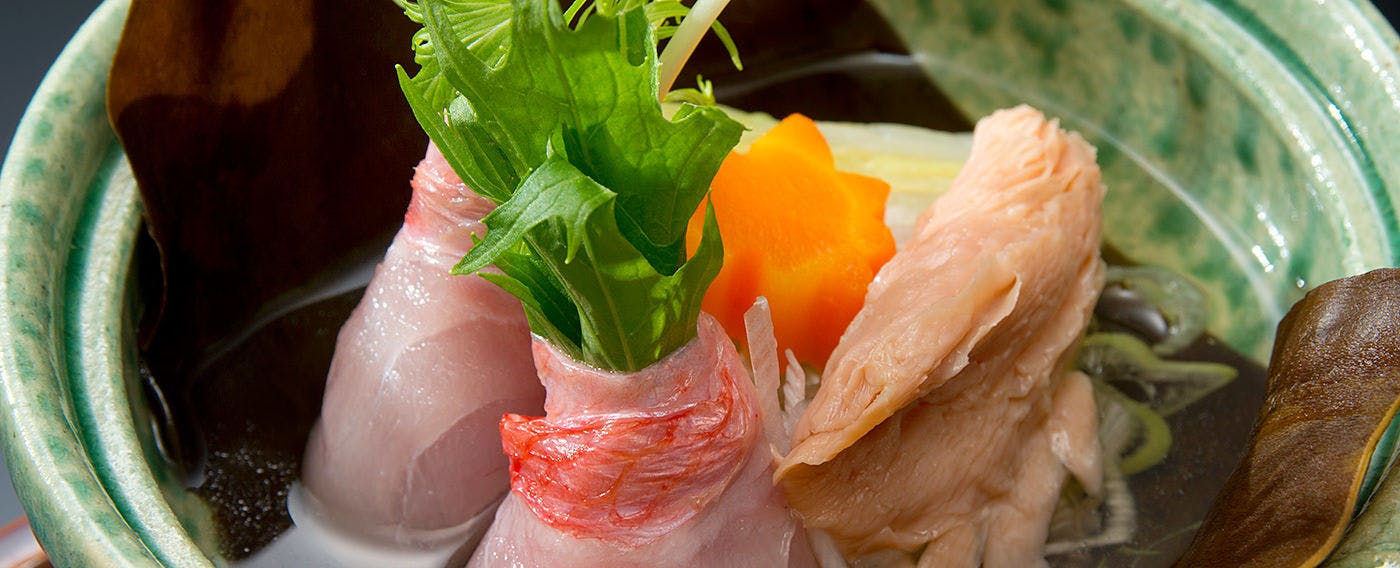 Japanese Cuisine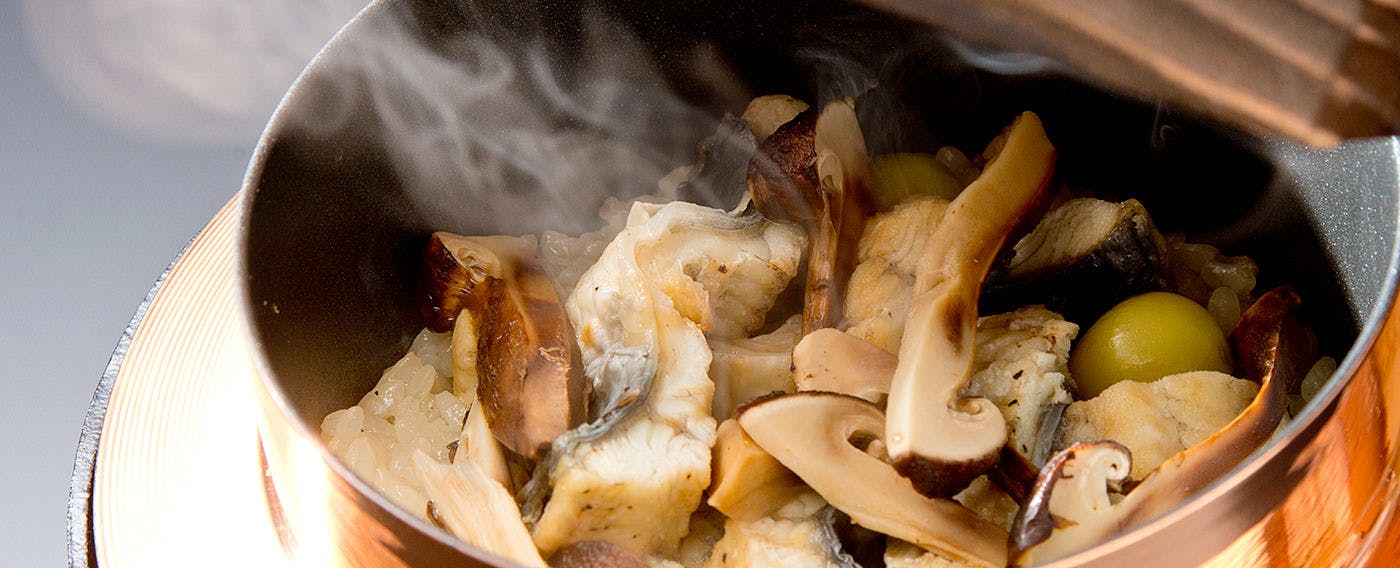 Japanese Cuisine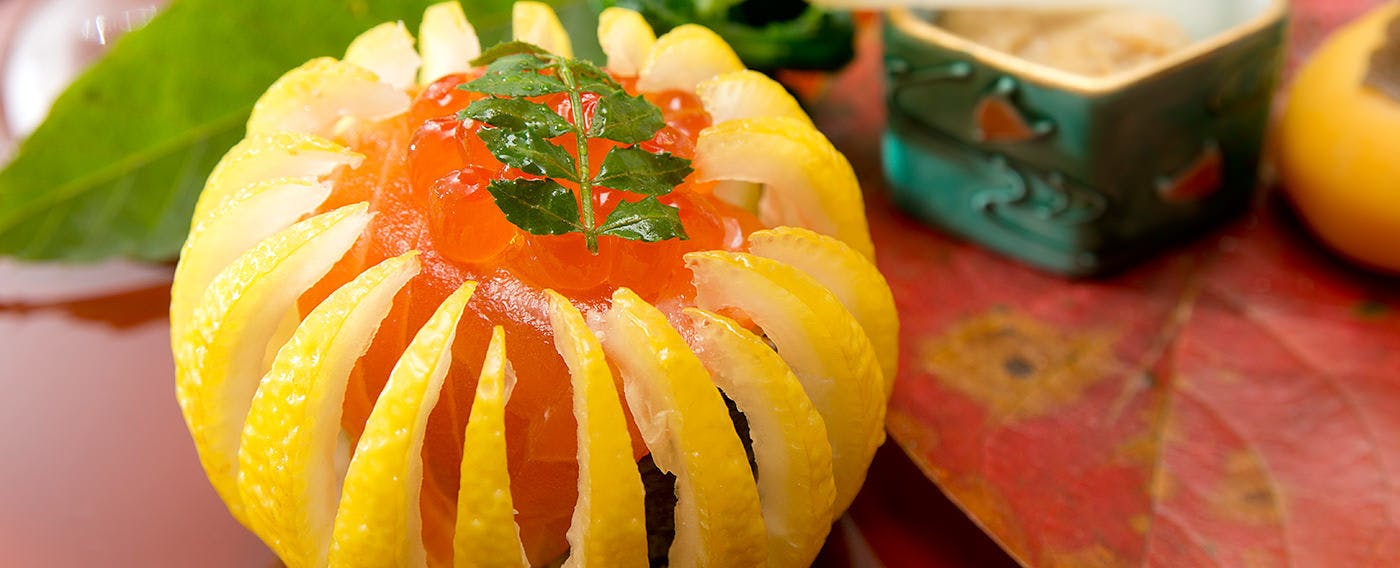 Japanese Cuisine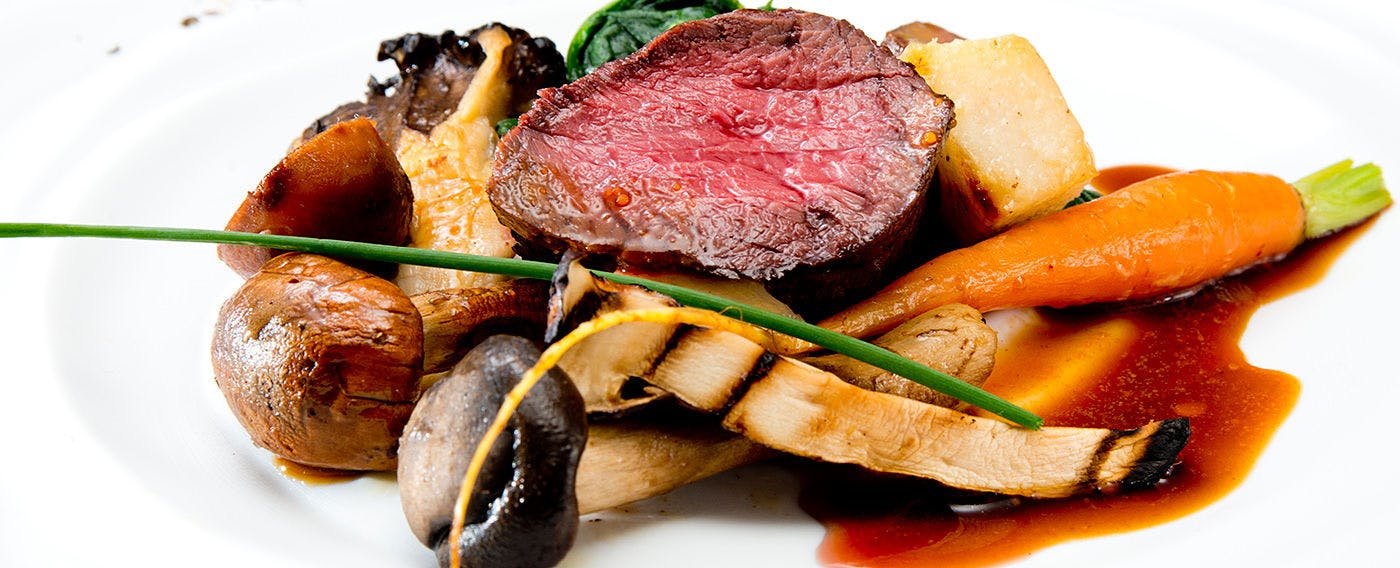 French Cuisine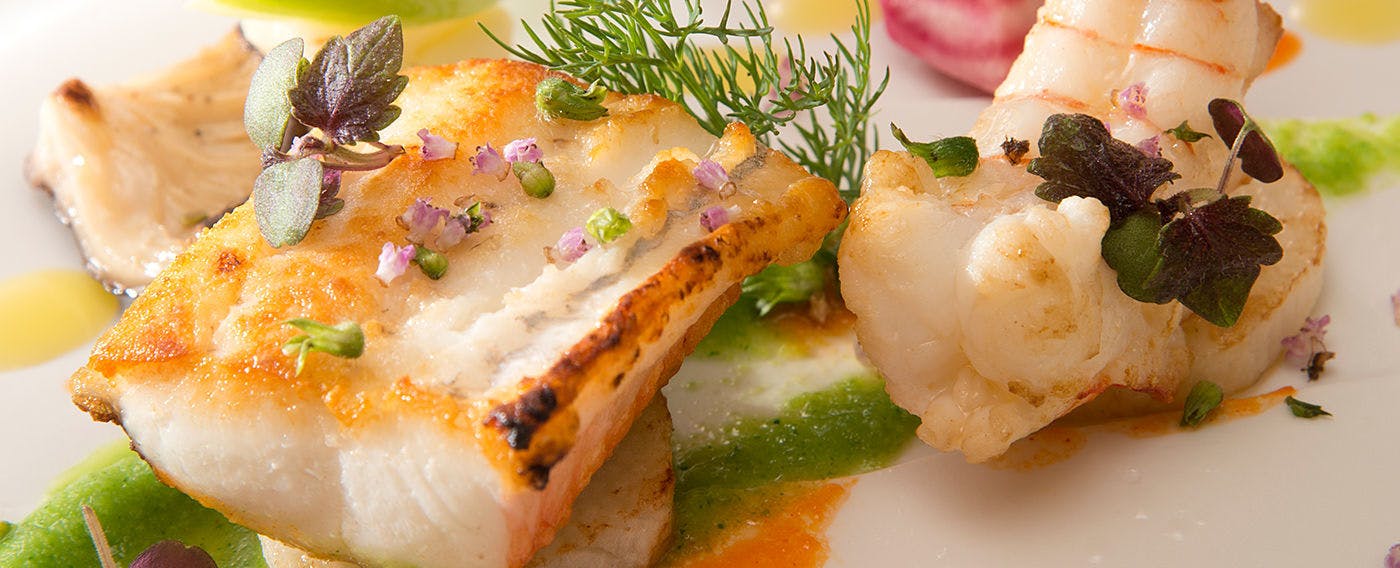 French Cuisine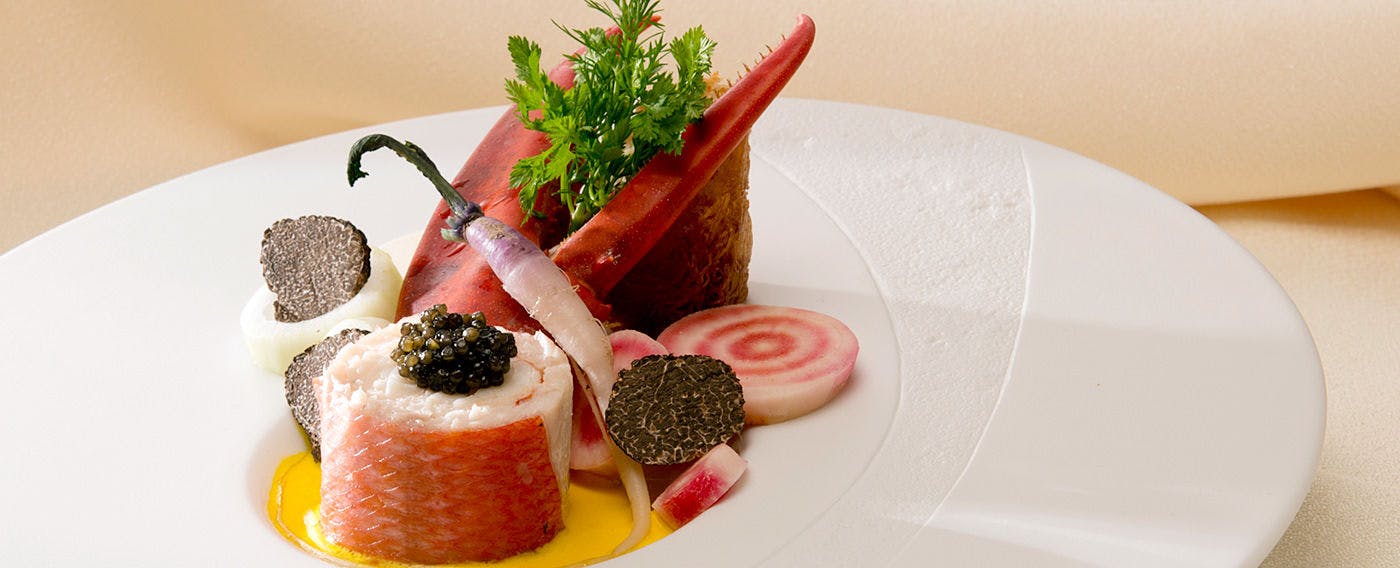 French Cuisine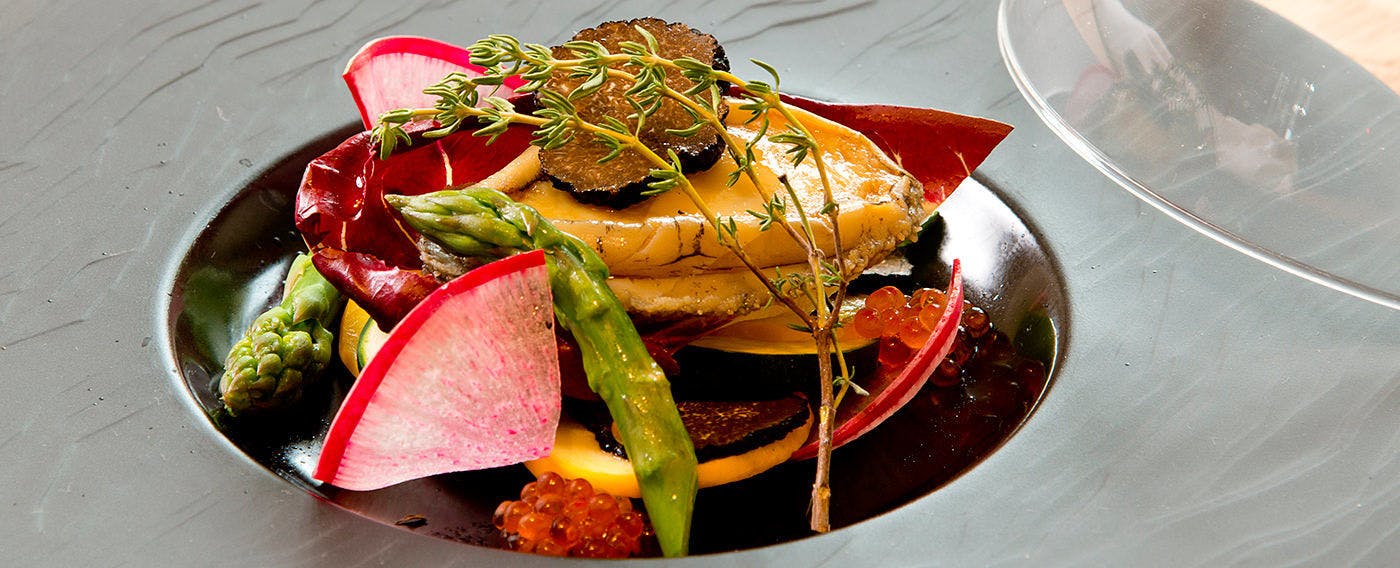 French Cuisine
Try Japanese kaiseki cuisine by chef, or dine at French restaurant like an auberge Japanese dinner is with excellent dishes by chef. Foods are specially arranged to come from local markets to be made into monthly changing menu wholeheartedly.

Japanese restaurant "Sakura"
Dinner: 5:30pm to 8:30pm
Breakfast: 7:30am to 10:00am

French restaurant "Yamamomo"
Dinner: 5:30pm to 8:30pm
Breakfast: 7:30am to 10:00am
Baths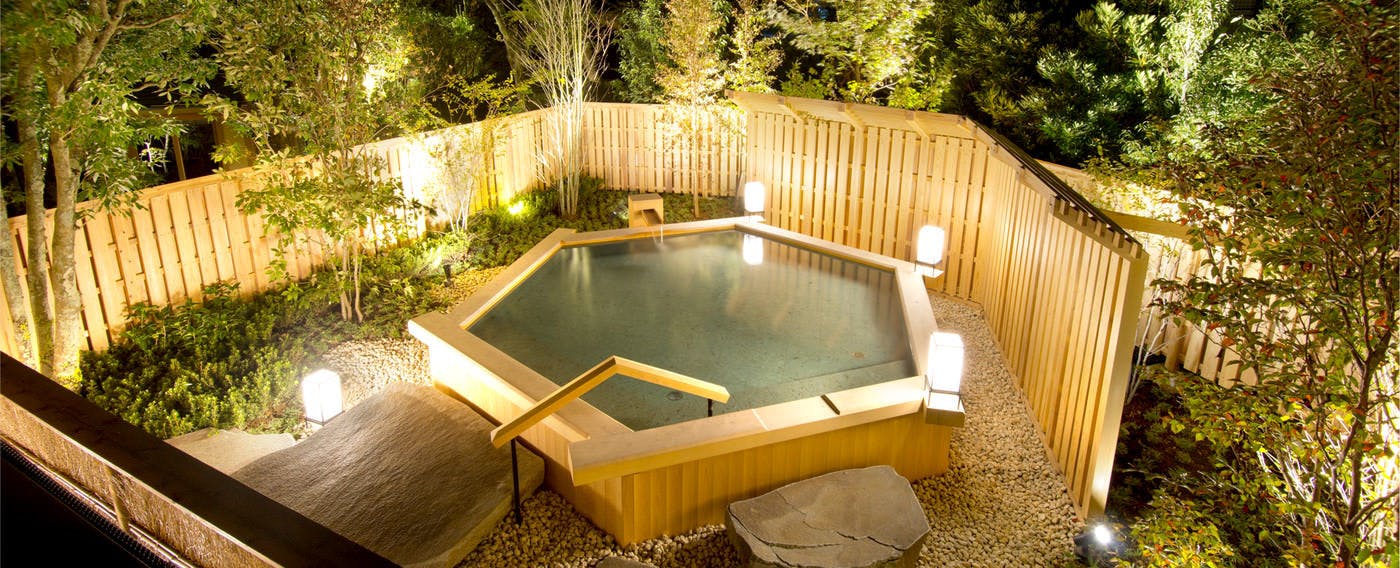 Public Open-Air Bath with Garden 'Aoi'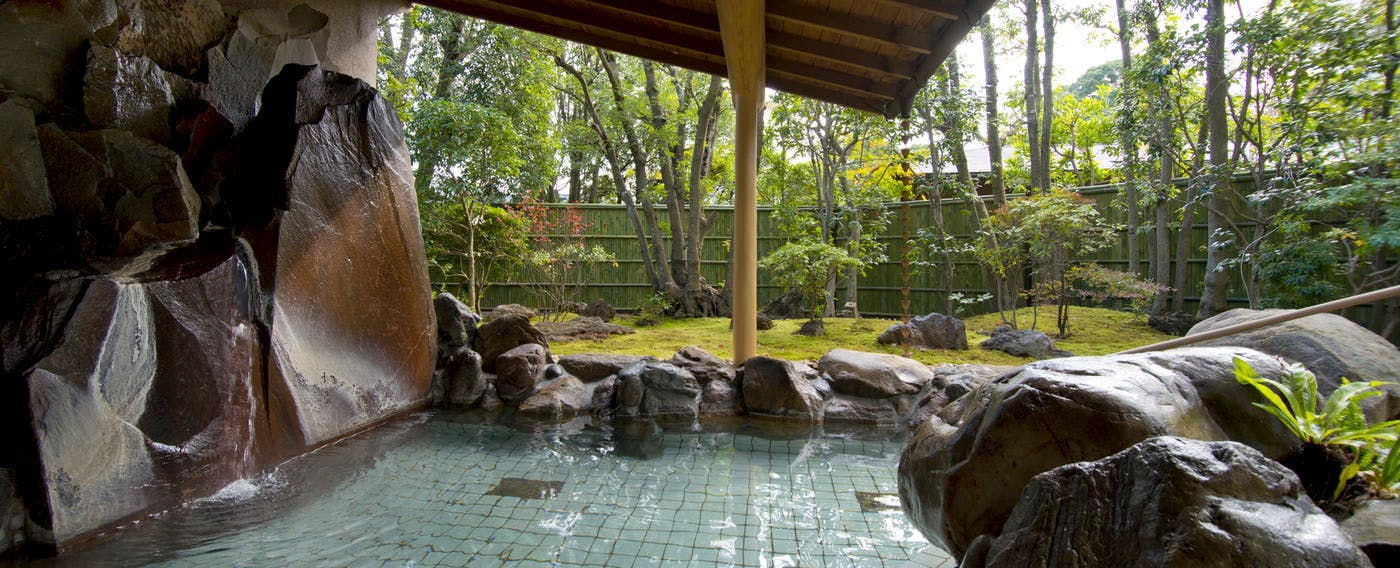 Public Open-Air Bath with Garden 'Hanabusa'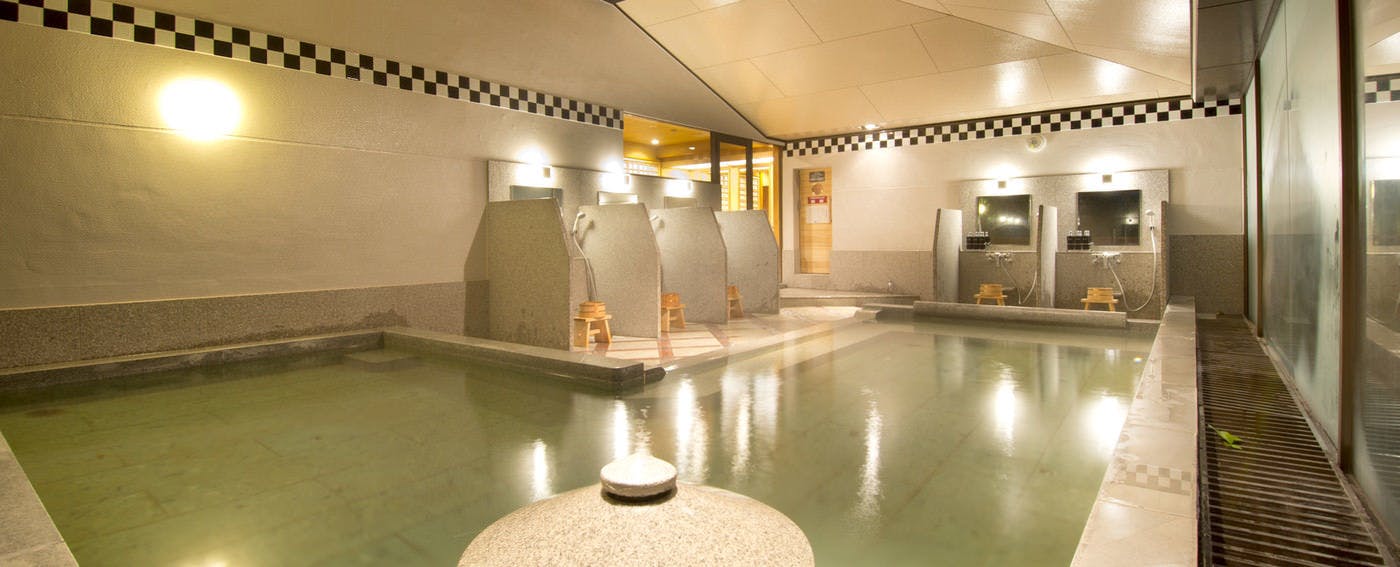 Large Public Bath 'Shien'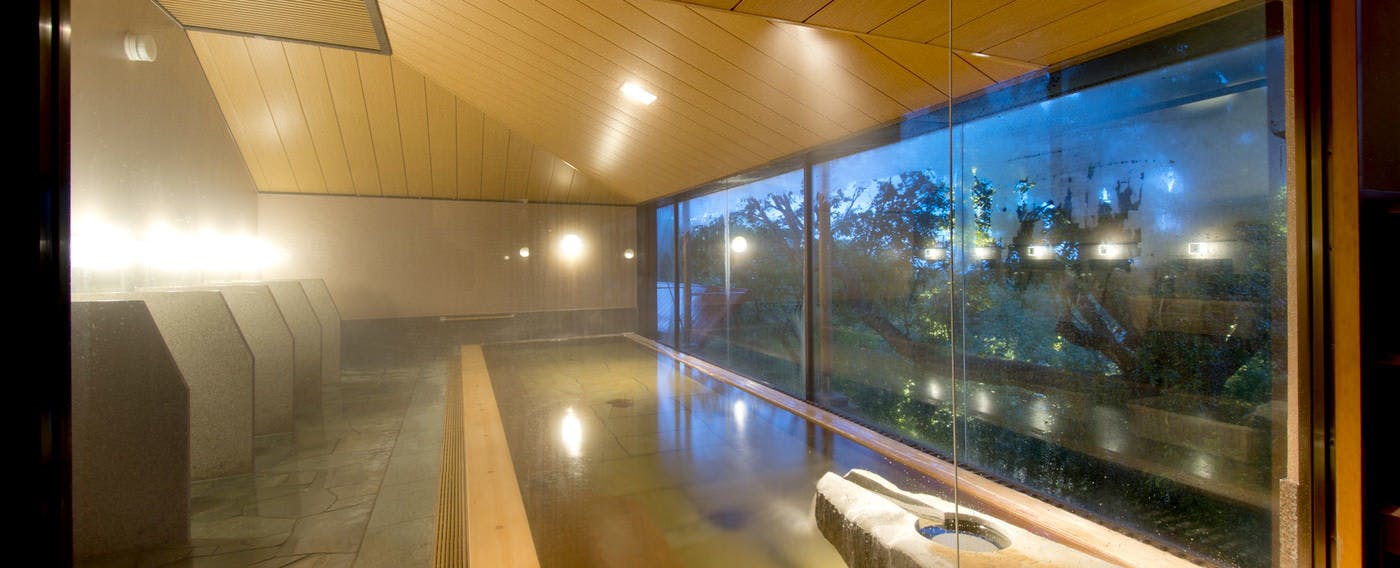 Large Public Bath 'Hisui'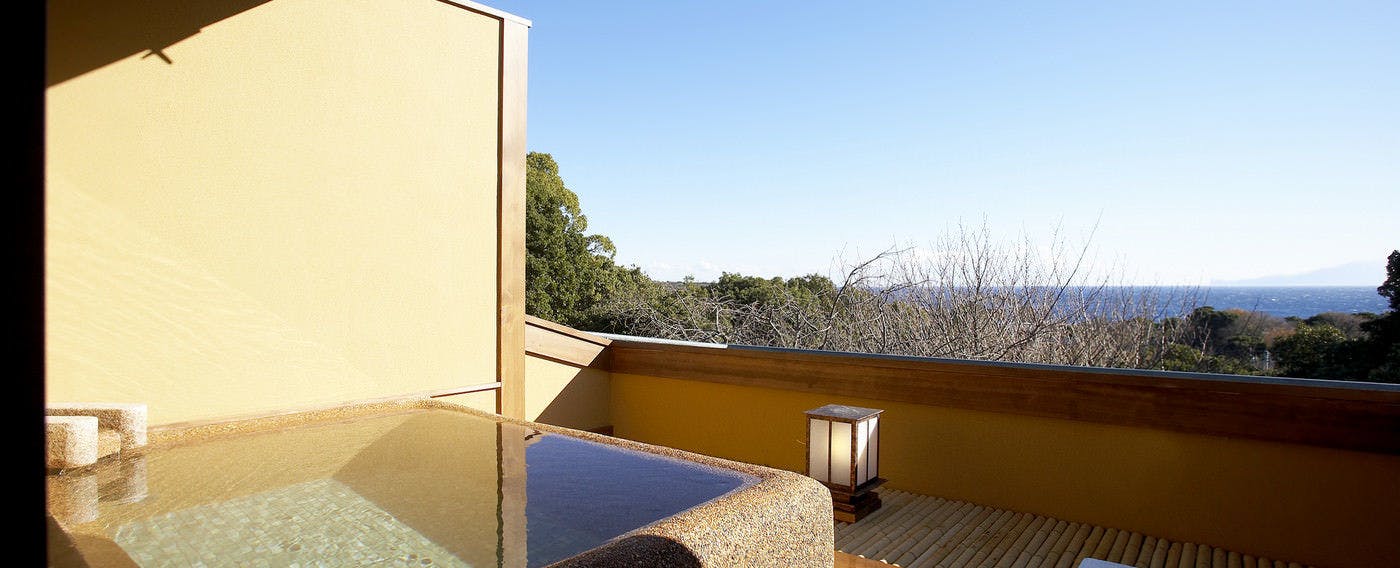 Private Open-Air Bath
Hot spring of soft and clear water to warm you from inside Relaxing in a bath is one of the best joys during journey. Zagyosoh has various baths to enjoy the rich hot spring water. Loosely with no stress, experience the natural warmth. Male and female baths are switched dependent on time, so you can try every bath.
Facilities
Japanese Garden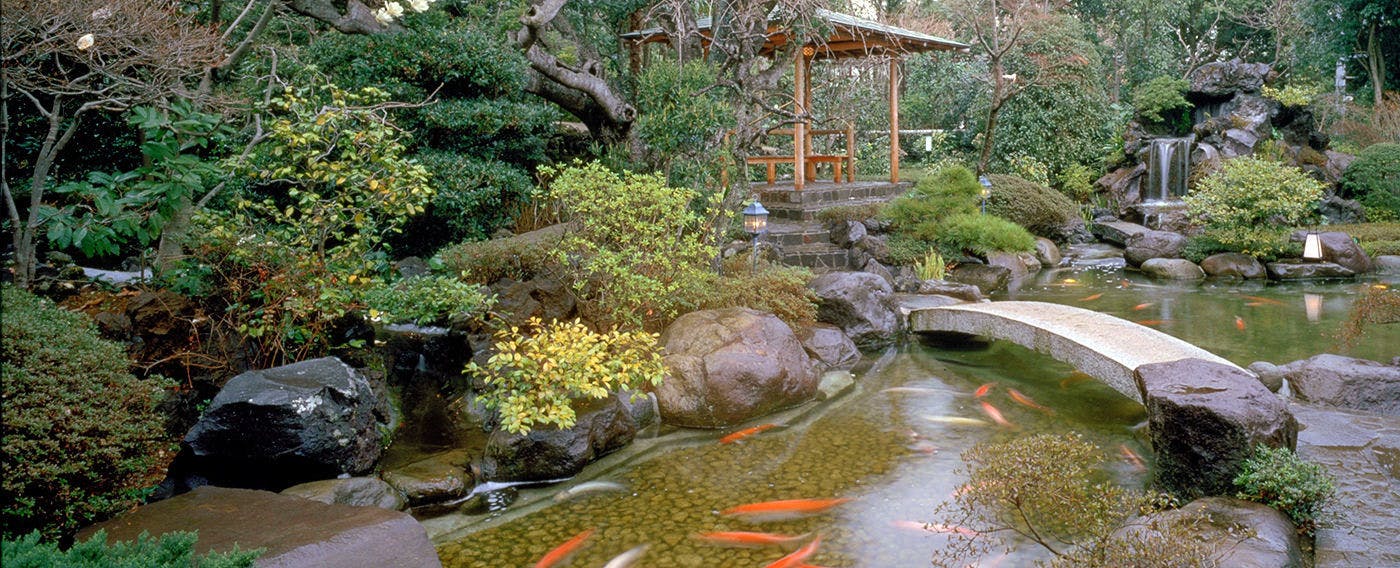 Japanese Garden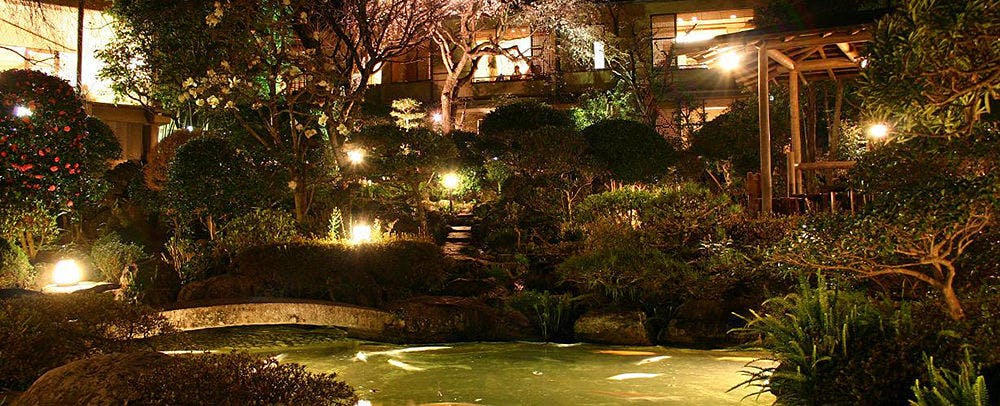 Japanese Garden at Night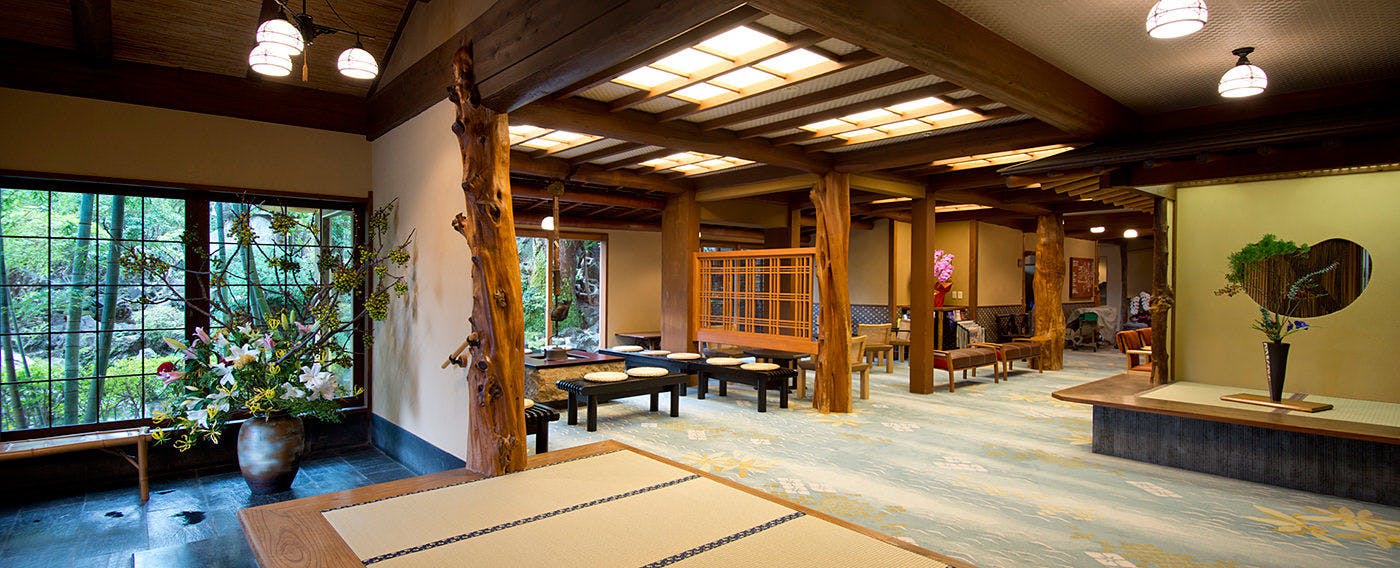 Lobby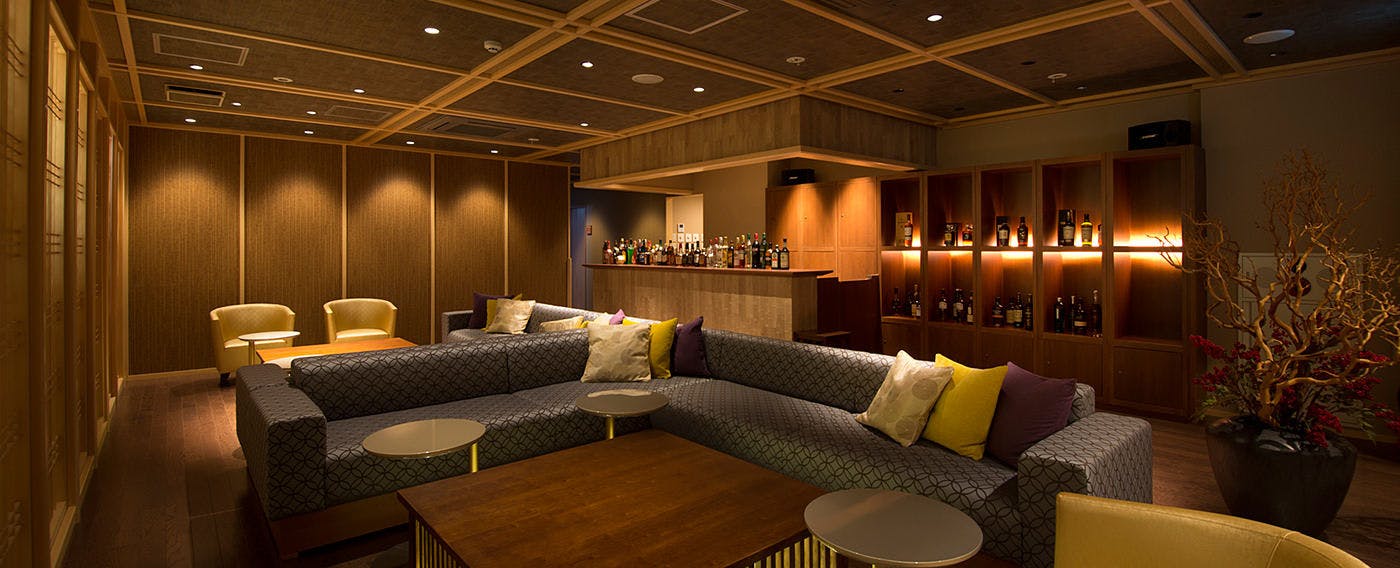 Bar
Japanese-style ryokan to feel the nature and seasonal differences The Japanese garden with real nature, not found in cities, welcomes you with atmosphere of each season in warm Izu and Japanese traditions.
Access
Yawatano 1741, Ito-city,Shizuoka,413-0232,JAPAN
BY TRAIN
From Izu-kogen Station: Shuttle bus available with reservation

BY CAR
From Atsugi IC Exit or Numazu IC Exit (Tomei Expressway): 1hr 30min by car
Reviews
12 Reviews
I am not a claimer and don't wish for this to be published, however I wasn't sure how to communicate this to you so I decided to rate the hotel on an internet forum. We apologize for the inexperienced staff. Is what the driver told us on our way home, and I really agree with this. Honestly, we paid over 200,000 yen for the two of us... why do we have to go home so displeased? I felt quite let down on the way home. Although my work industry is completely different, my experience this time would never be acceptable at my job. I think this is a very good example of what not to do (I apologize for saying this in a rude way). I feel as though it was a waste for being such a wonderful hot spring. It may have been that the staff were very busy because it was Silver week and there were many customers. Of course there were those who were very polite, however after many small unpleasant incidents, I was extremely disappointed. By the way, on the way back I had the ryokan make arrangements to take me to the station, but I went by taxi when I first came. The local taxi drivers there are more professional, and they were great.
+ More
Sep 2015
I could finally come to this inn which I have been wanting to stay from before. I am very satisfied. It was nice and clean since it has been renewed, and all the staff treated me very nicely. Maybe because I stayed on Sunday, all the bathts were like private and I used them many times without minding others, so it made me satisfied feeling like staying for 2 nights even though it was one night. Beer was included in complimentary drinks in the refrigerator, which is such a good service for those who drink alcohol. And, my husband, who loves coffee, seemed to like coffee in the room very much. The volume of the meal (Japanese meal) was just right with the right quality for a married couple who are in their fifties and eat mainly vegetables. The only thing I was disappointed was that the gallery was closed. I would love to visit next time.
+ More
Sep 2015
The garden was having a same image and atmosphere as the interior liked coming from another world. I was impressed with the best hospitality provided and mindfulness of all the staffs. I would like to stay in the villa building next time. Thank you very much.
+ More
Aug 2015
It's a spotlessly clean inn that I want to stay again in the autumn. The food was delicious, and the reception was very pleasant. I entered the open air hot-spring, the large bath and the cypress bath in the room, and the narrow stairs from the corridor on the second floor leads to a chartered open air hot-spring in the rooftop, which is very free and offers a gorgeous view that moved me. I hadn't stayed in a good inn in a long time, but the only disappointment was that in the Japanese-style breakfast, I was glad to be served hot dishes one by one, but the fruits that were supposed to be eaten as a dessert (?) was already at the table from the beginning, so when I had it, it was no longer cold, and didn't taste good. (They served a 100% juice first, but if they wanted me to have fruits before, I wish they had told me so). That's all from a healthy grampa.
+ More
Aug 2015
This was my first time staying here. It was easy to come from the National Route 135 to Ukiyama Onsen, but there were no traffic signs within the town which gave me some trouble. Regarding the inn, they show great hospitality starting with the reception at the time of arrival and a heartwarming service. I was not able to select a teppanyaki because of a fixed capacity for a meal, but the French cuisine was exquisite. I was satisfied with the hot spring, which is connected to the room, so you can use it any time you like. In any case, I have no complaints regarding the hospitality, which starts with your arrival, so I would recommend it to those seeking tranquility. The reason for a missing star for the facility is because I wanted to stay at a place with an ocean view, but since that didn't happen I removed one star. Still, I understood that from the beginning, so it's not really the inn's responsibility.
+ More
Aug 2015
Thank you very much for a wonderful holiday. As I love Izu and Hakone area and long-established hot spring inns I enjoy visiting there with my wife and my daughter. The room with a nice view and the landscape of the green of the garden from the high window are wonderful. Needless to say, the public bath was clean and superb but my family also enjoyed the clean and spacious open air bath in the rooms. The room with a refrigerator, the bathroom with plenty of drinks available... The spirit of service is excellent. Please continue this way. The amenities were also perfect. It has a different view point than the ordinary onsen inns in Japan. This time we were served dinner in our private room, and this was also great. Anyway, the food is beautiful, gorgeous, exquisite and delicious. I wonder if it's the chef's sense. I was happy just to have French food. The organic vegetables and home-made bread were also superb. (an additional information: personally, the exhibition of Japanese katana is a must-see). I'll definitely stay here again. It was the best inn in my recent years.
+ More
Aug 2015
The room was spacious and clean, French cuisine was more delicious than I expected it to be, and the service was meticulous; I spent a very fun and satisfying summer holiday. I would like to stay here again in a short while. If I may point out one thing that bothered me, there seemed to be too many hanging scrolls and tea utensils as a decoration for the public space, but then again I thought it might entertain the foreign guests and since there are many foreigners visiting Japan, it might not be helped. I am ecstatic to find a great hotel without expectations. Thank you very much.
+ More
Aug 2015
I was able to enjoy a relaxing stay. The meals were delicious, and I would like to come again.
Jul 2015
I have stayed at various hotels, but this was the hotel I thought the best. Good things are a lot such as the room and the bath, but what I felt most pleasant was the natural smile of the staff and their way of treating me. It's not businesslike and good way of dealing with guests but the natural smile from the bottom of their heart and natural manners were the best. I'd love to visit there again around next spring.
+ More
Jul 2015
I was expecting authentic service, but I got disappointed as their service was far from that.
Jun 2015
This Golden Week I intended to traveling abroad, so I want to travels in country luxuriously so I had the privilege of using it for 3 nights and 4 days. It is high season in Golden week, and I have a pretty luxury in the price, but I think the overall satisfaction is worth with enough amount of money. Because it was almost perfect in all elements, on the other hand that can not be said as trivial mistakes such small mistake becomes conspicuous, so I give 4 star for reception and service. For example, when dinner time the date and contents of additional drink that charged to the the room was wrong, the amount of total was match, but confirmation for settlement of the bill when check-out was regrettable. Nonetheless, I would like to stay again, so please take care of us at that time.
+ More
May 2015
It was so wonderful that it made me want to stay for another night. I appreciated it that they upgraded my room as well. The time I spend doing nothing but looking at the beautiful garden was superb. I was very satisfied everything from the food, the hot spring and the staffs. Because it was a weekday and there were not many people staying so I enjoyed the hot spring almost as though it was private. Also the coffee placed in the room was very delicious. It is a ryokan that makes one want to stay again.
+ More
Apr 2015
Information
Check-in Time

From 3:00pm to 6:00pm

Check-out Time

Until 11:00am

Tax / Service Charge

Bathing Tax JPY 150 per adult is NOT included in the rates.

Credit cards accepted at this property

VISA / MASTER / JCB / AMEX / DINERS / UNION PAY / DEBIT CARD
Children

Children are NOT allowed under 12 years old.

Pets

Pets are NOT allowed.

Parking

Free of charge for guests; Capacity 30 vehicles; No Valet Parking Service

Other policies & conditions

Nothing in particular