MYOJINKAN
"Tobira Onsen Myojinkan sits 1,050m above sea level nestled away in Matsumoto City in Nagano Prefecture, surrounded by the beautiful natural environment. Established in 1931, Myojinkan has a history of 80 years and is enjoyed by visitors from all over the world offering bubbling hot springs amidst a tranquil and remote natural environment. Tobira Onsen Myojinkan combines the elements of a traditional Japanese inn with all the creature comforts of a luxury hotel. Enjoy the serenity of the murmuring brooks, tranquil bird song, conifers swaying gently in the breeze and snow covered vistas and feel the stress and tension melt away. Experience the unique beauty of the four seasons and true Japanese hospitality at Tobira Onsen, Myojinkan for a memory that will stay with you for a lifetime. "
- VAT is included, but bathing tax (around JPY 150 per adult) may NOT be included.
- Price in USD is based on the exchange rate as of today and might be different from that of the booking date.
Foods

Foods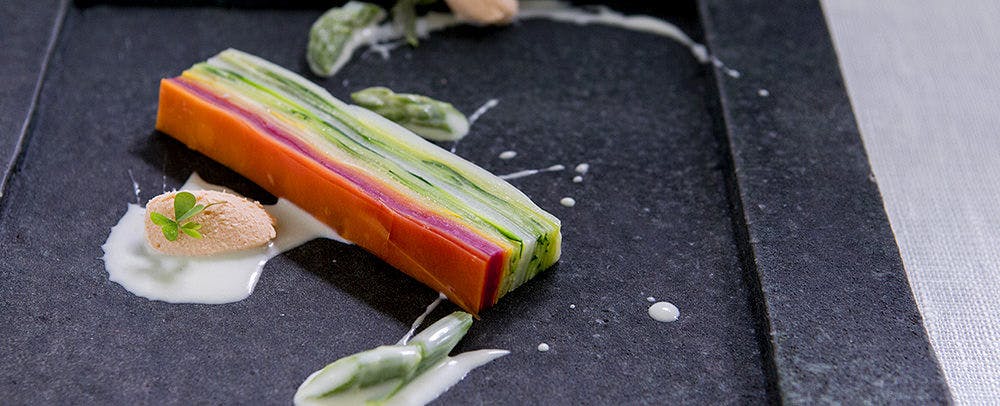 Foods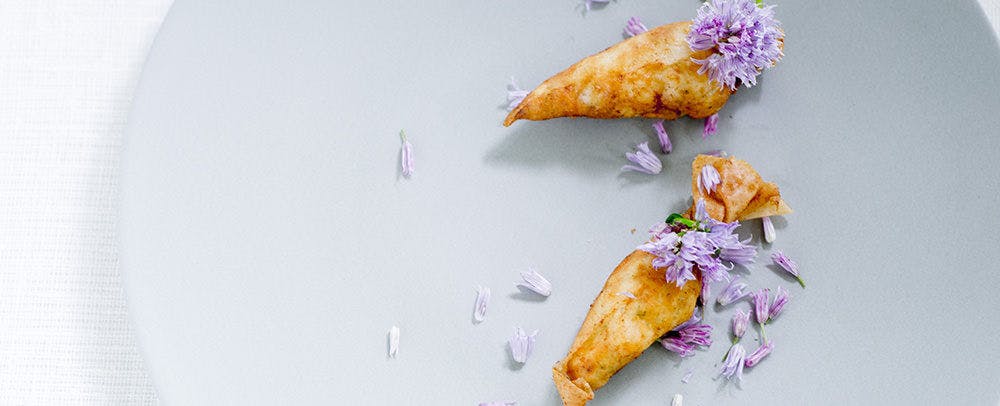 Foods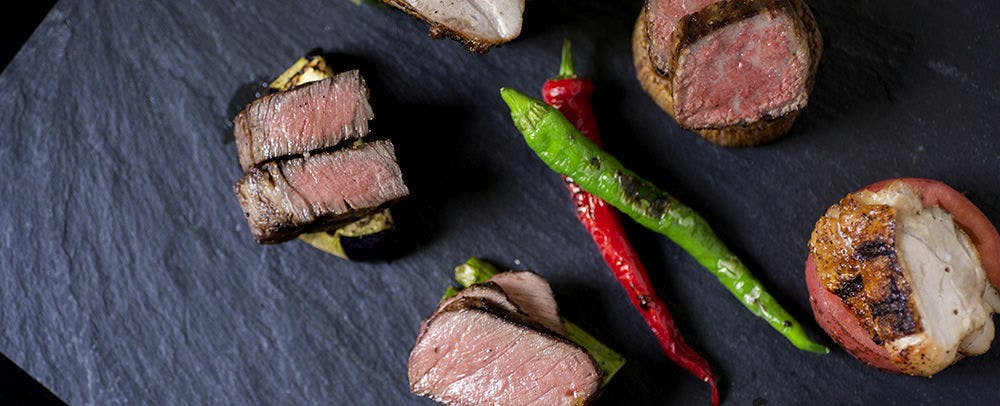 Foods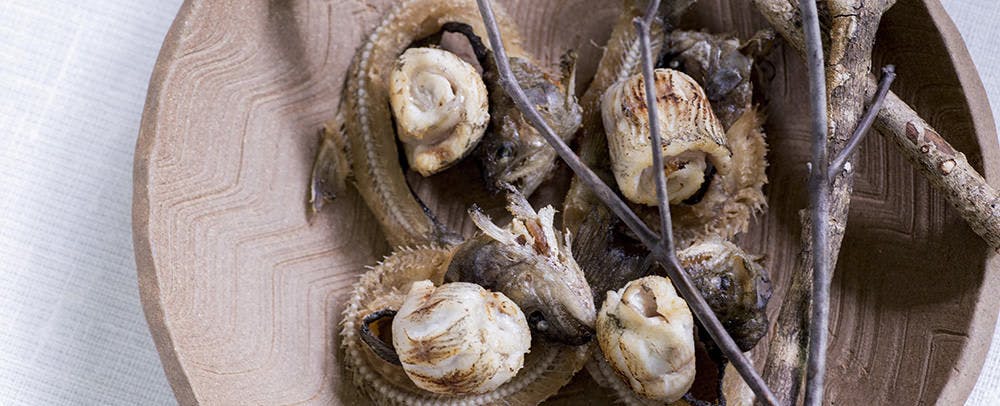 Foods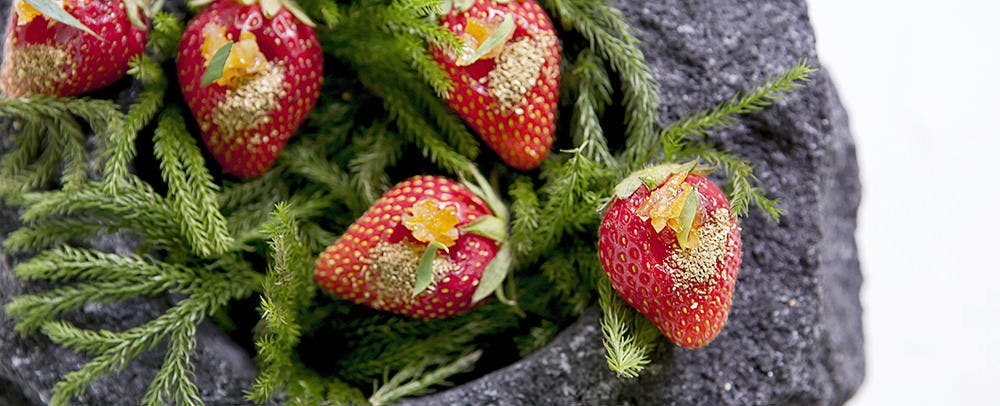 Foods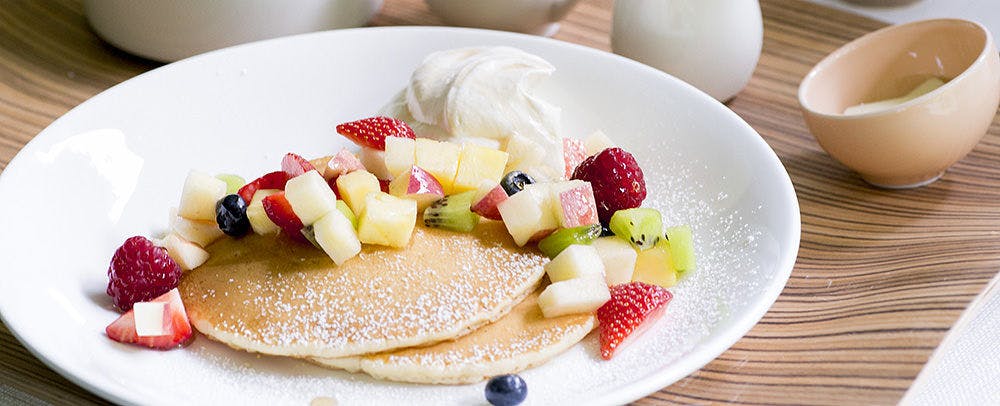 Breakfast at French Restaurant 'SAI'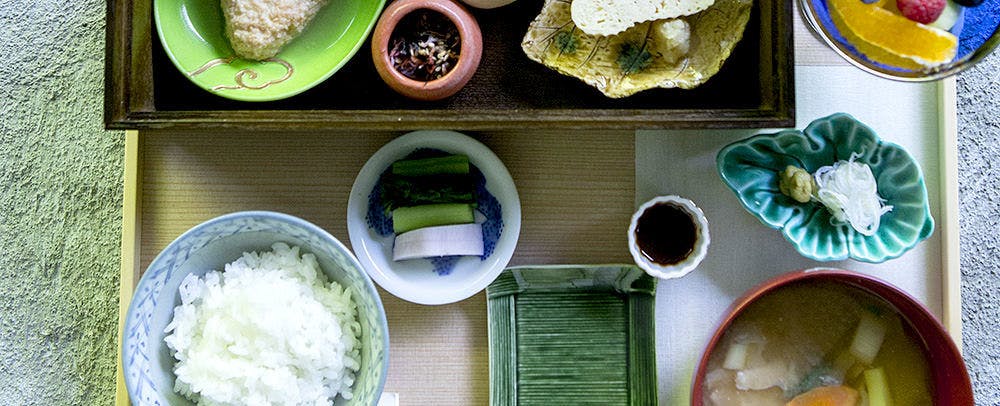 Breakfast at Japanese Restaurant 'TOBIRA'
Local production for local consumption "Local production for local consumption" is a philosophy Myojinkan believes in.
The local fresh product is to provide the ultimate dining experience with beautifully presented cuisine that is sure to tasty. All of the rice and the vegetables served in Myojinkan are the highest standard, grown locally at the own organic farm nearby the ryokan.

Cuisine on offer features the traditional Japanese Kaiseki and the organic French. Choose the favorite dinner course from those 2 kinds of dishes upon reservation by special request, or tell us after the reservation. The restaurant seats are limited and need advanced reservation.
Baths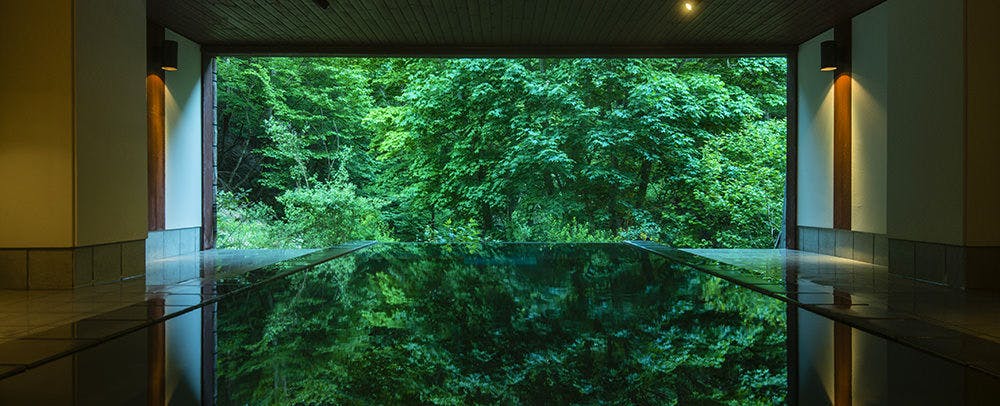 Large Public Bath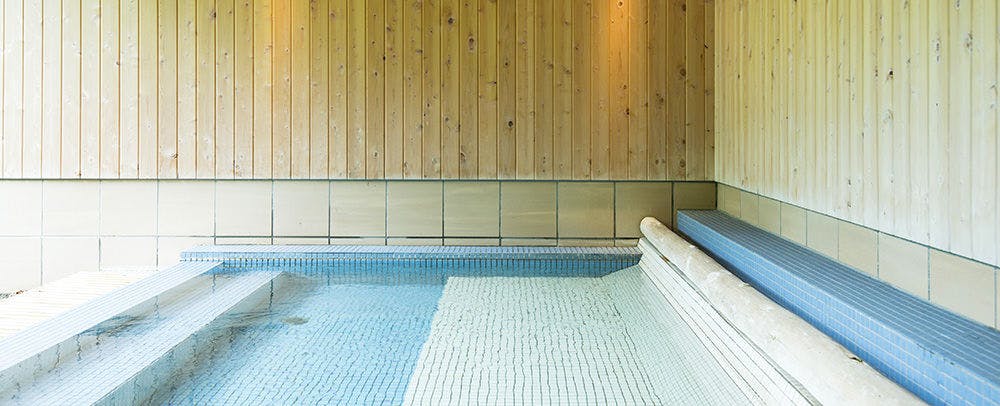 Large Public Bath
Hot spring water at Tobira Onsen Myojinkan The temperature of the hot spring water is 42 Celsius. The clear water at Tobira Onsen is very gentle on the skin and doesn't cause over-stimulation. As a result, this hot spring is even suitable for those with sensitive skin or young children.
The hot spring water at Tobira Onsen is especially beneficial to your body in many ways.
Facilities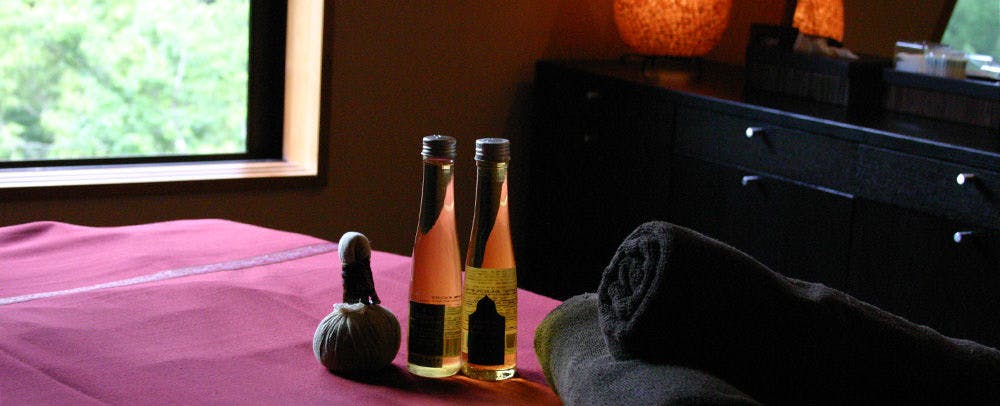 Aroma Room 'NATSURA'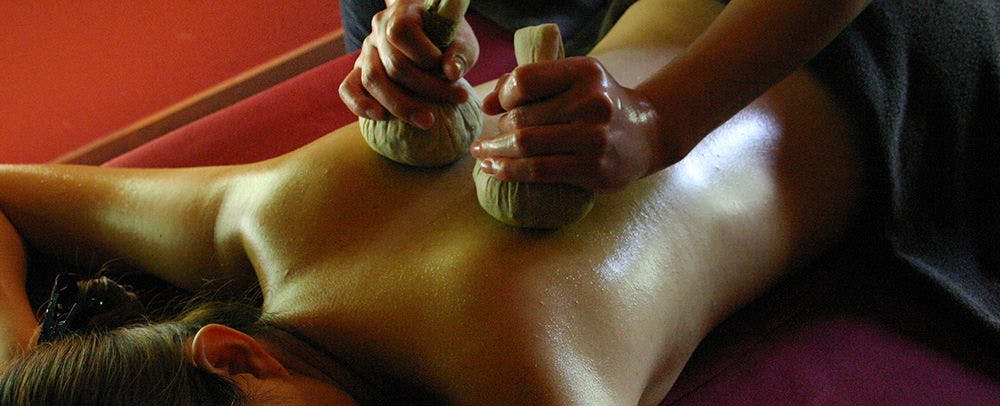 Aroma Room 'NATSURA'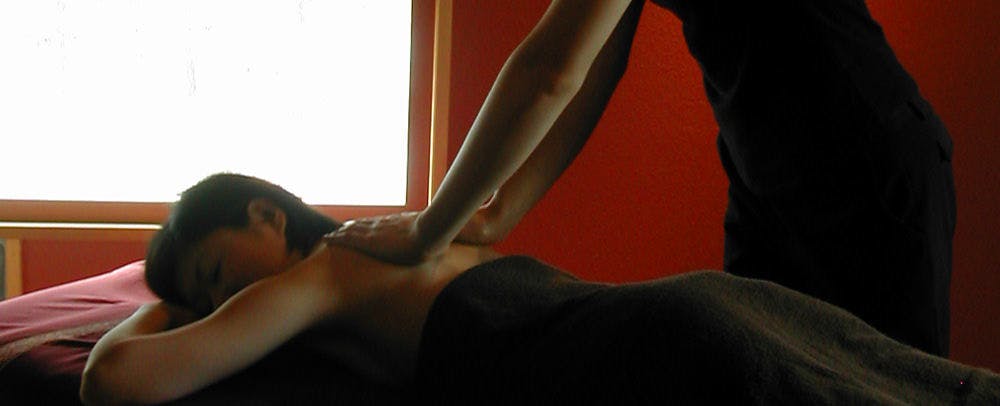 Aroma Room 'NATSURA'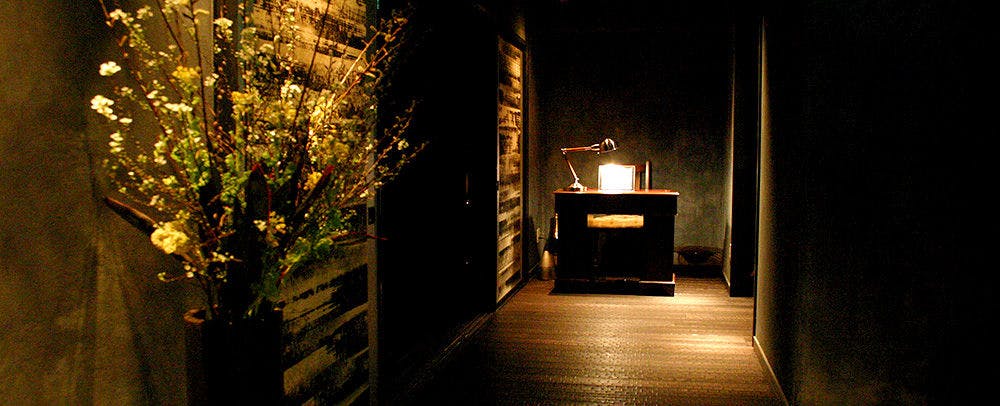 Aroma Room 'NATSURA'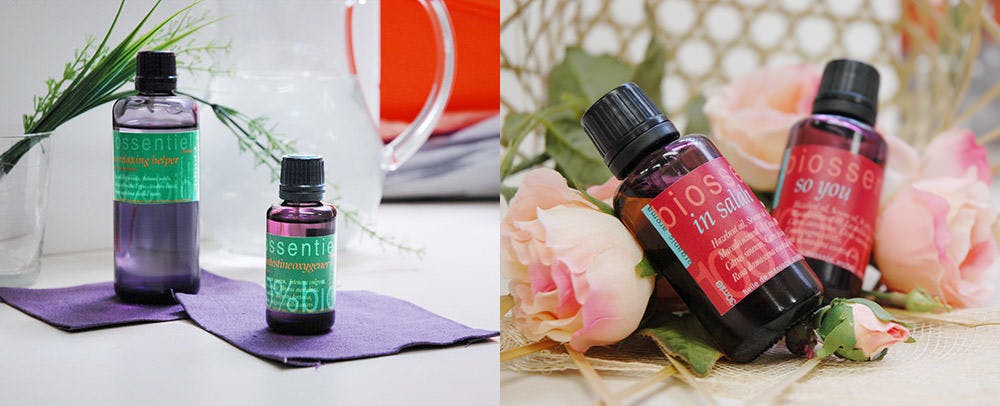 Inner Care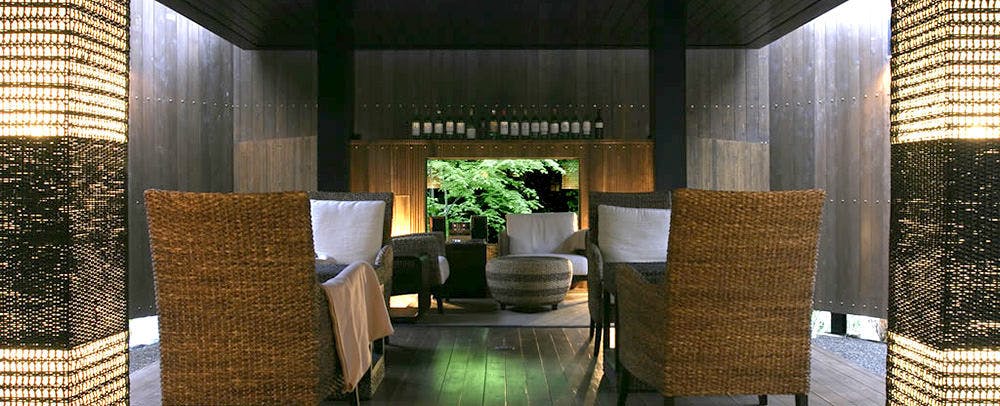 Lobby
Aroma room 'Natura' Plant power by phytotherapy and healing energy from therapist give deep relaxation to your mind and body. It will help you recover from stress and lead you to healthy body. Have some totally relaxing time.
Access
8967 Iriyamabe, Matsumoto-city,Nagano,390-0222,JAPAN
BY TRAIN
From Shinjuku Station: 2hr 40min by JR Express "Azusa" to Matsumoto Station, and 30min by taxi or shuttle service
From Shin-Osaka Station: 1hr by Shinkansen to Nagoya Station, and 2hr 10min by JR Chuo Like to Matsumoto Station, and 30min by taxi or shuttle service

BY CAR
From Tokyo: 210km by Chuo Expressway to Matsumoto IC Exit, and 16km via city center of Matsumoto
From Osaka: 180km by Meishin Expressway to Komaki IC Exit, and 195km by Chuo Expressway, and 16km via city center of Matsumoto
Reviews
I was finally able to visit after wanting to go for a very long time. Although the outdoor public baths were excellent as expected, I was also able to enjoy the indoor bath as well. The yukata was large at first, however I quickly received a new size and I had no further problems. The French cuisine was delicious, wasn't it? The grapes are sweet and the desserts are superb. The eggs Benedict for breakfast was delicious, however the bus time was disappointing... I was glad the check-out time was 12:00, however the last bus was at 11:00. After the last bus, we will have to use a taxi which will cost money. What should we do? Although we were troubled, we decided to take it easy. They might as well have the buses running until a later time... I thought. Also, I was pleased with the Yukata and thought about buying one, however it was disappointing that they didn't have my size. Nevertheless, I would like to come again. It seems like it would be nice in the winter.
+ More
Oct 2015
I stayed for the first time since its renewal. It was a plan with sweets, and I ate sweets at the terrace of the salon, where the green was beautiful, and I could very relax; however, it would have been better if they had something to wear on top of the Yukata since it was too chilly with Yukata to stay out for a long time maybe because of its high altitude. (it is in Winter) Talking about sweets, the cream brulee is so delicious that you expect other sweets to be good as well. As for a meal, I stay here every year since I like their french, and I could satisfy this time as well. I chose Japanese meal for breakfast, and the volume was little less than before, which was just right for me. I would go again.
+ More
Oct 2015
I felt very excited. But no matter in the morning or at night, the timing to have my meal was really bad. For both, nothing came out in 20 minutes time, it was clear that for the occupancy, the number of staffs were not enough, the problem was that whether you could familiar with it or not. I felt disappointing even the dishes were very delicious. Towels had been scattered at the bathroom in the morning. I found that there was a deficiency on the staffs.
+ More
Sep 2015
The meals were refined like an auberge, and the deep bath that was integrated with the untouched nature had a magnificent healing power. The meals, onsen and system draw a line between the other ryokan, and I especially liked the fact the you can define your own time to have your meals. But it the peak hours, the meals take too long to be served, so if they improve this point, they can offer an even superior service. One thing that caught my attention was the smell of cigarette in the room, so I asked for an additional ozone deodorization process, but who didn't like cigarette still got annoyed with the smell. That must be because the room has a very airtight structure, but I expect some kind of countermeasure.
+ More
Sep 2015
I was able to relax thoroughly. Because the concept for the dinner time was "Feel free to come between 6 and 8", I didn't have to worry about the time in hot springs and was able to enjoy it at my pace. I'm really thankful for such service. Delicious meals, beautiful rooms, lovely scenery and great hot springs make this an inn with a perfect 5 stars score. The street is a bit narrow, but I want to come here again. Thank you for a pleasant time.
+ More
Sep 2015
It was a quiet hotel with a nice atmosphere located in the Matsumoto spa town and surrounded by a lot of nature. I stayed at the room 412 and I really enjoyed the Onsen as I could have a relaxing bath listening to the sound of falling rain and a murmuring of a stream because the window of the bathroom was left open. The attitude of the many young staff who were working briskly made a good impression. The Kaiseki cuisine with the local ingredients was also delicious. Especially the well balanced Japanese-style set menu became one of the best 3 breakfasts of our family. But the only that I was disappointed with was that I wished I could be able to have more raw vegetables from the kitchen garden…that is what I thought when I was having breakfast and eating meat at dinner.
+ More
Sep 2015
I stayed for 1 night on 4th of September for the first time in a few years. When I went in the entrance with memories, all the staffs greeted me pleasantly, as always. The room was a Japanese room + a western room of Otaka type which I always like. Sitting on the sofa of the western-style room and looking at the green seen in front of the glass window makes me very relieved. As you see, the magnificence of Myojinkan is being in the natural environment. It is healing. The food which I was looking forward to was Japanese cuisine in the renovated dining. It changed to a very stylish dining and surprised me. Regarding the food, each plate was arranged in a sophisticated manner and it was enjoyable through the eyes as well. Meanwhile, breakfast was the traditional "asagohan" (breakfast) of Myojinkan which made me feel relieved. I was happy to find lemon milk and tobira natto (fermented soy beans). However I had to ask for another bowl of rice every time and wished they served rice in ohitsu (round, wooden container for cooked rice) instead. A handsome man from Hawaii waited tables with a gracious manner in the dining room. (I missed a chance to ask for his name) He was fluent in Japanese. I felt that they renovated the place with the visit of foreign guests in the future into account, however I hope they would maintain the traditional warmth while becoming sophisticated. I would definitely like to visit the hotel to find comfort.
+ More
Sep 2015
I had been here a few times, but the facility was gorgeous as it had been renovated. Dinner is one of the main events staying in an inn, and I had checked with them many times upon reservation and arrival, of ingredients we have allergies to. My husband is instructed by the doctor not to eat certain foods in relation to the antihypertensive medicine, and we are regularly quite sensitive to this ingredient, but to my surprise, this ingredient was served for dinner. It was OK because it was visible, but I am terrified to imagine if we ate it not knowing it was there. I wished they had more of a sense of danger to allergies and ingredients that need to be avoided. The meals were composed of cheaper ingredients compared to our last visit, and although I can see that the chef has good techniques, I wondered if he really thought it matched our plan. I feel no such negligence at Yagyu no Sho, which is also introduced at Ikkyu. All I can say is that it is regretful.
+ More
Sep 2015
This was my second time stay. I could spend a relaxing time for the service which was the same as before. It may be due to this season, but remains of bugs at the bath bothered me. Also, I was planning to have a nap after having a breakfast, so I was bit disappointed as the bedding was put away. However, it was the inn I would like to stay again if I have an opportunity.
+ More
Aug 2015
The hotel was just as I expected. In the spacious bath with a hinoki (cypress) bathtub, hearing the music played continuously, I enjoyed seeing little birds coming to the trees in front of me. I enjoyed the meal very much as well. However, it would be great if they explain the breakfast menu using pictures. My husband was not able to understand the explanation so that he couldn't chose the menu items he was not familiar with, kept complaining about his wrong choice. I made the right choice though (lol). I wish they provided a lather sponge or net for the bath amenities. As I find them relatively everywhere nowadays, I didn't bring one. Having said that, I was healed by the quiet time, delicious meals and comfortable bath. I would like to come back in a different season.
+ More
Aug 2015
There were a lot of bugs in suite room, so bugs hater must pay attention. It was summer, so it can't be helped, but the open air bath was full of moth, on the wall, inside the bathroom, and on the floor there were a lot of moth. I felt like bugs also staying inside the elevator. Me as insectophobia, I took a room with Jacuzzi, so I placed there in the end, and it was good. I wonder whether, the fluorescent lamp that keep bugs away is useless? People who don't like will don't like. There is a Jacuzzi in the room but I wonder whether it is 24-hour bath, because the ceiling is moldy. And, shower was also, full of dirt. The food, was with stylish atmosphere, but the taste was not special. I think the dessert was delicious for the food. It was full course, but the portion was small. But, there was no second helpings for bread. The portion is small for men. The most bothering thing is, the young staff. I know they take into consideration, but they can't answer even I asked. In some ways, they can't read the situation. What a rare experience. And, guest who go with cars must pay attention. It is mountain road, there are no width for car can pass each other, so one of them need to go backward. It would be severe for person who lack confidence in driving. Depends on the day, I think accommodation costs will different, and depends on the day to stay, the evaluation is change, but for me, since it is summer vacation I think it would be good to stay in more prestigious hotels.
+ More
Aug 2015
Then took care of us, family. It was in a deep, quiet place after driving the mountain road, which one car can hardly go through. We are the family who likes to relax and stay in the room with an open-air bath, so we often visit from place to place to go to hot springs. I looked forward to staying at Myouinkan in Tobira hot spring very much. I stayed in Kamikochi the day before and spent time by Azusa river so this hot spring left me an impression that it is a place surrounded by many trees. The flowers, I believe they were casablancas, were arranged beautifully, luxuriously and cooly; the interior also had a calm atmosphere which made me forget the everyday hustle and bustle. It has an appearance that makes anyone who comes here refreshed . The room was beautiful, clean and elegant which made me very relaxed. I stayed with my family so we had 2 rooms however I felt that the room at the back had more light and was better. The room at the front had the wall of the room stuck out to the garden which I felt was dark when I stayed in that room for a long time. I thought it would have been even better if they take care of the bonsai in the garden in front of the open-air bath. As for the hot spring, the open-air bath was good and so was the standing bath which I could go in and relax. The food; it was French all over and was very delicious. Probably because I reserved it at a last minute, my seat was close to the entrance for dinner and breakfast which was a bit disappointing. I would have liked to sit by the window. All the staffs were amiable however there were a few staffs who would not smile much and looked down. I was happy to find them serve the night snacks but would have liked them to place it at the front area from the entrance of the room where there was a tea set. I managed to spend a calm and relaxed time comfortably and satisfied. Thank you. I would like to visit again in a different season such as the time for the red leaves.
+ More
Aug 2015
Information
Check-in Time

From 3:00pm to 7:00pm

Check-out Time

Until 12:00pm

Tax / Service Charge

Bathing Tax JPY 150 per adult is NOT included in the rates.

Credit cards accepted at this property

VISA / JCB / AMEX / DINERS
Children

All children are welcome, except for Western-style rooms.
Children of 0 to 3 years old are allowed to share a bed with adult.
Guests who are staying with children are served kaiseki cuisine only.

Pets

Pets are NOT allowed.

Parking

Free of charge for guests; Capacity 35 vehicles; Valet Parking Service available(free of charge for guests);

Other policies & conditions

As for the selection of meal, it is a prior appointment system. We might contact you for overcapacity etc. Moreover, please acknowledge that we will prepare tea-ceremony dishes for guests with children. / The Western-style room type is not available with children.