Fujiya Hotel
Fujiya Hotel is one of the oldest hotels in Japan. Since founded in 1878, many famous people from around the world have stayed here. Enjoy the traditional architecture & natural hot spring bath.The Fujiya Hotel resides in breathtaking harmony with the elegance of the spirit of Japan and the relaxed pace of the west.
- VAT is included, but bathing tax (around JPY 150 per adult) may NOT be included.
- Price in USD is based on the exchange rate as of today and might be different from that of the booking date.
Foods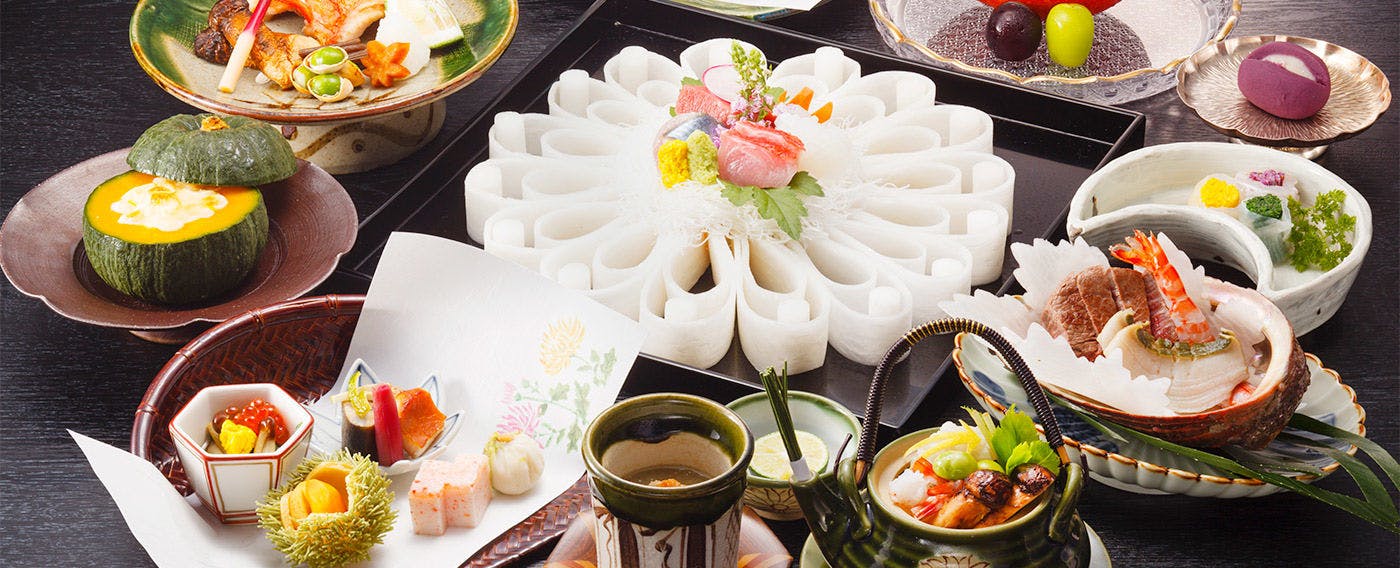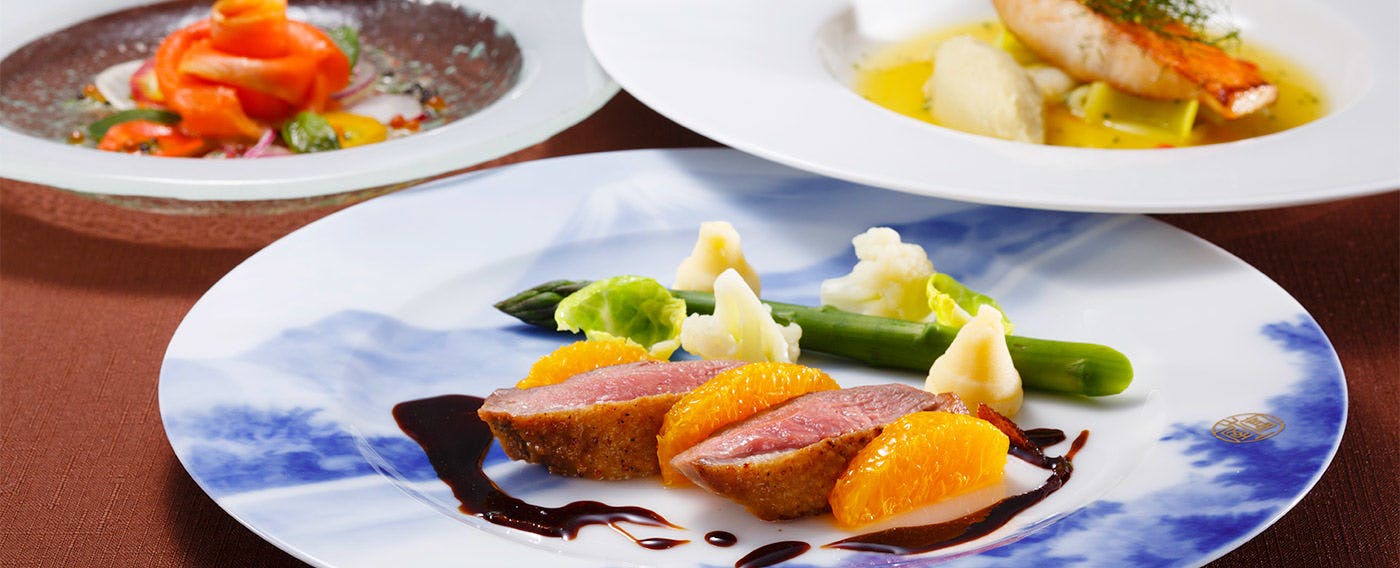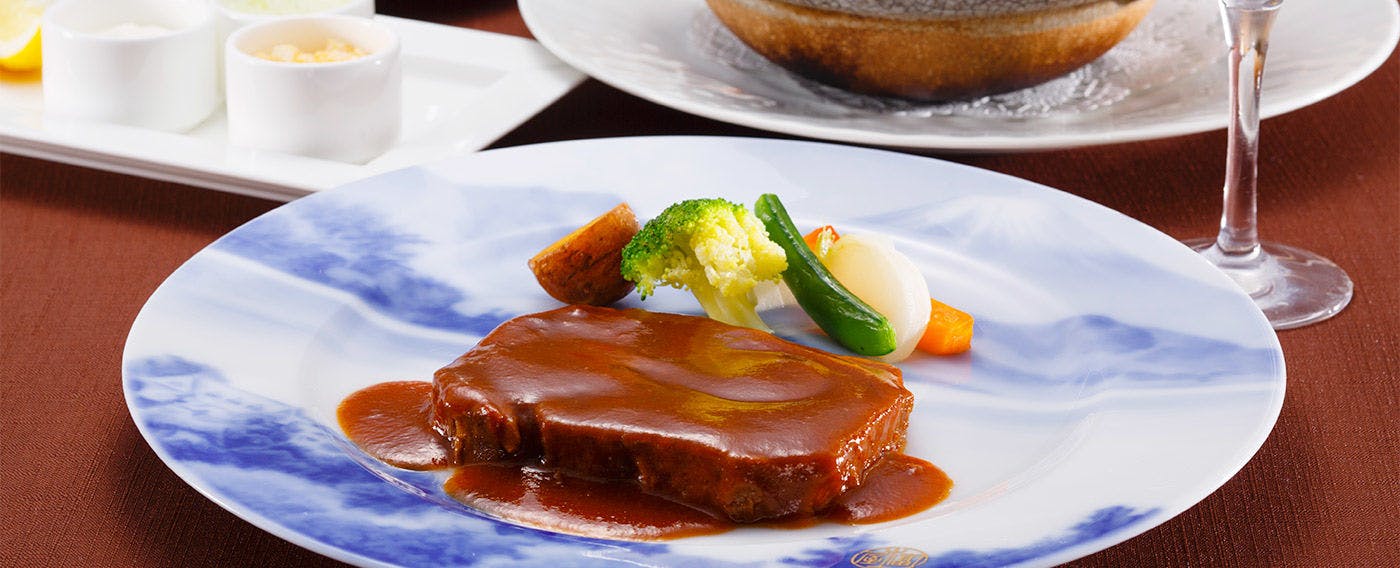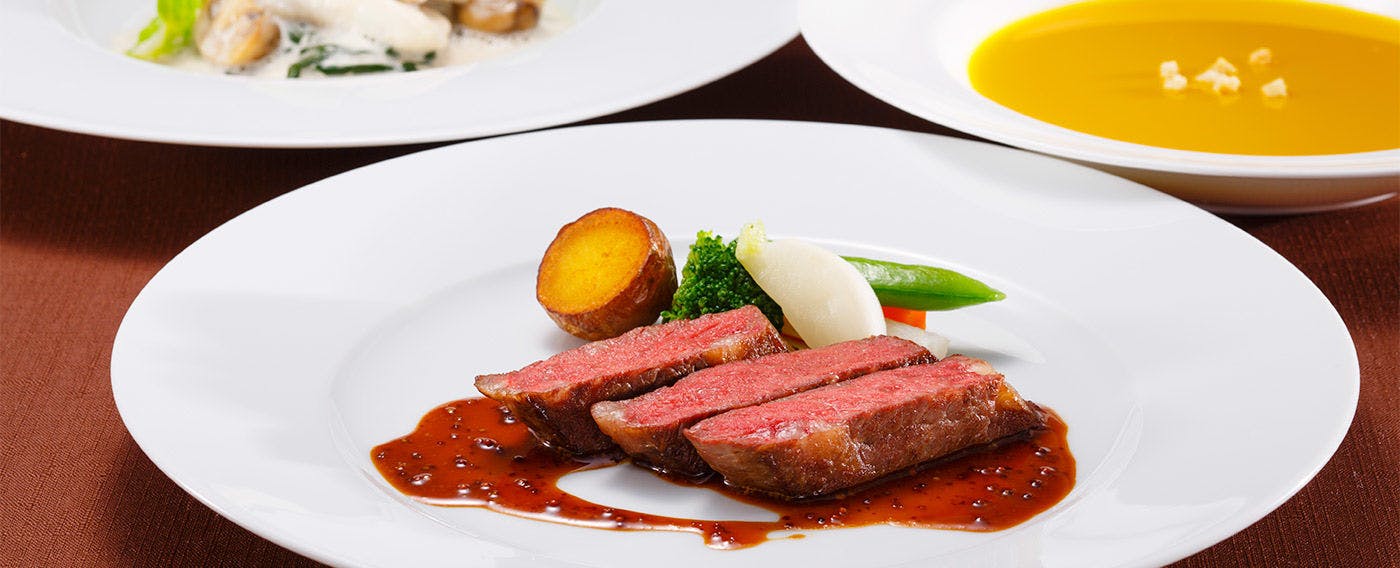 Enjoy the traditional taste preserved since the olden times. The Fujiya Hotel has a taste that has been handed down gracefully over time. The chefs continue to preserve traditions continuing on from the previous generations. Please enjoy the "Fujiya hotel gastronomical experience" loved by all customers. There are three restaurants, the main dining room "The Fujiya" serves traditional French cuisine in classical style, cuisine at the annexe "Kikka-so" that was originally built as an imperial villa now serving kaiseki in luxury, the "Wisteria" grill serving great casual western food.

Main Dining Room, The Fujiya
The main dining room built in the year 1930 is modeled using Nikko Toshogu Shrine main shrine, featuring spectacular ceilings and sculptures with magnificent mountainous plants, flowers and birds reproduced here. In this classical atmosphere, you can enjoy traditional French cuisine from the source.
Hours of operation:
Breakfast: 7:30 - 9:30, Lunch 11:30 - 14:00 (weekdays) & 11:30 -14:30 (Saturdays, Sundays and public holidays), Dinner 17:45 - 20:30 (reservation system)

The Annexe, Kikka-so Inn
Built in 1895 as an imperial villa for the imperial family of Miyanoshita, is exemplary of true Japanese architecture, that later served as a villa for the Takamatsunomiya family bachelor. Coloured by a rich historic past and tradition, it makes for an exceptional experience to indulge in Japanese cuisine in this luxurious atmosphere.
Hours of operation:
Lunch: 12:00 - 14: 00 (weekdays) & 11:30 - 14:00 (Saturdays, Sundays, public holidays)
Dinner: 17:45 to 19: 00 (through appointment only)

Grill Room, Wisteria
Relish in the taste of Fujiya Hotel in this casual restaurant. The volume of every single dish here is the main attraction. You can opt for breakfast in western cuisine buffet style.
Hours of operation:
Breakfast 7:30 - 10:00
Lunch 11:30 - 15:00, Dinner 17:30 - 20:30

Main bar, Victoria
It is a charming bar resonating with the aura of classical oriental style. As soon as you step in here, you feel as if you've entered another age. Here you can enjoy great sake and cocktails from around the world in a relaxing and calm space.
Hours of operation:
17:00 - 23:00 (last order for drinks)
Last order for meals is by 22:30

Bakery and Sweets, Picot
Adding new items to its bread and sweets by tradition, the place has been expanded to provide the best comfort. Alongside bakery products, the place also offers curry sauces and dressings.
Be sure to check it out for souvenirs and gifts.
Hours of operation:
8:30 - 19:00
Baths
All guest rooms come with natural hot springs. There are abundant hot springs gushing from the hotel's on-site source. From the public onsen to the hot spring baths and indoor swimming pool, all the guest room baths use water directly drawn from the source. Natural hot spring flows from the bathtub faucet in all guest rooms, and it being a small bathtub, private hot spring bathing is always an option. Please enjoy your luxurious bathing experience in your very own room.
Facilities
Facilities at the Fujiya Hotel Indoor hot spring pool
It is a luxurious indoor thermal pool that uses natural hot spring water. You can use it all year round. Guests can use it free of charge.

Sun Parlor
A lounge made just like a sunroom surrounded by glass doors and lit brightly by natural sunlight.
The place is renowned as a complete resort for more than 120 years. "Fujiya Hotel" has had many customers from all over the globe since its establishment in 1878. Integral to the history of resorts in Japan. All rooms are spacious and have attached hot springs. The lobby, the garden, the greenhouse, the indoor hot spring pool, etc. have a unique atmosphere where you can feel the history, with renowned design.
Access
359 Miyanoshita, Hakone-machi, Ashigarashimo-gun,Kanagawa,250-0404,JAPAN
7-min walk from Miyanoshita Station (Hakone Tozan Railway)

Pick up service available (free)
Pick up service is available up to Miyanoshita station, which is the nearest station. Once you reach the station, let the resort know know as they always pick the guests up when called. There may be times when you have to wait due to traffic, your cooperation is requested.
Reviews
The building and guest rooms were amazing as I expected. Also, the hospitality was quite polite and I was able to stay with comfort. I think the tour of inside the hotel at 16:00 was a great event to le arn about history. I felt that the all meals are carefully selected, especially, consommé soup and roast beef were excellent. I could feel that the breakfast's ham, bacon and egg were of great quality and they were local produce made for local consumption so I savoured eating all of it. I was already prepared as I saw reviews that public bath is small and room's bath is the same size as usual hotels which was disappointing. I understand that they pay attention room's bath more than the public bath perhaps for inviting more international customers...in this season though, I think the level of satisfaction gonna rise if the pool, which nobody seems to use, is switched to a public bath.
+ More
2016/12/20
I couldn't choose our guest room here but we could stay at Hanagoten and my parents, especially my husband, who is from abroad, was very impressed by the beauty and the splendor. The staff's service was genuine and heartfelt when I was asking about my little nephew who I thought might not want to stay a long time at the meal. We enjoyed the joint tour of inside the hotel, and we got to know the Fujiya hotel more creating awesome memories. I usually live abroad and I don't get to spend time with my family, but we promised to stay at Fujiya hotel with three generations of the family together again. I was surprised that staff's interaction was quite casual, including the person in charge of our luggage and the woman at the front, might not be in line with the expectation from a long-established hotel but it wasn't awkward at all, since it's like a unique trait like a fresh breeze alongside preserving the hospitality of old days. I was relieved to know that there was another bath for my parents who weren't used to unit-baths. I turned into a fan of Fujiya hotel over this stay. I'm gonna try and stay at the room of Kiku at Hanagoten some day. Thanky very much.
+ More
2016/12/20
We stayed here to celebrate my son's marriage. The building show a little wear and tear, but one can feel the spirit and history of the place without any discomfort. Thank you for caring about our meals and my preferences on what to avoid. It was so tasty. We had a great ceremony and the staff took a picture of the celebrations day. The garden looked breathtaking with autumn leaves and the place made my mind be at peace. I would like come here again in this season too for sure. And finally, I'm really grateful to them for finding my lost item.
+ More
2016/11/20
I used their facility for my parents' golden wedding jubilee. It was a great anniversary trip for my parents as they browsed through the resort's account book from 50 years ago and found pictures of when they came here for honeymoon. My whole family were really satisfied. Everything was amazing from the room, the meals, hot spring at the room, to service and hospitality. If we have chance to go there again, please take good care of us again.
+ More
2016/10/20
It was good cuz there were classic hotel's atmosphere be it in their lobby, dining or guest rooms. The service was great above all else. I say that because they prepared a birthday platter for my wife after they realized that it was my wife's birthday that night. Also, the staff seemed polite and has light hearted as I asked them for sightseeing places while checking in my luggage. We enjoyed a really very comfortable lodging time here.
+ More
2016/10/20
Information
Check-in Time

From 3:00pm to 10:00pm

Check-out Time

Until 11:00am

Tax / Service Charge

Bathing Tax JPY 150 per person is NOT included in the rates, and required at the hotel.

Credit cards accepted at this property

VISA / MASTER / JCB / AMEX / DINERS / UNION PAY
Children

Children between the age of zero to five are free of charge if they share a bed with you.

Pets

Pets are NOT allowed.

Parking

Free of charge for guests; Capacity 80 vehicles

Other policies & conditions

Since January 5th 2015, all guest rooms throughout the hotel is a non-smoking facility. We do appreciate your kind understanding on this matter.