Gion Hatanaka
"When you examine closely the culture of Shichu no Sankyo of Higashiyama, you will find that its primary purpose was to be a small mountain retreat for tired locals. The gentry of the capital at that time chose to enjoy this place for it's tranquil beauty, contrasted against the hectic life of the city. The origins of many tea related traditions of Japan, such as the wabicha style tea ceremony, and offering tea to the deceased can be found here. Facing the Yasaka Jinja shrine, completed by the Kodaiji temple from behind, Gion Hatanaka is the elegant and peaceful successor to the heritage of Higashiyama. It is an oasis of the mountains respite, nestled in the midst of a city. Standing silently and wordless, Gion Hatanaka hopes to show you the beauty of the Higashiyama people, which has lasted here unbroken since ancient times."
Japanese-Style Deluxe with Wooden Bath

No meal

Japanese futon bedding

See Details
From $430.74
for 2 guests /night
Japanese-Style Deluxe with Wooden Bath

Breakfast included

Japanese futon bedding

See Details
From $469.90
for 2 guests /night
Japanese-Style Deluxe with Wooden Bath

Half board included

Japanese futon bedding

See Details
From $665.69
for 2 guests /night
- VAT is included, but bathing tax (around JPY 150 per adult) may NOT be included.
- Price in USD is based on the exchange rate as of today and might be different from that of the booking date.
Foods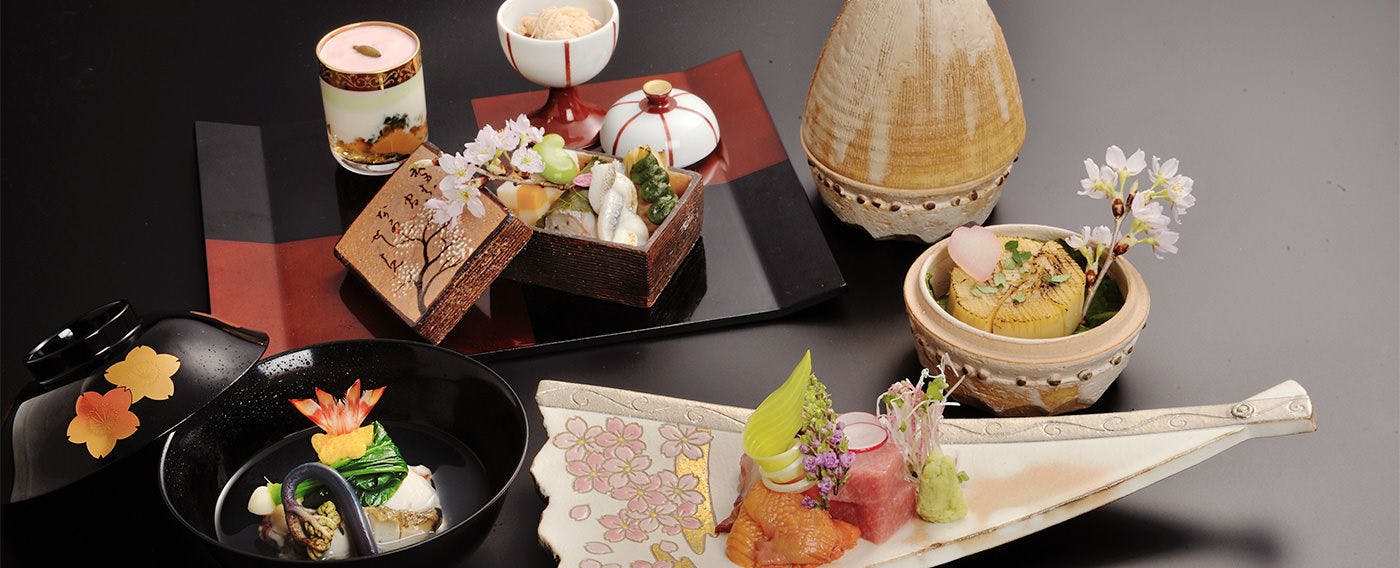 Foods
Foods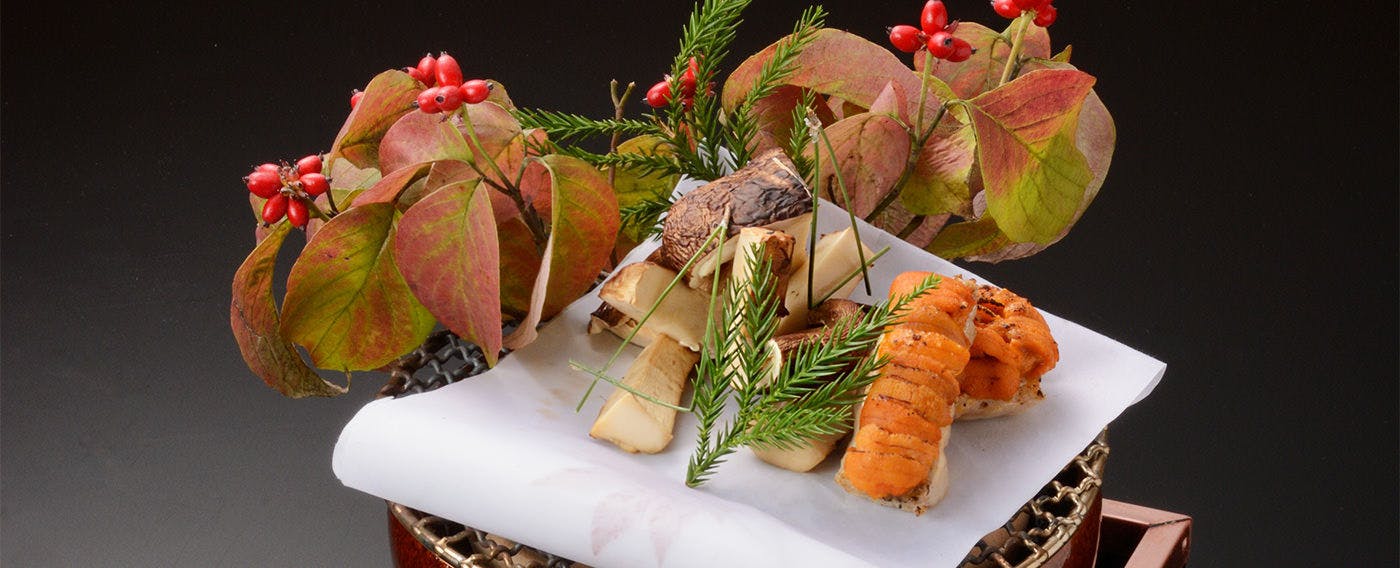 Foods
Kaiseki cuisine in traditional Kyoto-style Gion Hatanaka offers traditional Kyoto-style kaiseki cuisine. Fresh seafood, seasonal foods, local vegetables "Kyo-yasai", and Japanese wagyu beef are carefully arranged in delicious and beautiful dishes. Enjoy the traditional and refined skills of chef and Japanese taste.

*Not available at this ryokan are vegetarian foods(no fish, no seafood), gluten-free foods, halal foods, and some other food arrangements which restrict basic flavors or ingredients. Also, please tell this ryokan beforehand if you have any food allergies.


Baths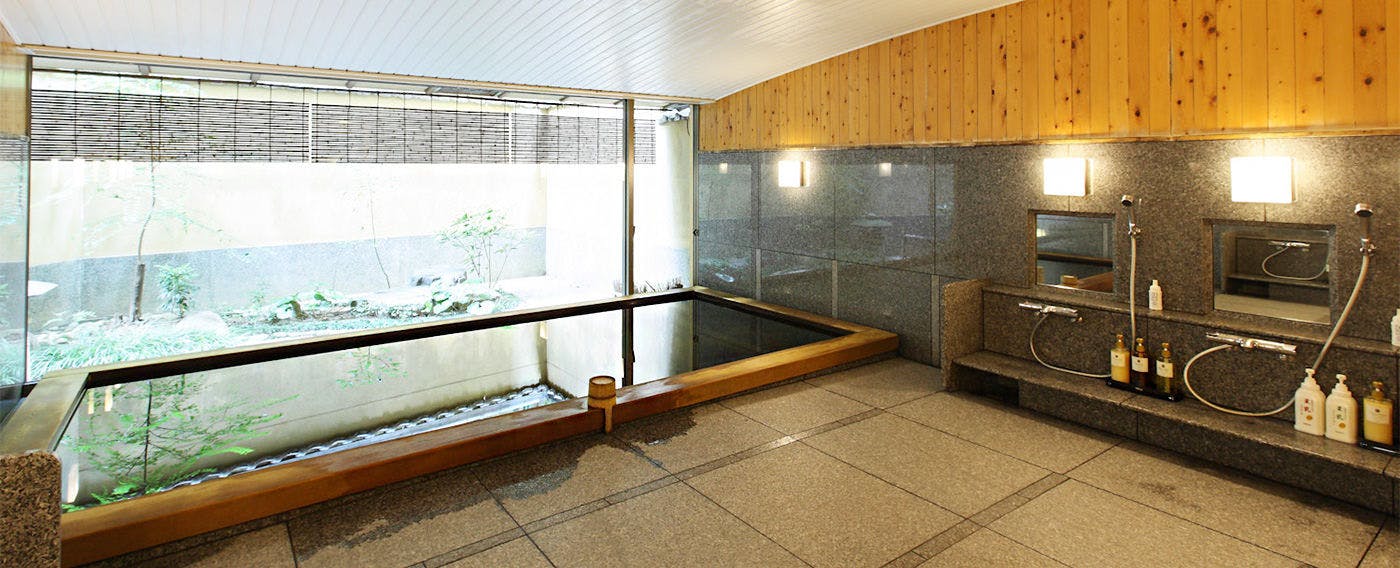 Large Public Bath
Large public bath made of the best wood One of the largest public bath in Kyoto, made of the best wood of umbrella pine. Bath with the same wood is also in every room so that it heals your body after the long journey.

*Baths at this ryokan are not natural hot spring which is geothermally heated.
Facilities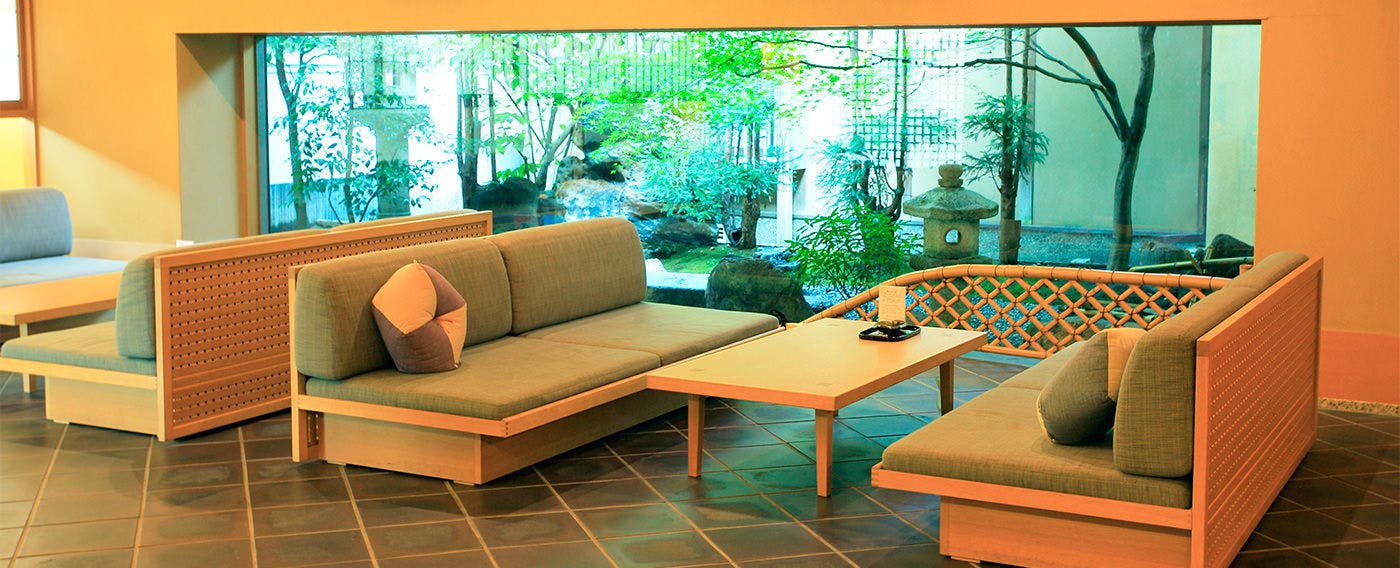 Lobby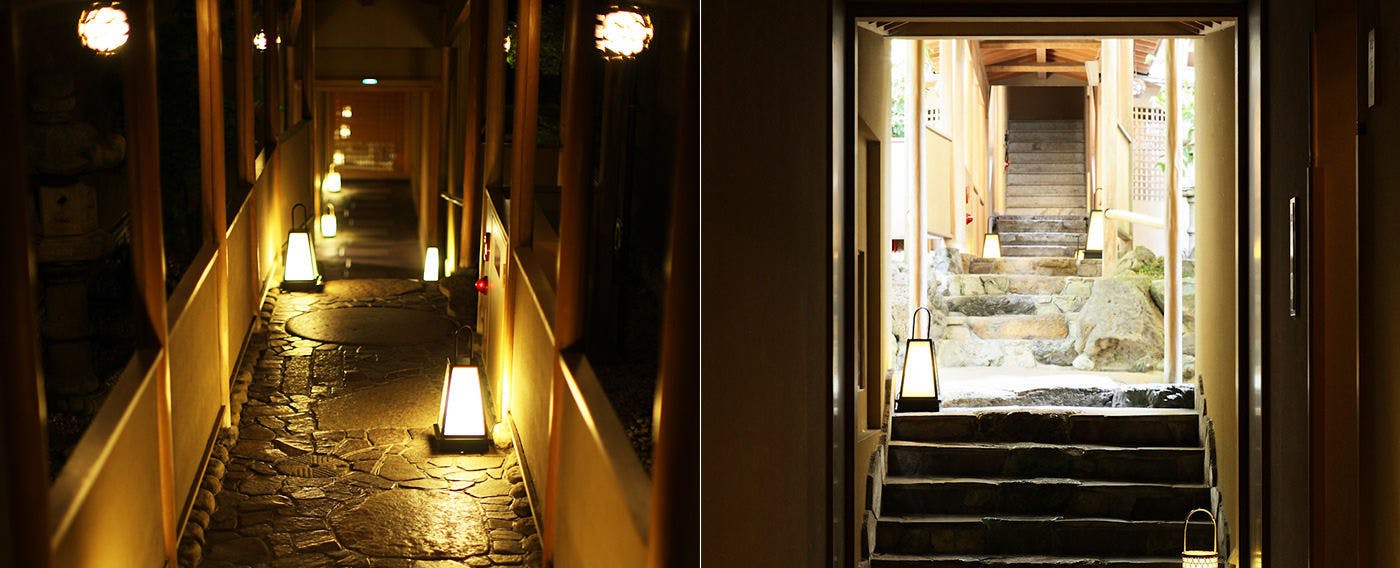 Corridor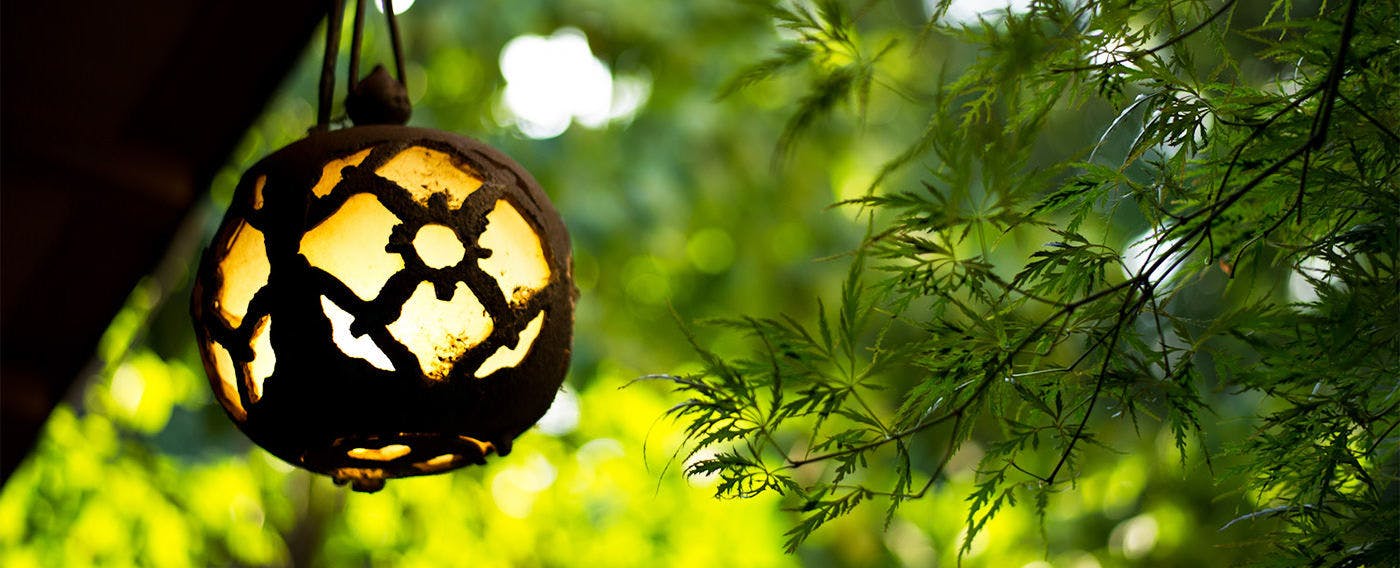 Facilities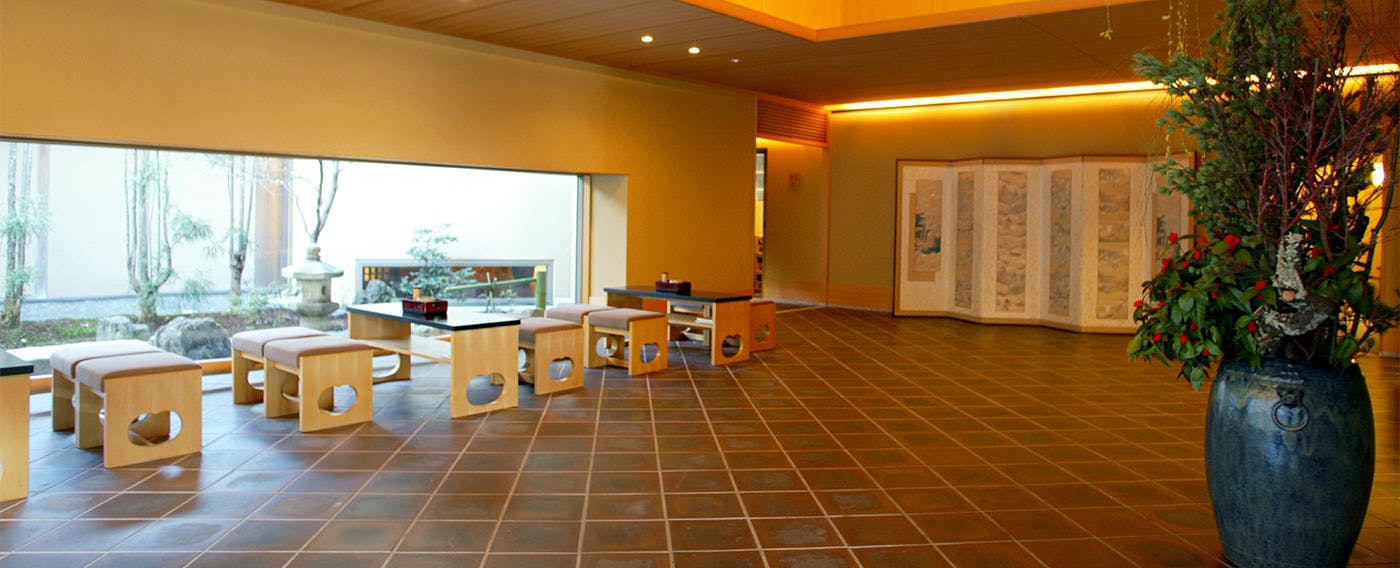 Lobby
The art of relaxing in the mountains The trees, the stones here remain as if unchanged since eternity.
The water, the wind, tranform mourning into tranquility.
Here, the moutain will teach the body its ways.
Access
Yasaka Shrine Minamimonmae, Gion, Higashiyama-ku, Kyoto-city,Kyoto,605-0074,JAPAN
BY TRAIN
From JR Kyoto Statioin: 15min by taxi
From Keihan Shijo Station: 10min walk
From Hankyu Kawaramachi Station: 10min walk

BY CAR
From Kyoto-higashi IC Exit (Meishin Expressway): 15min by car
Reviews
Although I have been to Kyoto several times, this is the first time I have had such great food and service. The waitress was very kind and the old couple was quite pleased to have me. Next time I go to Kyoto, I will certainly stay there again.
+ More
Sep 2015
Thank you for the other day. I made myself at home because it was convenient. The waitress for my room was nice and I was fun. Please let me use again.
+ More
May 2015
I chose a plan which no dinner was included. It was an appropriate inn without any merit or demerit. I will visit to this inn again if there is any chance.
+ More
Oct 2014
I stayed in a trip to Kyoto to celebrate the 70th birthday of my mother. It was right next to Yasaka Shrine, so I could see the archway from my room. The water drawn from the underground of Yasaka is used in the bath and for cooking. And it was very mild and delicious. I'd like to visit again with my family.
+ More
Oct 2014
This was my first stay after a truly long time. I got an impression there were a lot more guests from abroad. The breakfast was delicious. The big public bath was wonderful. And it's close to the Yasaka shrine
+ More
Jul 2014
Although the hotel had an easy access to Gion festival, it was quiet and I could have a relaxing time as it was located a little bit far from the main street. I appreciated the cold water in a plastic bottle that they gave me when I left my luggage before check in. The big public bath on the first ground was nice but I wished they had provided a facial soap available. I wanted feel refreshed as it was hot outside.
+ More
Jul 2014
Thank you for having me the other day. It was the first time I stayed here in almost 10 years and I looked forward to it very much. First at the check-in, the man in a suit who looked like a general manager checked me in, and guided me to the room however he did not carry my luggage and when I entered the room there was a key to a different room on the table, a part of the lights was out, and I was made waiting without a maid for a while; it has changed so much from the impression I got last time I stayed here. Is it a change in times...I feel like all the hotels and ryokans have better hospitality but it was not felt here during this stay. The food was enjoyable to the eyes and it tasted good too. I guess the Hinoki (cypress) bath is hard to maintain. It smelled a bit musty and became dark so I did not feel like going in the bath at the room.
+ More
May 2014
The meals were very delicious, but if you think about the price, it is natural, so I rated it with four stars. It was nice that it was quiet in the room although the hotel was in a good location. The quality of bath and the amenities were that of an ordinary inn. I will not come back again, as I didn't think it was a service of a luxury inn.
+ More
Apr 2014
The location and the meals leave nothing to be desired. A clerk in chrage of rooms was very friendly, but the staff in charge of front desk wasn't good enough. When I told my name to the staff welcomed me, he said "Please tell your name at the front desk" (?) I guess usually the information is shared between among the staff. Nobody gave me a send-off when I was leaving. It's like a hotel, and feel sad. I would like to request the service without flaw as it's the high-class inn. At the main bath, there were no toiletries as they were run out, and no replacements were given untill morning.
+ More
Mar 2014
In any case, dinner and breakfast were delicious. The staff who served us were friendly and I had a fun chat with them. The open air bath was especially good. I went in twice; in the morning and at night. I made a reservation at Hatanaka as it was a filming site for "Kamo is going to Kyoto", a drama which aired last year on Fuji TV. It was nice for the beautiful okami (female manager) to come greet us. As it is located just in front of the front gate of Yasaka Shrine, it is very convenient. There are many sightseeing spots around including Kiyomizu Temple and Kodaiji Temple (Nene no Michi). Because the most strict building restrictions are imposed in the Higashiyama district among others in the city of Kyoto, it gave me the feeling of good old days. This is a hotel I definitely like to come back.
+ More
Feb 2014
The reception of the staff was good, the room was also a quiet and I enjoyed Kyoto.
Feb 2014
They cleaned up with great care, so I could stay comfortably. There also was a big public bath, and I could relax. The meal was delicious. but there was no dish remains in my mind. Overall, the customer service, the facility, and the meal were satisfying.
+ More
Feb 2014
Information
Check-in Time

From 3:00pm to 7:00pm

Check-out Time

Until 10:30am

Tax / Service Charge

Nothing in Particular.

Credit cards accepted at this property

VISA / MASTER / JCB / AMEX / DINERS / DEBIT CARD
Children

All children are welcome. But please make sure to tell the ryokan about children beforehand. You might not be allowed to stay without a prior notice.

Pets

Pets are NOT allowed.

Parking

JPY 3,000 per guests per night/Parking Space for 3 cars/Valet service available

Other policies & conditions

The entrance is closed at 12:00am (midnight).; Check-in is from 2:00pm and check-out is until 10:30am, while all services in guestrooms are available from 4:00pm to 10:00pm, and from 7:30am to 10:00am.; You can leave your luggage even before check-in and after check-out. Feel free to ask staff.; The final slot of dinner start time is 7:30pm. Please make sure to arrive by 7:00pm if you reserve dinner.