Shuzenji Sekitei Onino Sumika
"In early 20th century, there was ""Kikufuji Hotel"" in Tokyo, where many literary figures, academics, and artists loved to stay. This hotel was also called ""Oni no Sumika"", as it means place for genius to live. Shuzenji Sekitei Oni no Sumika was named after this story, and was made with the hospitality mind of Sekitei. It's the all villa-style ryokan with special cuisine. Free from your daily bustle in this dreamy retreat for genius."
- VAT is included, but bathing tax (around JPY 150 per adult) may NOT be included.
- Price in USD is based on the exchange rate as of today and might be different from that of the booking date.
Foods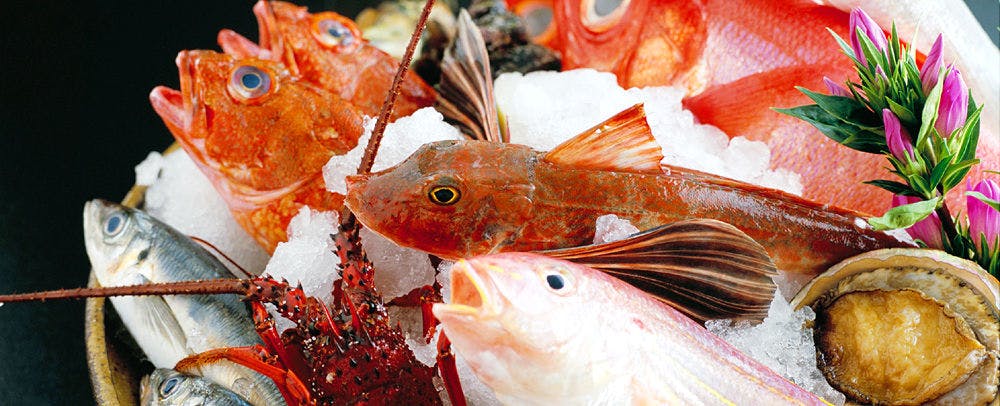 Foods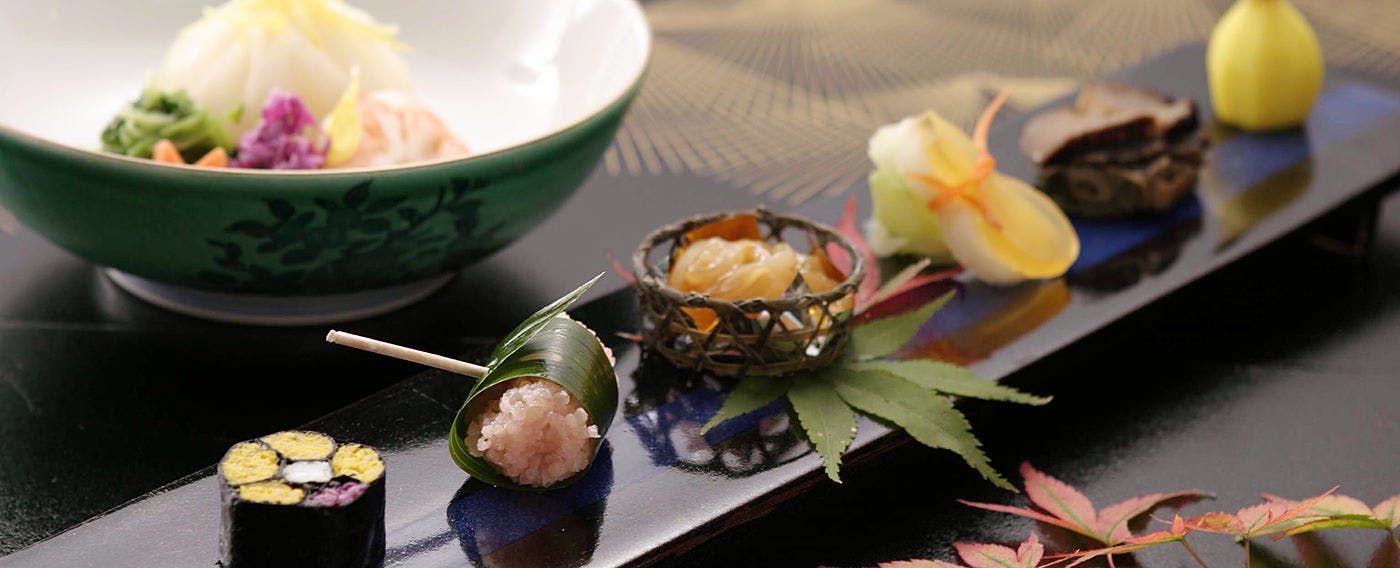 Foods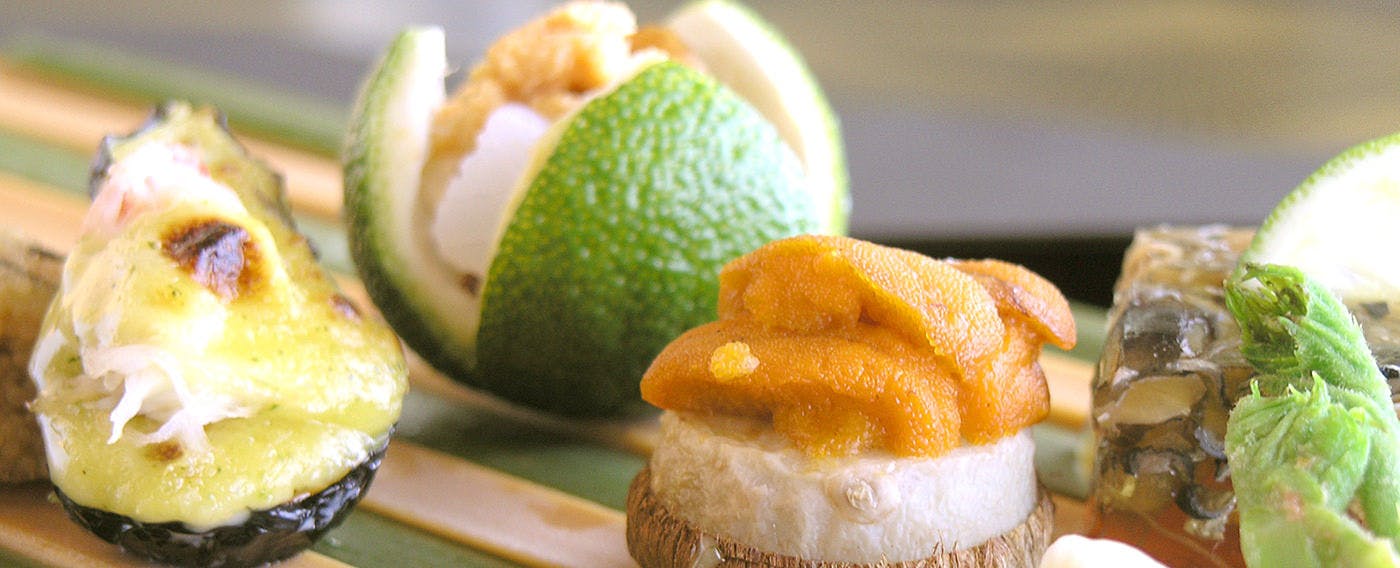 Foods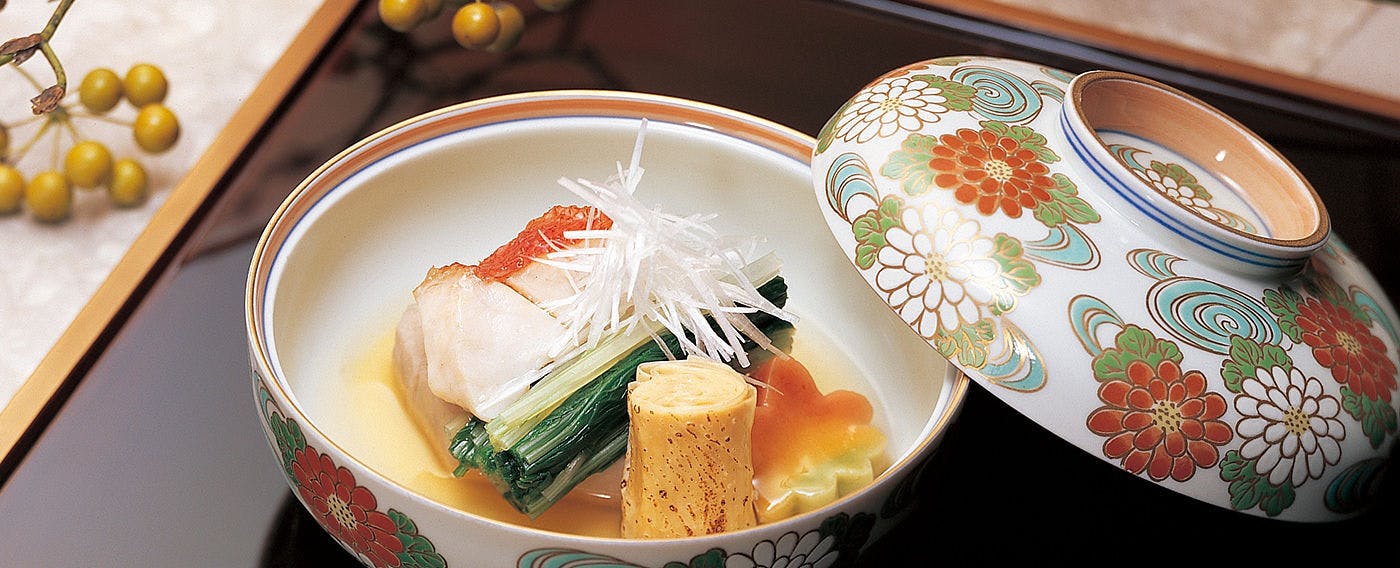 Foods
Taste the foods with smile Foods from mountain. Seafood. Seasonal foods. Highly values the encounter with ingredients everyday and guests to have kaiseki dishes. The own recipe and technique of Oni no Sumika will make you smile at your every bite.
Baths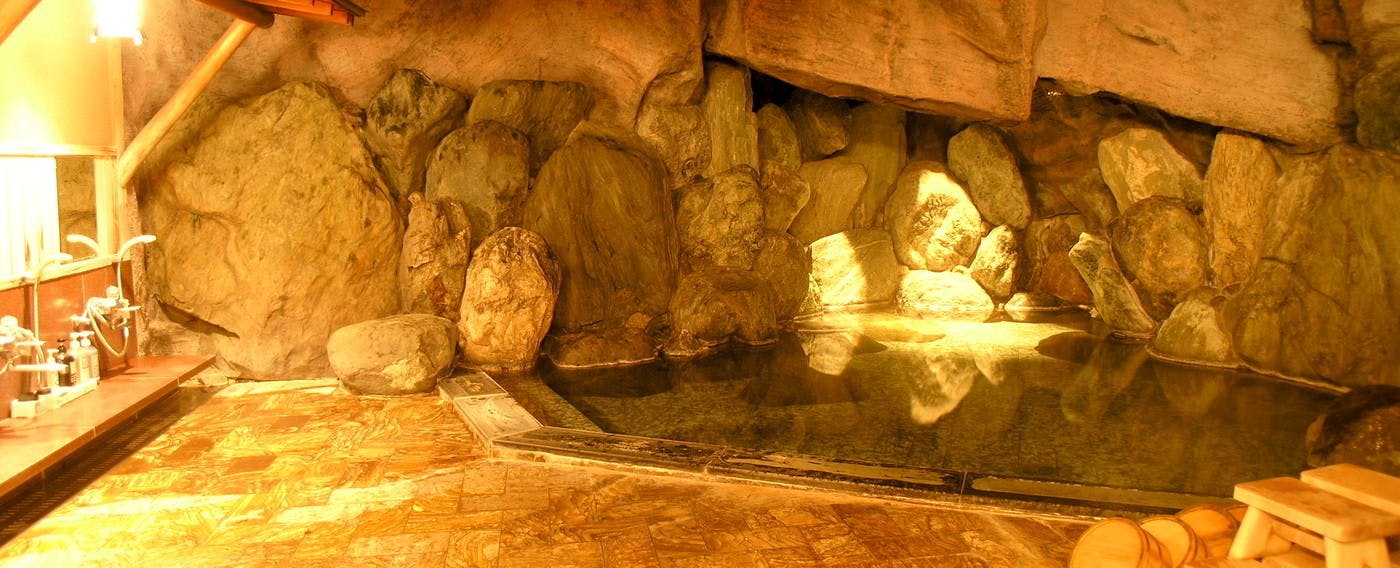 Public Open-Air Bath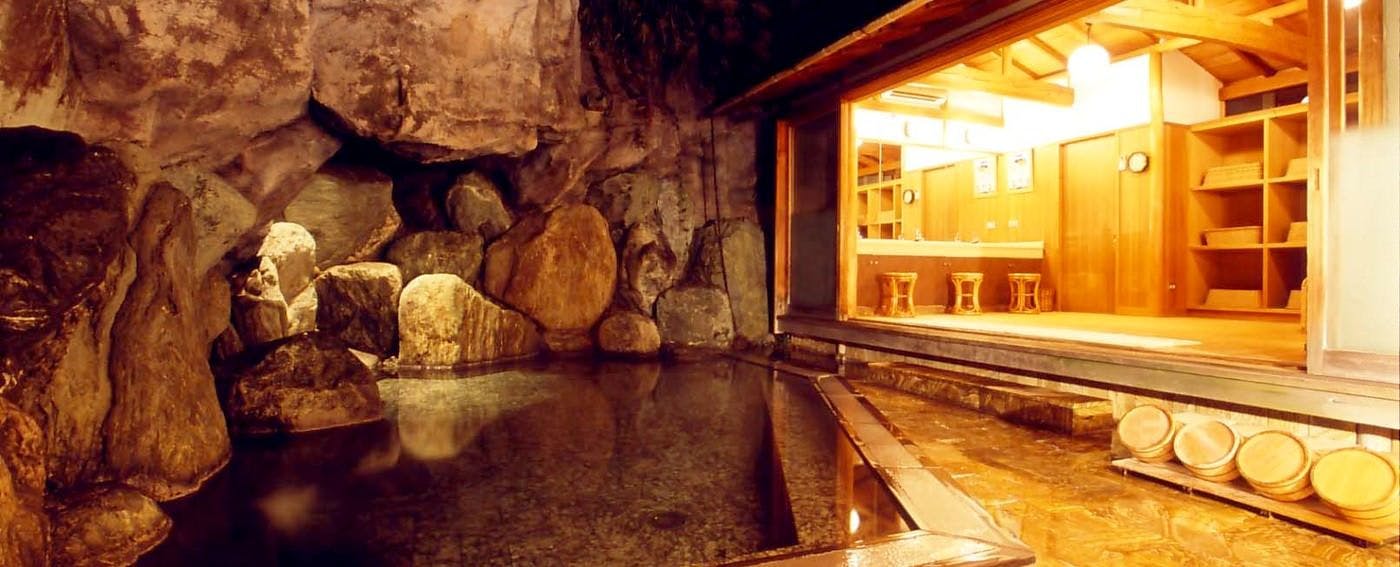 Public Open-Air Bath
Relaxing retreat away from others One of the most honorable charms at Shuzenji Sekitei Oni no Sumika is the open-air bath with sky view above and green scent. Soak in bathtub as you like, taste dishes as you like, and relax your body and mind as time flows. Do nothing, talk to no one, just relax at day and night. That's the luxury to experience here.
Facilities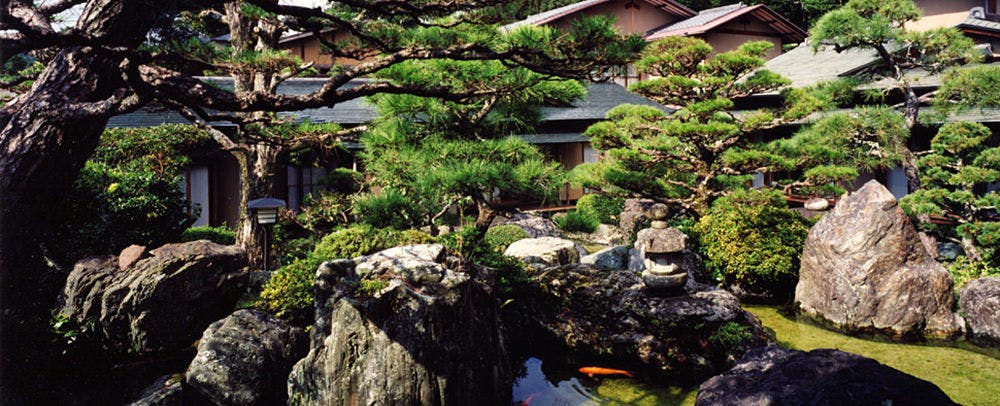 Japanese Garden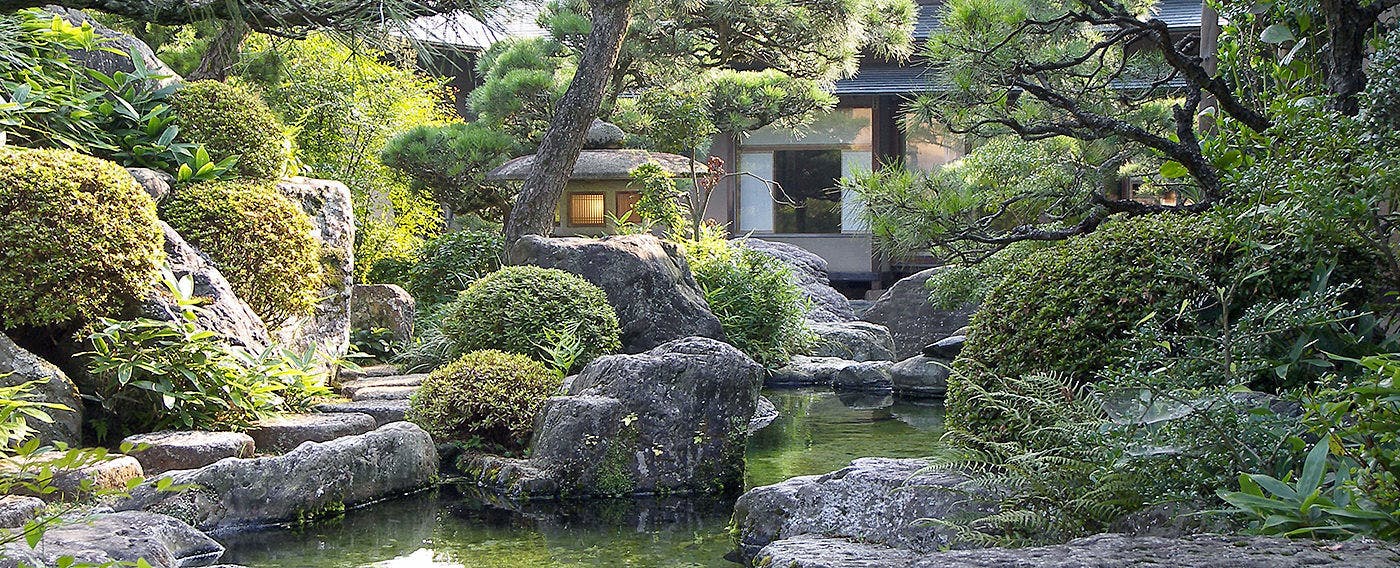 Japanese Garden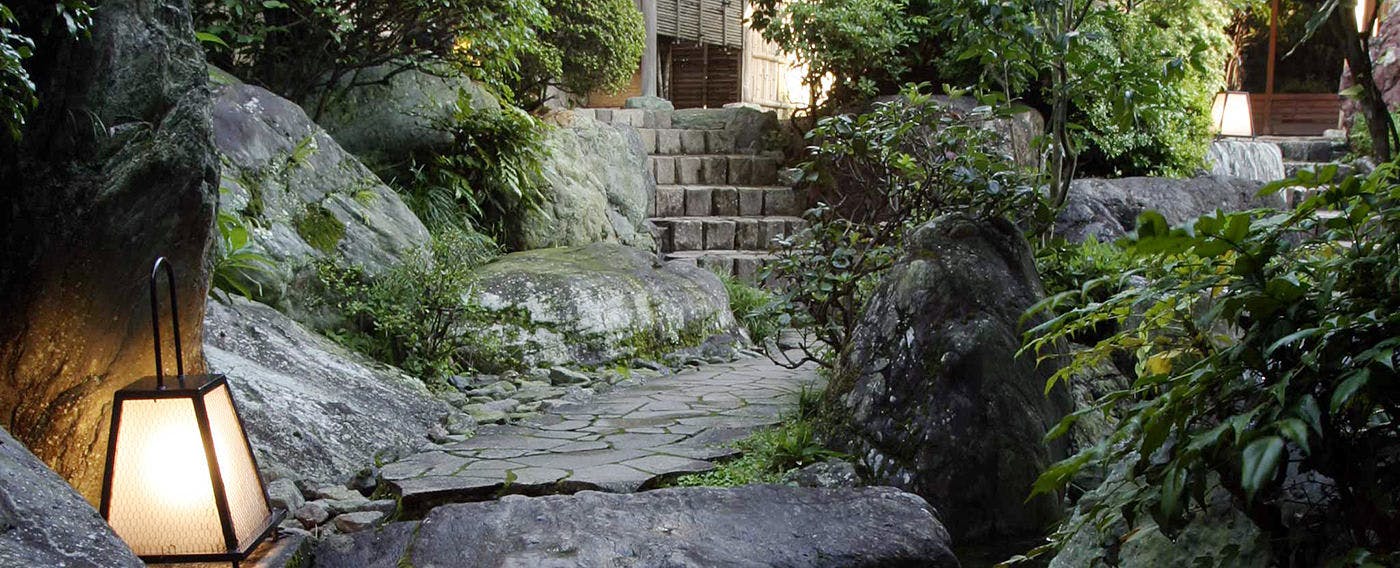 Flagstone Path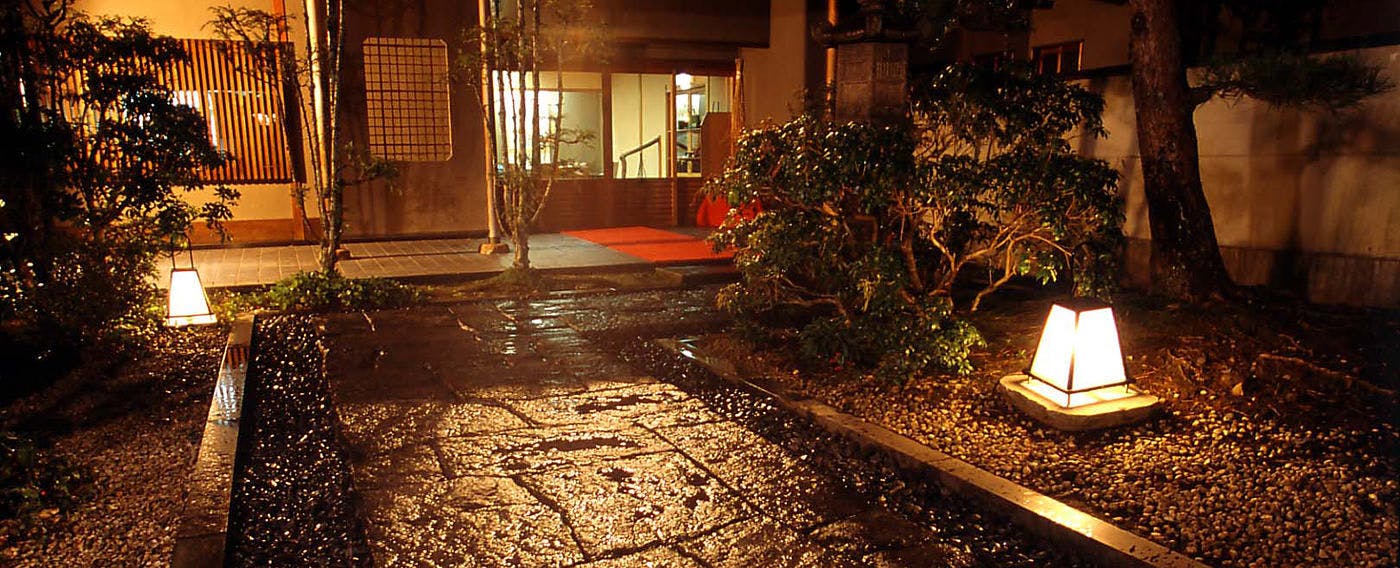 Entrance
As the principal of the county, for a moment Enjoy the harmony of the garden, where stones, waterfall, and bond are placed, and the nature of Shuzenji, the hot spring town with seasonal scenery.

Destination Spa "Kisho"
Available with prior reservation by the before treatment
Open from 2:00pm to 11:00pm
Access
1163 Shuzenji, Izu-city,Shizuoka,410-2416,JAPAN
BY TRAIN
From Tokyo Station: 2hr by express train "Odoriko-go" to Shuzenji Station & 10min by taxi. Or 45min by Shinkansen to Mishima Station, and 35min by Izu Hakone Railway to Shuzenji Station, & 10min by taxi.
Reviews
12 Reviews
I visited for the first time on my 30th wedding anniversary. Both of us are onsen lover and we stayed in various class of ryokan in many places. But this ryokan is the best among those we have visited. I guess it is exactly "first class". The attentiveness of the waitress, the hospitality of the proprietress. Number of various meal that I cannot complaint on its and taste, organics cosmetics amenities from Germany, easy to wear room wear, etc. Watching the super moon from the open air bath in the quiet night with the sounds of insects around us, made our anniversary wonderful. The autumn flowers displayed in the alcove had a calming effect. I appreciate your kindness.
+ More
Sep 2015
It was the staying which celebrate mother on the Senior Citizen's Day and 91 years of age. It was a proper inn for instant staying with extra features. The hot spring in the room was comfortable with the scent of cypress, and the meal was also delicious. The staffs took care of my mother who has bad legs, and it was a good gift for my mother. Thank you so much.
+ More
Sep 2015
I spent a relaxing time in my room even though it was raining. My body was able to rest quietly. Although it was not flashy, I think that it was a hearty hospitality. I was satisfied with the closeness and the attentiveness of the waitress. Again, I can only say that the meal provided was impressive. Again, please do visit to this inn. Thank you very much.
+ More
Sep 2015
Unfortunately, because of an approaching typhoon, it was a raining, but the inn was so lovely that I didn't even care about the rain. Normally, the objective of a trip like this is go enter the bath, but this inn had such a relaxing room, that I enjoyed the inn itself too. The meals was purely traditional food, with a flavoring that matched our taste perfectly. The landlady herself came to receive us, then she paid us a visit in our room to talk to us, added to the casual consideration by the room service staff made us really happy for coming here. I'm planning to visit it again. I'm already very much excited about it. It's a Japanese inn that I want to stay the same.
+ More
Sep 2015
It was a wonderful inn. My family appreciated it too. As we have never stayed in such a luxurious inn before, we might have looked out of place. The garden scenery was out of this world and I think the TV was a 50-inch one. Receiving proprietress's personal service and heartfelt care felt like a dream. I wonder if I should have offered gratuities. This might have been a breach of etiquette. With Koshien and mahjong, most of this trip was spent inside the room instead of sightseeing. A definite recommendation to those who are considering staying here. For the first time in my life, I tasted a chilled green tea.
+ More
Aug 2015
I booked immediately because I found reasonable plans for summer sale and the review was also very good. The inn was a wonderful one deserved category in Ikkyu PLUS+. The buildings which I can say a mansion have been dotted rather than 11 rooms in the beautiful garden. I stayed one of them called Higashiyama. There were a big entrance, a Japanese style alcove, an anteroom I can look out the garden, a hot spring and a kitchen as well. I didn't worry about the other customers and let myself comfortable because it was an annex, so I relaxed as if i had came back to the cottage The room attendant had a cheerful disposition and a charming smile on her face and provided me a courteous service. I practice Japanese tea ceremony a little bit and from my point of view, she looked very good in Kimono and had a graceful conduct. The hot spring water of the open air bath felt so nice and I had a pleasant bath time. I had a bath listening to the shrill of a cicada. The changing room was tidy and skin care products were available. The wild lilies in bloom in the garden were so sophisticated and I thought they suited the hotel. After walking around Shuzenji's area, I went back to the hotel tired then I had a hot spring bath, smacked my lips at the gorgeous supper and slept profoundly in the soft bedding. The supper was so delicious that my husband, who has not had the second bowl of rice for 10 years, had the second which surprised me. He said especially the Japanese butterfish was delicious. Izu is a popular sight-seeing area among my friends so I think I will recommend "Oni no Sumika" to them without hesitation if they have an opportunity to go to the Shuzenji area. It became a precious summer memory that I will never forget. Thank you very much.
+ More
Aug 2015
It is a hotel with magnificent service. I have never been to the hotel with the service with more consideration or kindness than this one. The food is served warm and just at the right timing. It is not an easy thing to provide freshly fried tempuras to all the separated rooms during the season of Obon when the rooms are fully booked. Even other first-lass ryokans cannot easily do this team work of the waitresses cooperating and providing the food to the guests at the timing which the chef would want to provide it, all for the guests. The Hinoki (cypress) bath inside the room was relaxing to go in and the water quality was very good too. I definitely recommend it to those who are looking for a refined and old ryokan. I would like to visit again.
+ More
Aug 2015
Shuzenji Oni no Sumika is well-balanced overall. We arrived early, wished if they had a waiting room. For an inn of this class, they have rather poor support for that point. As for dinner, I wonder what happened to the somehow boring simmered dish, but everything else like broth (dashi), setout, serving dish and presentation was good in balance overall. The menu was composed of seasonal ingredients, such as rice cooked with ginger, but for this reason, it was a customary meal, so I wished there was a speciality ingredient of Izu, perhaps some seafood with impact, such as simmered red snapper. I received a greeting from the madam. I was able to enjoy a comfortable stay, thanks to the staff was a delightful person, full of smiles. Futon arrangement was swift, closing the sliding shutter, and the installations were nice, too. Thank you for laying out the futon again after breakfast. The cleanly wiped our car for our way back. I had a comfortable, relaxing stay. Thank you very much. It is an inn I want to come back again.
+ More
Aug 2015
I used the inn for my daughter's celebration. My heart was comformed by unobtrusive consideration and gestures. The inn became the place I would like to visit again. The meals were a lot and I couldn't finish them, and the open-air bath was also good, I lightly said the hot water was not enough warm, but soon they adjusted the temperature of the hot water. I was even worried if it didn't bother other guests. Anyway, the service was thoughtful and unobtrusive, and the inn was very comfortable to stay.
+ More
May 2015
This is an old inn that goes well with the streets of Shuzenji. But the entrance raised my expectations for that I actually came to the well-established inn. Many employees in kimono greeted us. And they said to us "Welcome home." I'm kind of embarrassed. Check-in was at the room. Matcha and snacks were available and they were warm. I went to the open air bath right away. I was the first to arrive. I brought nothing there as it was equipped with amenities and towels. The onsen is not too hot and felt a little thick. The bath won't tire you out so it's alright to take a long bath. It's open 24/7 and I realized I would love to use it many times afterwards. After bathing, I went for a walk; I had a relaxing time. I had dinner in my room. As all the rooms were located far apart, it must be tough for the waitress and I felt bad about it. I checked the well-written menu as I ate. The kitchen is located far away, but the food was still warm when it reached me, and I ate it in its best condition. The food were all delicious, including the Fried Japanese Mackerel and Fried Sakura Shrimp on an imposing dark sleeper. The seasoning was also delicious, the sashimi had a high quality and I had no complains about the ingredients. The bamboo rice was also glossy and springy, and I ate it even though my stomach was about to burst. They made the leftover into a riceball for supper. We requested a children meal, and although the meal served by some inn were equivalent to the kids lunch in a family restaurant, I felt that the Karaage and fried prawns were well-made. My children had a small appetite but they still ate a lot. They laid the futons after dinner. The futons were soft and fluffy and I had a great sleep. For breakfast, I could choose between dried horse mackerel, barracuda, butterfish and salmon. Everything was delicious but it was a pity that the savory egg custard was a little lukewarm. It was inevitable due to the build of the inn, but in that case, maybe they shouldn't have served hot food like savory egg custard or dashimaki tamago. Despite that, the rice was glossy, bright and delicious, and the quantity was satisfactory. I gave up the idea of a coffee after meal at this Japanese style ryokan, but they asked me if I wanted a coffee or black tea after my meal. It was a pleasant surprise. It seems the breakfast for kids was delicious too. I had a relaxing time before checking out at 11am. I would love to visit again for a relaxing stay.
+ More
Apr 2015
I stay at this inn once a year. My daughter looked forward to it as they would tell her that she had gotten bigger every time. And my daughter wanted to feed the carp, so I'm grateful that they prepared the feed beforehand. Meal was a seasonal item and tasted great. While the food for the children did not give a sense of season, they prepared food that children would like. Does little less vegetables is a fly in the ointment?
+ More
May 2015
I visited after a while, but I felt it was good that the open-air bath in the room was spacious and the water temperature was perfect. Each dish was delicious, and rice was served in a special cooker for each room so that I could also enjoy Okoge (burnt rice). The service is the first class, and I think especially elders can relax. I would like to visit again. Thank you for taking a good care of me.
+ More
Mar 2015
Information
Check-in Time

From 2:00pm to 7:00pm

Check-out Time

Until 11:00am

Tax / Service Charge

Bathing Tax JPY 150 per adult is NOT included in the rates.

Credit cards accepted at this property

VISA / MASTER / JCB / AMEX / DINERS
Children

All children are welcome.

Pets

Pets are NOT allowed.

Parking

Free of charge for guests; Capacity 20 vehicles; Valet Parking Service available for free of charge

Other policies & conditions

Please contact the hotel in case guests arrive after 7pm.