Atami Sekitei Annex Sakuragaoka Saryo
Atami Sekitei Annex Sakuragaoka Saryo has its own 10 various charms, featured with the mind of chic and luxury, which bloomed in the Edo period. Forget the daily bustle, and fully enjoy the relax of your whole body and senses, and the comfortable drama here and there.
Japanese-Style Villa with Open-Air Bath

Half board included

Japanese futon bedding

Room with open-air bath

See Details
From $839.37
for 2 guests /night
- VAT is included, but bathing tax (around JPY 150 per adult) may NOT be included.
- Price in USD is based on the exchange rate as of today and might be different from that of the booking date.
Foods
Foods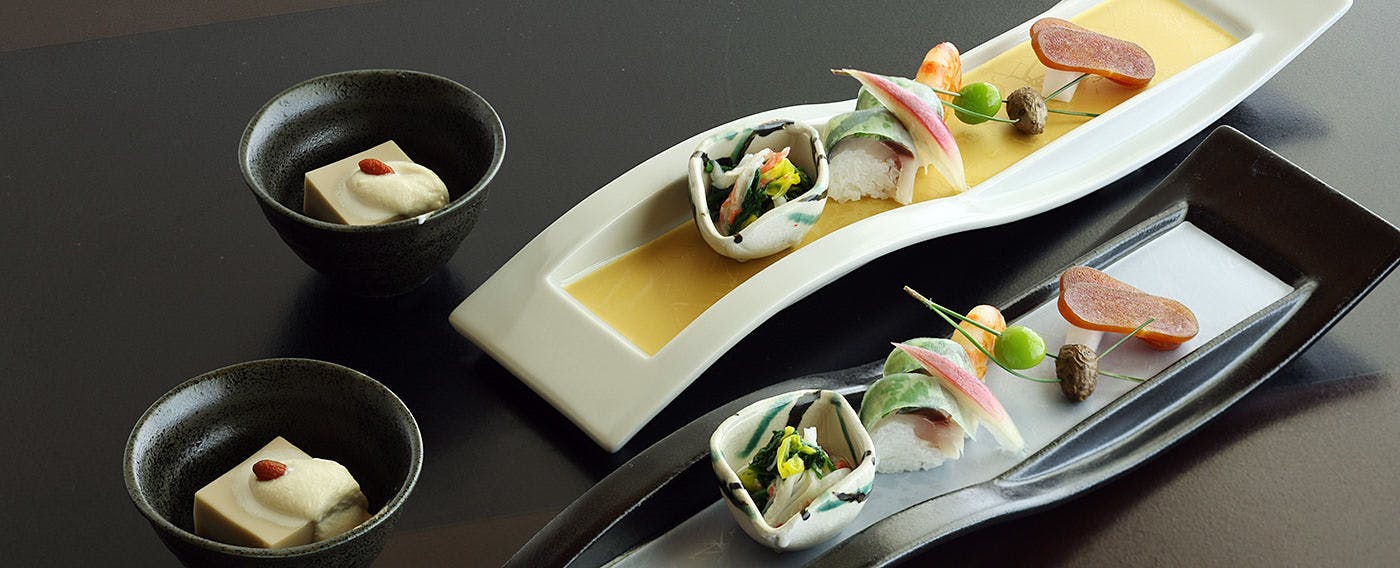 Foods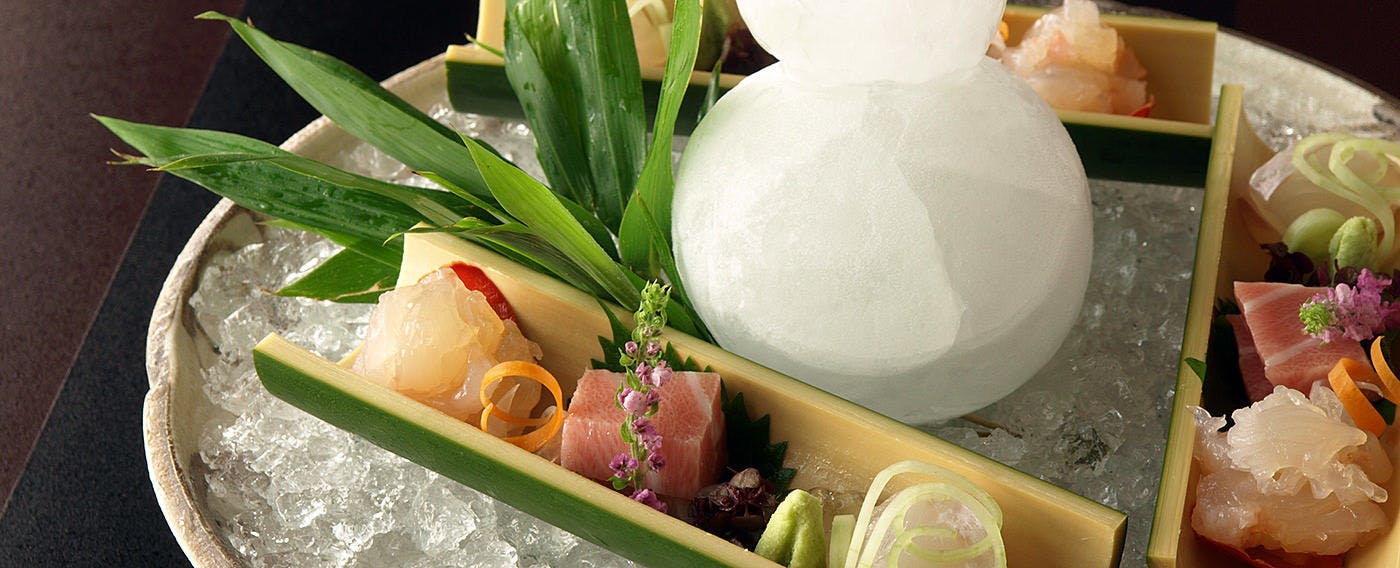 Foods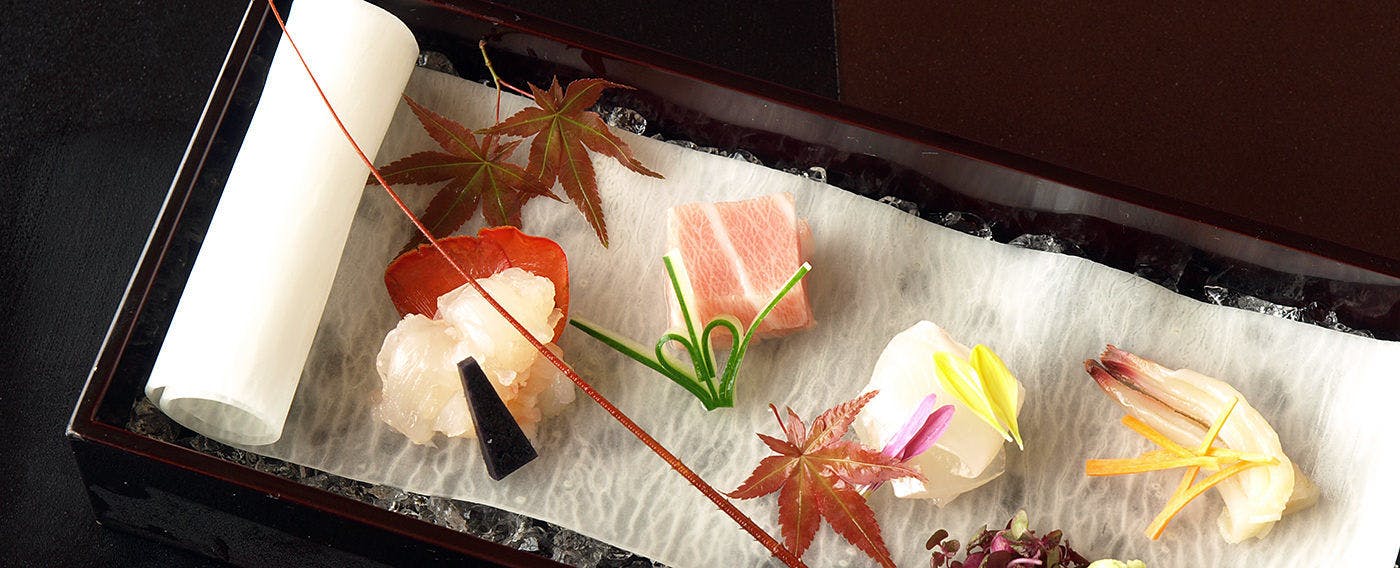 Foods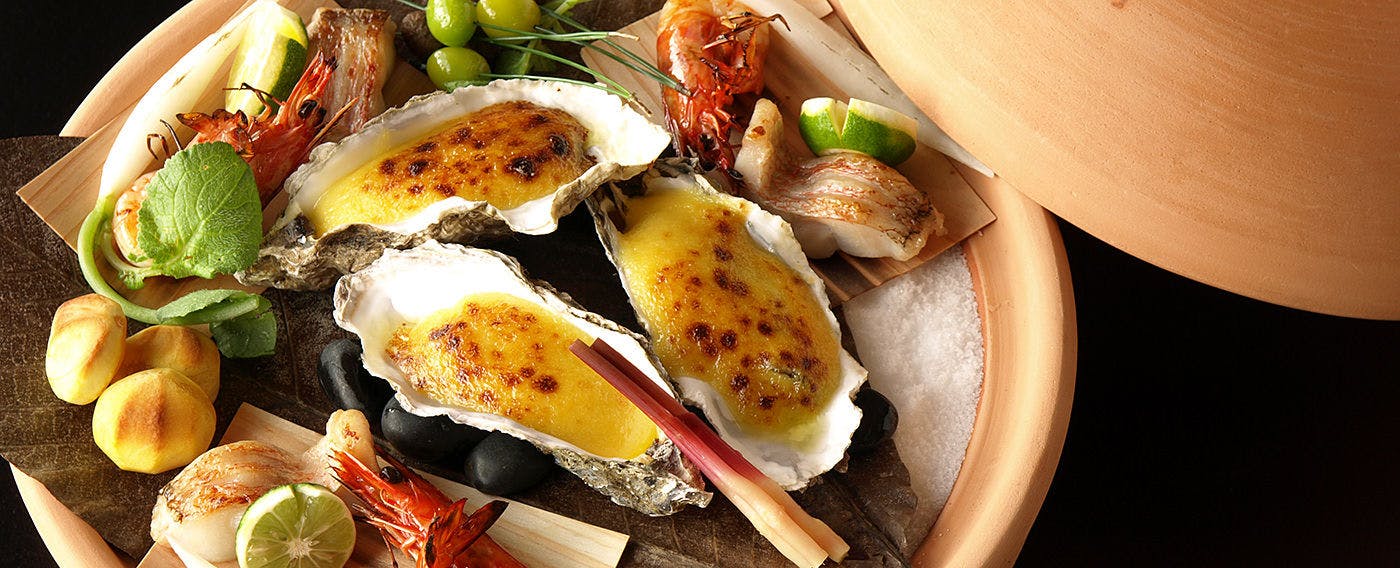 Foods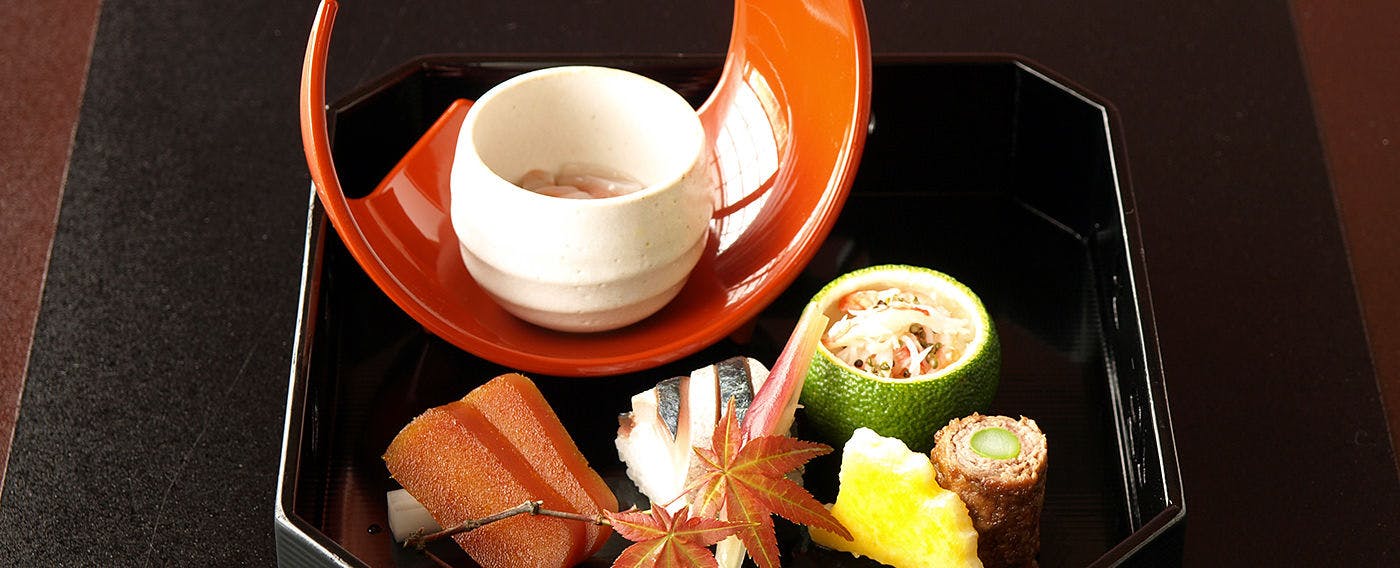 Foods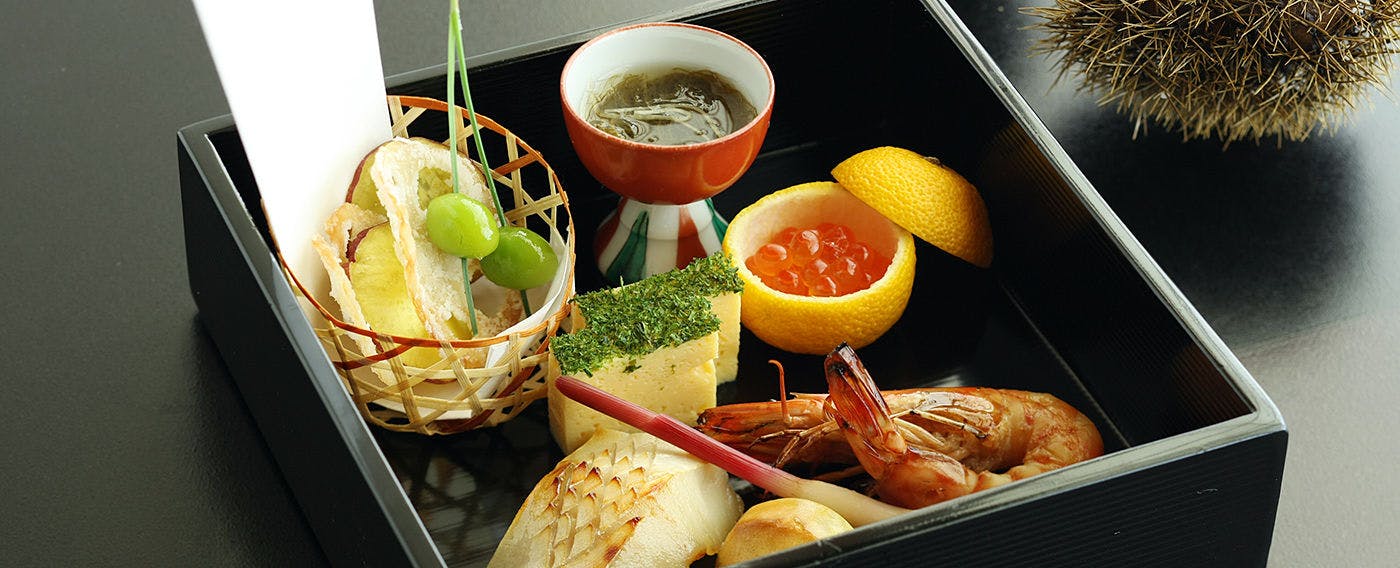 Foods
Luxurious kaiseki cuisine in Sekitei style Kitaoji Rosanjin was the genius who explored the world of beautiful cuisine to feel with heart. His great works based on flexible technique has been sublimed into Sekitei style, with the mind of chic and luxury. Perfectly selected ingredients in each season are arranged in the traditional way with its own style, making the beautiful display to your eyes. The menu is set like a story, from prologue to climax and epilogue. See the drama in this kaiseki cuisine.
Baths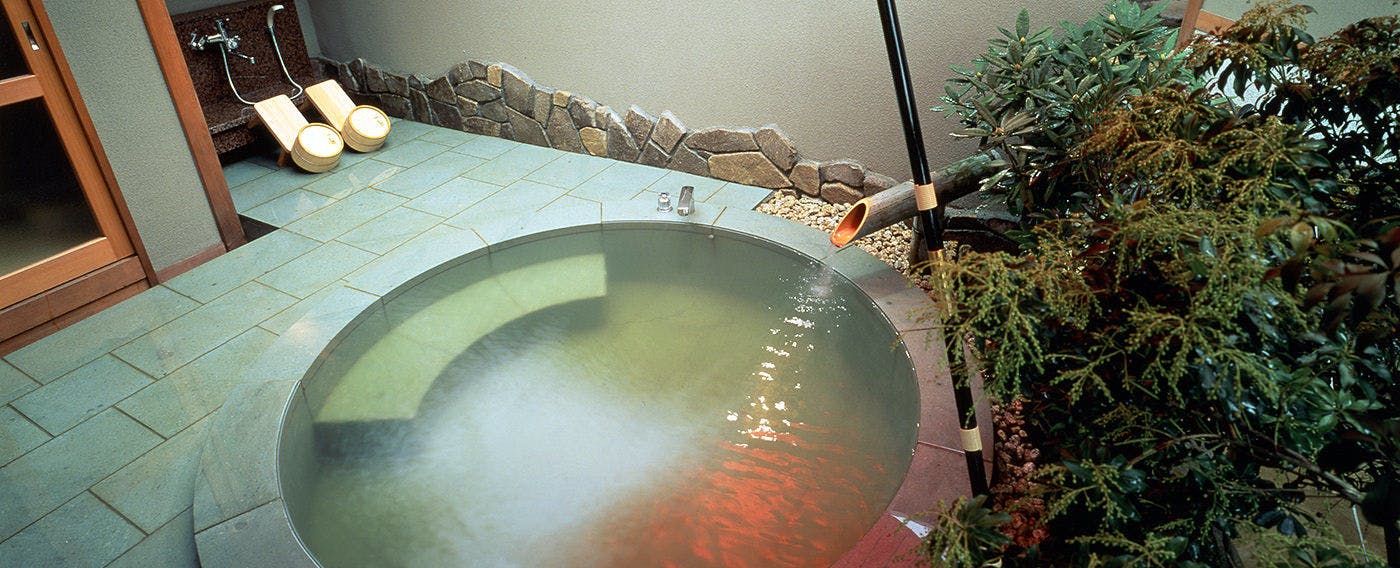 Open-Air Bath at Guestroom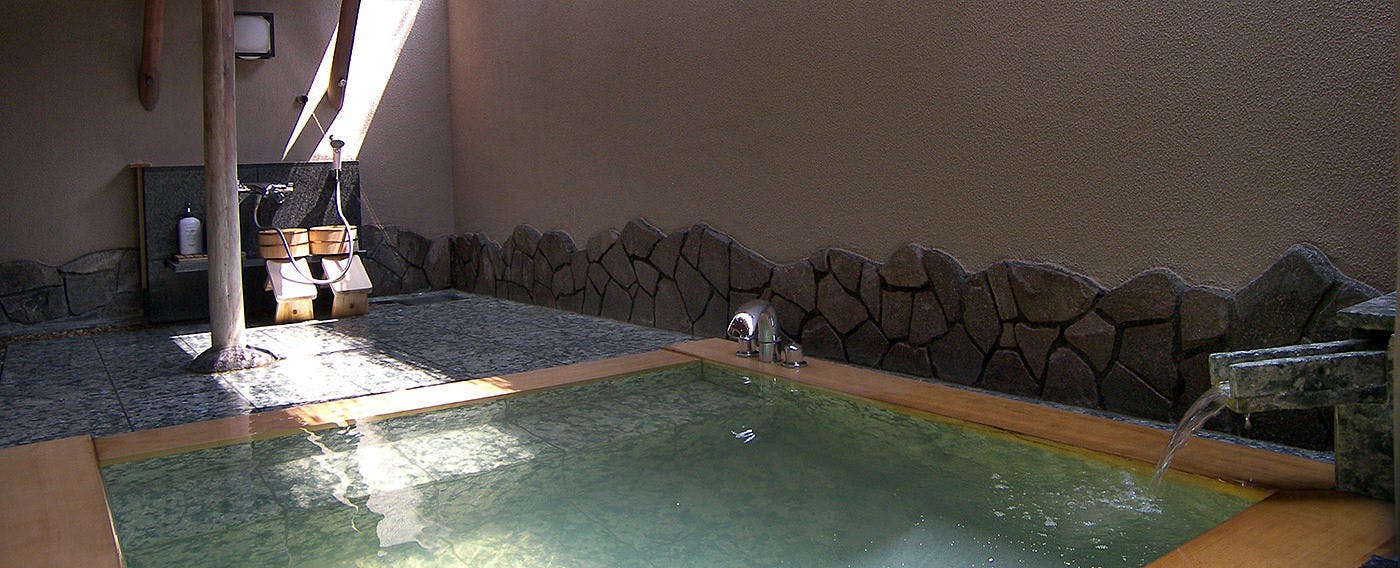 Open-Air Bath at Guestroom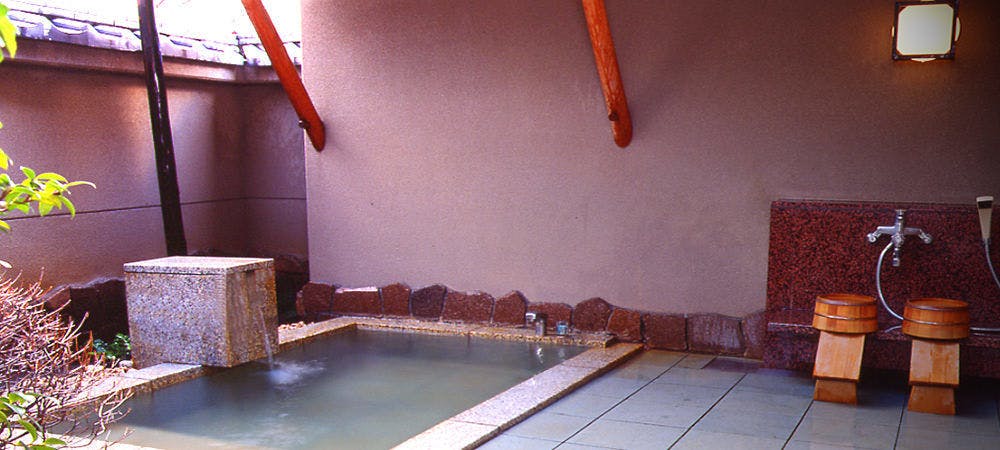 Open-Air Bath at Guestroom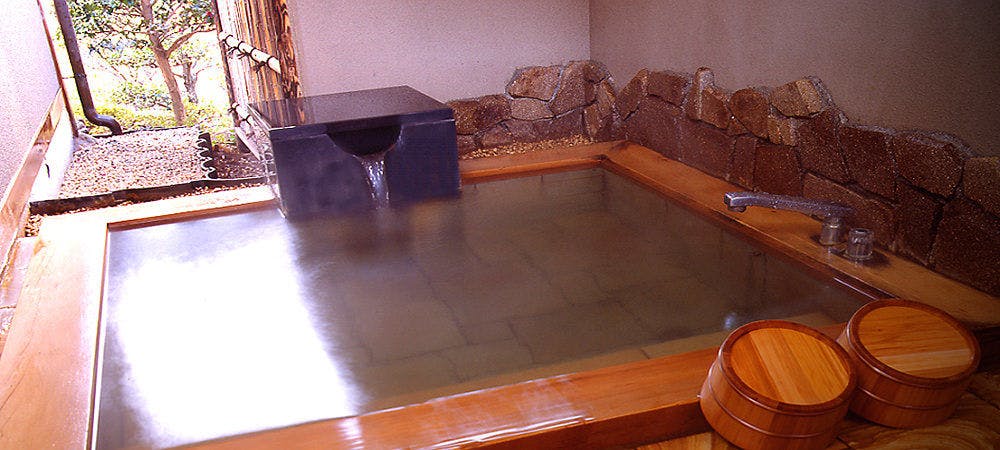 Open-Air Bath at Guestroom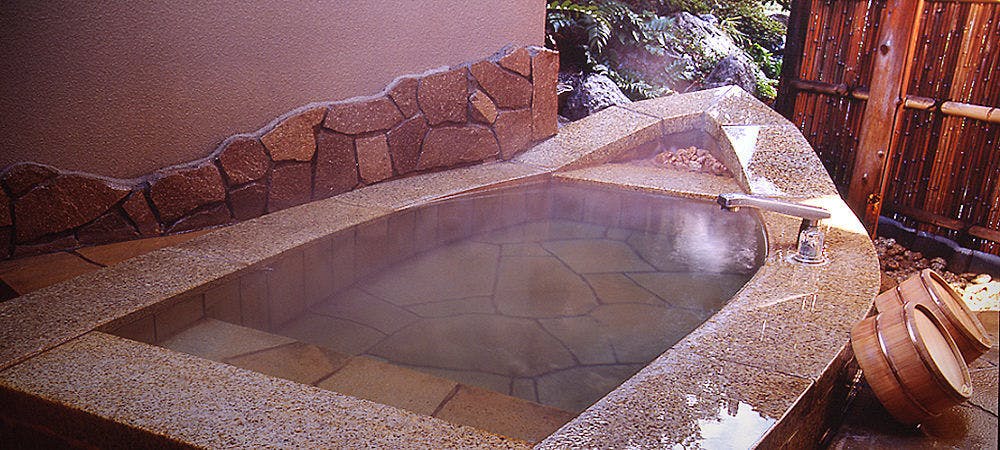 Open-Air Bath at Guestroom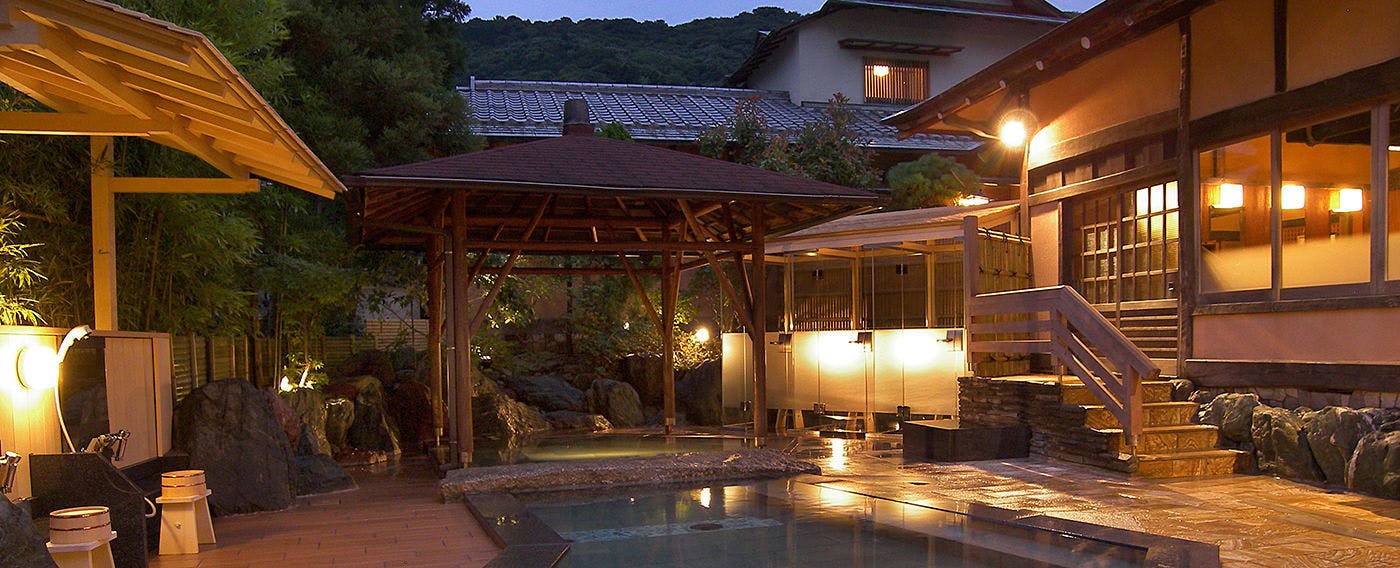 Public Open-Air Bath for Male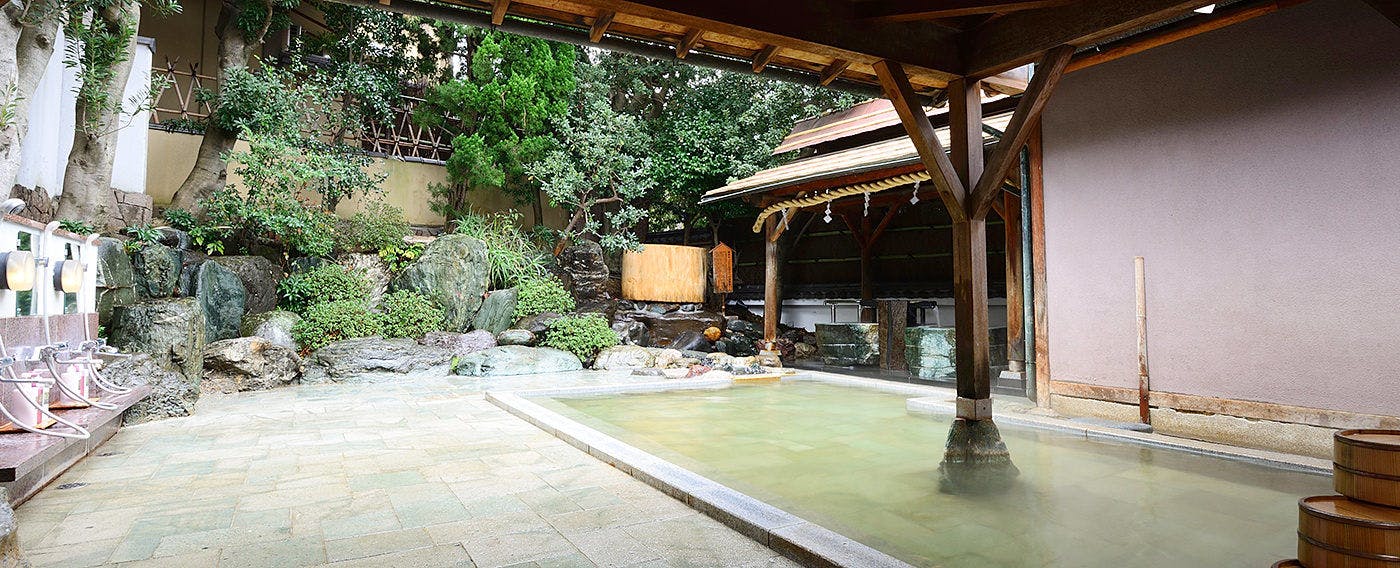 Public Open-Air Bath for Female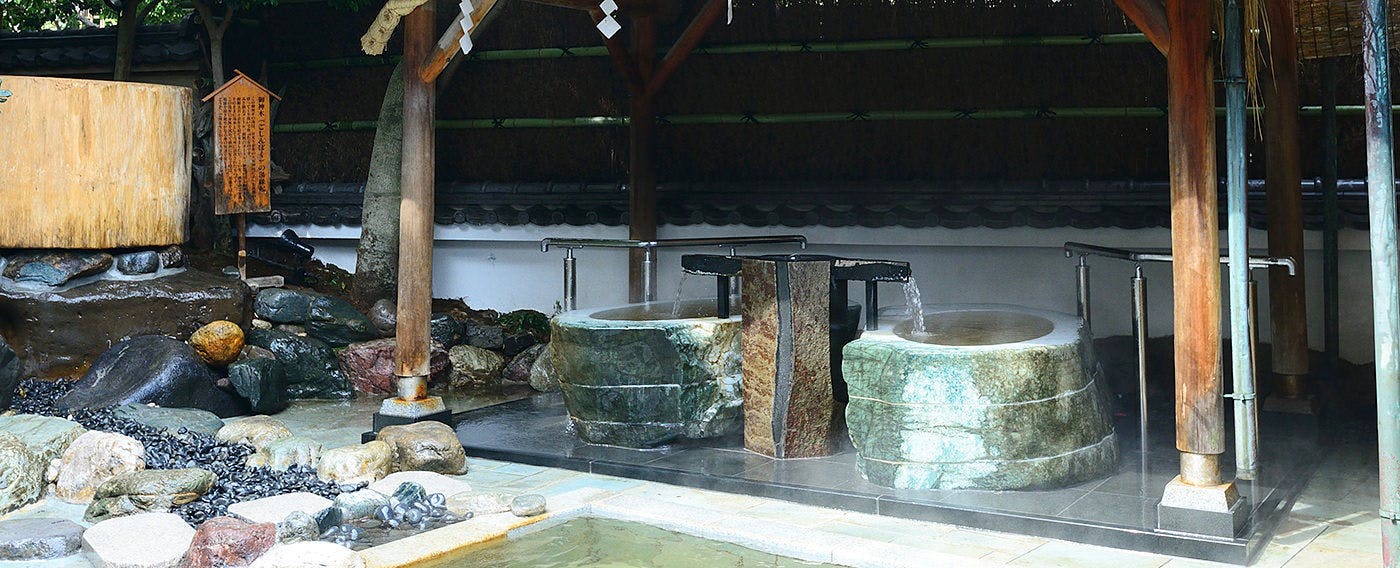 Public Open-Air Bath for Female
Private open-air bath with each own taste 6 out of 10 rooms have private open-air bath. Those on the 1st floor are filled plentifully with hot spring water coming from 3 sources to welcome your body and mind. You can enjoy relaxing throughout your body whenever you want, in the morning or at night.

Large open-air bath is also available, in the back of stone way from the garden.
Facilities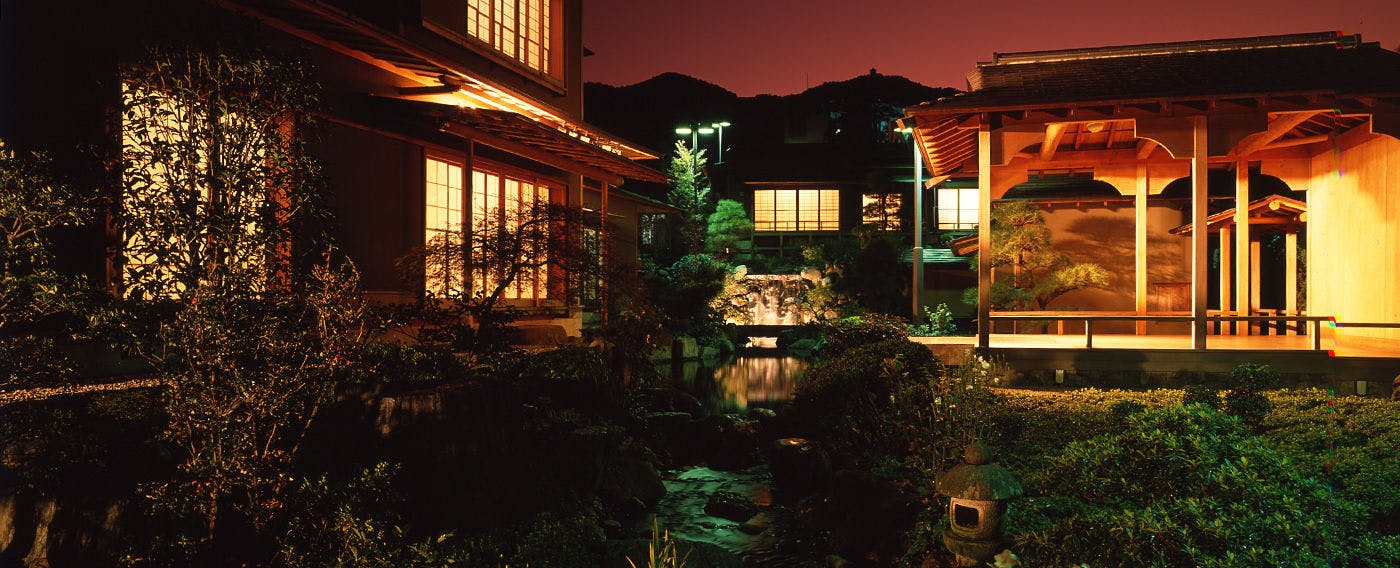 Traditional Noh Stage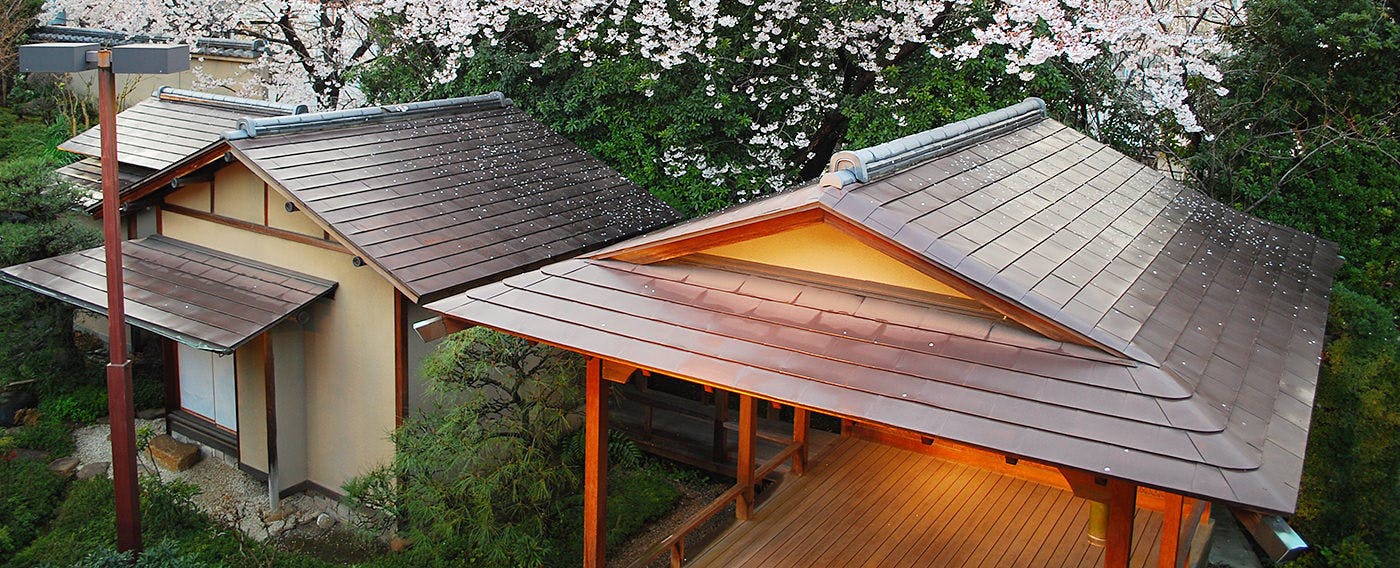 Traditional Noh Stage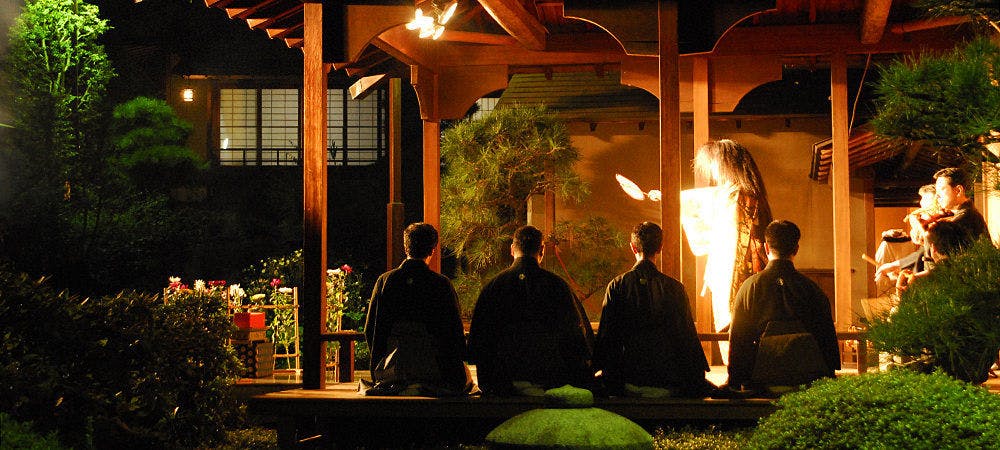 Traditional Noh Performance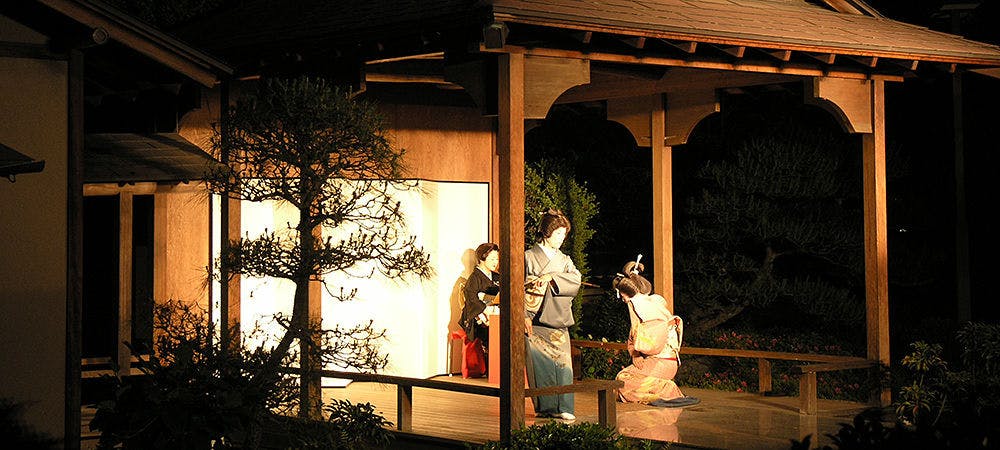 Traditional Noh Performance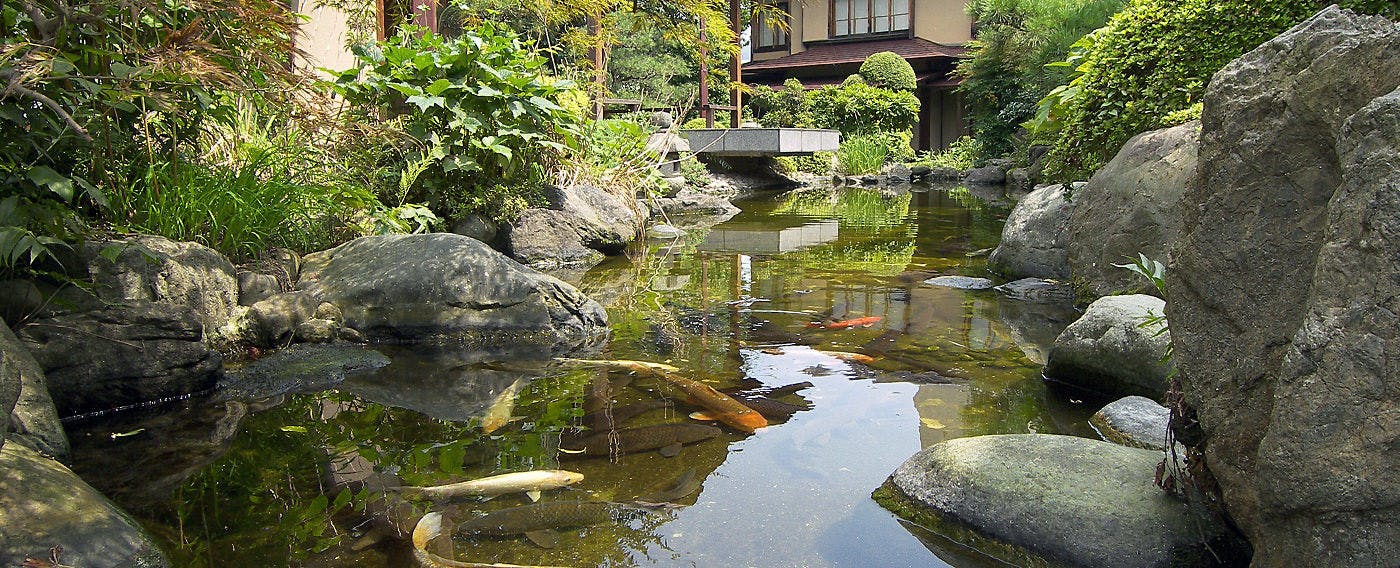 Japanese Garden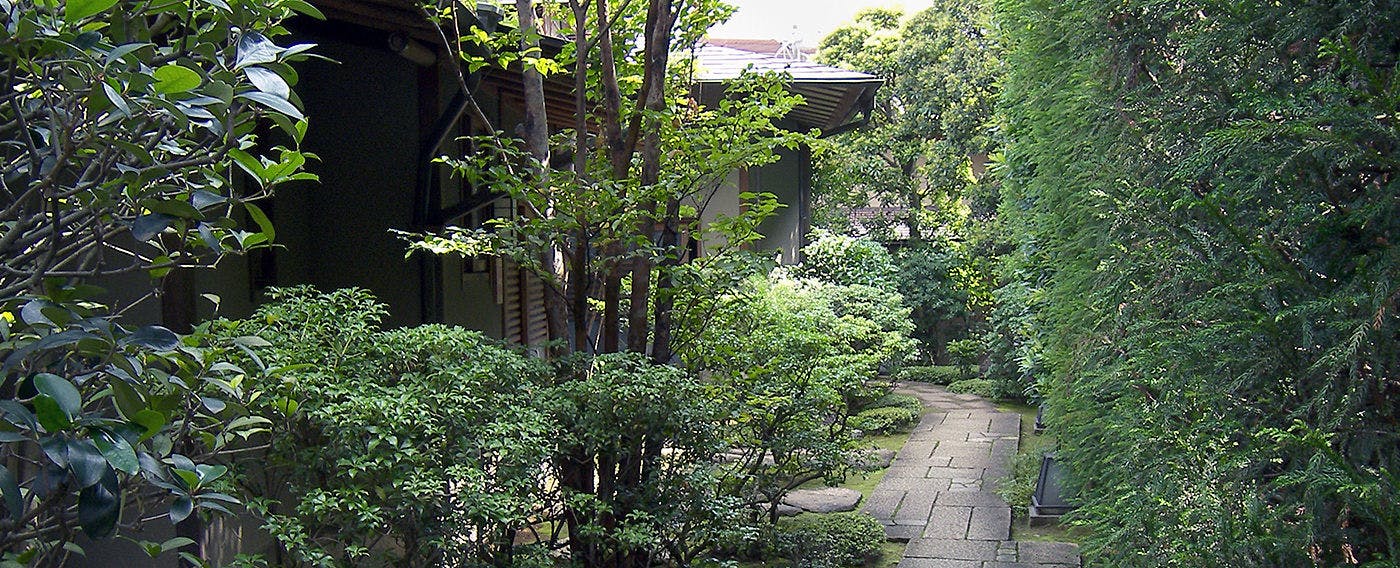 Japanese Garden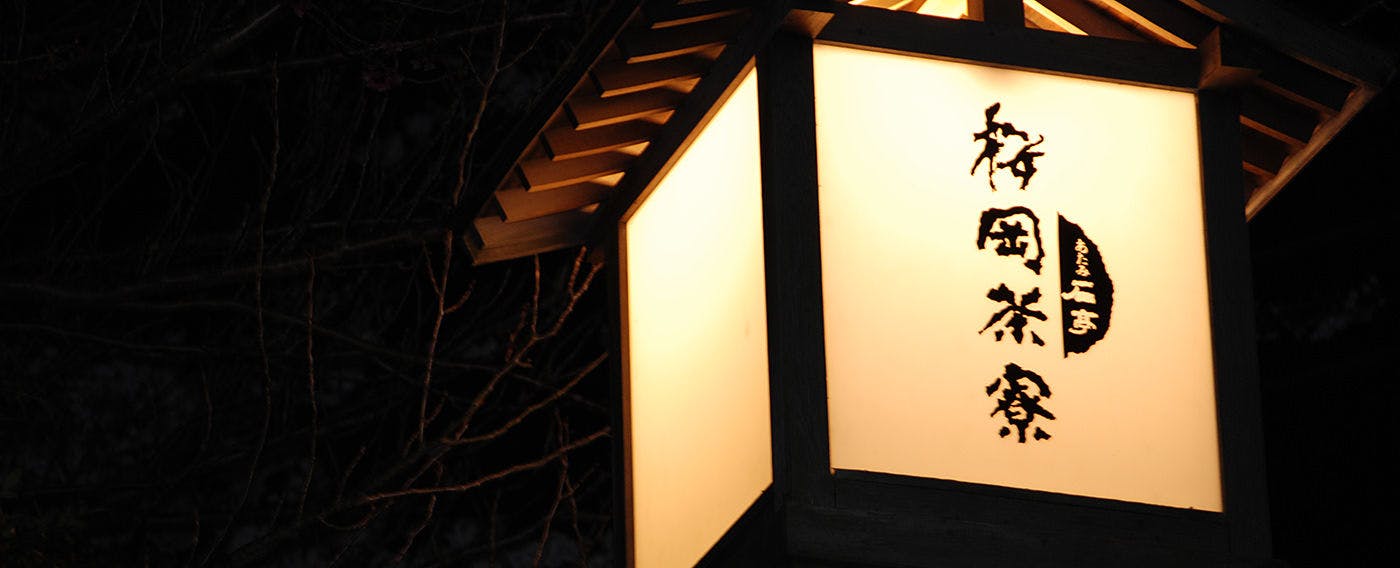 Facilities
Dreamy stage of 'noh' at night Seasonal signs of nature are expressed in the Japanese garden in luxury Sekitei style. On the stage in the garden, you can have fun at night, where the Japanese traditional style of classical musical drama is performed. When the song and dance come up on the luxury stage in the dreamy space, free your all senses and feel the performance with the whole of your body. Experience "another cosmos" far above the daily life.

Organic Spa "IBUKI"(at Atami Sekitei*)
Open from 2:30pm to 11:00pm
Reservation accepted until 9:00pm
*This spa is in Atami Sekitei, not in Annex Sakuragaoka Saryo.
Access
6-17 Wadacho, Atami-city,Shizuoka,413-0024,JAPAN
BY TRAIN
From Tokyo Station: 50min by JR Shinkansen to Atami Station & 10min by taxi
Reviews
12 Reviews
It may be recommended for those who want to rest in a pure Japanese environment full of nature but I personally would not stay again. 1. The room is wide but there is no chairs in the room, so you cannot rest comfortably after taking hot springs. It may be good for those who ordinary spend life on tatami mats and want to relax on the tatami, it is painful for those who are used to a life with a chair. The room service food seemed to have a slightly strong flavor. The content is a traditional Japanese food. Not a trendy stylish Japanese food. Also, the meals are served at the room in attendant's pace. When you are eating alone, you have to eat at her pace, which makes the meal time tiring. There are two types of private onsen which can be reserved in advance. I could make a reservation on the first day, but early in the next morning when I went to another private onsen, the name of another person was hung. When I checked with the receptionist, I was told that the onsen already booked a day before. Even I told them that it was a mistake, they definitely stated that the reservation for that onsen was already made the day before. Reluctantly, I entered the onsen they designated, but I couldn't hear anything from the next onsen (the onsen that supposed to be reserved). I think the ryokan side made an arrange mistake. I received an apology from the waitress, but it was very disappointing because the wasted time will never comes back. 4. Private guest room can be locked with a primitive key from inside the room, but when you go out it cannot be locked from outside. There was a deposit box in the room but I think there is a serious problem regarding the safety. And also, when I stayed alone I felt very anxious. 5. When I bought souvenirs in the kiosk by credit card (maybe that staff just not good in processing the payment), "This card can not be used. I will put the amount on your room bill," she/he said. I think there supposed to be no problem with my card, so upon the check out I paid with the same card, and it could be processed without any problem. The staff who can not use the register correctly, and the act of blaming customer's card. I doubt on what was going on. 6. Early in the morning, when I was about to enter inside bath I saw two frogs drowned. I felt very bad and unpleasant. When I told the waitress, she said and laugh at me, "Really? It must be very shocked. Hahaha." I don't think that I will never stay in such an inn and pay more than 60,000 yen.
+ More
Mar 2015
This time I had to stay in the room of Kocho, but the shower was broken, so I had to go private bath everytime and it made my body cold and it made me feel very bad. The room smelled musty as well. The toothpaste for the amenities also was hardened maybe because it was too old. Since it is an old inn, It is too hard to maintain them very well, but it was too bad. Regarding with the service, no one can be reached by extension from the room, so I had to call by my mobile phone. The meal also made me have a bad feeling because they served Sashimi with a head of the fish on such a modern day. I do not want to use this inn again because it is not worth the price.
+ More
Mar 2015
The meal and the services provided were great. The room was nice, the part which was a little bit old showed the goodness of the material and making it more interesting, while the place which was then completed with common material caused some gaps but overall, I think it was very good. My wife kept saying that she did not want to leave the room as the open-air bath attached to the room was very comfortable. The garden was beautiful and so making it a very nice inn. I wish to stay in this inn for a few more days if available.
+ More
Feb 2015
I hadn't stayed in a Japanese ryokan in a long time. I totally enjoyed it. A firm reception by the nakai (waitress). A heart-filled food. An open air hot-spring with a room. The geisha who gave us a gallant, yet graceful dance. I am satisfied with everything. I'd like to visit again in a different period of the year. Thank you very much.
+ More
Feb 2015
I really felt at ease in this pure Japanese-style inn. The employees offered a very high-quality service. The meals were also delicate and very delicious. However, the facilities are showin some wear and I think a bit of improvement might be needed in the future. The room and the open air public bath were both great, but without an indoor bath in this season it was indeed cold and harsh.
+ More
Jan 2015
I was very satisfied. I was very relaxed because the room attendant was also taking care of us very comfortably and cheerfully. I could take a time only for one night, so although I selected a luxury plan, I could be really healed and came back to home. I couldn't sleep very well because I had a bit cold, so I took a bath 3 times at night, but fortunately it didn't get worse and I enjoyed a hot spring so much. I felt obliged they remembered the promise I tweeted and came to the port to say goodbye at last. I will visit there in a cherry blossom season or a fireworks season next time.
+ More
Dec 2014
The food is just fabulous. It never failed to surprise me.
Dec 2014
Highly recommended. I truly appreciate all you have done for me. I want to stay here again by all means.
+ More
Dec 2014
It was my first time stay, but in all respects including meals and the service, I'm satisfied. There were varieties of meals, and the taste was great. I stayed there for a birthday celebration, and I was touched by the thoughtfullness such as preparation of fruits and a small birthday present I was given. I stayed there with my children, but the way they dealt with the children was very conscientious and they were very much happy. It was the inn that made me feel I would like to stay there again.
+ More
Sep 2014
That was my second time around to stay at Sakuragaokasaryo… Because I had a very satisfying Onsen trip last time, I asked my sister, who visited there for the first time, to come with me. Their "hospitality", which was what I had expected or more than what I had expected, was very nice. The bath water and towels were always replenished and I took a bath comfortably. I also enjoyed the food. Also, in particular, the attention of room attendants and staffs was great. For example, I appreciated the staff's service at the time of check-in and checkout as well as a room attendant's attention for my needs, which was that when I asked a room attendant for a glass of iced water after taking a bath, she brought it in a pot immediately and she also prepared a pot of iced water in the morning as if it was a routine service. I will visit it with my family again and look forward to our next visit.
+ More
Sep 2014
The weather was unfortunate, but it helped that the rain let up when I was getting on and off the taxi. Meal was delicious, and the quantity was way too much for a female, but I think they could do with an additional dish for the males. The shops were far which made me even grateful when they asked if we wanted some supper or an additional dish. The staff pay delicate attention in their service, including the maintenance of a used towel, and I would love to stay at the inn again. Thank you so much.
+ More
Aug 2014
They took care of me the other day. The elaborated dishes, the good old Japanese garden, and the warm hospitality... The trip I gave as a birthday gift for my friend became such a nice moment more than I expected. After I enjoyed the open-air bath in the room with charm, the spacious private bath, and the big public bath with history, my skin became smooth. I usually stay in Kyoto, but Atami does not necessarily equal to ocean and I was satisfied with extraordinariness which I could feel the Japanese moment for adults from the red umbrella in the room open-air bath, the dance of Geiko, the green tea, and the broth. Thank you for making rice balls instead of regular rice, for leaving deserts in the fridge, and the heartwarming care for my birthday. I would definitely come back again. It is a special inn such that I do no want to tell anyone, but I can recommend with confidence.
+ More
Aug 2014
Information
Check-in Time

From 3:00pm to 6:00pm

Check-out Time

Until 11:00am

Tax / Service Charge

Bathing Tax JPY 150 per adult is NOT included in the rates.

Credit cards accepted at this property

VISA / MASTER / JCB / AMEX / DINERS
Children

All children are welcome.
Please contact the ryokan directly for more details.

Pets

Pets are NOT allowed.

Parking

Free of charge for guests; Capacity 25 vehicles; Valet Parking Service available for free of charge

Other policies & conditions

Please contact the hotel in case guests arrive before 2pm or after 7pm, or later than the scheduled check-in time.