Atami Sekitei
"Come stay at Sekitei, enjoy the renowned Japanese service. Just minutes from Tokyo, the ancient rocks in traditional gardens will carry you away to soothing, remote mountain valleys. You'll enjoy relaxing natural mineral hot springs and gorgeous traditional Japanese kaiseki cuisine from seasonal ingredients, and experience the celebrated hospitality and quintessential ambience of Japan."
- VAT is included, but bathing tax (around JPY 150 per adult) may NOT be included.
- Price in USD is based on the exchange rate as of today and might be different from that of the booking date.
Foods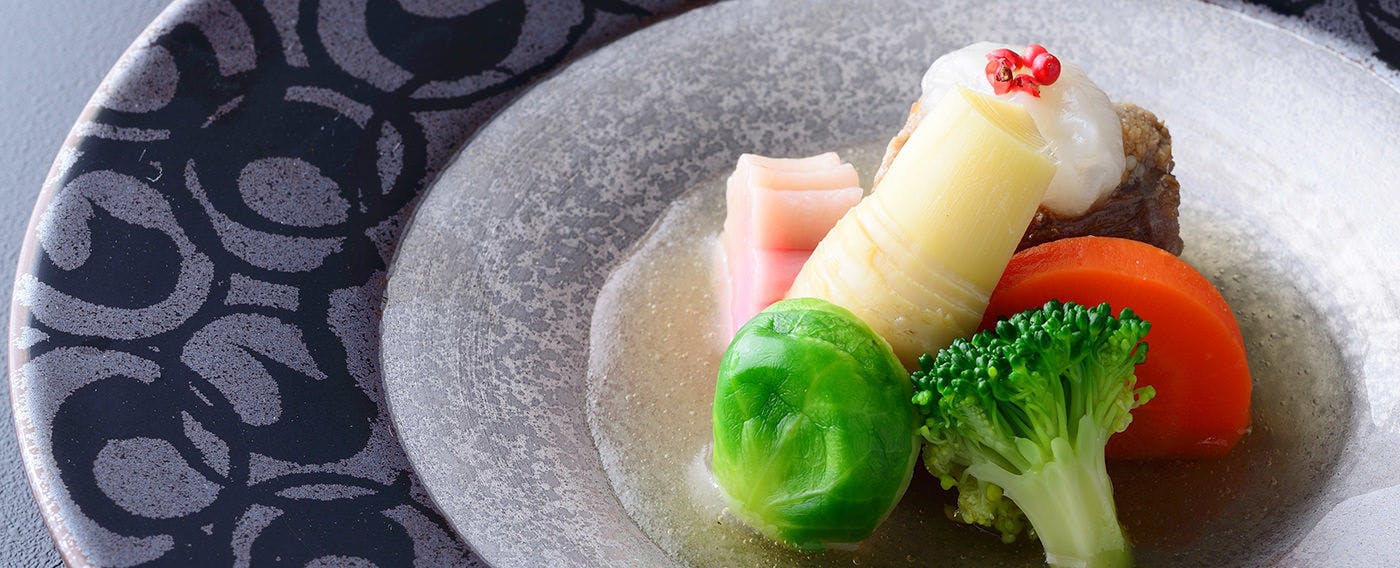 Foods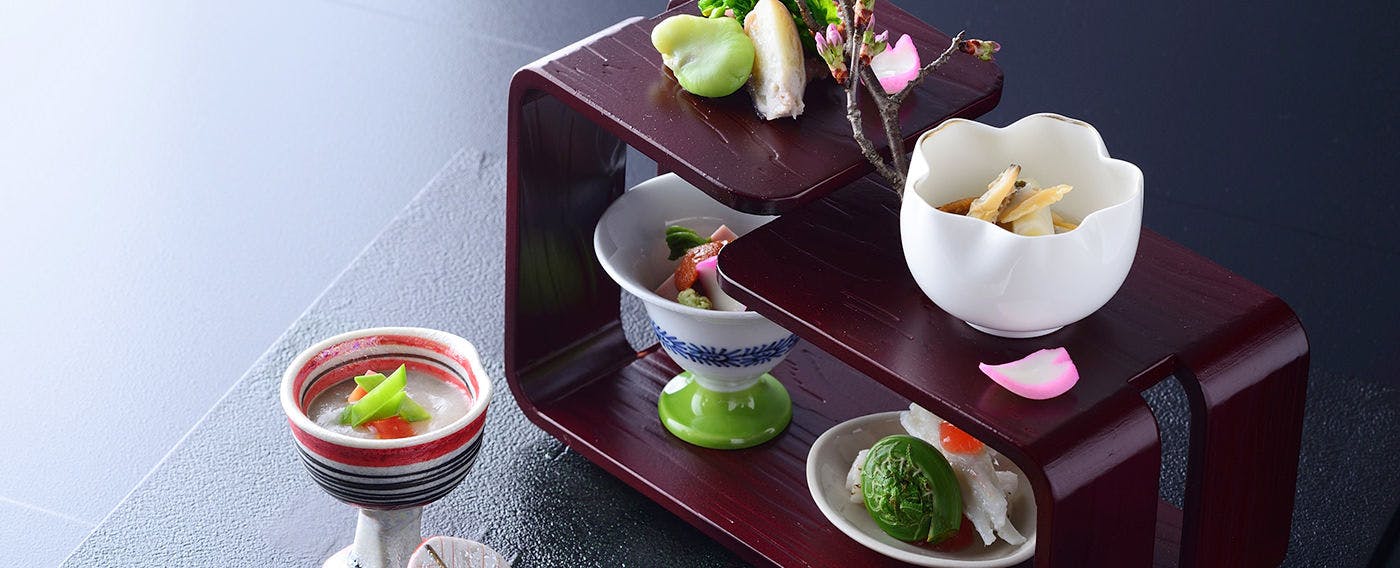 Foods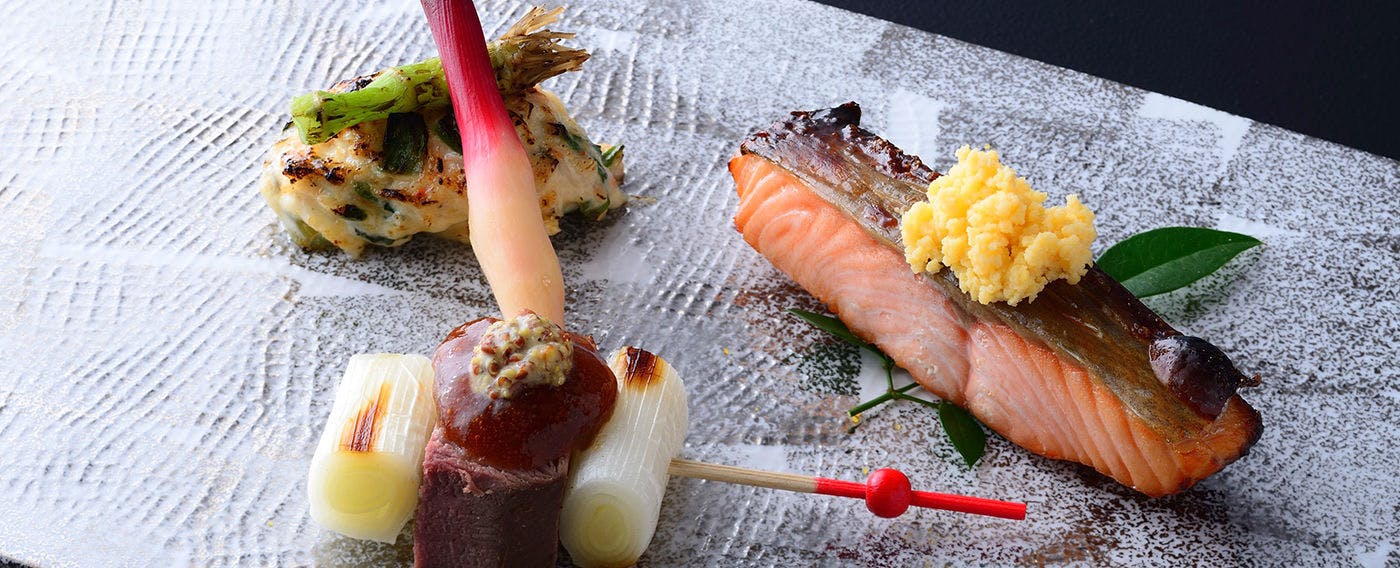 Foods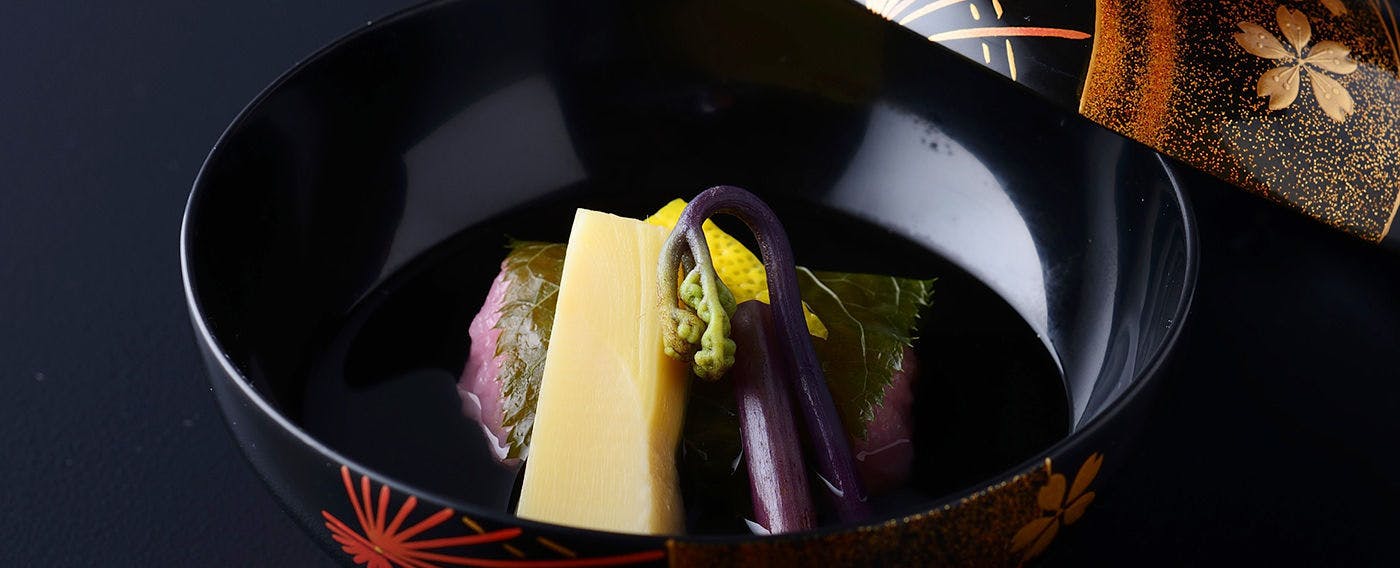 Foods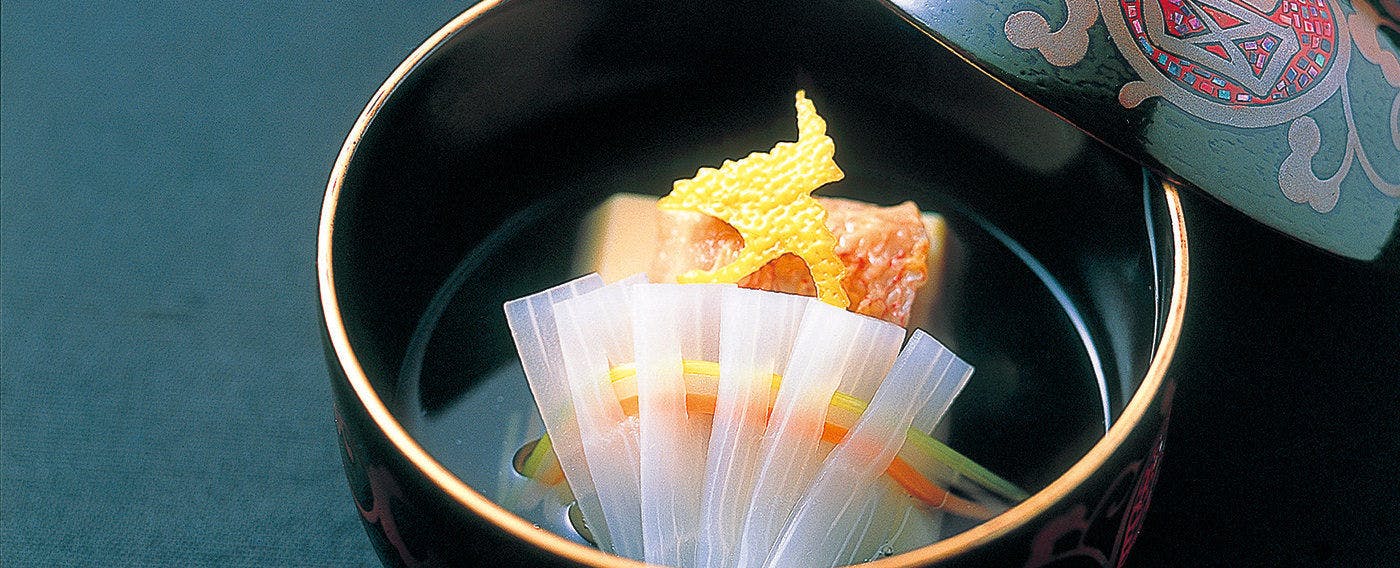 Foods
Master the secret of refined cuisine In the small world of dishes, mirror the changing seasons, and place foods from the rich nature. Taste the each dish with beautiful display in Japanese-style.

Premium Restaurant "Uzu"
In the space of 760sqm, this restaurant has 11 private dining rooms from small to big one, where you can enjoy the special kaiseki cuisine in the best condition. Also there is the main dining hall, which is open with elegant time.
Baths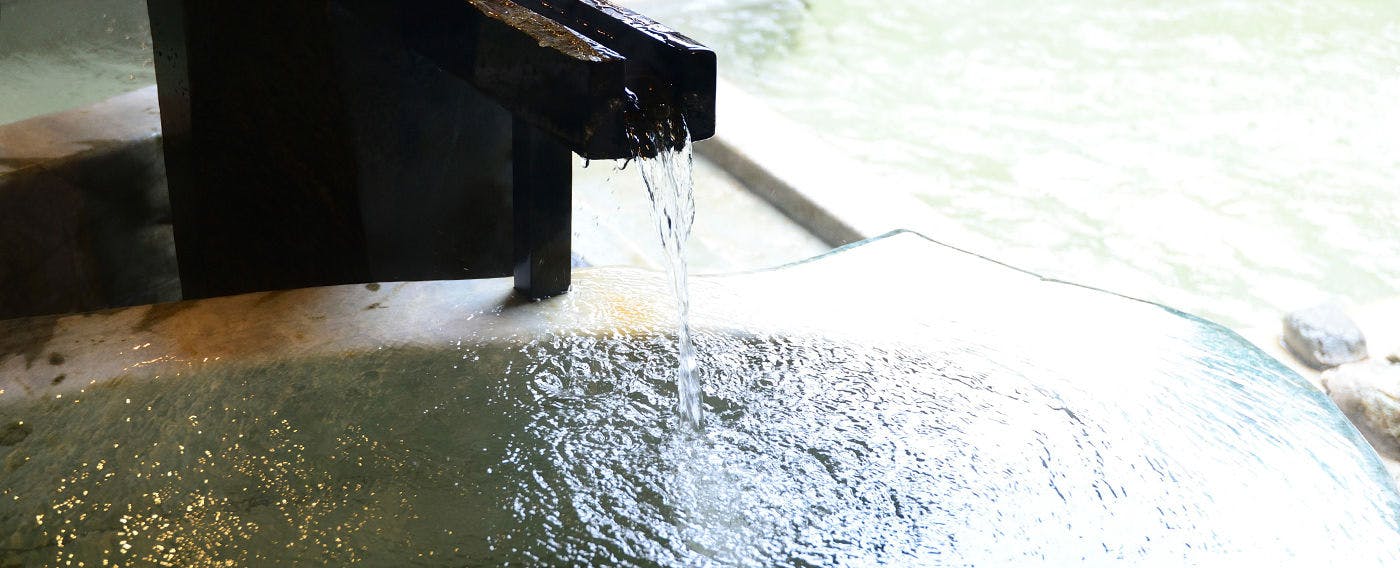 Open-Air Bath for Female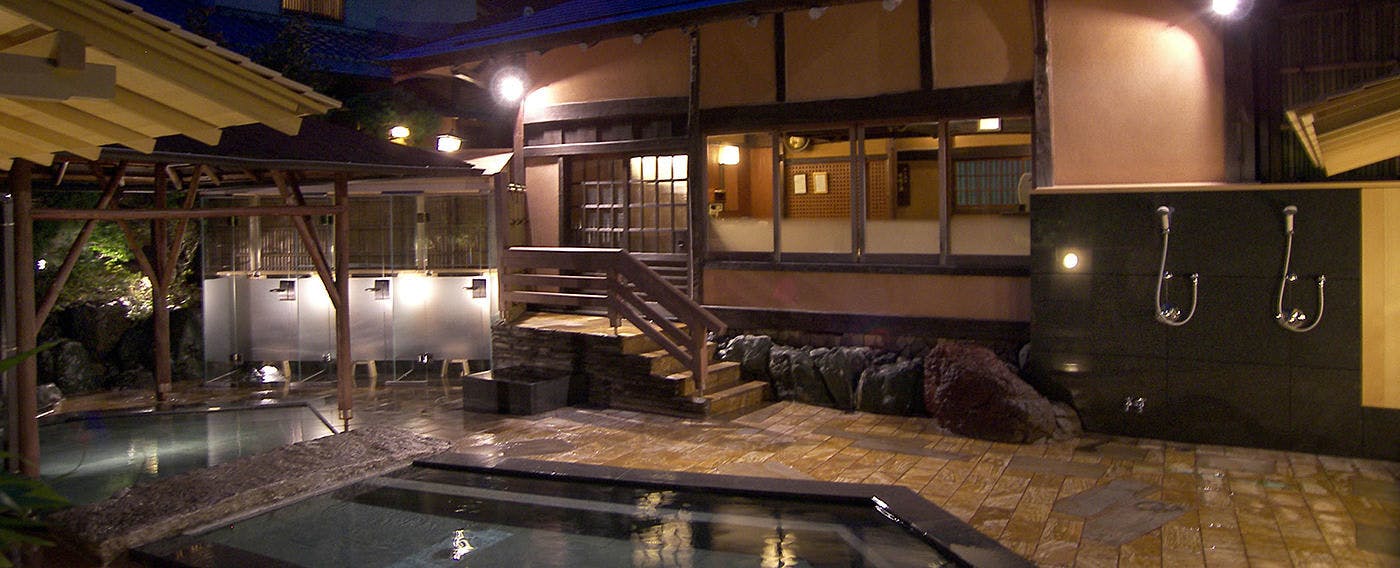 Open-Air Bath for Male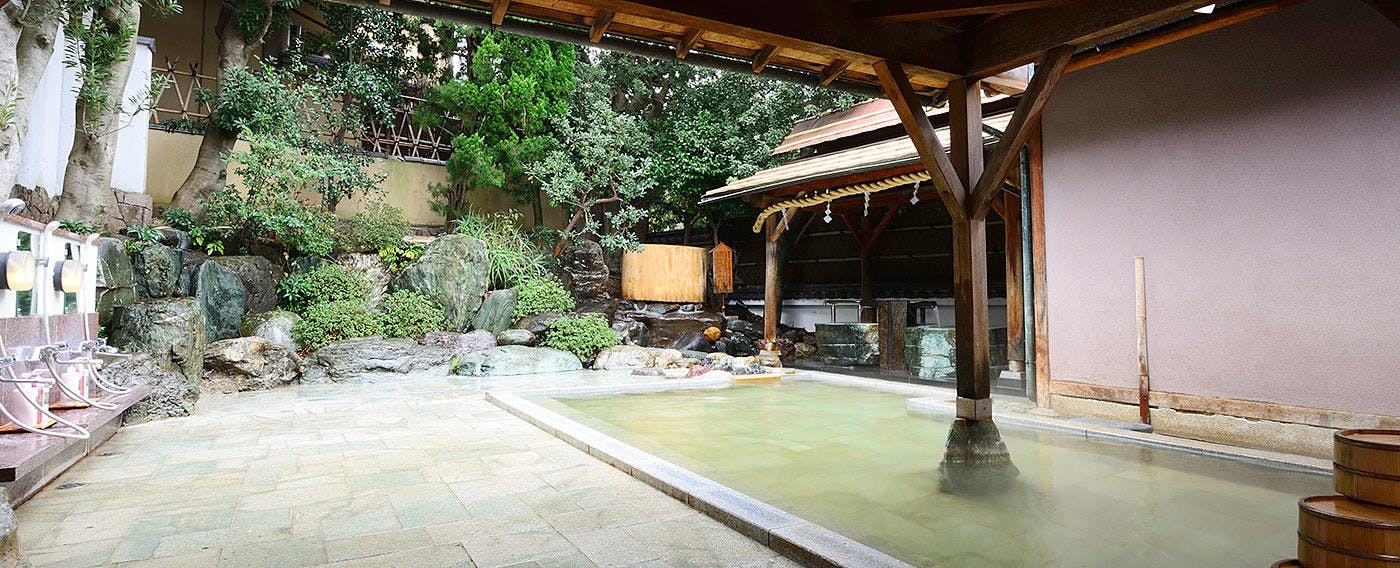 Open-Air Bath for Female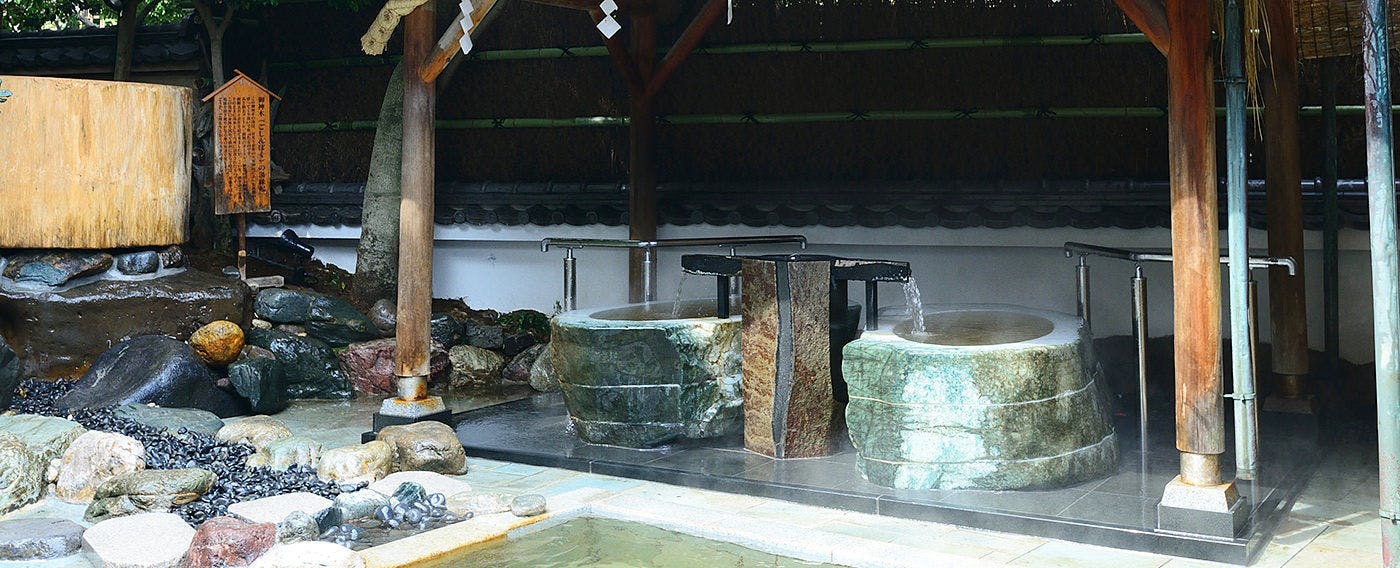 Open-Air Bath for Female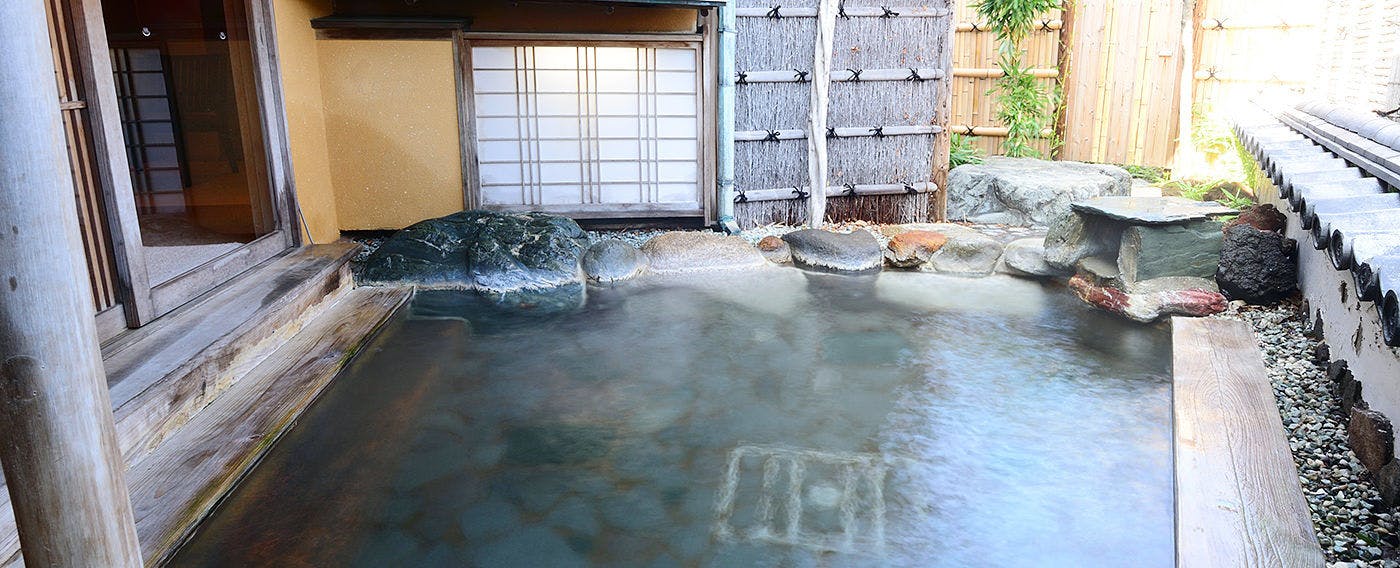 Open-Air Bath for Private Use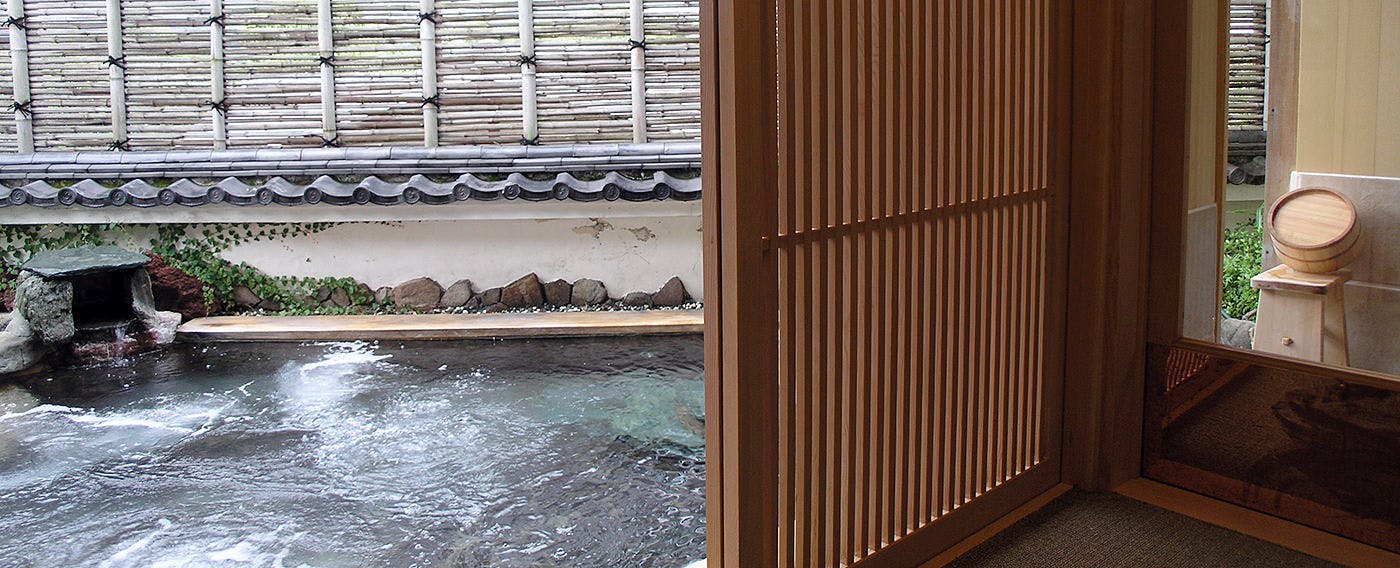 Open-Air Bath for Private Use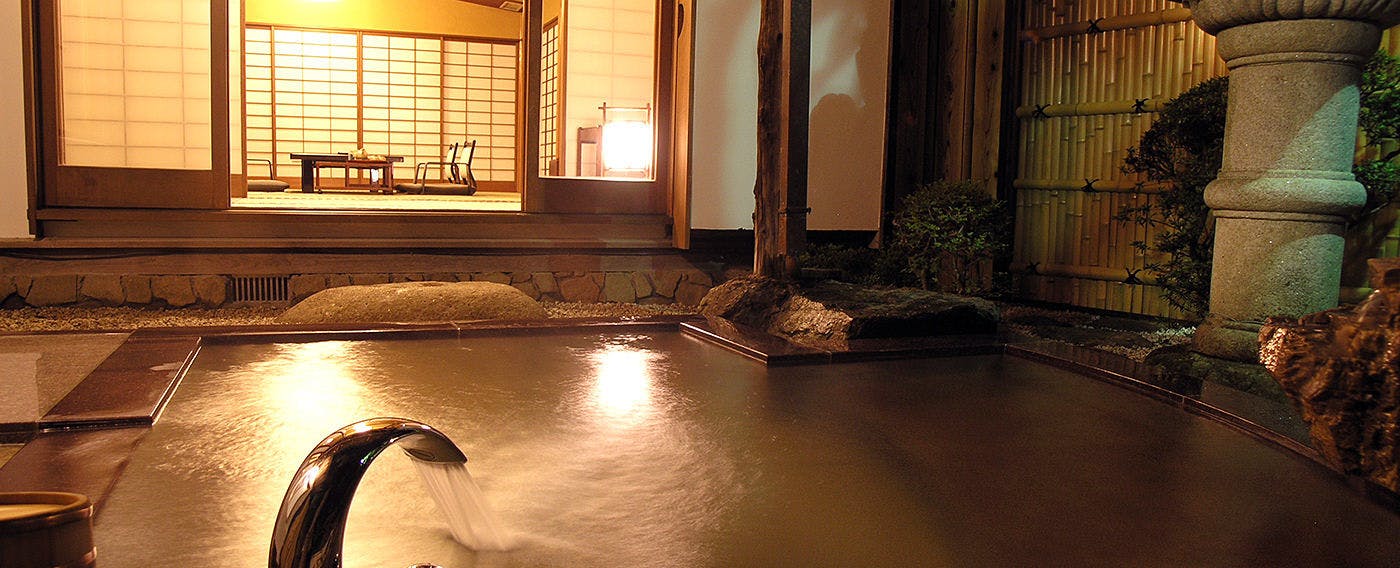 Open-Air Bath at Japanese-Style Villa
Essense of Atami hot spring, famous with its history Back to the Nara period, the hot water with steam came continuously from among rocks, as "Atami" means hot sea in Japanese. The clear and beautiful hot water warms people's body from the core, and it is said to cure hundreds of diseases. It was loved by General Ieyasu Tokugawa in the Edo period. The Atami hot spring, loved for a long period, has been proved that it is positively effective in science.

Hot spring in Atami Sekitei is so thick one in Atami that you can feel spicy flavor with your tongue. It comes plentifully from 3 sources to open-air bath and indoor bath. Have a relaxing and elegant time to enjoy the hot spring.
Facilities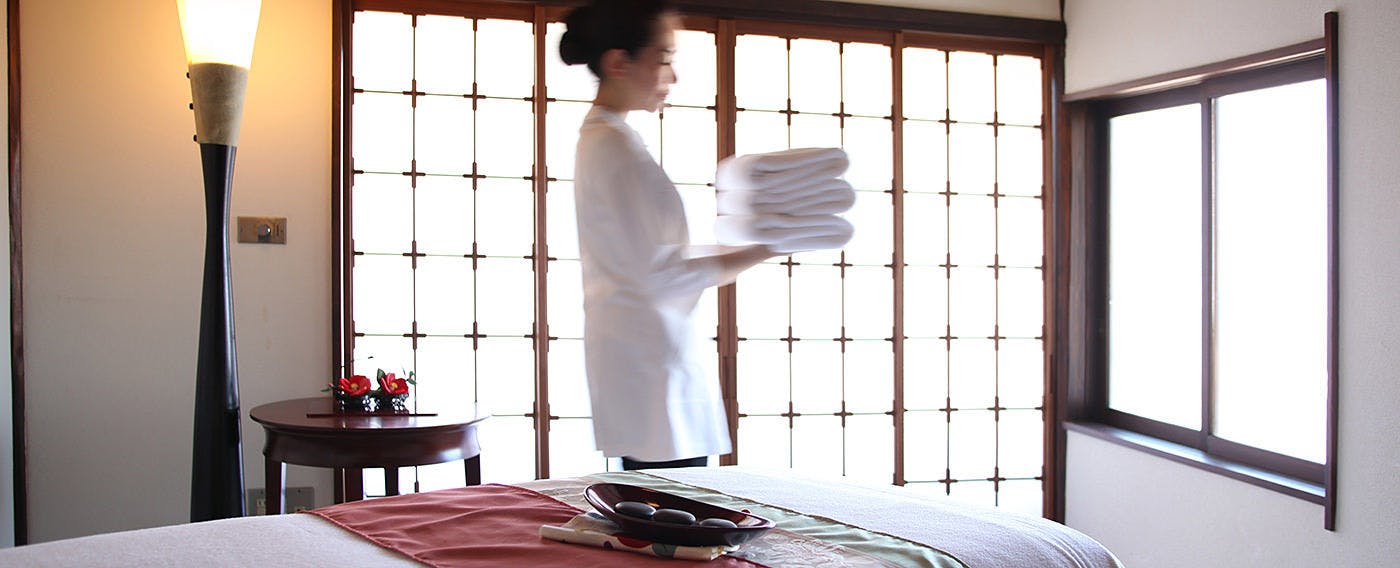 Organic Spa 'IBUKI'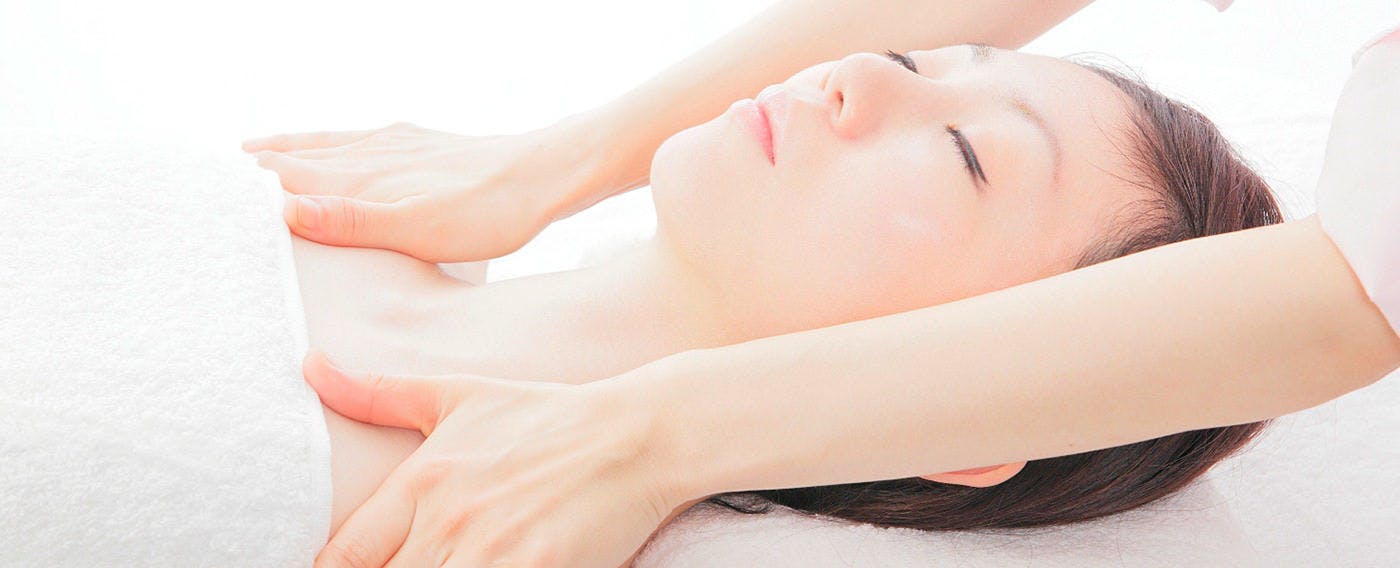 Spa Treatment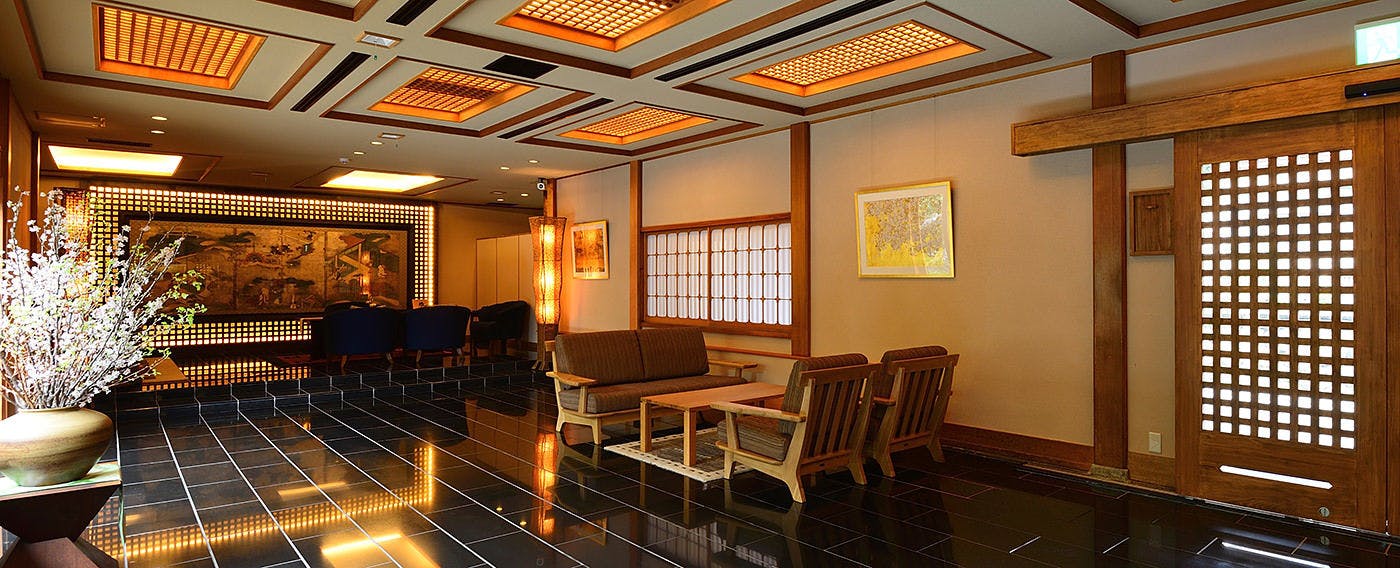 Lobby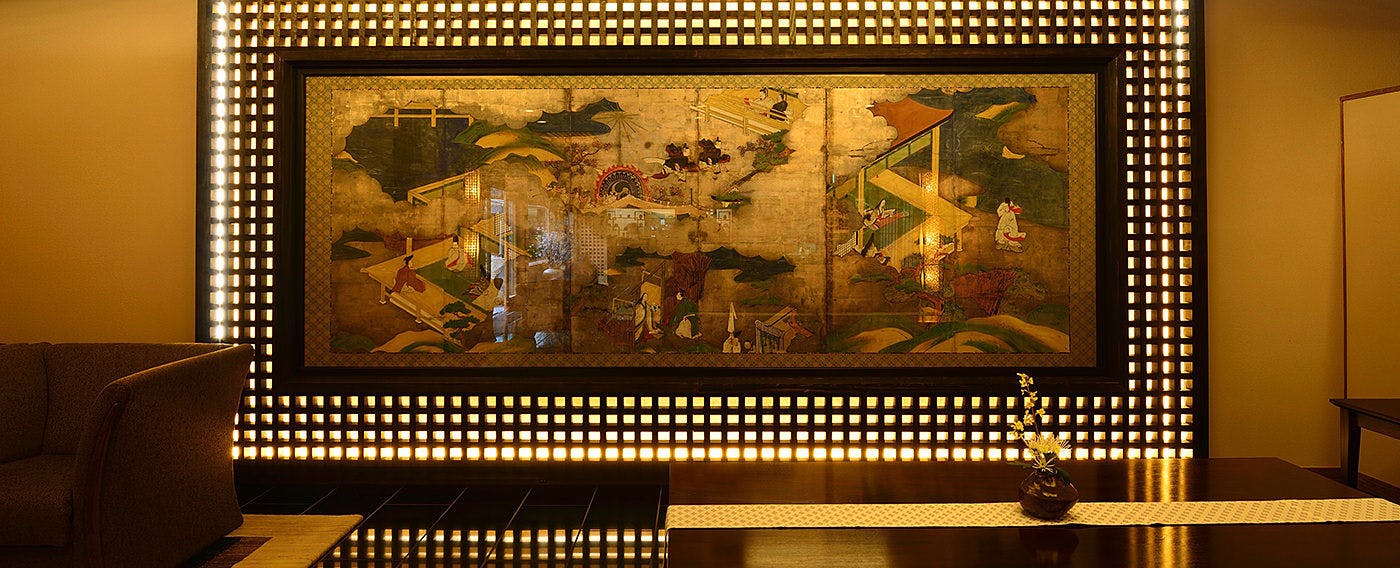 Lobby
Entrance
Façade
Rich time as you like, as much as you want Café, library, spa, and etc are dotted in the site of about 10,000sqm. Every time you walk along the path among green, you will find fresh scenery of stones and garden trees. Stay to enjoy yourself in stunning quietness, as you like.
.
Organic Spa "IBUKI"
Open from 2:30pm to 11:00pm
Reservation accepted until 9:00pm
Access
6-17 Wadacho, Atami-city,Shizuoka,413-0024,JAPAN
BY TRAIN
From Tokyo Station: 50min by JR Shinkansen to Atami Station & 10min by taxi
Reviews
There were spider webs and large spiders at the entrance, stone stairs, and the pond of the room. There was a mosquito mat in the room but it was turned off, so a mosquito annoyed me. The paper sliding door was torn. Although I went back from the restaurant in the rain with sandals, there was not mat at the entrance. I asked futon in the anteroom but it was placed in the main room. Was there meaning of asking? I was happy with the checkout time at 11 o'clock and I wanted to lie down relaxing, but the futon was taken away after coming back from breakfast. Although there were two showers, but hot water did not come out from one of them. There is a school outside the room and the open-air spa. The waitress at the restaurant was making so many noises, throwing papers when taking away, banging the door, and hitting the serving board. The interval of each dish was very little and the main dish was cold. I though the waitress was like a sweaty student part-timer, and they should learn by staying at the different hotel. The service was not good because we were not eating in the guest room?, although the taste was very delicious, so I was disappointed more. Although the breakfast was delicious but I wanted to eat in the room while watching the garden if it was that diet. The dining room is large but there is a sense of closure and the lighting is dark. The bath is available until 10 o'clock but if I go there at 9:30, there is a cleaning staff and I get hesitated to take off my cloths. There were dregs floating in the jade bath. I did not feel it reasonable as it may be close to Tokyo I thought I needed to spend more in order to get satisfied as there are too many things I was worried about on the abstract side although there were many wonderful points on its facilities I was happy that I could take bath in the middle of the night The open-air bath with the guest room was wide and I enjoyed the superb stone stairs The taste of the dishes and cold tea was very delicious Thank you very much for a small packet as a present for honeymoon when we were leaving.
+ More
Sep 2015
I stayed as a 3 members of a family, and we gave full marks in all facets. Especially, the meal and customer services of waitresses were touching. And it was reasonable in price too. I could know the origin of the service industry in Japan so I learned many things for the job.
+ More
Aug 2015
It appears that they have upgraded our room, and it was a special room on two floors named Auauhama. The floor of the half-outdoor bath and the second floor room was made of cypress wood, it was smooth and it was very pleasant to walk barefoot on it. Old wood, glass door and other items were used in furnishing a new room in a fanciful way, it was stylish and pleasant to look at, producing an extraordinary retro-modern atmosphere that you do not have in everyday life. I liked the open view from the window very much. There was a room for relaxing next to the bath, where there were magazines and a CD player. There was a walkman with a dock. In any case, the room was extremely comfortable. Besides, the friendly smile of the landlady and the female staff were very good. Sometimes there were moments when I could not be sure what the role of the male staff was. The eating space was renovated, and the inner garden or courtyard was really wide and stylish. However, the eating space felt strange as it was not like a room, the tables were placed at random and I could not really relax there. Maybe they plan to do something about it later, but it looked as if they could place some partition walls that would not stand in the way of the staff walking about the space. It was an amazing experience for birthday celebration. Thank you very much.
+ More
Aug 2015
The services were excellent even though I stayed ther using an inexpensive travel package. I really appreciate that I was able to have a great time. Thank you very much.
+ More
Aug 2015
The stone-paved space to the room was very nice, but I regretted it did not take elderly people into consideration. The detached room made me nostalgic, but it was a little bit hard to say due to walking-around people. In the room, there were many insects, so someone caring about might not relax. since I have worked in the tourist industry for a long time, I might expect too much. I thought the young people or foreigners can feel novel compared to elderly people.
+ More
Jul 2015
I stayed in Sekitei, the famous hotel in Atami, for the first time. The hotel is mainly consisted of separate cottages in the spacious site. The style of the room made me feel the history and it had a lot of atmosphere. The restaurant created a new and modern atmosphere. I was disappointed that they did not have lockers were able to lock with a key in the dressing room for the open-air baths. I had a comfortable time even though I stayed in the middle of hot summer.
+ More
Jul 2015
I knew it very well that the building was old. It felt very good lying near the window and looking up at the sky while feeling the wind. The disappointing point was the check out. "We will check the refrigerator. You can also check out while in the room", they told me persuasively. But in the end I made a payment at the front. I felt like they just wanted to check the refrigerator. I do understand that it is the rules of the hotel, however it was the first time that they checked the refrigerator although I stayed in many hotels, and it made me feel like I was not being trusted and made me a bit discomfortable. It is ok that they check it but I guess the way they said it was the issue... When eating, I had to ask for tea twice, for there did not seem to be enough staff and everybody looked busy. What is this strangely crisp leaf?...it seemed to be Angelica keiskei but there was no explanation on the ingredients or the food and I felt disappointed since I expected hospitality. It might just be a coincidence but the location of the seats were different from the regular customers that I saw at the front and I felt there was a difference in the service. Since I though the chairs at the back of the front might be just for the decoration. I would have enjoyed sitting on it. The indoor bath in the room using the water from the hot spring had a window that opens widely and had a sense of space; it was very nice. There was onigiri made from the rice left over from the food and I felt that they are making an effort to change using the reviews as a reference. "The hospitality" we require from "the luxury hotel". It became a good start for me to think over what I stay in the hotel for and what I search for.
+ More
Jun 2015
At the brand-new dining area, we were offered the private room even for 2 pax, we enjoyed a cosy quiet meal. All the dishes was delicious, and we were surprised to find that we could chose the main dish after we arrived at the restaurant. I really enjoyed the minced shrimp fry (Ise-ebi no shinto-age) which I chose. I often have sashimi or oni-gara-yaki, but it was something different and fancy to me. Every serving dish was beautiful too, and it added charm to the food. Everything was fantastic, though the only exception was the too big dessert at the dinner. Our room was an annex and we enjoyed the quietness, but the building was old, and the toilet smelled a little. The name of the annex "Seki-tei" stands for its stone stairway at the entrance, and the water streams beautifully, but I thought I cannot climb the steps when I get older. It's not suitable for the elderly. The annex also has a public bath, and I used it three times. There is only an open-air bath, and the place for washing yourself is also outdoor. It would be more comfortable if they had a indoor public bath, especially at night.
+ More
Jul 2015
Stayed with two male and two females. They assigned a big room for the first room so we can have our meal together. But on the other hand, I wonder why the other room had a crack on the wall, and reeks of an animal smell, and loud footsteps can be heard in the room in the morning perhaps because there was a staff room on the second floor. I can stand an unclean and old room, but I cannot bear the stink so I complained to the front desk and they responded by putting a air cleaner and incense in the room. While the response from the staff was not bad by no means, I am disappointed that they assigned this room to us since it is not possible for them not to notice the smell when cleaning up. I had to pay a total of 230,000 yen for 2 rooms and I have to say the performance is poor for the cost. Well, I don't think it's bad overall though. I think they need to assign the room according to the price.
+ More
Apr 2015
I stayed on April 3. A Sukiyazukuri style detached room. Unfortunate rain. We were guided from the lobby to the room with an umbrella. Staff including the room attendant got a pass mark. There was nothing especially bad, however, as they were not good enough to read our mind to meet our needs, I give the four stars. The guest room was beautiful. However, I wish we had a room with an attached open-air bath. It was unfortunate that they didn't have any available. It was nice that they prepared bedding for my 2-year-old to nap when we arrived without asking, but they didn't provide bath amenities for kids such as toothbrush. Therefore, I give three stars. A Large bathhouse. It was a good bath, but not for winter. Because the washing space is outside. While I used the bath three times, I didn't see anyone. I enjoyed it as it was like a reserved bath, so I give four stars. Meals. It was delicious... However, because I had already had so much good food, I wasn't impressed. However, with careful preparation and various food stuff, I think you can say that it is very good as a hotel meal served in a room. They brought rice and dried food sprinkled with Precure character on the package for my kid to enjoy, but I wish they didn't ruin the precious kaiseki-meal with the Precure.  (I wish there had been homemade topping for kids. I would have been amazed.) Well, because it was their hospitality, I accepted graciously. As for the facilities and accommodations, I wanted to go to Wa CAFÉ, but I could not go in there because it was being renovated. It was not a big deal because it was not a reason I went to the inn, but they should have said in a reservation confirmation email that the CAFÉ would be closed during the construction period. It would have been kind if there had been an announcement of it. On the whole, it was not bad at all and I think it was priced "fairly." Because my kid is small, I tend to give priority to a cost-performance ratio. Because of an increasing number of inns offering a good service, which made me think, "Are you sure you offer this good service for this low price?", I compare this and that and I will pick one… If possible, I want to expect more "excitement" and "It is worth what I paid big bucks for it" from an inn I picked.
+ More
Apr 2015
The inn is wonderful and very quiet. The stone placement on the name street is pretty and I enjoyed walking on it but I think the children and elderly will have trouble walking on it. The room is old, but well-maintained. I was disappointed to find dust accumulating at areas that can be quite easily seen. The food was really delicious. Although the bath was good, I think it would get rather cold in winter as both the private bath and large public bath were basically open air. It was a pleasant inn overall as the staff were extremely considerate.
+ More
Apr 2015
I stayed here very pleasantly. It was stay for a party of 3 with my old parents however they gave me the biggest room apparently and my father whose legs were not in a good condition did not go out of the room even once from the moment of checking in until the check out and spent a satisfactory time. The open-air bath was close actually so he should have gone there but he seemed to be satisfied enough with the indoor bath. I was happy to find the massage chair within the room. I would visit this place again.
+ More
Jan 2015
Information
Check-in Time

From 2:00pm to 6:00pm

Check-out Time

Until 11:00am

Tax / Service Charge

Bathing Tax JPY 150 per adult is NOT included in the rates.

Credit cards accepted at this property

VISA / MASTER / JCB / AMEX / DINERS / UNION PAY
Children

All children are welcome, with charge as followings.
- Bed sharing with adult: free of charge
- Bedding only, no meal: JPY 3,240
- Bedding, kids dinner and breakfast: JPY 10,800
- Bedding, dinner and breakfast: 70% of adult rate

Pets

Pets are NOT allowed.

Parking

Free of charge for guests; Capacity 20 vehicles; Valet Parking Service available for free of charge

Other policies & conditions

Please contact the hotel in case guests arrive before 2pm or after 7pm.